What's more disheartening than baking your very favorite potluck dessert, then having maybe half the crowd say, "No thanks, not for me"?
You'll probably hear "Sorry, I've gone gluten-free." Or "Does that have tree nuts? I have to be careful." Or "We're dealing with allergies in our house, so we eat dairy-free and egg-free." Or the very succinct (yet all-encompassing) "I'm a vegan" — which means no eggs; no milk; no butter or yogurt or cream cheese or heavy cream or... well, so many of the ingredients that go into the typical dessert.
What's a passionate and eager-to-please baker to do?
Find a one-size-fits-all-diets dessert, and stick with it!
The perfect potluck dessert is not only amenable to a range of dietary concerns, it's easy to make. It includes everyday ingredients — nothing requiring a special trip to the supermarket (save perhaps the one thing you should always have on hand when baking for potlucks: 1:1 gluten-free flour).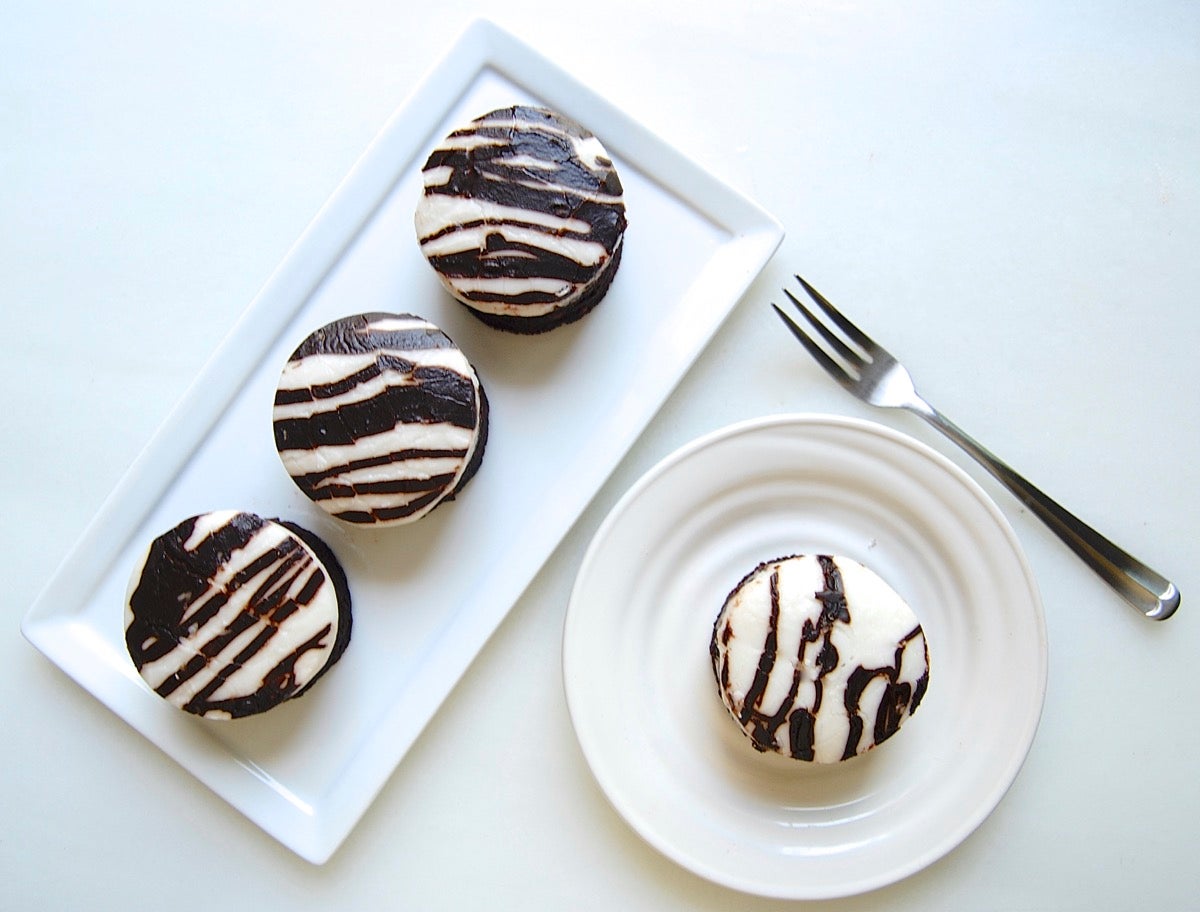 It's also easy to dress up or down, seamlessly morphing from progressive dinner party finale to refreshments after the swim meet.
And bottom line, it's a standout on the buffet table. Not just "This is pretty good considering it's gluten-free and vegan." But "This is REALLY GOOD."
Step right up, oh most venerable of quick-and-easy, delicious desserts: Cake Pan Cake.
What goes around comes around: this cake has a long history. Sometimes known as "war cake," it uses neither butter, milk, nor eggs — all of which were rationed (and thus hard to get) during World War II.
We've also seen this moist, dark chocolate cake referred to as Wacky Cake — presumably because preparing it doesn't require even a bowl: you can stir together all of the ingredients right in its baking pan.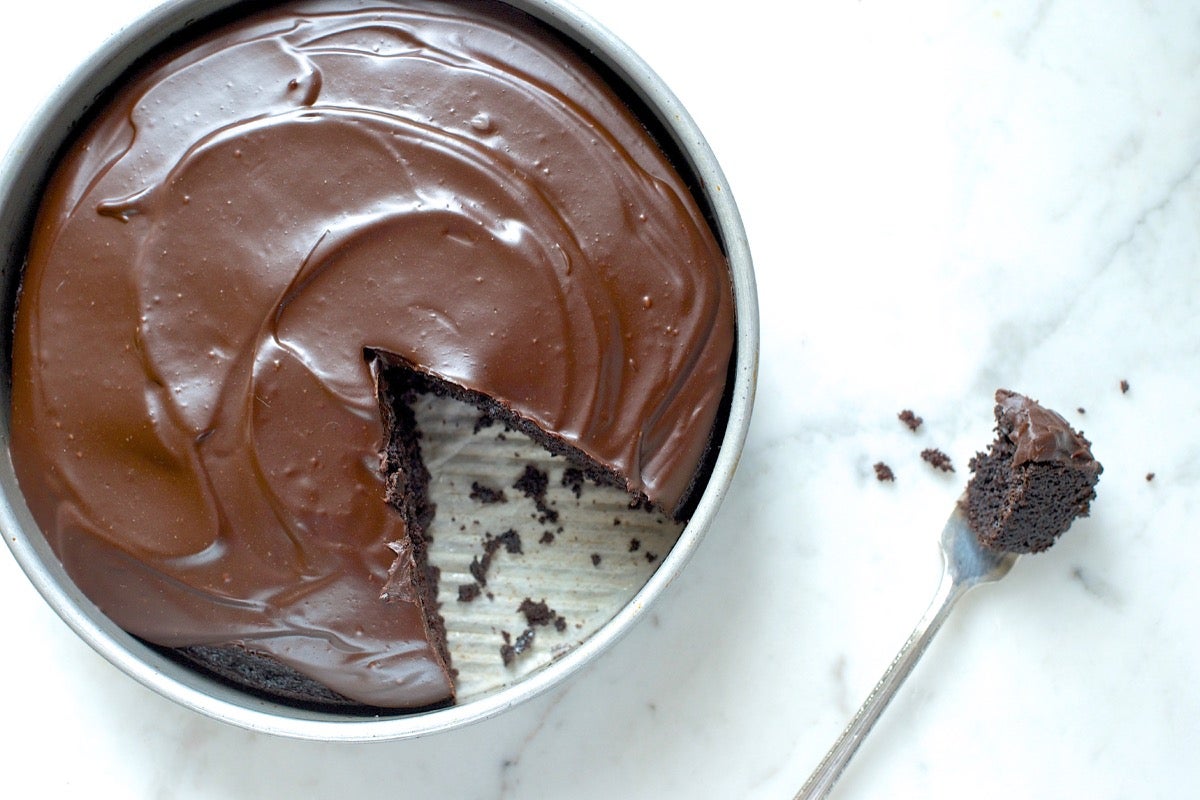 Here at King Arthur we call this recipe Cake Pan Cake — again, because it can be stirred together in the pan (though it's easier and more effective to simply stir everything up in a bowl, if you don't mind cleaning a single bowl).
It's been around so long, and is so beloved by generations of fans, we named it our Recipe of the Centuries in honor of our 225th anniversary back in 2015.
Thus a cake whose original provenance is in wartime deprivation returns to the limelight as the potluck dessert everyone can enjoy — special diet or not. How neat is that?
Watch how this is done — honestly, it couldn't be easier.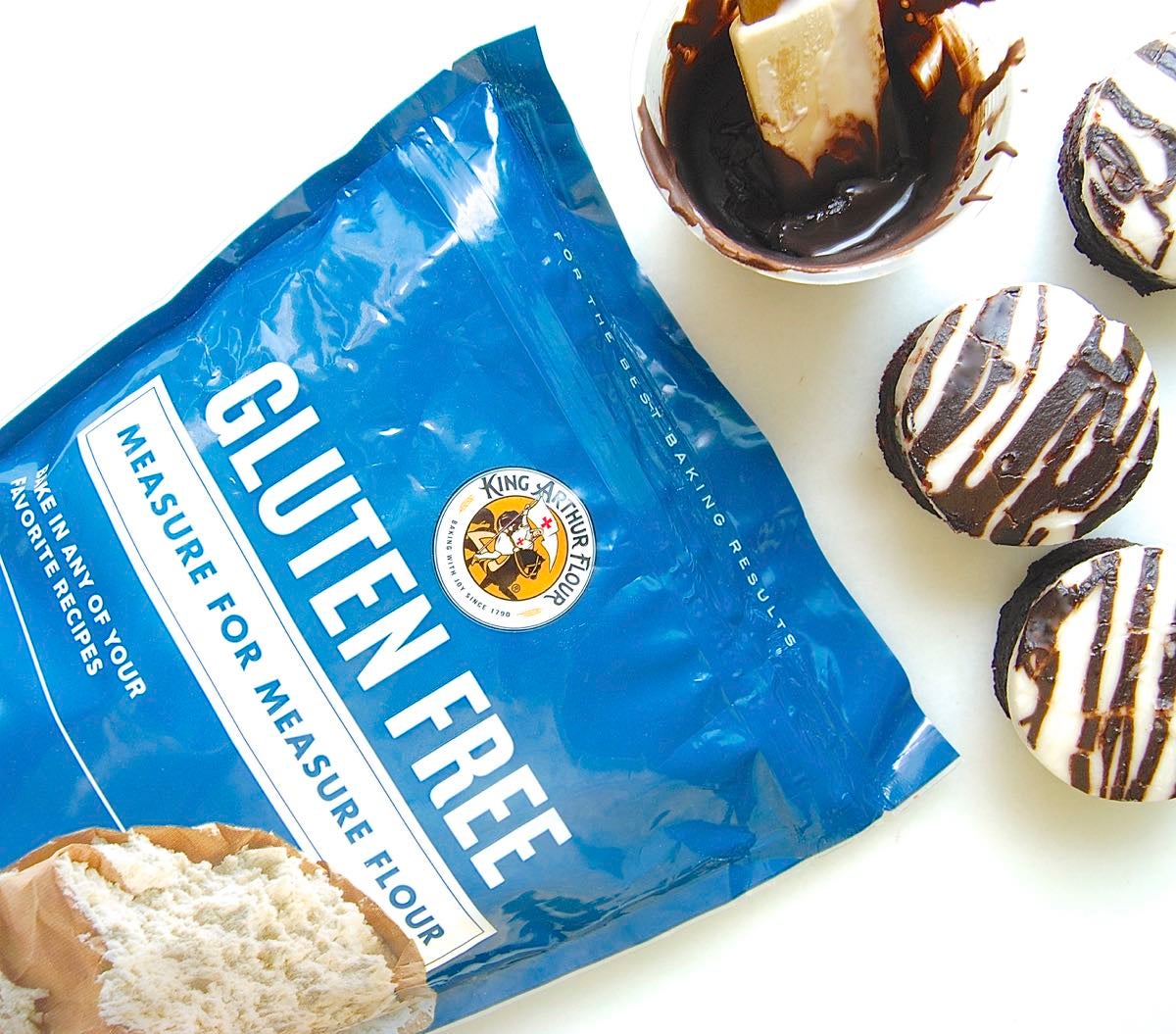 Here's the flour that turns this cake (and cookies, pancakes, quick breads, pie crust, biscuits, scones...) from gluten-full to gluten-free: our Gluten-Free Measure for Measure Flour.
Measure for Measure is a simple 1:1 substitute for all-purpose flour in most of your favorite recipes (all except those using yeast). No adjusting liquids, adding xanthan gum, or mixing starches; just use Measure for Measure in place of all-purpose flour and you're good to go.
What's more, no one will know you've made the swap; your baked goods will taste just as good as they always do. That's why this flour should be in every baker's pantry; when you're not sure which of your guests, friends, or extended family members are eating gluten-free, play it safe: opt for Measure for Measure flour.
Preheat your oven to 350°F. Lightly grease a 9" round cake pan.
Put all of the following in a mixing bowl:
1 1/2 cups (6 1/4 ounces) Gluten-Free Measure for Measure Flour
1 cup granulated sugar*
1/4 cup Dutch-process cocoa or natural cocoa
1/2 teaspoon salt
1 teaspoon baking soda
1 teaspoon vanilla extract, gluten-free if necessary
1 tablespoon vinegar, cider or white
1/3 cup vegetable oil
1 cup cold water or cold brewed coffee
*Strict vegans won't use regular granulated sugar due to the way it's processed. If you're concerned about the source of your granulated sugar, find one that's labeled vegan; many organic sugars are vegan, and will say so on the package.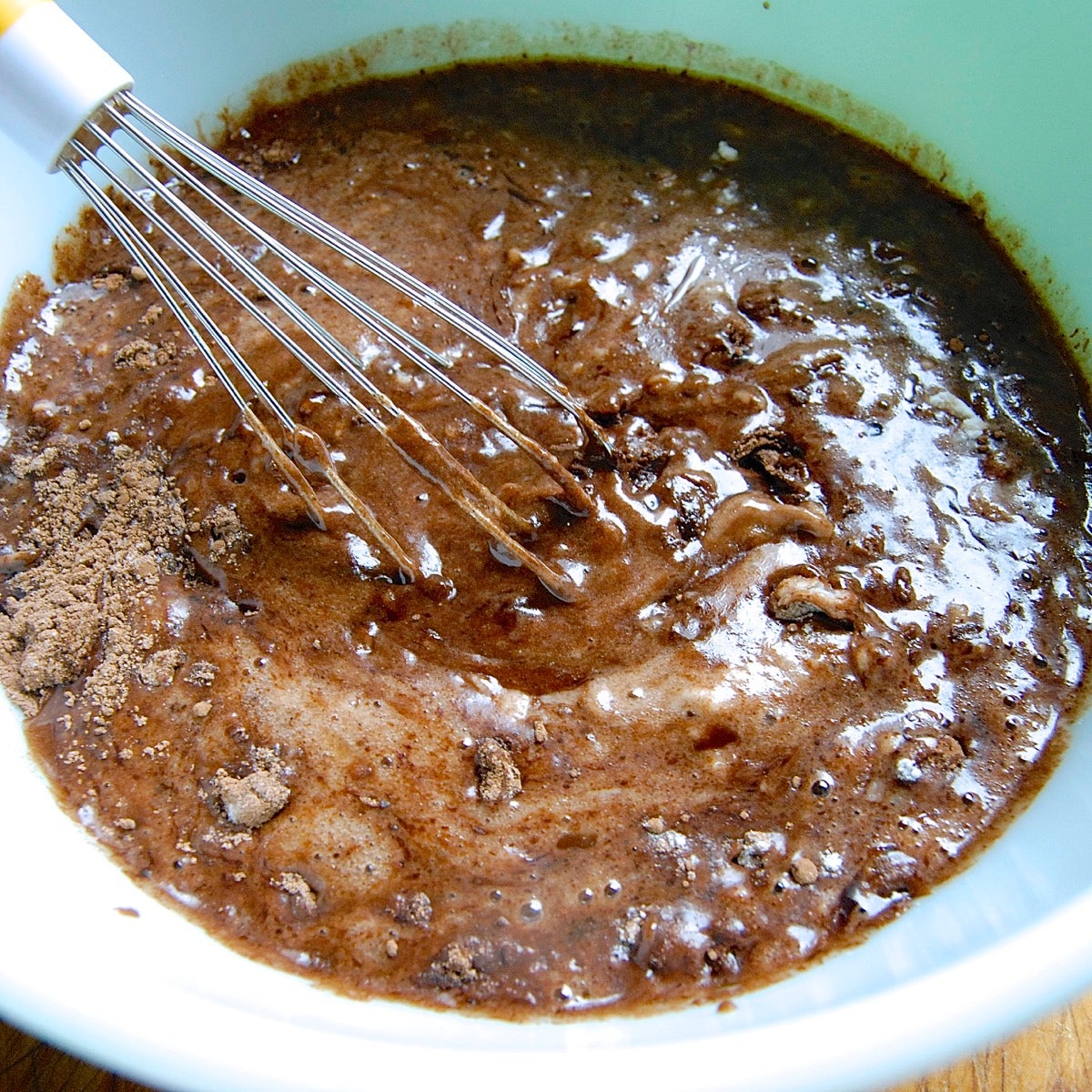 Whisk everything together
Want to use a stand mixer or electric beater? Go right ahead.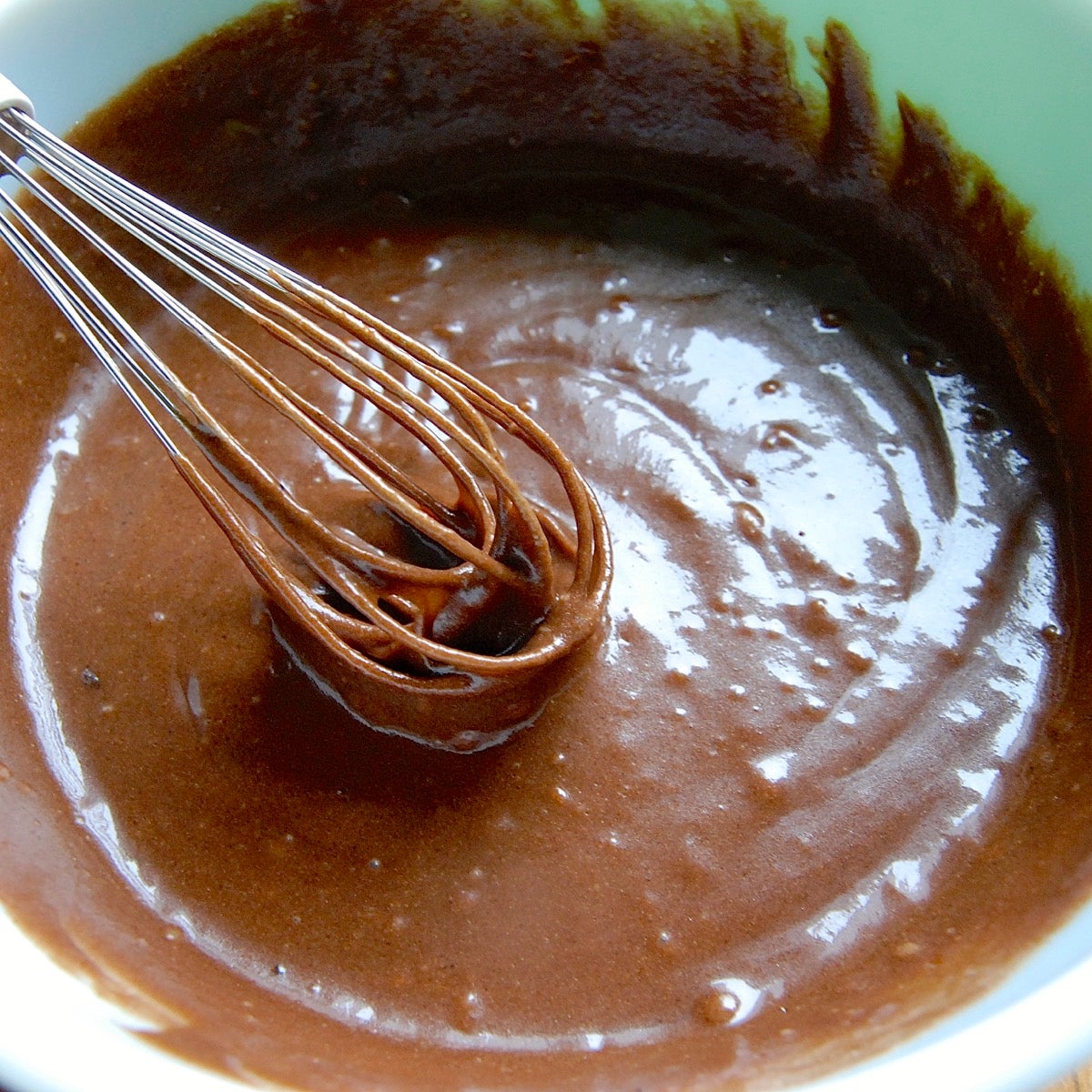 Scrape the bottom and sides of the bowl, and whisk or beat again to recombine any sticky residue. Whisk or beat until smooth, with perhaps just a scattered few small lumps.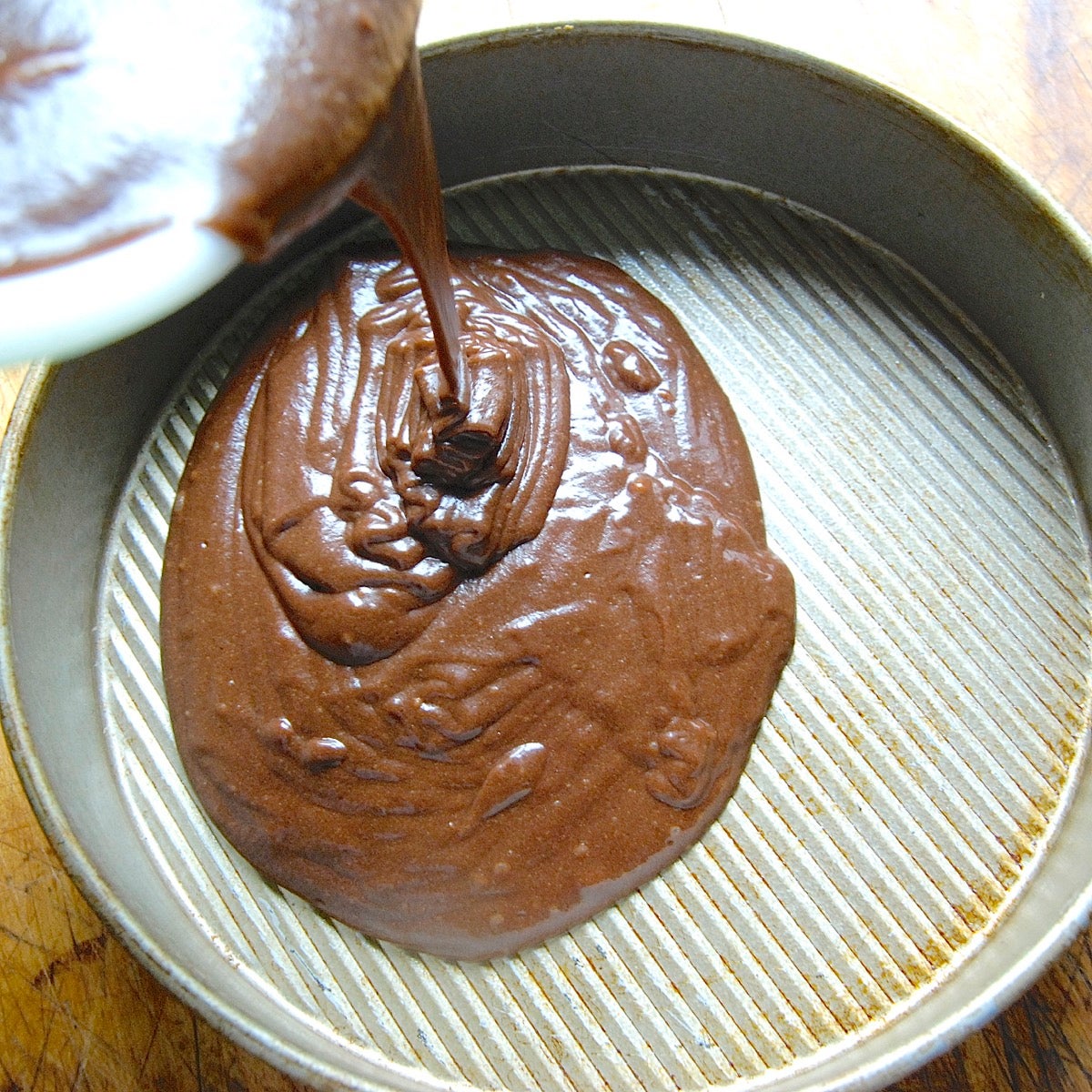 Pour the batter into the prepared pan.
Bake it
Bake the cake for about 30 minutes, until a toothpick inserted into the center comes out clean, or with a few moist crumbs clinging to it.
Place the pan on a rack, and let the cake cool right in the pan.
While the cake is cooling, consider your icing options.
Choose your icing
Honestly, making dairy-free icing is potentially more of a challenge than making a vegan, gluten-free cake! Lots of the structure of a simple confectioners' sugar icing comes from butter, milk, cream, vegetable shortening, cream cheese, or even nut butter. (While vegetable shortening isn't an allergen, we know many of you avoid it; so we've chosen not to use it here.)
Minus those traditional icing ingredients, you have to be quite precise with the liquid/sugar balance. You want to make icing that's the perfect texture: thin enough to spread easily, but not so thin it runs and pools at the edges of the cake.
So what are our options?
Initially I thought I'd do a dairy-free riff on the suggested frosting accompanying the Cake Pan Cake recipe: chocolate chips melted with half & half. But then I discovered that most chocolate chips aren't dairy-free.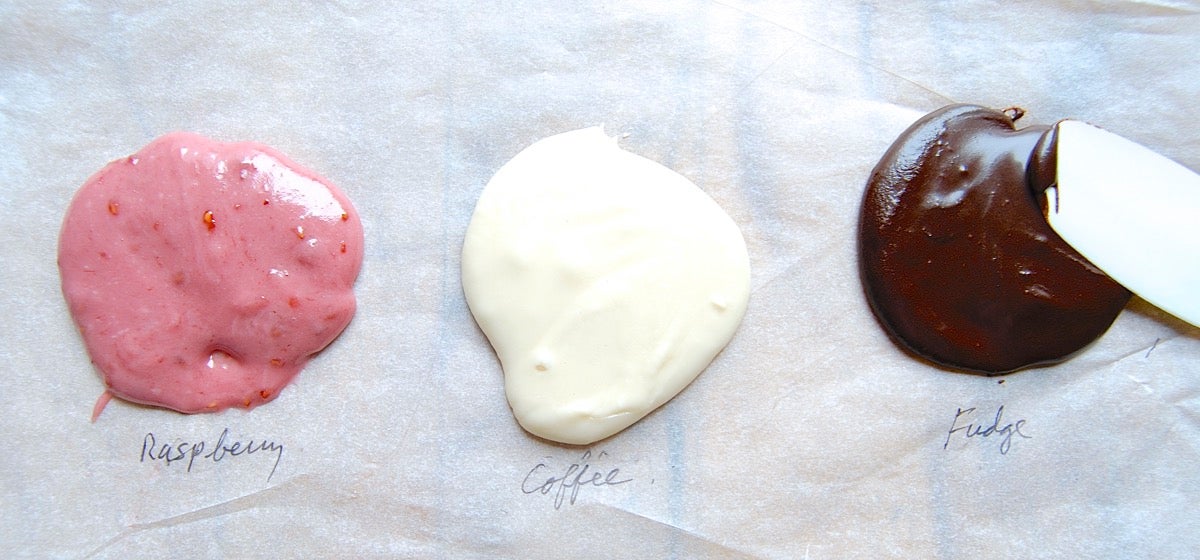 So I worked up three variations on a basic confectioners' sugar icing.
Each of the following makes about 1 1/2 cups icing, enough to generously frost a single-layer 9" round cake.
Berry/fruit
3 cups (12 ounces) confectioners' sugar
3/4 cup (9 ounces) raspberry jam or preserves
1/8 teaspoon salt
1 teaspoon vanilla extract
Stir everything together. If the frosting is too stiff to spread, add more jam; if it's too thin, add more sugar.
Experiment with different flavors of jam or preserves; you don't want a spread that's TOO chunky and stiff, but small seeds (e.g. raspberry) and pieces of fruit are fine. IMO, apricot and cherry both pair well with chocolate.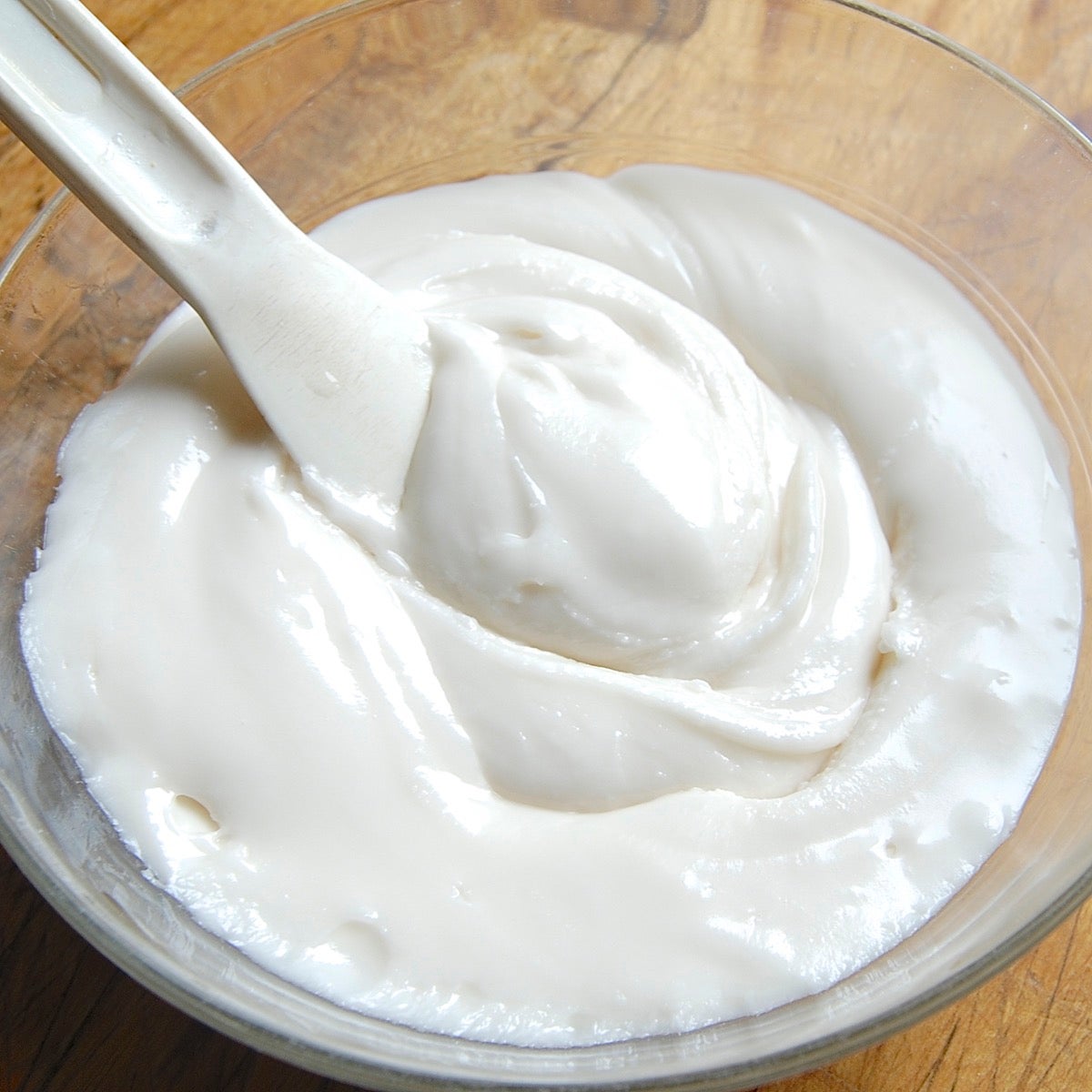 Vanilla or coffee
5 cups (20 ounces) confectioners' sugar
5 to 6 tablespoons (2 1/2 to 3 ounces) water or cold brewed coffee, or enough to make a smooth frosting
1/4 teaspoon salt
2 teaspoons vanilla extract
Stir everything together, starting with the lesser amount of liquid. Let the frosting sit for 5 minutes. If it's too stiff to spread, add more water or coffee; if it's too thin, add more sugar.
Should you still add the vanilla if you're using coffee? Absolutely! Vanilla makes everything taste better.
Chocolate fudge
2 1/2 cups (10 ounces) confectioners' sugar
1 cup (3 ounces) unsweetened cocoa powder, natural or Dutch-process
about 6 tablespoons (3 ounces) water or cold brewed coffee
1/8 teaspoon salt
1 teaspoon vanilla extract
Stir everything together. Adjust the frosting's consistency with additional water/coffee or sugar, as needed.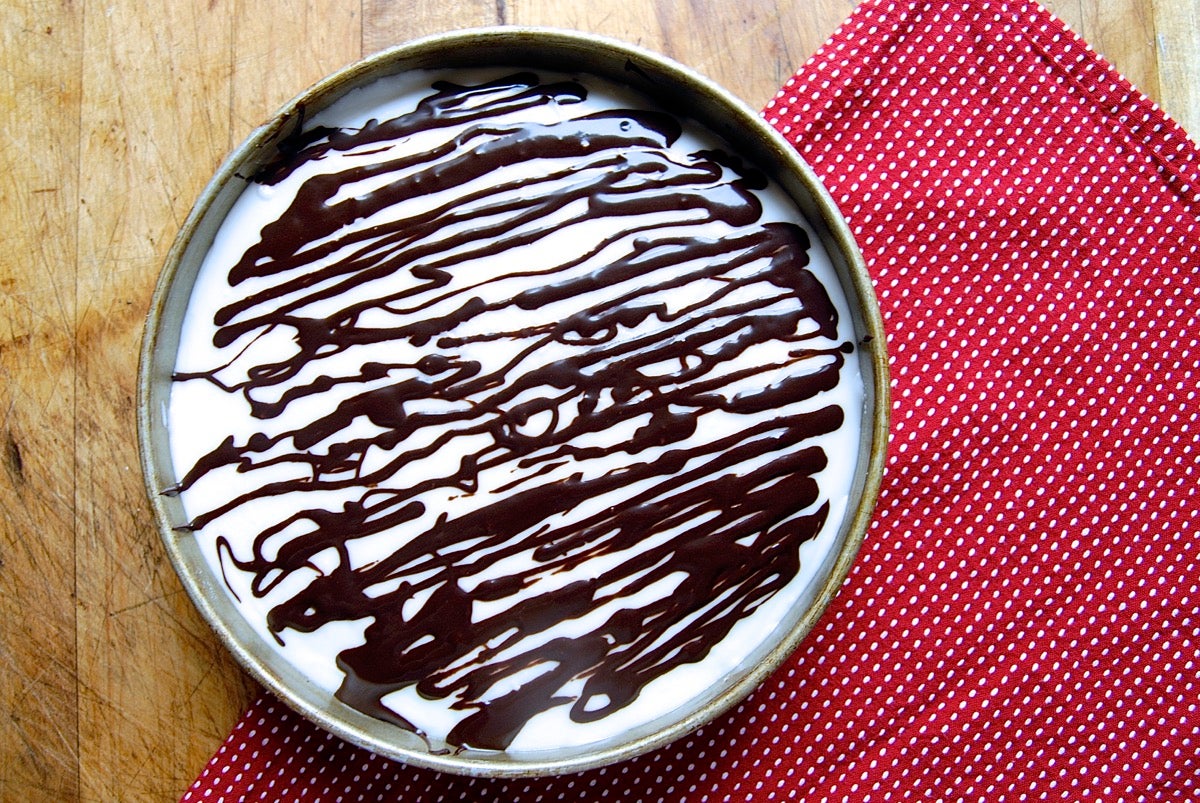 Ice your cake
Pour/spread the icing atop your cake. Be aware that gluten-free cake tends to be a bit more fragile than standard cake; if your icing is too stiff to spread easily, thin it with liquid, a few drops at a time, until it spreads readily.
OK, this cake is ideal for the aforementioned progressive dinner party. But something more casual is needed for those hungry kids at the swim meet.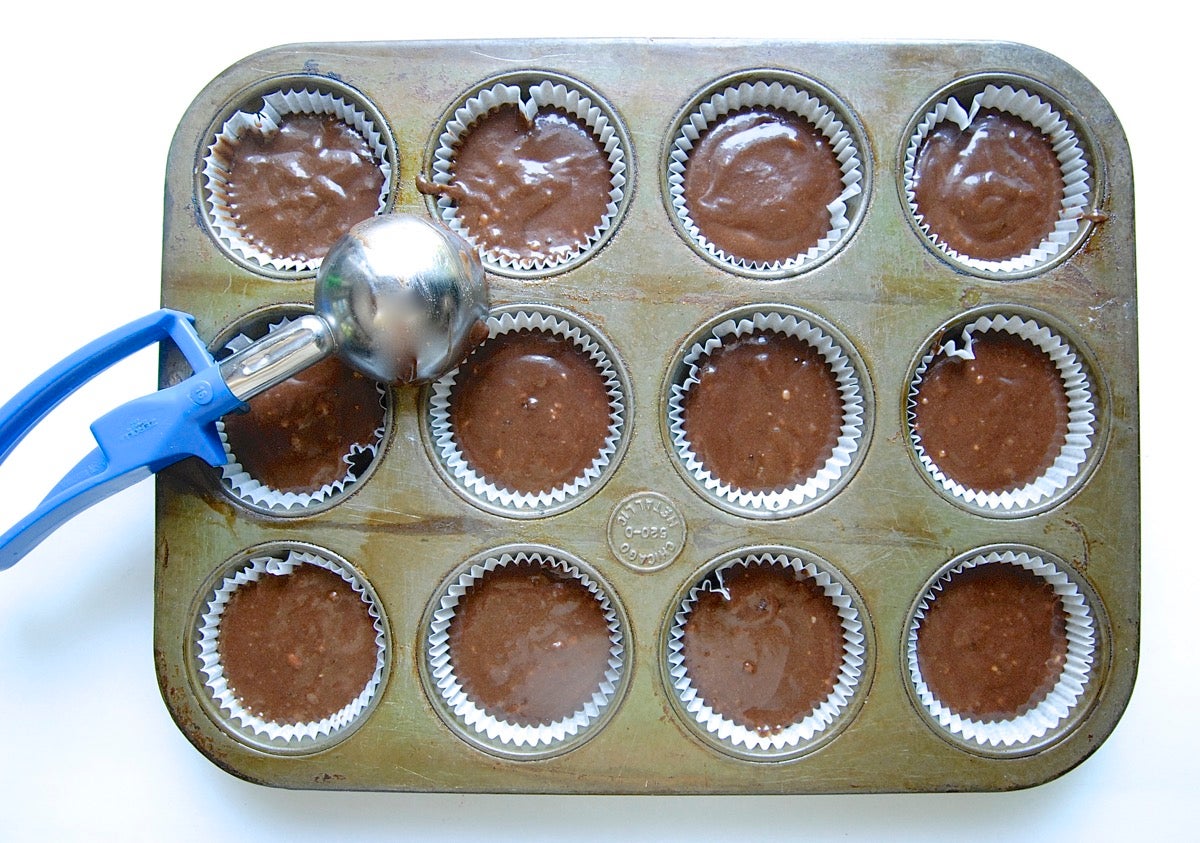 Best potluck dessert for kids: cupcakes!
Most kids can't resist cupcakes, and thankfully they're easy to make. Simply portion your prepared cake batter into a paper-lined muffin pan; a muffin scoop makes the task easy.
Bake the cupcakes in a preheated 375°F oven for about 22 minutes, until a toothpick inserted into the center of one comes out clean. I didn't test mini cupcakes, but my educated guess would be to bake them for about 10 to 12 minutes.
Remove the cupcakes from the oven, and transfer them to a rack to cool. Again, gluten-free cupcakes can be fragile; let them cool in the pan for at least 5 minutes before you attempt to move them.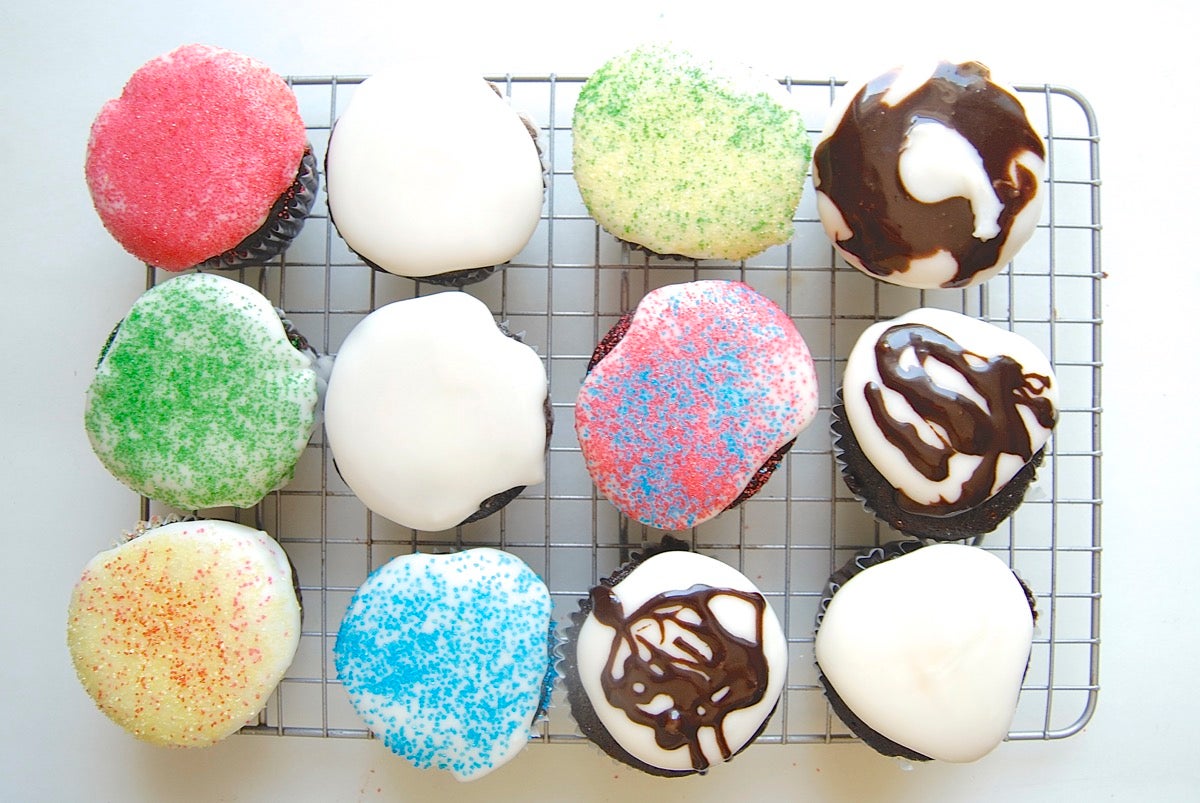 Ice and decorate
Plain vanilla icing is a good choice here; no sense torturing kids with flavors they may not like, and vanilla is a blank slate for all kinds of garnishing, like colorful sugars or more of that chocolate syrup.
You'll need about 3/4 cup of icing for a dozen cupcakes; so make a half-recipe of the vanilla icing above (or of any of the three icings listed).
Oh, and if you're wondering about the fancier individual-serve cakes pictured near the top of this post — they're easy! Simply bake your cake in a 9" round pan, frost as desired, then use a 2 1/2" biscuit cutter to cut it into elegant single servings. (Share the scraps with the kids!)
Next time you need a potluck dessert —
Nut-free, gluten-free, dairy-free, egg-free? Bring those diets on! You can't go wrong with Cake Pan Cake made with Measure for Measure flour.
Since icing was my biggest challenge here, do you have a favorite vegan/gluten-free icing recipe? We'd love to hear about it — please comment below.
Jump to Comments