Have you ever wondered how to make your favorite recipes dairy-free? Let us show you the way by making some of our most well-loved recipes with non-dairy ingredients. In this post we explore how to bake with yeast while avoiding dairy, including dairy-free bread, sweet rolls, even pastries! Note: for the sake of this post, eggs are not considered dairy ingredients.
As a baker, you've got to have a number of tools in your toolbox. It's helpful to know how to save deflated dough and substitute whole wheat flour. Another skill that's becoming increasingly useful? Making your favorite recipes dairy-free. Perhaps someone you bake for is lactose-intolerant, or maybe you just ran out of milk. Either way, we're going to teach you how to make delicious dairy-free bread: sandwich loaves, enriched rolls, and pastries will all be in your repertoire.
Dairy plays a key role in many yeasted recipes. It adds creamy flavor, tender texture, and helps with browning. Milk, buttermilk, and butter are just a few of the dairy products commonly used in bread and pastry. Don't fret — we've come up with substitutes that will yield equally fantastic results without any dairy at all.
If your recipe calls for this dairy product, use this dairy-free ingredient instead:
1. Milk: If you've read any of our other posts about dairy-free baking, you won't be surprised to hear that in most recipes that call for milk, you can use your favorite non-dairy milk instead.
The key is to use an unsweetened, unflavored variety. Soy, almond, and rice milk are all good options because they're neutral in flavor. You'd be hard-pressed to taste the difference between bread made with regular milk vs. any of these non-dairy milks.
Some dairy-free milks have a more prominent flavor (like coconut and cashew milk). These may impart a slightly nutty (albeit subtle) taste in your baked goods.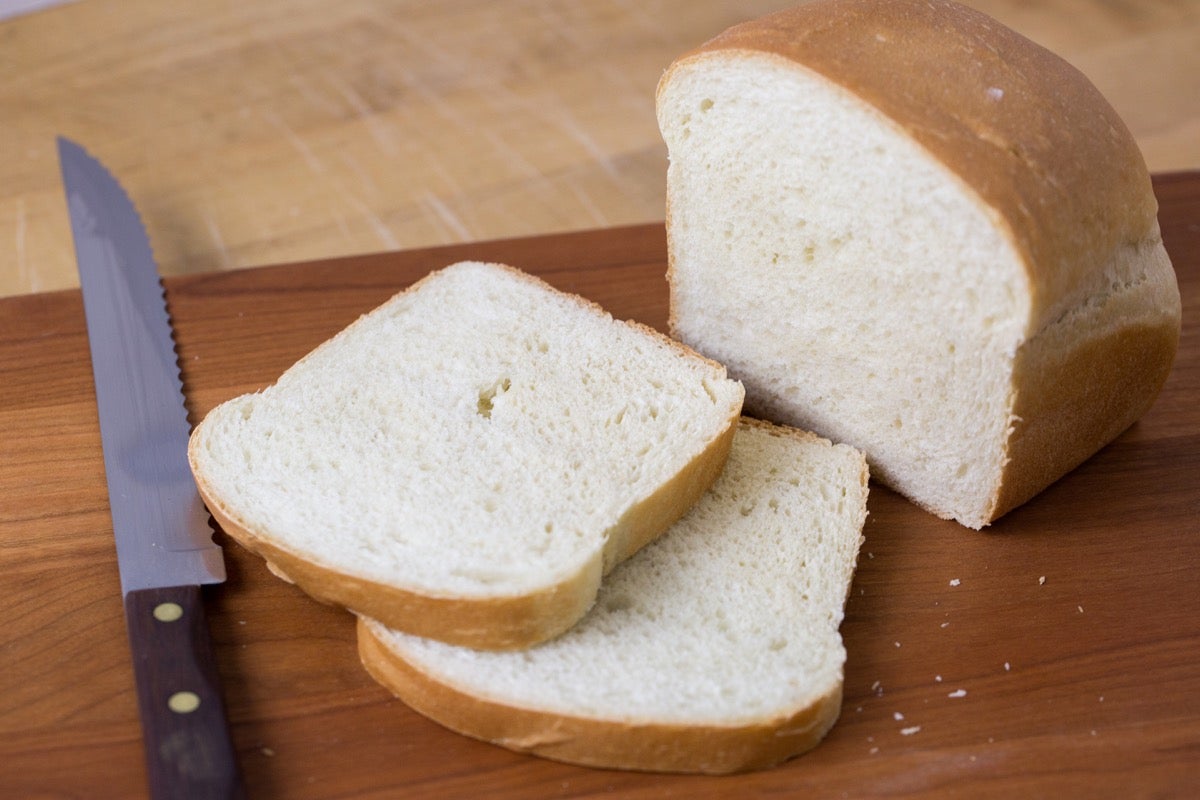 Look at this loaf of Our Favorite Sandwich Bread — it's made with almond milk. No one would ever know the difference unless you shared the dairy-free secret.
2. Buttermilk or buttermilk powder: If you're a baker who likes a little tang in your baked goods, you might find yourself baking with buttermilk. (Or buttermilk powder, which is a shelf-stable version of this versatile ingredient.)
You don't need to say goodbye to your favorite buttermilk bread recipe just because you're baking dairy-free. Make your own buttermilk by adding 1 tablespoon of lemon juice or vinegar to 1 cup of plain, unsweetened non-dairy milk. (Soy milk tends to "curdle" like real buttermilk the most.) Mix it up, let it rest for about five minutes, then use it in your recipe to replace the liquid. Voilà, butter(dairy-free)milk!
3. Dry milk powder: A handful of soft sandwich bread recipes call for Baker's Special Dry Milk, which helps loaves rise high while also boosting nutrition and flavor. In these instances, you have two options to make dairy-free bread.
Option #1: Omit the dry milk powder (and use water)
Typically recipes that call for dry milk powder use water as the liquid in the dough. If you simply leave out the dry milk powder, your loaf may be slightly less tender and a bit more pale than it otherwise would be. Extend the baking time by about five minutes to attain a golden crust.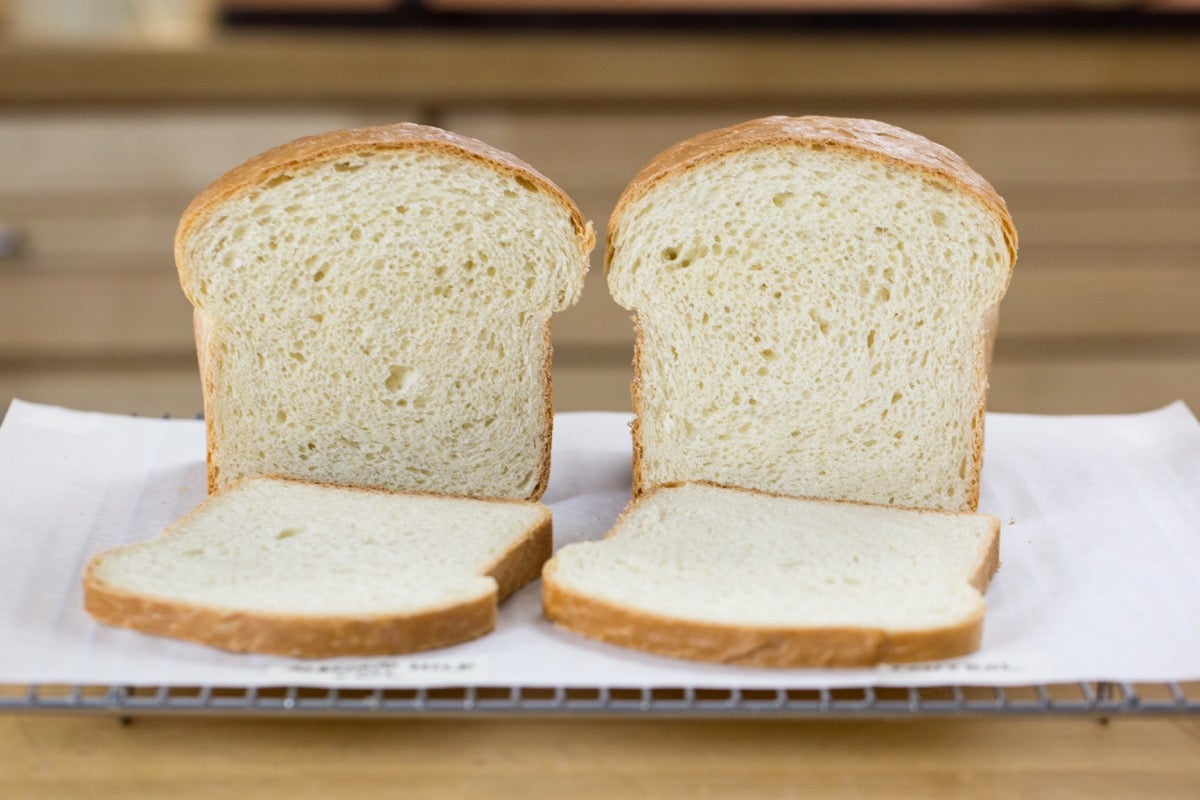 Option #2: Use non-dairy milk
If you really want to make a loaf that's indistinguishable from its dairy counterpart, go back to our tried and tested rule: use plain, unsweetened non-dairy milk. In this case, use non-dairy milk in place of the water in the recipe and omit the dry milk powder.
4. Butter: This is another instance when you have two options: oil or vegan butter. The ingredient to use depends on the amount of butter in your recipe.
For sandwich breads and other recipes that call for just a few tablespoons of butter (fewer than 1 1/2 tablespoons of butter per cup of flour), you can use an equal amount of vegetable oil. It's hard to tell the difference when this is the only variable that's changed.
For enriched dough that calls for a large amount of butter (think brioche, babka, and cinnamon rolls), use vegan butter. We like Earth Balance Vegan Buttery Sticks because they behave like butter in baking.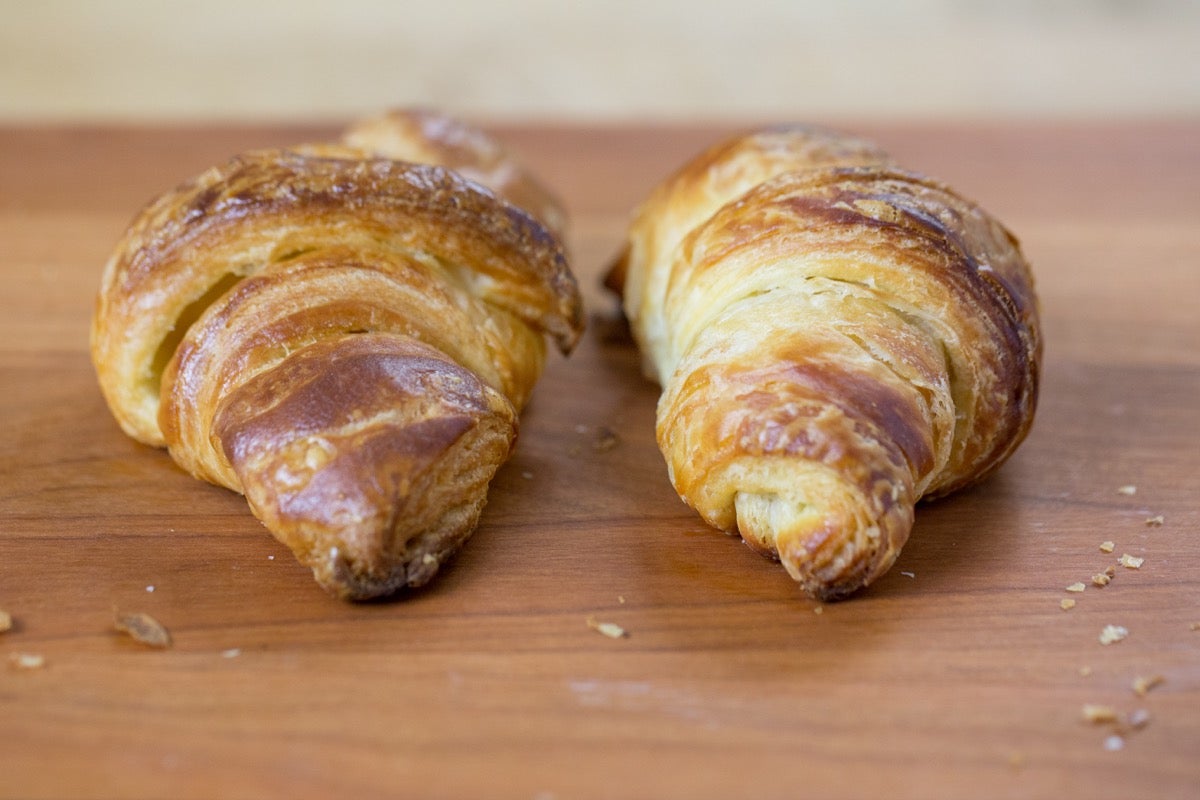 Vegan butter acts so much like butter we were even able to make buttery, flaky croissants with it. These two croissants look slightly different, but both look delicious in my book.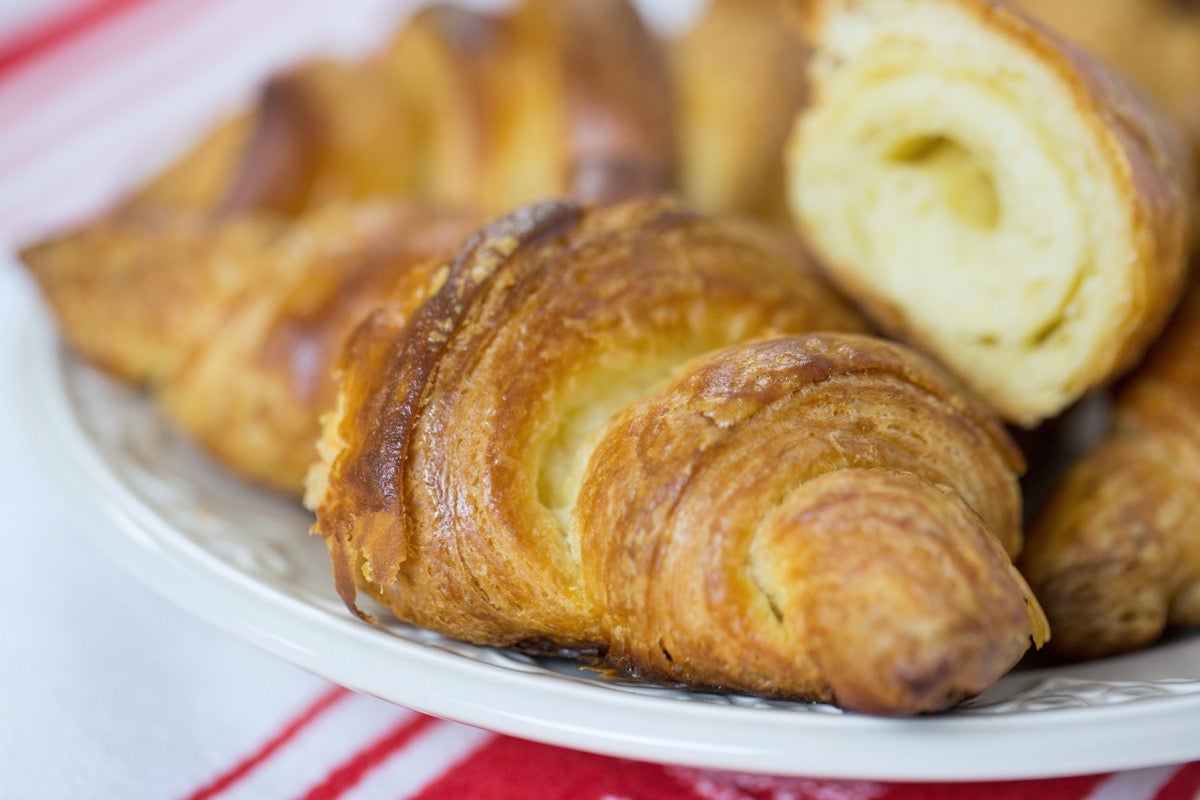 Yes, we said it: croissants without real butter! Truth be told, the flavor was (surprisingly) delightful. The layers were super flaky. I promise no one will be disappointed if you make homemade pastry with this stuff.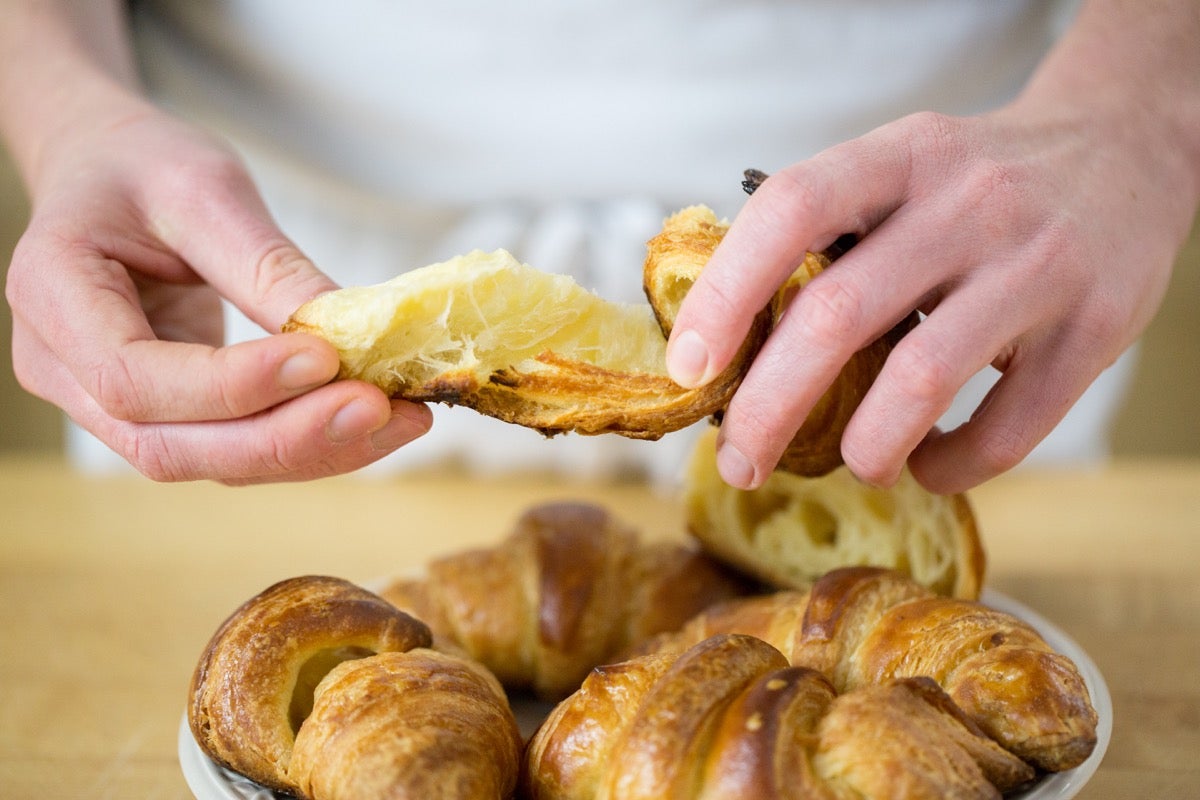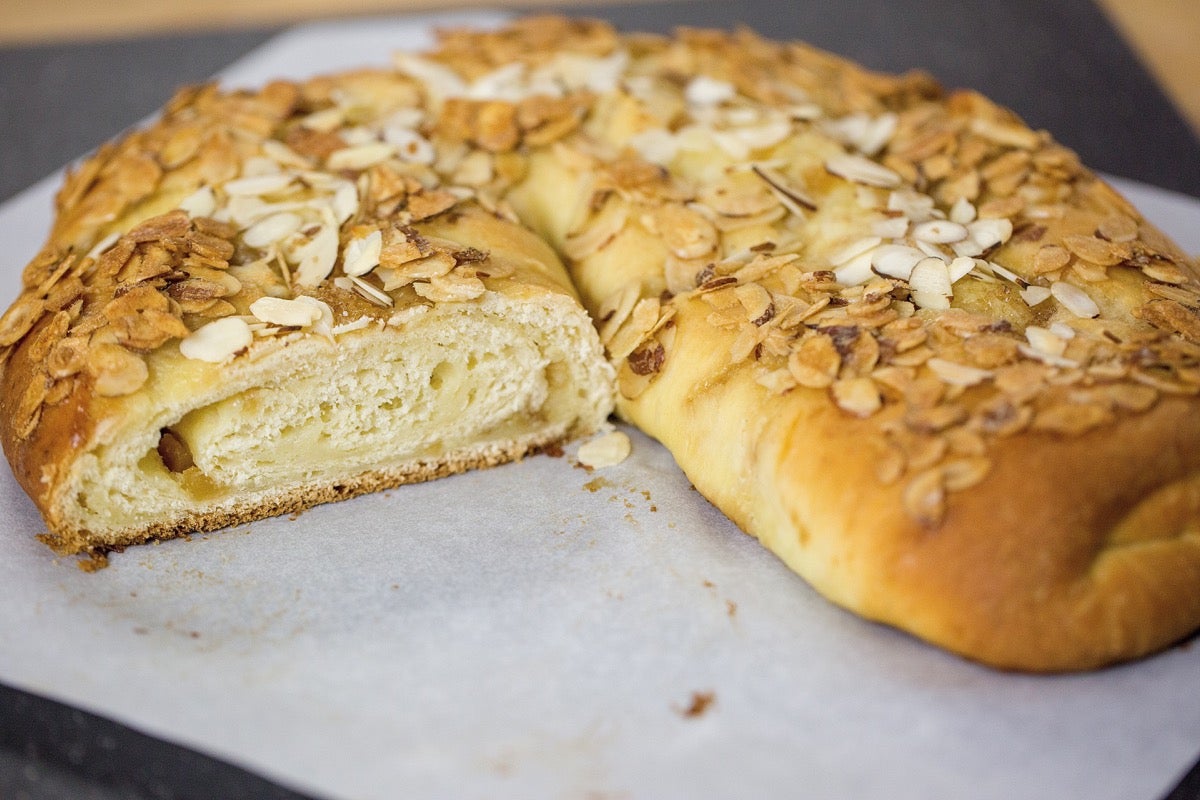 5. Sour cream, yogurt, or cream cheese: Some breads get an extra boost from other dairy ingredients to make them extra rich and flavorful. You'll need to be a resourceful shopper and scout the dairy case to find plain, unsweetened soy, almond, or coconut yogurt.
Non-dairy yogurt can replace yogurt and sour cream in recipes. (Soy yogurt tends to be the tangiest non-dairy yogurt and therefore the best substitute for sour cream.) Yogurt even works to replace cream cheese; just hold back 1 to 2 tablespoons of liquid in the recipe. Bonus points if you can find dairy-free cream cheese! It certainly exists and is becoming more mainstream.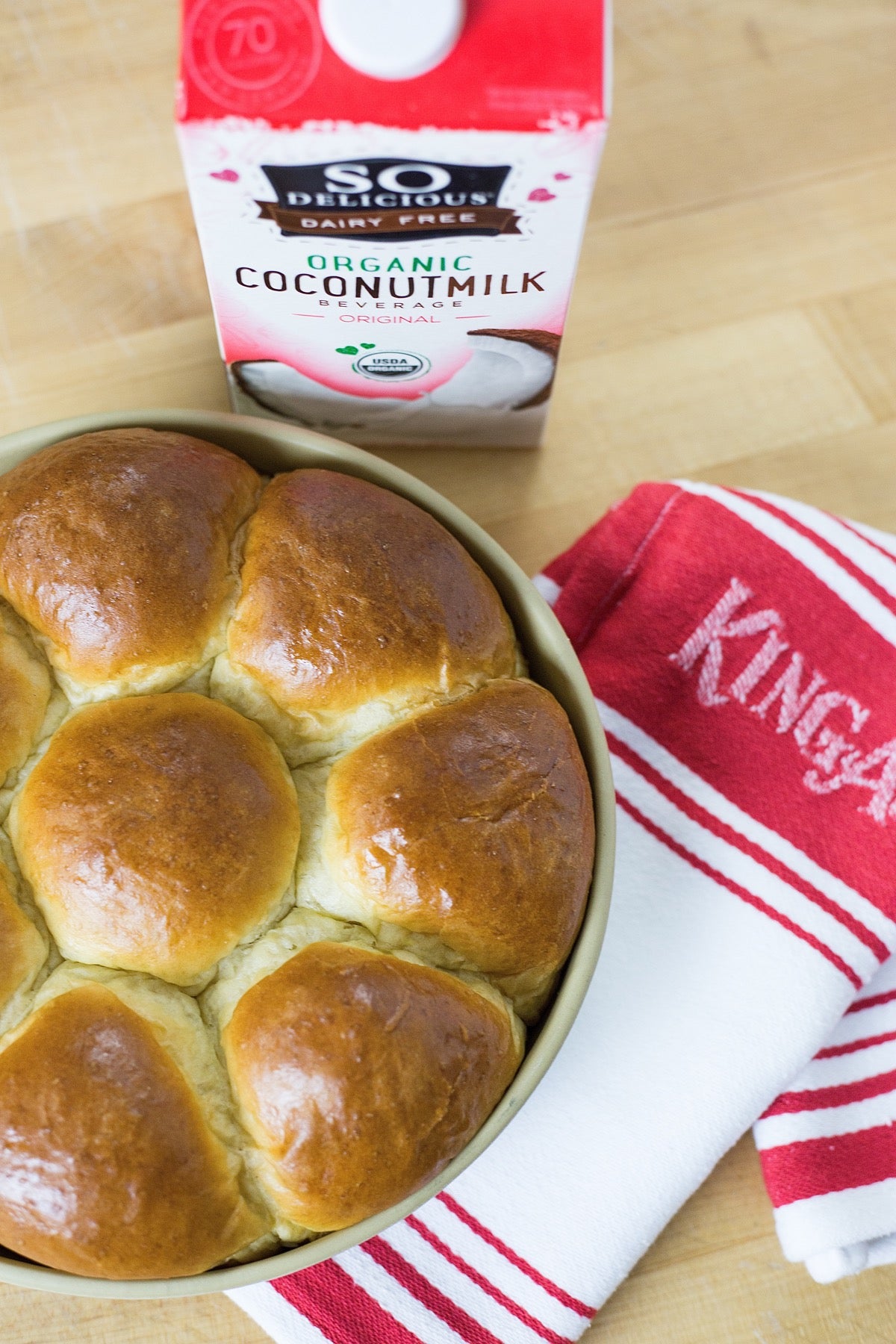 Special cases: Some of my favorite recipes (Japanese Milk Bread Rolls and Soft Cinnamon Rolls) use a method called tangzhong. This process involves cooking some of the flour in the recipe with milk to make dough that's extra light and tender.
To make dairy-free bread using tangzhong, it's important to use milk that's high in fat. Coconut milk (not the canned milk but the kind that comes in a box or carton) yields delightful results.
Tangzhong recipes sometimes call for both regular milk and dry milk powder; use coconut milk or another high-fat non-dairy milk to replace both the regular milk and water in the recipe. If you use all coconut milk, your rolls will have just a hint of a floral tasting note. (Yum!)
Dairy-free bread: easy and delicious
Baking dairy-free bread and pastries can sound challenging. But now you know how easy it can be! You can even make dairy-free, gluten-free bread if need be — just be sure to use a designed-to-be-gluten-free recipe, then replace the dairy ingredients.
Stand by those dairy-free staple ingredients and make simple swaps for the dairy products in your favorite recipes. Who knows, you just might discover that you like dairy-free bread better than the original. (Soft Cinnamon Rolls made with coconut milk? Divine!) If you come across any outstanding dairy-free variations, let us know in the comments below.
For more dairy-free tips, techniques, and recipes, check out our other articles about dairy-free baking here.
Thanks to Anne Mientka for taking the photographs for this post.
Jump to Comments