Fruit cake Bundt
Year of the Bundt's festive holiday finish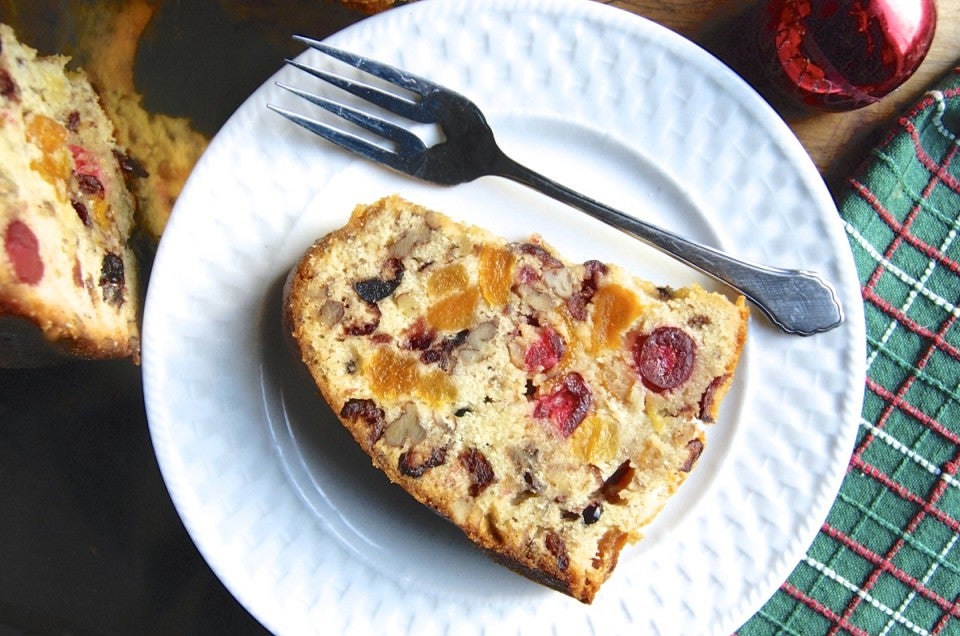 Fruitcake: noun. 1. a rich cake containing dried or candied fruit and nuts.
You may not be a dedicated word nerd like me, but I ask you to pay attention to the following subtle difference in these two words/phrases: fruitcake, fruit cake.
Fruitcake, as the dictionary describes it, is a rich cake (think extremely heavy and dense) containing candied fruit and nuts (think all manner of potentially disagreeable ingredients, e.g., candied citron and brazil nuts).
Notice I said "potentially." I know, I know, there are those of you out there who love candied citron and Brazil nuts. More power to you! Marketers of candied citron and Brazil nuts appreciate your enthusiasm; I just don't happen to share it.
Fruit cake, on the other hand, is moist, golden cake enhanced with yummy dried fruits like cranberries and apricots, as well as tempting nuts: think pecans. Each delicious slice is an engaging combination of moist cake and tangy fruit and toasty nuts. What's not to like?
Honestly, I'm not ragging on you fruitcake lovers; I happen to be one myself. Every year I make Everyone's Favorite Fruitcake, aging mini-loaves in rum syrup-soaked cheesecloth for several weeks before gifting them to fellow fruitcake-loving friends and family members.
But for those of you who think fruitcake is for the birds (literally), I give you Orange-Cranberry-Nut Fruit Cake, a confection that'll be applauded by even the most fanatic fruitcake haters — and might just prove a nice change for devotees of the traditional heavy loaf as well.
First, prepare the dried fruit
We're going to use a lot of it, so make sure you choose dried fruits you like. You'll want about 4 cups of dried fruit, which translates to about 1 1/4 to 1 1/2 pounds or so, depending on what fruits you choose. I've decided on 2 cups (241g) of dried cranberries and 2 cups (241g) of chopped dried apricots.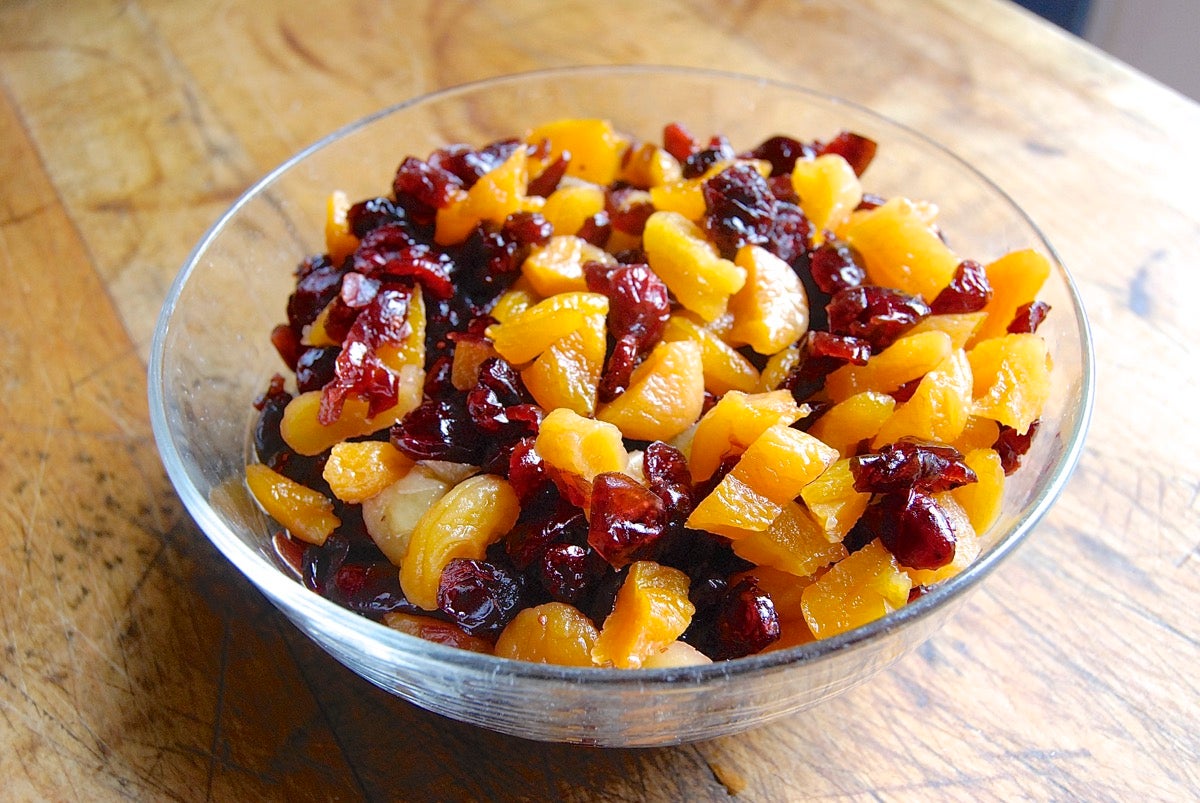 Combine the dried fruit with 1/2 cup (113g) water (or fruit juice, brandy, or rum) in a microwave-safe bowl. Cover and microwave for 1 to 2 minutes (until hot but not simmering), stir, then set aside to cool.
Don't have a microwave? Combine the fruit and liquid in a saucepan, heat until hot but not simmering, and remove from the heat. Stir; set aside to cool.
Preheat the oven to 325°F with a rack in the lower-center position.
Prepare some toasted nuts, if desired
I like to add 2 cups (227g) of nuts (I prefer pecans or walnuts) to this cake as well. Don't like nuts? Leave 'em out.
Toasted nuts have wonderful, rich flavor; about 8 to 10 minutes in your preheating 325°F oven should do it. (If your oven preheats by blasting heat from the top element, be sure to position the nuts on a lower rack to avoid burning.)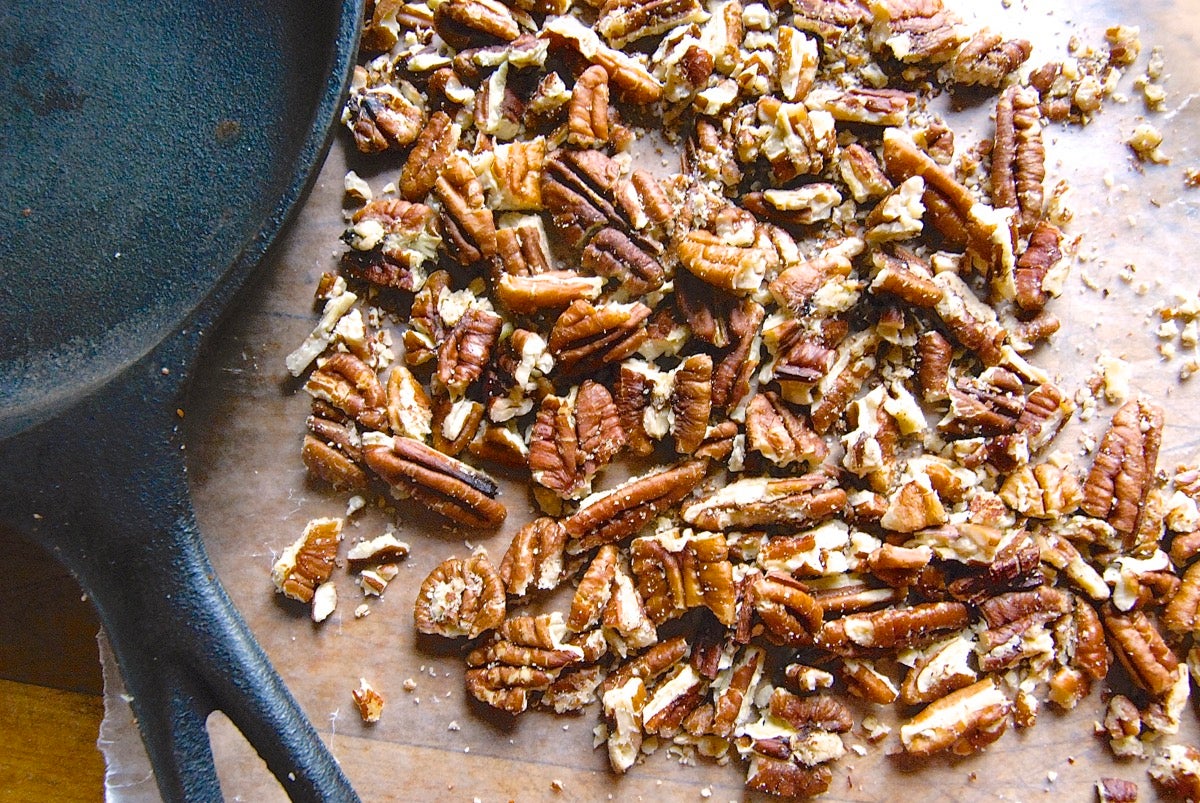 If you're starting with whole shelled nuts, let them cool before you dice them. Warm nuts are "bendy," and aren't as easy to chop as cooled nuts.
Speaking of chopping, you know on those food shows how the chefs chop-chop-chop REALLY fast? Not my skill set. I know it's lame, but I prefer to break up my nuts with a cast iron frying pan. (To avoid skittering and scattering, put the nuts in a large zip-top plastic bag before whacking them.)
Stir together the orange glaze
This "soaker" glaze will be brushed onto the warm cake, giving it an extra hit of flavor and a crunchy/moist outer crumb. Making it ahead gives the sugar a chance to dissolve.
Stir together 1/3 cup (74g) orange juice and 1/3 cup (67g) granulated sugar. Warm briefly in the microwave; about 45 seconds should do it. Stir and set aside to rest at room temperature, stirring occasionally if necessary to dissolve the sugar completely.

Make the fruit cake batter
Gather your ingredients:
16 tablespoons (227g) unsalted butter, at room temperature, at least 65°F
2 cups (397g) sugar
2 teaspoons baking powder
1 teaspoon salt
1/4 teaspoon orange oil, 1/8 to 1/4 teaspoon Fiori di Sicilia, or 1 teaspoon vanilla extract, optional
4 large eggs, at room temperature
3 3/4 cups (447g) King Arthur Unbleached All-Purpose Flour
1 cup (227g) orange juice
In a large bowl, beat together the butter and sugar until light-colored and fluffy. Beat in the baking powder, salt, and flavor.
Beat in the eggs one at a time. Scrape the bottom and sides of the bowl, and beat again briefly to incorporate any sticky residue.
Stir in the flour alternately with the orange juice. Scrape the bowl, and beat briefly.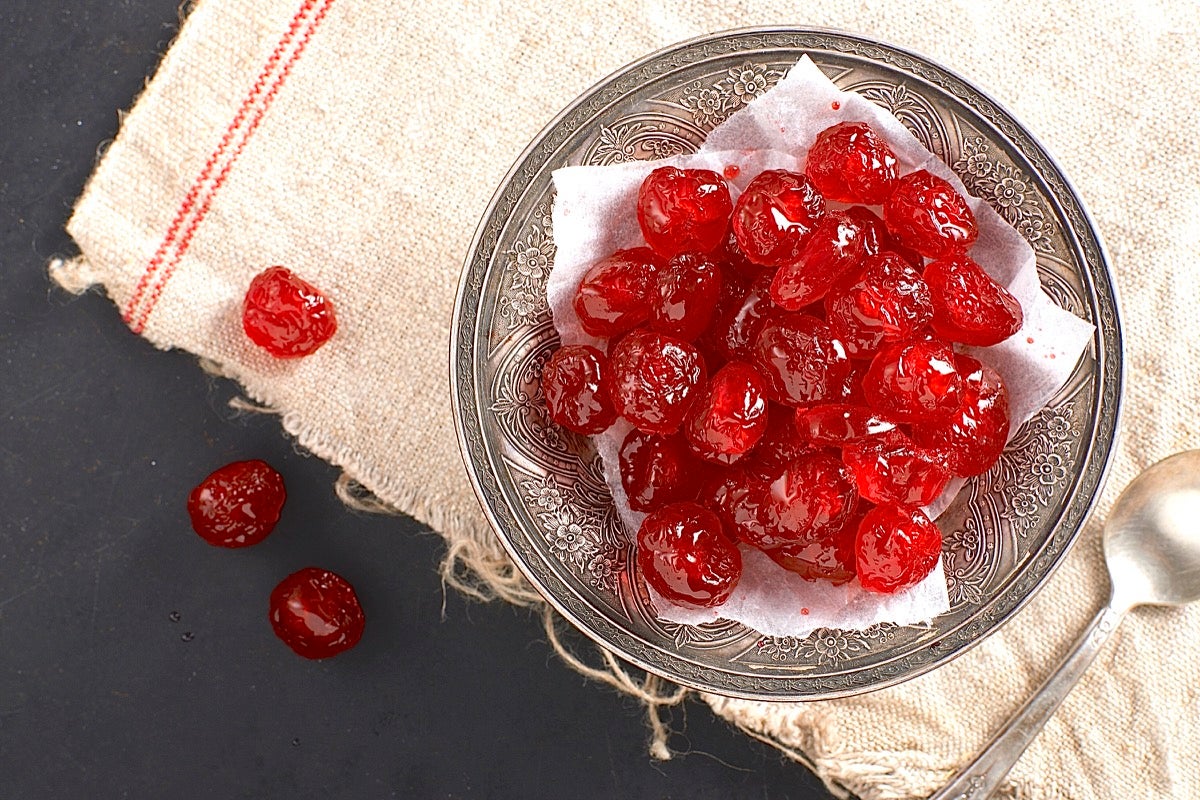 Stir in the fruit and nuts
Fold in the dried fruit, along with any liquid it hasn't absorbed. Stir in the 2 cups of nuts. Finally, stir in 1 3/4 cups (283g) candied red cherries.
If you don't like candied cherries (even your own homemade ones), feel free to replace them with about 2 cups of another dried fruit. If you go this route, increase the initial soaking liquid to 3/4 cup; and soak all 6 cups of dried fruit at once.
OK, time out for a teaching moment: Have you ever wanted to add fruit, nuts, or chips to Bundt cake batter, but weren't sure if everything would end up at the bottom of the pan in a big gloppy mess?
Successfully using add-ins in Bundt cake is all about how thick the batter is: the thicker the batter, the better able it is to support any fruit and nuts as the cake bakes.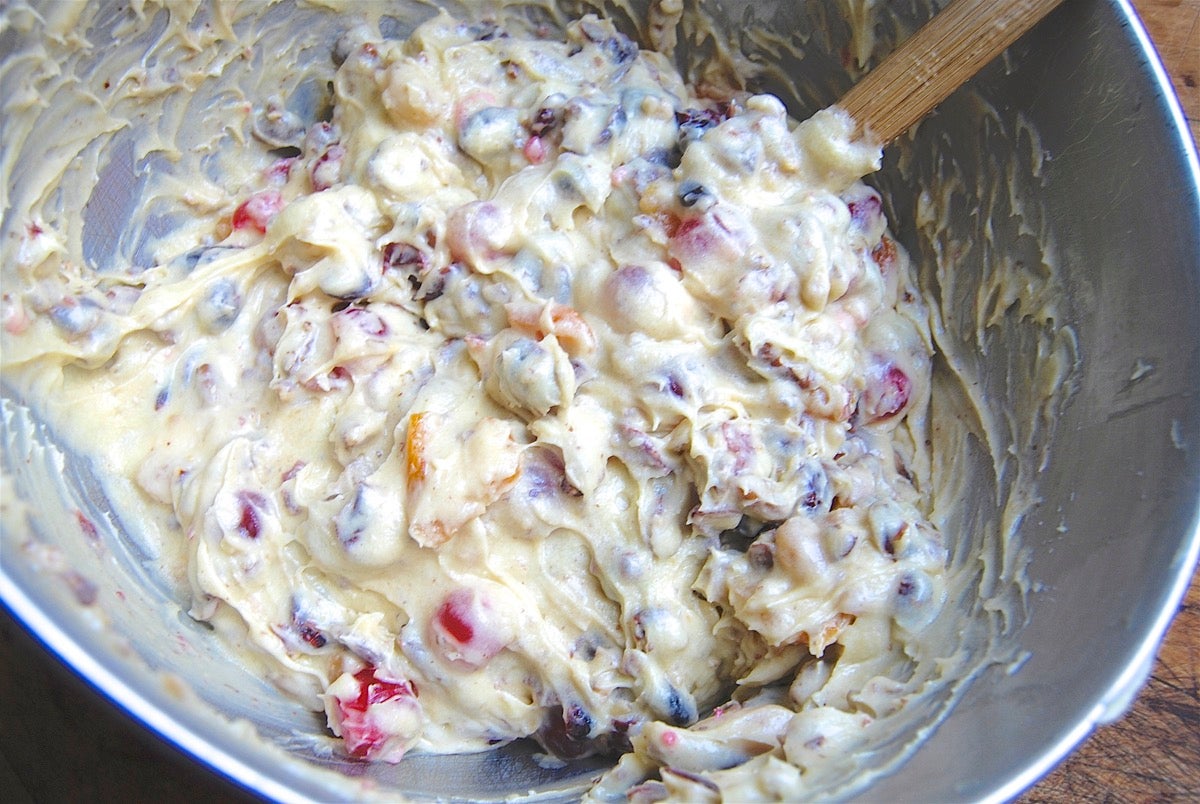 See how thick this batter is? Its stiffness pretty much guarantees the fruit and nuts won't sink to the bottom of the baked cake. For more on this topic, see Bundt cake mix-ins.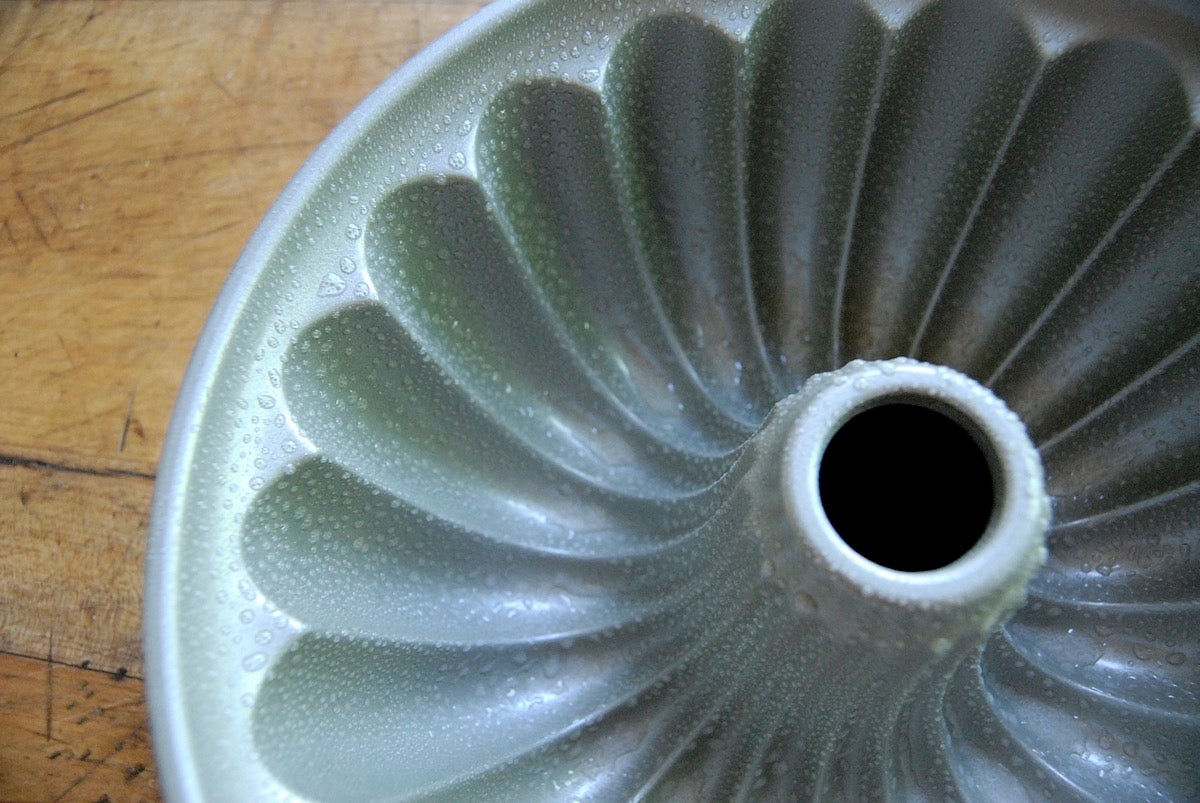 Prepare your Bundt pan
What's the worst thing that can happen to a Bundt cake? Sticking in the pan, breaking apart, and falling onto the cooling rack in ragged chunks, right?
There're actually a lot of things you can do to pretty much prevent that particular disaster.
First, grease your pan thoroughly with non-stick vegetable oil spray. Also, grease it just before adding the cake batter. And once the cake's out of the oven... Well, read how to prevent Bundt cakes from sticking for lots more handy tips.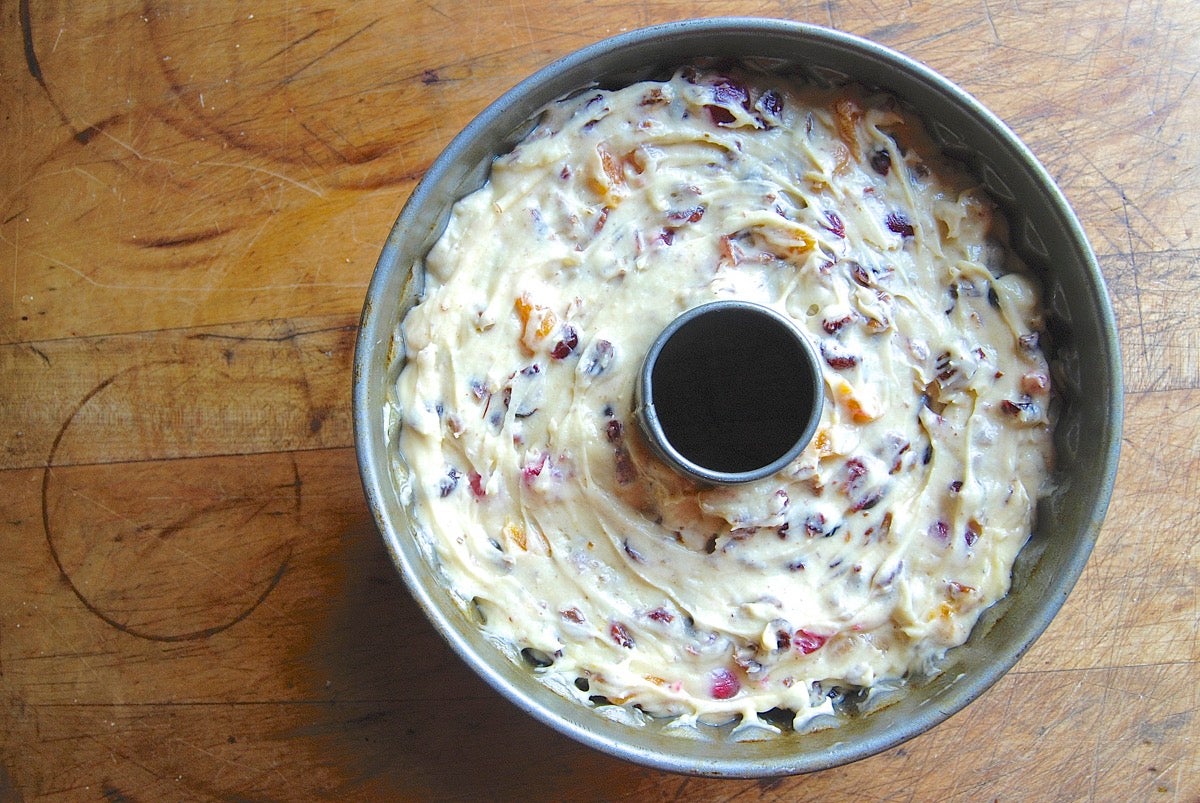 Spoon the batter into your prepared pan. This is a large recipe, and you'll need a large Bundt pan — a pan labeled 12-cup (which is about 9 cups bakeable capacity) should do it.
What's bakeable capacity? And what's the easiest way to measure it? All is revealed in our post on Bundt pan size.
Don't have a large Bundt pan? You can use two 6-cup Bundt pans; or two 8 1/2" x 4 1/2" loaf pans; or various sizes of mini-loaf pans. See the recipe page for complete instructions.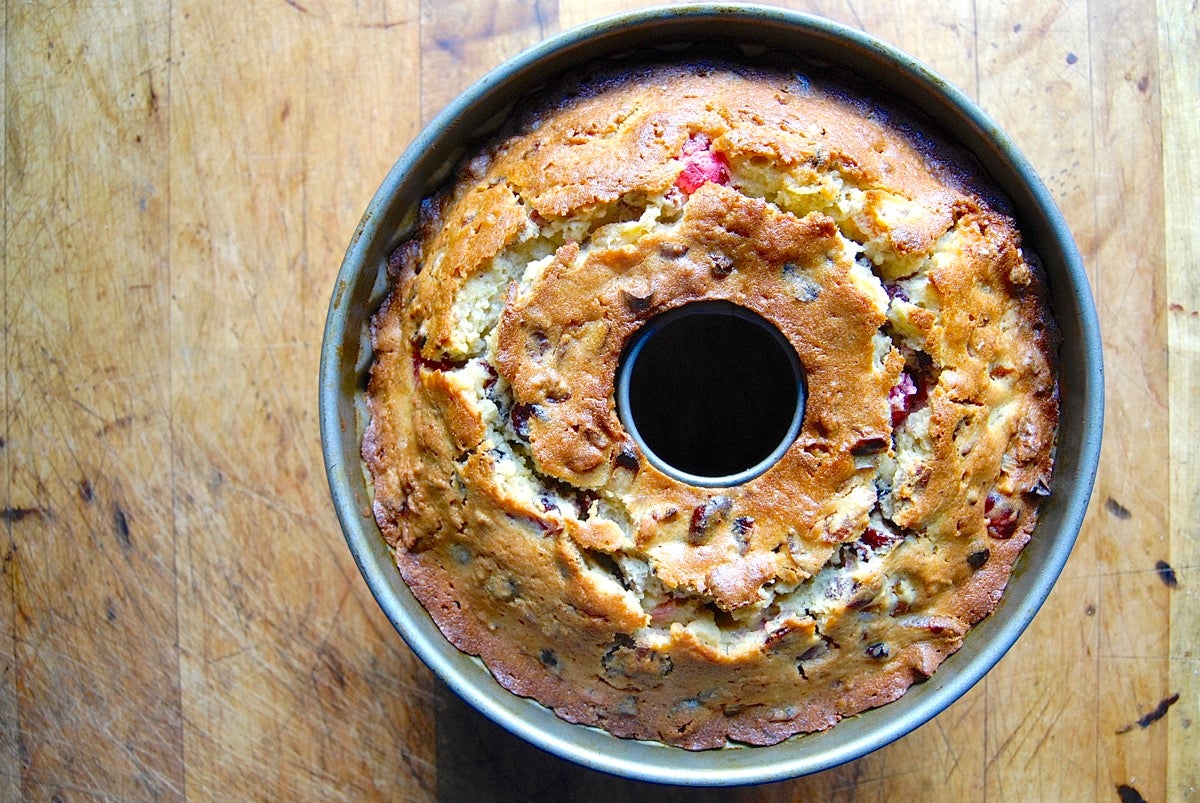 Bake the fruit cake
Bake the cake for about 90 minutes, starting to test it for doneness at 80 minutes. When done, the cake will be a light golden brown all over, and a long toothpick or skewer inserted into the center will come out clean.
Notice this cake isn't an aggressively high riser; that's as it should be. Loaded with fruit and nuts, it's quite dense — in a compelling way. Let's call it hearty; substantial.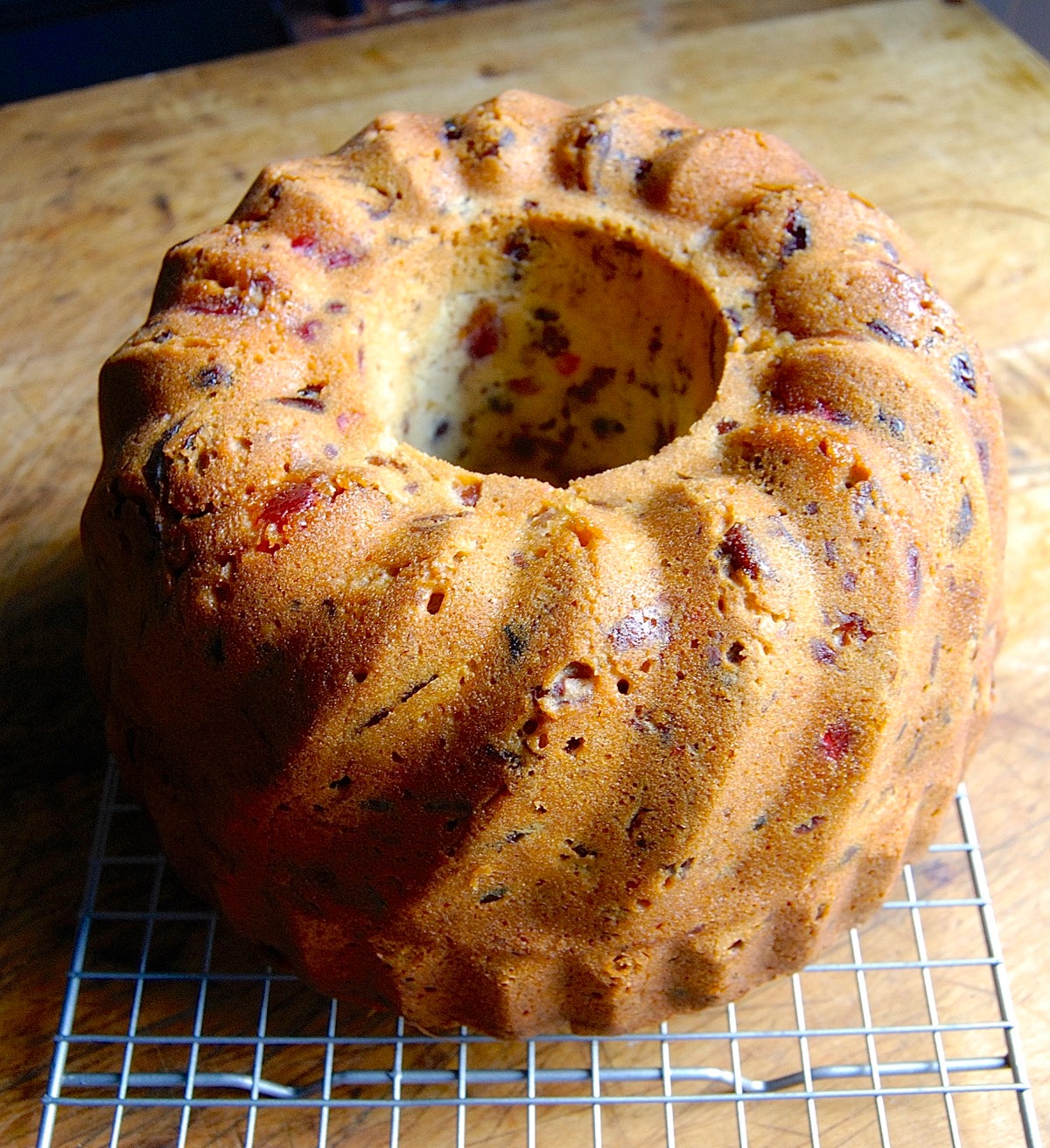 Take the cake out of the oven, and set it on a rack. Carefully loosen its edges with a table knife or thin spatula. Let it rest in the pan for 10 minutes, then turn it out onto the rack, holding your breath and saying a few magic words so it doesn't stick.
I never have trouble with this cake sticking, thankfully; but if you do, help is on the way: read Stuck Bundt: when a Bundt cake doesn't budge.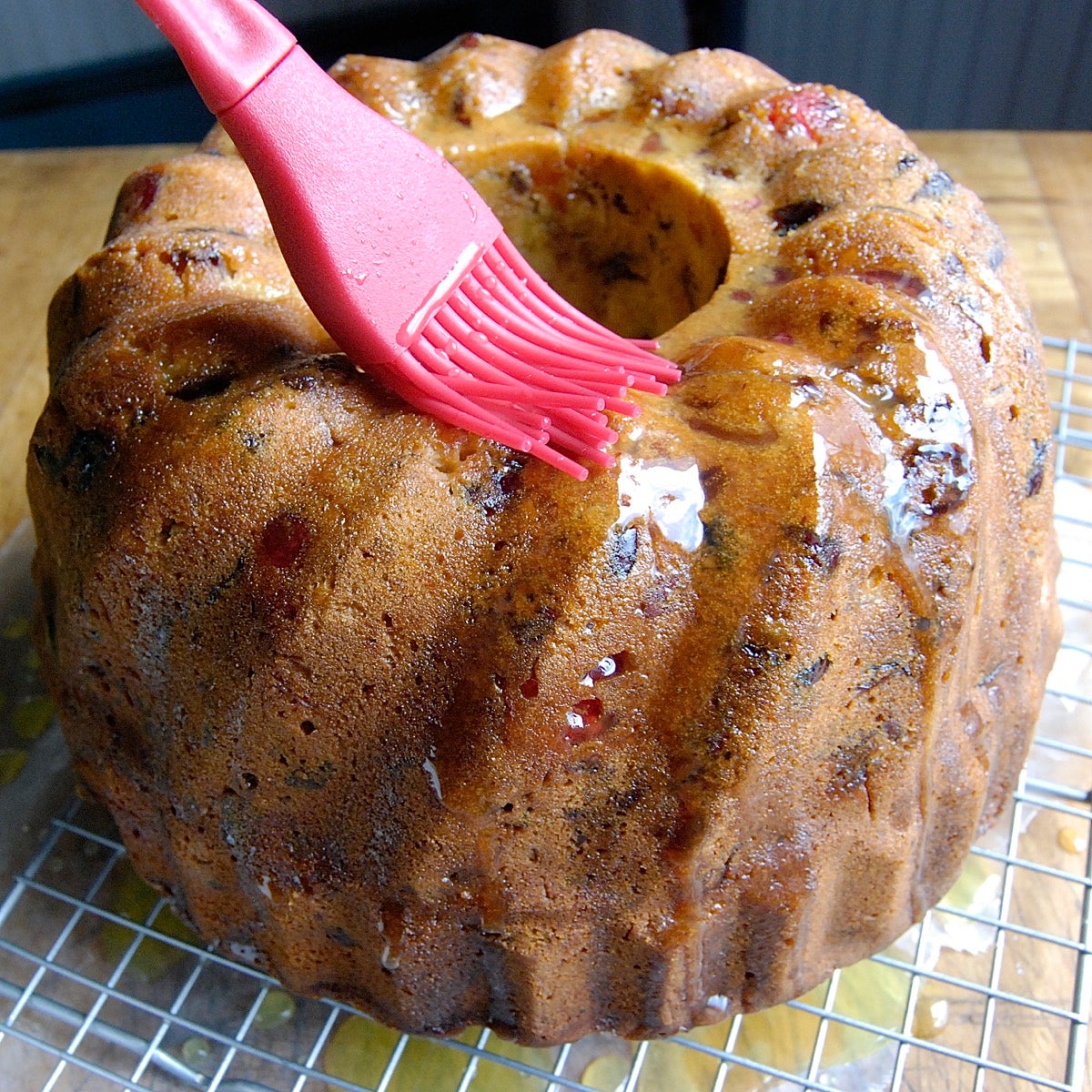 Glaze the warm cake
Set the cake over a piece of parchment or wax paper to catch any drips. Brush the orange glaze all over the warm cake.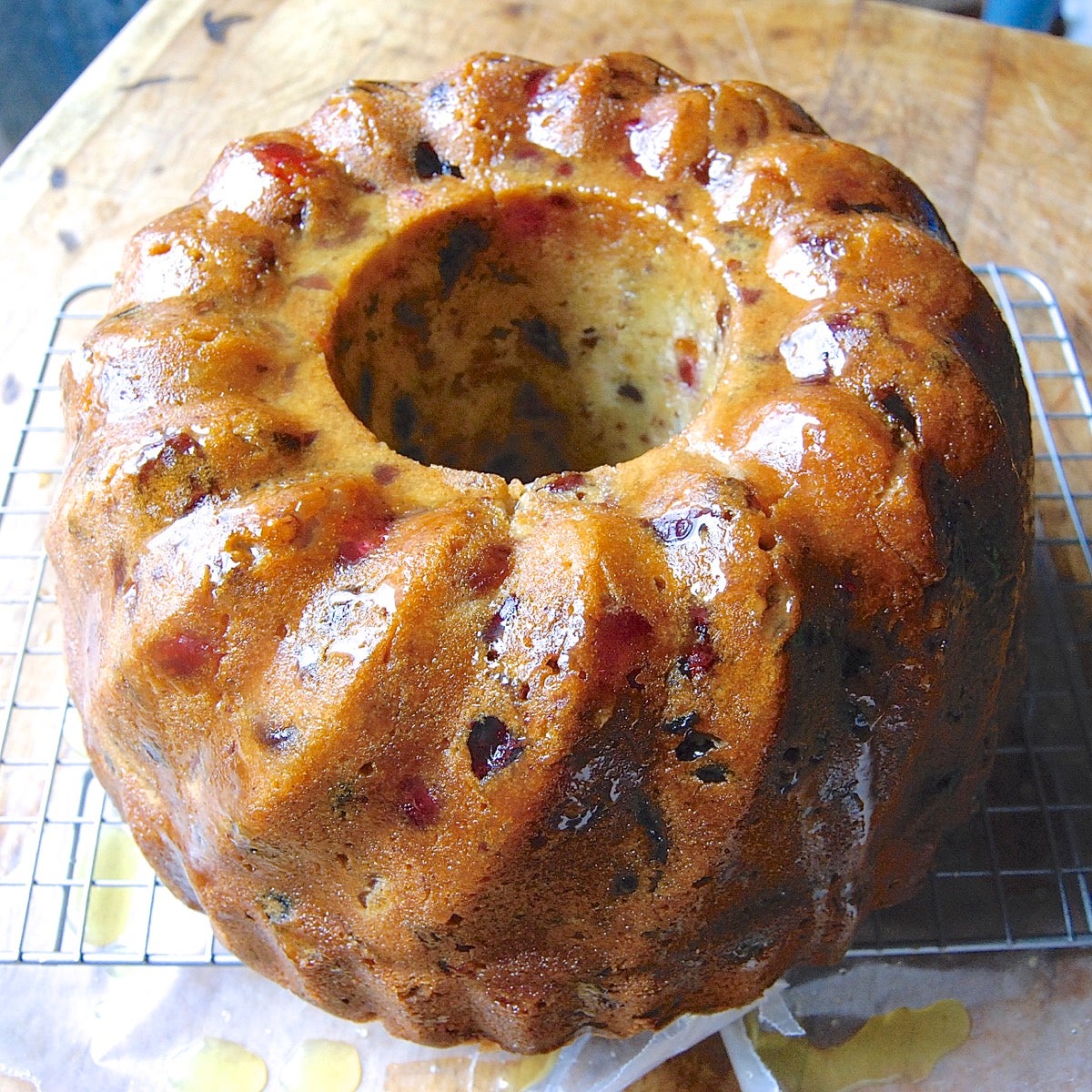 Keep brushing until you've used up all the glaze. Be sure to brush on the extra glaze that's collected on the paper underneath.
The cake will look totally saturated; that's a good thing. Let the cake cool completely on the rack.
Let the fruit cake age
Now comes the hard part: wrap the thoroughly cooled cake securely in plastic, and let it sit overnight until slicing into it. Better yet, let it sit for two days. Or three days, or a week; this cake just continues to get better and better as it ages.
A slice of this fruit cake will be pretty good the same day it's baked. But days later it'll be even better: its texture moister, its flavors mellow and balanced. In this one respect, Orange-Cranberry-Nut Fruit Cake is similar to standard fruitcake (or good wine); it improves with age.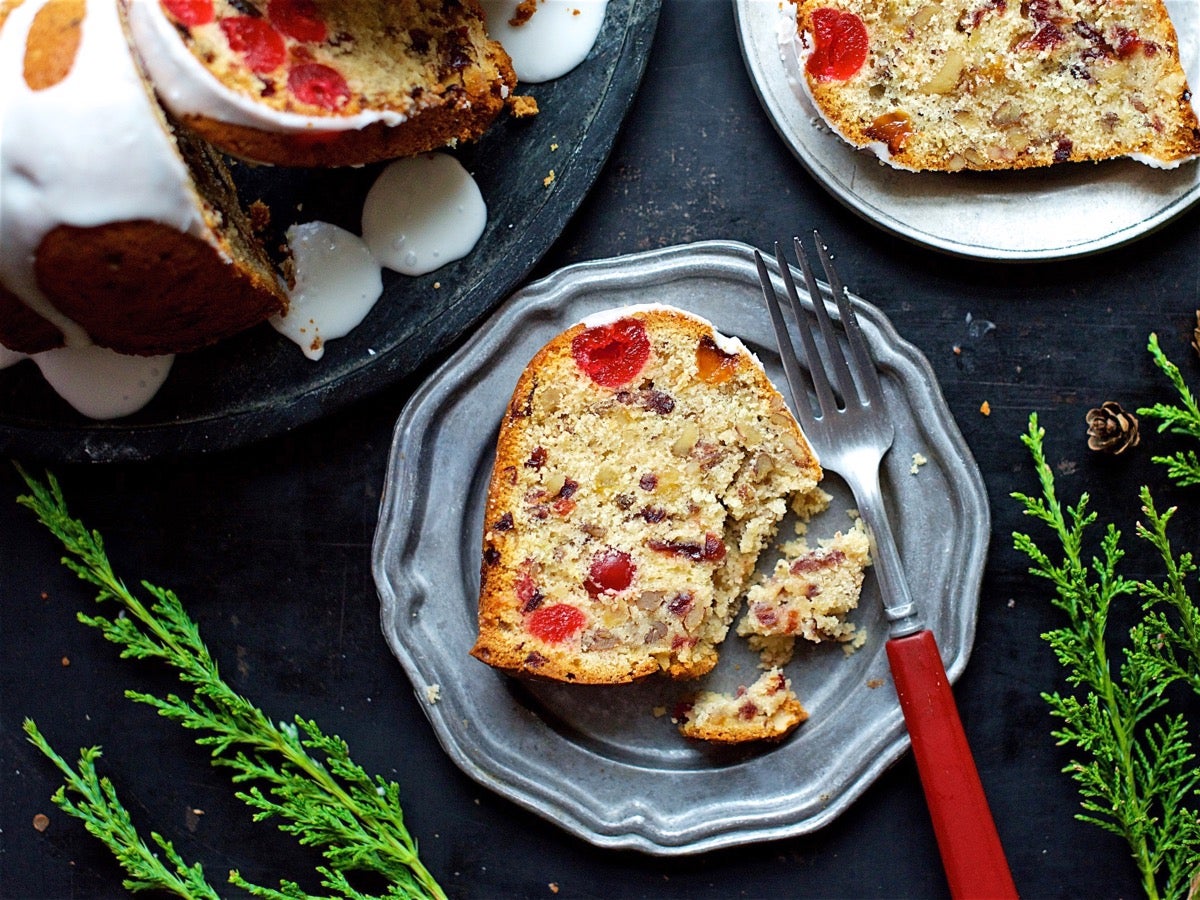 You can dress the cake up just before serving; after all, it's the holidays and we all need to put on our best bib and tucker. Drizzle the fruit cake with this icing: 3/4 cup confectioners' sugar and enough water, milk, or cream to create something pourable.
But frankly, this icing is strictly for looks; I think 6 cups of cranberries, apricots, and cherries make this fruit cake perfectly sweet.
So there you have it: fruit [space] cake. Are you already a fruitcake lover? Or do you dislike this Dickensian staple, and take every opportunity to hurl lame fruitcake jokes at your more affable friends?
Either way, we hope you give this fruit cake a try. Let us know which camp you're in — and whether this cake will be on your holiday dessert table — by posting your comments below.
Jump to Comments