Caribbean-Style Rum Cake
Embracing the holiday spirit(s)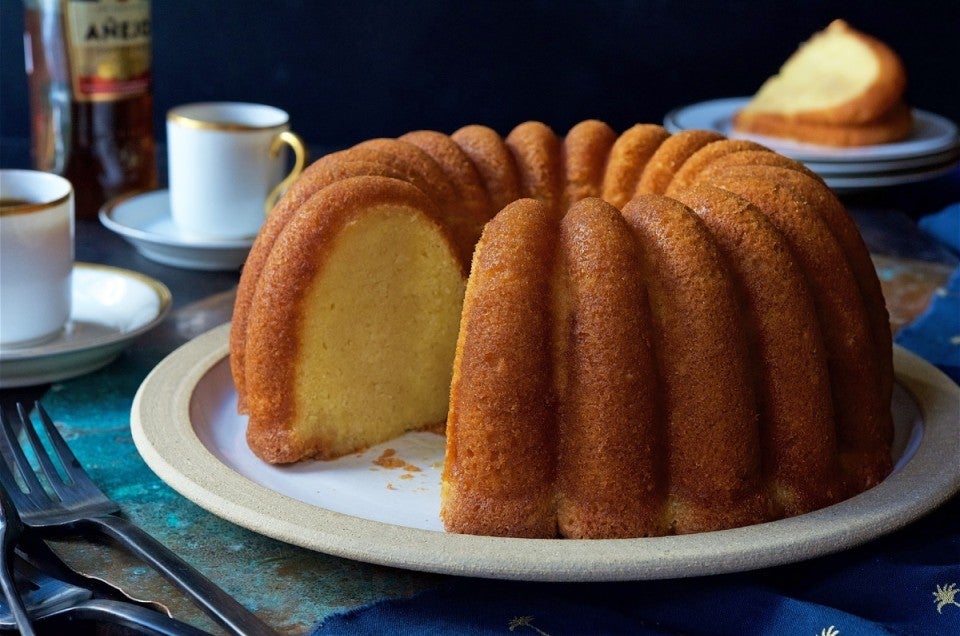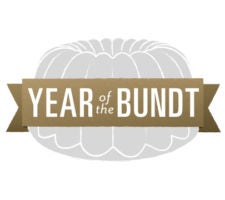 Welcome to King Arthur Flour's Year of the Bundt! We've been celebrating this classic American dessert with a variety of recipes throughout the year. Let's wrap up the festivities by raising a toast to the holiday season with a cake that's a party all in itself: Caribbean-Style Rum Cake.
Do you like rum cake?
Many of you are probably nodding assent, remembering the golden slice of rum-soaked bliss you enjoyed during sunny days. Or the boxed cake shipped to your door, just in time for Christmas.
Moist yellow Bundt cake infused with rum and soaked in rum syrup: that's rum cake. Simple as it sounds, the interplay of flavors (rum, vanilla, butter) and decidedly moist texture — this cake falls just short of oozing rum — are absolutely compelling.
Not all rum cake comes from the tropics. Those old enough to remember baking in the 1970s and '80s will recall the boozy cakes we used to whip up from a box of cake mix, carton of pudding mix, and generous dollops of "holiday spirit" — the liquid kind. Think Harvey Wallbanger cake. Kahlua cake. And rum cake.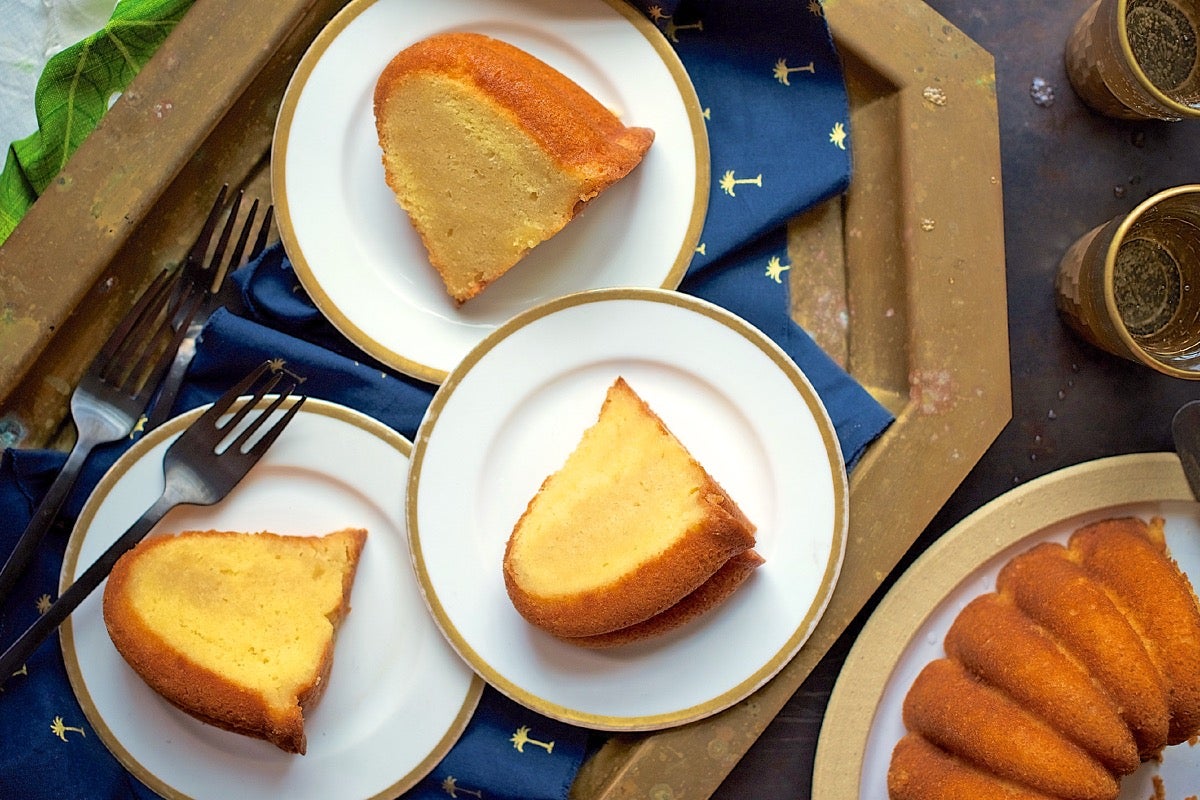 Well, times have changed; many of us have ditched the boxed cake mixes in favor of our own recipes. Flour and butter and sugar, vanilla and eggs take the place of the long side panel of hard-to-spell ingredients typical of most cake mixes.
But that doesn't mean we want to lose our cake-mix favorites — including rum cake.
As 2017 winds to a close, and with it our Year of the Bundt bash, let's celebrate with this Caribbean-Style Rum Cake.
Don't worry, we've invited everyone to the party. For those of you avoiding alcohol, we've worked up a version using rum flavor. Baking gluten-free? One simple substitution is all it takes. Skim to the end of this post for complete directions.
Start by preheating the oven to 325°F, with a rack in the center.
Gather your cake ingredients:
2 cups (241g) King Arthur Unbleached All-Purpose Flour
1 1/2 cups (298g) sugar
3.4-ounce box instant vanilla pudding mix (not sugar-free)*
2 teaspoons baking powder
1 teaspoon salt
8 tablespoons (113g) unsalted butter, softened
1/2 cup (99g) vegetable oil
1/2 cup (113g) milk, at room temperature
4 large eggs, at room temperature
1/2 cup (113g) rum, plain or spiced
2 teaspoons vanilla extract
1/4 cup (24g) almond flour, for dusting baking pan, optional
*Want to omit the pudding mix? You can; your cake will be a bit less sweet, and somewhat drier. You can address this by adding 1/3 cup granulated sugar, 1/4 cup cornstarch, and an extra 1 teaspoon vanilla to the recipe, in place of the dry pudding mix; but we still prefer the original pudding mix version.
Mix the cake batter
Place the flour, sugar, pudding mix, baking powder, salt, butter, and vegetable oil in a mixing bowl, and mix at medium speed until everything is thoroughly combined and the mixture is sandy looking.
Beat in the milk, then beat in the eggs one at a time. Scrape the bowl thoroughly, and beat briefly to recombine any sticky residue.
Stir in the rum and vanilla.

Prepare a Bundt pan
Spritz a 10- to 12-cup Bundt pan with cooking spray.
For an extra layer of nutty flavor (and to help keep the cake from sticking), sprinkle the inside of the pan with almond flour and turn the pan to coat evenly; shake out any excess.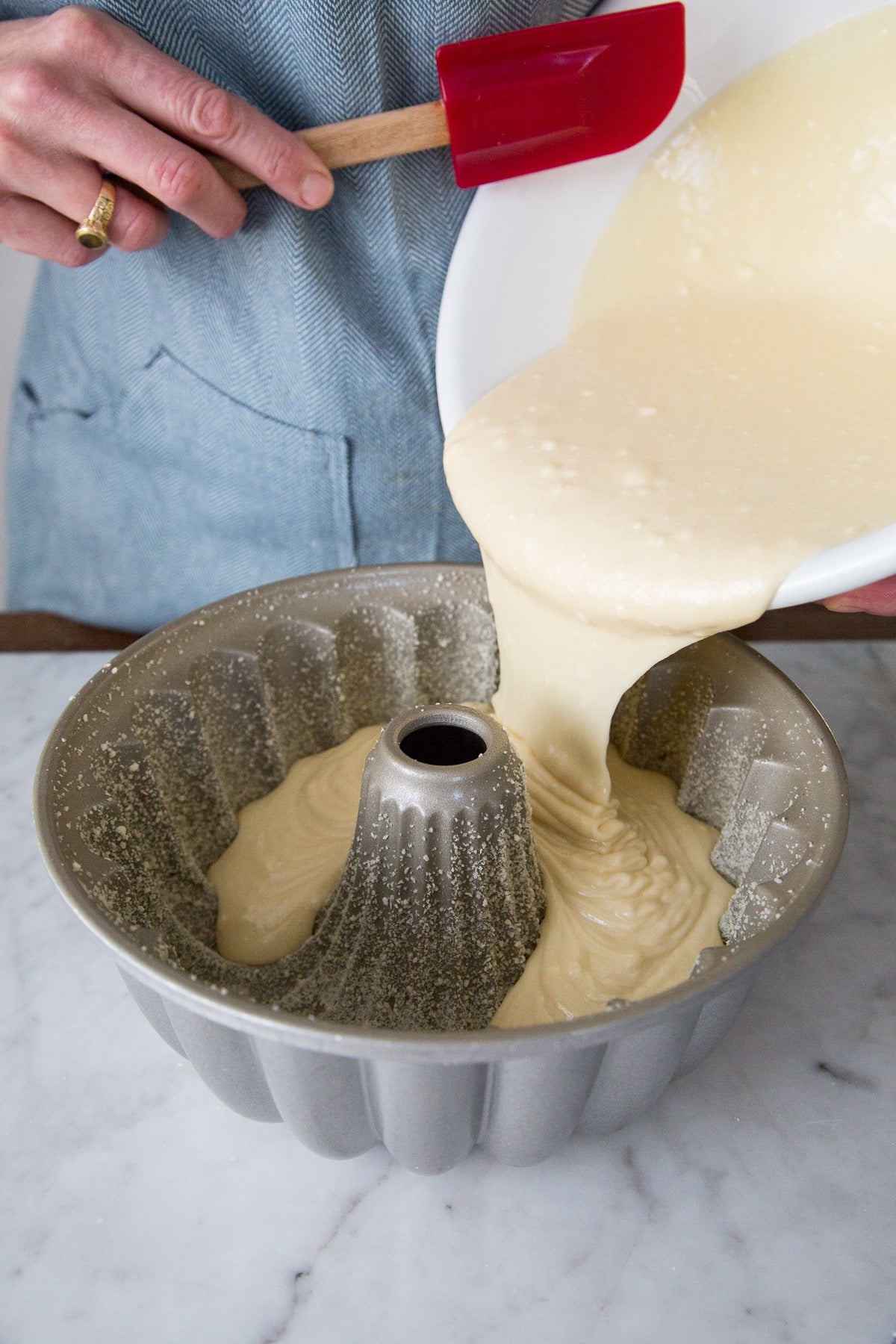 Pour the batter into the prepared pan.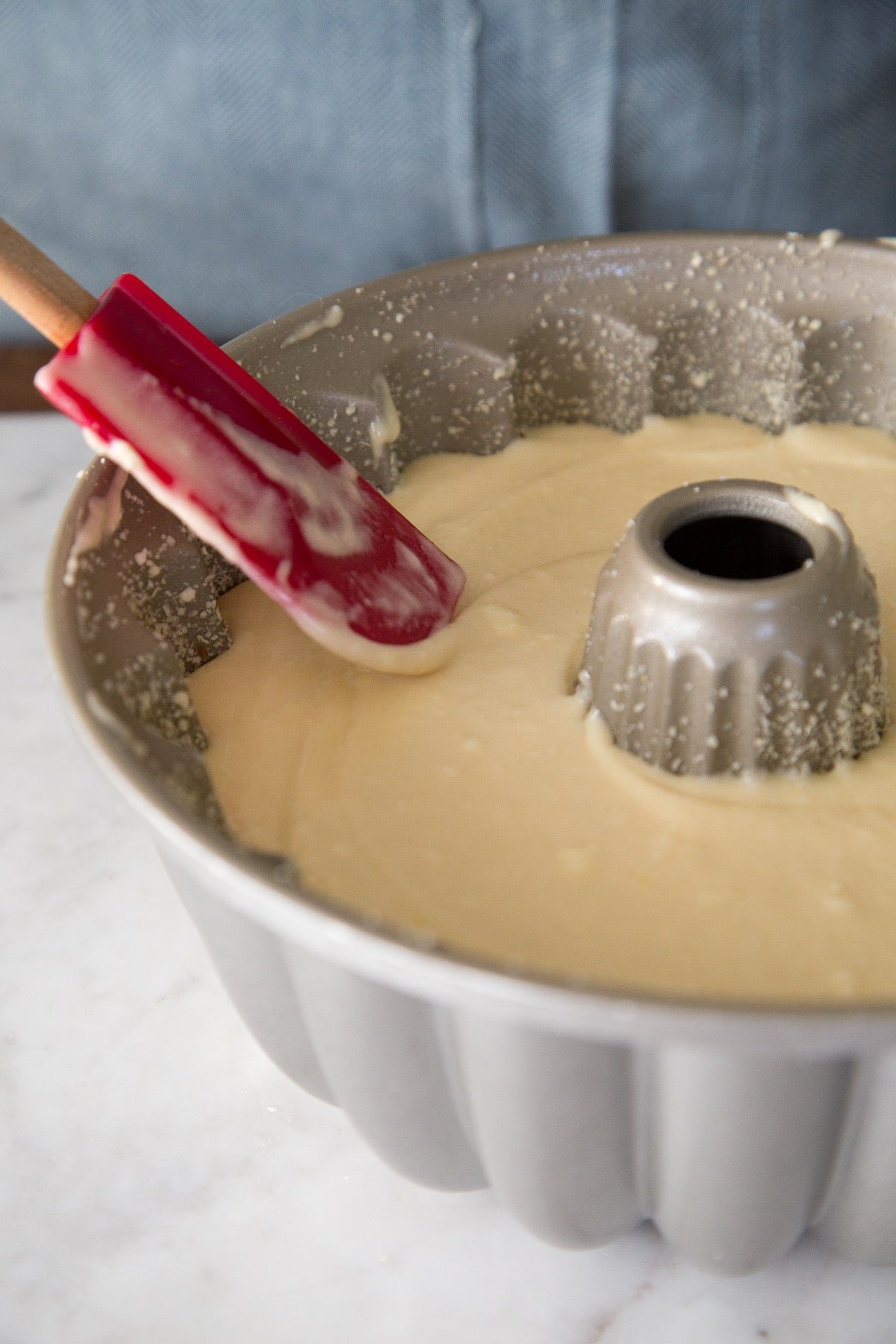 Level the batter with a spatula.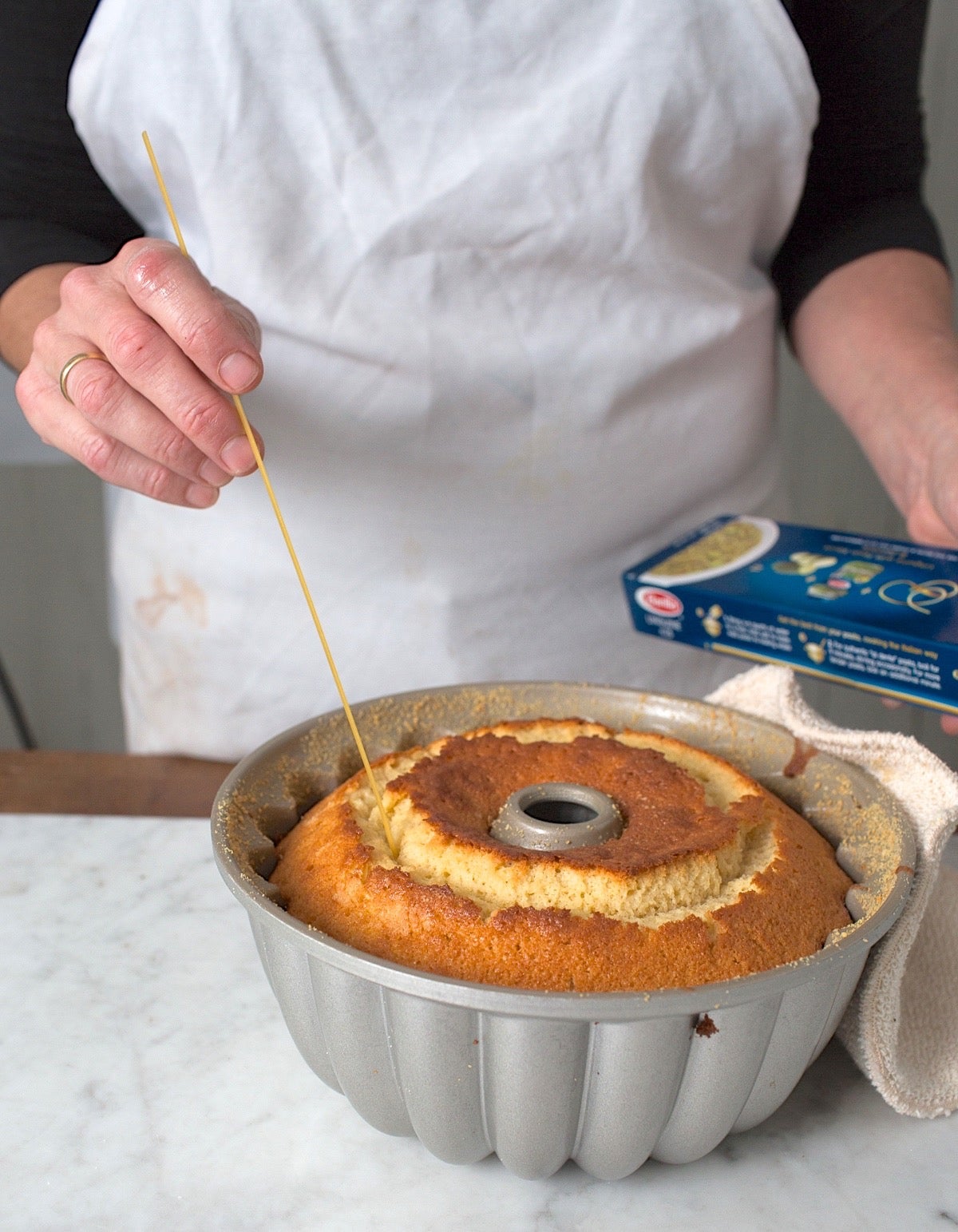 Bake the cake
Bake the cake for 50 to 60 minutes. When done, a cake tester, long toothpick, or strand of uncooked spaghetti will come out clean when inserted into the center. Remove the cake from the oven.
Make the syrup
Leave the cake in the pan to cool slightly while you make the syrup:
8 tablespoons (113g) unsalted butter
1/4 cup (57g) water
1 cup (198g) sugar
1/4 teaspoon salt
1/2 cup (113g) rum, plain or spiced
1/2 teaspoon vanilla extract
Note: Using the full amount of syrup (above) makes a traditional rum-soaked rum cake, one that's incredibly moist. For a cake whose texture is more similar to that of a standard cake, make and use a half-recipe of this syrup.
In a medium-sized saucepan combine the syrup ingredients, except vanilla. Bring to a rapid boil then reduce to a simmer and cook (without stirring) for about 5 to 8 minutes, until the syrup thickens slightly.
Remove from the heat and stir in the vanilla.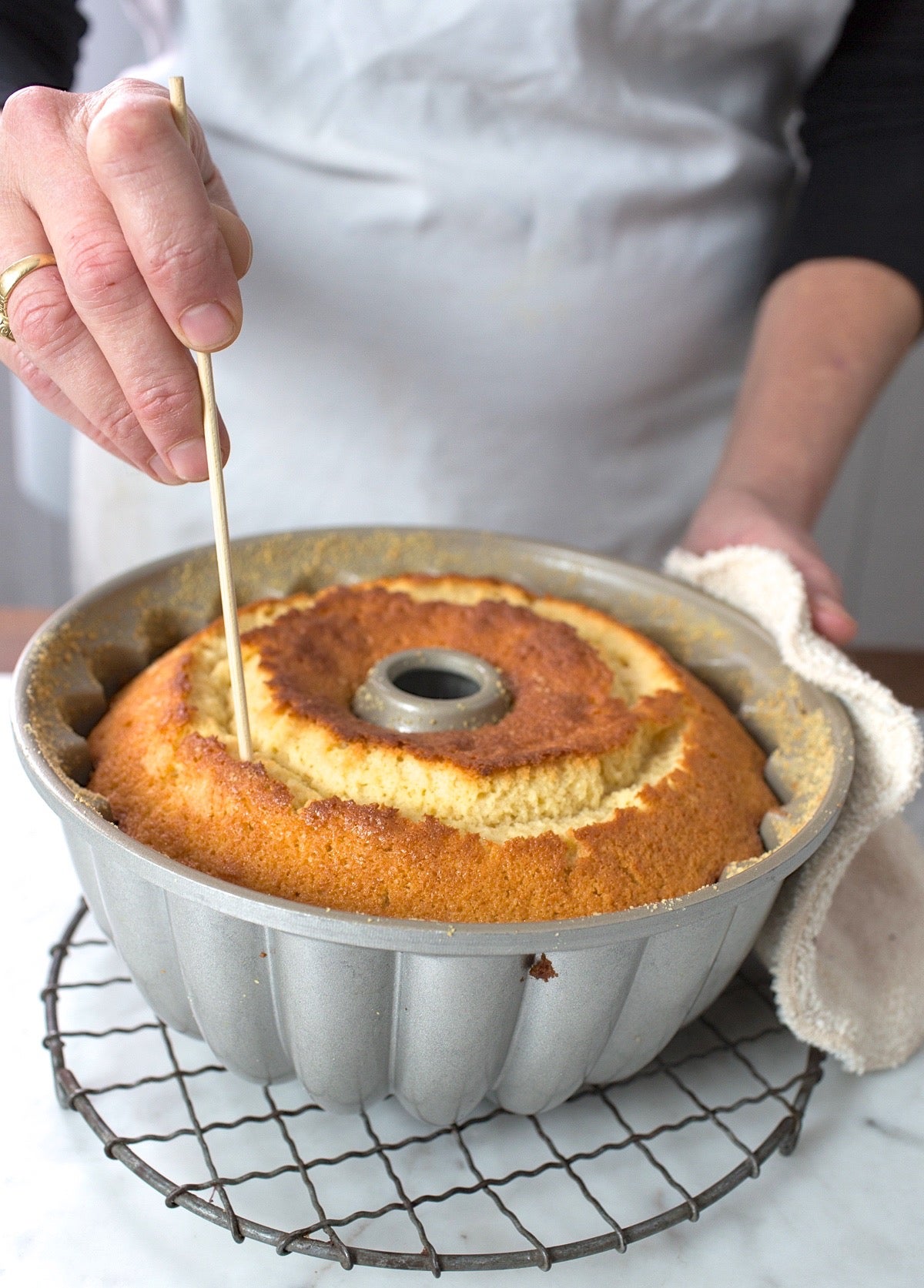 Use a long skewer to poke holes all over the cake.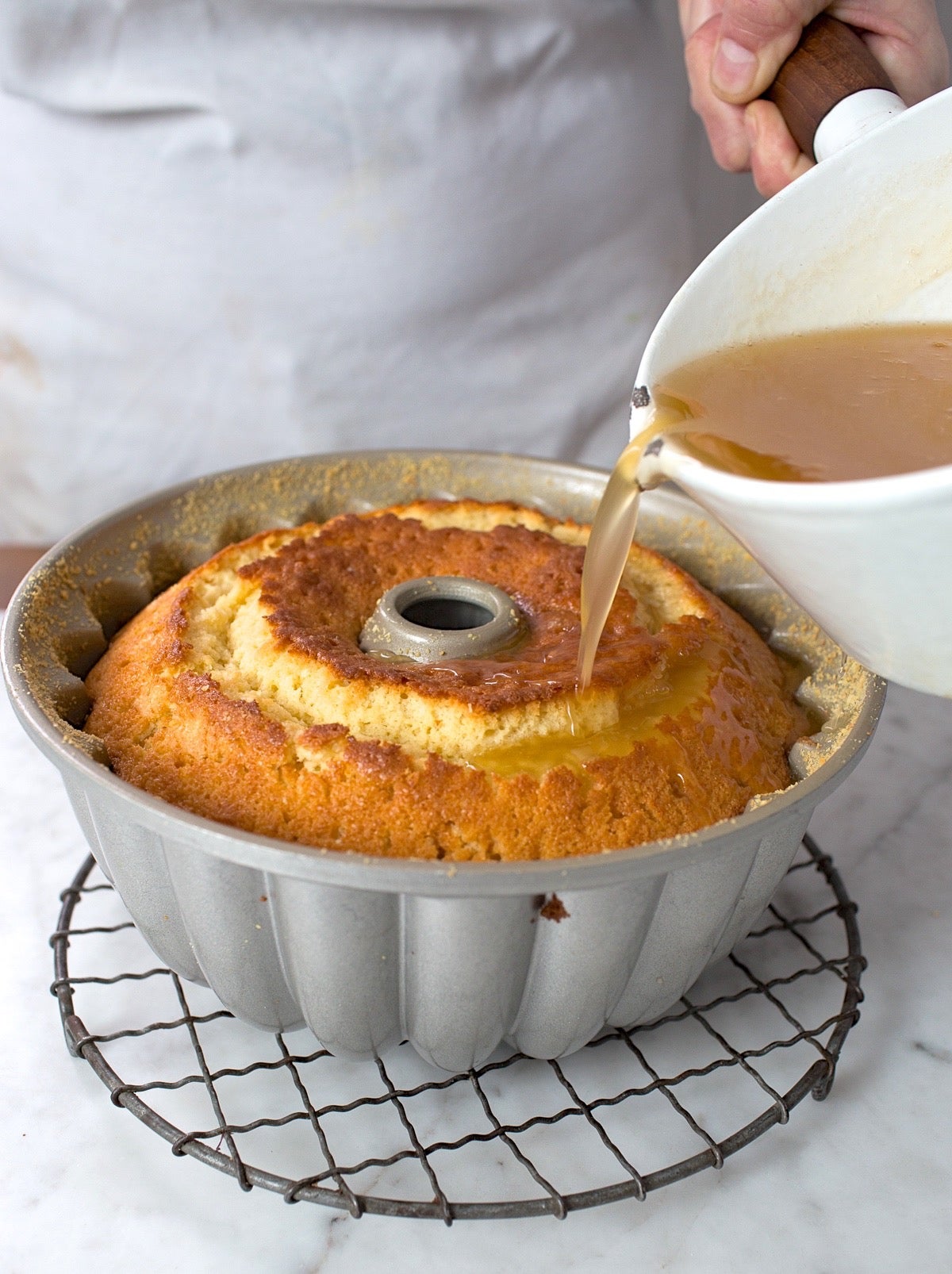 Soak the cake with the syrup
Pour about 1/4 cup of the syrup over the cake (still in the pan).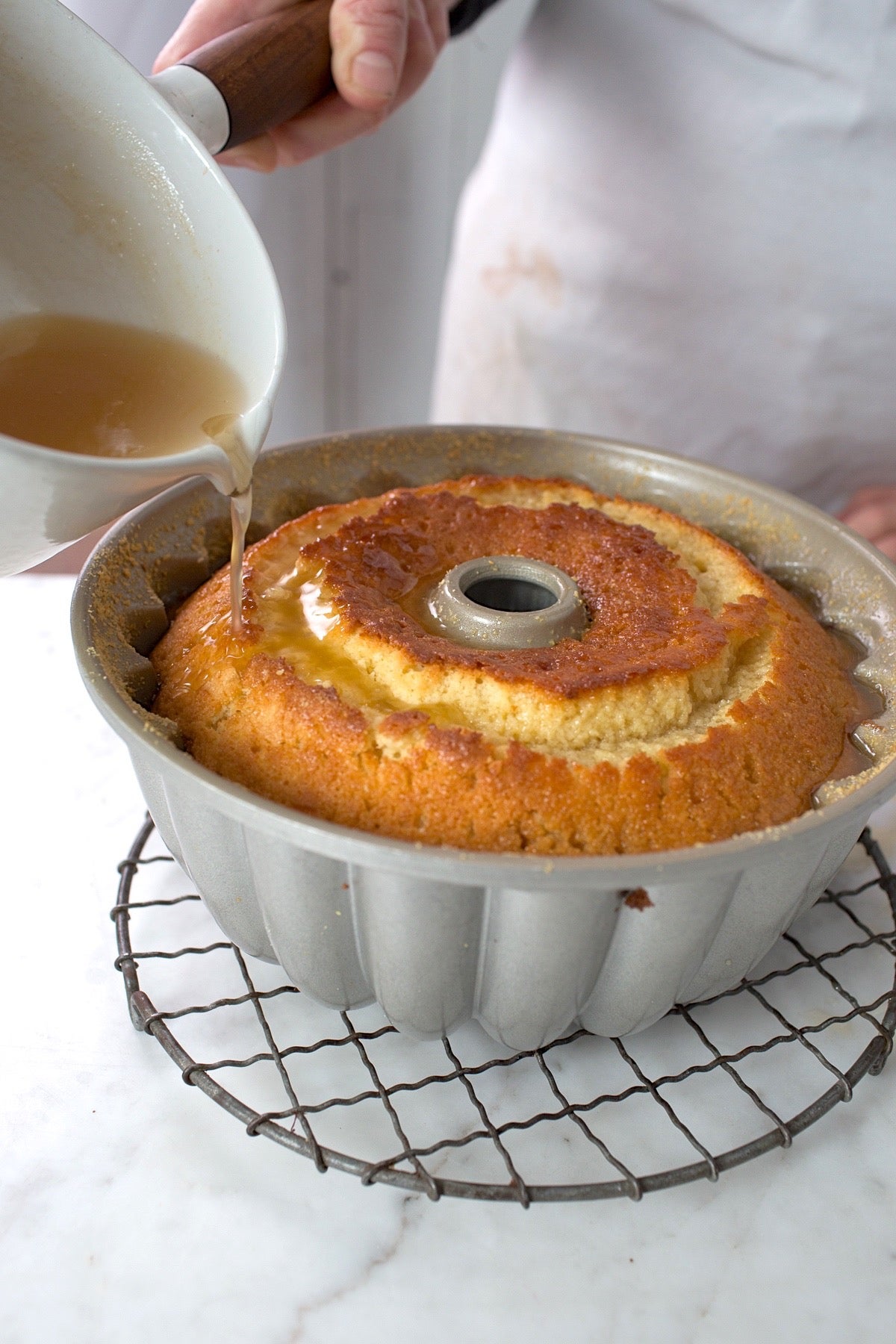 Allow the syrup to soak in, then repeat again and again until all the syrup is used.
Cover the pan loosely with plastic wrap and allow the cake to sit overnight at room temperature to cool completely and soak in the syrup.

Turn the cake out of the pan
When ready to serve, loosen the edges of the cake and invert onto your serving plate.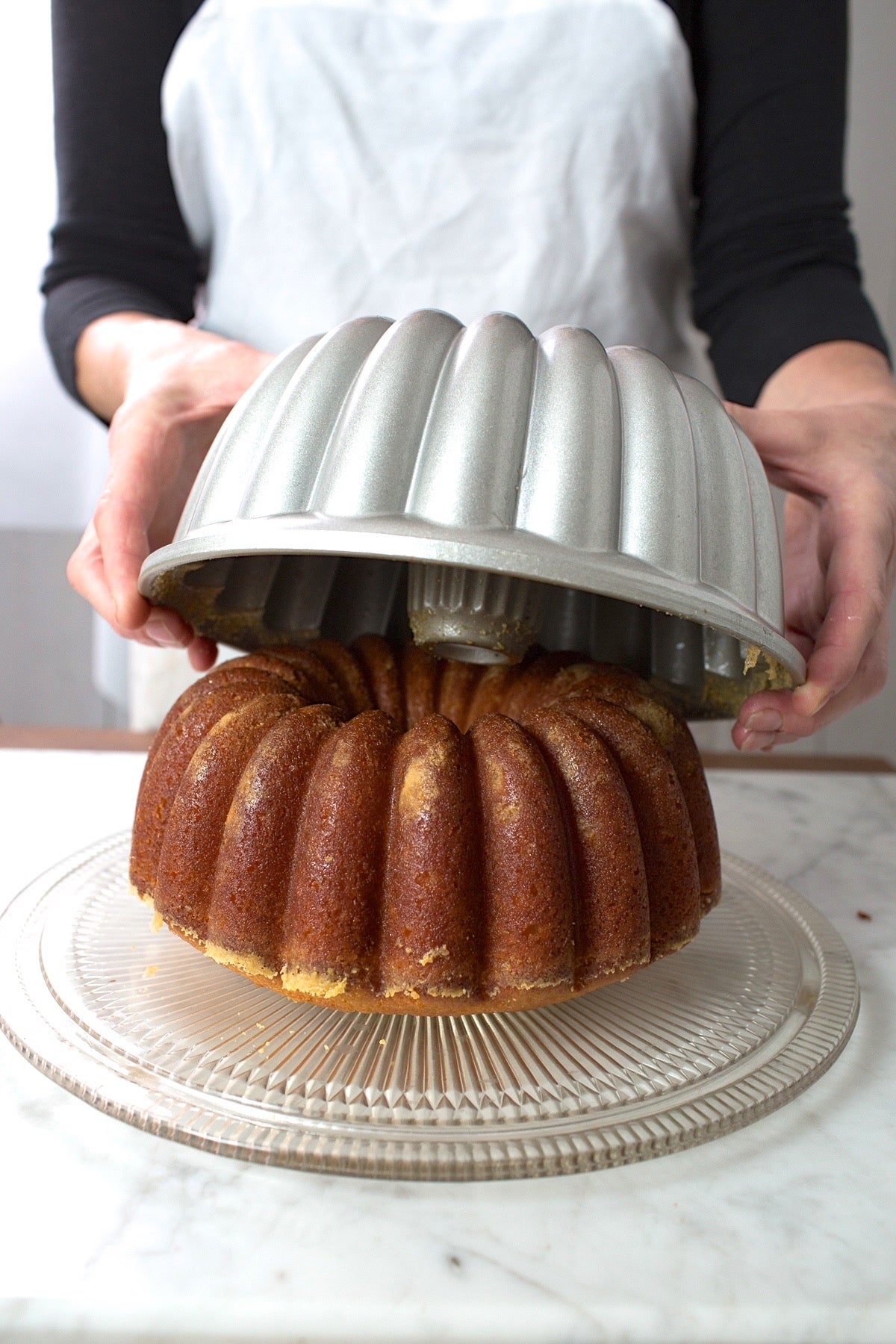 If the cake won't release, don't force it. Place it in the oven, turn the oven to 350°F, and warm for about 10 minutes, to soften the sticky syrup. (If your oven is one that preheats by making its upper element red-hot, place the cake on a lower rack and tent it with aluminum foil to protect it.) Remove the cake from the oven, and tip it onto the serving plate.

Enjoy!
Serve with hot coffee or tea. Or not; this cake is irresistible all on its own.
Wrap securely (or place under a cake cover) and store at room temperature for several days. Freeze for longer storage, up to 1 month.
Rum cake without alcohol
It seems counter-intuitive, but you can omit the rum and make a non-alcoholic version of this cake. Here's how:
For cake with mild rum flavor — Cake: substitute water for the rum, and use 1/2 teaspoon butter-rum flavor. Syrup: Substitute water for the rum, and use 1/4 to 1/2 teaspoon butter-rum flavor (added once the syrup is done simmering). 
For cake with more assertive rum flavor — Cake: Substitute water for the rum, and add 3/4 to 1 1/2 teaspoons butter-rum flavor. Syrup: Substitute water for the rum, and use up to 1/2 teaspoon butter-rum flavor (added once the syrup is done simmering).
Baking gluten-free?
Want to make this cake gluten-free? Our Gluten-Free Measure for Measure Flour makes it easy to make many of your favorite recipes (like this one) gluten-free. Simply substitute Measure for Measure flour 1:1 for the flour in this recipe; no additional ingredients or other changes are necessary.
High-altitude adjustments
If you're up in the mountains, you may want to adjust this recipe for optimal results. See our high-altitude baking tips.
Looking for more "spirituous" cake recipes? See this collection of cocktail cakes, courtesy of Sift magazine.
Jump to Comments