Department Store Blueberry Muffins
A classic summer recipe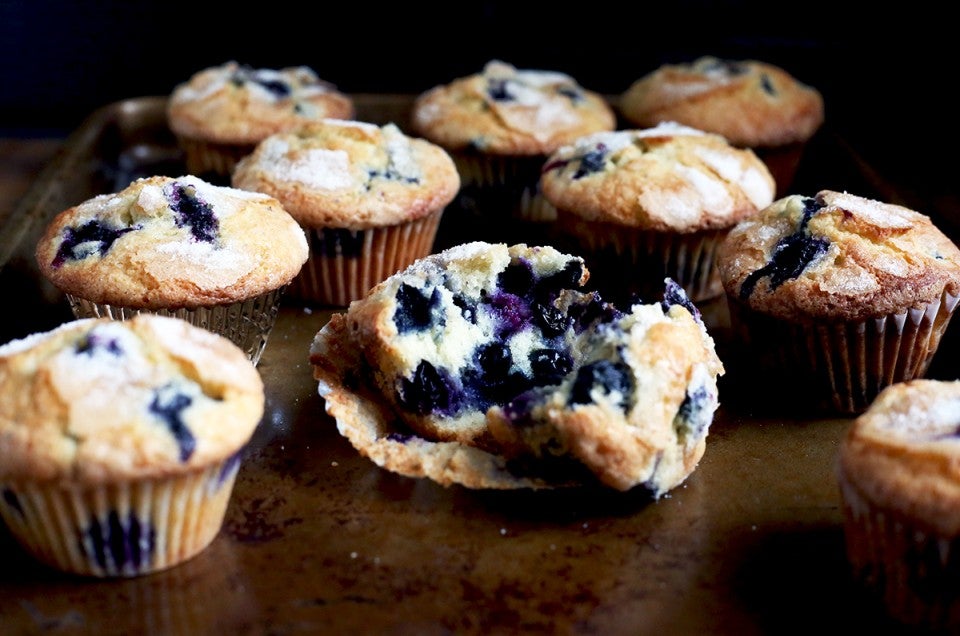 Blueberry muffins are one of summer's greatest pleasures. Warm from the oven, they're a contender for the finest berry baked good, in my opinion. Blueberry pie is up there, along with strawberry shortcake, but for sheer simplicity (and ease and time!), blueberry muffins beat them out handily.
With just a few pantry staples and a pint of fresh berries, you can make the most delicious blueberry muffins you'll ever taste. I consider myself an equal-opportunity lover of blueberry muffins, and I wouldn't turn down any batch of them.
But I admit that today's recipe for Famous Department Store Blueberry Muffins is spectacular. These muffins stand out from any other recipe I've ever tried.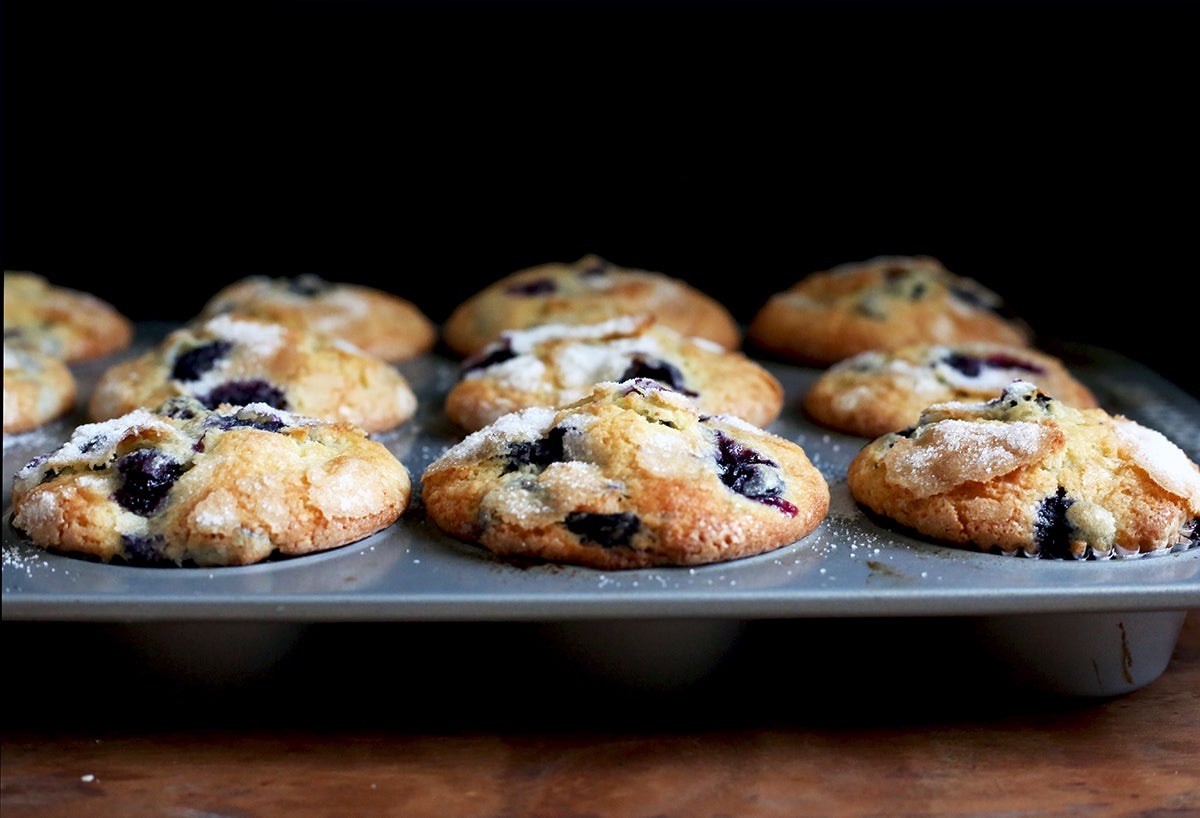 They have a tender, delicate crumb with just the right amount of moistness. Each bite bursts with juicy berries. After a quick bake, they emerge from the oven, golden and slightly domed, with a crackly sugared crust.
And they aren't just delicious, they have a wonderful history! These muffins were offered in the bakery (and served in the top-floor tea room) of Jordan Marsh, an iconic department store in Boston. Jordan Marsh closed in the mid-1990s, when it was taken over by Macy's, but happily its famous muffins live on through this recipe.
For decades, hungry shoppers would feast on these muffins as a sweet pick-me-up after perusing shirts in the sportswear section and comparing china patterns in the home goods department. Customers remember them happily: their sugary crown, their golden interior overstuffed with berries.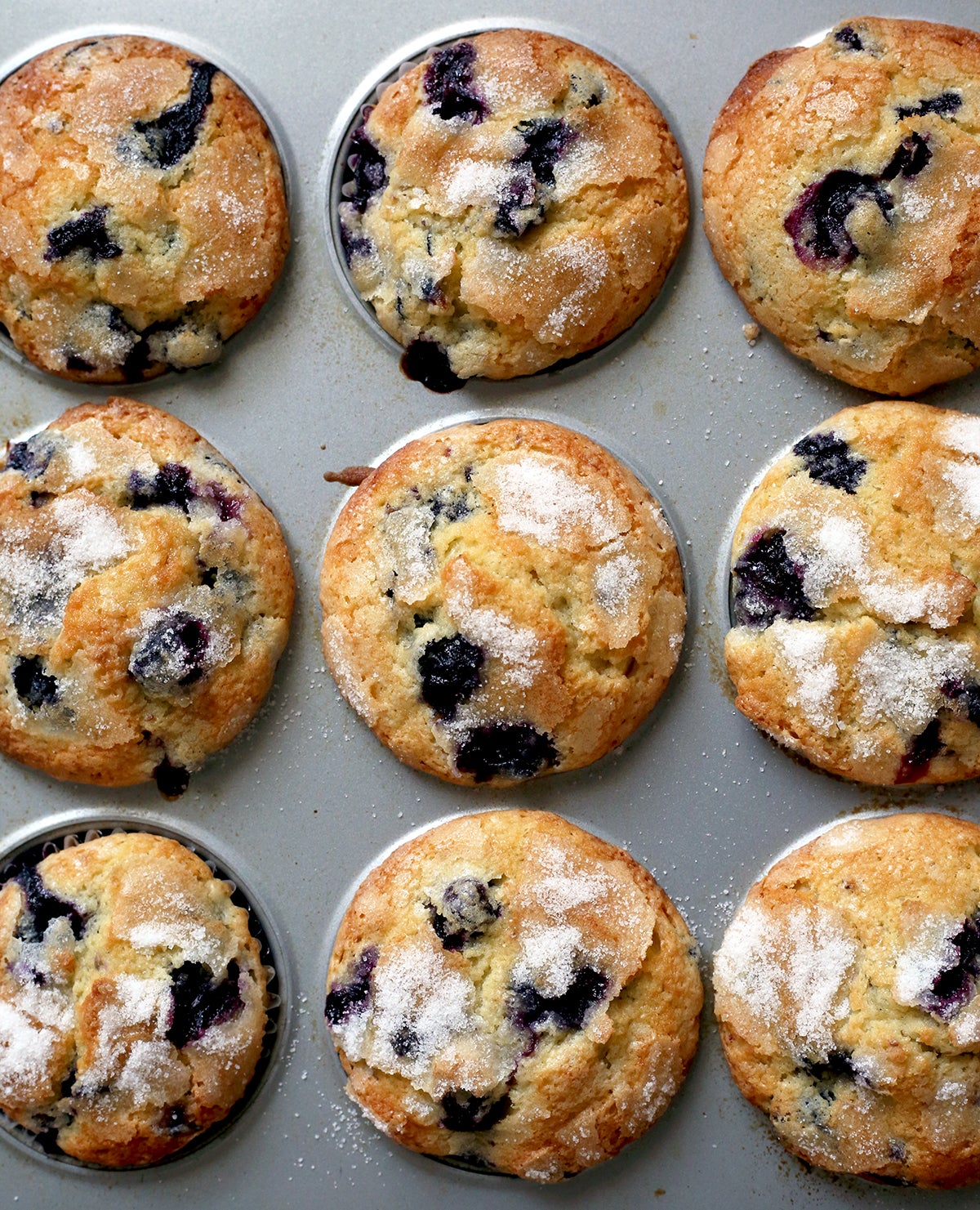 What makes these blueberry muffins different?
I'm guessing many of you already have a go-to recipe for blueberry muffins. The Famous Department Store Blueberry Muffin recipe won't look wildly different from most, but it has just the perfect balance of ingredients. It's buttery, but not too rich. It's moist, but not too dense. It's delicate, but not dry.
The recipe is calibrated for maximum deliciousness. You can tell that it's been put through its paces; such a popular item in such a busy store is guaranteed to have been rigorously tested until it reaches its best possible form.
What really sets this recipe apart is the sugar topping. The first time I baked these muffins, I thought to myself that the amount of sugar called for in the topping (one full teaspoon per muffin) must be a mistake.
It seems like way, way too much when you're sprinkling it onto the batter, but don't be shy! It's crucial to use the full amount in order to achieve those gorgeous, craggy caps of sugar. (Are there any nicer words in the English language than "craggy caps of sugar"?)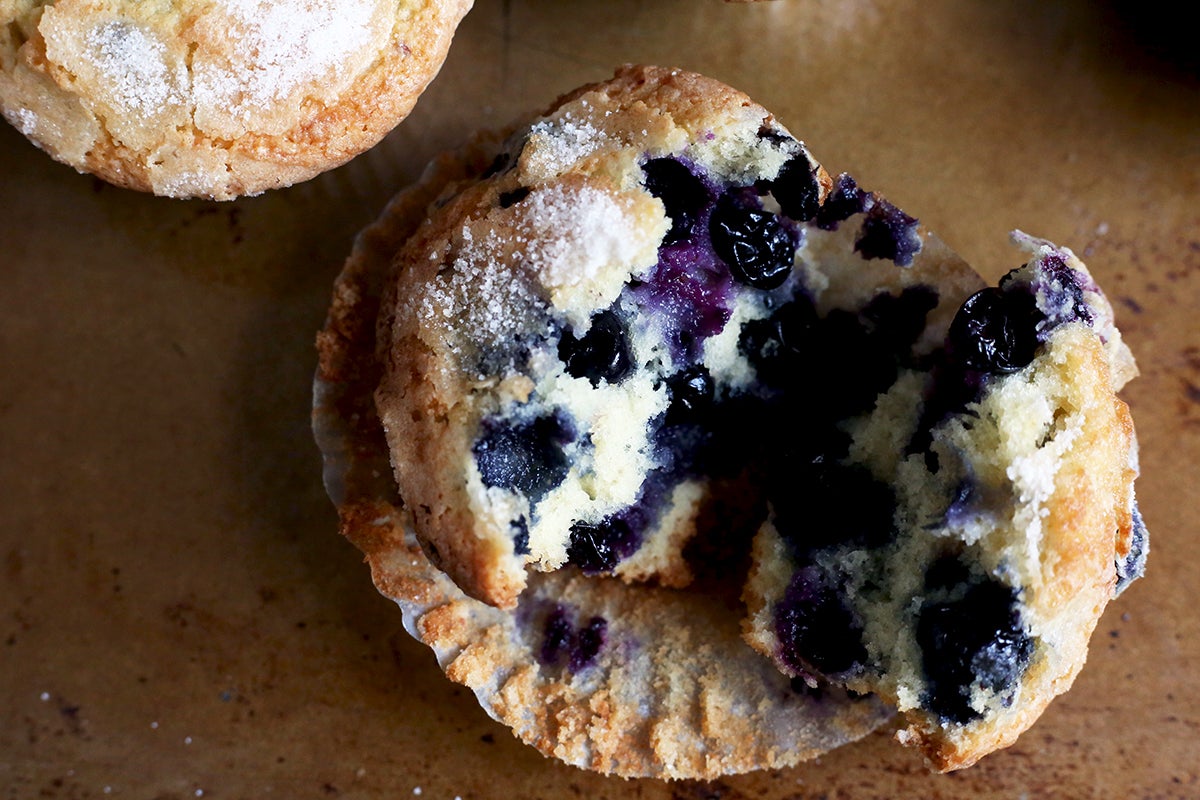 The recipe
Here's how to make them. You'll need:
8 tablespoons (113g) butter
1 cup sugar, plus 1/4 cup for topping
2 large eggs
2 teaspoons baking powder
1/2 teaspoon salt
1 teaspoon vanilla extract
2 cups King Arthur Unbleached All-Purpose Flour
1/2 cup milk
2 1/2 cups blueberries
Ready for how quick and easy these are to make? Brace yourself!
Preheat the oven to 375°F. 
Beat together the butter and sugar until well combined. Add the eggs one at a time, scraping the sides and bottom of the bowl and beating well after each.
Add the baking powder, salt, and vanilla.
Add the flour alternately with the milk, beating gently just to combine. Scrape the bottom and sides of the bowl.
Add the berries to the batter, stirring until just combined. Be careful not to overmix or the muffins will be dense.
Scoop the batter by the heaping 1/4-cupful into a greased (or paper-lined) 12-cup muffin pan. We like to use our muffin scoop!
Now for the good part! Sprinkle about 1 teaspoon granulated sugar over each muffin. I know. It feels like the definition of excess but trust us!
Bake the muffins for about 25 to 30 minutes.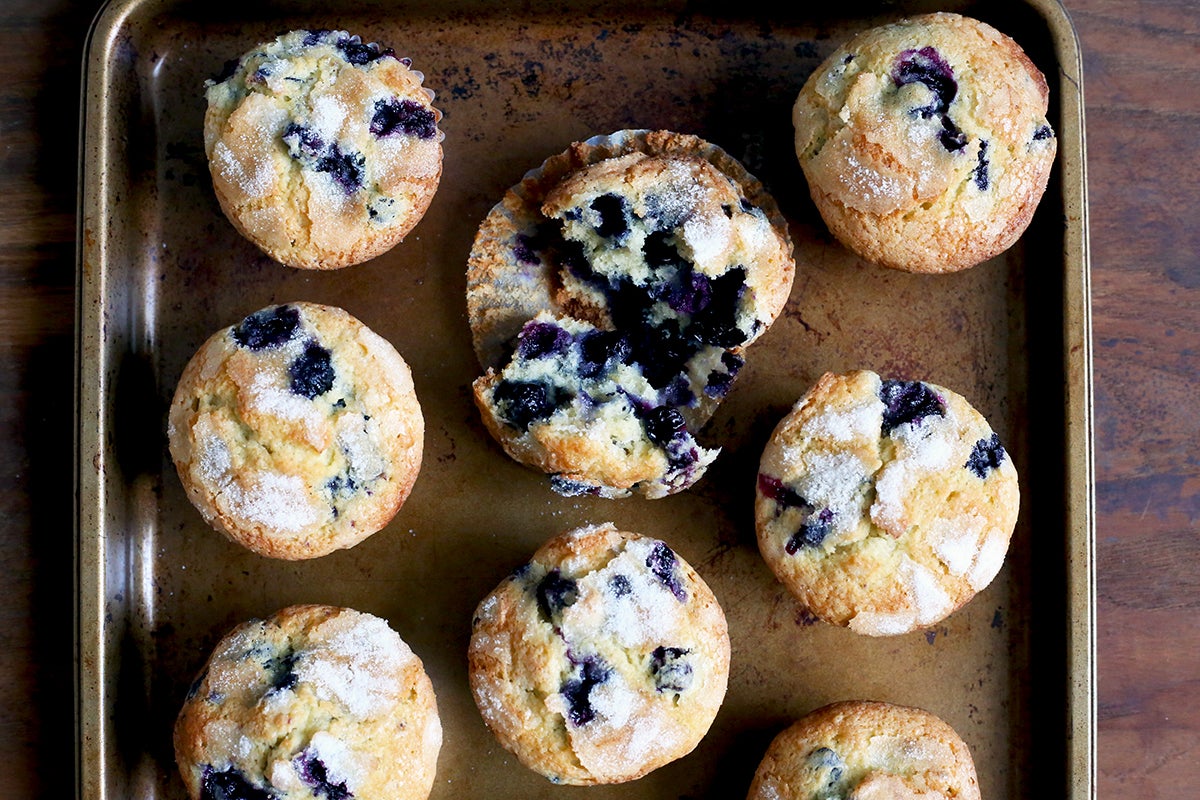 Keep in mind: You can certainly make these blueberry muffins all year with frozen blueberries, but if fresh blueberries are available to you, use them.
Warm from the oven, these muffins are summer in a bite. Better than a brilliantly sunny day on a Cape Cod beach. Better than sun-kissed skin, and the first lick of a drippy ice cream cone, and better even than a buttery lobster roll on the ocean in Maine.
Bake the Famous Department Store Blueberry Muffins yourself, and tell us in the comments below how they measure up to other recipes for blueberry muffins!
Jump to Comments