When summer is in full swing, the tables at the farmers' markets are bright with strawberries, blueberries, and peaches. From juicy pies to bubbling cobblers, we're taking inspiration from the seasonal produce around us, and making summer versions of our favorite baked goods. All that ripe fruit translates to heaven for a baker, and to us means time to bake summer fruit scones.
Today, we'll show you some tips and favorite recipes for baking summer fruit scones. Incorporating summer fruit into your scones is such an excellent way to enjoy the season's best flavors, but it requires a little guidance.
At its peak ripeness, summer fruit should be juicy and sweet. That makes for delicious snacking, but can present challenges when we're talking about doughs and batters: the juicier the fruit, the more liquid it adds to your recipe.
To make summer fruit scones, it's key to have a good, well-tested base recipe. Use a gentle touch when folding in the fruit: You don't want to mash delicate ingredients like berries or stone fruit. Carefully folding the fruit into the dough will help keep it intact, which will also prevent the dough from getting too soft from the fruit's juice.
Now, let's get started! Here are our top recipes for baking summer fruit in scones, along with some pointers for each.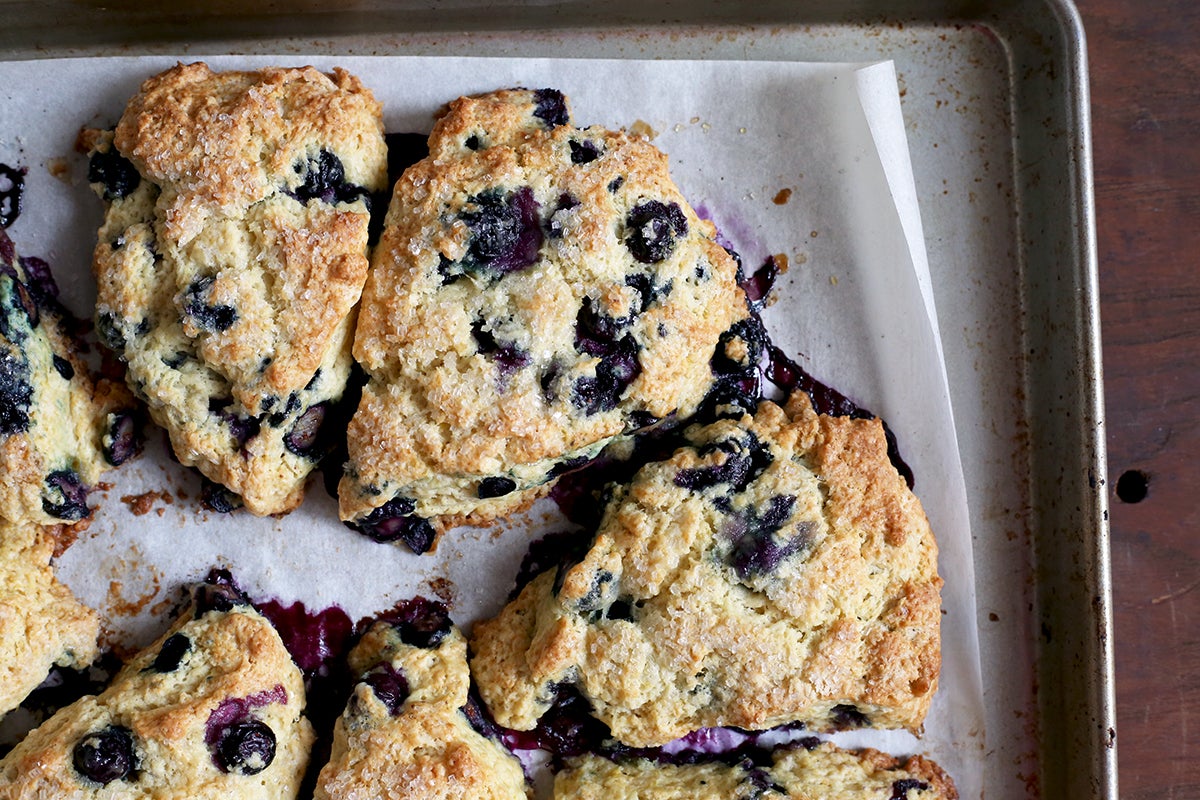 Blueberry scones
Fresh blueberries are a perfect partner for flaky, delicate scones. You can always use frozen blueberries in a pinch, but fresh are ideal when they're in season. To keep the fruit from bleeding into the dough, keep the berries whole.
A great tip for baking with fresh berries (and fruit in general): Toss the fruit with a bit of flour before adding it to your dough. This helps prevent the berries from sinking into your cakes or muffins. It's more important with loose batters than scone or biscuit doughs, but still worth doing.
Our basic Blueberry Scone recipe calls for almond extract and lemon zest. Neither ingredient is bold enough to stand out, but a hint of each helps to emphasize the blueberry flavor.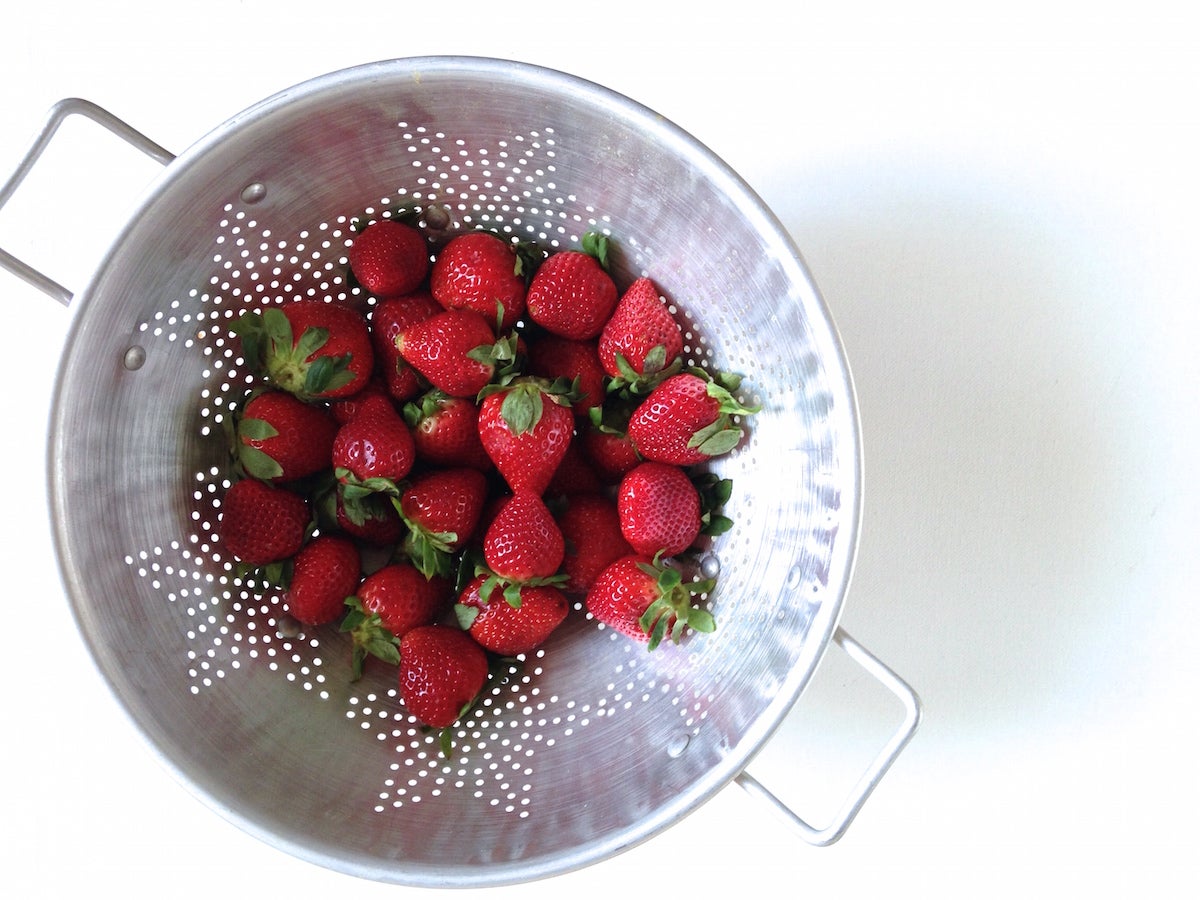 Strawberry scones
Lucky enough to have a pint of jewel-like ripe summer strawberries? Bake a batch of our best-loved Strawberries and Cream Scones.
This recipe has an unusual method for incorporating the fruit. You take half of the berries and blend them with sugar and cream (in a blender or food processor). This creates a creamy, thick strawberry purée that gives the scones a wonderfully moist texture and a pretty pink hue. You chop the other half of the strawberries, leaving them fresh. Those get folded into the dough just before shaping the scones.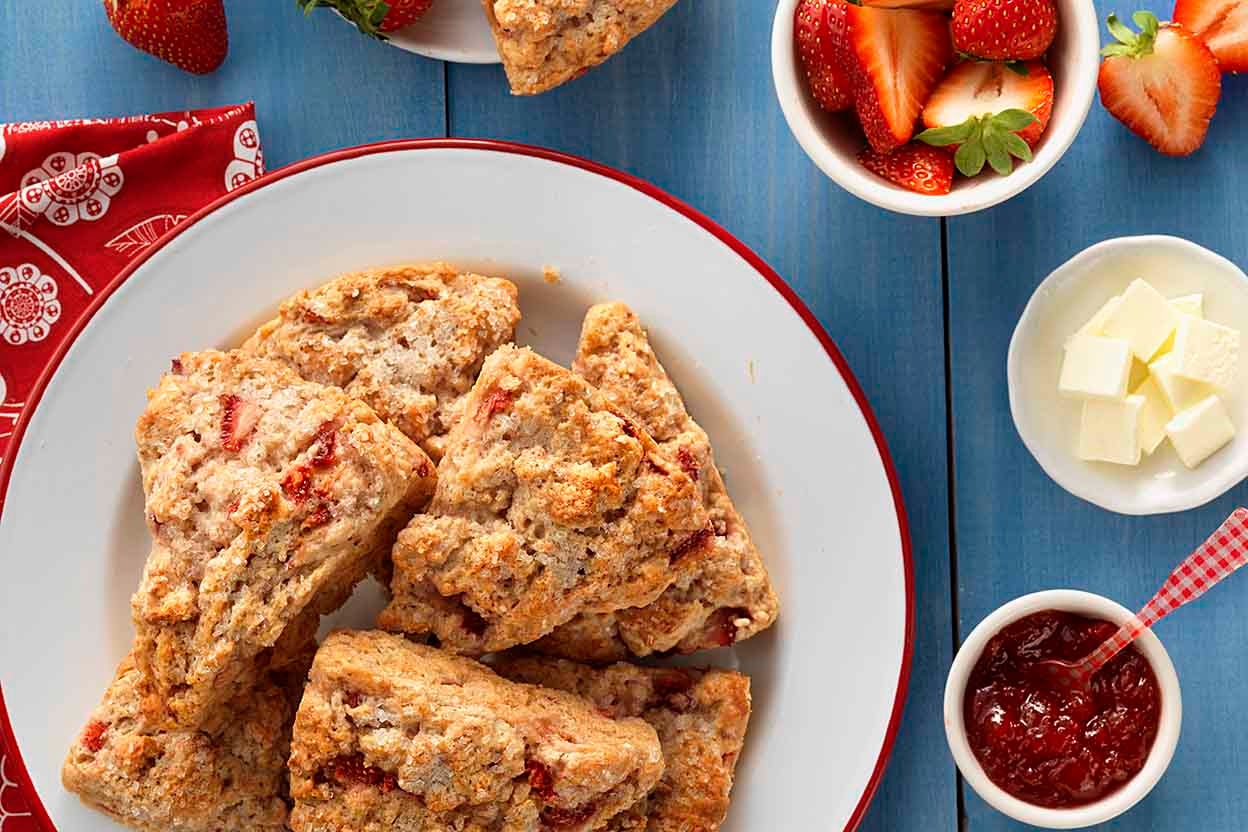 You can try this technique with other fruits too, but it works best with blackberries, strawberries, or peaches. Skip this step when baking blueberry scones: The skins don't blend well.

Peach scones
Peaches are one of the juiciest summer fruits. If you find that yours are extremely ripe, you can always take the extra step of draining your peaches. Once you dice them, let them sit in a colander or sieve for 10 minutes to drain out some of the extra juice, before adding them to the dough.
Nutmeg is the secret to the depth of flavor in our Tender Peach Scones. You can substitute cinnamon if you like, but adding a dash of a warming spice complements the fruit well.
Other tips for summer fruit scones
There are so many delicious varieties of summer fruit, and no reason to stop baking fruit scones when summer fades. You don't need a recipe that calls for a specific fruit to make fruit scones! Use our master Scone recipe, and instead of using 1 cup of dried fruit, use 1 cup of chopped fresh fruit.
Additional tips:
If you don't have fresh fruit, use frozen but don't thaw it first. This will make the fruit too squishy and adversely soften the dough, so add it straight to the dough while still frozen.
If you have fruit, but it's not very ripe or it's not very flavorful, roast it! Roasting fruit is such a neat trick to intensify the flavor and sweetness of fruit. Simply toss your chopped fruit with a tablespoon or two of sugar (optional) and roast in an oven at 

350˚F

on a parchment-lined baking sheet for about 20 minutes, until soft and bubbly.
Grill less-than-ripe stone fruit before adding it to your dough! Slice peaches or nectarines in half, cook them for a few minutes on a hot grill, then let them cool before chopping and adding to your dough.
Get creative! Our scone recipes call for pretty traditional spices, but that doesn't mean you can't give the recipes your own twist. Summer fruit is a perfect canvas for spice, citrus, and more. Here are a few ideas to get you started:

Fresh raspberries + toasted coconut
Fresh strawberries + ground cardamom
Fresh blueberries + lavender
Fresh cherries + toasted almonds + a splash of Amaretto
Fresh blackberries + lime zest
Fresh blueberries + chopped fresh thyme
Fresh peaches + brown butter (follow our Peach Scone recipe and brown half the butter to add with the liquid ingredients, leaving the other half of the butter cold so you can cut it into the dough to create the flaky texture you need)
We don't have specific recipes to follow for every one of these inspiring flavor combinations, so trust your baking instincts! Use our master recipe, or a favorite recipe of your own, to help guide with substitutions and variations. If a recipe calls for 1 cup of fruit, you can swap in the same amount of another type. Spices, zests, and small splash of extracts or flavorings won't affect the texture, so you can add and subtract those to your heart's content.
Tell us, what are your favorite summer fruit scones to bake?
Jump to Comments