Fresh-milled spelt scones
Straight from the farm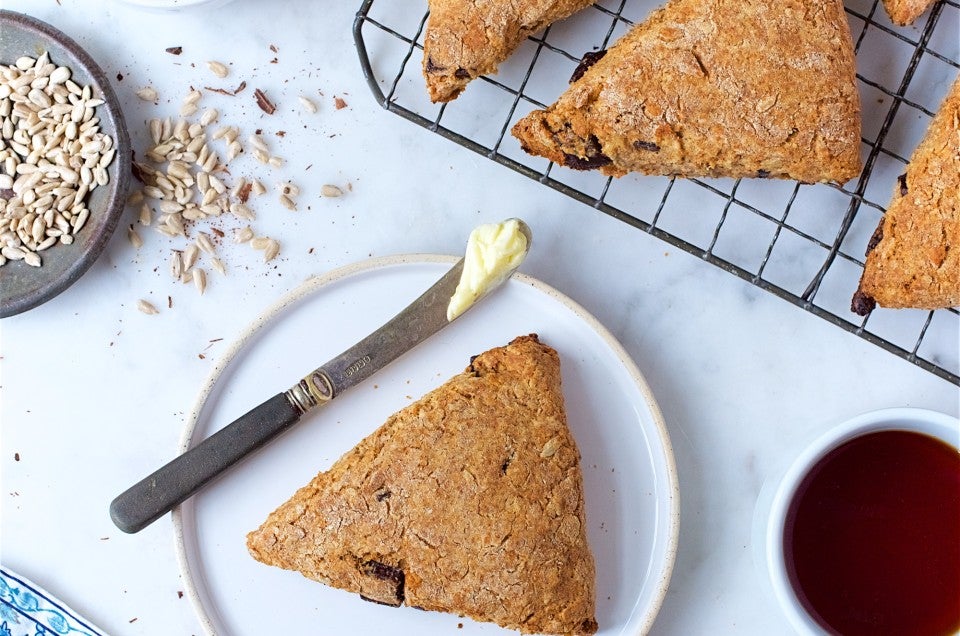 For the third post in our series on fresh-milled flour, we invited John Wepking, an organic grain farmer in Wisconsin, to share his tips for homemade flour — and his recipe for fresh-milled spelt scones. King Arthur Flour has partnered with the National Young Farmer Coalition to chronicle the stories of pioneering sustainable farmers, including John and his wife, Halee. Learn more at Heart and Grain.
In our house, there's no better morning than when we wake up early, brew a pot of coffee, and bake a batch of scones. They take very little time to make, yet feel like a decadent treat in the morning. Fry up some eggs while the scones are in the oven, and that's it.
We often find the scones in bakeries and coffee shops to be too sweet and cakey: closer to muffins. We like a scone to be faintly sweet, flaky, buttery, and with a nice golden crust. Scones are also a great way to use whole wheat flours and other grains. The butter really highlights the taste of the wheat and gives them a much greater depth of flavor.
In our scones, we are always trying out new combinations of flour and fillings, but these Dark Chocolate and Sunflower Spelt Scones are our favorite. More savory than sweet (and eaten warm), the earthy whole-grain texture contrasts nicely with the still-soft chocolate. The sunflower seeds are subtle yet complementary, and add a nice textural element to the scones.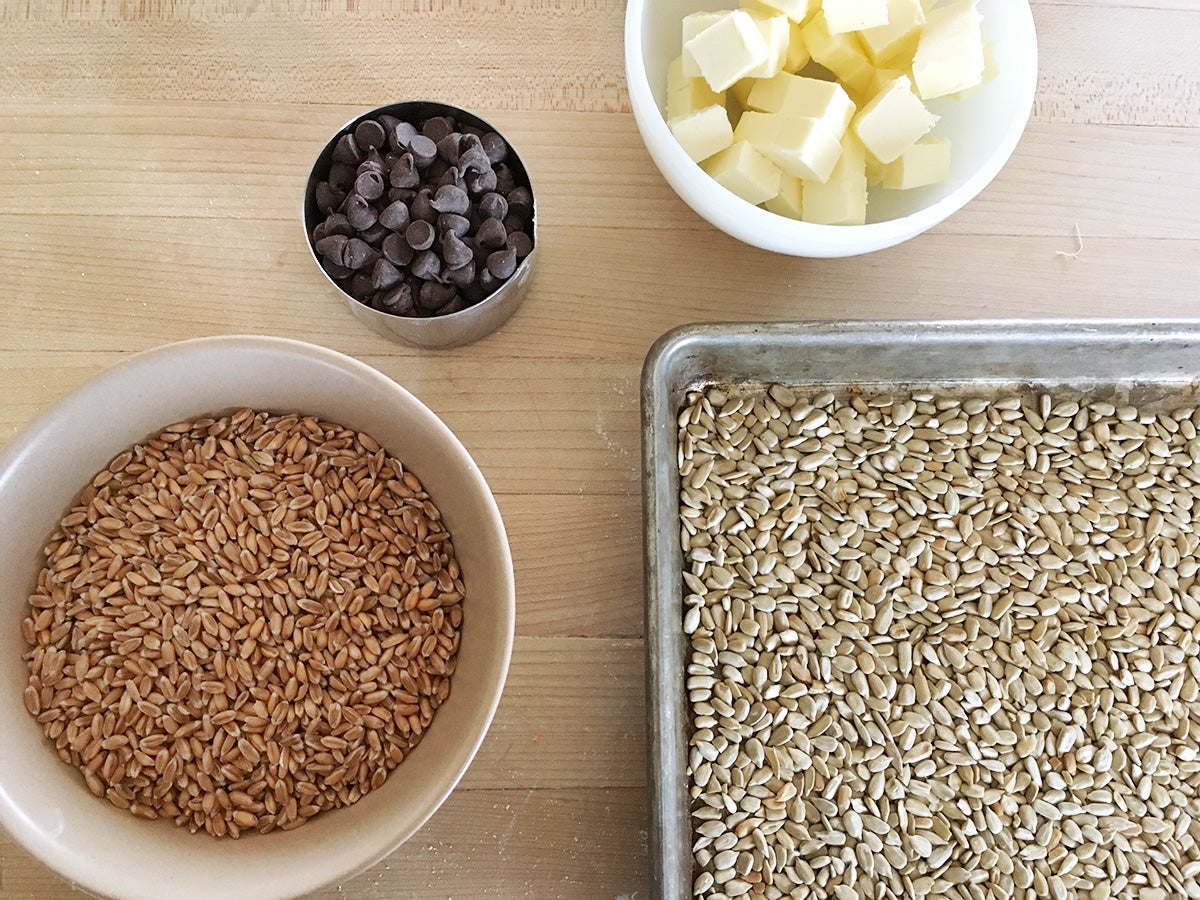 Why we love spelt
My wife, Halee, and I are farmers. Together with our boss, Paul Bickford, we grow organic crops — including wheat, rye, and spelt — and raise grass-fed cattle on around 900 acres in southwest Wisconsin. We grow much of our own food, and we are among a rare group of farmers who not only grow grains, but get to bake with them as well.
We recently purchased a Royal Lee home flour mill so that we can mill small batches of our grain. (It's a little pricey, but we love it. King Arthur also offers a less expensive mill that's well reviewed.) There is nothing quite like baking with wheat that minutes earlier was a handful of whole grain. The transformation from flour to dough to loaf is already incredible to witness, but when you start with whole grains and grind them yourself, it feels almost magical.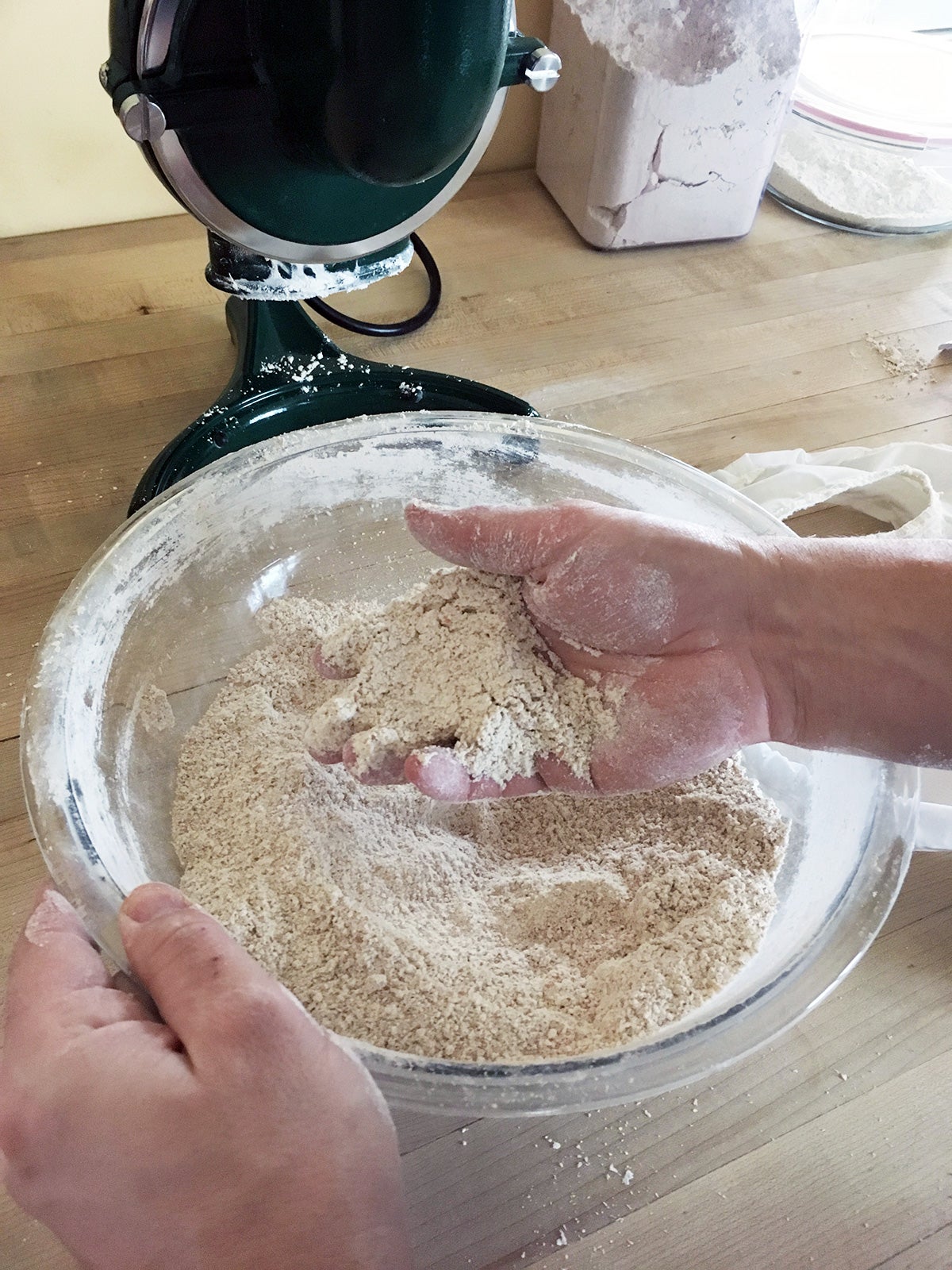 Spelt is a particularly enchanting grain for me. It speaks to my German heritage, to our agricultural beginnings as a civilization, and to my personal desire to farm outside conventional agricultural norms. Spelt grows beautifully when planted in the fall; in an organic system there are few crops as effective at jumping out of the ground in early spring and suppressing weeds.
As agriculture embraced the technological advances of the 20th century and farms grew larger and more mechanized, spelt declined in use; it was simply more work than growing higher yielding, easier baking wheat. Kept alive by farmers and bakers in northern Europe, spelt is in a resurgent period where more acres are being planted and more farmers and consumers are excited about its potential.
Quick rules for milling flour at home
Milling flour at home is always going to be a whole-grain proposition, and that's the idea! One thing I absolutely recommend with any flour you mill at home: use it right away or keep it in the freezer. With a 100% whole-grain flour, you get all of the nutrition; but once ground, the oils in the grain can go rancid, so please do keep it cold.
Spelt has a slightly sweeter and nuttier flavor than wheat, and for this recipe we've decided to go with 100% whole spelt flour. We're using our own spelt, milled at home, but store-bought whole spelt flour will be fine. Varieties of spelt vary widely in their baking characteristics, but if you're buying one brand of spelt it should perform consistently. If you're struggling to bake nice scones with 100% spelt flour, try scaling it back to 50% spelt and 50% all-purpose flour and go from there.
When it comes to scones, I advocate working with cold ingredients – including the flour and fillings – whenever possible. (Scones rely on cold fat for their flakiness.) If you're milling grains at home, the flour usually exits the mill fairly warm, so be sure you leave yourself time to chill the flour before you start mixing.
OK, with that covered, let's dive into the recipe.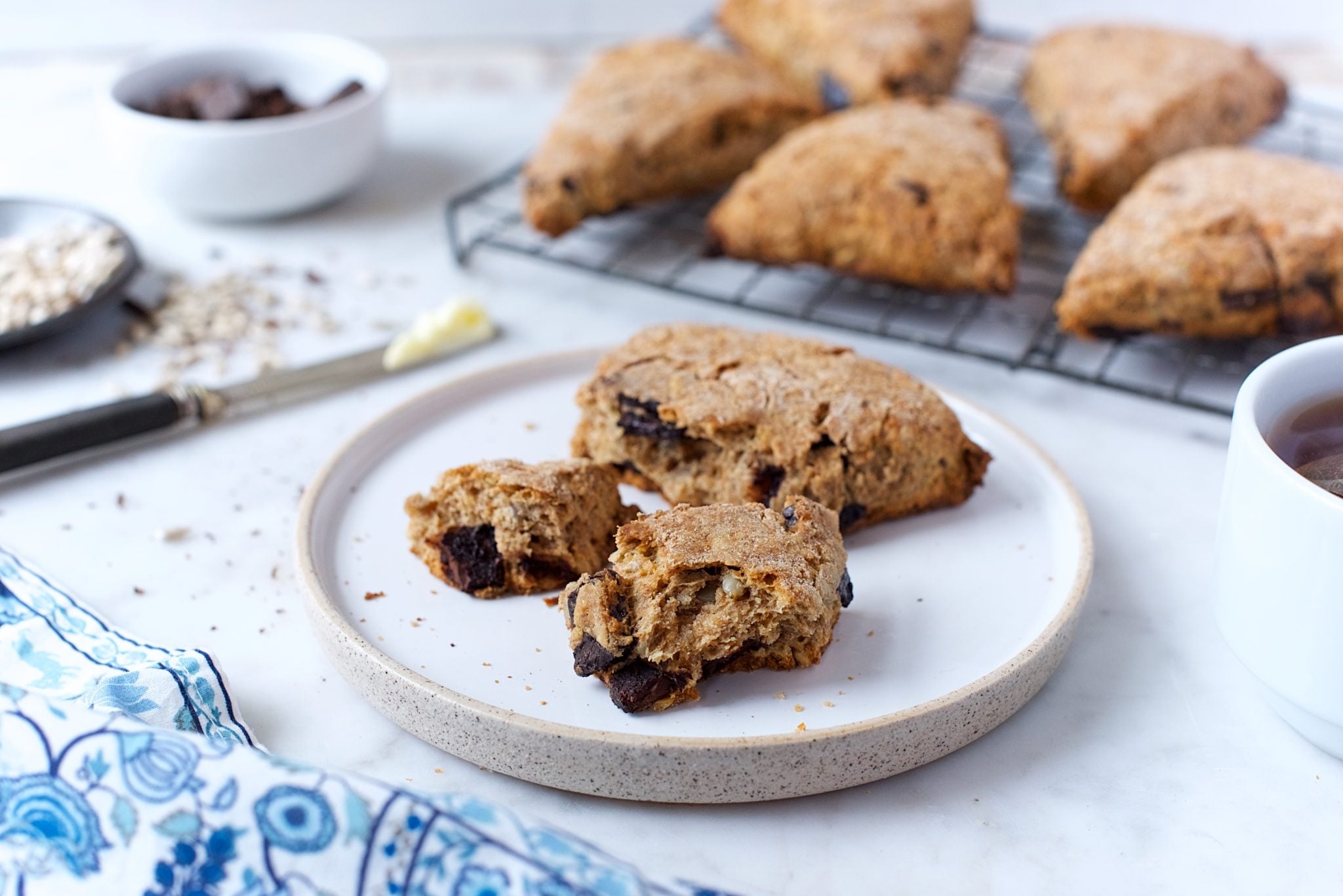 First, we need to prepare the ingredients:
heaping 3/4 cup (120g) sunflower seeds, midgets preferred
heaping 1/2 cup (99g) chopped bittersweet chocolate or chocolate chips
8 tablespoons (113g) cold butter
Preheat the oven to 350°F, and toast the sunflower seeds until they're fragrant, but haven't taken on much color. This will take 5 to 7 minutes. If you toast them to a dark color, they'll taste burned and bitter. In our oven, they start to smoke a little just as they start to take on the faintest amount of color. That's all you need. Place these on a plate in the refrigerator to chill.
If you're using chocolate chips, measure them and put in the fridge to chill, as well. If you prefer using whole chocolate, chop it into small pieces and place in the fridge.
Cut the cold butter into small pieces. If you're starting with a stick of butter, I like to cut the stick lengthwise into four equal parts, and then cut across to get small cubes. Put the diced butter back in the fridge to chill while you work with the other ingredients.
3 1/4 cups freshly milled spelt flour or King Arthur Organic Spelt Flour (326g) 
1/4 cup (50g) sugar
1/2 teaspoon salt*
1 tablespoon baking powder
*Use 3/4 teaspoon salt if you use unsalted butter
Mix the dry ingredients to combine in a large mixing bowl. If you milled your own flour and it's still warm, place it in the fridge to chill.
Final three ingredients:
2 large eggs
1/2 cup (113g) milk
2 teaspoons vanilla extract
Beat the eggs in a small bowl, and add the milk and vanilla.
Check that your sunflower seeds are cool to the touch.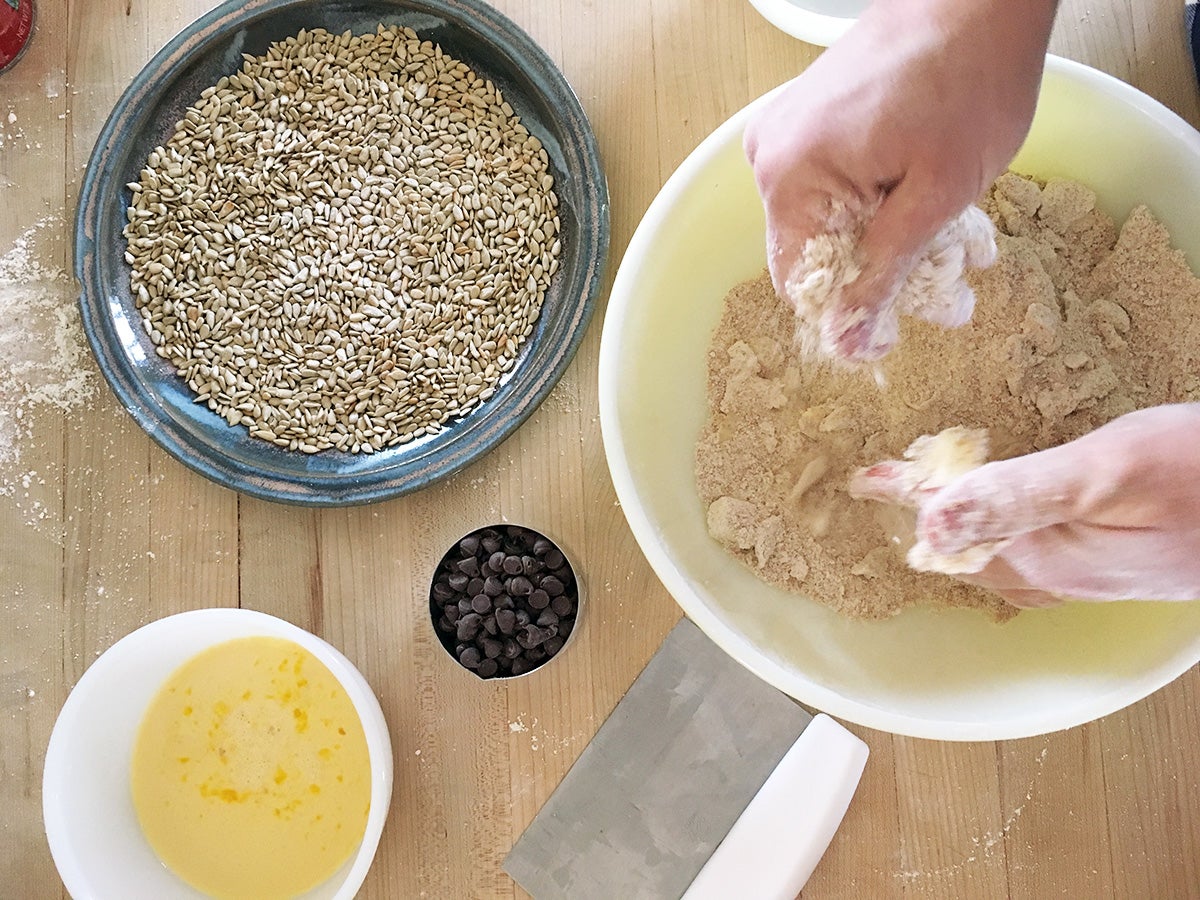 Create the scone dough
Add the chopped butter to the dry ingredients and, with your fingertips, work in the butter. You want to smear the butter into flakes, moving quickly enough that you don't warm it up.
Don't worry if there are larger pieces of butter remaining. Just don't have any complete cubes! I'd rather have larger flakes of butter than over-worked and warm butter by trying to get everything pea-sized. It should still look pretty ragged.
Quickly but thoroughly mix in the sunflower seeds and chocolate, still using your fingertips.
Add the liquid ingredients to the dry ingredients, and gently but quickly mix everything together, just until you've made a cohesive dough. Your hands are the best tools here. Keep it gentle. You don't want to beat the dough or use a spoon. You'll end up over-mixing and making tough scones.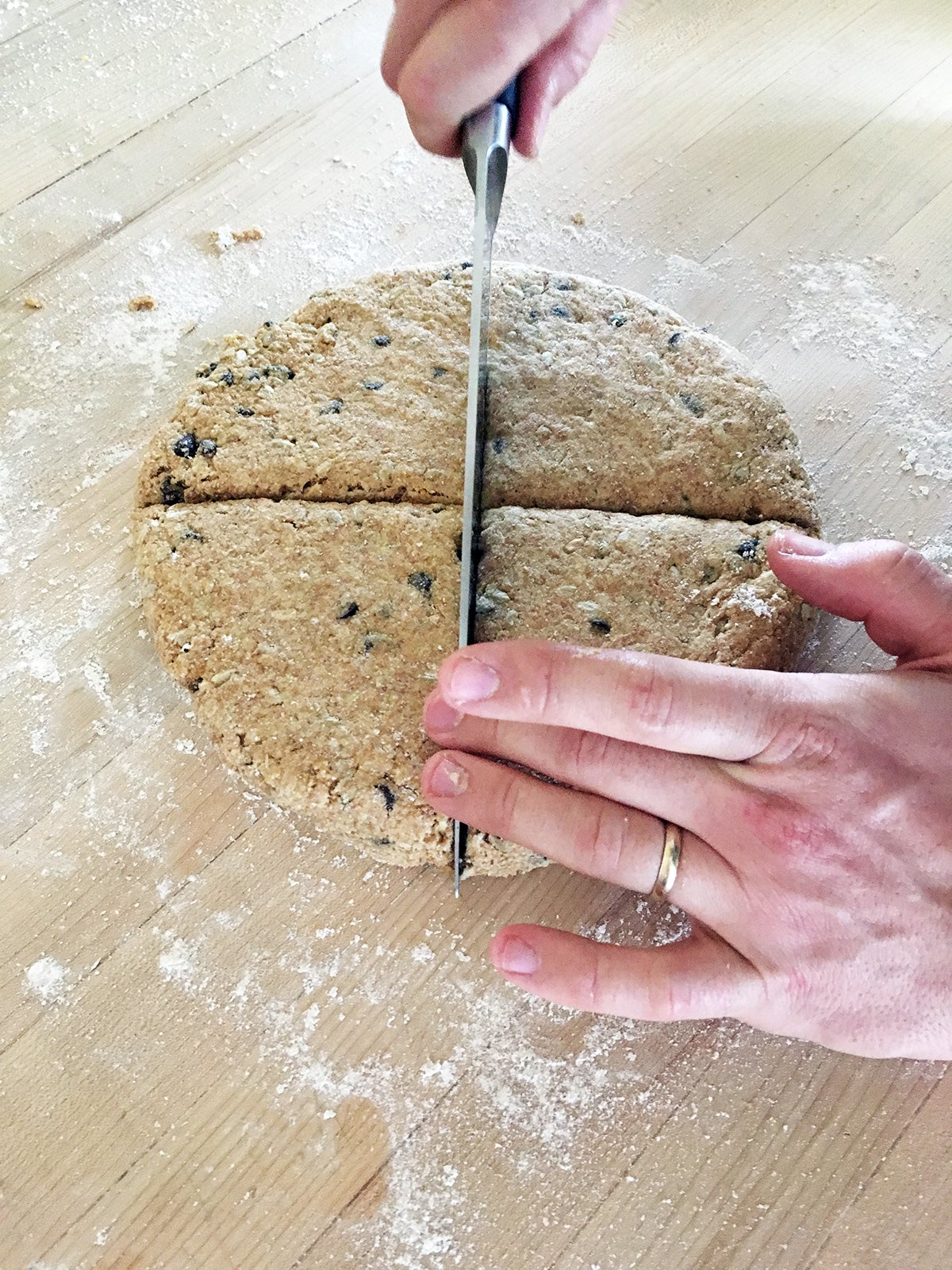 Shape the scones
Line a baking sheet with parchment. If you don't have parchment, just use the baking sheet without greasing it.
Liberally dust your work surface with flour and turn out what will feel like a very sticky ball of dough. Flour the top of the ball to keep your hands from sticking. Using one hand to flatten and one hand to form the edge, work the dough into a disc about 1" thick and about 10" wide.
With a sharp chef's knife, cut the disc into eight wedges. Using the blade of your knife and/or a bench knife, transfer the scones to your parchment-lined baking sheet.
Brush the scones with milk, and if you'd like, sprinkle with coarse raw sugar. We usually skip the sugar, but feel free!
At this point, you may want to chill your scones in the freezer for 30 minutes. This can give the scones a better rise. If you do this, preheat your oven to 425°F while the scones are chilling. Honestly, we generally skip this step.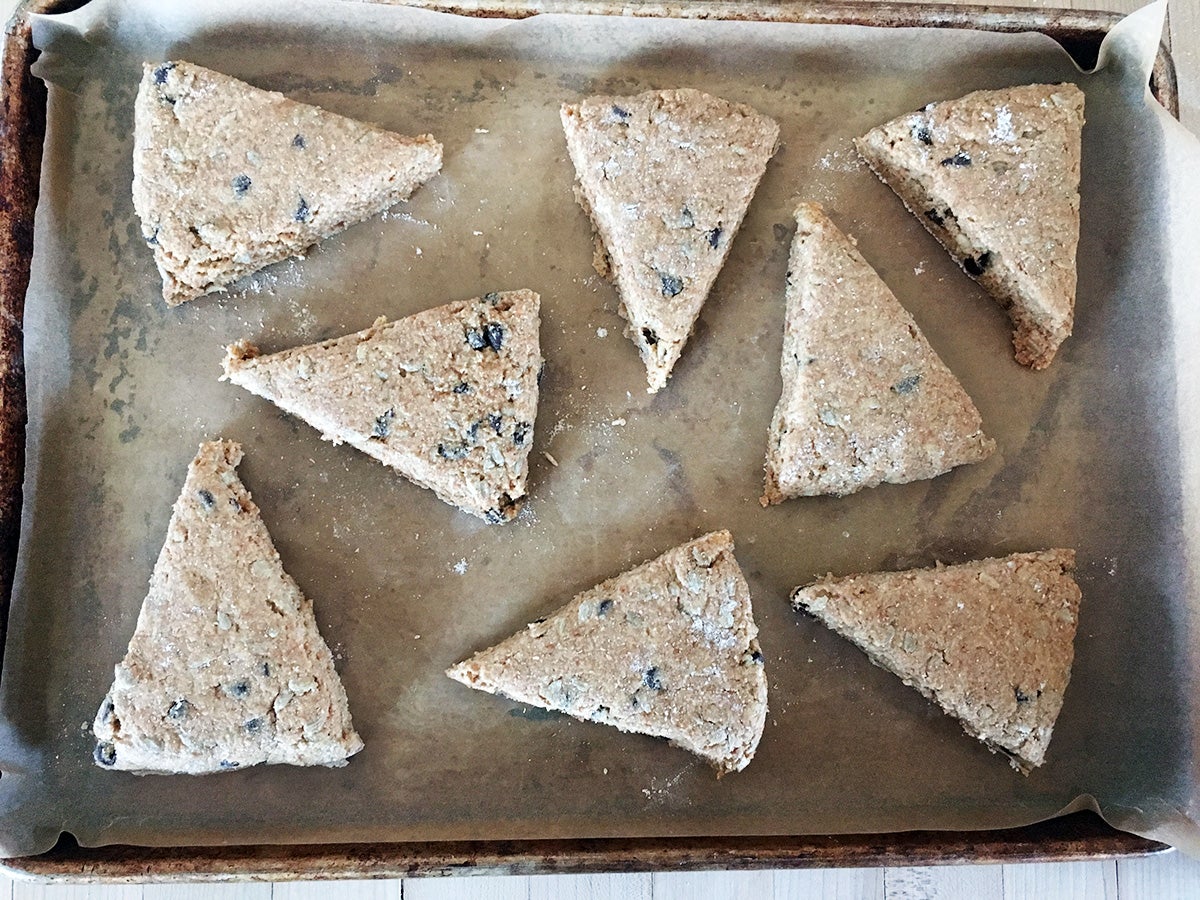 Bake your fresh-milled spelt scones
Bake at 425°F in the center of the oven for 20 to 25 minutes, rotating the tray after 10 minutes. Check the bottoms of the scones after about 18 minutes; we find the bottoms darken more quickly than the tops.
Remove the scones from the oven, and cool briefly on the pan. We like to serve them warm.
When they're completely cool, wrap any leftovers in plastic and store at room temperature for up to several days. Freeze for longer storage.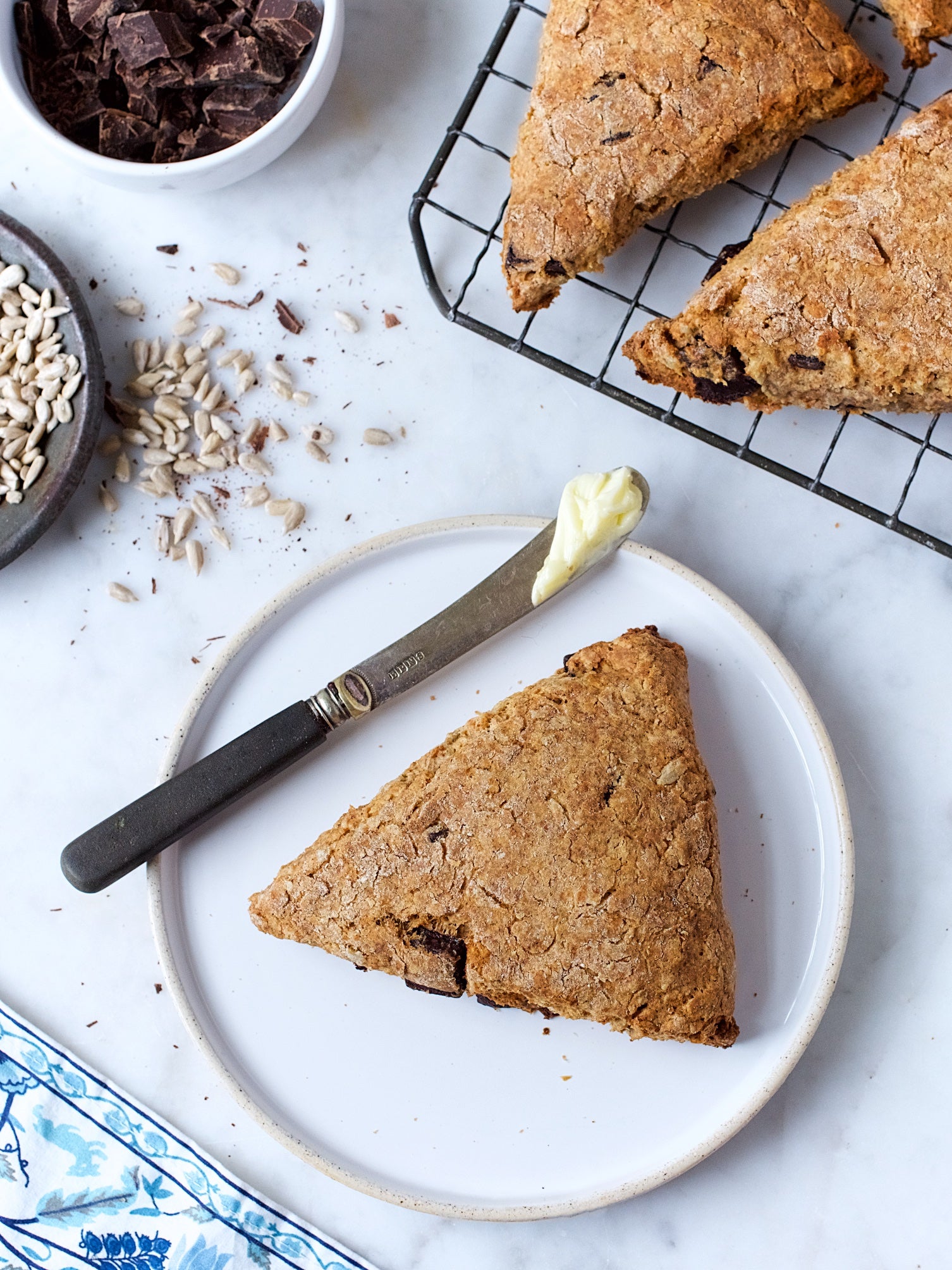 Please bake, taste, and enjoy our recipe for Dark Chocolate and Sunflower Spelt Scones. 
Follow John and Halee on Instagram @meadowlark_organics and read their blog posts at Heart and Grain.
Jump to Comments