Scones are the perfect blank canvas for a baker. Start with a good master recipe and the possibilities are endless. You can make customized scones in sweet or savory versions, oozing with cheese or filled with fresh herbs, studded with toasted nuts or gooey with chocolate.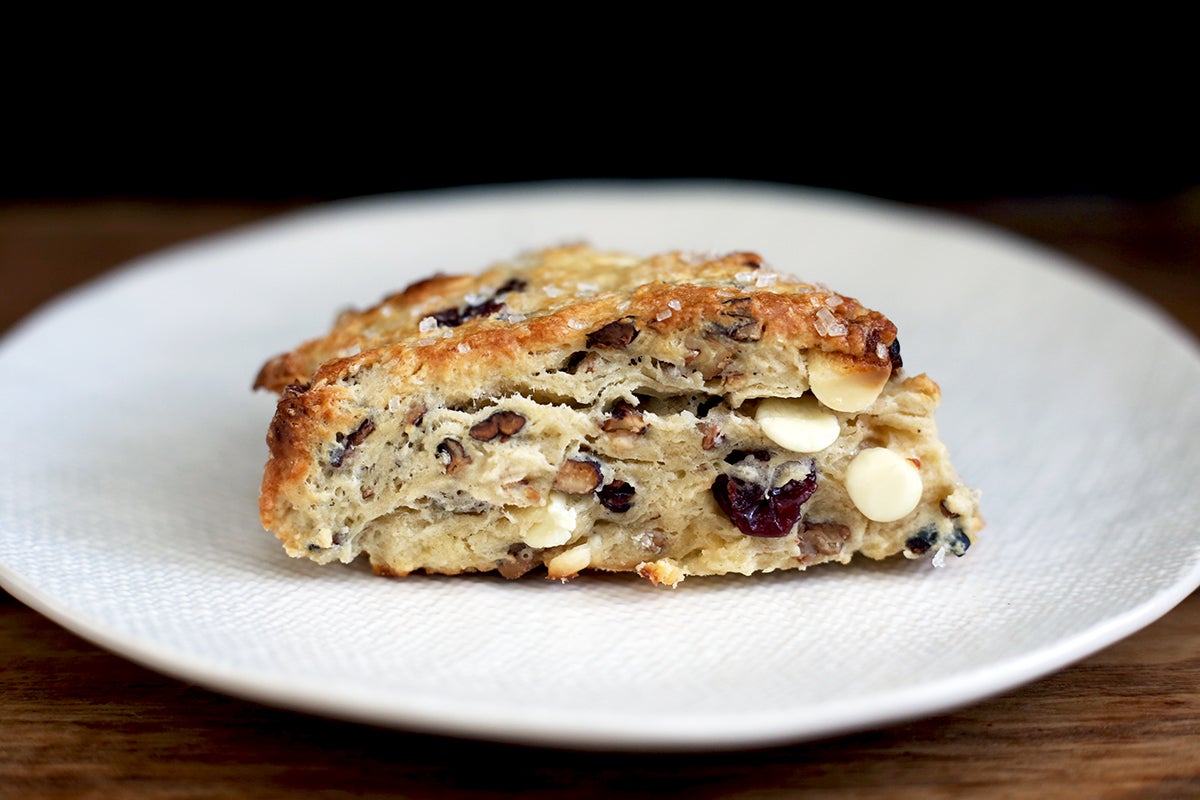 My favorite basic recipe yields a buttery scone that is delicate with a sturdy crumb. Warm from the oven, these scones pull apart in flaky layers. Best of all, they come together in mere minutes with just a few pantry staples.
To bake customized scones, our master recipe instructs you to stir 1 to 2 cups of "add-ins" (like nuts, dried fruit, chocolate chips, etc.) into your dough. Today I'll show you a few of my favorite ways to vary my customized scones: Try these flavors, and then let your creativity run wild! Fair warning: Once you start, it's hard to stop dreaming up new combinations.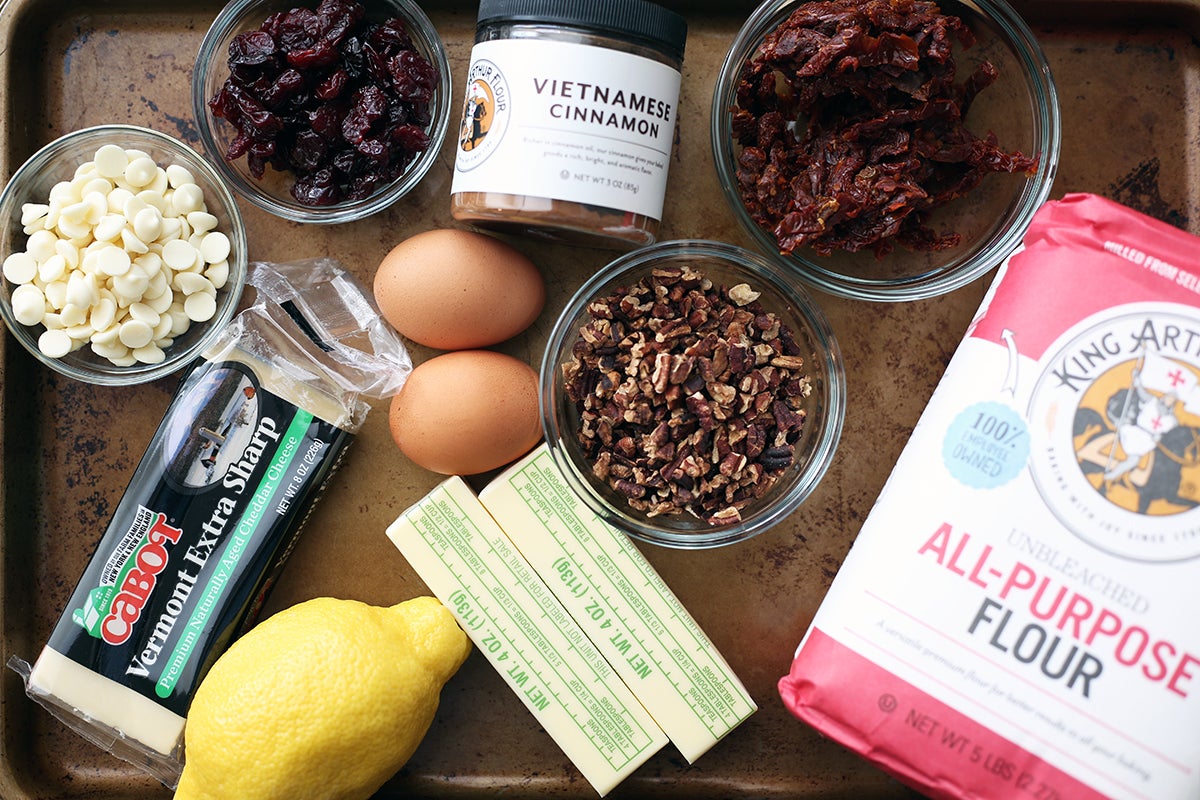 Before we begin, here are a few useful tips to keep in mind for this recipe:
Chill out! As with biscuits, the key to making flaky, light scones is to start with very cold butter and milk. Try to handle the dough as little as possible to avoid warming it up with your hands. (The chunks of butter strewn throughout the dough, and coated with flour, are responsible for those lovely layers in your scones.)
If you want to customize scones with savory ingredients, skip the vanilla called for in the recipe and reduce the sugar to 2 tablespoons.
Freeze 'em! Scones are a great candidate for advance prep. Make the recipe up to the point where you freeze the shaped scones for 30 minutes. Transfer the partially frozen scones to a zip-top bag, and keep frozen for up a month. You can bake them directly from the freezer (no need to thaw them), but allow a few extra minutes for baking.
If you want a pretty finish to your scones, you can brush the tops with milk before baking, as the recipe instructs. You can also brush them with a simple egg wash (egg beaten with a little water). Top them with coarse sparkling sugar or raw sugar, if making sweet scones. Top them with flaky sea salt, if making savory scones. I like to add a little of whatever ingredient is in the scone to the top. For example, cinnamon scones get a shower of cinnamon-sugar. Cheese scones get a dusting of grated cheese.
To make gluten-free scones, simply use our Gluten-Free Measure for Measure flour in place of the all-purpose flour.
For a more comprehensive list of expert tips for perfect scones, check out our Scone Baking Guide online. Now, on to the recipe!
Basic scones
For our master recipe, you'll need:
2 3/4 cups (330g) King Arthur Unbleached All-Purpose Flour
1/3 cup (67g) sugar
3/4 teaspoon salt
1 tablespoon baking powder
8 tablespoons (113g) butter, cold
1 to 2 cups "add-ins" (chopped nuts, chocolate chips, dried fruit, etc.)
2 large eggs
2 teaspoons vanilla extract (or other flavoring)
1/2 to 2/3 cup (113g to 152g) milk or half & half
Whisk together the flour, sugar, salt, and baking powder in a large bowl.
Work in the butter with a fork or pastry cutter until crumbly. The butter should be in uneven chunks. You should have chunks as small as peas and some as large as dimes.
Stir in any add-ins.
In a separate bowl, whisk together the eggs, vanilla (or other flavoring), and milk.
Add the wet ingredients to the dry ingredients, and stir until the dough just comes together. Start with just 1/2 cup of milk, and add more if needed. Turn the dough out onto a work surface and fold the dough over onto itself a few times, pressing down as you go, to bring the dough together.
Divide the dough in half, and shape each half into a disc on a parchment-lined baking sheet. Using a sharp knife, cut each disc into six wedges. Pull the wedges apart from each other slightly so they have a little space to expand as they bake. If using an egg wash or milk for the topping, brush it on now.
Place the entire baking sheet in the freezer. Freeze for about 30 minutes (read our full recipe for more details on why this is key!). When you're ready to bake, preheat the oven to 425°F. Bake the scones for 20 to 25 minutes, or until golden brown.
Let cool slightly on a rack, then enjoy warm!
You can make these scones with no add-ins if you want a lovely, simple vanilla version. But if you want to jazz them up, here are some ways to start:
Customized scones: the sweet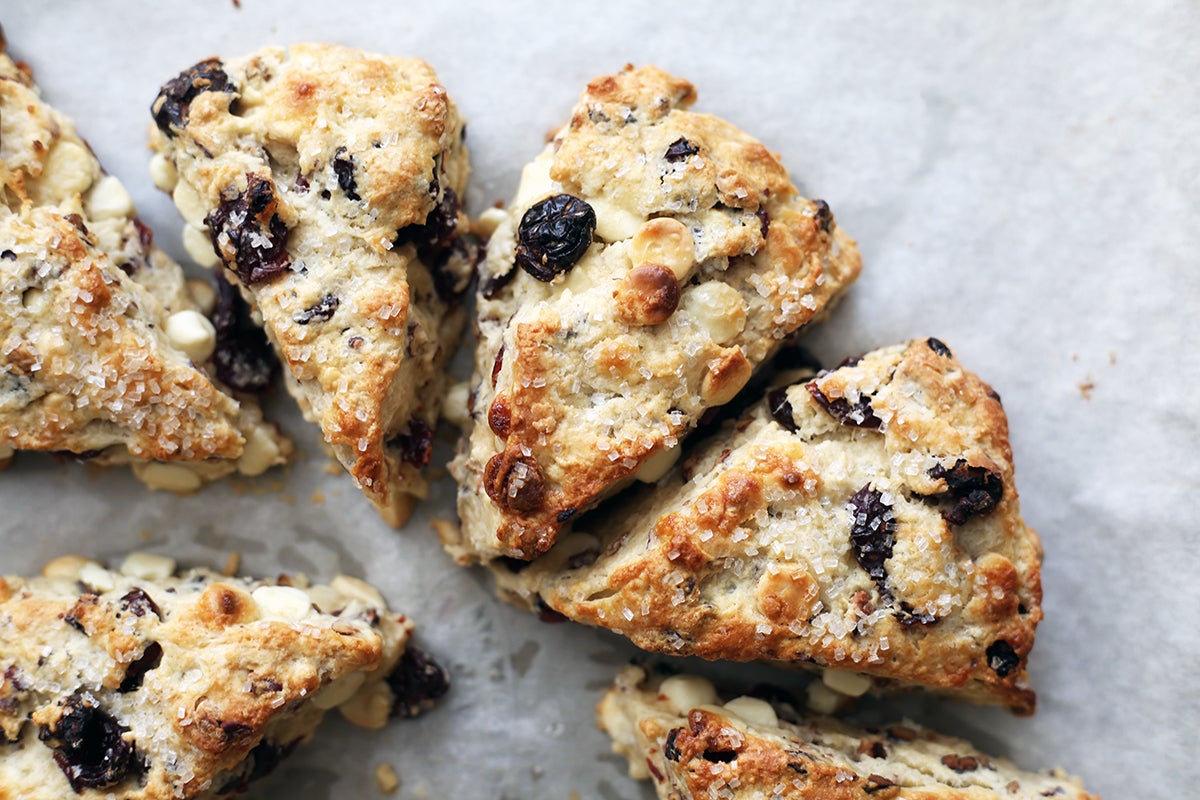 White Chocolate, Cherry, and Pecan Scones
This is the perfect scone for cherry lovers. Studded with dried cherries, chocolate, and toasted pecans, it packs lots of flavor in every bite. To the master recipe, add 1/2 cup of dried cherries, 1/2 cup of white chocolate chips, and 1/2 cup of pecans. I like to toast the nuts lightly before adding them to get a nuttier flavor. Just spread the nuts on a baking sheet and bake them in a preheated oven until they start to turn golden brown (watch them carefully!).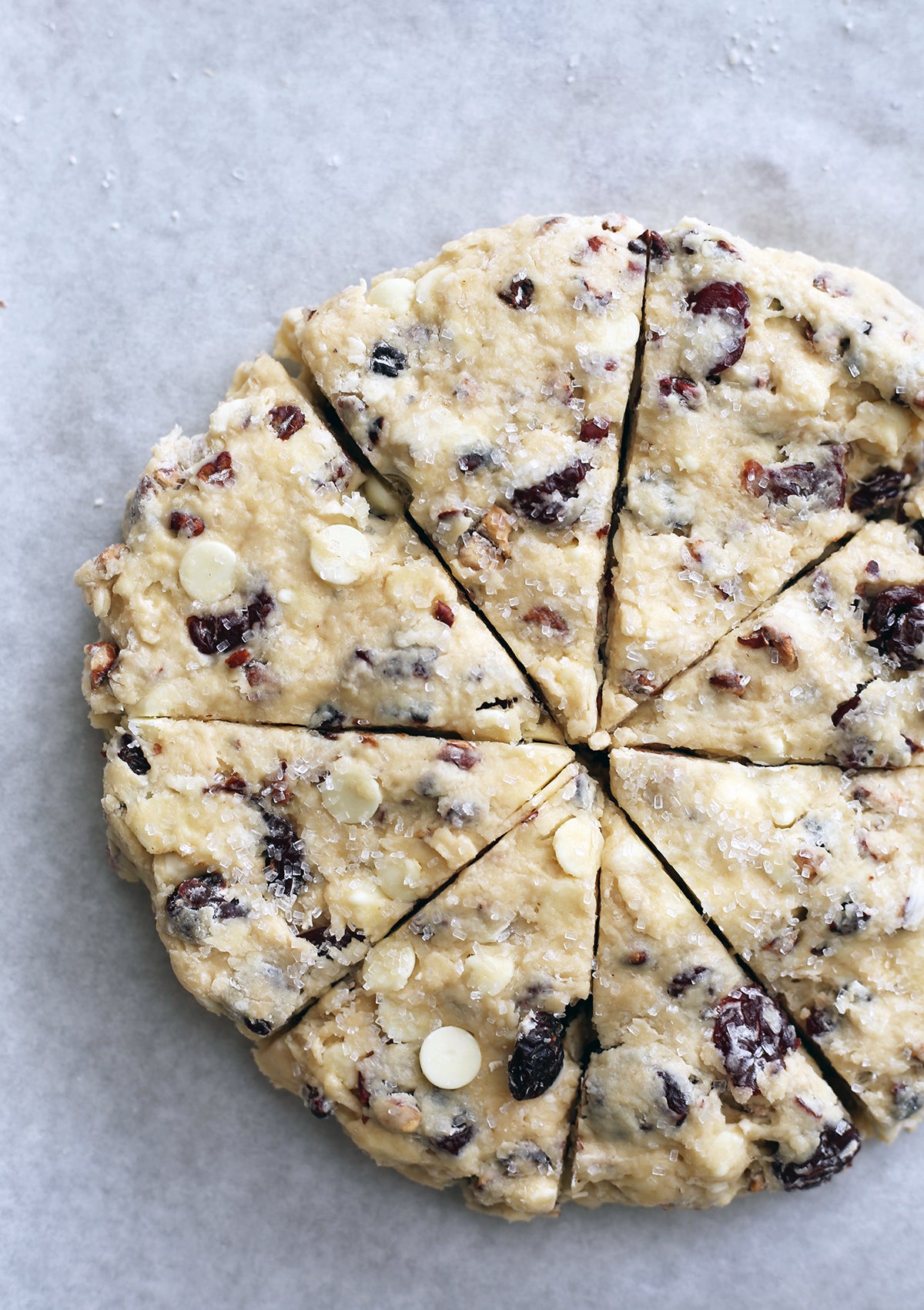 Since there are so many ingredients, I find you get a more even distribution when you use smaller pieces. To achieve this, chop your nuts rather than leave them whole. If you can find miniature white chocolate chips, use those, or chop up a block of white chocolate.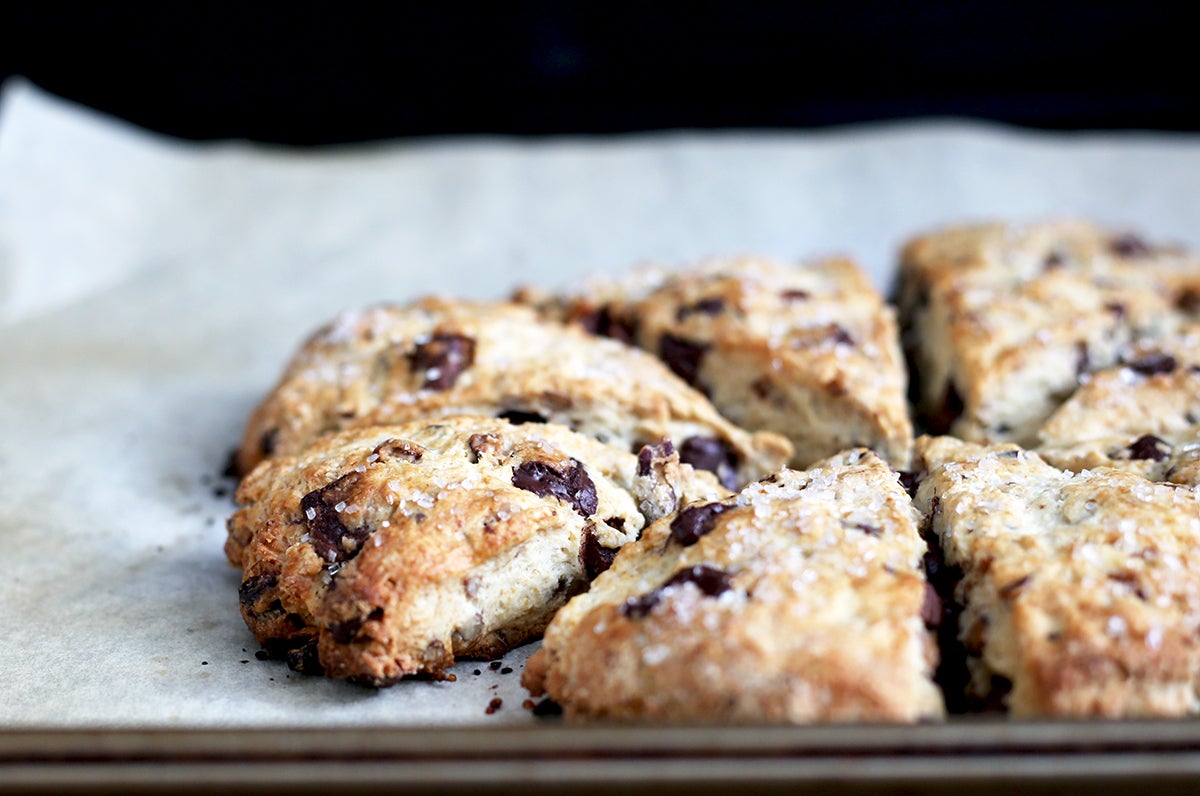 Chocolate Chunk Scones
Further proof that everything is better with chocolate! Add 1 cup of chocolate chunks (I used a mix of milk chocolate and dark chocolate) to the master recipe. If you want a little extra crunch, add 1/2 cup of cacao nibs.
If that's not enough chocolate for you (I feel you!), you can make a double chocolate scone by adding 1/4 cup of cocoa powder in place of 1/4 cup of the all-purpose flour, adding 1 cup of chocolate chunks, and 1/2 teaspoon of espresso powder.
Toasted Coconut Lime Scones
If you can't transport yourself instantly to the beach, you can at least whip up some tropical-themed scones. To the master recipe, add 3/4 cup of toasted unsweetened shredded coconut and 1 tablespoon of lime zest (grated lime rind).
For extra coconut flavor, use coconut milk in place of the dairy called for in the recipe. I like to brush these scones with milk and sprinkle them with raw sugar before baking.
Roasted Strawberry and Pistachio Scones
If you've never roasted strawberries before, you're in for a wonderful discovery! Roasting fruit intensifies its flavor; it's a fantastic trick to use if your fruit is not very ripe. Toss 2 cups of sliced or quartered strawberries with 1 tablespoon of sugar (I usually use raw sugar). Spread them on a parchment-lined baking sheet and bake at 425°F for about 20 minutes, or until jammy-looking.
Let the berries cool before stirring them into your scone dough along with 1/2 cup of chopped pistachios.
I recommend making a double batch of the roasted berries: They're delicious stirred into yogurt or spooned over ice cream.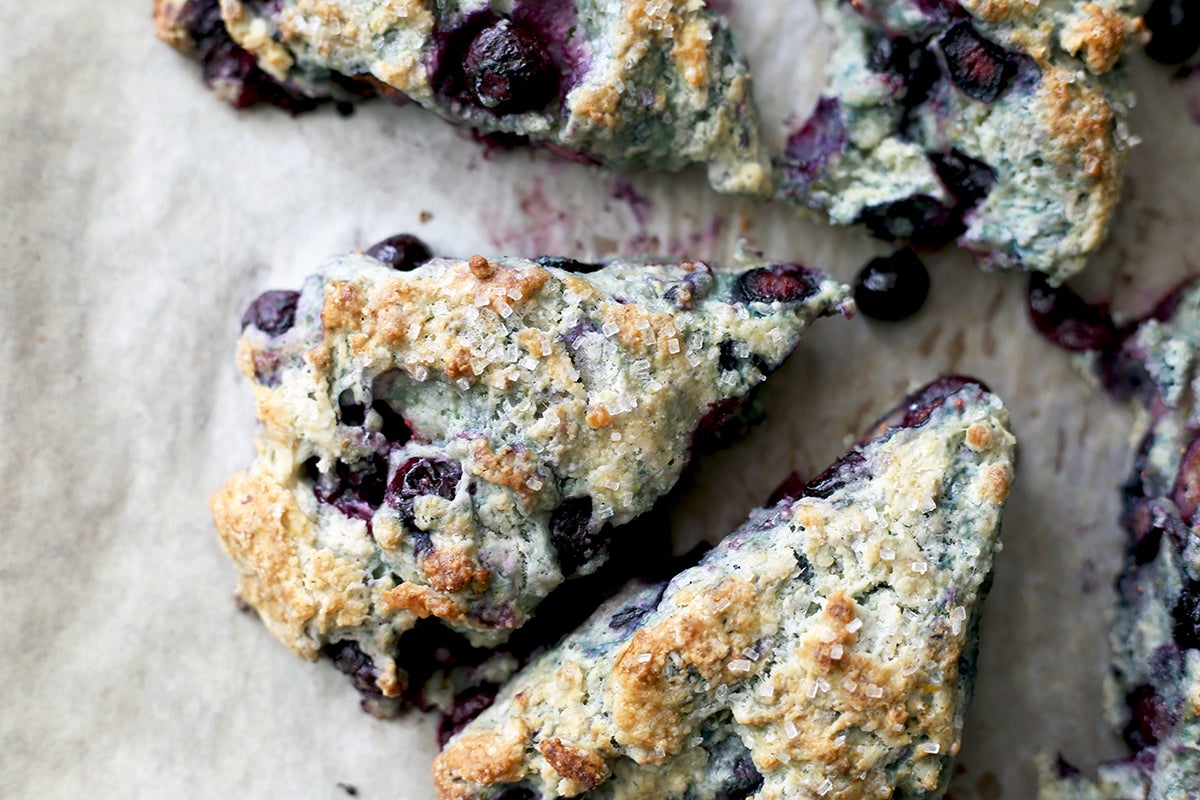 Lemon Blueberry Scones
For a classic berry scone, add 2 cups of blueberries (fresh or frozen) and 1 tablespoon of lemon zest to your dough.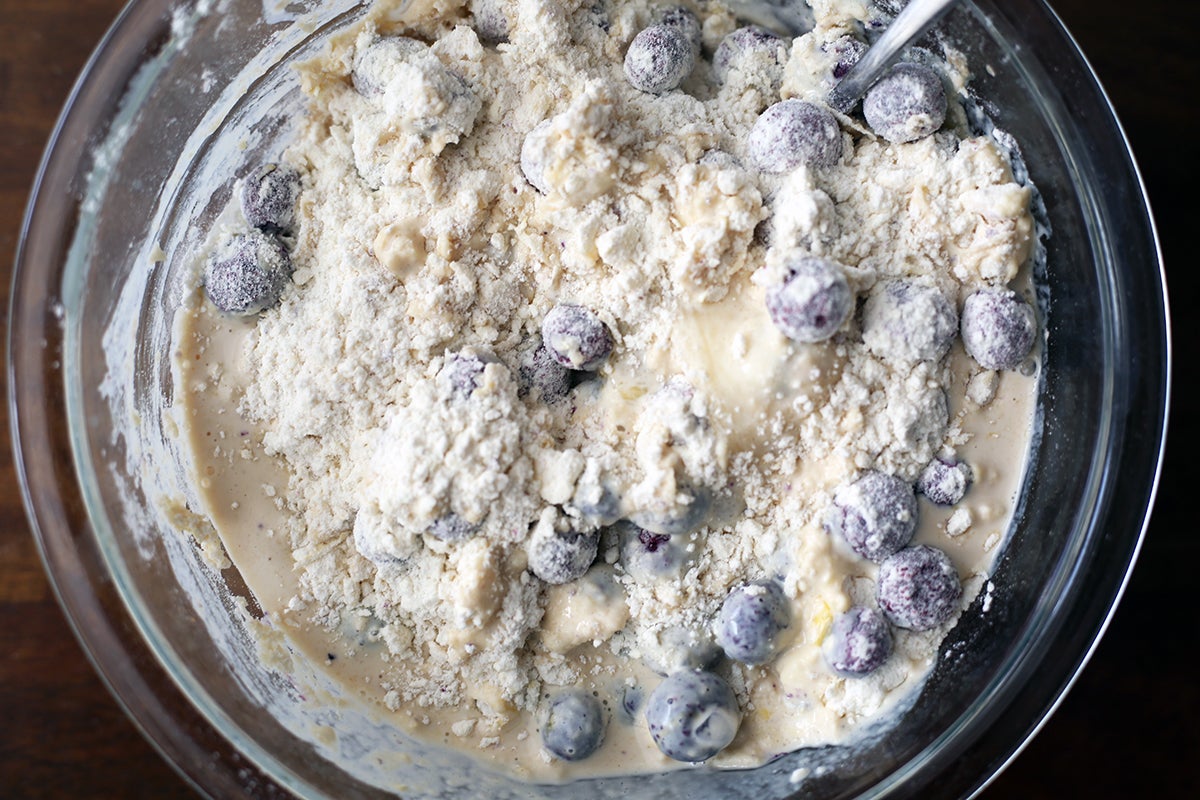 Toss to coat the berries with flour to help them stay evenly distributed as you bake.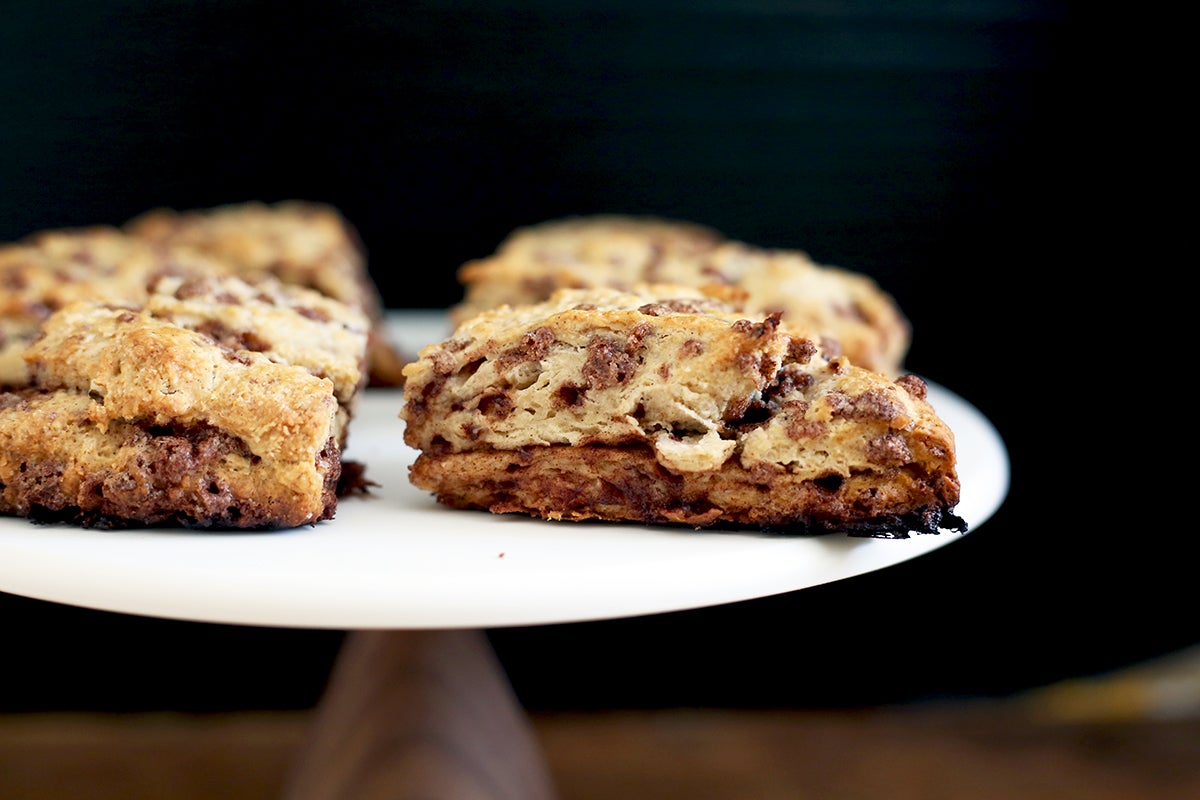 Triple Cinnamon Scones
Three times the cinnamon means your scones will be three times as delicious. I promise. Add 2 teaspoons of ground cinnamon and 1 cup of cinnamon chips to the dry ingredients in your recipe.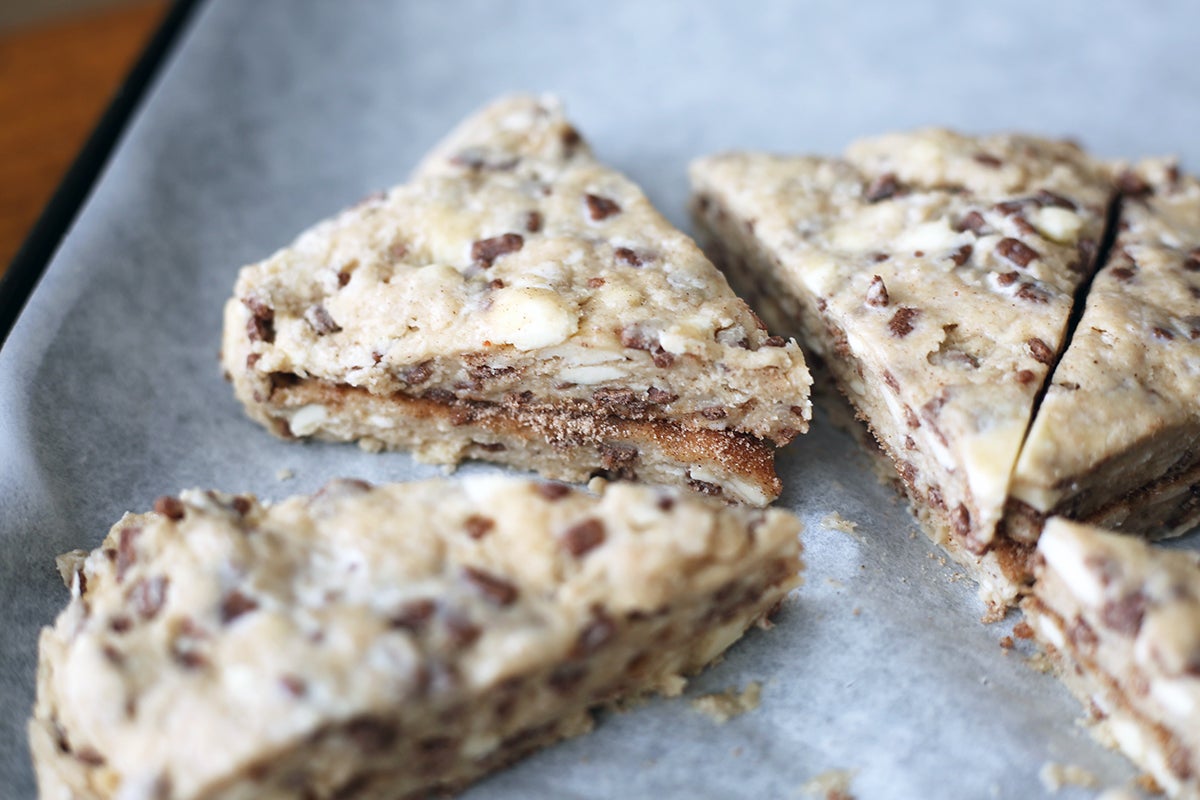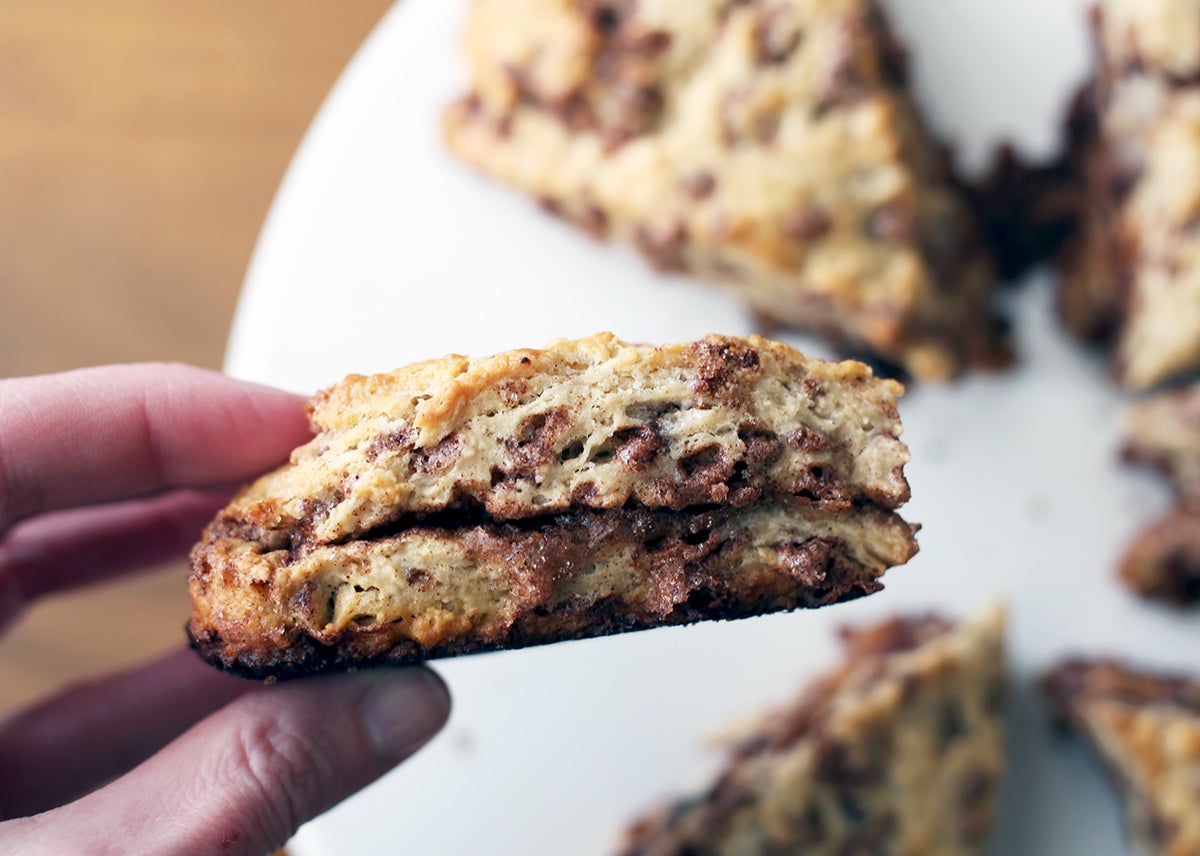 To give these scones extra pizzazz, I add a filling. When you're ready to shape your dough, divide it in half. Take one half, and divide that in half. Shape each half into an equally-sized disc, and sprinkle 2 tablespoons of cinnamon sugar over the top. Place the second disc on top of it and press gently around the edges to adhere, then slice your scones. Repeat with the second half of dough.
Customized scones: the savory
For any savory version of our master recipe, omit the vanilla extract and use only 2 tablespoons of sugar.
Cacio e Pepe Scones
These deliciously savory scones are inspired by the classic Italian pasta dish, cacio e pepe. The simple pasta is liberally dressed with pecorino cheese and cracked black pepper. To modify the dish for scone form, add 1 1/2 cups of grated pecorino cheese (Parmesan works well, too) and 2 tablespoons of cracked black pepper.
Before baking, brush the scones with milk and grate a little more cheese on top. Sprinkle with more pepper. If you like your scones with more kick, you can even experiment by adding more black pepper.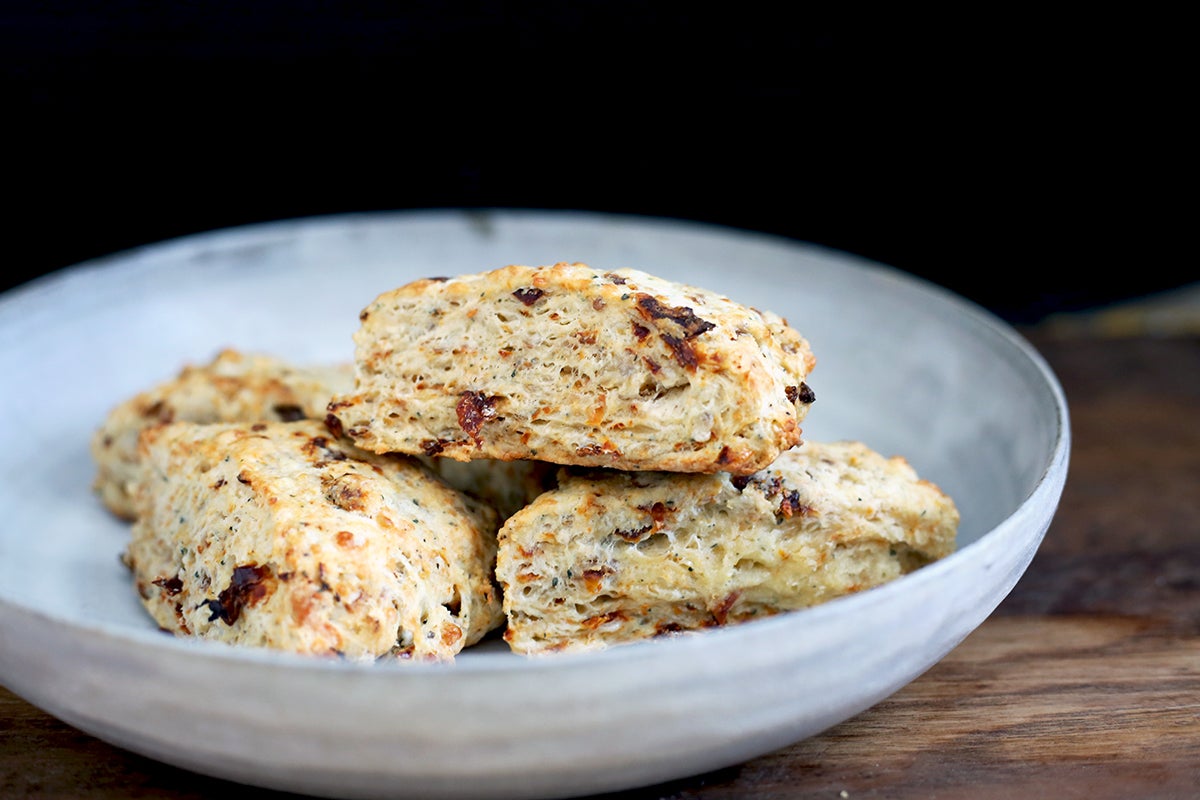 Cheddar, Basil, and Sun-Dried Tomato Scones
Pizza lovers, rejoice. It's easy to add similar flavors (cheese, tomato, basil) to a scone recipe. Add 1 cup of grated cheddar, 1/4 cup chopped fresh basil (or 2 tablespoons dried basil), and 1/2 cup chopped sun-dried tomatoes to your dough.
Don't use sun-dried tomatoes that are packed in oil as the liquid will make your dough too soft.
You can even add some dried oregano to your dry ingredients if you really want the pizza experience!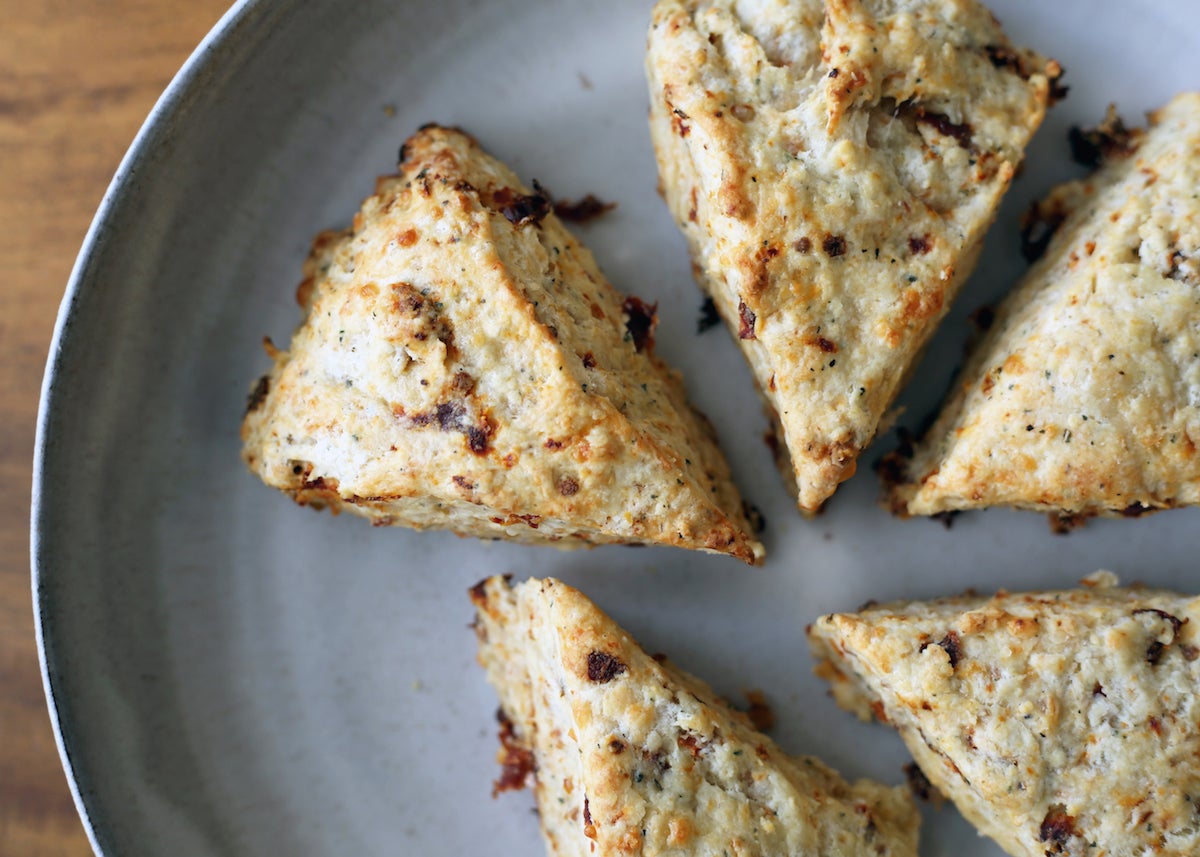 More savory customized scone ideas
There are so many delicious savory ingredients that work well in scones. The most important thing to keep in mind is texture: Try to add ingredients that have a balance of texture, and don't add ingredients that are too soft or liquid or you risk ending up with a dense, leaden scone.
Try adding crumbled bacon, any sort of chopped fresh herbs, dried herbs, or cheese. You could add caramelized onions, roasted butternut squash, or any sort of salami or sausage. Prosciutto and pancetta are wonderful in scones, as are olives.
Now you're armed with plenty of ideas, so try them out! We'd love to hear which ones you like best, or what other variations you're dreaming up. Tell us in the comments!
Jump to Comments