Almond Puff Loaf
A flaky, buttery, jammy pastry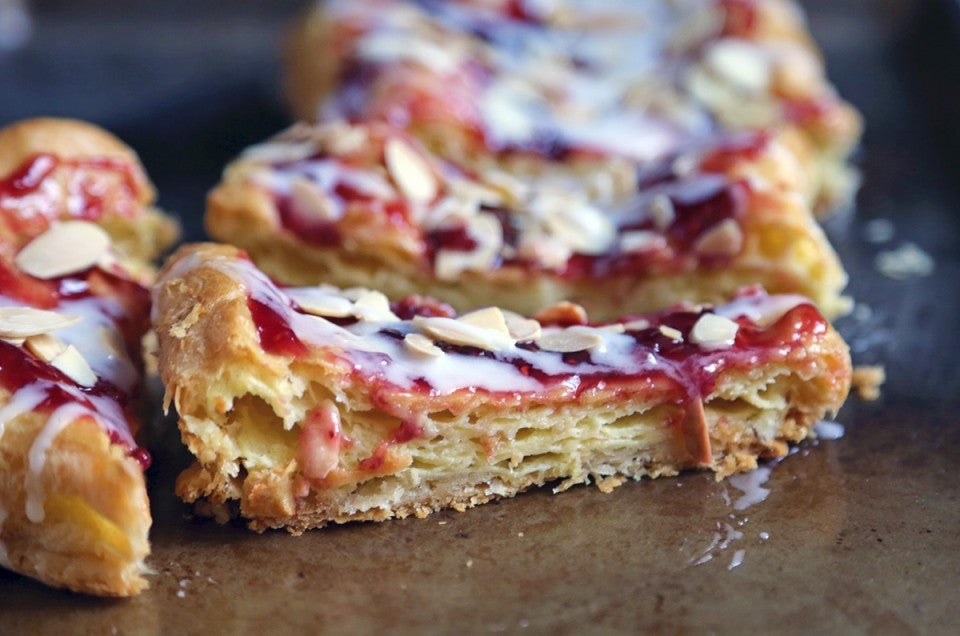 One of the (many) benefits of working for a baking company is the wealth of recipe knowledge and expertise around me. Every day I'm surrounded with new inspiration: Truthfully, there aren't enough hours in the day to make everything I'm jotting down on my "to make" list.
When I get a rave recommendation on a recipe from a coworker, I can safely assume it will be a showstopper. This almond puff loaf is absolutely no exception. It comes highly recommended by PJ Hamel, who promised me it was a favorite of hers from growing up and a perpetual crowd-pleaser amongst her friends and family.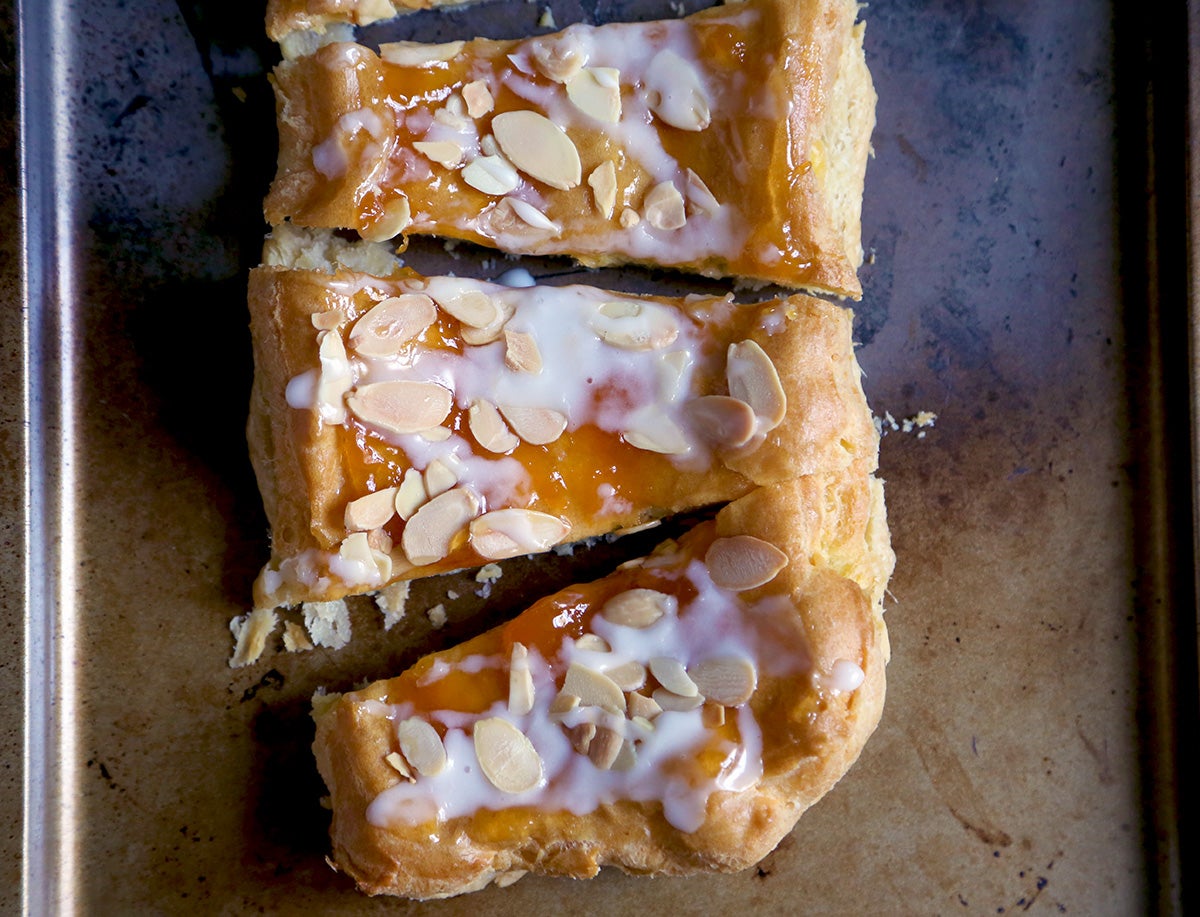 Not one to argue with tradition, I immediately set out gathering the ingredients. The recipe looks a bit unusual and complicated at first glance. Composed of two layers topped with jam and toasted almonds and drizzled with icing, it might appear daunting to you.
But it's a cinch! The base layer comes together like a biscuit dough: cutting in butter and pressing it out thinly. You mix up a simple choux pastry for the second layer and bake it all together.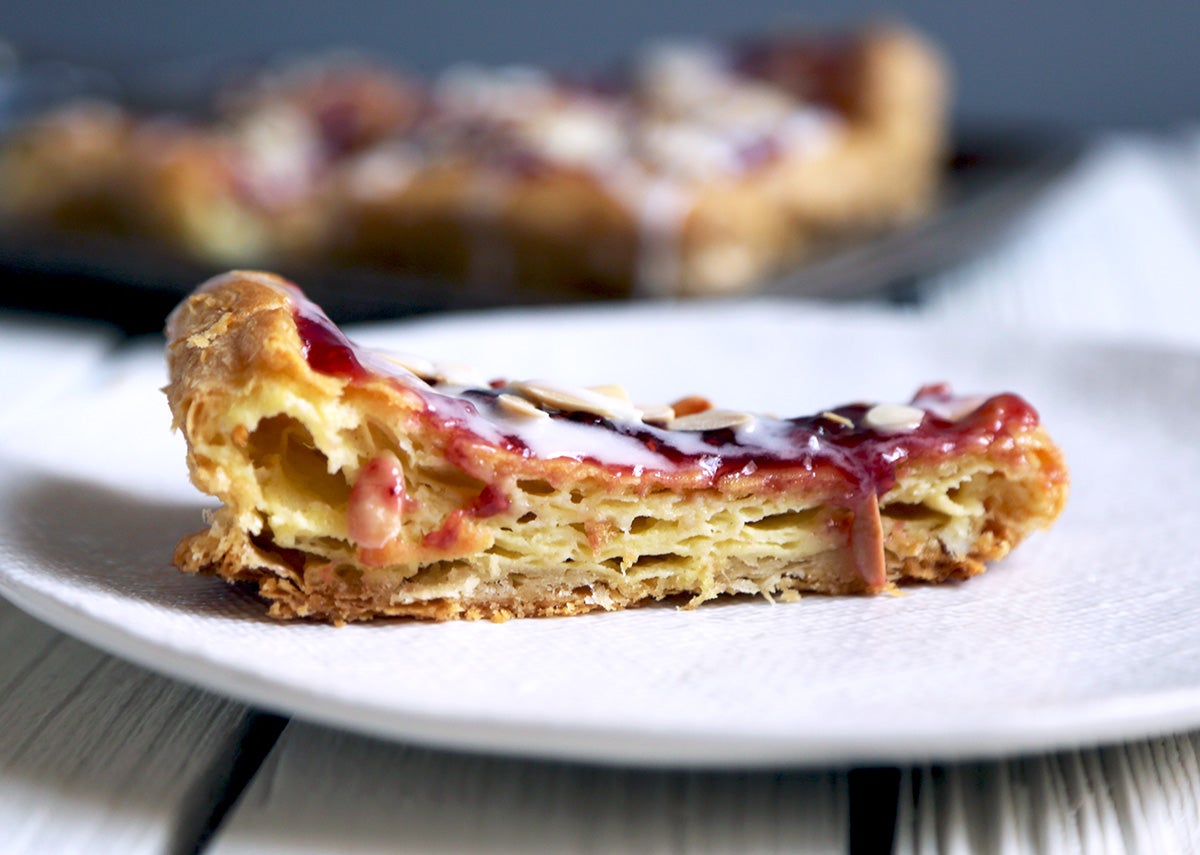 The result is stunning. The jammy, buttery pastry would look at home in the display case of any French bakery. It puffs up impressively in the oven, then sinks quickly (don't fret about that! It's supposed to). The delicate, flaky base shatters at first bite, yielding to the gentle pull of the soft, eggy, popover-like top layer. Barely sweet and fragrant with almond extract, the pastry gets a decadent sugary touch from the jam and icing topping.
I brought it, warm and sticky with jam, to an office full of hungry desk-bound friends. It was devoured in minutes. Through mouthfuls of pastry they mumbled very high praise, so let that be an omen for how well this will go over at any summer party you'll be attending.
Here's how to make it. For the first layer, you'll need:
1 cup (120g) King Arthur Unbleached All-Purpose Flour
1/2 teaspoon salt
8 tablespoons (113g) cold unsalted butter*, cut into pats or 1/2" cubes
1/4 cup (57g) ice water
Combine the flour and salt, then cut the butter into the flour as you would for a biscuit recipe. Add the water and mix until the dough begins to come together. The dough won't be entirely smooth. Divide the dough in half and use wet fingers (it will be sticky) to pat each half out into a 10" x 3" rectangle on a parchment-lined baking sheet.
Preheat the oven to 350°F, and make the second layer. You'll need:
1 cup (227g) water
1/2 teaspoon salt
8 tablespoons (113g) unsalted butter*
1 cup (120g) King Arthur Unbleached All-Purpose Flour
3 large eggs, at room temperature; warm them, in the shell, in hot tap water for 10 minutes if they're cold from the fridge
1 teaspoon almond extract
Bring the water and butter to boil in a medium saucepan. Once the butter melts, add the flour and salt all at once. Stir vigorously with a spoon or spatula until the mixture steams and pulls away from the sides of the pan. Transfer immediately to a mixing bowl and beat for a minute to cool the dough down slightly.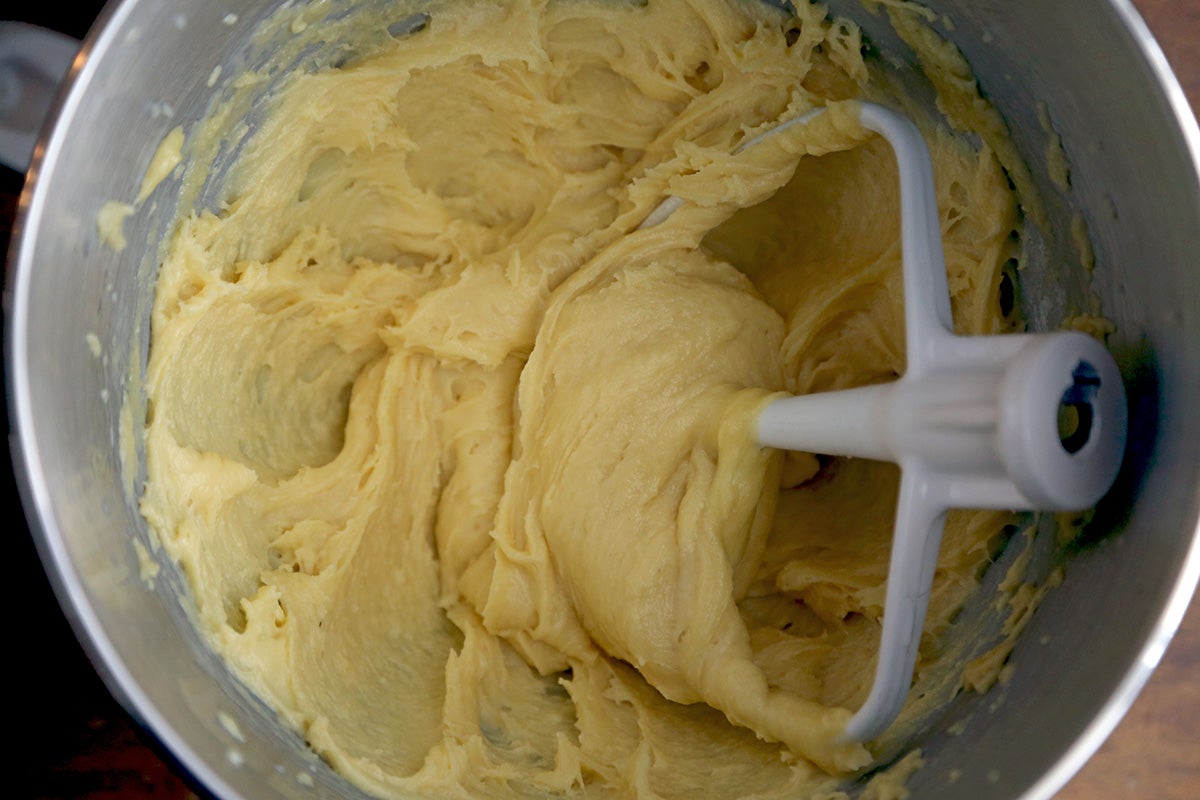 Add the eggs, one at a time, and then the almond extract. Beat until the eggs are fully incorporated, and the dough is matte-looking and no longer glossy or shiny.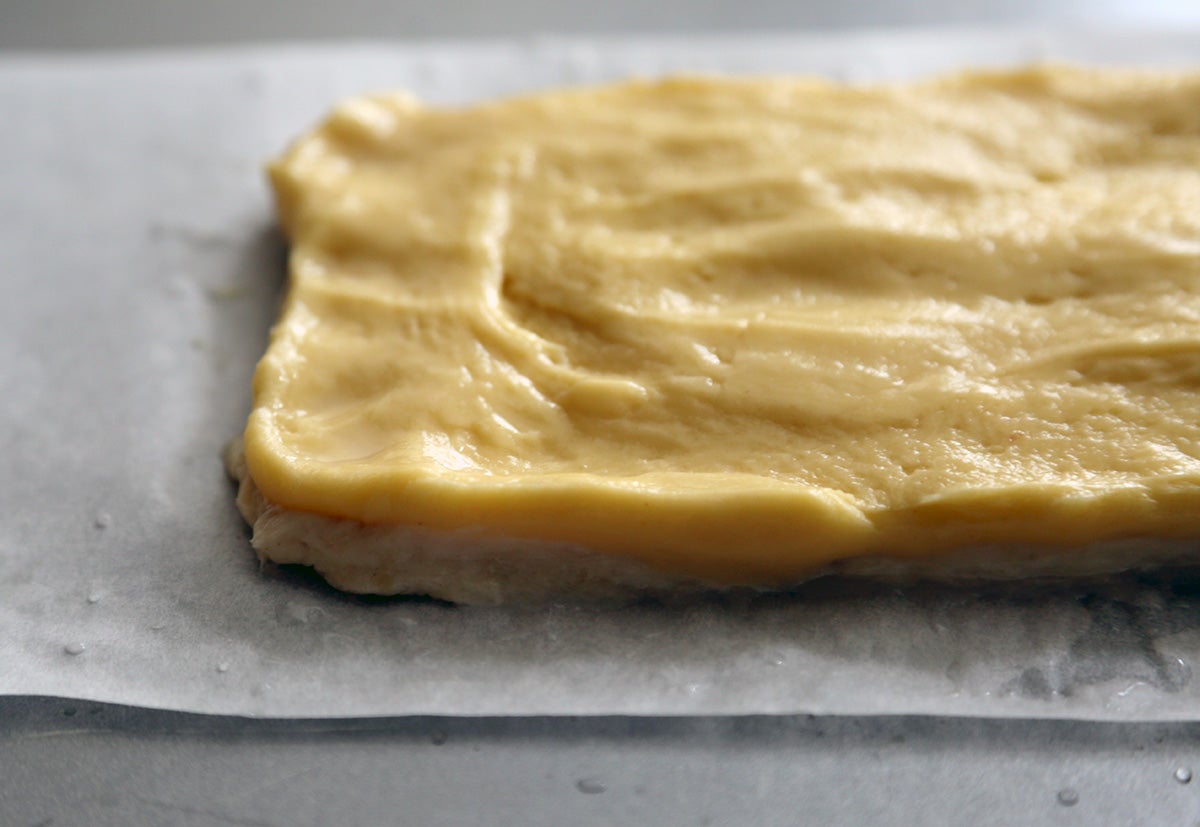 Spread half of the batter evenly over one of the dough rectangles, and the rest over the other. Wet your fingers and smooth the top of the batter.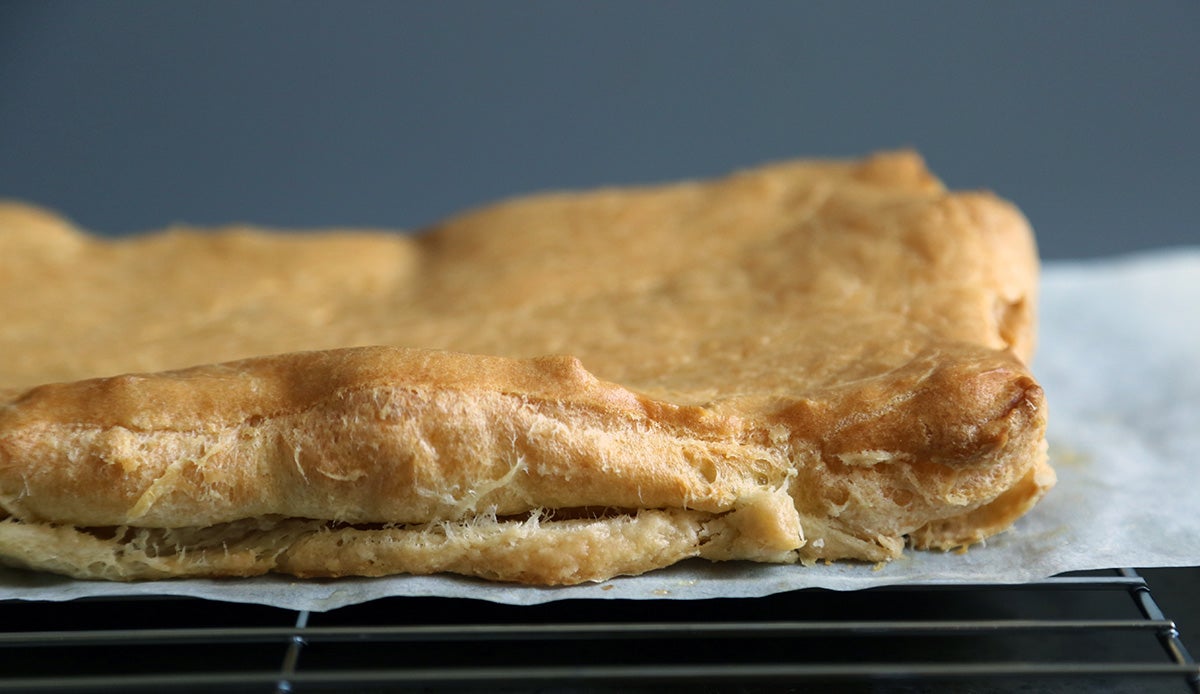 Bake for about 50 minutes to 1 hour. The pastry will turn a deep golden brown and puff up immensely. Remove from the oven and let cool. It will very quickly sink but that's OK! Don't panic. It will still be light and airy inside.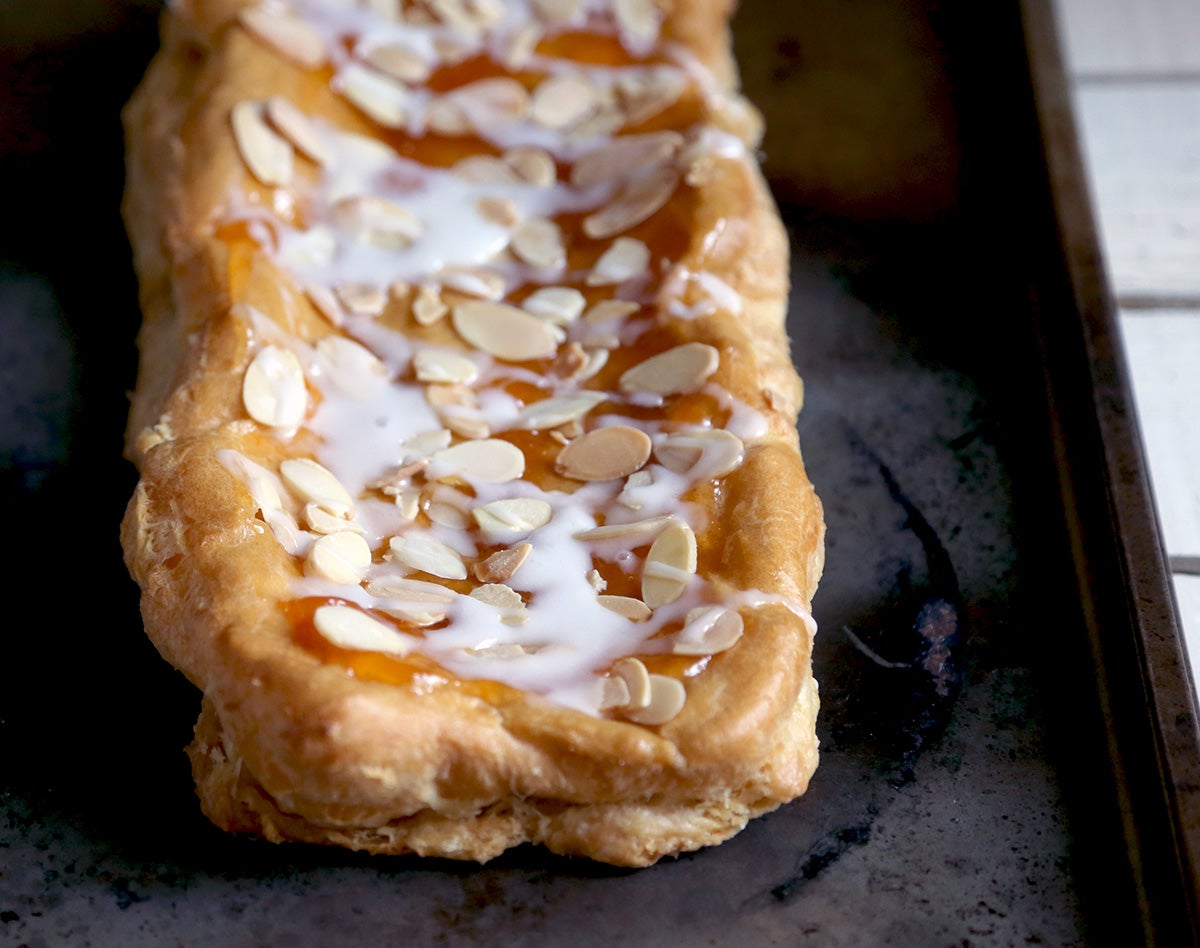 Once you're ready to finish the pastry, spread 1/3 cup (198g) of jam (I like apricot or raspberry) over each rectangle. Sprinkle with toasted almonds, and drizzle with icing. To make our simple icing, combine 1/2 cup confectioners' sugar (57g) with 1 teaspoon vanilla and about 4 teaspoons of milk. Mix until smooth.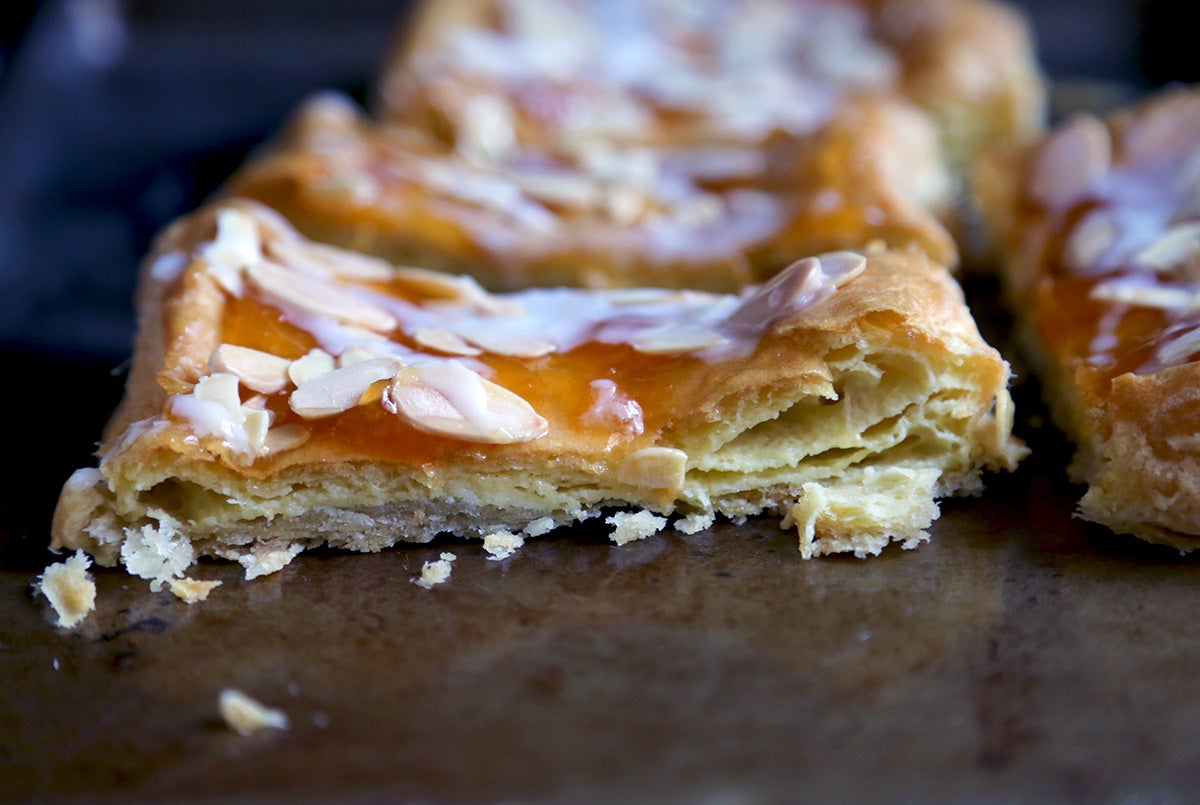 I'm lucky to be the beneficiary of such excellent baking wisdom, and I'm happy to pass along the recipe recommendation to you. I promise that you'll be the most popular guest at your next graduation party/Memorial Day cookout/potluck if you bring this pastry. Bake it, share it, and see for yourself!
This recipe was featured in our Bakealong Collection, full of more show-stopping recipes that are still beginner friendly.
Jump to Comments