A cookie swap from Sift
A sweet way to share for the holidays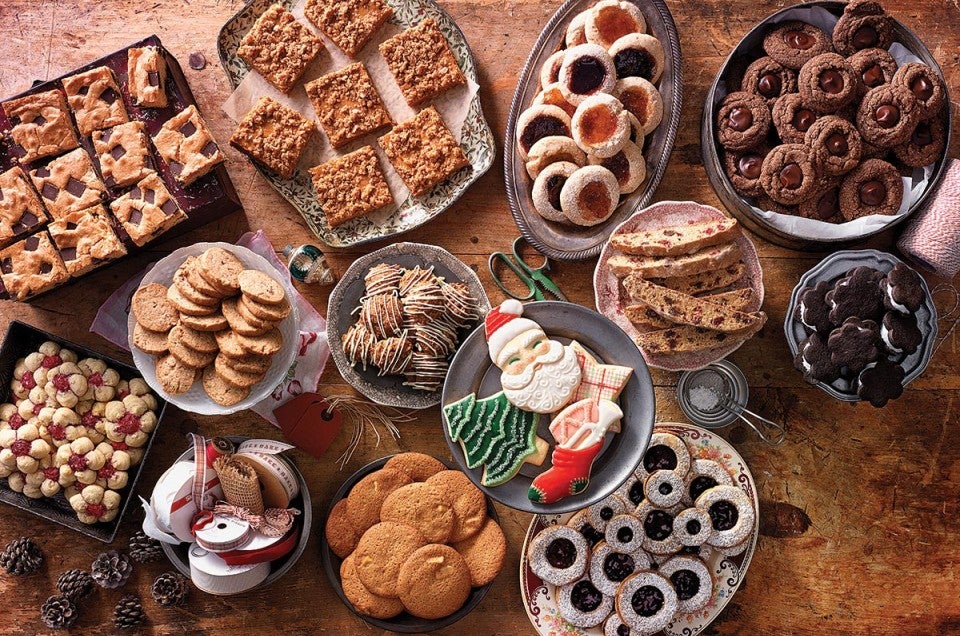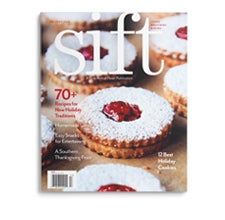 For generations, people have been getting together around holiday time to share and exchange their favorite cookies. A cookie swap is a great way to catch up with friends, have a lot of fun, discover new recipes, and take care of a chunk of your holiday gift list, all at once.
The idea is for each guest to bring enough of one type of cookie for everyone to take a few, and build a varied and delicious collection to give as gifts.
This year, Sift decided to host a virtual cookie swap, by reaching out to some of our favorite bloggers. We asked them for the one cookie recipe they'd bring to a swap to share; their must-have, want-to-be-known-for creations. The result was an amazing, creative melange of flavors, textures, and fun.

Ready to join the party? Let's go!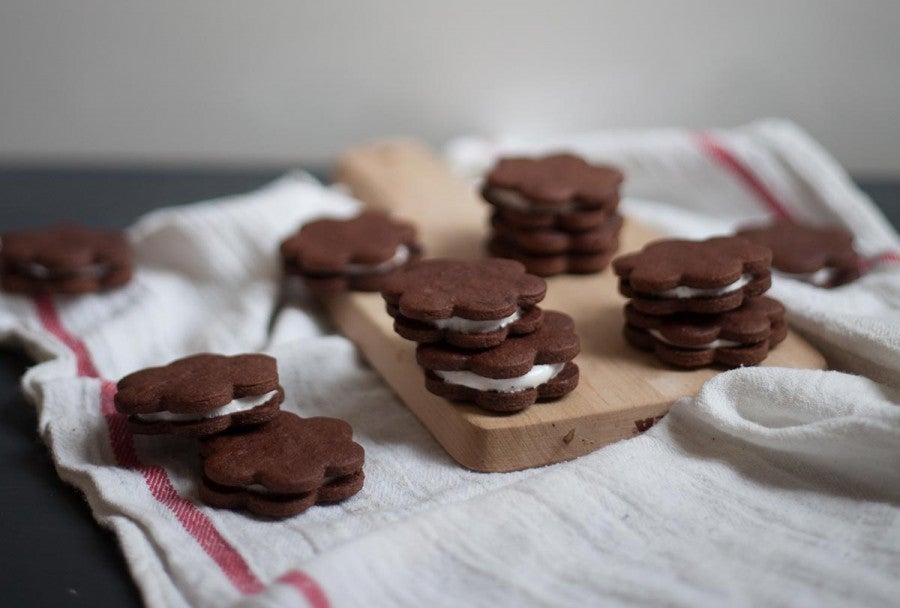 1. Peppermint Marshmallow Sandwich Cookies
Molly Yeh brought a chocolate sandwich cookie with a unique twist: a peppermint marshmallow filling. Here's how she introduces her Peppermint Marshmallow Sandwich Cookies:
"Sandwich cookies are queens of the cookie swap because they're actually two cookies in one. More to love with a sweet, delicious center? Step aside, sugar cookies."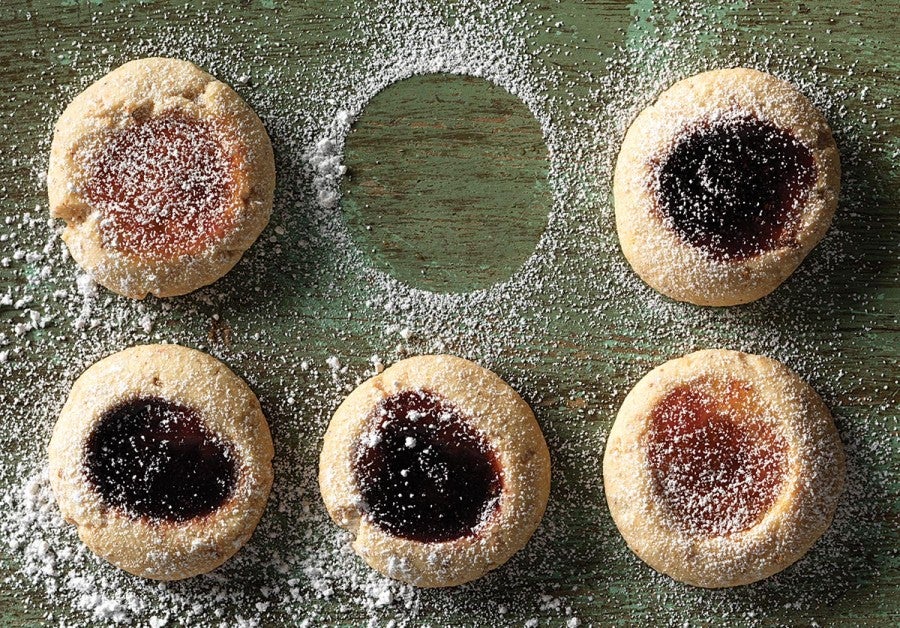 2. Almond Thumbprint Cookies
Kelsey Banfield made us some Almond Thumbprint Cookies: a rich, nutty riff on a familiar holiday favorite.
She says, "When presented on a cake platter, they look like a beautiful stack of crown jewels, almost too pretty to eat! They appeal to both children and adults and there are never any left behind."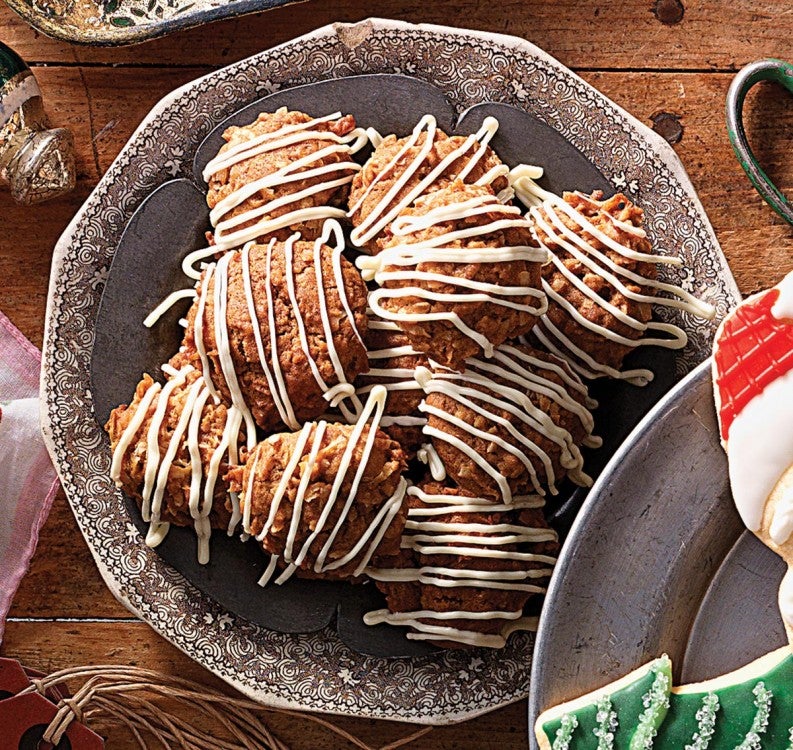 3. Coconut Gingeroons
Katie Wahlman reached into her recipe box to give us Coconut Gingeroons. She says they're "A cross between a classic ginger cookie and a coconut macaroon. They're the perfect two-bite spice cookie to celebrate the season."

This party's just getting started!

4. Roll-Out Sugar Cookie
Next up? The funny, talented, and eminently followable Amanda Rettke with a deliciously tender Roll-Out Sugar Cookie. She says, "I wanted to share with you my favorite Christmas cookie recipe of all time. It's sinful. It's outrageous. It's just plain delicious."

5. Belgian White Ale Cookies
Nick Evans' contribution is another unique, creative, and tasty one: Belgian White Ale Cookies. Their story:
"If you've ever had an orange slice in a tall glass of white ale, then you know the inspiration for these cookies. They're soft, chewy, and loaded with spice and citrus. People will be able to pick out the orange hints, but the beer gives them a complicated note that's tough to identify. It also makes them totally delicious. The result is a really unique cookie that will have people coming back for more!"

6. Linzer Cookies
Alexandra Stafford brings us lovely Linzer Cookies. "Nothing could be more festive on the holiday table than a tray of these buttery, confectioners' sugar-dusted, jam-packed linzers."

The great ideas just keep coming. Look who just came in!

7. Gluten-Free Maple Pecan Shortbread
Alyssa Rimmer arrived with a festive plate of Gluten-Free Maple Pecan Shortbread Cookies: nutty, crunchy and sweet.
"They're made with almond flour, which is higher in good-for-you fats, with more vitamins and minerals than grain-based flours. Since the holidays are already full of indulgences, this healthier cookie is a win-win in my book."

8. Cherry Vanilla Cream Cheese Spritz Cookies
Stefani Pollack says, "A cookie press is my secret baking weapon; push spritz cookie dough through one and, boom, I have bakery-perfect cookies! The flavor of these cookies outshines their edible glitter topping." Check out her Cherry Vanilla Cream Cheese Spritz Cookies.

9. Pumpkin Pie Bars
A native Vermonter now living on the west coast, Julianne Bayer brought us Pumpkin Pie Bars. Her take on this treat? "The buttery graham cracker crust perfectly complements the sweet pumpkin filling – they're like bite-sized pumpkin pies with a brown sugar streusel topping. You may end up wanting to hide these gooey bars so you can savor them all yourself."

OK, what kind of blogger party would this be without our own PJ Hamel in the company? Pictured above is the talented trio that rounds out our dynamic dozen of cookie swap contributors.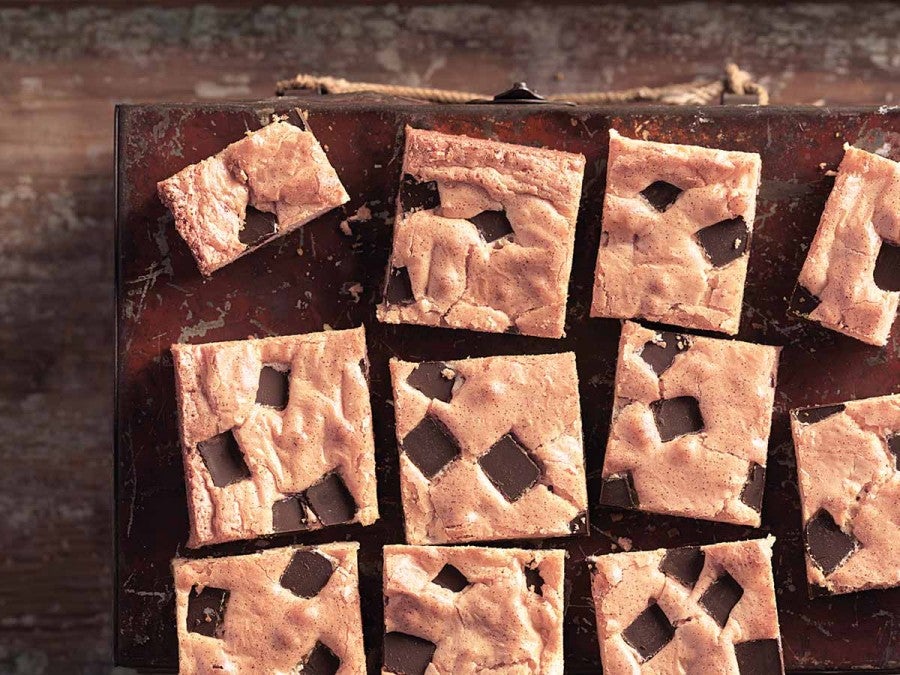 10. Black & White Brownies
PJ brought Black & White Brownies to share. "These brownies, with their dense, moist vanilla base laced with chunks of melting chocolate, bring the best of both worlds to the table. Bonus: Their hint of nutmeg is pure culinary genius."

11. Spiced Chocolate Molasses Buttons
Shauna Sever brought us an intriguing, beautiful, multi-faceted gem: Spiced Chocolate Molasses Buttons. Her description: "These make for the perfect holiday cookie – a hit with the chocolate lovers, the spice cookie lovers, and those who are drawn to the prettiest of the cookie tin contenders."
We couldn't agree more.

12. Chocolate, Raspberry, and Walnut Whole Wheat Biscotti
Finally, and certainly not least, we present Nik Sharma's creation: Chocolate, Raspberry, and Walnut Whole Wheat Biscotti. Here's his description of their lusciousness:
"Being a creature of habit, I drink tea every evening. Biscotti is one of my favorite accompaniments. You dip a cookie in the hot liquid and take a bite to taste a mix of soft and crunchy textures, with the sweetness of chocolate, the tartness of raspberries, and the wholesome flavor of baked walnuts."
What a lovely and satisfying way to end a terrific gathering. We hope you've enjoyed getting to know our blogging friends and their recipes from Sift, and will use some for your own cookie swap this holiday season.