Who doesn't love the annual Thanksgiving feast?
The impressively large turkey with its crackling-crisp mahogany skin. The family heirloom bowl heaped high with mashed potatoes. Perfect gravy in an actual tureen. Green bean casserole – with or without the cream of mushroom soup.
And pumpkin pie. Apple pie. Pecan, chocolate cream, creamy coconut – whatever your pie preference, Thanksgiving's the time to indulge it.
But Thanksgiving baking's not ALL about pie. For those of us with a yen for yeast (and a long, LONG list of must-try bread recipes), Thanksgiving's the perfect occasion to leaf through our favorite recipes for The Best Dinner Roll.
I used to be totally enamored of Golden Pull-Apart Butter Buns, a light-textured, soft white roll and the one thing I HAD to make every Thanksgiving. But over the past couple of years my taste has changed; now I prefer a firmer, denser, heavier roll, one with a foundation of earthy mashed potatoes. So Amish Dinner Rolls have kicked those Butter Buns out of the top spot.
To each his own, though, eh? Herewith I give you a selection of nine dinner rolls, each bearing its own unique attributes. We trust you'll find something here you're dying to make come Thanksgiving. And if not – go ahead, check out our favorite pie recipes; we don't mind!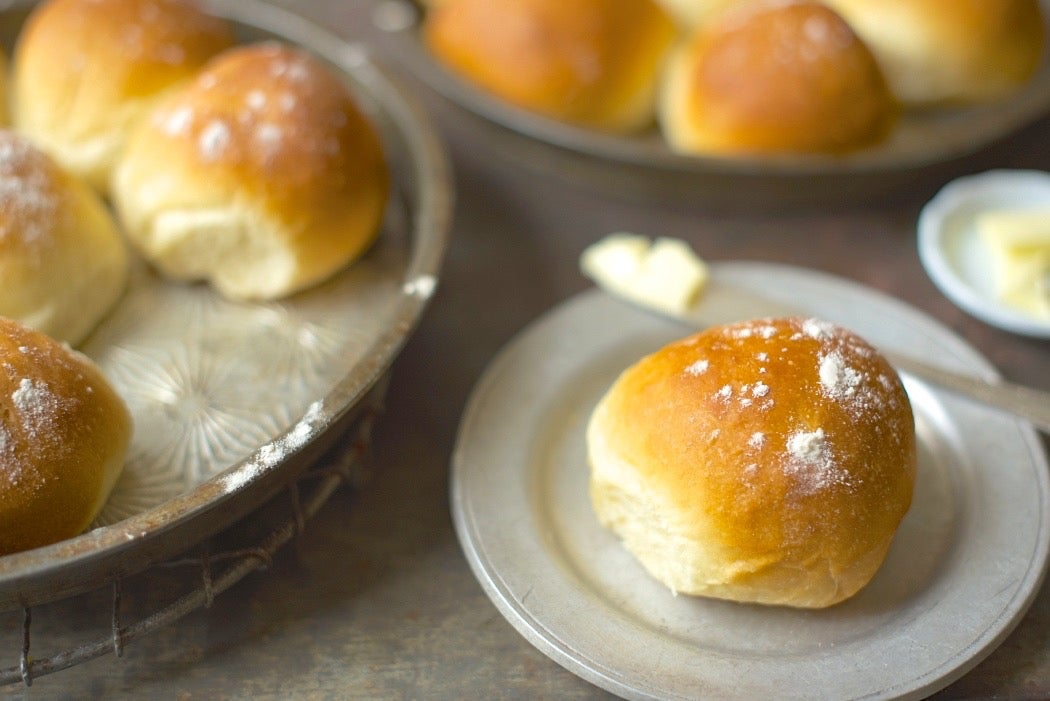 1. The all-purpose, gotta love it, original soft white roll
Soft White Dinner Rolls are a combination of the simple ingredients that all good soft dinner rolls possess: flour, salt, sugar, yeast, milk, and butter, with a touch of potato for moistness. Make these when your audience isn't after anything fancy or cutting-edge, but simply wants the epitome of comfort food: the squishy white roll.
"Works like a charm... these are the 'lunch lady rolls' of my childhood and are ridiculously simple to make. The dough is very easy to work, shape and roll, and the flavor is outstanding... I opted to slather them in melted butter as soon as they came out of the oven, to give that same look and taste that I remembered. This recipe is a keeper and should be a part of any baker's repertoire! Thanks KAF!!!!"  furrychef – KAF Community

2. The classic restaurant-style fold-over dinner roll
Parker House Rolls mimic the ingredients in the soft rolls above – but take things one step further. Instead of just shaping a plain dinner roll, the baker first brushes rolled-out dough with butter, then folds it over on itself and cuts it into "folded" rolls, each harboring butter at its center. An additional brush with melted butter once the rolls are baked makes these our "butteriest" rolls.
"This is my favorite roll recipe. Tender, buttery, utterly delicious. This is the roll that makes people comment on your culinary prowess. No need to tell them that the recipe is so well-written it's easy." Paula – Seattle, WA

3. When bread simply isn't bread unless it's sourdough
Attention, sourdough fans: Buttery Sourdough Buns will rock your world. Cloaked in the lovely tang and aroma of sourdough, but with the soft texture of a typical milk-and-butter roll, these gems also sport a buttery spiral inside.
"Had no idea making soft, mouthwatering, buttery rolls was so easy. This recipe is so versatile. I've made them with KAF Vermont Cheese Powder, and herb and garlic Artisan bread flavor. I've used this recipe for cinnamon rolls and even for Blueberry Cream Cheese Rolls. Wonderful use of sourdough starter. The buns are just so light and tasty. They've been well received every way I've made them."  Susan – Winchester, VA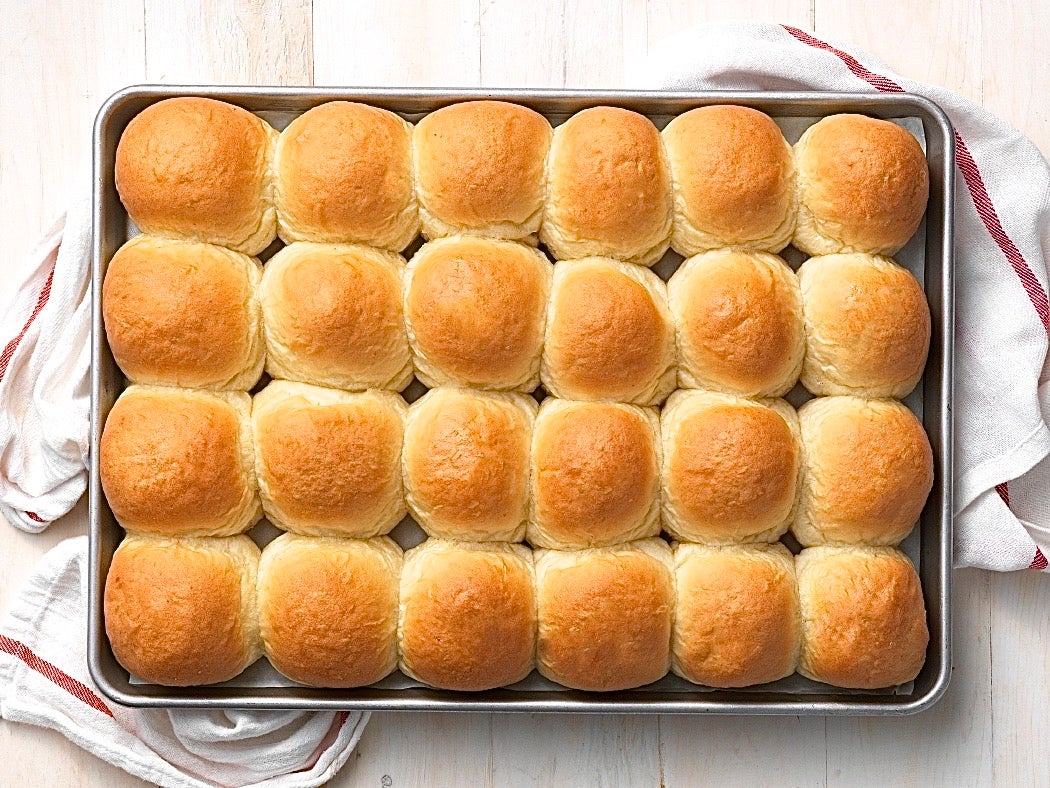 4. When you need to make rolls for a crowd – fast
Believe it or not, you can have these Big Batch Quick Dinner Rolls on the table in just over an hour, start to finish. When you need 2 dozen substantial soft rolls – and time is of the essence – this is your bun of choice.
"Easy, foolproof recipe. Made it for the first time today (Thanksgiving) only hours before dinner... It was easy; with the 20 minute rise, they tasted great. They would've made great leftover turkey sandwiches, but there were no leftover rolls! Definitely will use this recipe again."  Jennifer – Chatt, TN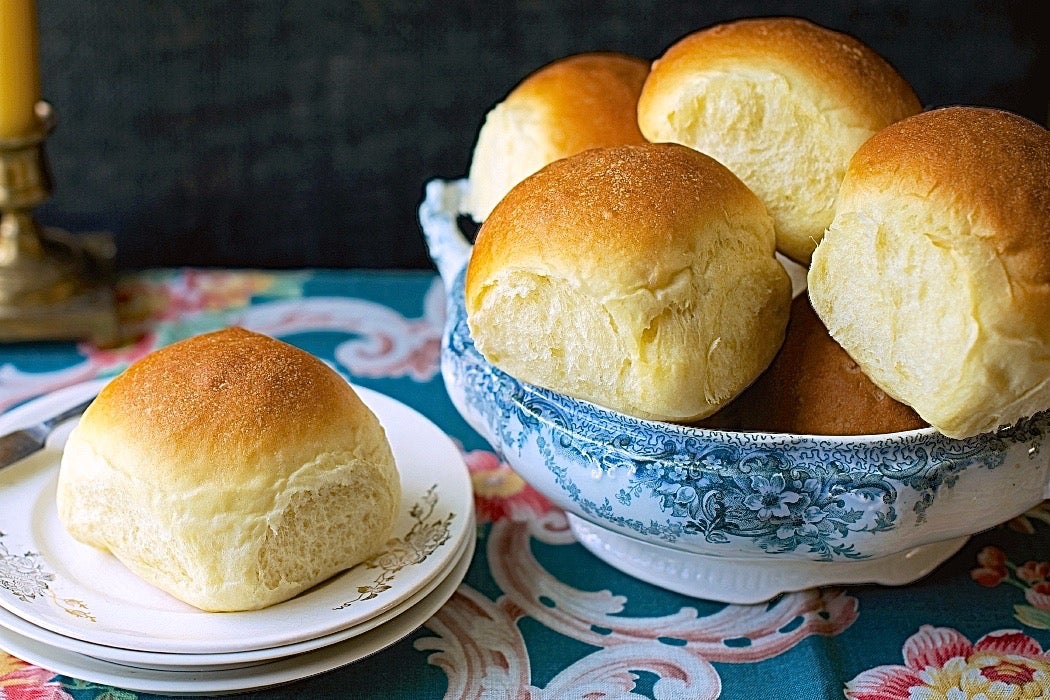 5. For the sturdy, gravy-sopping, plate mopping roll aficionado
Ah, Amish Dinner Rolls – where have you been all my life? A full cup of mashed potatoes in the dough gives these rolls their signature moist, dense, yet still tender texture. Eggs add light gold color and additional richness.
"Unbelievably easy recipe with fantastic results. I can't wait to be invited to someone's house for dinner so I can bring these and knock their socks off! I am an experienced baker but have never come close to making such a delicious roll."  betsyros – KAF Community

6. For crusty bread purists – we've got you covered.
Attention, artisan bread lovers – yes, you know who you are. You'll gladly exchange the nursery comfort of soft dinner rolls for rolls with crackly crisp crust and wonderful chew. If you enjoy the quintessential hard roll with the nuanced flavor that only a long rise and four simple ingredients – flour, water, yeast, and salt – can offer, these Crusty European-Style Hard Rolls are for you.
"I'm from Germany where these rolls are a daily breakfast staple. These rolls are a bit time-consuming, but so very well worth it! They taste just like our Wasserweck in Hessen. My husband loves them for his lunch, and I eat them warm with butter and jam – or liverwurst. The taste takes me home to my Oma & Opa's table for breakfast."  Marianne – northern Virginia

7. Whole wheat fans, unite! This one's for you.
You've always loved whole wheat. Or maybe you've decided you want to add fiber and nutrition to your baking whenever possible. Whatever the reason for choosing whole wheat dinner rolls over white, you won't go wrong with our Honey Wheat Rolls.
"I made these rolls to serve in addition to the KAF Golden Pull-Apart Butter Buns for the holidays. Since my husband and I no longer eat white bread, I thought we deserved to have rolls for the holidays, too. Even the friends and family members who normally eat white bread only loved these! The texture is wonderful and the slight sweetness is just enough to keep them from being a little too much like a dessert bread. Soft, moist, light & wonderful!"  janetpbenson – KAF Community

8. Gluten-free dinner rolls? Absolutely.
When you stopped eating gluten, did you despair of ever enjoying a soft dinner roll again? Those days are over – these golden, high-rising rolls are both buttery and delicious. With texture that falls somewhere between yeast roll and biscuit, Gluten-Free Dinner Rolls are the perfect accompaniment to turkey, mashed potatoes, cranberry sauce, and Gluten-Free Stuffing. And, of course, a wonderful prelude to Gluten-Free Pumpkin Pie.
"Wow. These were fantastic. My gluten-eating friends said if I hadn't told them they wouldn't have realized these rolls were gluten free... I'm definitely taking these to my in-laws for the holidays. I've always been the one to bring rolls to the holiday dinners because no one else can make them. For the last 3 years (since I was diagnosed with gluten sensitivity) I've had to watch while everyone else had lovely, buttery gluten-filled rolls that I made. No more! I may just make all gluten-free rolls this year and not tell anybody. Ha!"  Rachel – Kentucky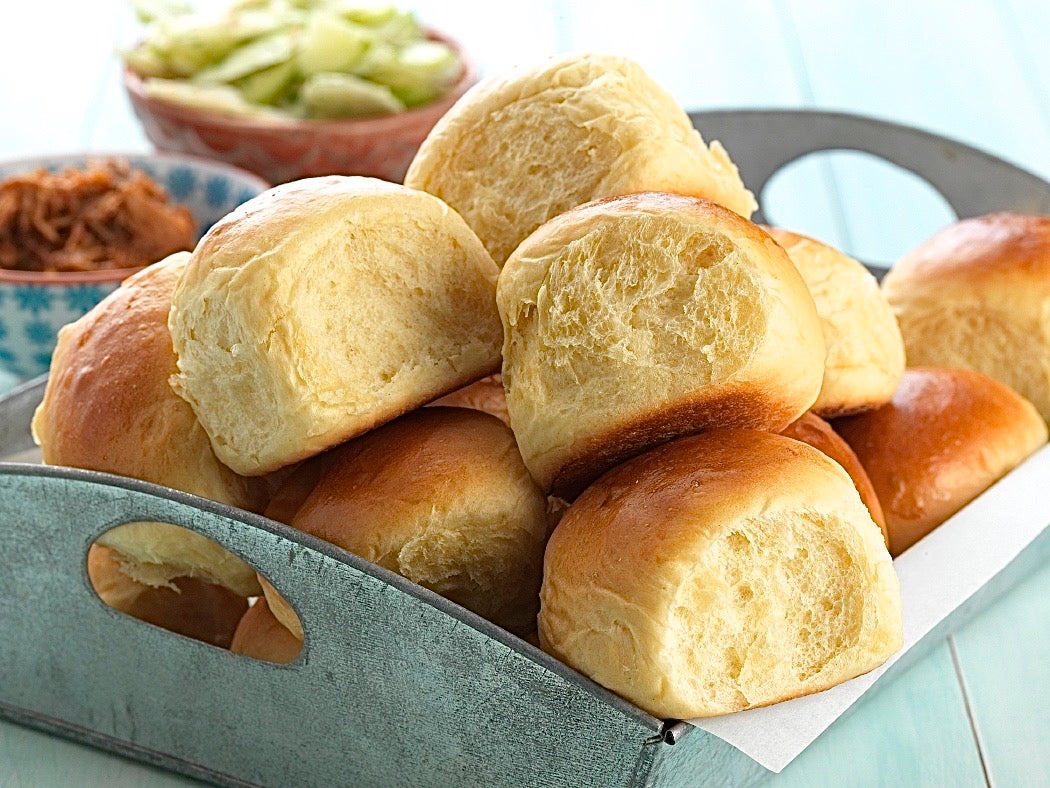 9. When they want store-bought – but you're not buying it.
With a touch of both brown sugar and pineapple, these Hawaiian Buns mimic the soft, golden slab of packaged rolls you get at the supermarket. The recipe, developed by my fellow blogger Gwen Adams, came as the result of a trip to Hawaii. Gwen was able to compare these to "the real thing" – and we think they're even better!
"I was SO excited to find this recipe. I was obsessed with King's Hawaiian rolls when I was a kid, and these did not disappoint. In fact, they're way, way better... They turned out great, and I'll definitely make them again." Ailie – Houghton, NY
Did we miss your favorite dinner roll recipe? Please share with all of us in comments, below.
Jump to Comments