Beyond plain buttermilk biscuits
Baking with self-rising flour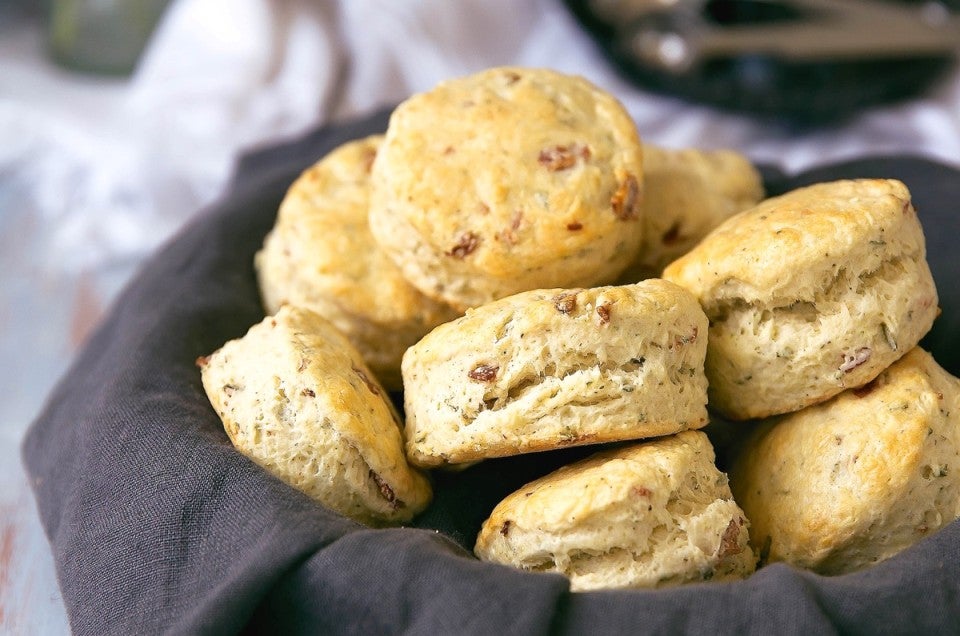 What's YOUR idea of heaven on a plate when making biscuits with self-rising flour?
We recently asked a selected group of bloggers from around the country to answer that question by posting their most imaginative, delicious self-rising flour biscuit recipes to their own blogs. And boy, did they ever respond!
Over 50 posts later, we found ourselves in the unenviable position of having to choose which biscuits to share here. Wow, those Browned Butter Cinnamon Swirl Biscuits look good. But so do Apple Pie Biscuit Shortcakes, bright pink Roasted Beet and Feta Biscuits, Biscuit Egg Bake, and Bacon Biscuits with Whipped Sorghum Butter.
It's not surprising, seeing so many creative biscuits made with self-rising flour. The flour's nice and "soft" (low protein), which means biscuits will be super-tender. And with the baking powder and salt already included, it's quick and easy to stir in your favorite tasty add-ins, some cream or buttermilk, and bake biscuits in just a matter of minutes.
The following blog posts eventually rose to the top (just like cream – which teams with self-rising flour in our own Never-Fail Biscuits). We've selected these because they run the gamut from sweet to savory to spicy, and cover the entire day, from breakfast to dessert.
So get comfortable, settle in, and prepare to enjoy these blogger-favorite biscuits. From bacon to buttermilk to pumpkin to pimento, we're sure you'll find a biscuit (or two, or five) you just can't wait to bake.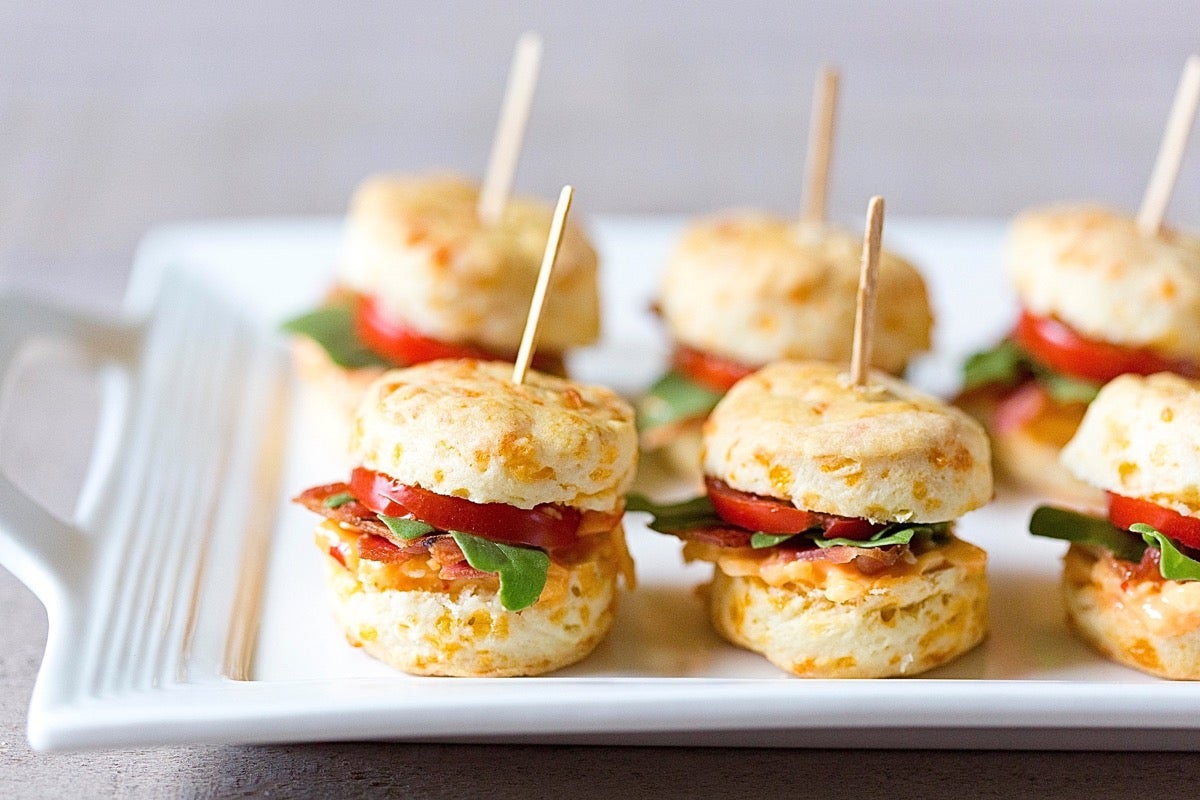 Says Courtney at Pizzazzerie, "Now, y'all know me. I wasn't just going to make 'biscuits.' I was going to make itty bitty biscuits filled with sharp cheddar cheese and topped with pimento cheese, bacon, lettuce, and tomato. Boom! The Mini Pimento BLT Cheddar Biscuits were born! They're about as southern as it gets. Not only that, they would make a delicious addition to almost any occasion! So up your brunch game..or your baby shower game..or your dinner party appetizer game..just be sure to tell your friends the recipe because they're going to want it!"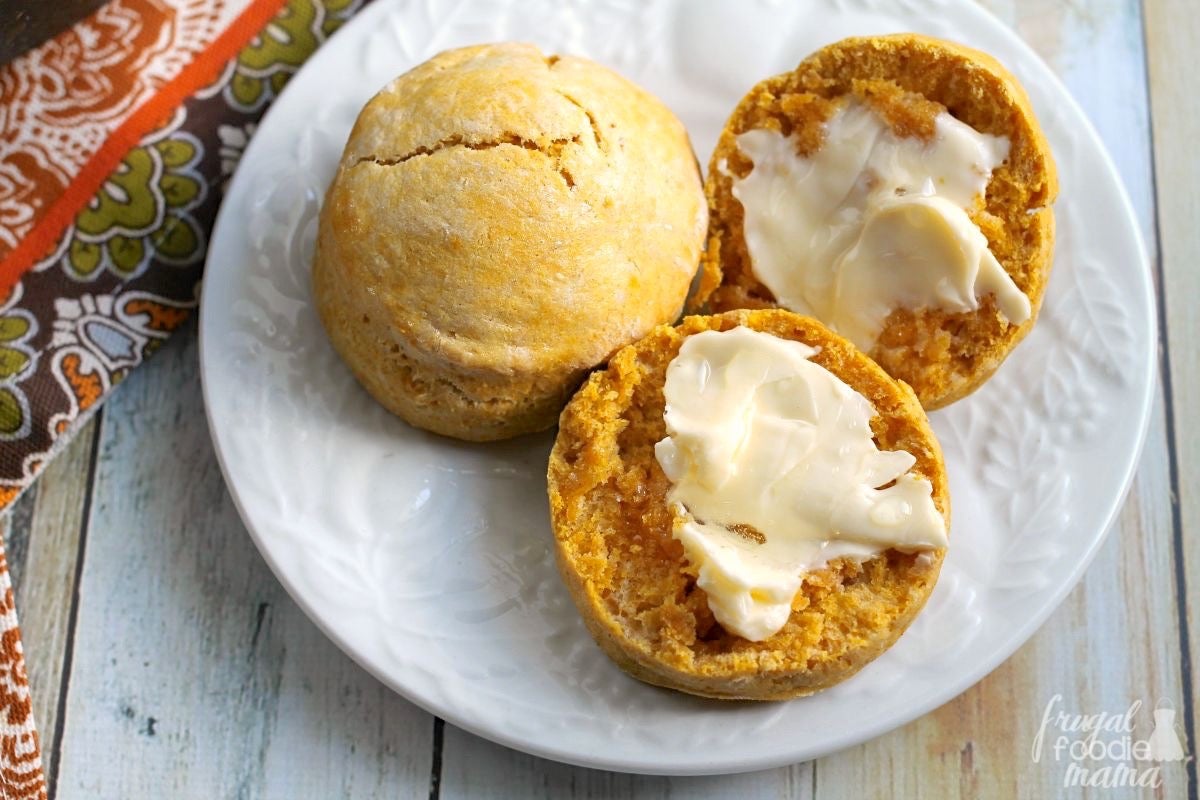 Says Carrie at Frugal Foodie Mama, "First up for Fall 2015? These super simple, soft & thick Easy Pumpkin Cream Biscuits. And when I say easy, I really mean easy, folks. Thanks to the good folks at King Arthur, I just became a self-rising flour convert. I brushed off self-rising flour before simply because I thought how hard could it be to add a few ingredients to flour myself and be done with it? But I found something out real quick after receiving and using my first bag of King Arthur Self-Rising Flour - the right self-rising flour makes THE BEST homemade biscuits..."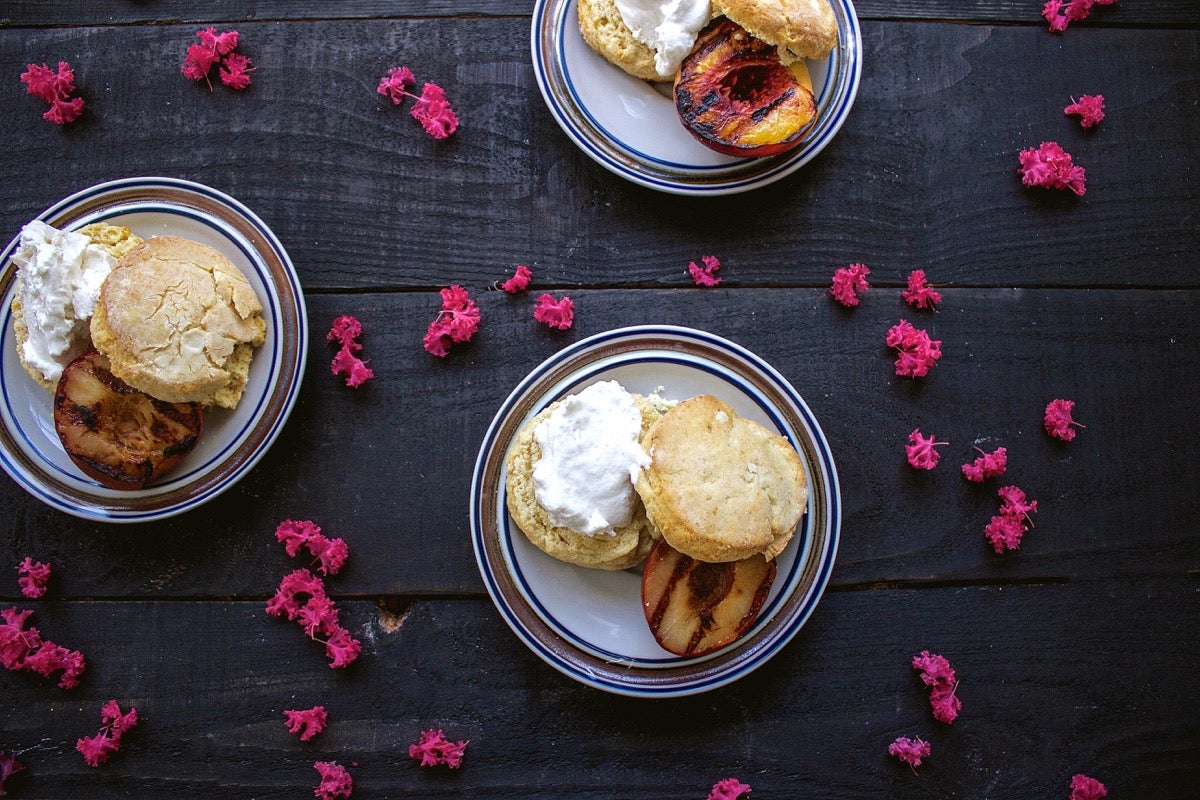 Grilled Stone Fruit Shortcake with Wine Meringue, Fig & Bleu
Says Brett at Fig & Bleu, "Using King Arthur Flour's self-rising flour and adapting an old scone recipe, I designed a perfectly flaky, flavorful biscuit that works great as a shortcake base. Add some grilled peaches or plums and a wine reduction for an Italian meringue, and you have a simple and satisfying breakfast, brunch, or dessert for those long summer days."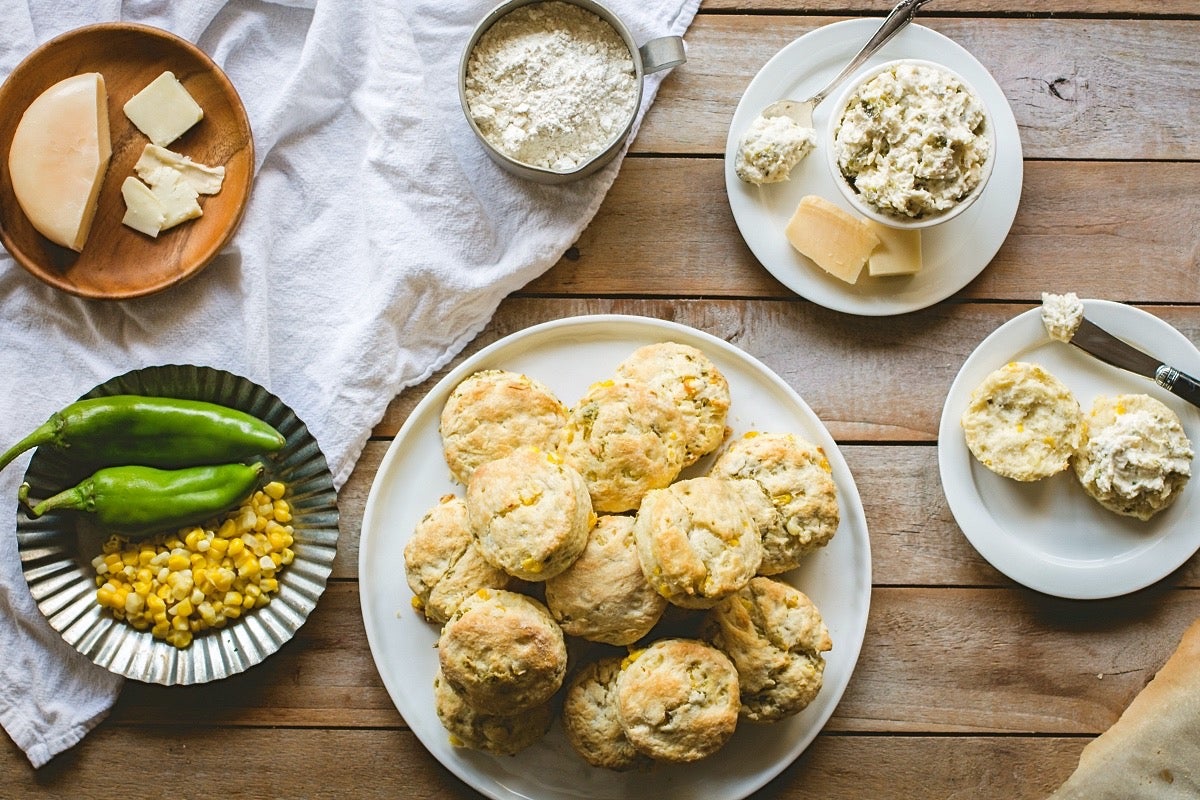 Says Katie at Butterlust, "This recipe uses King Arthur Flour's easy-peasy recipe for Self-Rising Buttermilk Biscuits with the addition of sweet corn and roasted hatch chiles. I'm sometimes a little skeptical of "short-cuts" when it comes to baking but this flour mix did not disappoint. The resulting biscuits are fluffy and light with a crisp golden exterior and a deep buttery flavor — add a smudge of pimento cheese and a drizzle of honey before serving and you won't know what hit you. You'll certainly not have any issue finding yourself hungry for more. (Trust me, I ate three.)"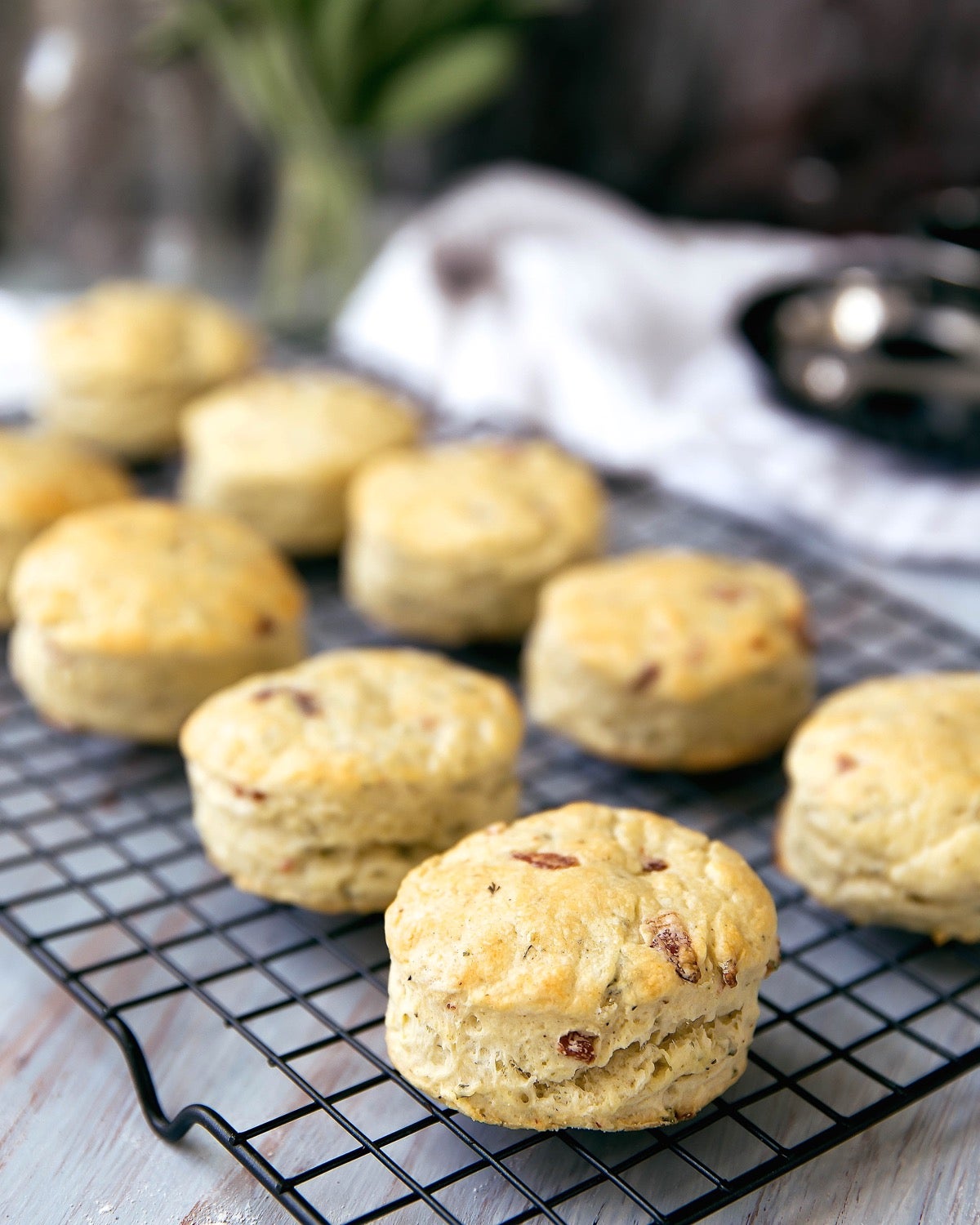 Buttermilk, Bacon & Sage Biscuits, Broma Bakery
Says Sarah at Broma Bakery, "The biscuits are fluffy and light, perfectly moist, and crunchy on the outside. The flavor is amazing, and it tastes like it was made with a pound of butter when, in fact, there is only 1/4 cup in the whole recipe. Ha! As for the flavors in these bacon sage biscuits, holy cannoli. Do you know how well bacon and sage go together? The answer is remarkably well. Warm and herbaceous and hearty and fresh all at the same time."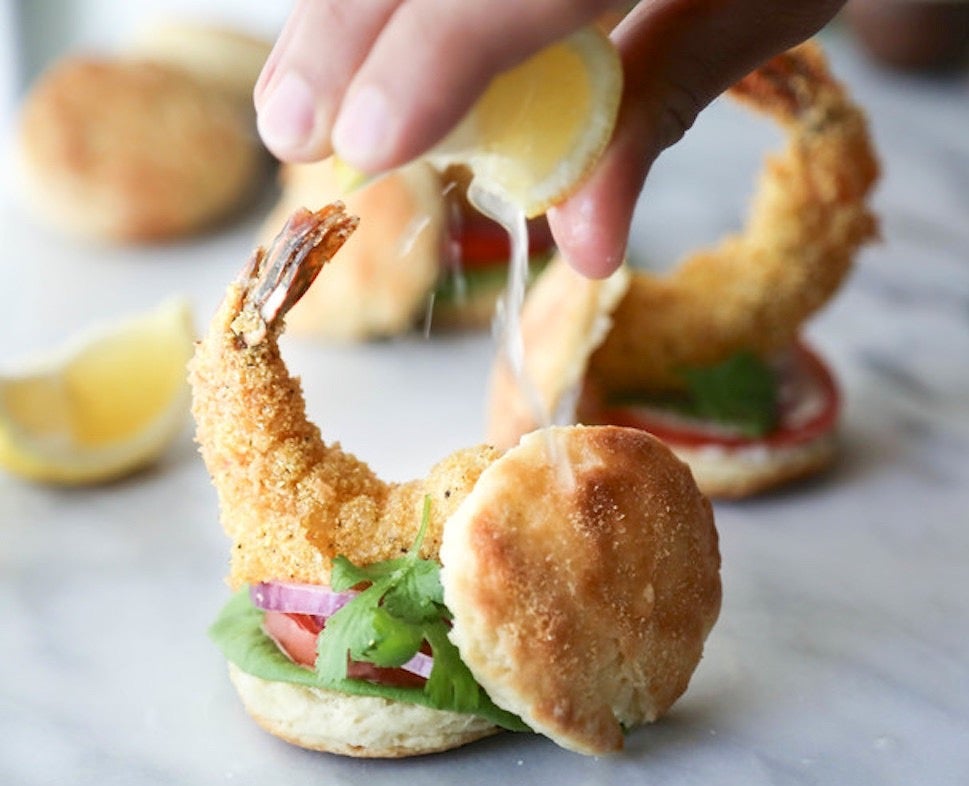 Say Beau and Matt of Probably This, "Anyway, we grew up eating fried shrimp po' boys, which is basically a New Orleans style hoagie (but much better than a hoagie, though potentially less fun to say. Hoagie. Lol.)  Po' boys are served on crunchy chewy French bread, but we thought it would be fun to use biscuits, because biscuits are like really really good. Mostly this allows us to eat way more and be like 'but they are SO small what's a calorie.' So that's that. Oh, and instead of the mayonnaise that comes on a traditional shrimp po'boy, we made a garlic aioli because we are *fancy*. We used the King Arthur Flour recipe for self-rising biscuits, which produces these nice little flaky plain biscuits that are the perfect base to stuff meat, seafood, or veggies in to."
Says Katie at Dash of Grace, "Not only are leftover biscuits wonderful as French toast, stale biscuits actually work even better! Why? Using old biscuits keeps them from becoming too soggy during their custard bath. I used the leftover biscuits from when I brought the aforementioned biscuits with whipped maple butter to a brunch... Slightly crunchy on the outside and warm and soft on the inside, this is my new favorite breakfast idea! Make these for your kids, husband, or whoever! I guarantee they will love you forever (or at least until the biscuits run out)."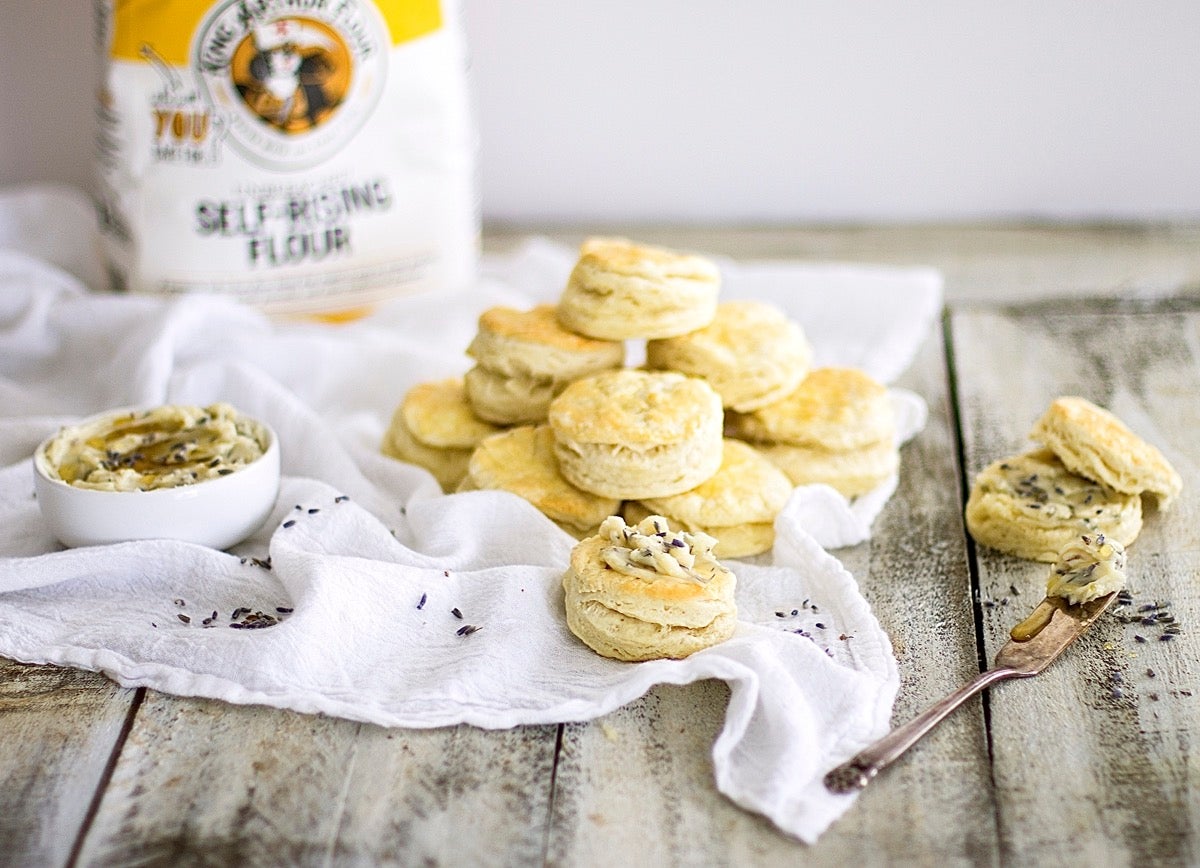 Says Leigh Ann at My Diary of Us, "These homemade flaky biscuits with lavender honey butter are going to rock your world in so many ways and I can't wait for you to try them out. If you have always been the person who buys canned or frozen biscuits out of fear that you would never be able to create such deliciousness on your own, then this biscuit recipe is the one for you! They are so easy, guys, and instead of using my family recipe I took a short cut with King Arthur's Easy Self Rising Biscuit recipe... I slathered mine with lavender honey butter, because... why not?  
Our thanks to all of the bloggers who participated in this project. Now, you're dying to try these recipes, right? First, arm yourself with a bag of our self-rising flour, available at selected supermarkets and online.
Jump to Comments