Humble pie doesn't sound fancy or elegant, and it's not. But it is an everyman's pie. No one cares if the filling leaks or the crust isn't pleated perfectly. A leaked filling is still fantastically delicious. An imperfect, messy crust looks deliberately rustic.
Similar to a galette in shape, humble pie has a sturdy freeform crust folded up around a mound of sweetened summer fruit.
You can use any fruit you like. Buttery, flaky pie crust is the perfect foil for most summer produce, so experiment with what you find at the market.
I used peaches and blueberries here, but I'm already plotting to try strawberries, mulberries, and nectarines.
This recipe is wickedly simple. The only trick? Make sure your pie crust has no cracks, and seal it carefully along the pleats. This will prevent the filling from leaking. If it leaks anyway, don't worry. The fruit juices that escape will bake into sweet, jammy swirls which happen to taste very good.
Here's how to make it:
1. Make your crust
In a large bowl, mix together:
1 2/3 cups (198g) King Arthur Flour Unbleached All-Purpose Flour
1/4 teaspoon salt
1/2 teaspoon baking powder
Cut in:
1/4 cup (46g) vegetable shortening
4 tablespoons (57g) butter, cold
Work the fat into the dough until it's crumbly with pea-sized lumps. In a small bowl, whisk together:
1 large egg
2 tablespoons water
Pour the egg/water mixture over your flour mixture and stir until it just begins to come together. Turn the dough out onto a lightly floured surface and knead it lightly to bring it together into a cohesive ball. Flatten the ball into a disc, wrap it in plastic wrap, and refrigerate it for at least 30 minutes.

2. Prep your filling
Choose your fruit! I used 3 medium peaches, peeled and sliced, and 2 cups of frozen blueberries. You can use fresh or frozen fruit here. If you use frozen fruit, don't thaw it out first (this helps prevent the filling from getting mushy). Just mix it all together in a bowl with 2/3 cup (128g) of sugar and 1/4 cup (46g) of all-purpose flour. You can also use 3 tablespoons of Clearjel in place of the flour as a thickener.
Taste your fruit first. If it's on the sweet side, dial the sugar down to 1/2 cup. If it's very tart, use a heaping 2/3 cup.

3. Roll out your dough
On a floured surface, roll your chilled dough out to a 13" circle. Make sure that there are no cracks in your crust. If it tears, keep folding it over and rolling it out again until it's smooth.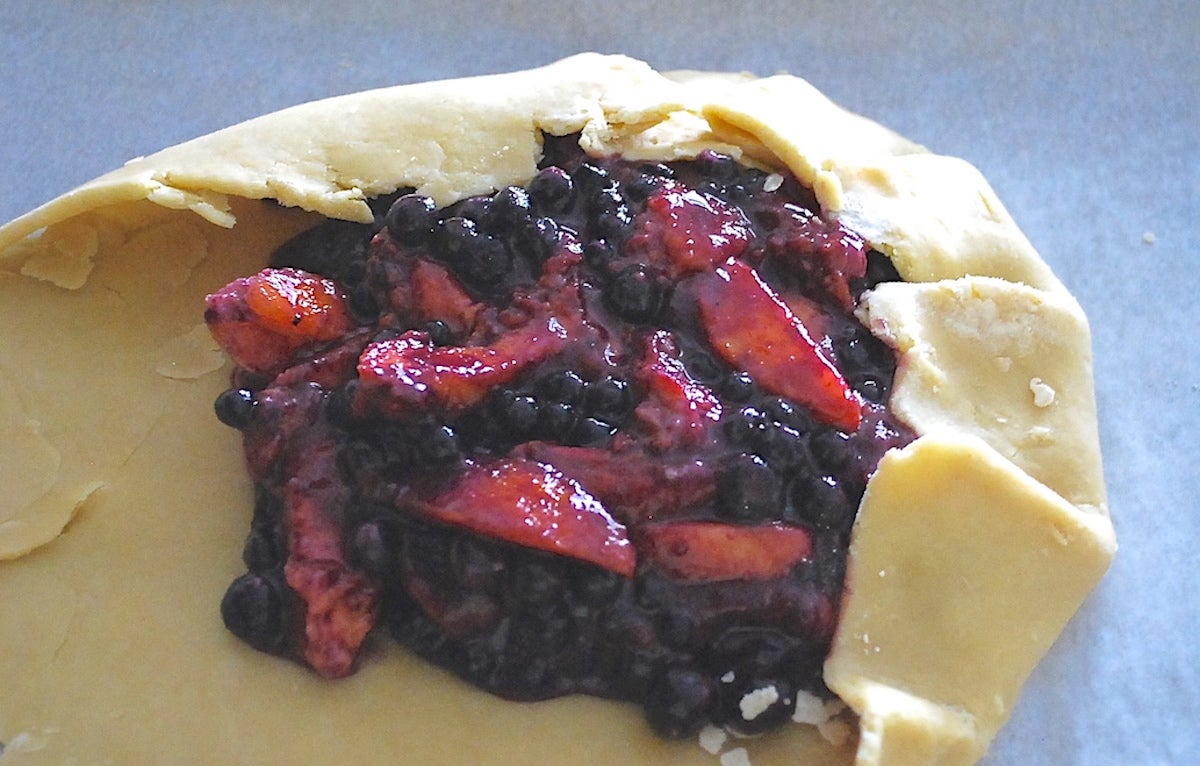 4. Prep the pie
Transfer your crust to a parchment-lined baking sheet. Mound your fruit mixture on the center of the crust, leaving about 3" on all sides. Gently fold the crust up around the fruit. You can either pleat the crust, as I did, or pinch it together like a traditional crimped pie crust.
Either way, be careful to seal the crust between the folds so fruit juices won't escape.
If you want to be fancy, sprinkle some sparkling sugar or raw sugar on the crust for shine.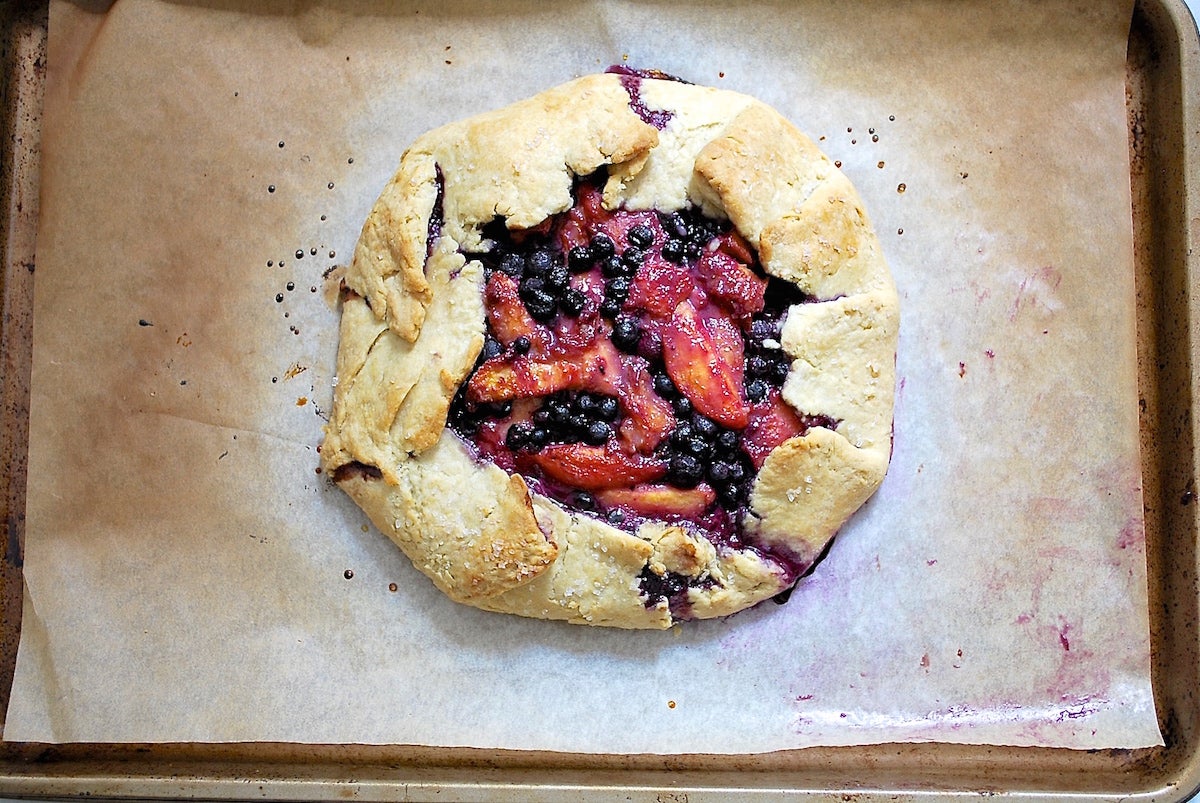 5. Bake!
Bake the pie at 425°F for 30 to 35 minutes. Take it out as soon as the crust is golden brown and the fruit juices are bubbling.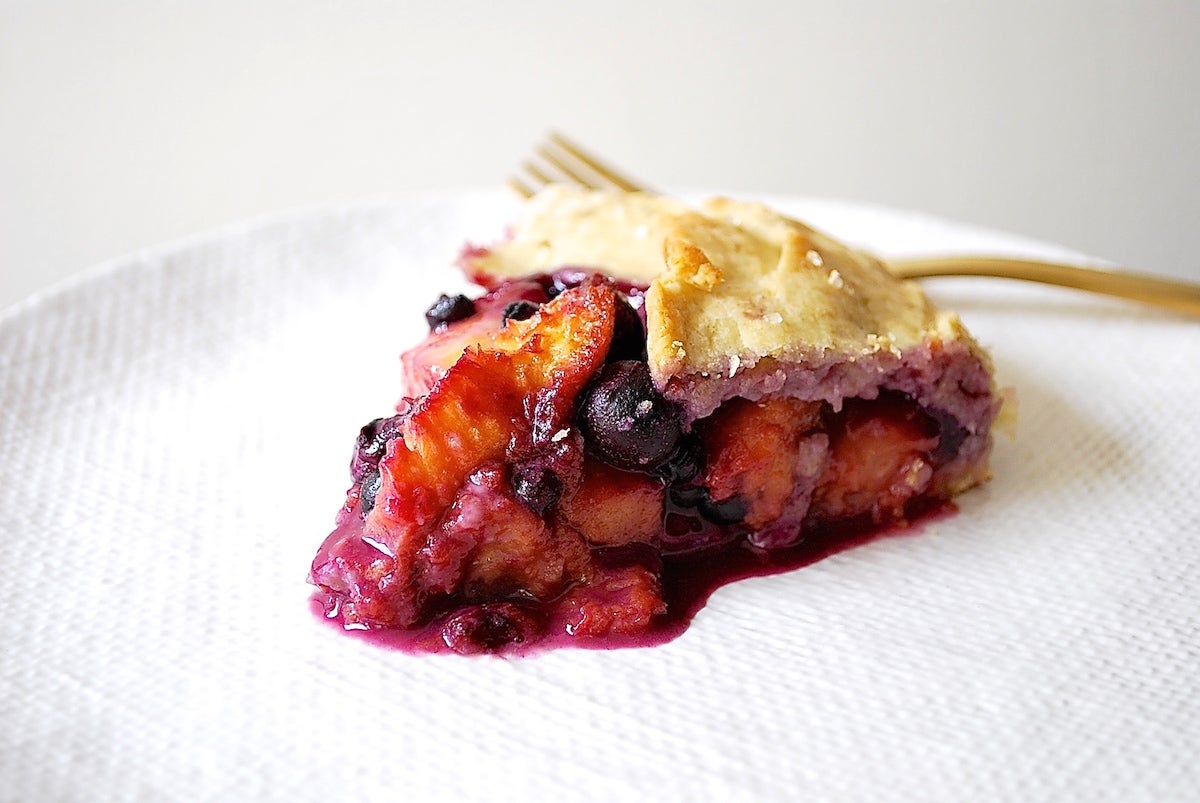 6. Share, eat, and enjoy
I highly recommend topping this pie with cold vanilla ice cream or a dollop of whipped cream. I will also let you in on a secret: It is exceptionally good the next morning, eaten cold and straight from the fridge with a fork.
Try it – I won't say a word.
Please read, bake, and review our recipe for Humble Pie.
Jump to Comments