I'm up early here at our summer camp, because it's going to be a busy day. Company's coming, and I need to get some baking done, but first I'm going for a swim. Couple of miles, past the islands, around to the right, along the shore and back.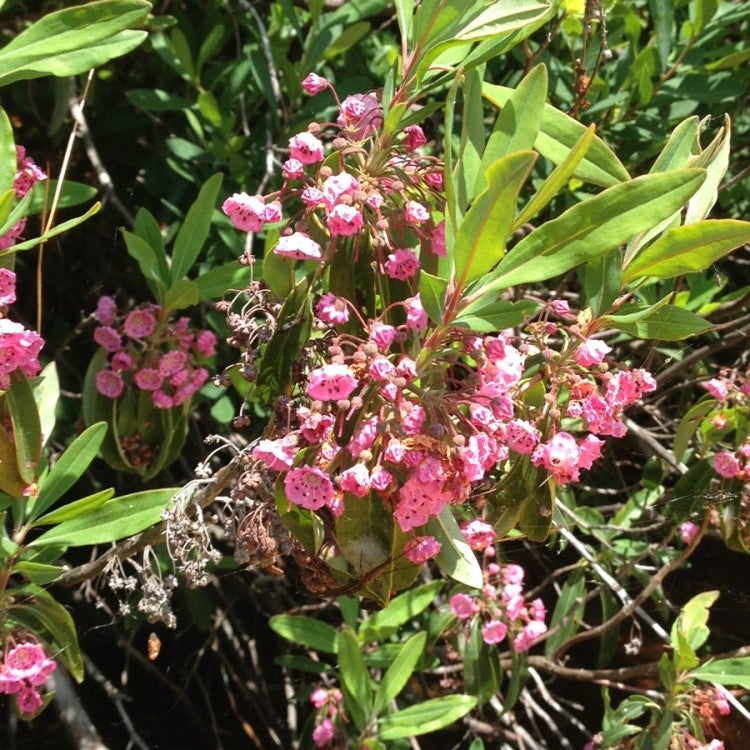 Then it's into the kayak with my buckets. There's plenty of picking to do. When I get back, I'm making a wild blueberry pie.I've been watching the bushes since early June, when they started flowering.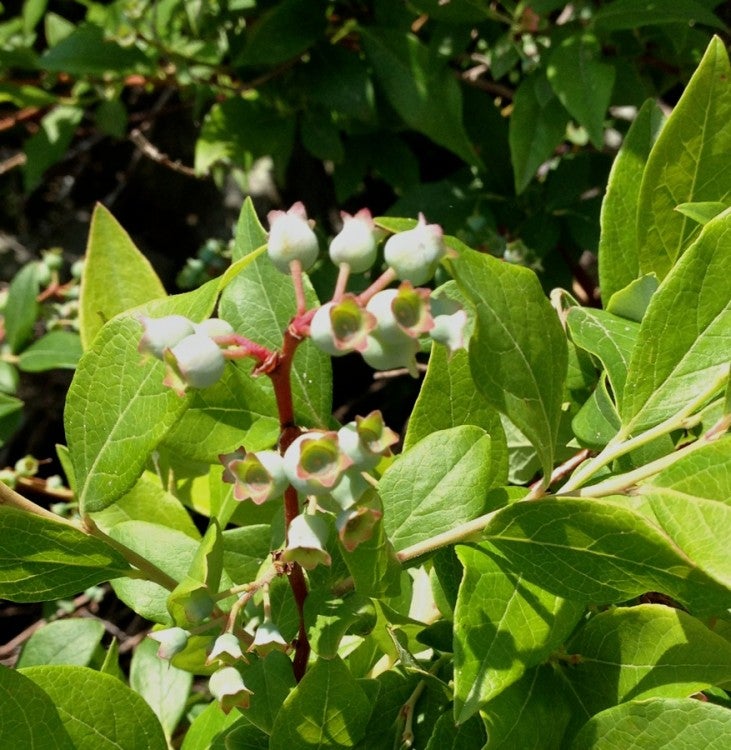 Just a few feet farther along the shore, facing south, the bushes are giving birth to little baby blueberries. I'll be spending a couple of hours today capturing Mother Nature's gifts.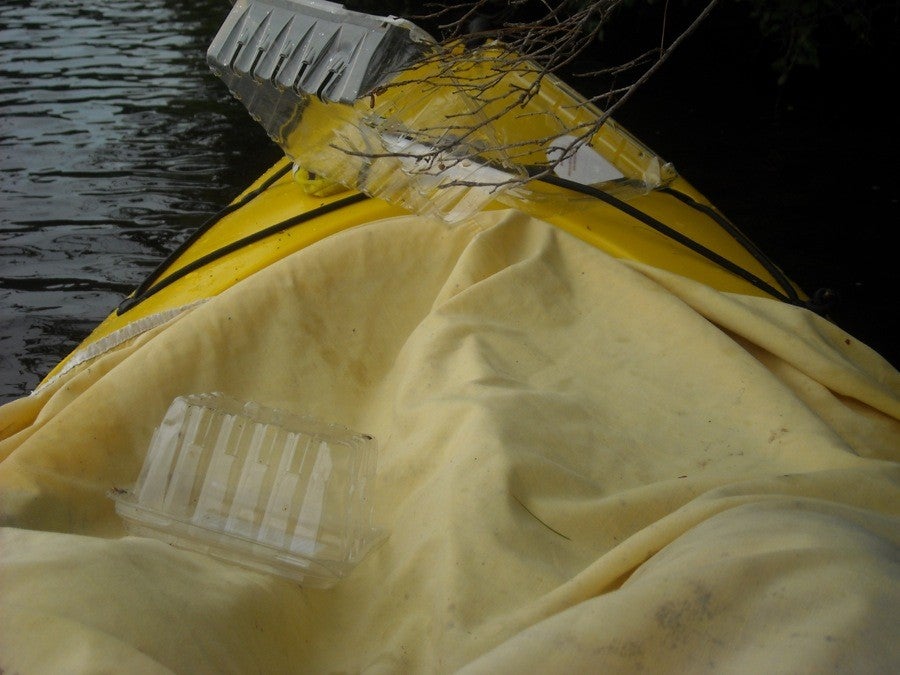 I have an old fitted bed sheet that I've cut in half; one of the gathered corners goes over the front of the kayak's cutout. The empty berry containers from the store are important; it's good to have something with a lid on it so the berries don't spill inside the boat.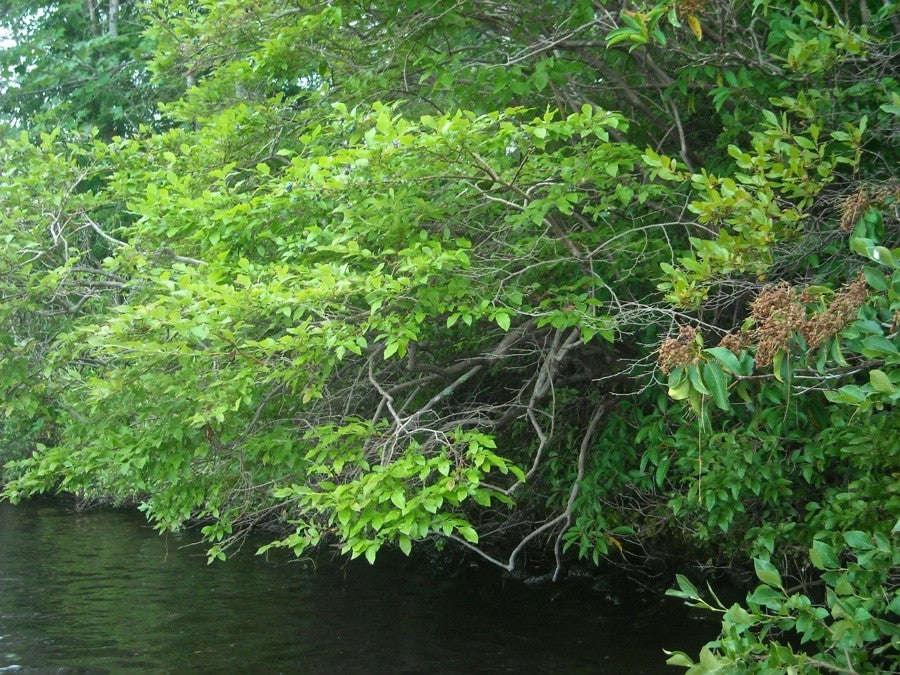 As I paddle along the shoreline (I have about 20 favorite picking spots around the lake's edge), the berries look almost like little blue clouds among the greenery. Lucky for me, the bushes overhang the water, and it's simple to paddle underneath.
Ohhhhhh, yesssss. Time to get in there and start picking.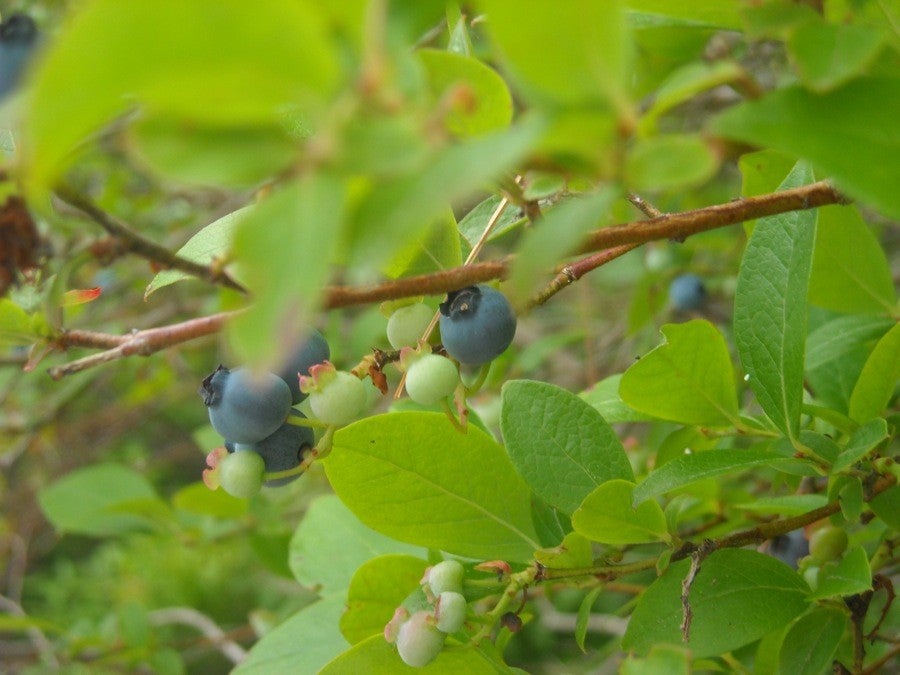 I could do this for hours – and I have. It isn't a job for the squeamish. There are bugs, beavers, wakes from the occasional water skier going by – and once, a fisher cat looking me right in the eye from four feet away. A good morning's work, though messy...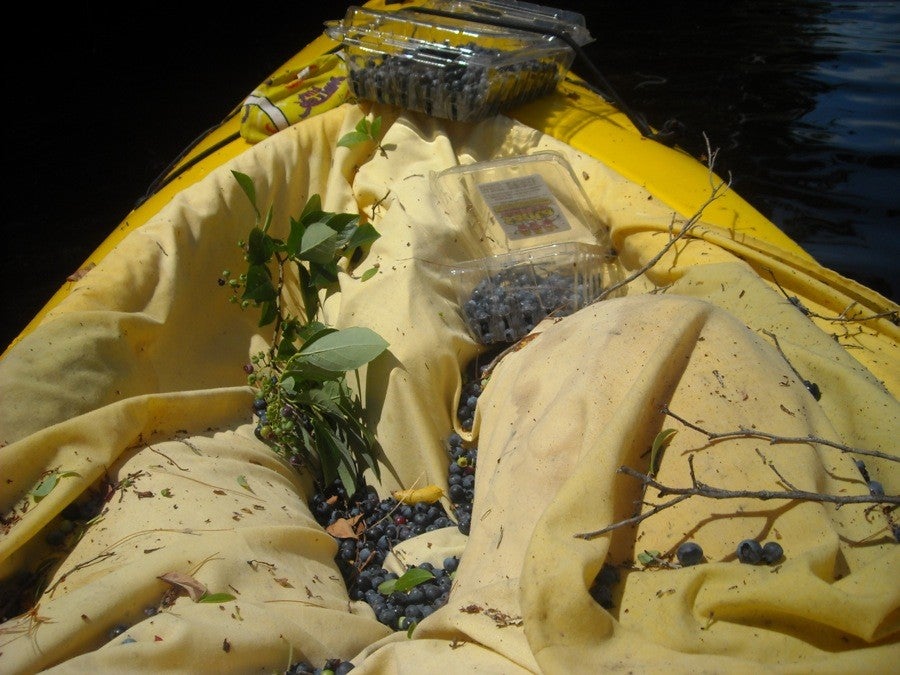 ...will land you a lapful of blueberries to take home. Wild blueberry pie isn't far away now.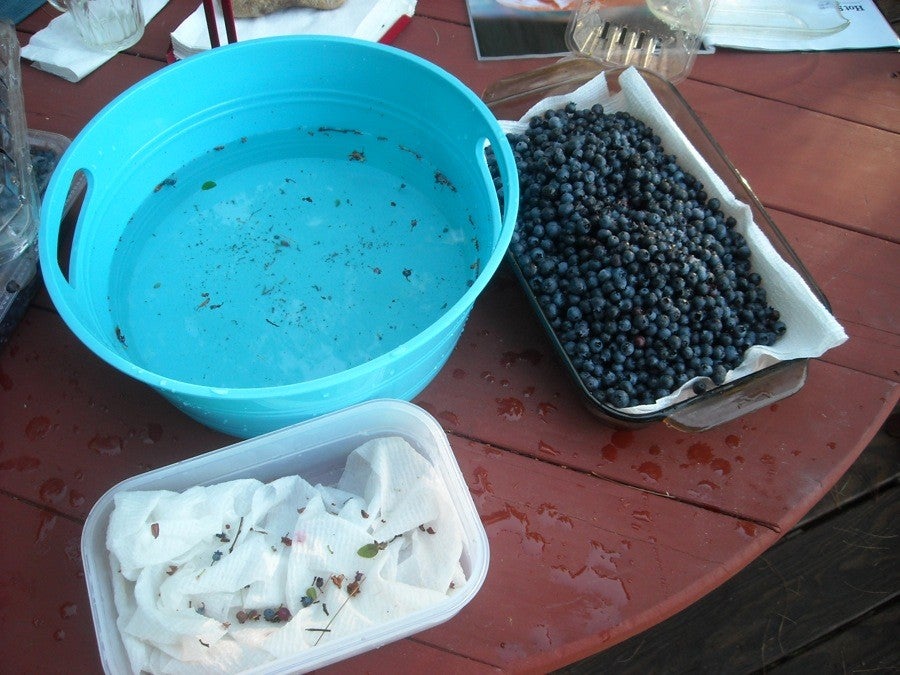 Back at camp, I wash and sort everything; I keep a stash of pie crust dough in the freezer at the ready, and I took it out last night and stuck it in the fridge, in preparation for its big moment.
This is the Blueberry Pie recipe I use, with a slight modification: I don't put any cinnamon in it. Instead, I add about five or six scrapes of fresh nutmeg. Only fresh will do; it has a citrus-y note to it that complements the lemon juice perfectly.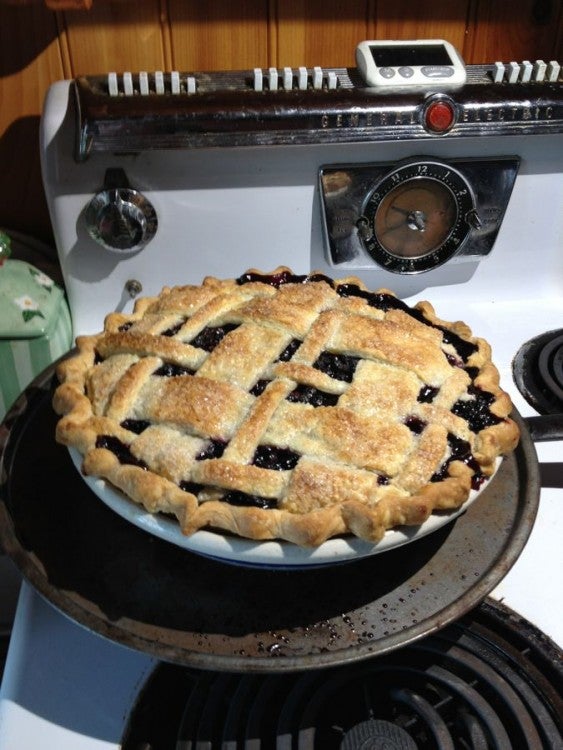 Our stove at camp is an early 1960s vintage GE, complete with push-button controls, but it works just fine, as you can see.
Just hours after picking those fresh berries, they've become a bubbling-hot blueberry pie. It's an unqualified hit with my family – in fact, my nieces are celebrating with some singing around the table.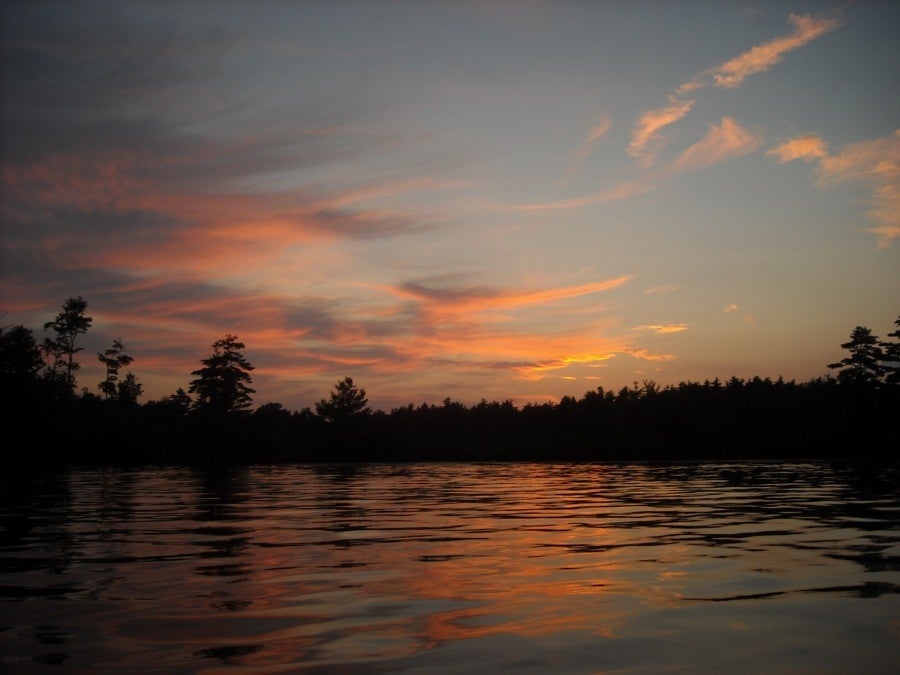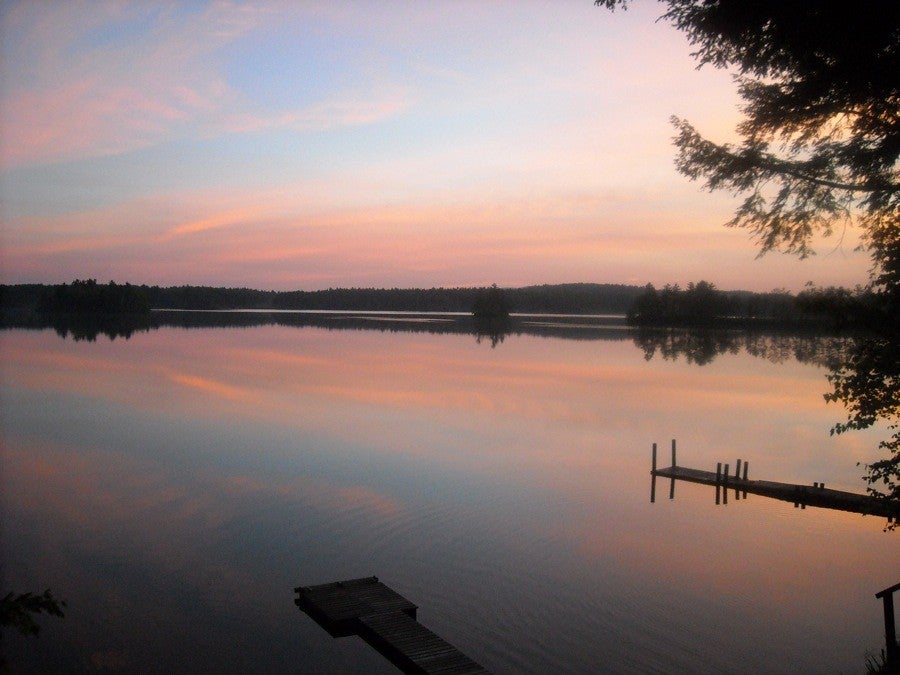 The best kind of summer day, in my opinion, is this: foraging, good food, family, and wild blueberry pie.
Please share your favorite summer meal memory with us in the comments below!
Jump to Comments