Recipes for banana bread are some of the most popular and requested on our site. There's something about the sweetness, the moist, tender crumb, and banana bread's familiar flavor that evokes the ultimate in baked comfort foods.
Banana bread is one of the first breads many bakers make, due to its simplicity and easy preparation. It's versatile, fitting in at breakfast, lunch, snack, or dessert. Just like the little black dress or a Burberry trench coat, it can be dressed up or down depending on your mood and what's in your closet – or in this case, pantry.
As we grow as bakers, we're always on the lookout for ways to play with and update our favorite recipes. Let's look at five different ways you can enhance your favorite banana bread recipe with ingredients you probably already have on hand.
All the measurements are based on a typical banana bread recipe with 2 to 3 bananas, baked in a 9" x 5" loaf pan.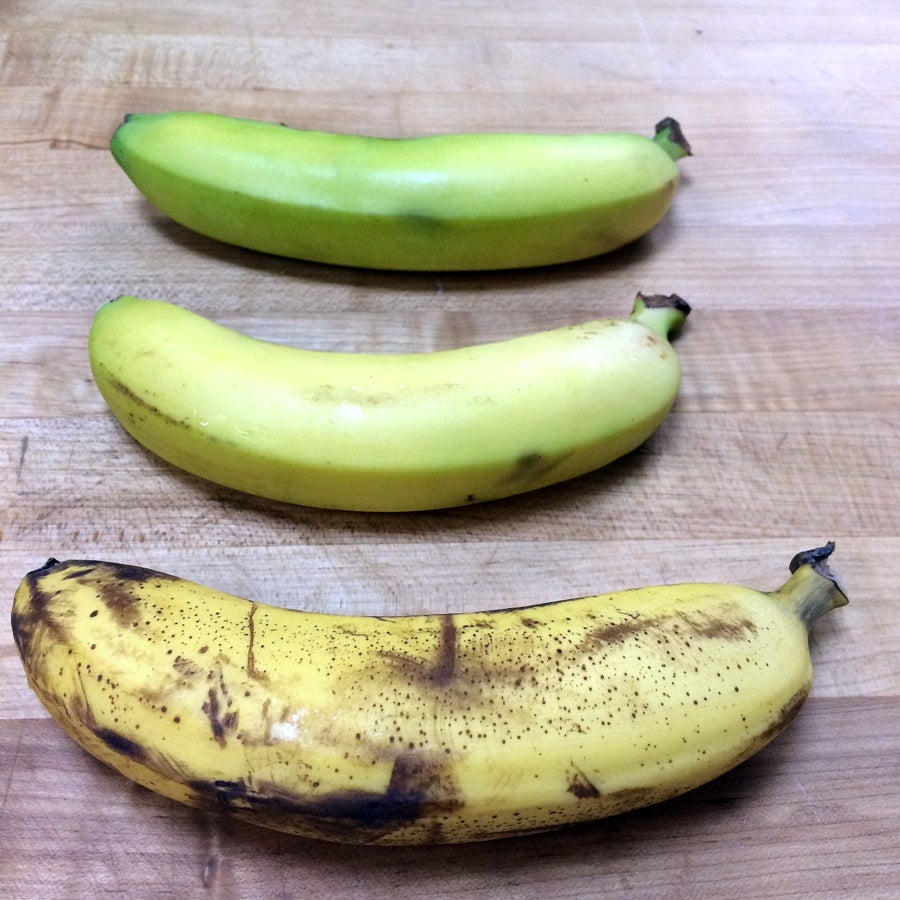 1. Use overripe bananas for better banana bread
Which banana is top banana? Actually, it's the bottom one.
The banana at the top is still quite green and not ripe for eating. The middle banana would be fine for eating; but the darker banana covered in brown spots has ripened the most and will have more flavor and sweetness, giving you more bang for your buck.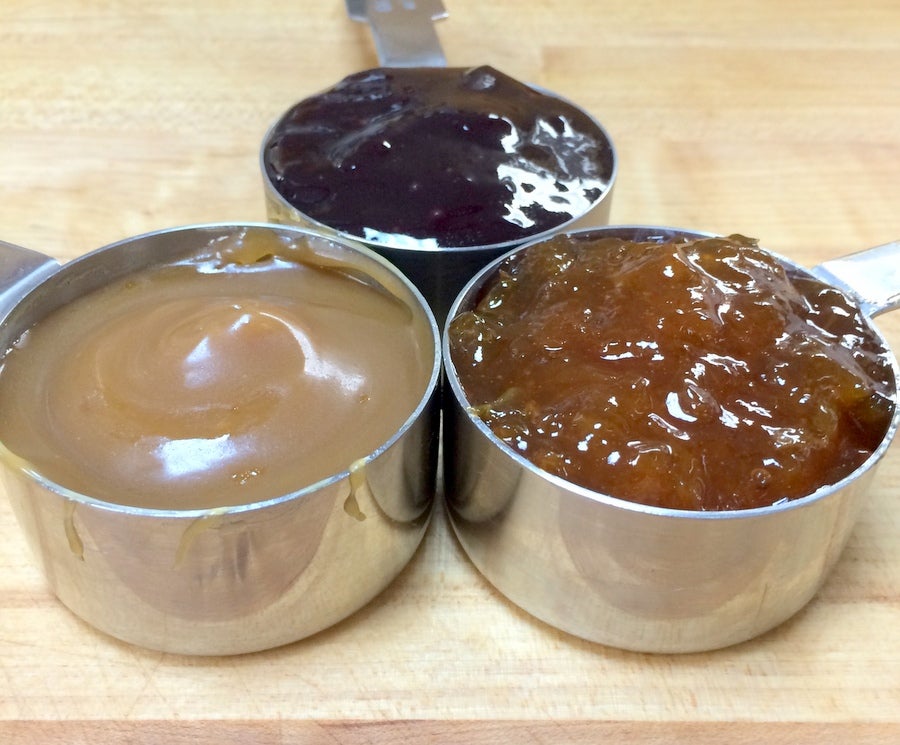 Clockwise, from top: raspberry jam, orange marmalade, caramel ice cream topping.
2. Jam in some jam
To upgrade your banana bread from everyday to exceptional, try adding 1/2 cup of jam, jelly, marmalade, or caramel sauce to the batter when you mix in your mashed bananas.
Nearly everyone has a jar of jam in the fridge; why not put it to use besides plain ol' toast?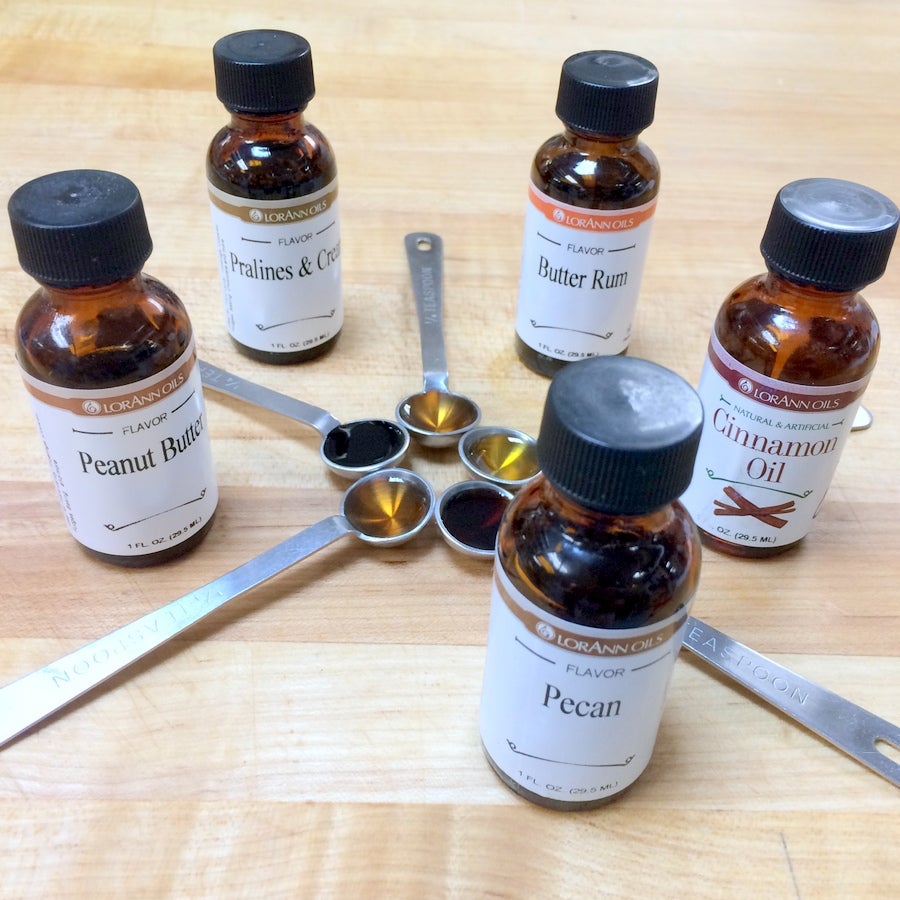 3. Go the extra mile with extracts
No jam on hand today? 1/4 teaspoon of an extra strong flavor or oil can really change the direction your bread takes.
Subtle flavors like butter rum or praline can give your bread a hint of "What IS that lovely taste?" while stronger flavors like cinnamon and peanut butter are more standout.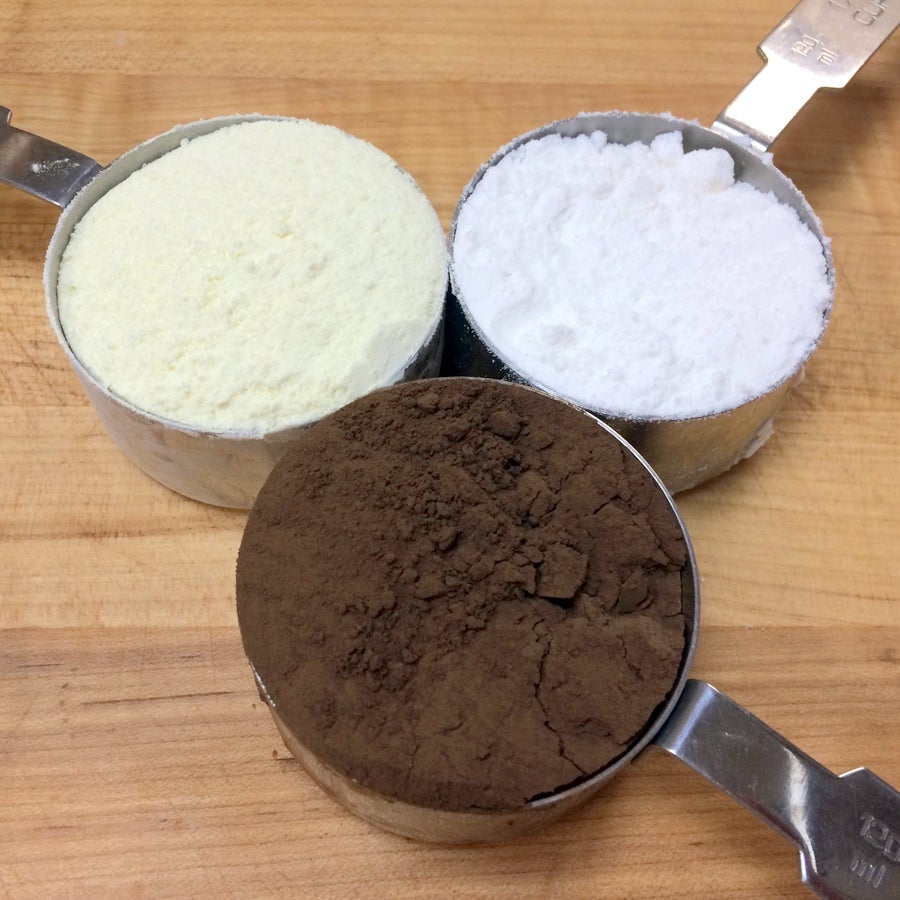 Clockwise, from top left: buttermilk powder, coconut milk powder, unsweetened baking cocoa.
4. Pow! Powders to the party
One of the best things about the humble banana is how it changes character depending on its surroundings. Paired with coconut milk powder it's immediately tropical; while cocoa powder makes it more mainstream American lunchbox.  Simply adding 1/3 cup of either, or some perky buttermilk powder, will take your baked banana bread in a whole new direction.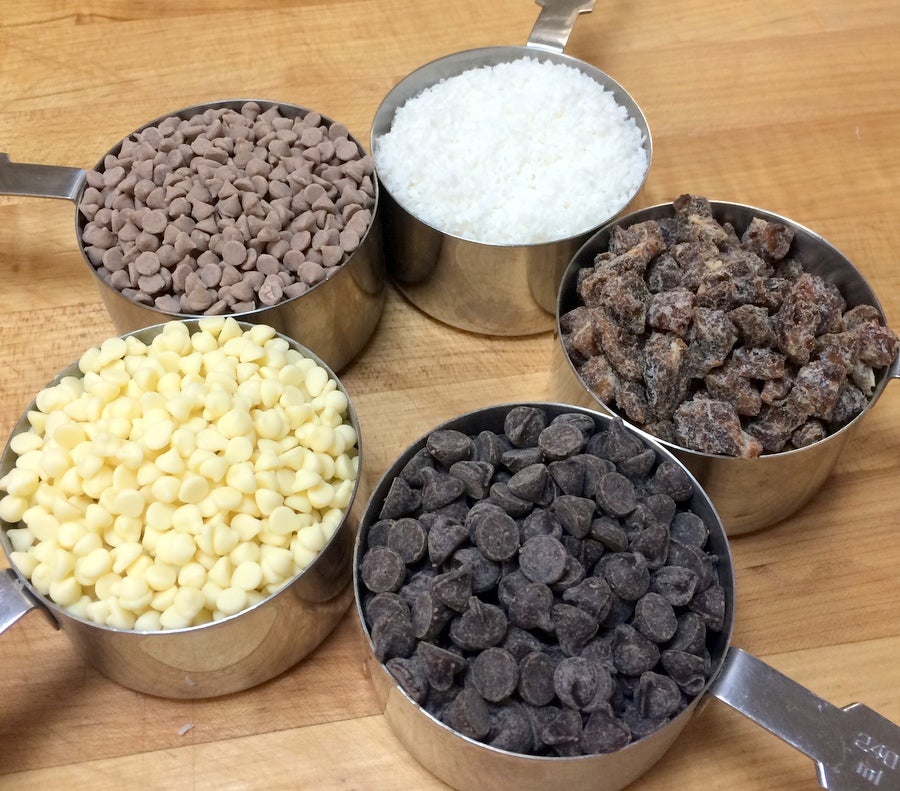 Clockwise from top left: cinnamon chips, shredded coconut, diced dried dates, chocolate chips, mini white chocolate chips.
5. Chip in the add-ins
Chips, nuts, and dried fruits can give each bite of your bread toothsome, pleasant crunch. Adding 1 cup of inclusions (a fancy way of saying tasty, crunchy, chewy bits) won't harm the structure of your bread at all. You'll still get the same good rise and even bake, with the added bonus of flavor, flavor, flavor.
When adding nuts, toast them first for the fullest flavor. Simply place the nuts in an ungreased skillet over medium heat and stir constantly until they begin to brown and smell fragrant, about 5 to 8 minutes. Cool them slightly before adding to your batter.
Keep in mind that we're talking 1 total cup of inclusions, not 1 cup each of all of your favorites.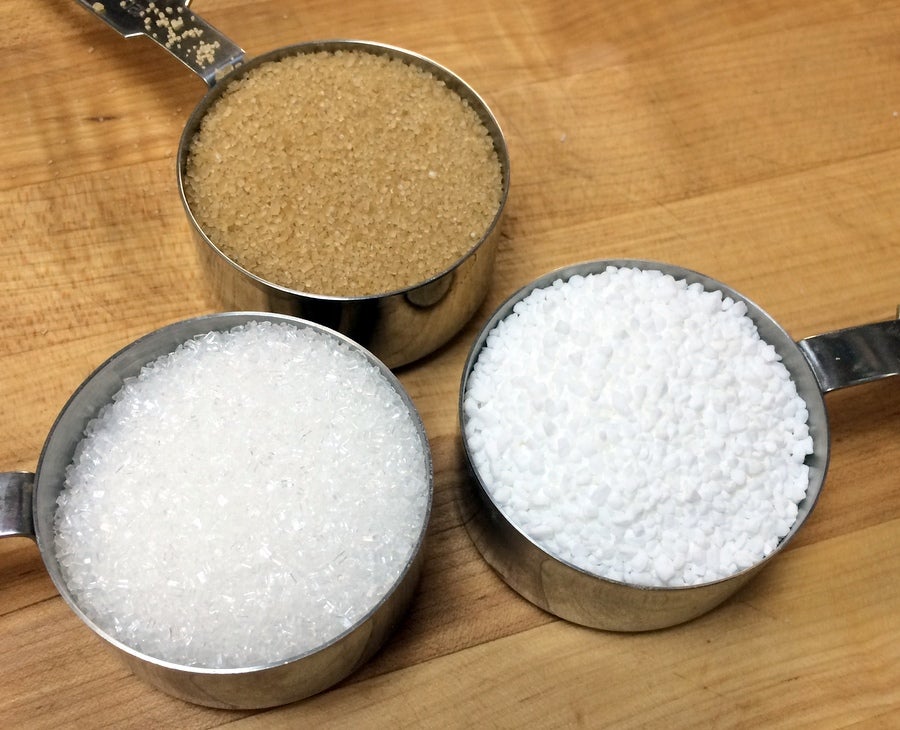 Clockwise from top: raw sugar, pearl sugar, sparkling white sugar.  
6. Bonus tip: Add a tantalizing topping
A sweet, crunchy topping can be that little bit of a bonus that sends your bread over the top. Choose a sugar with a larger crystal size for more impact. Sparkling white sugar stays clear and shiny, dressing up your bread for special occasions, while pearl sugar looks like tiny snowdrops.
Check out our specialty sugars blog post for more details on choosing one to suit you.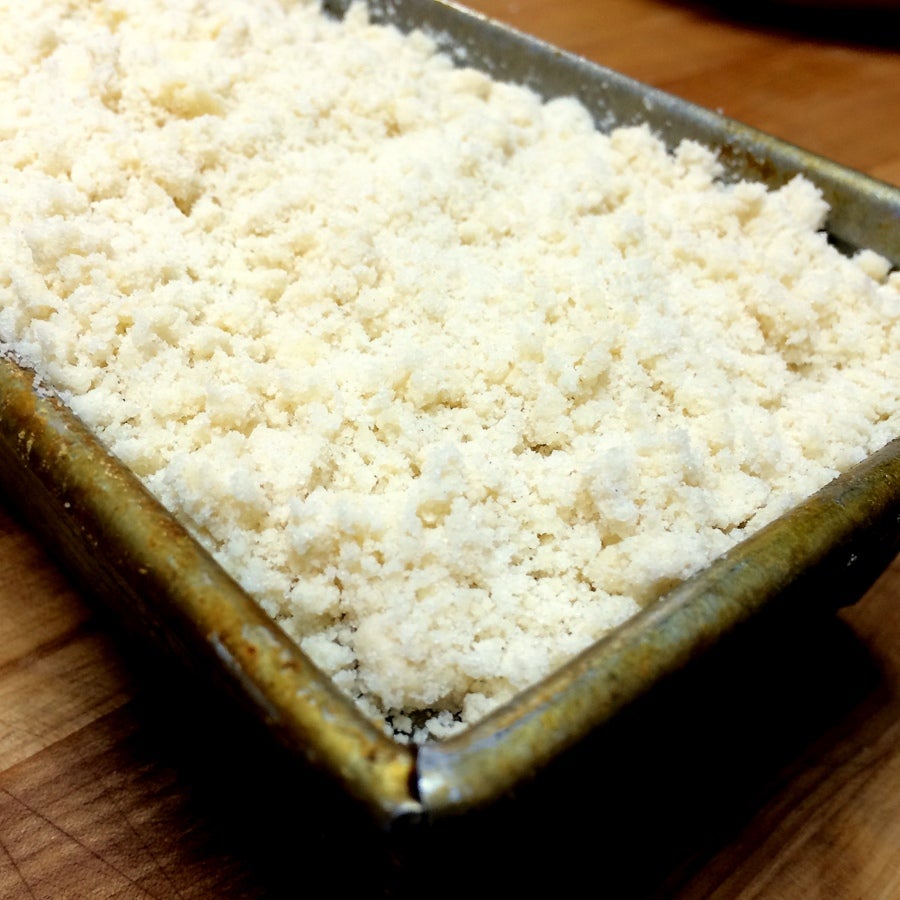 For all-out, all-over appeal, consider making a streusel topping for your next loaf. You can use a topping recipe from crumb cake, coffeecake or apple crisp if you like, or simply combine equal portions of butter, sugar and flour for a simple white streusel.
For example: 1/4 cup butter, 1/4 cup sugar, and 1/4 cup flour makes plenty of streusel for topping one loaf.
Of course, you can step up your streusel, too. Consider adding one or two drops of an extract such as coconut or vanilla butternut, or substituting 2 to 3 tablespoons of coconut milk powder for some of the flour. Not only will your banana bread be attractive, it will taste delectable as well.
This bread is SO ready for its closeup!  A combination of 1/2 cup caramel sauce, 1 cup chocolate chips, and coconut streusel turned our basic recipe into a truly creative creation. The coconut streusel is the same basic ratio as listed above, just replacing 2 tablespoons of the flour with 2 tablespoons of coconut milk powder.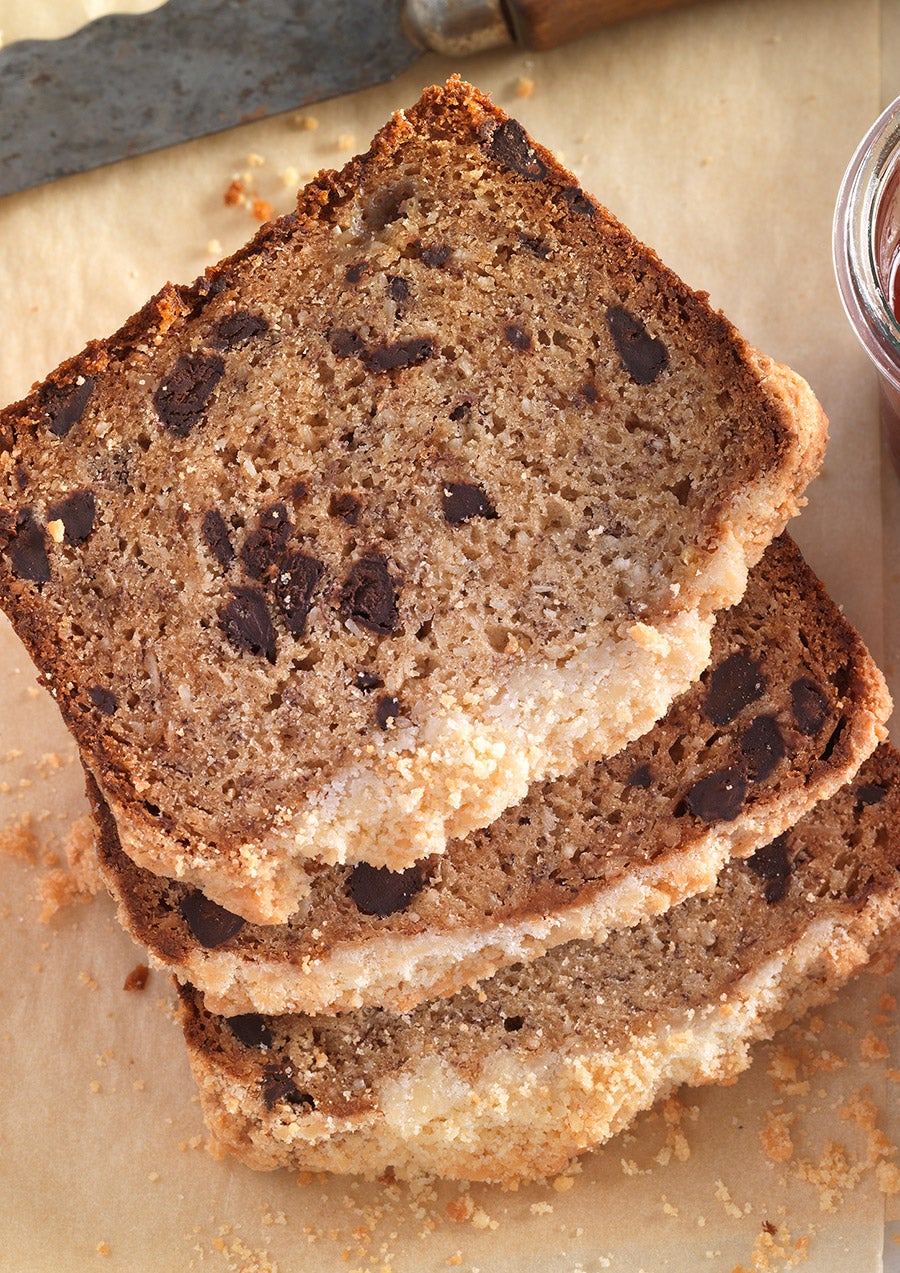 We hope you'll find time to add some of these enhancements to your next batch of banana bread. If you already have a favorite banana booster, please do share it in the comments below. Better banana bread awaits!
Jump to Comments