The King Arthur Flour Company marks its 225th anniversary this year. And we're celebrating by exploring some of America's favorite recipes, decade by decade, starting in 1900. Join us on this fascinating stroll through American food history.
Consider today the year 1900, dawn of the 20th century. What did America look like?
Well, in 1900 "horsepower" generally referred to actual horses. By the end of the decade, though, Henry Ford and his Model T – plus the Wright brothers and their "heavier than air machine" – had begun a transportation revolution that would change the world.
Jack London's The Call of the Wild was wildly popular. And the first Rose Bowl football game was played in Pasadena, CA (Michigan beat Stanford 49-0, just for the record).
Though Mother's Day became an official holiday, women weren't considered full members of society; they didn't gain the vote nationwide until 1920.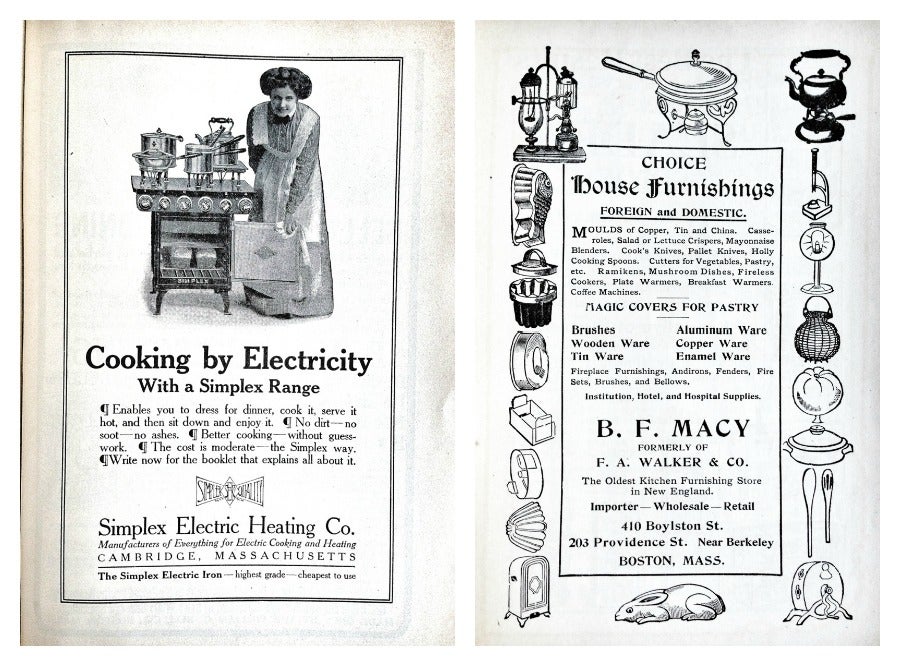 Probably they were too busy, anyway. Despite that newfangled invention, electricity, women still had a lot to do – even if the Simplex range did "enable you to dress for dinner, cook it, serve it hot, and then sit down and enjoy it."
There was another revolution going on around women and food, though, one that began in 1896...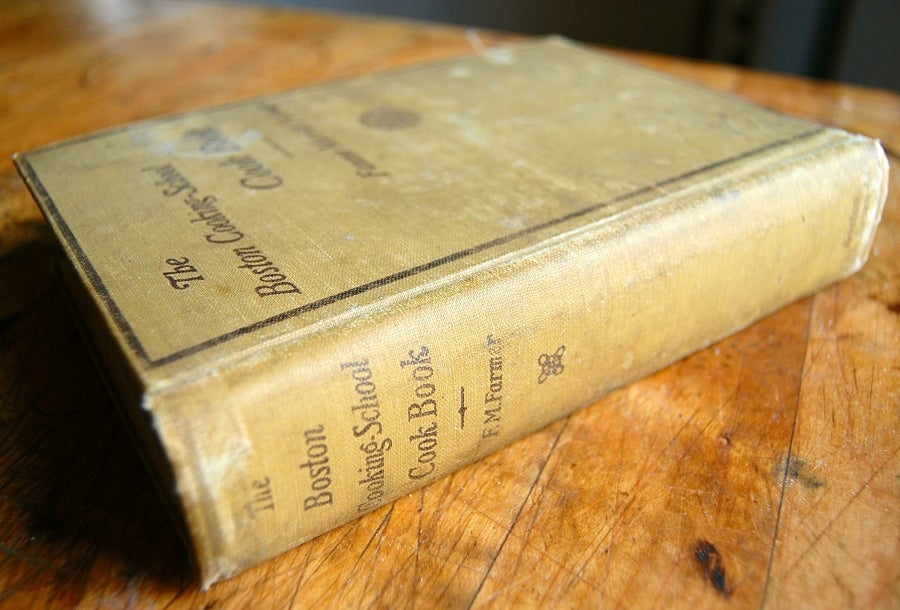 ...with the publication of The Boston Cooking-School Cookbook by F.M. Farmer – a.k.a. Fannie Farmer.
Pictured here is a second edition, published in 1906. Unlike most cookbook authors of the era, Fannie Farmer, a teacher at the Boston Cooking School, wrote detailed recipes.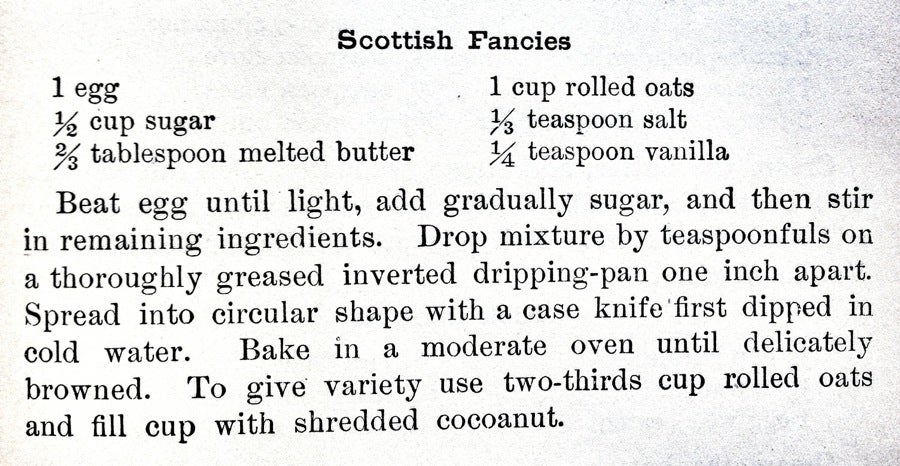 Well, detailed for those days.
Note the list of ingredients up top; mixing and shaping directions; guidance around how long to bake; even a variation at the end. None of these would have appeared in earlier cookbooks, or in most of the cookbooks published during that era.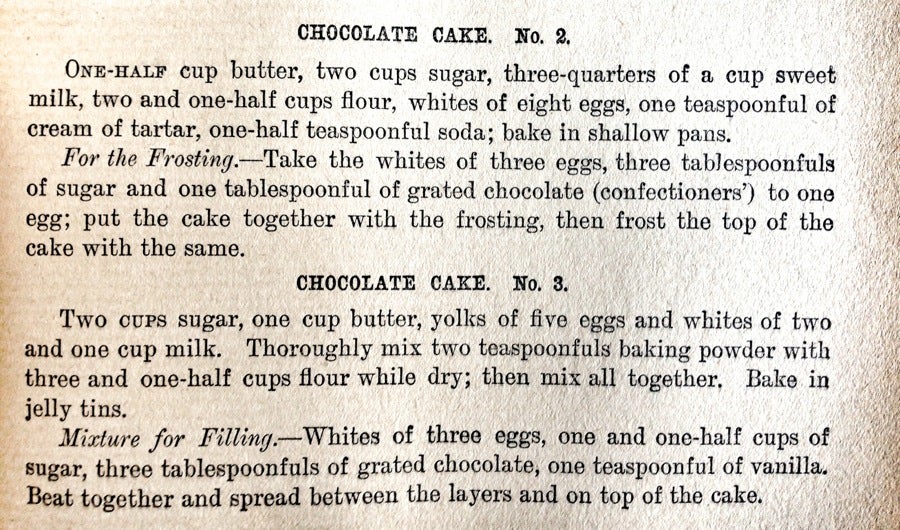 Witness these chocolate cake recipes from the 1905 White House Cookbook. List of ingredients? Detailed instructions? A hint about how long to bake (and in how hot an oven)?
Women were expected to know what to do in the kitchen, given a bit of guidance. But Fannie,  sensing a new age of enlightenment – perhaps one in which cooking and baking didn't come quite as naturally to women – made sure a woman's time in the kitchen would be well spent.
Still, making the leap from old- to new-style recipe writing is just one legacy Fannie left us. Another one, and one I daresay sweeter to the American public's heart than simply a new way to write recipes, is this: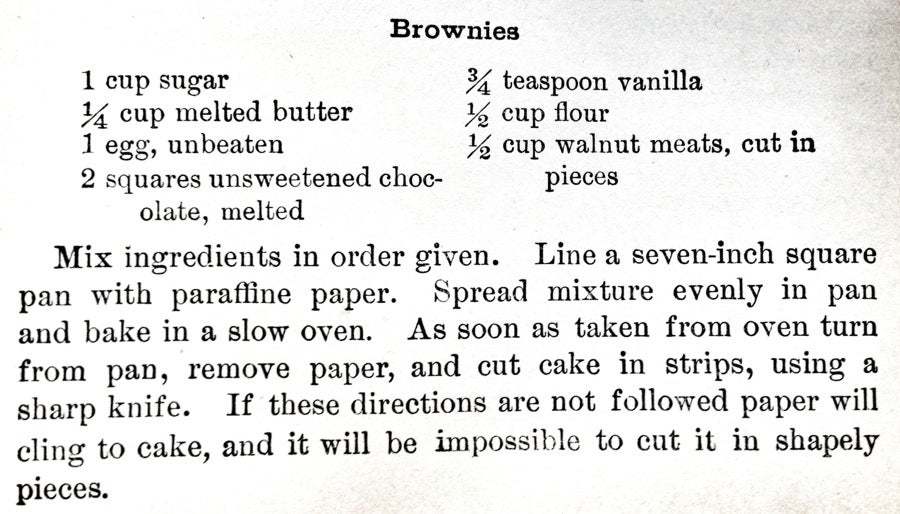 The first published "brownie" recipe in America.
Yes, there were other recipes including the word "brownie" published earlier (e.g., Brownie's Food in the Machias Cookbook, 1899); but Fannie's version is the first one that makes what we today would recognize as a fudge brownie.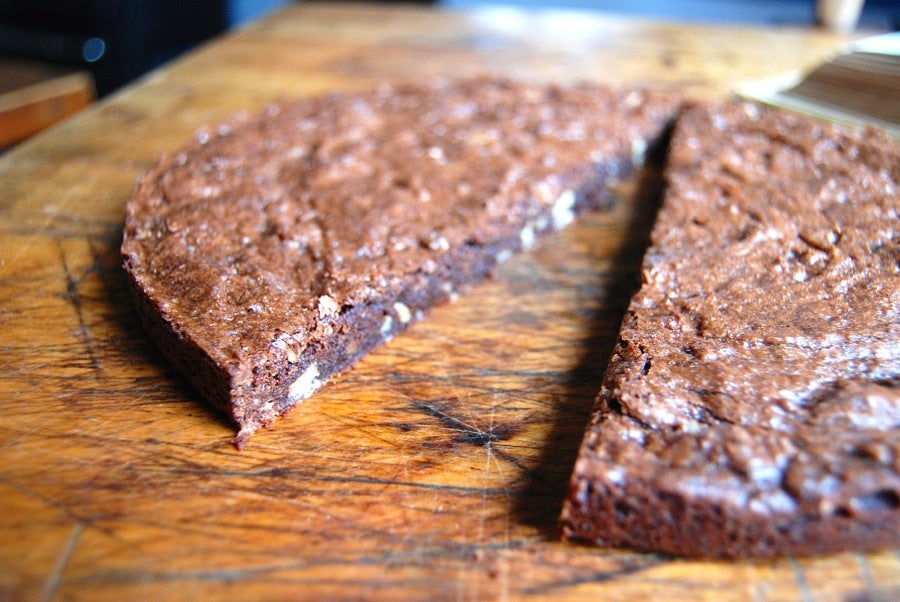 Looks good, right? Moist, dense dark chocolate studded with walnuts, baked in a thin slab. Sure enough, that's a brownie!
And, thanks to Fannie's enhanced recipe writing, we can easily follow her recipe and make them today.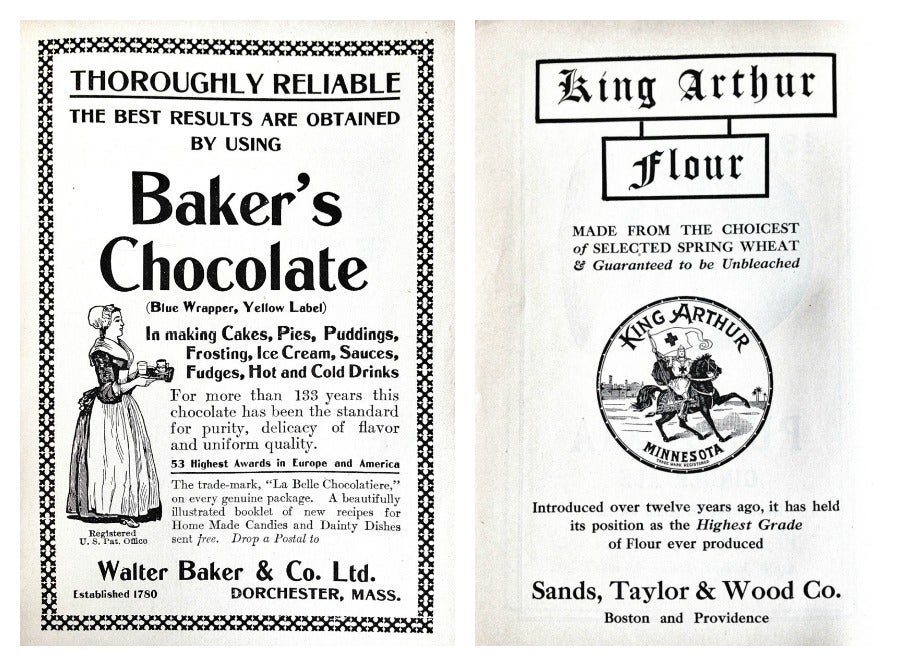 Let's start with two key ingredients – as they were then...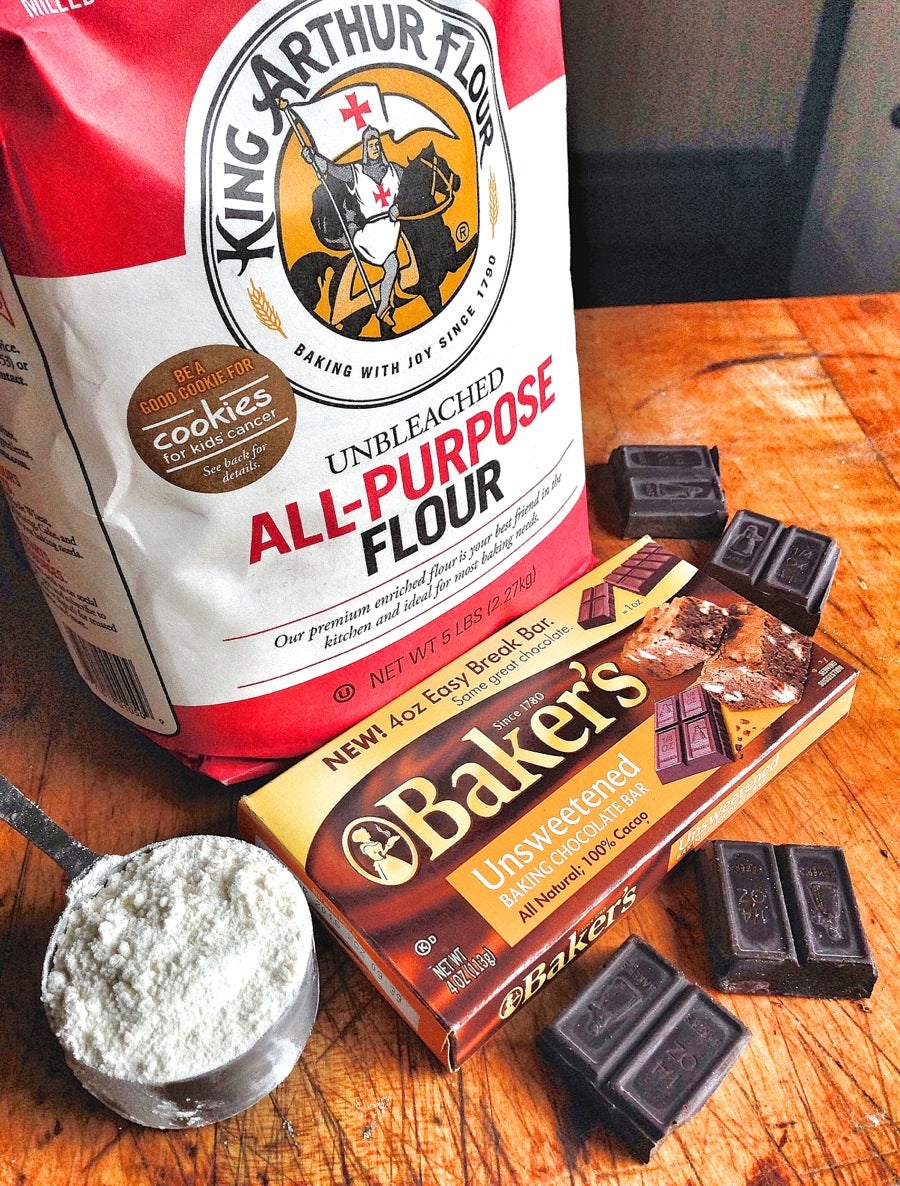 ...and now.
King Arthur Flour, founded in 1790. Baker's Chocolate, "since 1780." Two legendary American food companies baking brownies together since 1906.
Wait a minute – why does that King Arthur Flour ad say "introduced over 12 years ago"? That would make it sometime in the 1890s, not 1790 – what gives?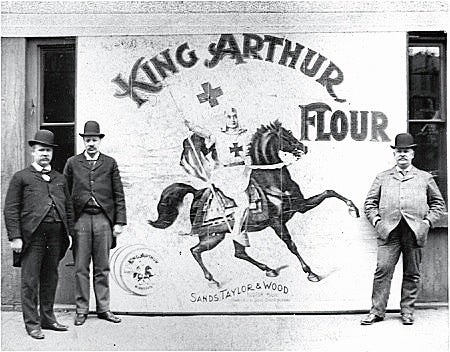 While the Sands, Taylor & Wood company (and its earlier incarnations) had been selling flour to Americans since 1790, that flour received a new name – "King Arthur Flour" – in 1896.
George Wood (pictured at right), after seeing a Boston musical based on King Arthur and the Knights of the Round Table, was inspired to name the company's flour after the values highlighted in that stage production: purity, loyalty, honesty, superior strength, and dedication to a higher purpose.
And we've made sure our flour (and company) have remained true to those values ever since.
OK, back to the brownies. One final thing before we get started, though –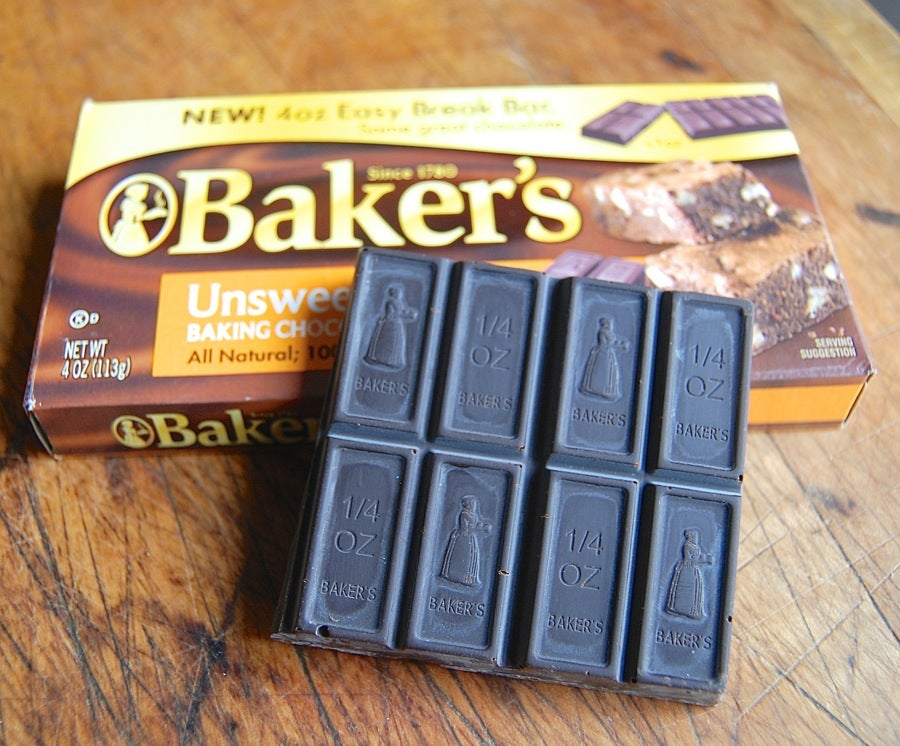 Fannie's recipe calls for "2 squares unsweetened chocolate, melted." Used to be a square of unsweetened chocolate was 1 ounce; these days, a square is 1/2 ounce. So if you make this recipe, you'll want to use half of a typical 4-ounce bar of unsweetened baking chocolate.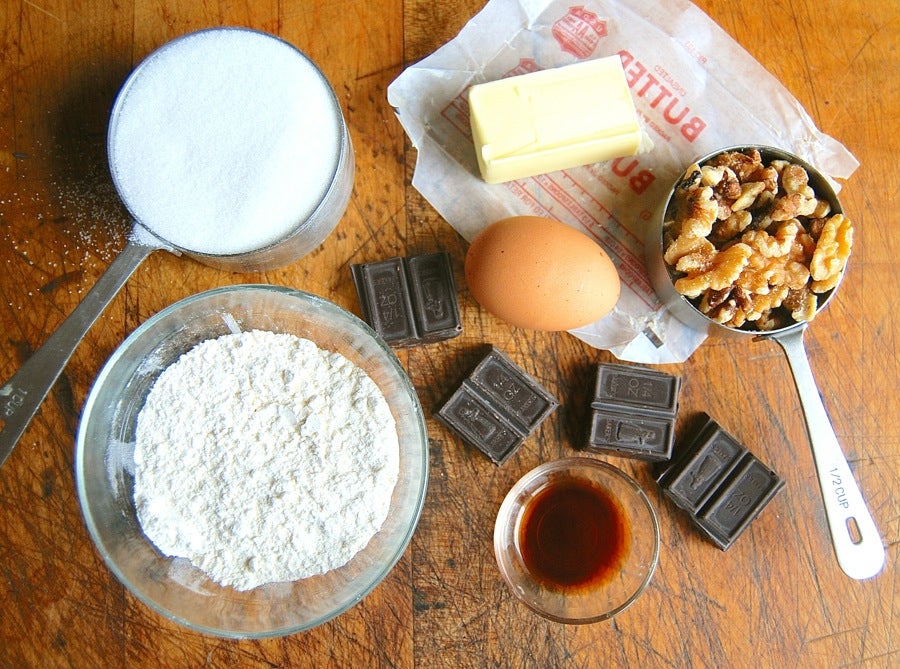 Gather your ingredients; there aren't many.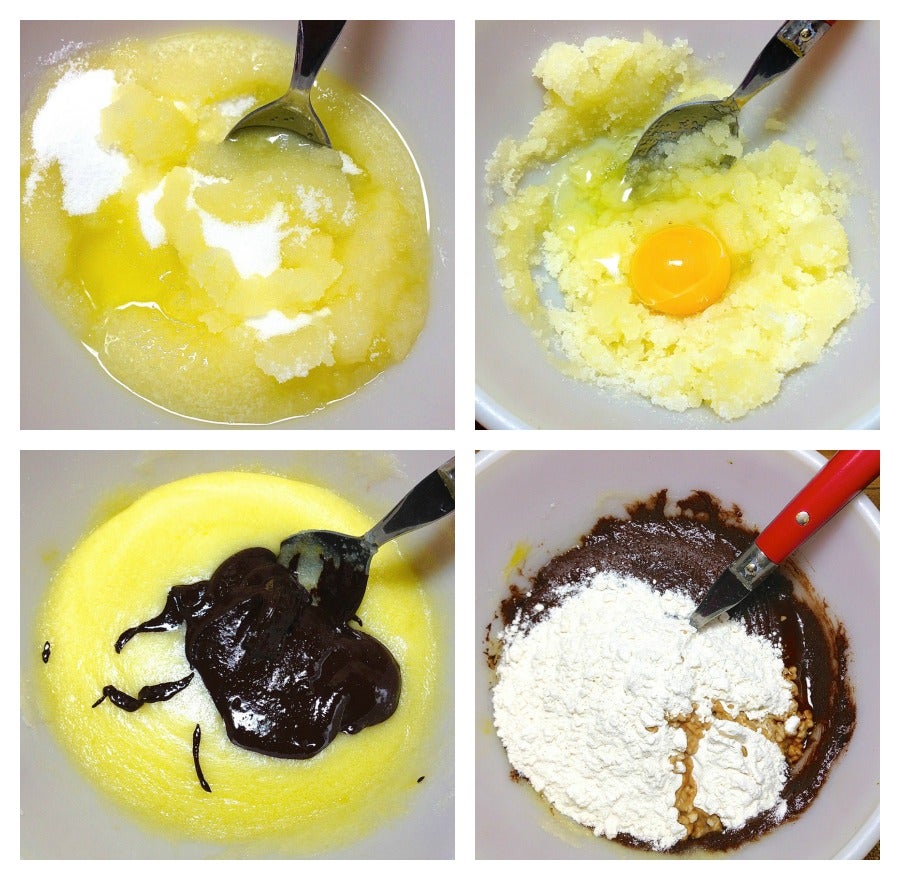 "Mix ingredients in order given." Sugar, butter, egg, melted chocolate, vanilla, flour...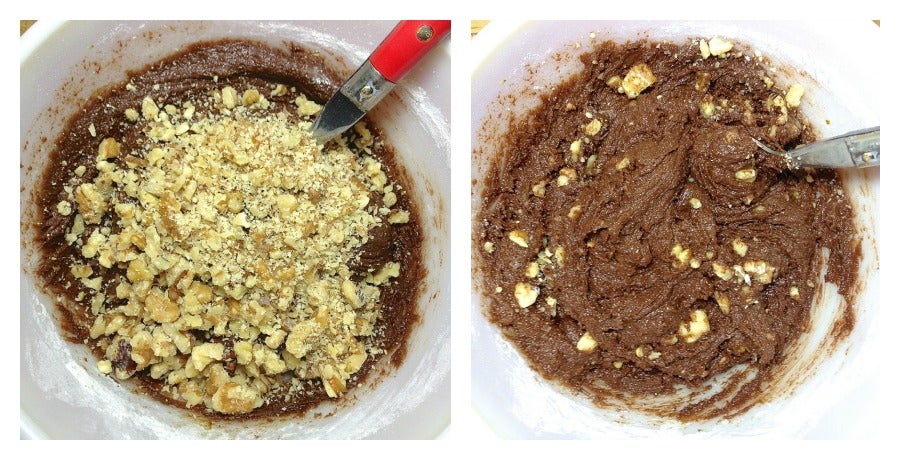 ...and walnuts. Stir to combine. A bowl and spoon are all you need; don't bother with your mixer.
Notice there's neither leavening nor salt in this recipe. I didn't add any baking powder, but since I generally use unsalted butter, I did add 1/4 teaspoon salt – assuming Fannie would have been using salted butter, as was usual back then.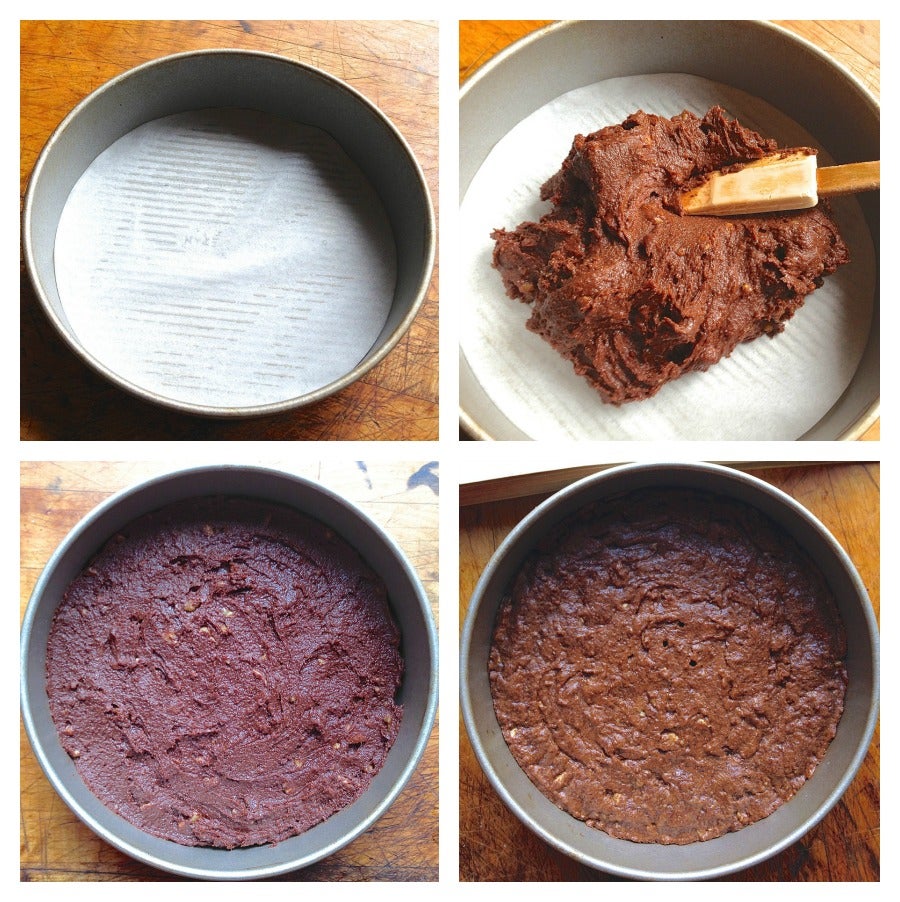 "Line a seven-inch square pan with paraffine paper." Make that an 8" round pan, the volume equivalent; and we'll update the "paraffine" to parchment.
"Spread mixture evenly in pan and bake in a slow oven."
A bit of research reveals that a "slow" oven is about 325°F. I baked the brownies for 25 minutes (photo above, lower right), until a toothpick inserted into the center came out clean.
One direction I didn't follow: I let the brownies cool in the pan, without removing the parchment. Methinks our modern parchment is a bit easier to work with than Fannie's paraffine.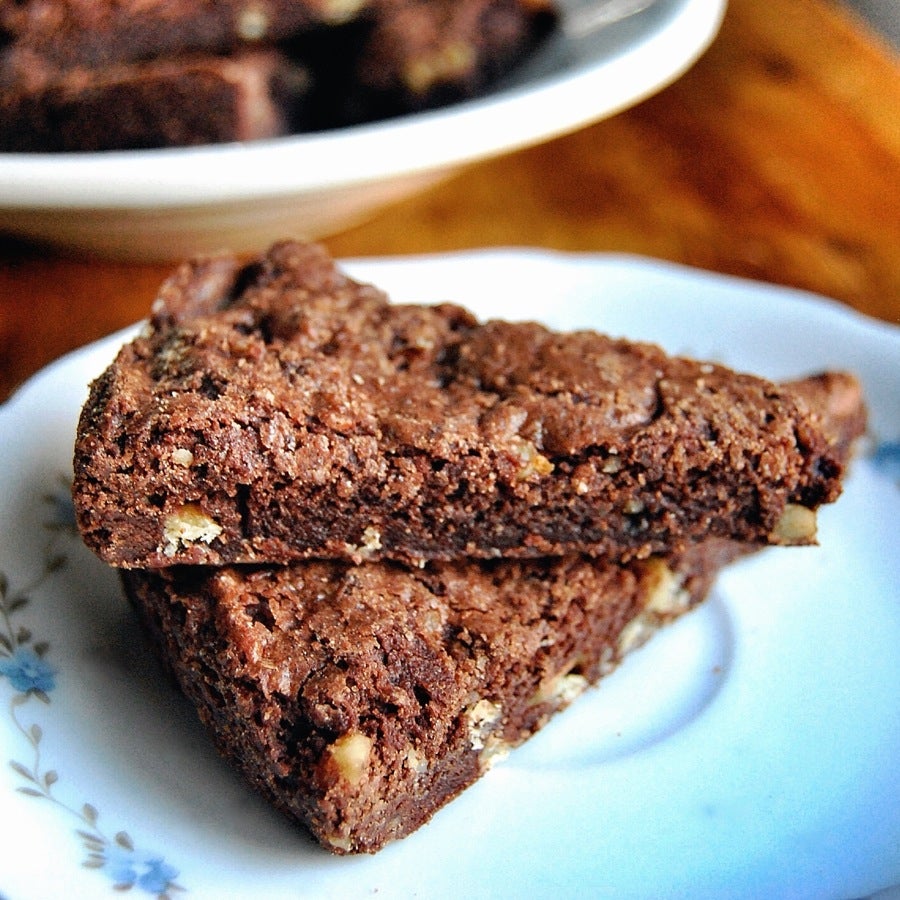 As you can see, the brownies came out of the pan just fine!
I hope you've enjoyed this look into American food history; each month we'll be posting a new installment here in our blog. Interested in more? Check these out:
1910-1919: Packaged Cookies Catch On
1920-1929: Cake Meets Technology
My thanks to one of my favorite food history resources, foodtimeline.org; and to the book Images of America: King Arthur Flour, for much of the background information in this post.
Jump to Comments