Tiramisu Cupcakes
A portable, paper-lined celebration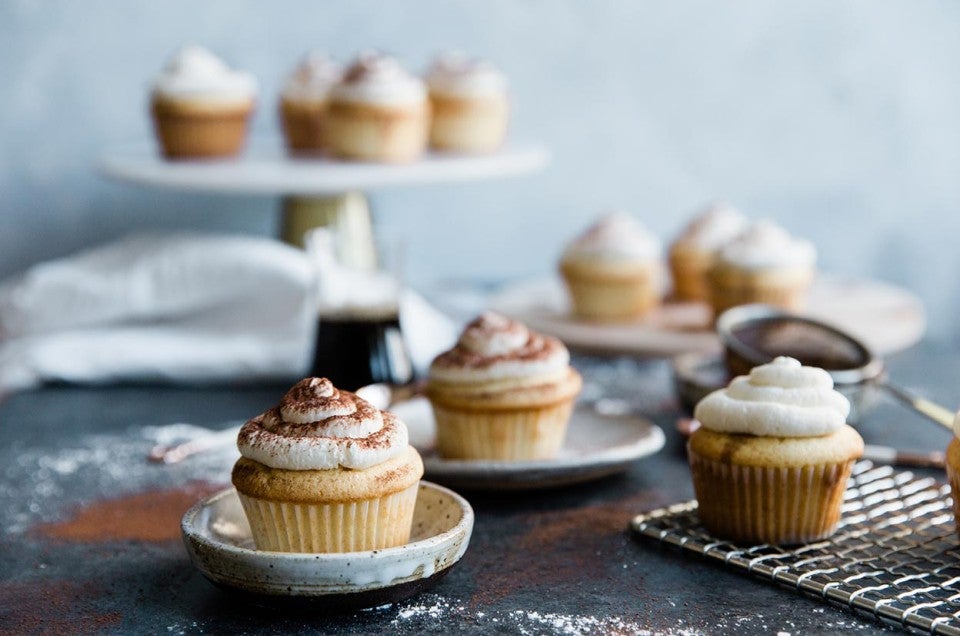 The final holiday celebration of the season is right around the corner as we close out yet another year. Time to gather with friends and family to laugh, love, and rejoice over a wonderful year gone by. New Year's Eve is a time to make resolutions for the coming year.
Exercise more. Indulge less. Travel more. Complain less.
Everyone has a thing or two that they want to commit to once the clock strikes twelve. It's a fun way to try to stick to a positive life change.
Allow me to make your resolution "indulge less."
These Tiramisu Cupcakes are the best way to go out with a bang. An ultra vanilla-y cupcake, filled with a coffee liqueur soak, and topped with a light and lovely Amaretto mascarpone frosting, they practically scream CELEBRATION! Also, there's booze involved. Need I say more?
Preheat your oven to 350°F.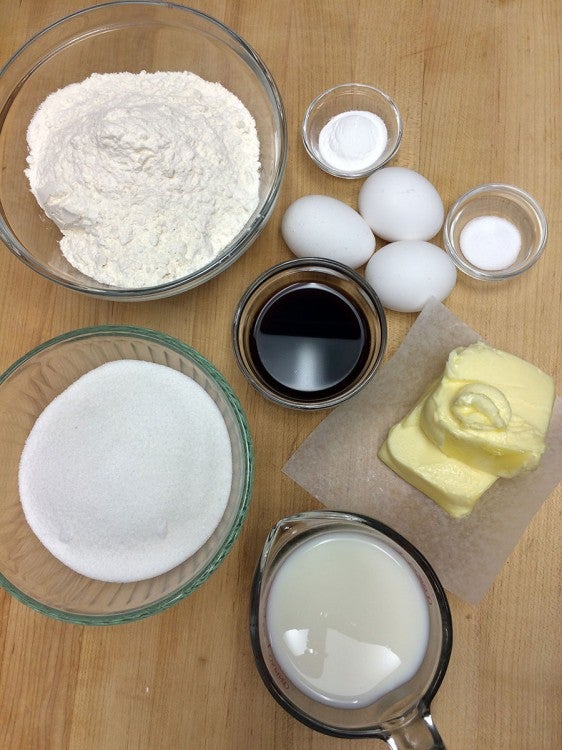 I find it's much easier to get all of my ingredients laid out before I start my baking. It's called mise en place in the food industry. It translates to "putting in place" in French. Makes everything so much easier and you'll know you have all of the ingredients on hand. No one wants to stop what they're doing to run to the store!
In a large mixing bowl with a paddle attachment set up, cream together:
1 3/4 cups (361g) sugar
12 tablespoons (170g) unsalted butter, at room temperature, at least 65°F
You'll want to beat these at a lower setting, so you don't over-mix. Eventually, the sugar mixture will lighten in color and look airy and fluffy. On a side note, this is what recipes are looking for when they say to "beat until fluffy."
Beat in 3 large eggs, one at a time, thoroughly mixing in each one before adding the next.
Scrape down the sides of the bowl before mixing in 3 tablespoons (43g) vanilla. Yes, 3 TABLEspoons. You're adding a lot of vanilla, so the batter will look a bit curdled once it's all combined. Don't stress.
Whisk together the following:
2 3/4 cups (326g) King Arthur Unbleached All-Purpose Flour
2 1/2 teaspoons baking powder
3/4 teaspoon salt
Alternate adding the flour mixture and 1 cup (227g) of room-temperature milk to the butter mixture. Be sure to start and end with the flour.
A general rule is to add 1/3 of the flour mixture, 1/2 of the milk, 1/3 flour mixture, the rest of the milk, and end with the remaining 1/3 flour to be sure everything comes out perfectly.
You're going to want to stop a few times to scrape down the sides of the bowl to ensure your batter is nice and smooth, with no chunky bits of butter/sugar.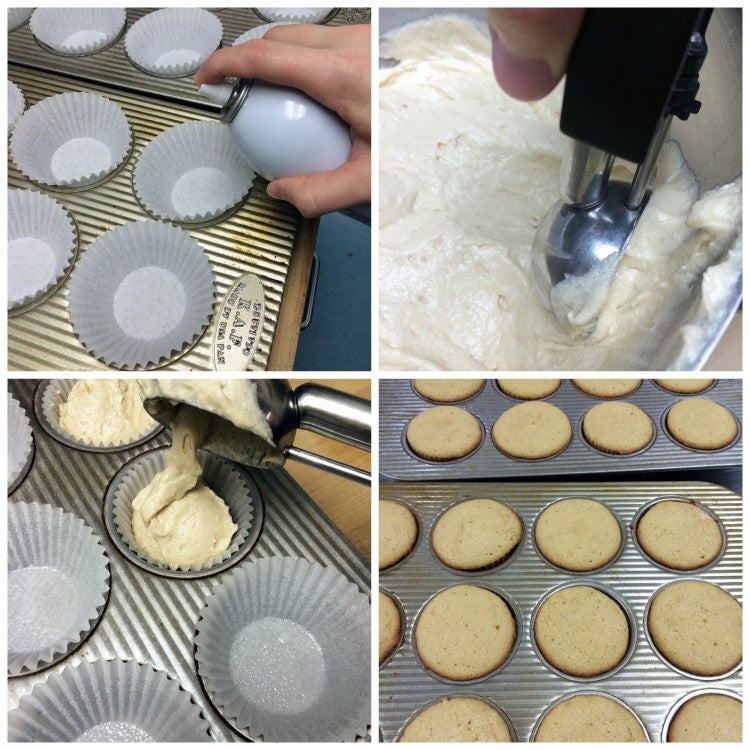 Line two cupcake pans with paper liners and spritz the insides of the liners with food-release spray. Spoon the batter into the greased papers until they're no more than 2/3 full. I like to use a muffin scoop to do this. Perfect portions and less mess to boot!
Bake the cupcakes for 20 to 25 minutes, or until the edges are lightly golden and the cake springs back when lightly touched.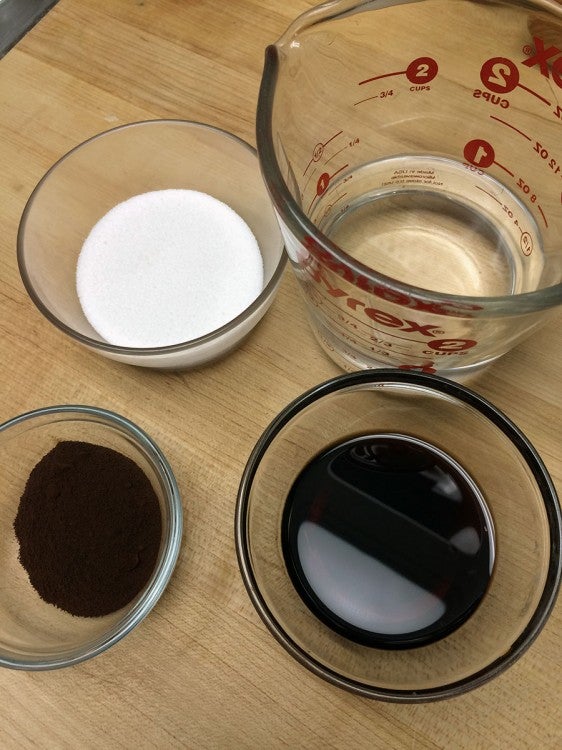 While the cupcakes are baking, you can prepare the coffee soak.
Mix together the following:
3 tablespoons (43g) coffee liqueur
2 tablespoons (14g) instant espresso powder
3 tablespoons (35g) sugar
3/4 cup (170g) hot water
Stir everything together until well combined, and set the soak aside while you go get the cupcakes.
Remove the cupcakes from the oven and place them on a rack to cool for 5 minutes. After this slight rest, remove the cupcakes from the pans and place them back on the rack.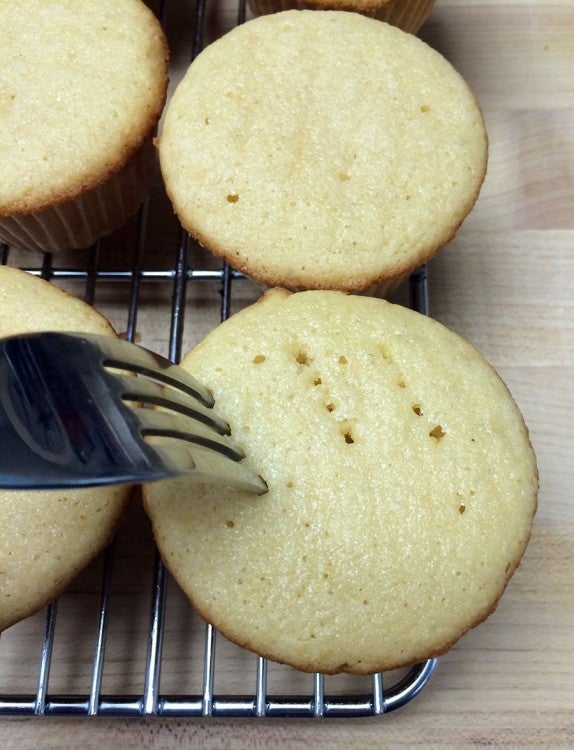 Using a fork, pierce the top of each cupcake a few times. This will allow the coffee soak to be absorbed into the warm cake, instead of hitting the top and sliding onto the counter. Adding the liquid while the cakes are still warm is crucial. You'll find once they cool and set, not as much liquid will be absorbed. We want these cupcakes packed full of coffee liqueur, don't we?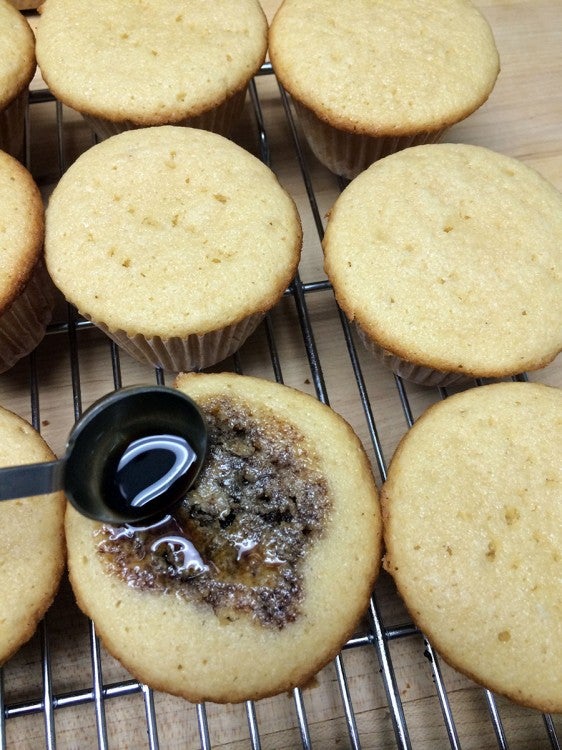 Using a teaspoon measuring spoon, carefully pour the coffee soak onto the warm cupcakes. Once you've gone around and added 1 teaspoon to each cupcake, you can go back and continue adding to each one until the liquid runs out.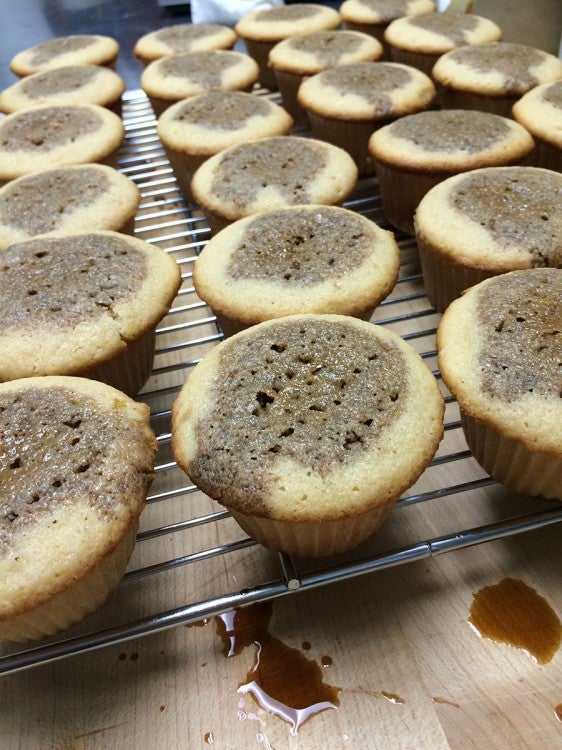 You're going to want to allow your cupcakes to cool completely before you frost them. Whipped dairy and warm temperatures just don't get along.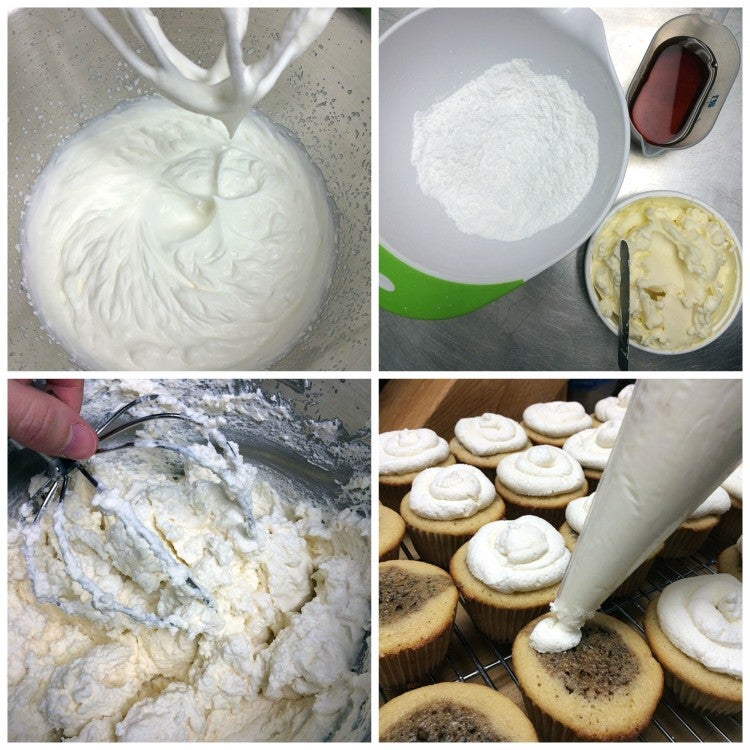 Once your cupcakes are fully cooled, it's time to make the whipped frosting!
Using the whisk attachment of your mixer, beat 2 cups heavy cream until medium peaks form.
Whisk together the following:
2/3 cup (71g) confectioners' sugar
4 teaspoons Instant ClearJel
Slowly add the dry ingredients to the beaten cream, along with 1/2 cup (113g) amaretto liqueur. 
You don't have to use Instant Clearjel, but your whipped topping won't have nearly the staying power without it. Clearjel is a thickener and stabilizer, so it really helps your whipped cream to stay in a tighter form and withstand being at room temperature for longer periods of time.
Gently and briefly whisk in 1 cup (227g) room-temperature mascarpone cheese by hand until the frosting is thick and creamy. This shouldn't take more than 4 or 5 passes. I find holding the whisk attachment in my hand and running it through the mixture blends it perfectly.
Use a spoon or filled pastry bag to frost your tasty cakes.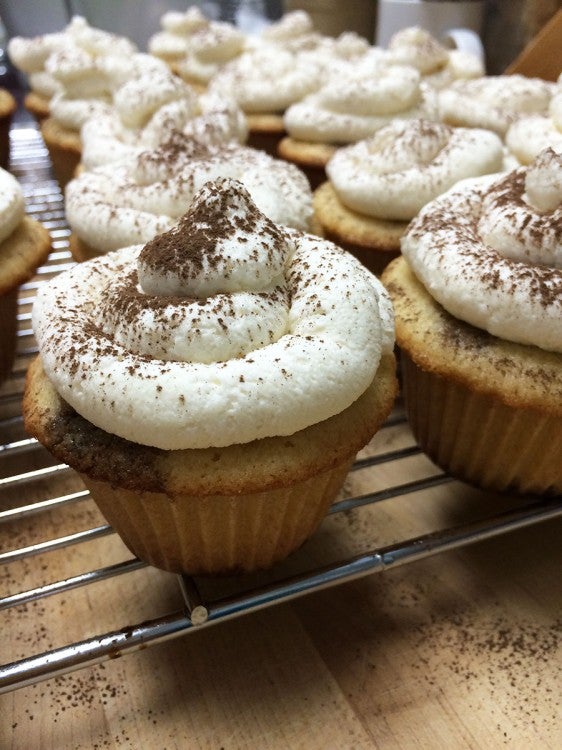 Dust a little cocoa over the tops of the tiramisu cupcakes to take them over the top. Elegance on a plate, guaranteed to hit the spot while you and your loved ones are counting down the clock.
These cupcakes are the perfect thing to bring to your holiday party. They can very easily be made ahead and stashed in the freezer. Make the cupcakes, add the soak, and they freeze quite wonderfully. Actually, the addition of the alcohol will keep them moist and fresh-tasting even longer.
Take them out and put them in the refrigerator to thaw on New Year's Eve. You can make the frosting and decorate them before you leave, or put the topping in a container or piping bag and do it when you arrive, along with a cocoa dusting. Delish.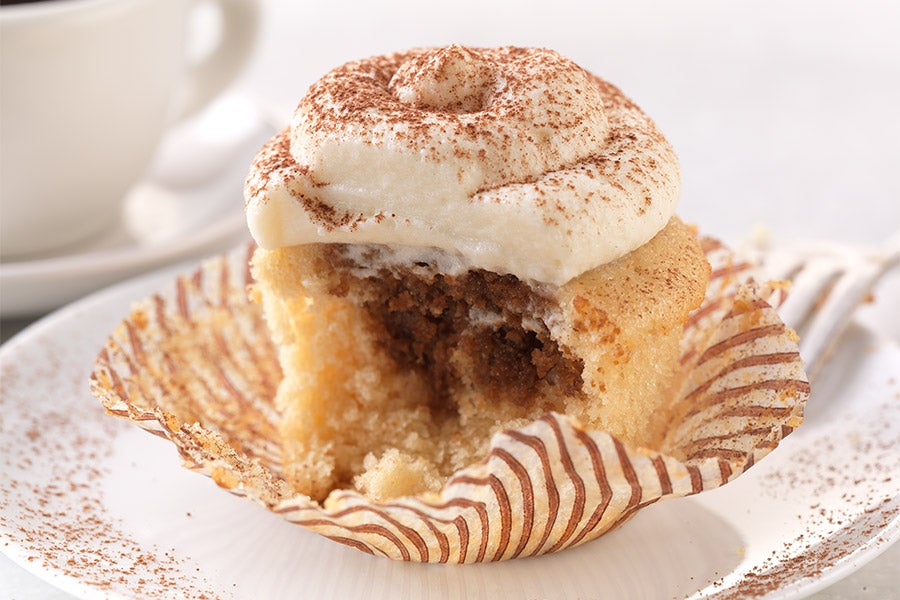 I and the rest of my fellow employee-owners at King Arthur Flour hope you have a safe, enjoyable, and delicious New Year's Eve. Time to celebrate!
Read, bake, and review (please) our recipe for Tiramisu Cupcakes.
Jump to Comments