Gluten-Free Almond Flour Shortbread Cookies, three ways
Many ways to shine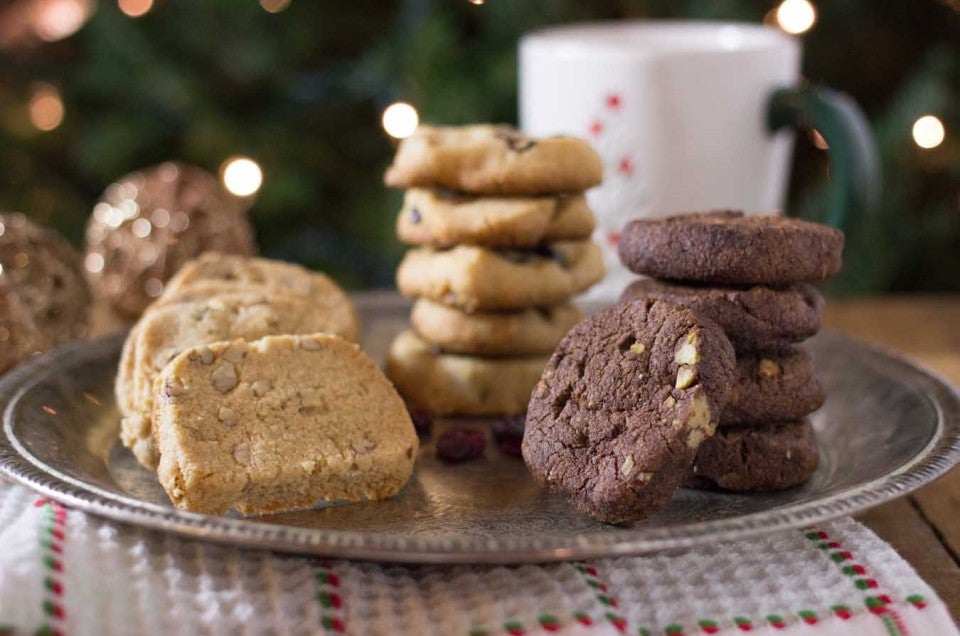 Cookies during the holidays... is there anything more perfect?
Baking has always been a stress reliever for me. When I'm feeling overwhelmed with life, there's nothing that calms me down more, or brings positive vibes back into my day, than whipping up a delicious gluten-free treat.
Whether it's mixing up some gluten-free muffins, or watching a loaf of gluten-free bread rise, or throwing together a quick batch of cookies, anytime I bake I'm in my happy place. It's that welcomed moment in time where I can just let go.
Truthfully, there's probably no better time of year to bake than the holidays. You're busy, you're stressed, and baking is the last thing on you mind. In fact, some of you are probably thinking, "Bake? I don't even have time to fix a proper dinner, let alone bake!" And I hear ya. Loud and clear.
But I like to remind myself that baking doesn't have to be time intensive. There are plenty of recipes that take no time at all, but still give you that moment of peace – that bring that stress level down, even if just a little.
These gluten-free almond shortbread cookies are just that. The base recipe requires only 5 ingredients and less than 5 minutes to whip up. It's easy-peasy. And while this is a great all-around, any-time-of-year cookie recipe, today I'm giving you three different flavor variations that are perfect for the holidays.
What I love about these cookies, aside from their crisp texture and buttery flavor, is they're actually relatively healthy because they use almond flour which is higher in good-for-you fats, lower in carbohydrates, and has more vitamins and minerals than traditional grain-based flours. Incorporating almond flour into your mix provides increased nutritional benefits from the Since the holidays are full of indulgences, it can easy get sidetracked and over indulge, so having a cookie that is not only tasty and gluten-free, but also healthy, is a win-win in my book.
Plus, these cookies make great gifts! Make a few batches and give them away to your loved ones. I promise they'll be a hit.
The three flavors we're making today are cranberry orange, maple pecan, and chocolate pistachio. Each cookie starts with the same base, which then gets just a few tweaks. I'll show you how to make the maple pecan cookies, then give directions for the other two below.
To make this shortbread, you'll start by adding the following to a large mixing bowl or the bowl of a stand mixer (I found my stand mixer, fit with the paddle attachment, worked really well with this recipe):
1 cup almond flour
3 tablespoons softened butter
3 tablespoons confectioners' sugar
1 teaspoon ground cinnamon
1/8 teaspoon salt
2 teaspoons maple syrup
1/2 teaspoon vanilla extract
Beat the ingredients together on low speed until a dough forms. Add 1/3 cup chopped pecans and mix until just combined.
Place a piece of plastic wrap on the counter. Transfer the dough to the plastic wrap and form it into a log shape. Fold the plastic wrap around the dough and shape again to form a roll about 7" to 8" long and 2" in diameter. Place this in the fridge to chill for at least 60 minutes.
When the dough feels firm and chilled, remove it from the fridge and place it on a flat working surface. Preheat the oven to 350°F and line a baking sheet with parchment paper.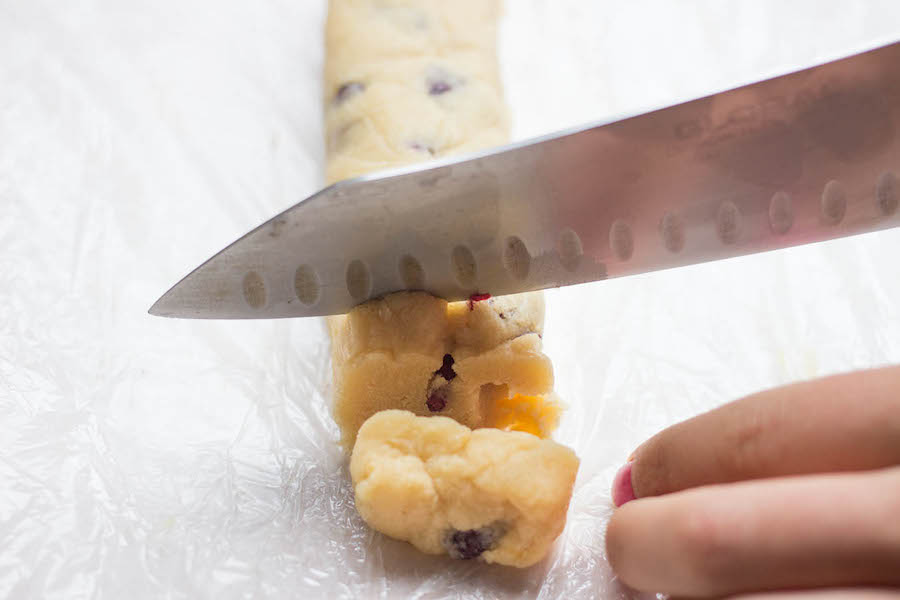 Unwrap the cookie dough and slice it into 1/4" discs using a very sharp knife. Place the cookies on the baking sheet and bake for 12 to 14 minutes, until the cookies have started to brown. Remove them from the oven and let them cool for 10 minutes on the pan before transferring them to a rack to cool completely.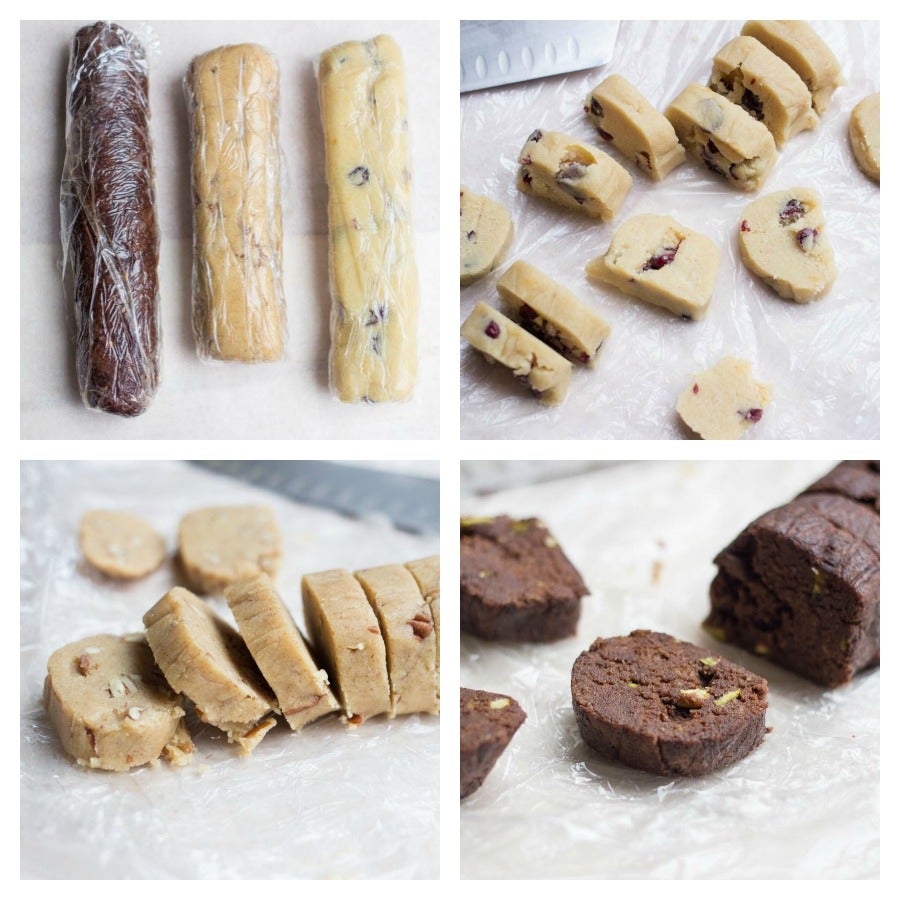 And now for our other fun varieties!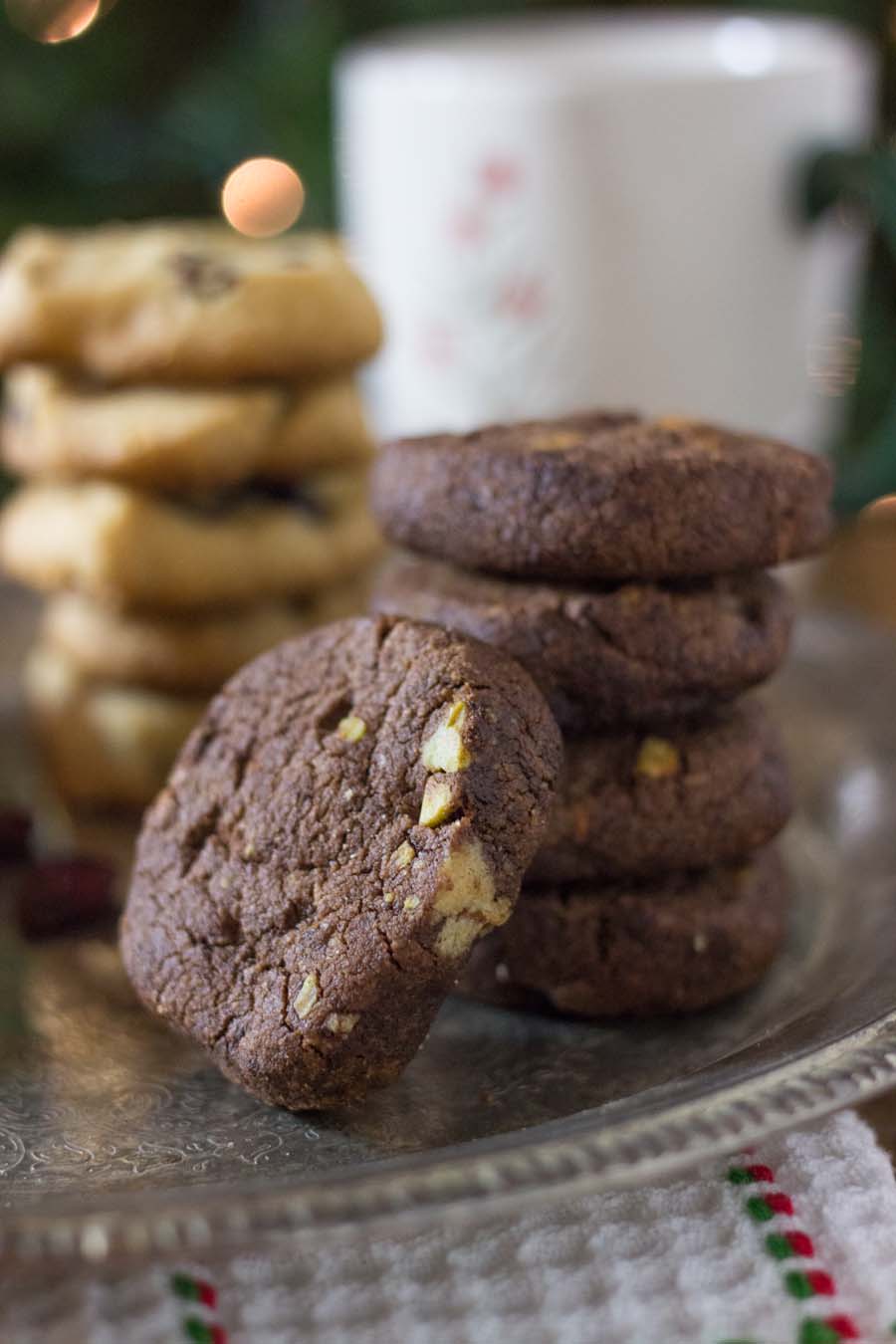 First up is chocolate pistachio! You'll want to follow the same instructions as above, but using the following ingredients instead of the ingredients above. Add to your mixer bowl:
3/4 cup + 2 tablespoons almond flour
2 tablespoons King Arthur Triple Cocoa Blend
3 tablespoons softened butter
3 tablespoons confectioners' sugar
1/8 teaspoon espresso powder
1/8 teaspoon salt
1/2 teaspoon vanilla extract
When the dough has formed, mix in 1/3 cup chopped pistachios. Wrap, roll, chill, slice, and bake the dough just as you did with the maple pecan cookies. Don't forget to cool the cookies for 10 minutes on the pan before transferring them to a rack and cooling completely.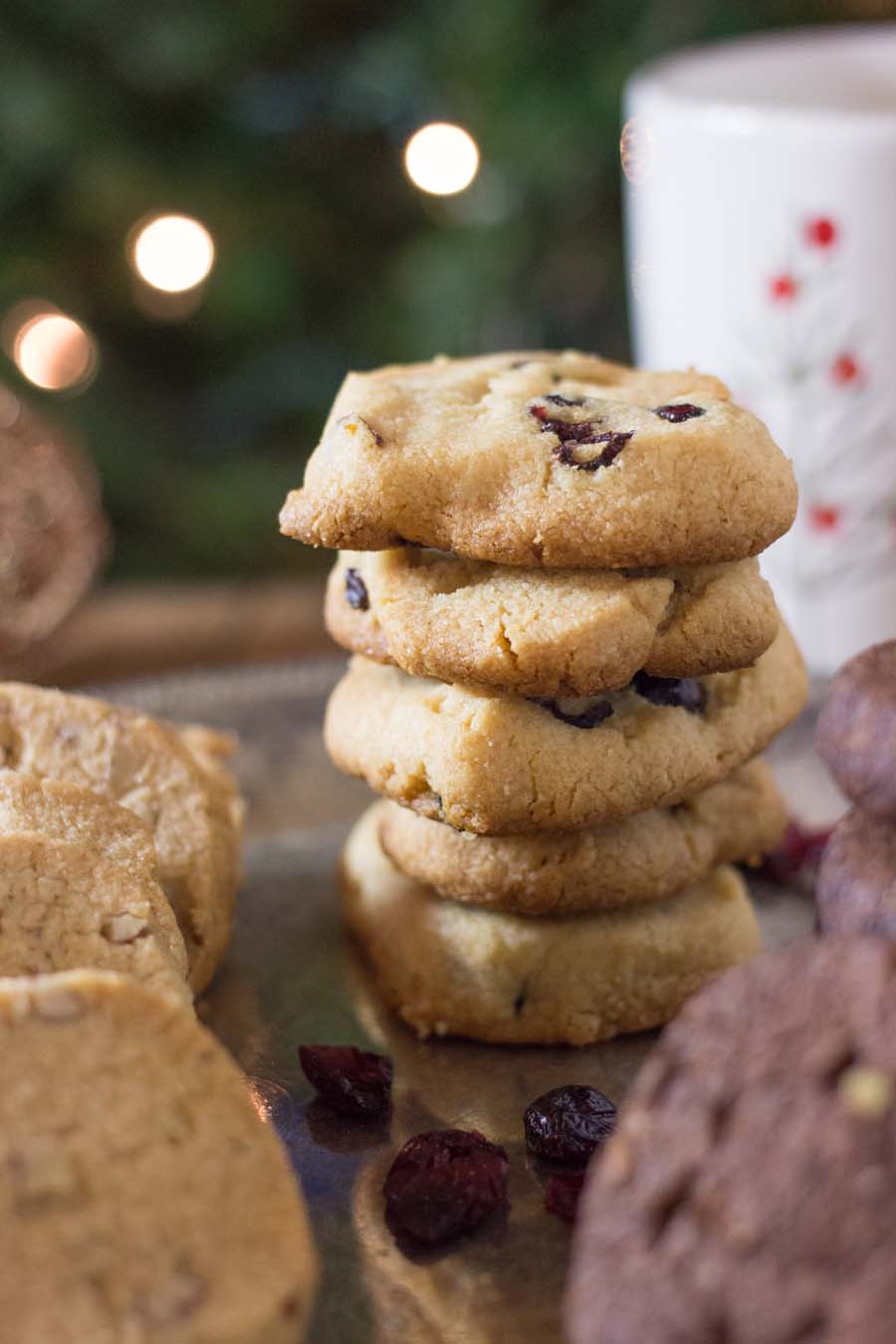 And for our cranberry orange cookies, you'll do the same. Just combine the following using your mixer:
1 cup almond flour
3 tablespoons softened butter
3 tablespoons confectioners' sugar
1/8 teaspoon salt
1/2 teaspoon vanilla extract
Once your dough comes together, add 1/2 teaspoon orange zest (grated orange rind) and 1/4 cup dried cranberries. Again, wrap, roll, chill, and slice, then bake at 350°F for 12 to 14 minutes. Then cool your cookies just as you did above – on the pan for 10 minutes, then transferred to a rack to finish cooling.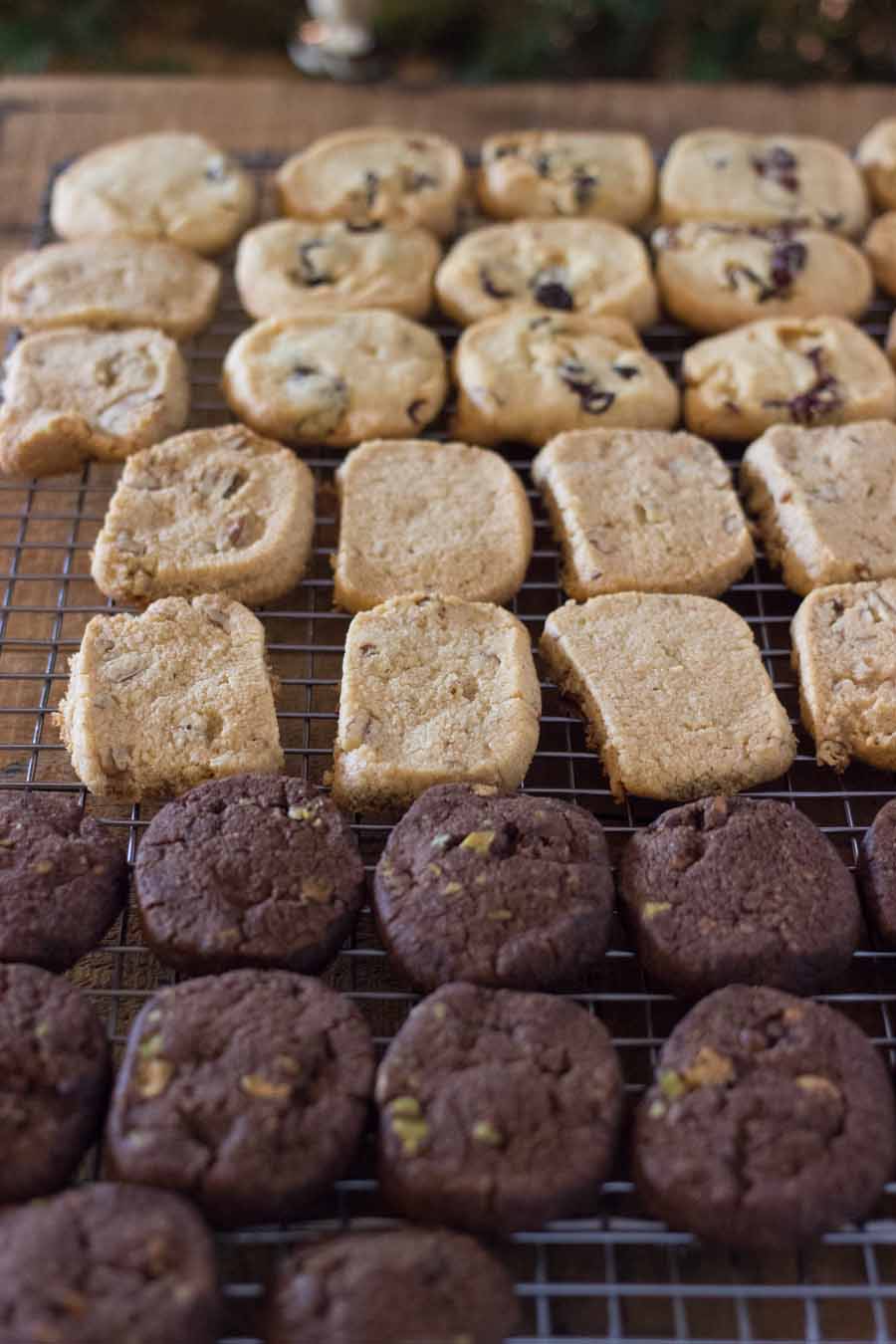 And as I mentioned above, these cookies make fabulous gifts! I made extras and gave them to my friends – everyone loved them!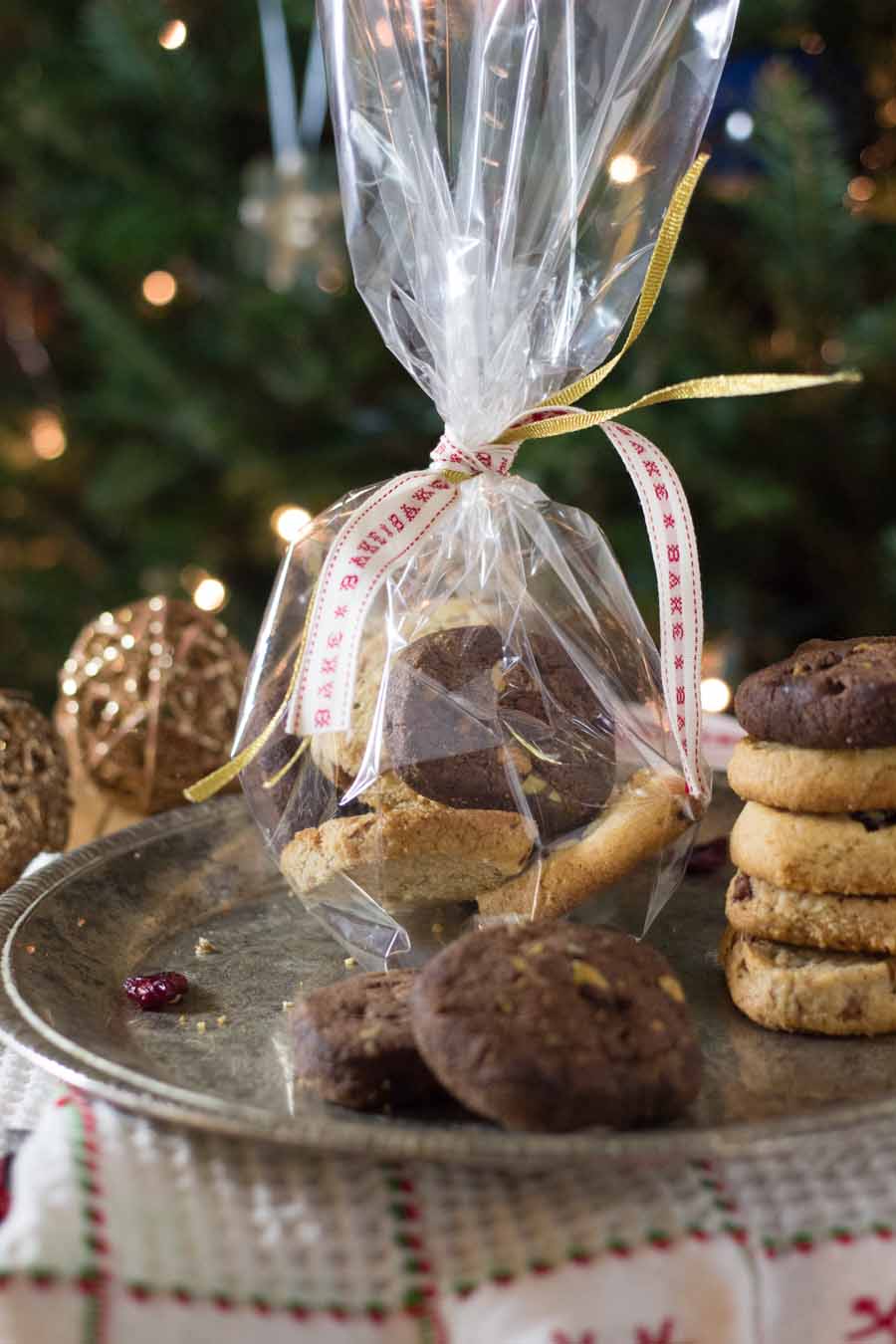 Wishing you a healthy, happy, and gluten-free cookie-filled holiday season. Happy baking!
We'd love for you to bake, review, and enjoy our recipe for Almond Flour Shortbreads.
Jump to Comments