Most bakers have a number of recipes like this in their treasure chest. They're the much-requested, never-fail (a little bit quirky but you know how to deal with it), don't-show-up-without-it members of your repertoire. They're the foundation of that baking ninja status you enjoy.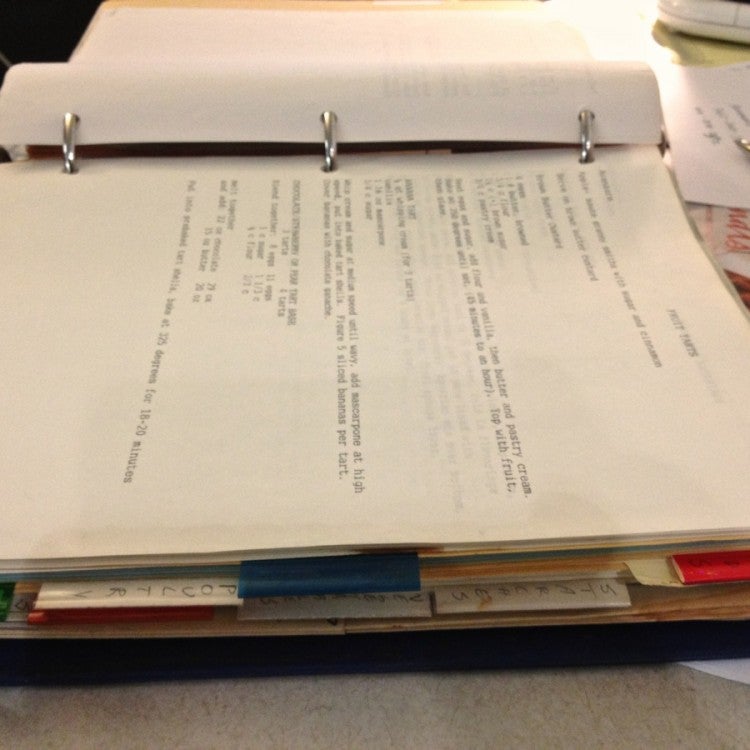 These hermit bars have become a cherished treat for pretty much everyone that knows me. Co-workers, friends, and family have all come to depend on a healthy helping of these easy-to-make cookies, especially around the holidays.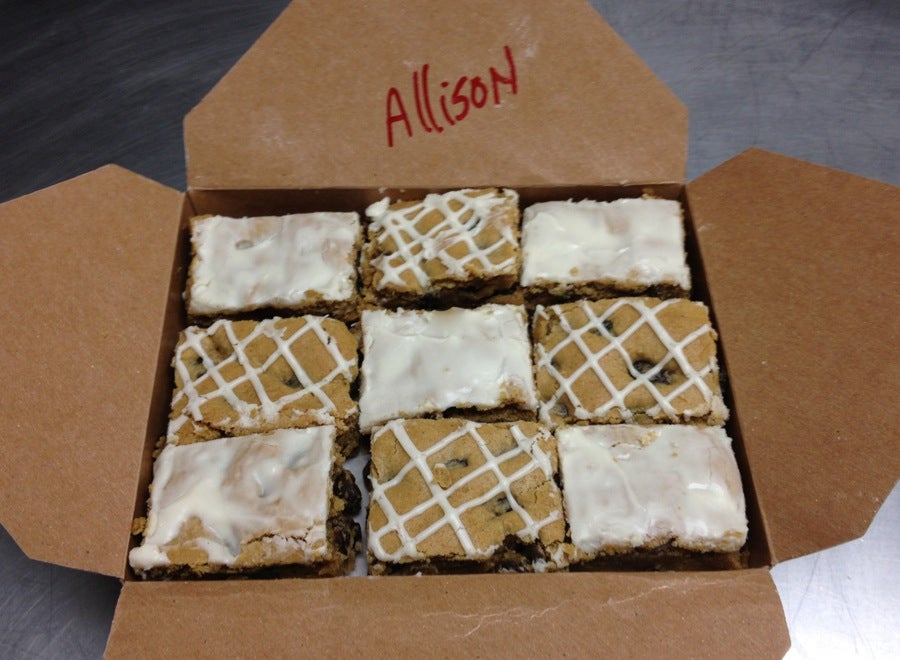 I bring a massive container home every Christmas (we're talking 200 or so squares). Nevertheless, several family members (Allison, Roger, Brian, Stacey) require their own personal tin as well, so as not to have to share them with the pack of ravening siblings, aunts, and uncles. This cookie has brought many people a lot of happiness, and with luck it will do so for you and yours.
Since it came into my possession, this recipe has undergone a number of changes, but the story of how I got it is somewhat, well, checkered.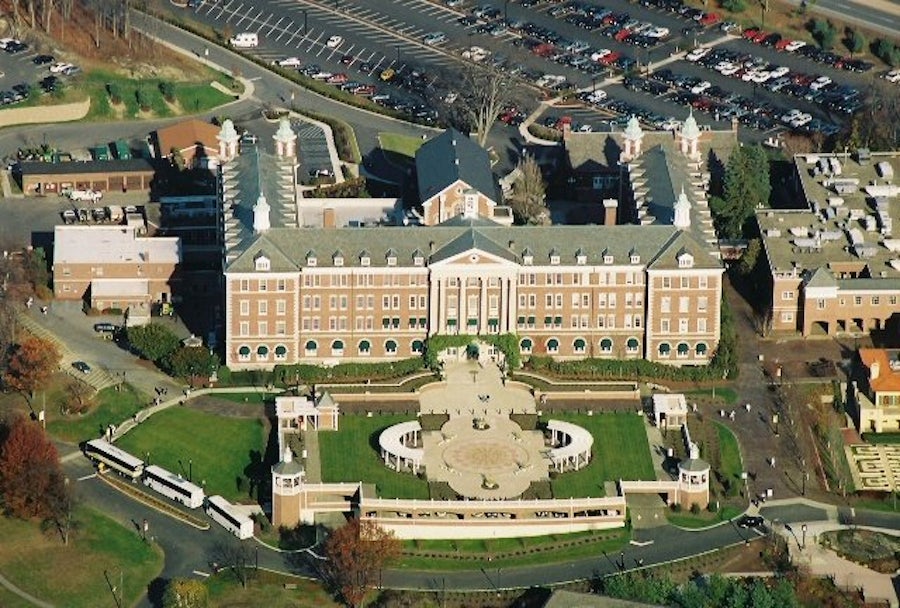 I met this cookie as a result of a homework assignment I gave to a student many moons ago at the Culinary Institute of America. At the time I was a recent graduate of said august institution, working as a Fellow (minimally paid sous chef, actually) in the American Bounty restaurant. The students working the dessert station were tasked with providing a mignardise: a little unexpected treat to put on the table with the check at the end of the meal.
One of the students brought these in, and I promptly became infatuated. The student's family owned a bakery, and the recipe was one their business had relied on for years. I told him I needed that recipe, but he was reluctant. Long story short, he eventually relented and brought in the formula, written with amounts to make a full 18" x 26" sheet pan-sized batch.
I resized, and resized, and played with the ratio of butter to shortening, and over many years came up with my own version. I don't remember if he glazed his cookies or not, but a simple confectioners' sugar/milk or cream/vanilla mixture has been just right as far as me and mine are concerned.
These cookies keep amazingly well (you'll need a good hiding place, but really, up to a month!);freeze just fine (I wouldn't glaze them until you're going to serve them), and ship beautifully. They're great for gifts, bake sales, or care packages. And even in this much smaller-sized batch, they require at least a 5-quart stand mixer to make.
Ready?  Let's make some.
First things first. Turn on the oven (375°F), and grease a jelly-roll pan.
Measure out the following, and place in the bowl of your stand mixer:
1 1/3 cups (266g) sugar
1/2 cup plus 2 tablespoons (113g) vegetable shortening
4 tablespoons (57g) unsalted butter, room temperature 
I've tried making these with all butter, but they don't ever come out just as they should, so I've landed on this combination.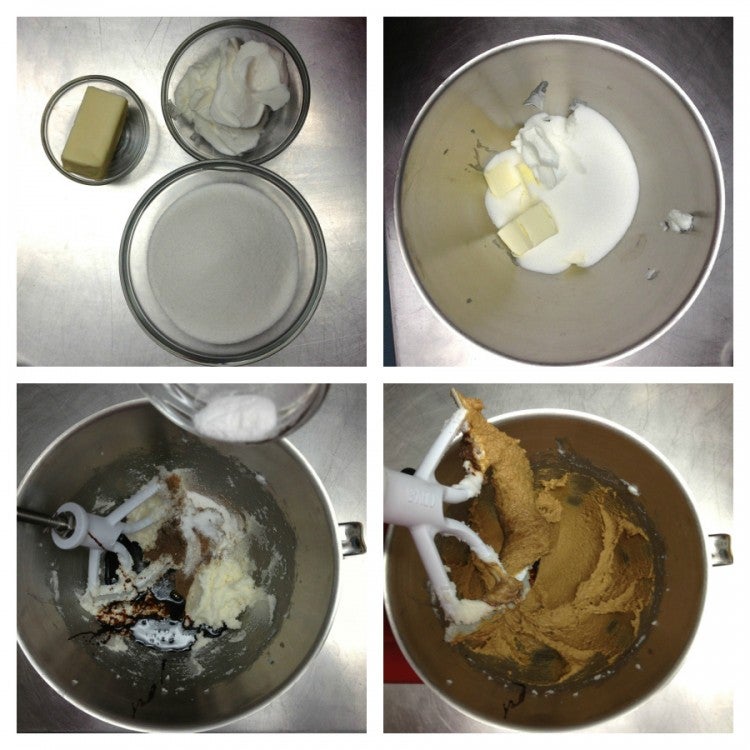 Add:
1/4 cup (85g) molasses
3/4 teaspoon salt
3/4 teaspoon allspice
3/4 teaspoon cinnamon
1 3/4 teaspoons baking soda
Cream (beat) the mixture together.
Look closely at the paddle on the left; there's a big old blob of butter and sugar that didn't get incorporated. Also lurking around the edges are bits of molasses that haven't joined the party. Scraping the bowl is one of those things that separates the dedicated baker from the wannabes. See all the different textures on the right? Now the paddle can finish its work, and the dough will be uniform and consistent.
Two large eggs next. Add one at a time, and mix in between. Don't forget the scraping.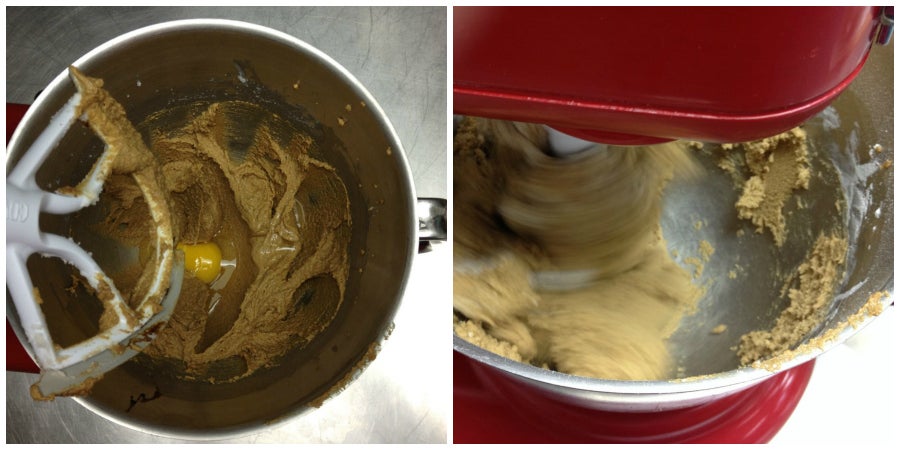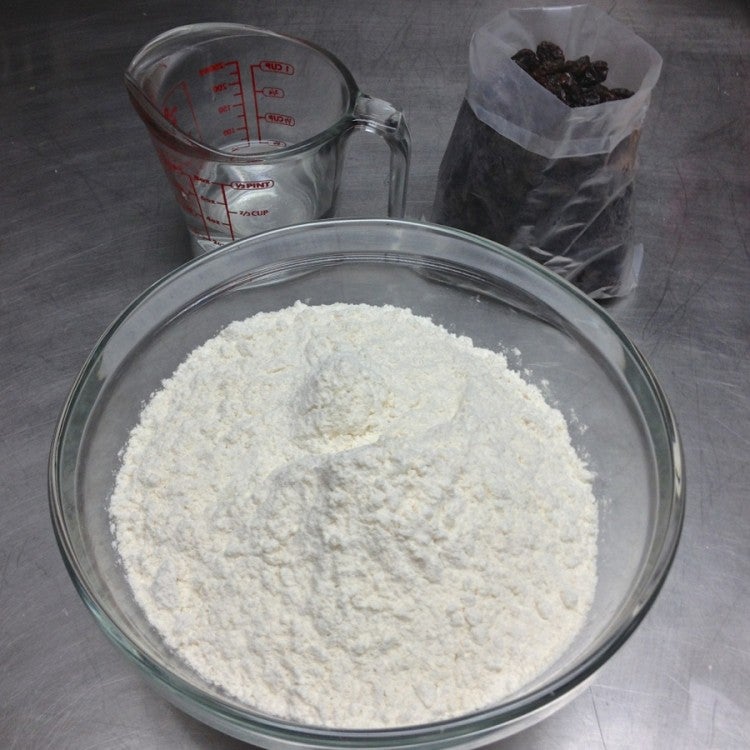 Lastly, time for:
5 cups (602g) King Arthur Unbleached All-Purpose Flour
1/3 cup (74g) water
2 cups (340g) raisins
Mix in half the flour, then the water. Scrape, then add the rest of the flour and the raisins.

We know that half of you out there aren't raisin people. I've never done so, but dried cranberries are a reasonable substitute. Different cookie, but if you don't want to miss out and it's the only way you can see trying the recipe, go for it.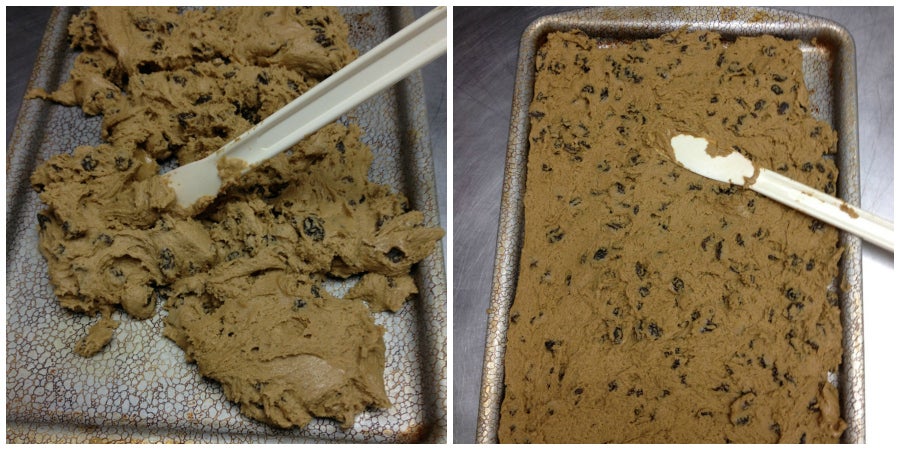 This is what the dough should look like: it's soft, able to be plopped into the pan. It's too thick to spread much more than connecting the blobs. Take it that far, then I'll show you my tip for a smooth top.
Ever since I discovered their amazing versatility, I've been a great fan of our all-purpose bags. They're heavier than bread storage bags from the grocery store; a lot bigger (you could fit a pair of shoes in them, which I've done in my luggage on some business trips), and just the thing for rolling dough of all kinds.

Cut off the bottom of a large bag, then cut it up the side, and you'll have a huge sheet of sturdy plastic to put over pie crust, roll out cookie dough or, obviously, hermit dough. I use a pastry roller or rolling pin to smooth out the top, then peel off the plastic and voilà. Clean pin, clean hands, top of the dough is nice and even.
Now for the bake. This recipe has one fussy feature. You have to take it out of the oven before you think it's done, because one or two minutes too long, and you'll get a cakey, dry cookie instead of the irresistible, moist, fabulous result you're after.
Seventeen to 19 minutes is just about right. Check at 16, please. You can always bake it more, but you can't back up. The top should be puffy, as you see above, and the edges just barely dry-looking.
Once the bars are cool, I brush a glaze on top; you can drizzle, too, if you're in more of an artiste mode.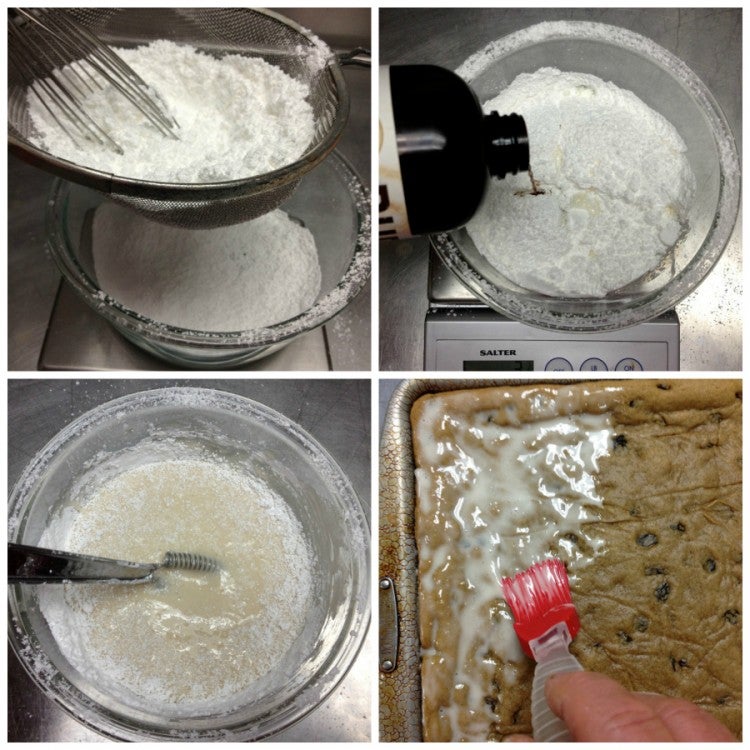 Whisk 1 cup (113g) confectioners' sugar through a strainer to take out the lumps. Add 1/2 teaspoon vanilla extract and 2 tablespoons (28g) milk, to make a spreadable glaze. Brush all over or drizzle as you please; let the glaze set up, then cut five rows the long way and seven across the shorter axis.
You'll see just what I mean about the texture once you start cutting up the bars. The outside edges will have that cakey texture, and be almost dry inside, while the center will have a very dense, moist consistency.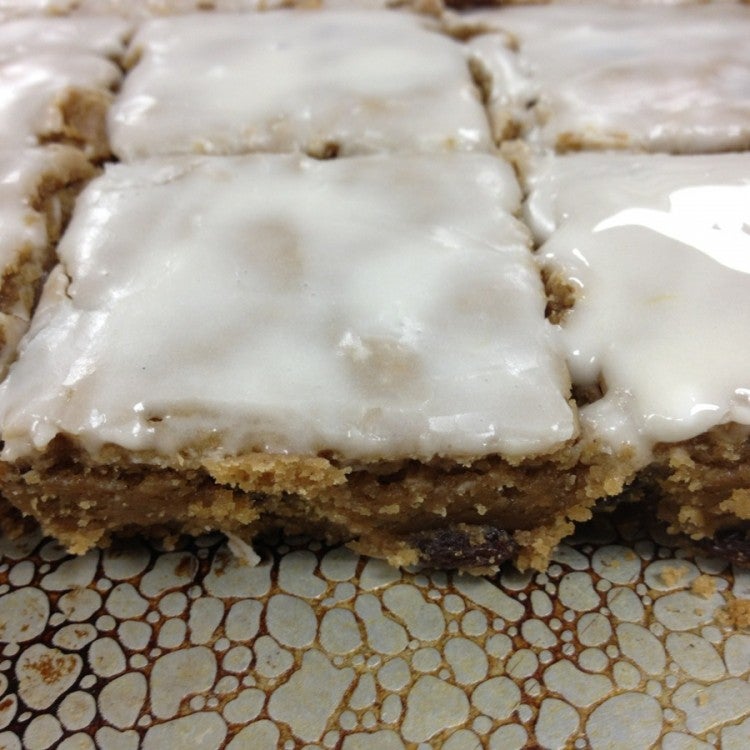 Ah, such happiness. Moist raisin nuggets, smooth, dense insides. Once the glaze sets up, use your dough scraper or a plastic lettuce knife to cut them (the cookies don't stick to rigid plastic, same as cutting brownies). When I pack them to ship, I layer them with some parchment squares in between.
We hope you'll give these Hermit Bars a try; and if we've done our job, perhaps you'll have another recipe for your personal treasure trove of go-to, magical baked goods.
Please read, bake, and review our Hermit Bars recipe.
Print just the recipe.
Jump to Comments