Salted Caramel-Apple Profiteroles
Going fancy without the fuss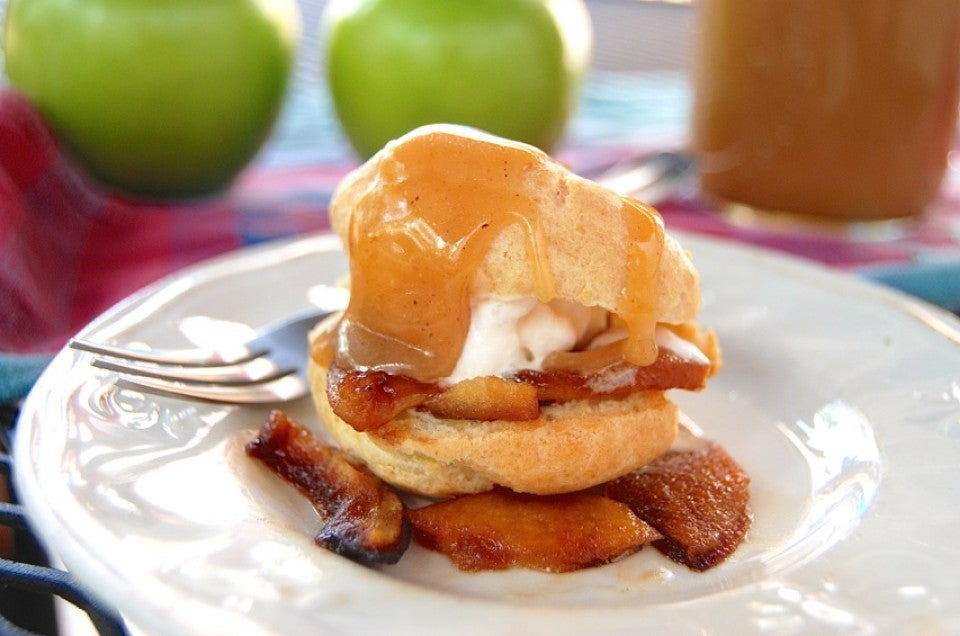 You know how things sound so much fancier – more festive, even more exciting – when you say them in a foreign language?
Say "spaghetti with tomato sauce." Now, say "pasta marinara." See what I mean?
Or "petits pois." Fairly rolls off the tongue, doesn't it? Unlike "peas." Or even the more refined "baby peas."
And then there's the lofty profiterole (say pruh-FIT-uh-roll), denizen of mid-scale restaurants coast to coast. OK, in plain English, it's a cream puff shell stuffed with ice cream and drizzled (or more often, drowned) in fudge sauce. But give it a French name, and it's elegant; refined. Worthy of the extra dollar or two the restaurateur tacks onto its price, compared to that slice of apple pie or dish of ice cream.
I recently discovered a recipe for cream puff shells made partially with whole wheat flour. Whaaaaa? Yup, that's right – a whole-grain cream puff shell. Which is less oxymoronic than you think. Combining white whole wheat flour with bread flour yields a puff that's just as light and equally tall as a puff made with all-purpose flour – promise!
And the taste? Trust me, your white-flour audience will never know the difference.
Autumn is stealing quickly onto the landscape, with its palette of golds, oranges, and rich browns. So a whole-grain cream puff stuffed with sautéed apples and ice cream, and drizzled with caramel sauce (salted, naturally) – all the components in varying shades of gold – is a perfect way to greet the season.
Welcome, fall!
Er, bienvenue, automne!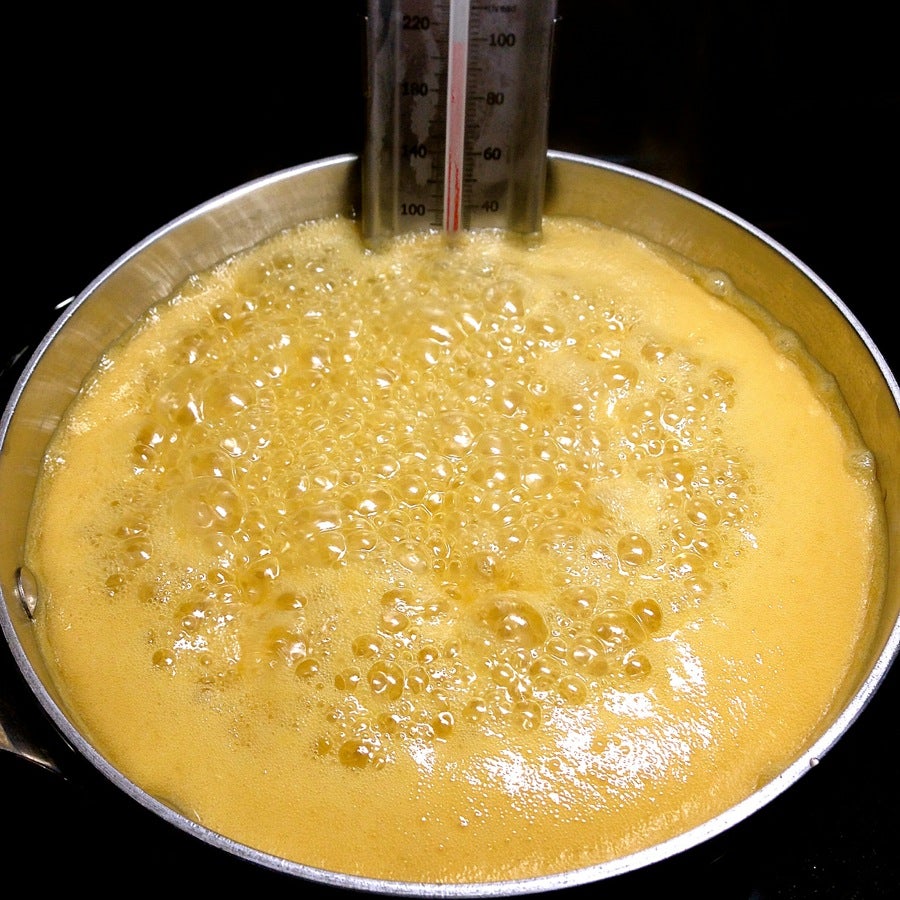 The first thing you're going to do is make the sauce – a rich, thick, creamy variation on caramel, featuring boiled cider.
Check out our recipe for Apple Cider Caramels; you'll find the sauce variation under "baker's tips."
Hint: Use a deep enough pan! The caramel mixture needs to boil for 8 to 10 minutes or so, and it'll rise up the side of the pan quite precipitously. I lucked out with this pan – the caramel came to within about 1/2" of the top, then settled back again. Dodged that sticky bullet!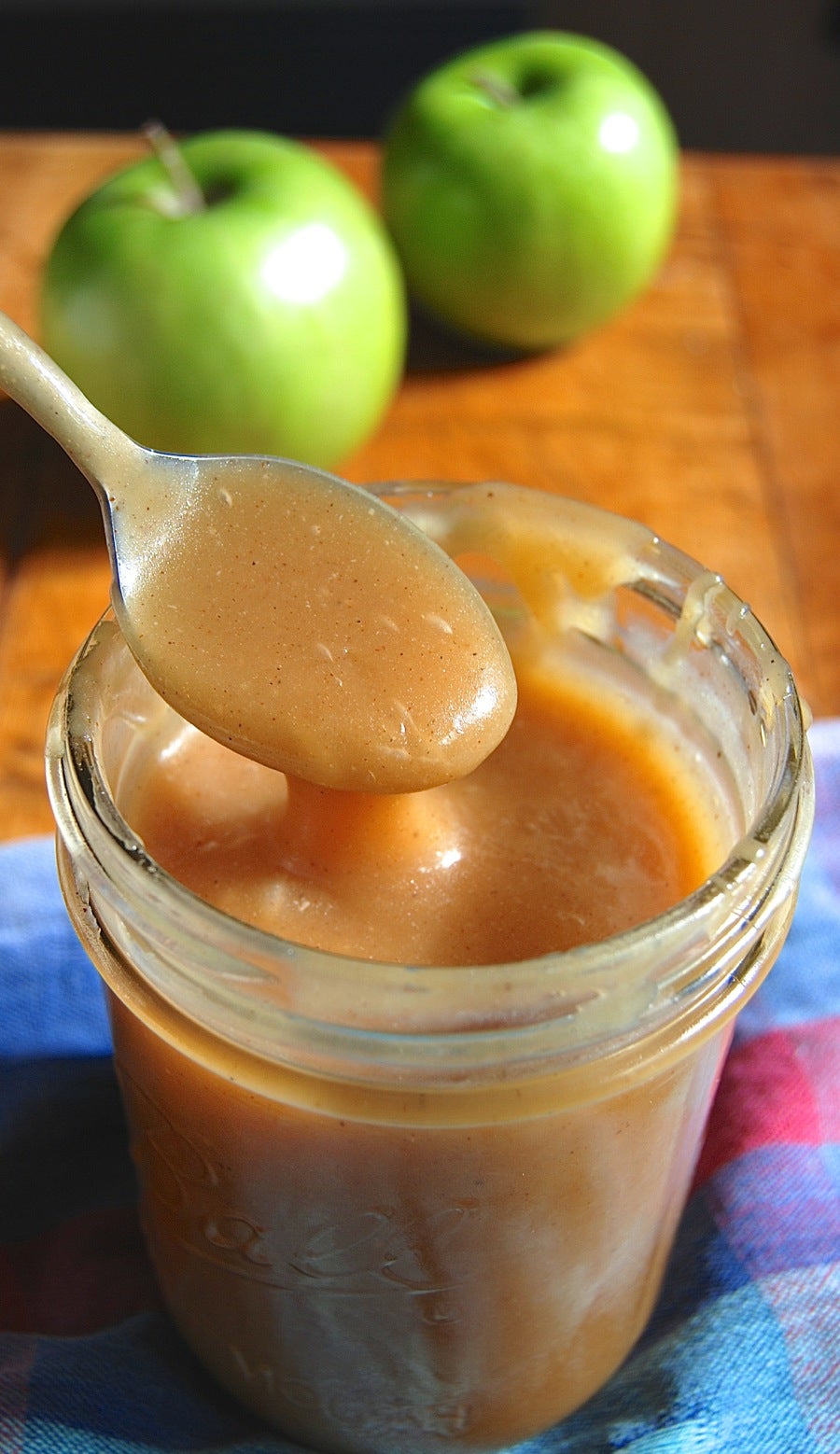 And here's the sauce, ready for its starring role atop the profiteroles.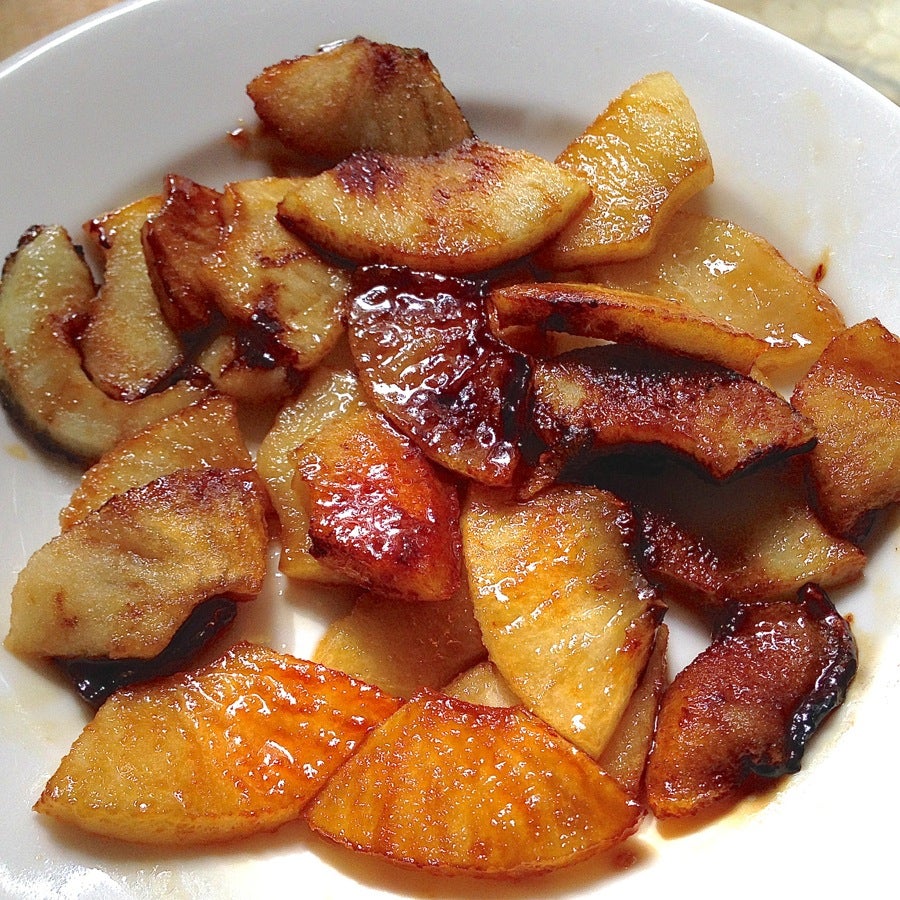 Next, get your filling ready. For every two profiteroles you want to serve, core, peel, and slice 1 large apple. Sauté the apple slices in enough butter to cover the bottom of the pan, and brown sugar/cinnamon to taste. A touch of boiled cider isn't amiss, either.
When I did this, I used 1 tablespoon butter, 2 tablespoons brown sugar, 2 teaspoons boiled cider, and a pinch of cinnamon for each apple.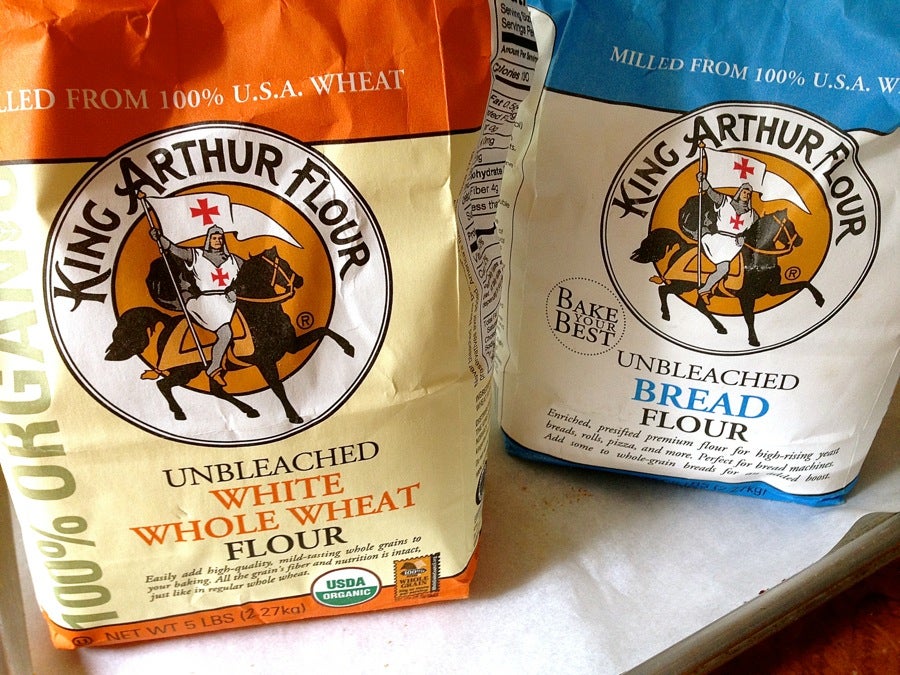 Whole-grain cream puff shells - who knew? Yes, you can make delicious, tender, high-rising puffs (pâte à choux) using a combination of white whole wheat flour and bread flour. Here's how –
First, preheat the oven to 425°F. Line two baking sheets with parchment.
Combine 3/4 cup (85g) white whole wheat flour and 1/2 cup (60g) bread flour in a small bowl, and set aside. (Or you can just use 1 1/4 cups (149g) all-purpose flour.)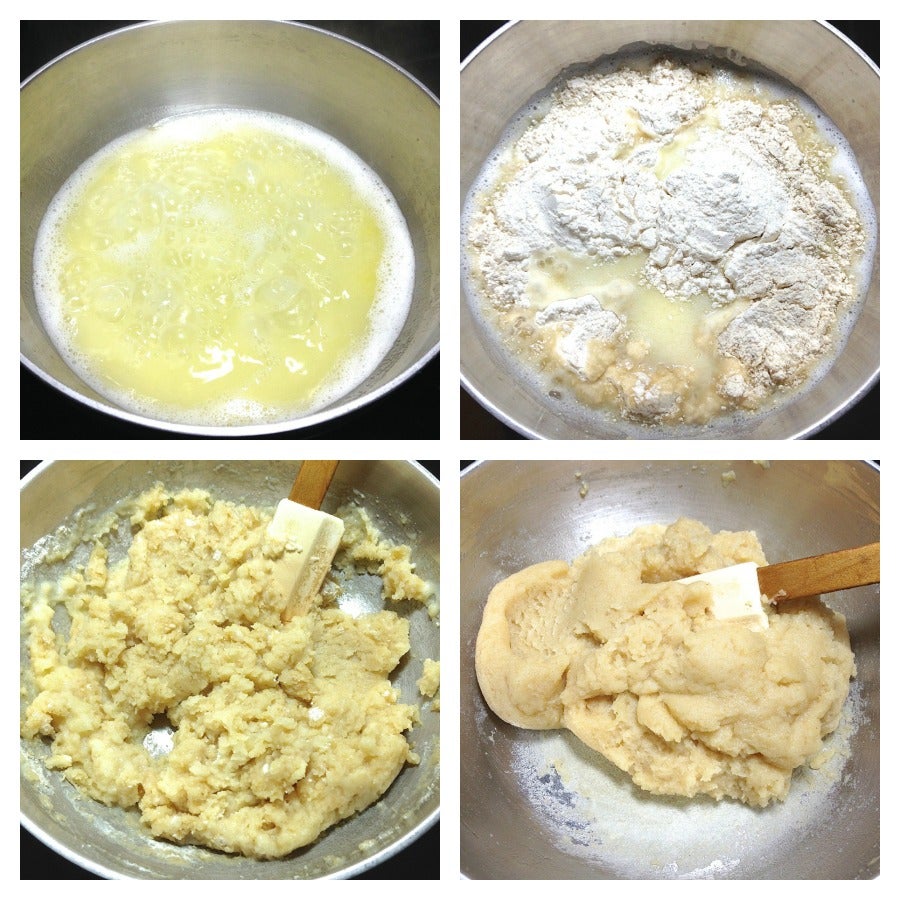 Place the following in a saucepan:
1 cup (227g) water
8 tablespoons (113g) unsalted butter
3/8 teaspoon salt
Bring the mixture to a boil over medium-high heat. Remove from the heat and add the flours all at once. Stir vigorously until well combined. Return to the heat  and cook, stirring constantly, until the dough forms a rough ball, about 15 to 30 seconds.
Remove the pan from the heat and transfer the contents to a mixing bowl. Let the mixture cool for 5 to 10 minutes, or until a thermometer inserted into the center reads 140°F. You can speed the process along by stirring or gently beating the pastry for a minute or so.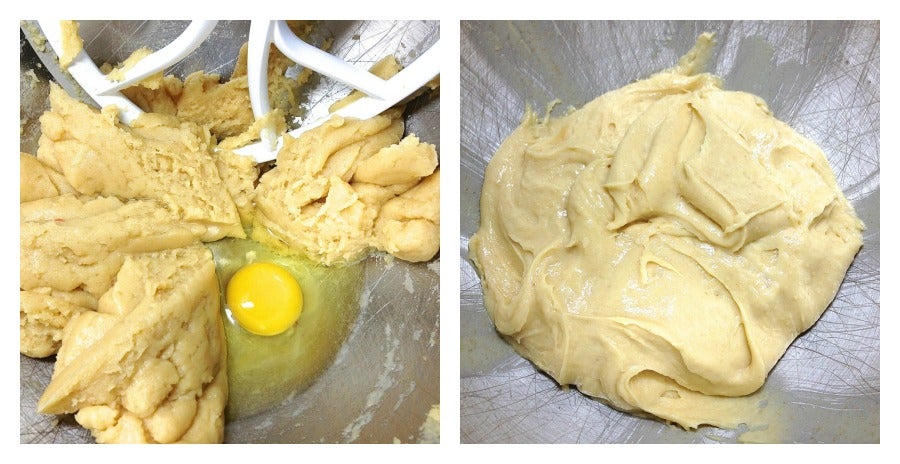 Beat in 4 large eggs, one at a time. The first egg should be fully incorporated before the second is added. The mixture will seems slippery at first, but will smooth out as more eggs are added.
Beat for 2 minutes after adding the last egg.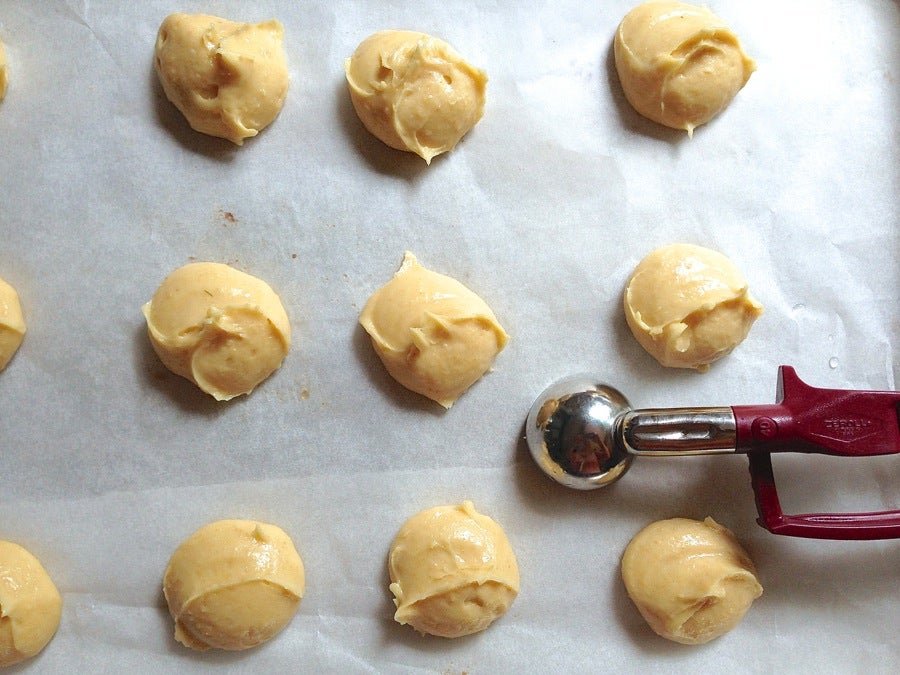 Drop the dough by heaping tablespoons or use a tablespoon scoop onto the prepared baking sheet; a tablespoon cookie scoop works well here. The mounds of dough will be approximately golf-ball sized. Leave a couple of inches between the balls of dough, as they'll expand quite a bit in the oven.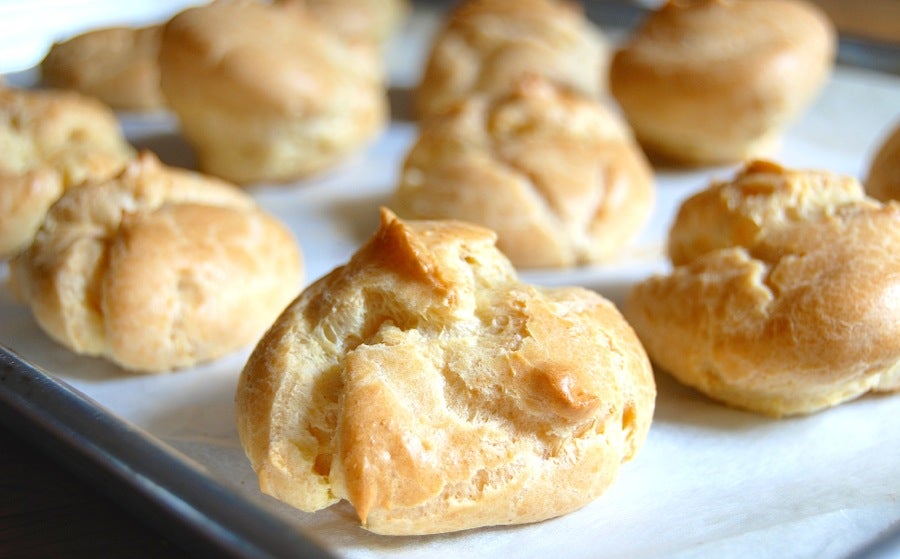 Bake the puffs for 8 minutes at 425°F. Don't open the oven door during the bake. After 8 minutes, reduce the oven temperature to 375°, and bake for an additional 10 to 12 minutes, or until the puffs are golden brown.
Remove the puffs from the oven and, using a sharp paring knife, make a small slice near the top of each, to let the steam out. Return the puffs to the oven.
Turn the oven off, prop the oven door open slightly, and let the puffs cool inside for 30 minutes. Transfer to a rack to cool completely.
At last! We're ready to make those profiteroles.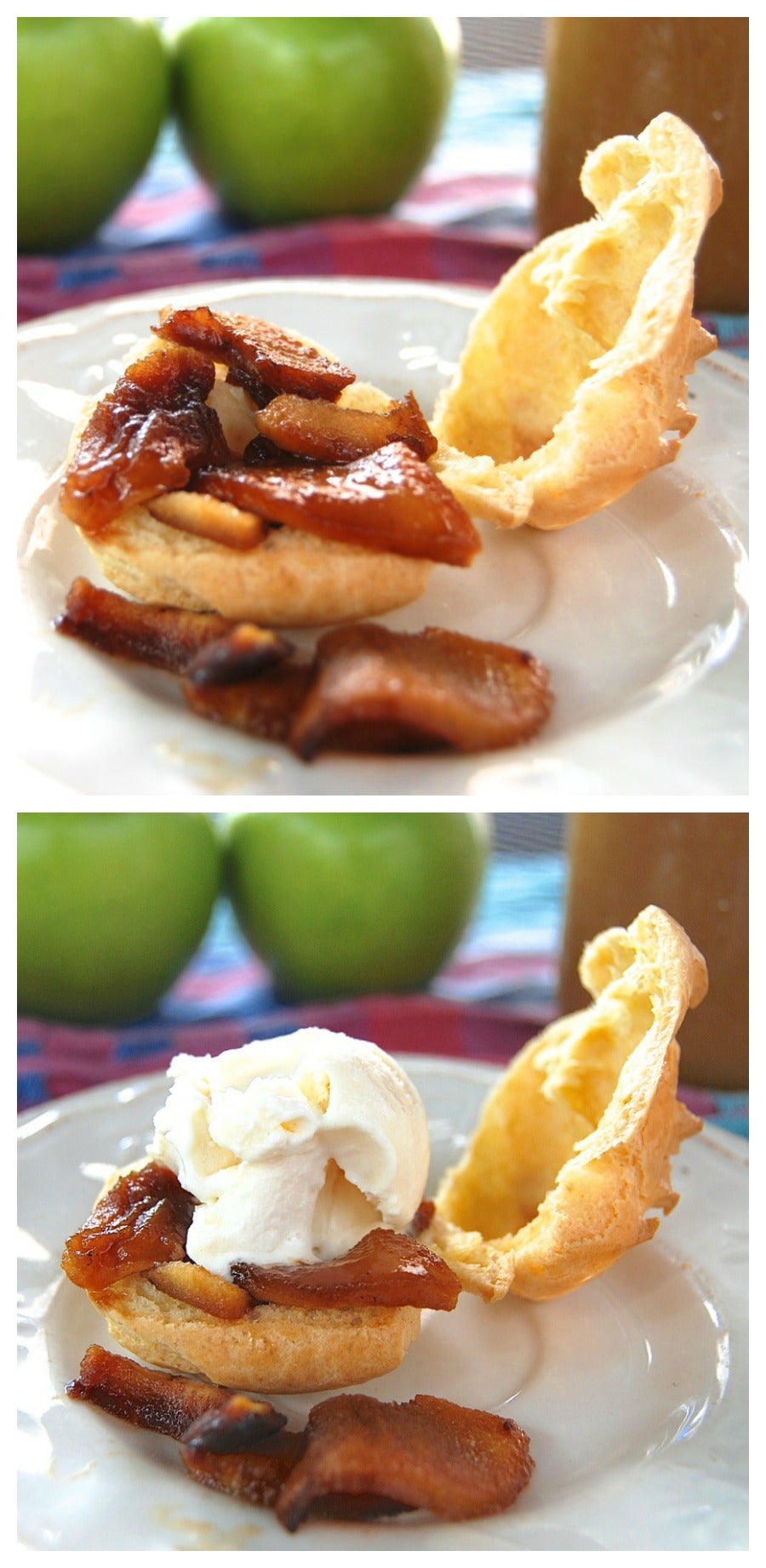 For each serving, slice a puff shell horizontally. Layer it with some of the sautéed apples, then a scoop of ice cream. I'm using simple vanilla here, but feel free to come up with your own apple-friendly pairing.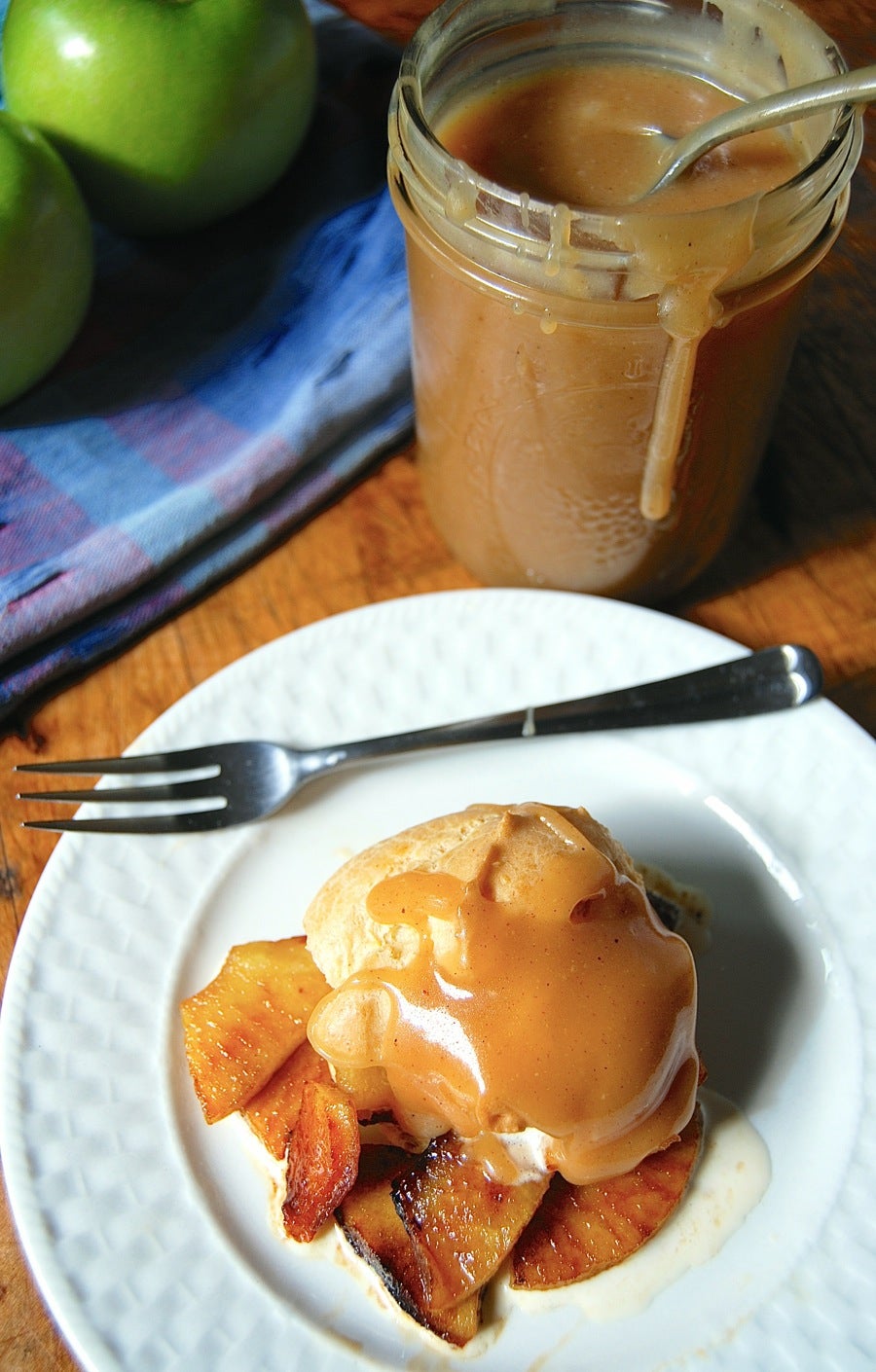 Put the shell's top back on. Heat the sauce until it's just pourable, and drizzle it over the filled shell. Sprinkle sparingly with sea salt.
Can you say profiterole?
Never mind the language quiz – dig in!
There's no recipe on our site for these profiteroles, but if you simply make Pâte à Choux and the sauce version of Apple Cider Caramels, you're there. Enjoy!
Jump to Comments