4 must-have frostings every baker should know
The icing on the cake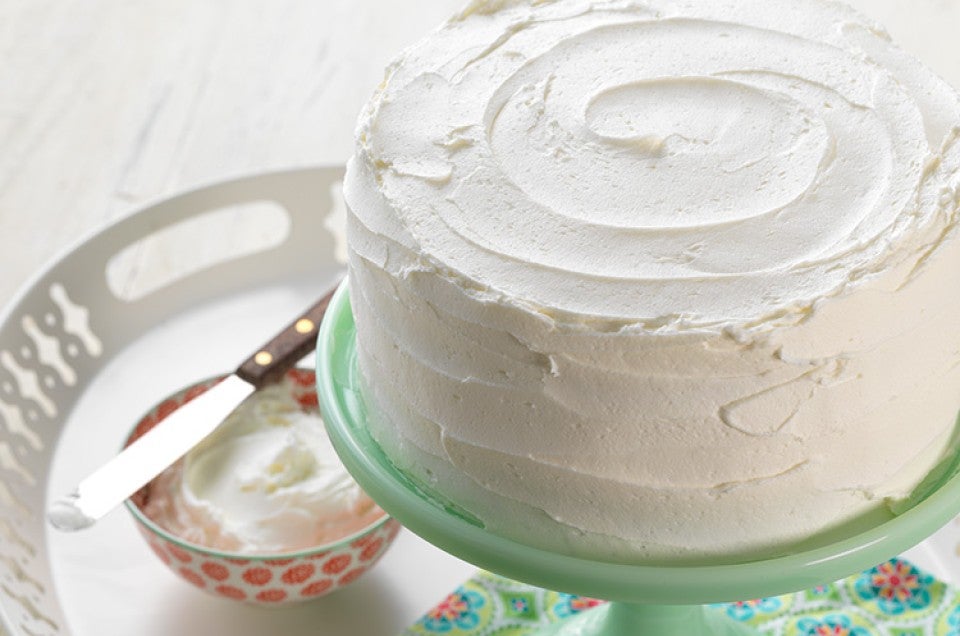 In the beginning, there was cake. Or maybe there was icing. Perhaps frosting? Wait, wait, maybe glaze came first?
Forget the chicken and the egg: think cake.
For every cake and every occasion there's an icing or frosting that will elevate the cake to championship level. On the best days, there are several options to choose from. And on the harder days – too many choices to make an easy decision.
The good news? We're here to show you our top four icing recipes plus tips for knowing when to use each one; which ones are fast, and which will require a little more time and patience.
Before you know it, you'll be an icing pro  and your baked goods will really take the cake. *groan* (Sorry, I couldn't help it!)
First up on the hit list is Easy Vanilla Buttercream Icing. Also known as American buttercream, it's the butter and confectioners' sugar icing that for many of us was our first foray into frostings. Do you remember seeing recipes that basically read "1 stick of butter, 1 box of confectioners' sugar, 2 tablespoons of milk," like I do?
Pros:
Easy + fast, uses pantry staple ingredients
Takes bright colors well
Stiff enough to pipe, smooth enough to spread, plus gluten free to boot.
Classic, familiar flavor = birthday cake frosting
Cons:
Sweet, somewhat sugary taste
Can have a gritty texture
Use this icing for kids' cakes, bake sale goodies, and warm weather baking (where using shortening instead of butter will allow the icing to hold up better in the heat).
Never fear, chocolate is here. Our Super-Simple Chocolate Frosting is the ultimate chocolate icing. Smooth, rich, and intense chocolate flavor.
The icing starts with a warm cream and cocoa base that, once cooled, gets whipped with confectioners' sugar until light and creamy. This is the frosting that makes you sigh and reach for another spoonful before you even start to ice the cake.
Pros:
Deep, intense chocolate flavor
Rich, dark color
The "ultimate" chocolate icing
Cons:
More involved that American buttercream (read more dishes)
Can be overwhelmingly chocolate for some tastes, especially those of children
Requires top quality cocoa, so a bit more expensive to make
Use this icing for all your "death by chocolate" needs.
Every now and then you're going to need an icing that outdoes them all. Enter Italian Buttercream. This is the icing you'll find on many wedding cakes, and topping treats in upscale cupcake shops. Smooth as silk really describes its texture best.
You'll need a bit of special equipment for this one, namely a stand mixer and a good candy thermometer. This icing comes together in stages, as you beat egg whites, boil sugar syrup, and whip in lots and lots of soft butter.
The best news, though? It's hard to "break" this buttercream, even with mistakes along the way. Check out Chef Susan Reid's blog for the full buttercream experience.
Pros:
Amazing silky texture, less sweet than American buttercream
Can be flavored a million different ways
Perfect for softer, more pastel colors
Freezes well for up to 6 months
Cons:
Requires special equipment (stand mixer, candy thermometer)
NOT for those watching calories
1 hour+ hands-on time
Use Italian Buttercream for special-occasion cakes, weddings, anniversaries, and the like. Make large batches and keep extra in the freezer for last-minute frosting.
Next up, ever-versatile Meringue. It's the only icing I can think of that tops both cakes and pies, plus can be baked on its own for a cookie or dessert. A basic meringue is just four ingredients: egg whites, sugar, cream of tartar, and salt.
Don't let the simplicity fool you into thinking this icing is boring, though. Switch up the sugar, add in flavorings and nuts, the world is your meringue-covered oyster. (Probably not the most appealing analogy I've ever made, eh?)
Pros:
Simple ingredients, simple techniques
Fat-free, dairy-free, gluten-free
Bright white, holds piping well
Cons:
Can be fickle in humidity
Not a "make ahead" recipe
Use meringue on lighter cakes such as angel food or chiffon, plus pies and tarts. Meringue pairs very well with fruits. Toasting meringue with a cook's torch at the table makes for a smashing finale to dinner.
Our favorite frostings
I hope you've enjoyed this look at popular icings and frostings. This is just the piping tip of the iceberg, though. Perhaps you saw an old favorite here, or a new icing to add to your recipe file.
Maybe you're shaking your fist at the screen, though, lamenting my exclusion of your treasured tried-and-true topping. I hope you'll take a minute and share your comments with us. Personally, I've got a few recipe cards set aside, just waiting for your input.
Jump to Comments