Since the earliest days of human civilization, communities have been coming together in the name of food.
In good times and bad, we sit down at the table to break bread with one another. When those we love are struggling, we feed them; we revel in the joy of seeing people enjoy the fruits of our culinary labor, and the feeling that it brings us when we care for one another in this way. Food does more than fuel our bodies – when created with intention, it nourishes our soul.
Food is love.
"Making someone a meal is an act both simple and profound. It's a way of recognizing each other on a basic, beautiful, and fundamental level. It's a way of saying, "I see you and I care that you are hungry." Hunger can take many shapes and can define many emotions and needs. When you feed someone, anyone, you meet those needs, physical, mental, and spiritual."
-Maria Nelson, Pink Patisserie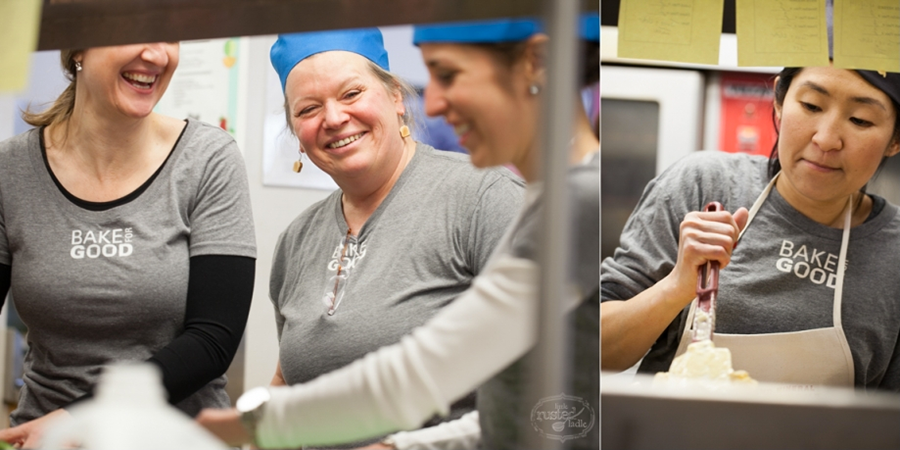 It all started with a tiny seed of an idea: what if we at King Arthur Flour could share our company's love of baking and giving with the nation at large, in the same way that we share it with our own community here at home?
Employee-owners regularly team up to prepare meals at our local homeless shelter, and our bakery has a long-standing policy of giving day-old breads away to people in need. With a community stretched all across this big country, why not spread the love?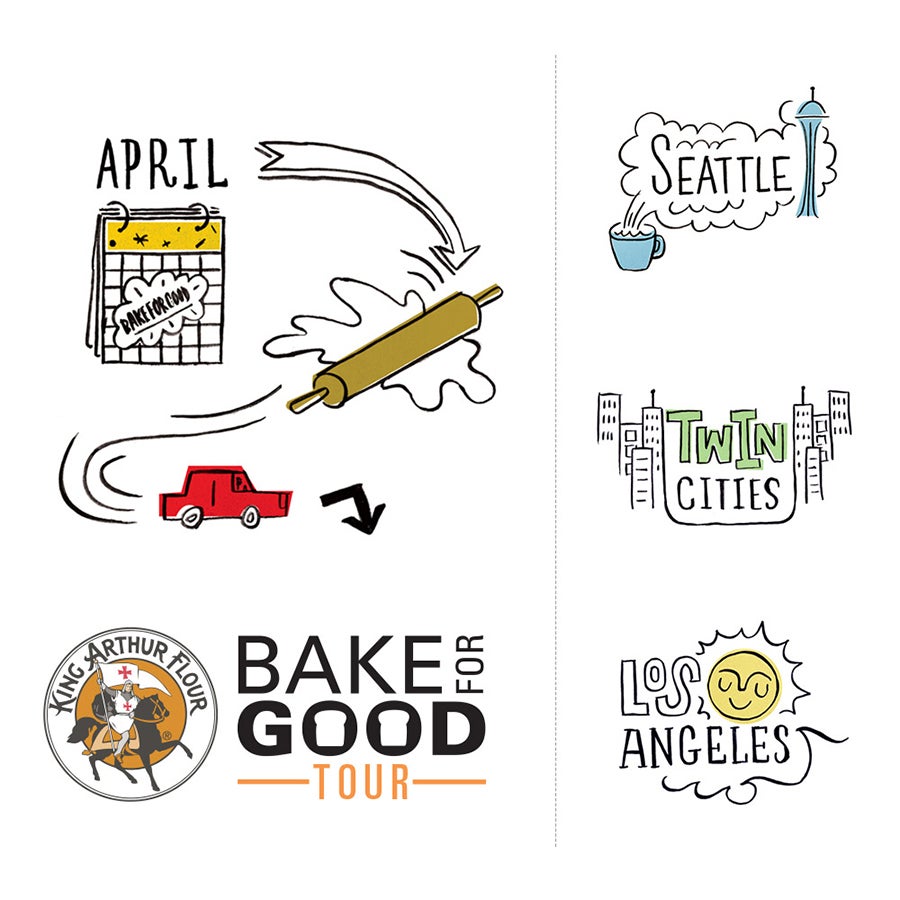 And so the Bake for Good Tour was born. We would invite some of our favorite food writers and bloggers from Seattle, Minneapolis, and Los Angeles to join us for a weekend of baking and giving back in their home cities, in the hopes that they'd share their experience and inspire others to join the movement.
On the first day of the workshop, we would teach them basic pie and bread technique, creating scores of loaves, rolls, braids, and pies to share. On the second day, we'd ask them to "pay it forward" by preparing a full sit-down meal for a homeless shelter in their own backyard.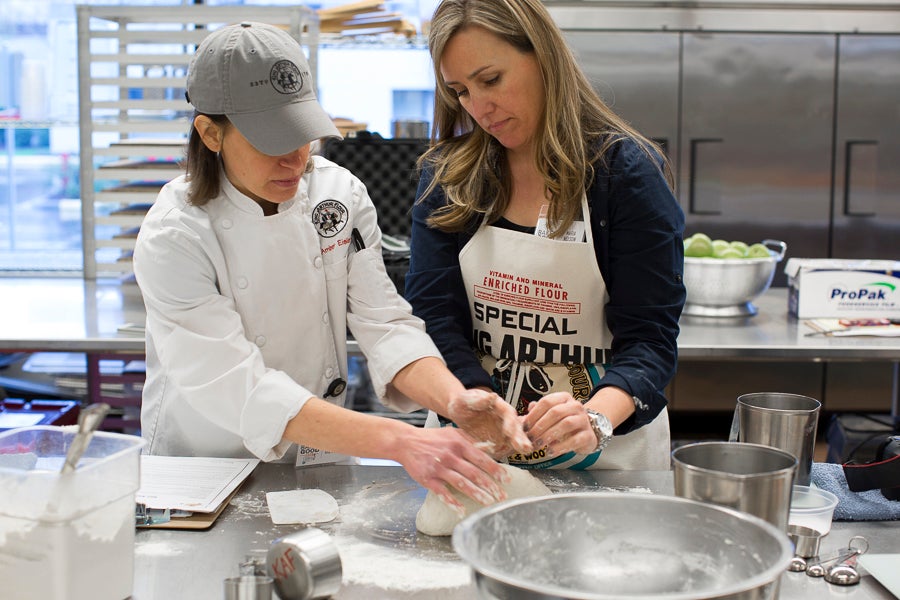 Amber shows Maria (Pink Patisserie) how to knead bread dough.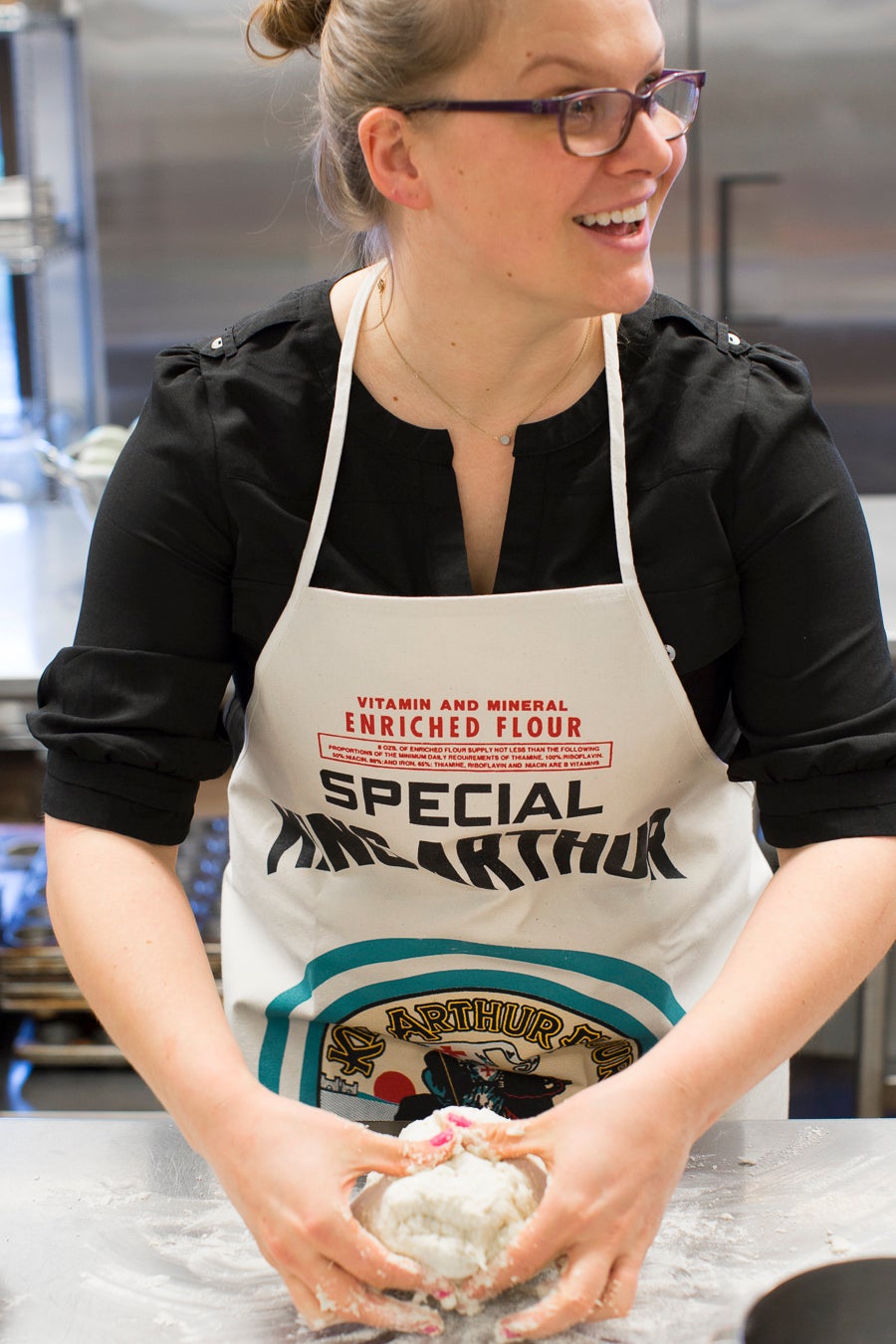 Megan Keno (Wanna Be a Country Cleaver) kneads bread dough.
From the start, we were humbled and amazed by the responses we received from our bloggers. Of course they were excited to tame their yeast bread and pie crust anxiety with our expert bakers. But really, it was the service component that compelled them to accept our invitation. These bloggers, like so many of our customers, are truly a cut above.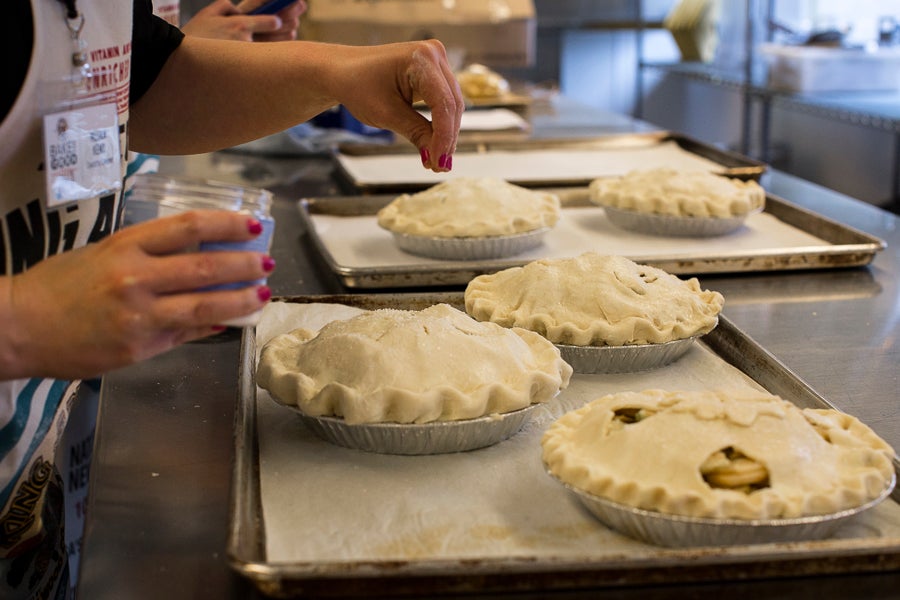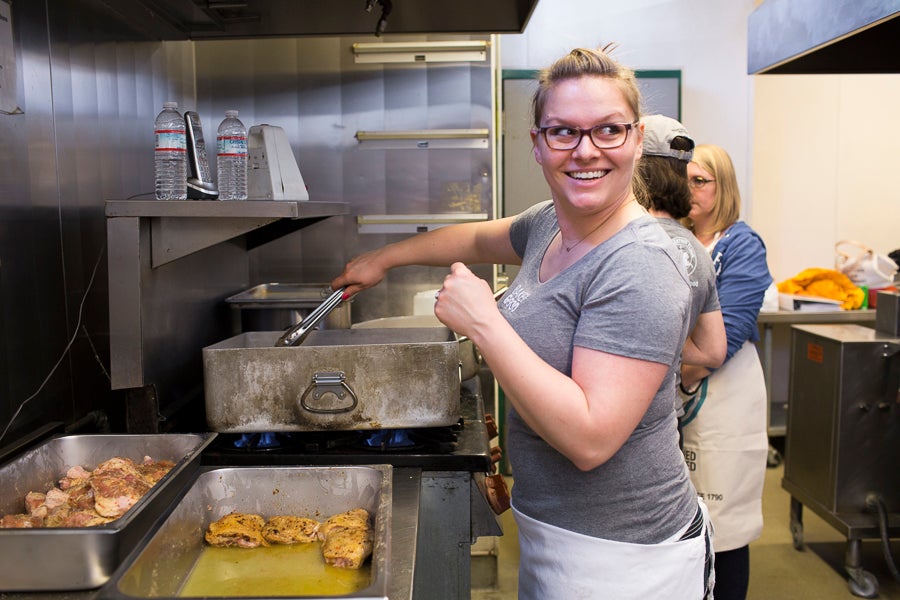 Food prep begins at Pagliacci's Commissary Kitchen.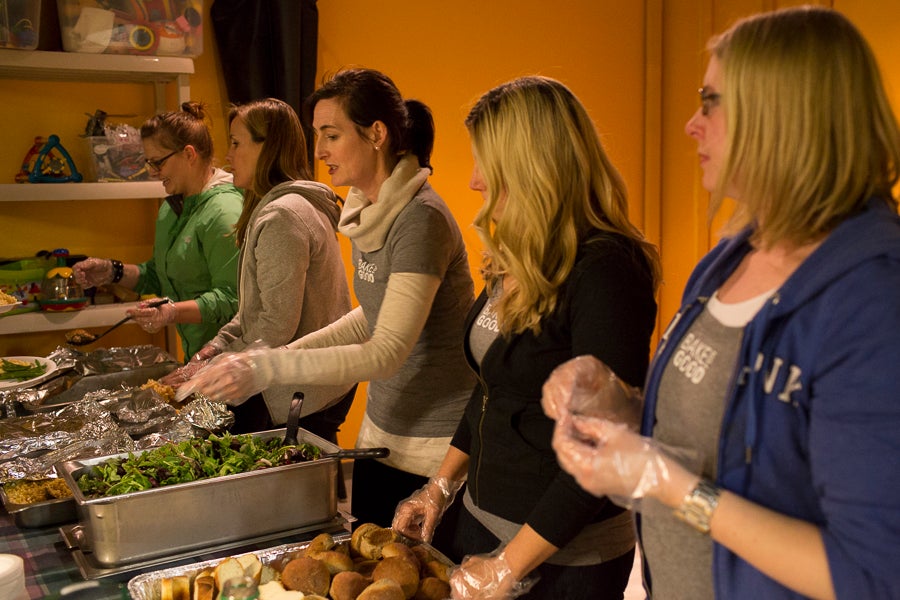 Team Bake for Good Seattle!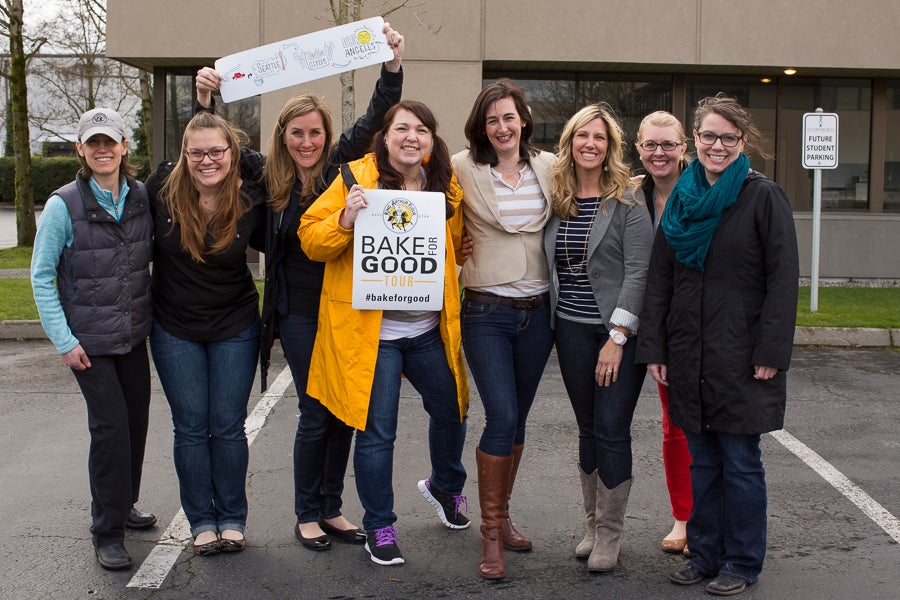 Left to right: Amber Eisler, Megan Keno, Maria Nelson, Peabody Rudd, Coryanne Ettiene, Jenny Ingram, Melissa Bahen, and Megan Reardon
Having shared dinner with the residents of Seattle's UGM, we packed it up and headed to Minneapolis for the second leg of our tour!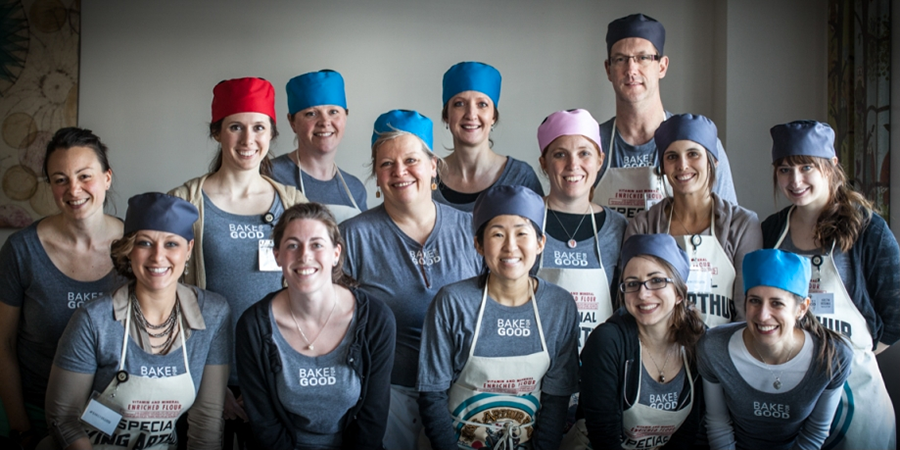 Bake for Good Minneapolis (Photo courtesy of Jena Carlin, Little Rusted Ladle). Back row,  left to right: Julia Reed (King Arthur Flour), Katherine Taylor (Cookie + Kate), Amanda Rettke (I Am Baker), Susan Reid (King Arthur Flour), Brenda Score (A Farm Girl's Dabbles), Stefani Pollack (The Cupcake Project), Jim Rude (Little Rusted Ladle), Taylor Ellingston (Greens and Chocolate), Kristin Rosenau (Pastry Affair). Front, left to right: Jena Carlin (Little Rusted Ladle), Natasha Wood (King Arthur Flour), Alice Choi (Hip Foodie Mom), Shaina Olmenson (Food for my Family), and Erin Clark (The Law Student's Wife)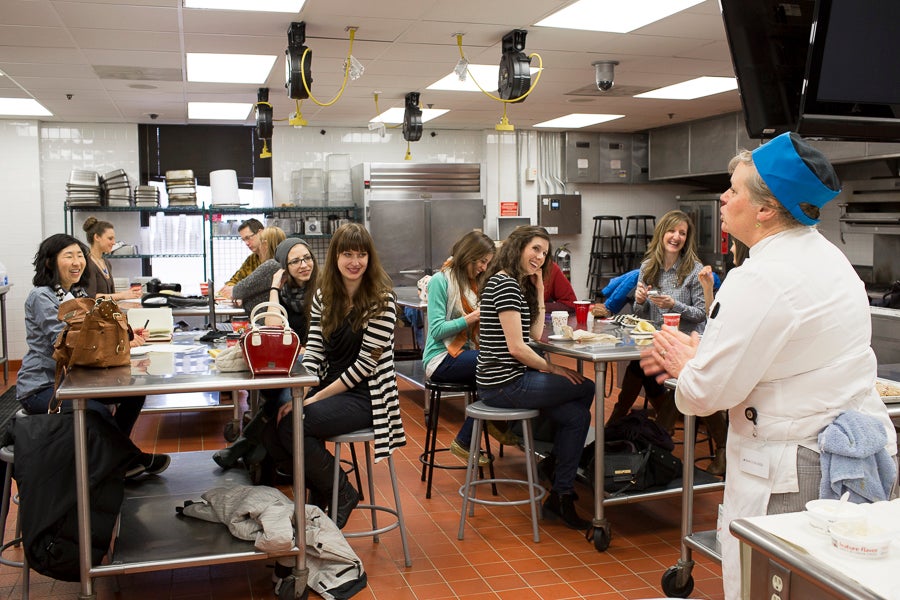 Chef Susan Reid gives a rousing introduction to our Bake for Good Minneapolis participants at the Art Institute Minneapolis – all of our Minnesota bloggers braved a late-spring snowstorm to be with us.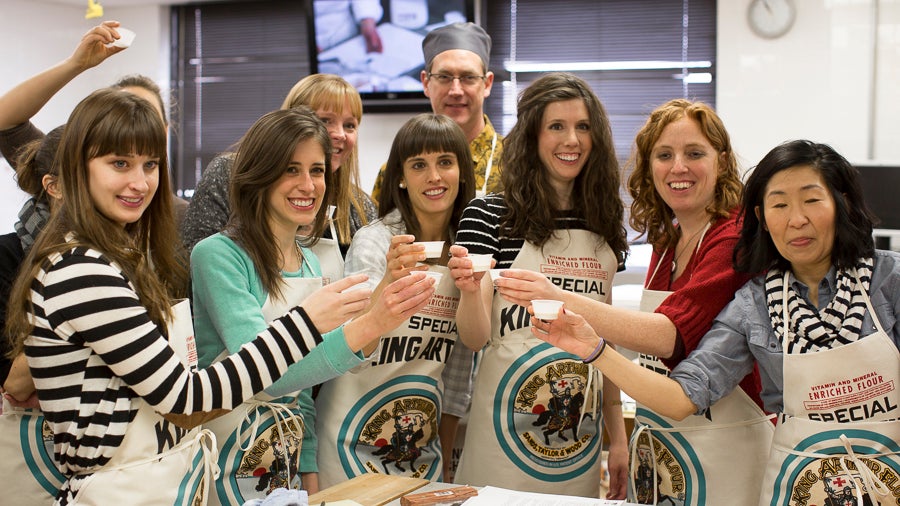 Shots! Of vanilla in milk, that is. Want to know what your vanilla tastes like? This is how.
Day 2: Dinner service prep begins at the Family Service Center. (For the very best photos from day 2, check out Little Rusted Ladle's blog post.)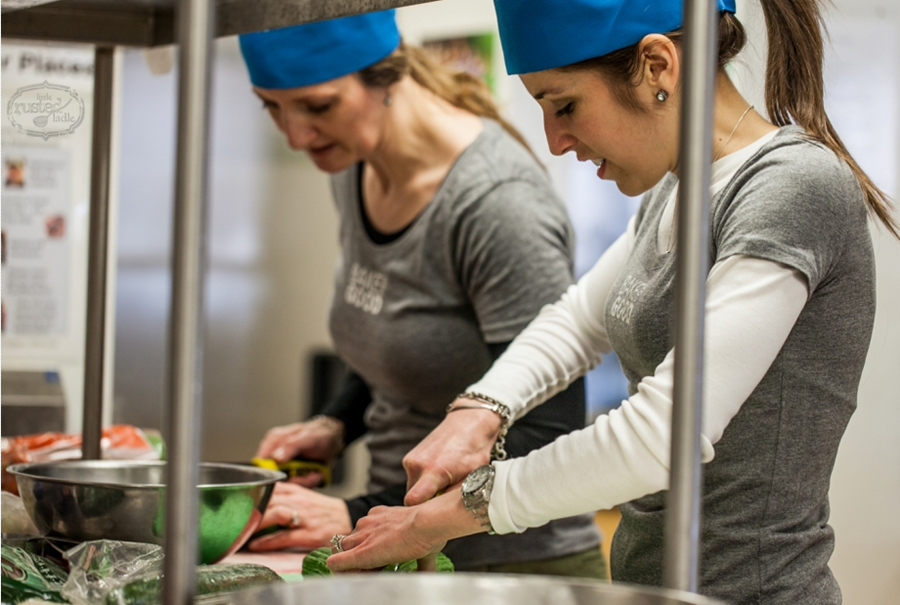 In Minneapolis we were able to leave enough leftovers to repeat the meal an additional time in the future – a big help, we were told, since everything we left was easy to freeze for a time when the need was again dire. After cleanup we said our goodbyes and headed to our final stop on the tour, Los Angeles.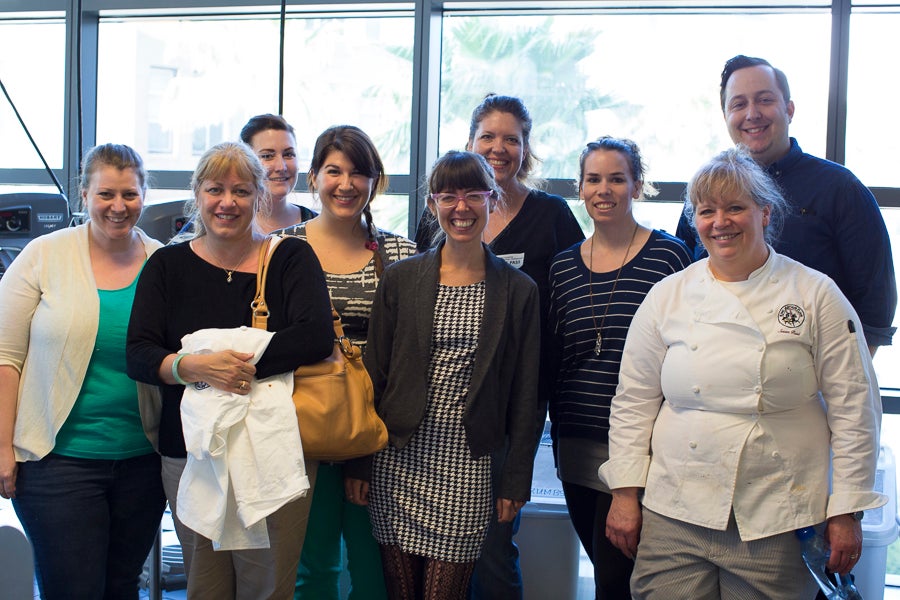 Team Los Angeles! Left to right: Corelyn Coats (Garlic My Soul), Robyn Sargent (King Arthur Flour), Jessica McNew (Beer and Baking), Jennie Palluzzi (Garlic My Soul), Jessie Oleson Moore (Cake Spy), Nicole Hamaker (Pinch My Salt), Julianne Bayer (Beyond Frosting), Susan Reid (King Arthur Flour), and Farley Elliot (Over Over Under)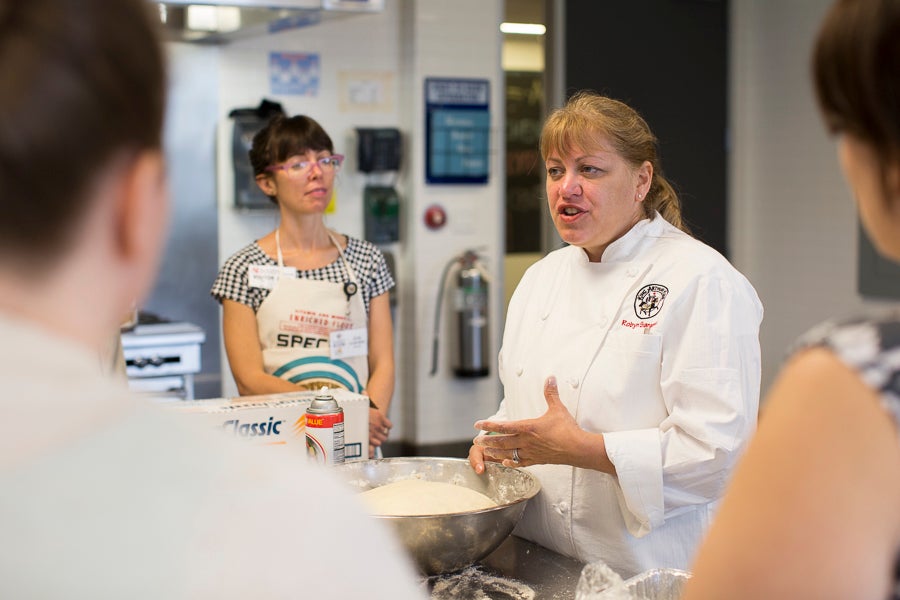 Chef Robyn Sargent covers the basics of scones, and the difference between whole wheat and white whole wheat flours on our first day at the Art Institutes Hollywood.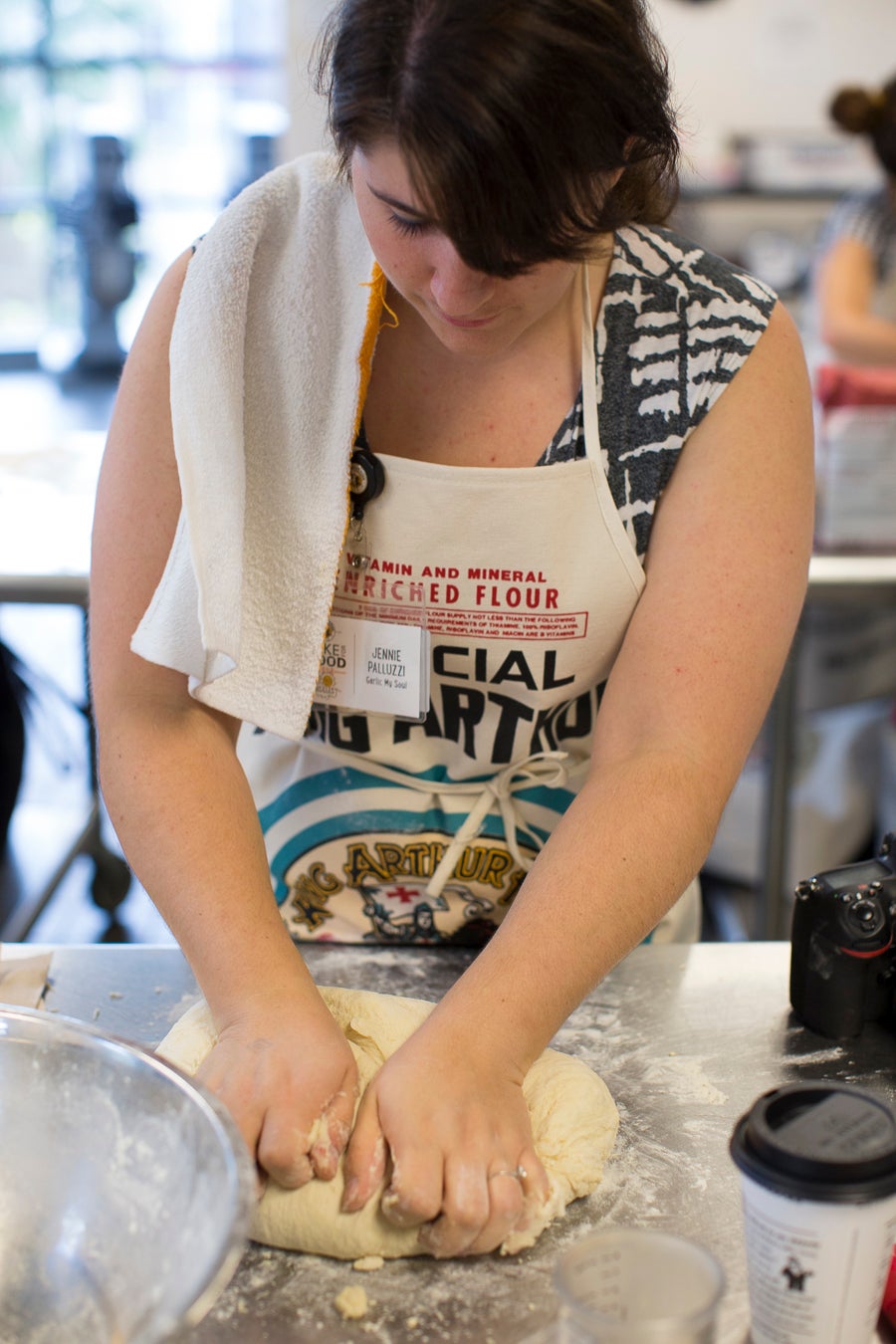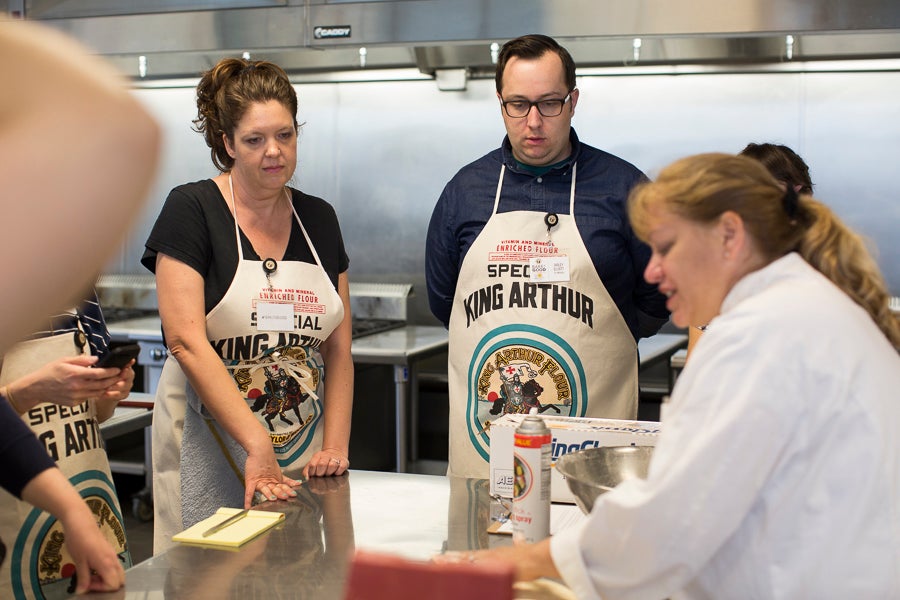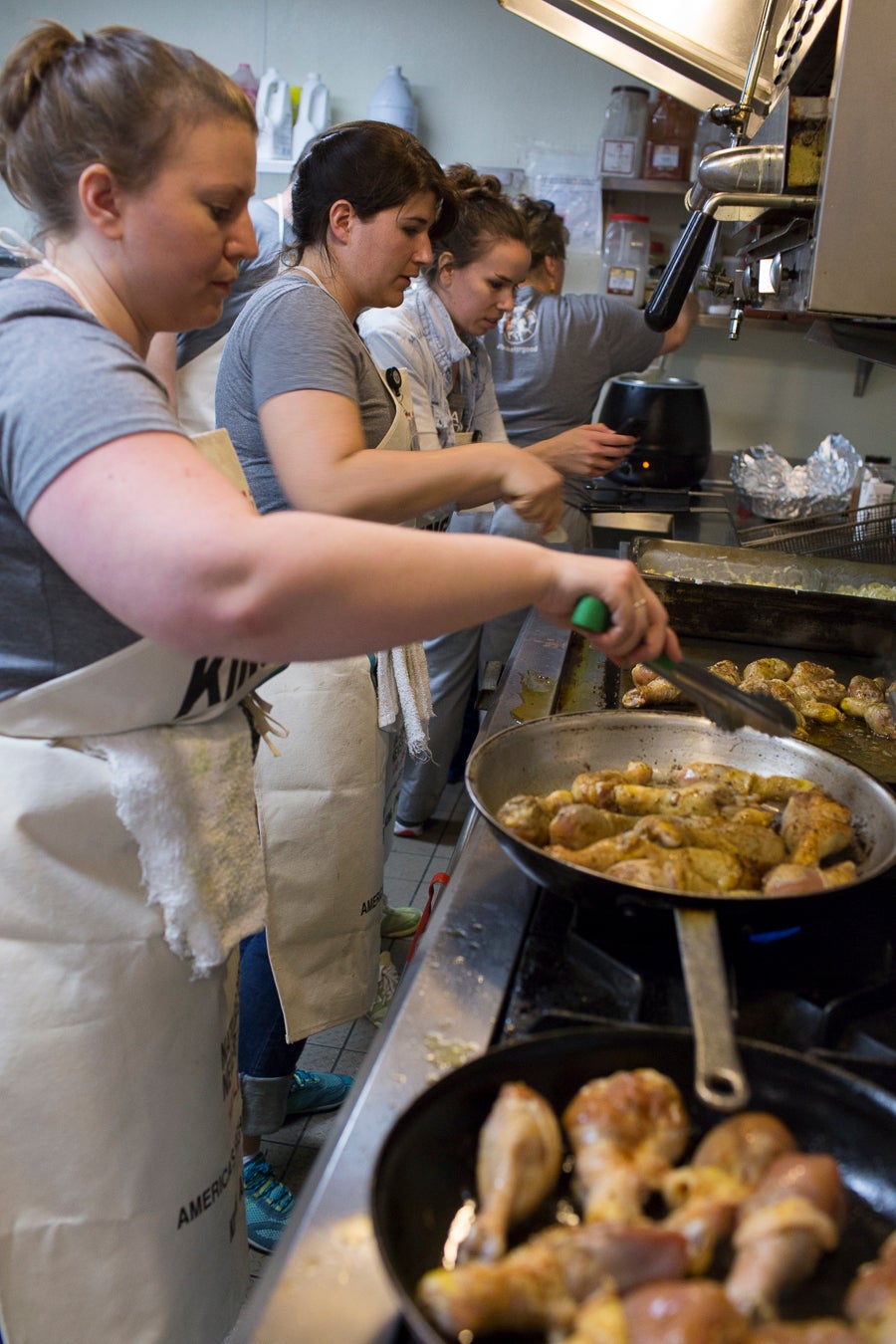 Meal prep begins at PATH (People Assisting the Homeless) Shelter.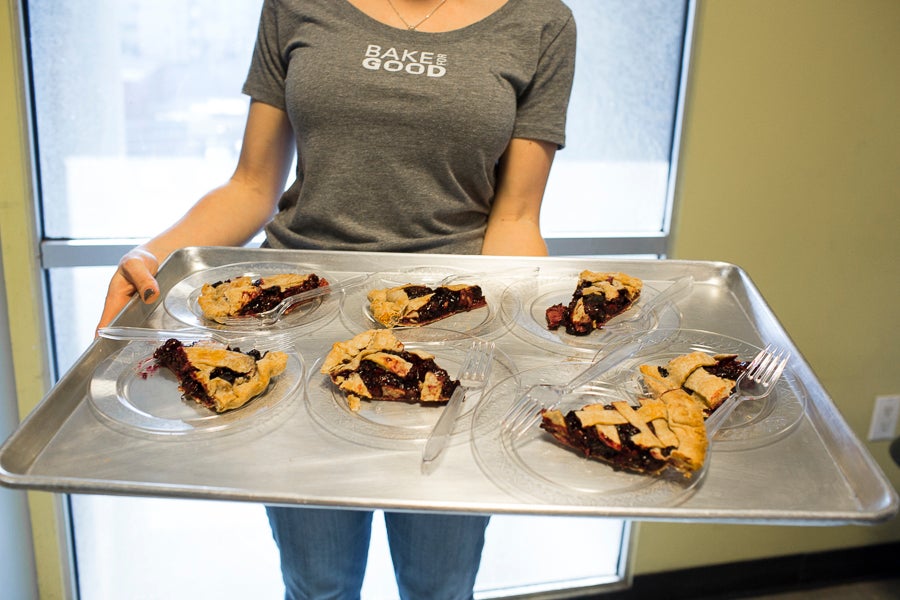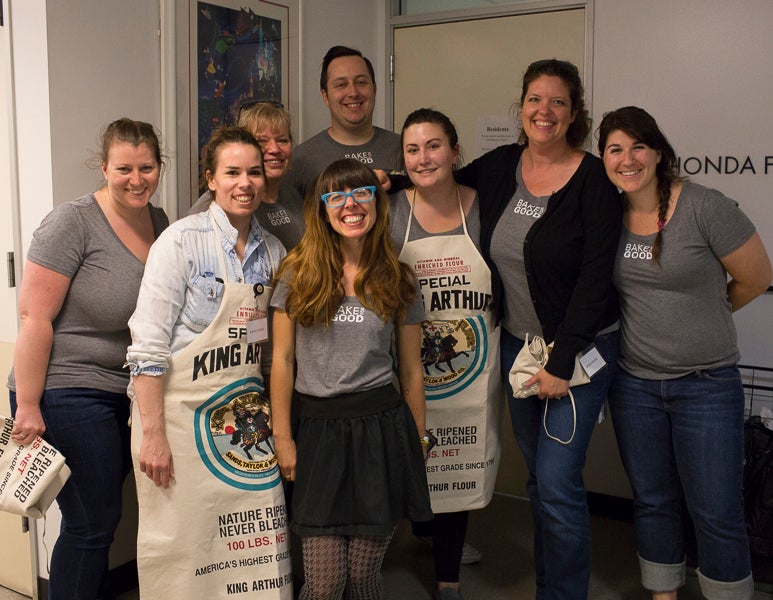 Three weeks, three cities, 25 bloggers, and hundreds of meals served. From the Union Gospel Mission Emergency Shelter in Seattle, to the Family Service Center in St. Paul, to the PATH shelter in downtown Los Angeles, we traversed the country in the name of serving others.
In LA, we held two public events in addition to the blogger workshop, giving away hundreds of free cookies (just to make people smile!) and free bags of flour to anyone willing to use it to bake for good in their own communities – to pass it on, and keep this torch of goodwill and service moving forward.
At each of our public events, we raised money to support Homeboy Industries, an organization committed to getting ex-gang members off the streets and into jobs. We proudly supply their bakery with King Arthur Flour.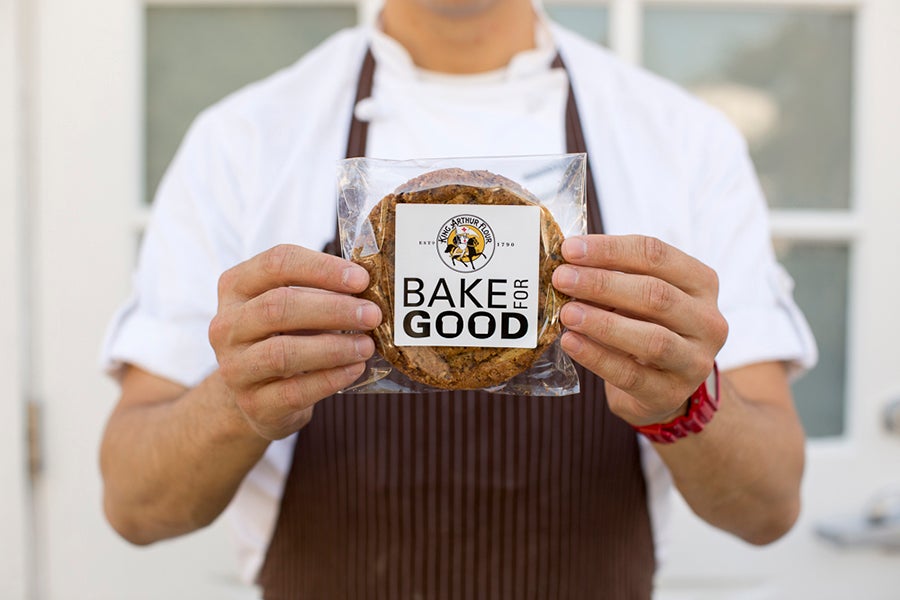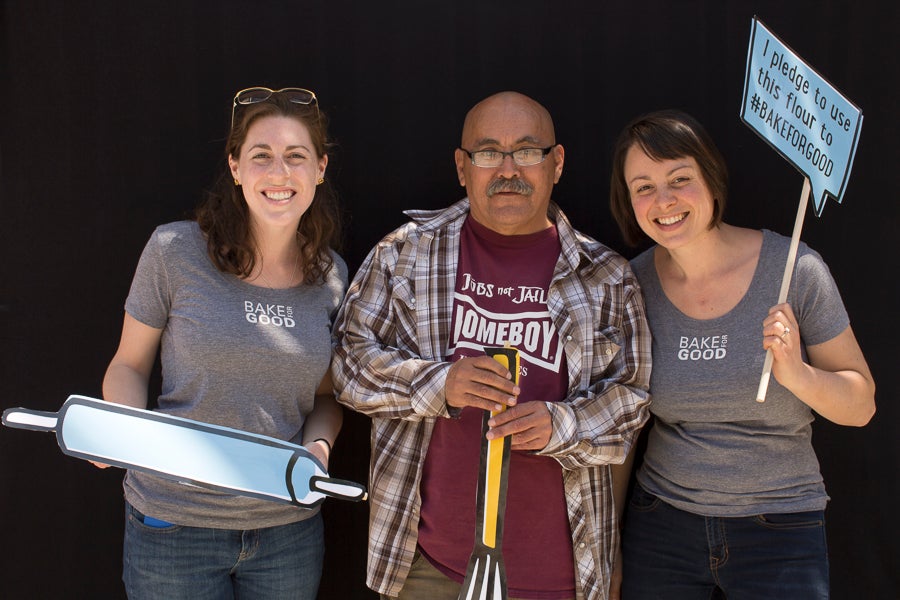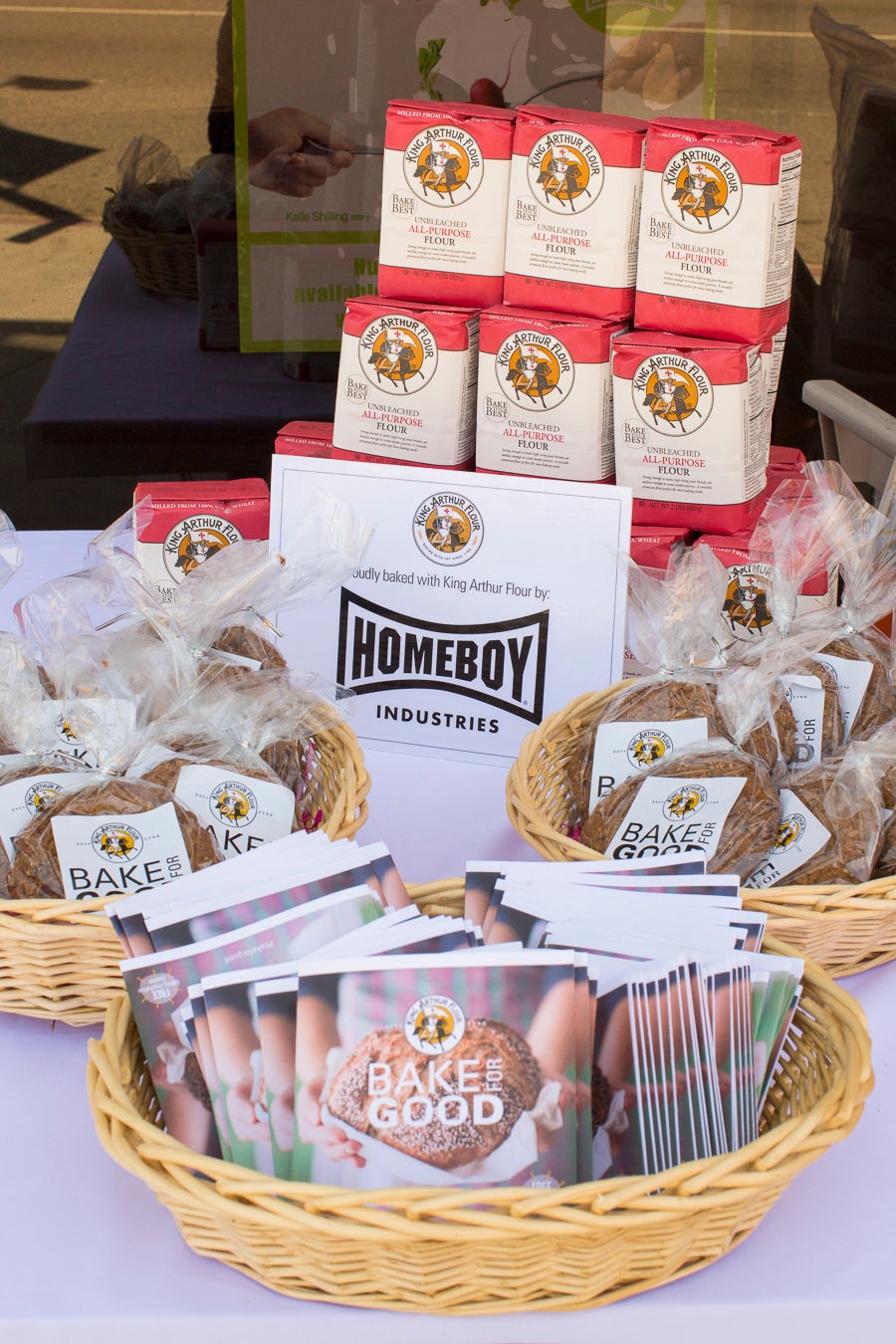 While every stop was unique, the theme of gratitude, humility, and thanks followed us everywhere we went. We got more than we gave. While it was often difficult to sit with the suffering of others, it was also profoundly moving and humbling to be invited inside.
From the ex-gang members we hung out with at Homeboy Industries, to the homeless men, women, and children we met at the shelters we served, one truth was clear at dinner time: There's no us and them; there's only "we"– sitting around the table, enjoying one of the oldest forms of ritual known to man: breaking bread together.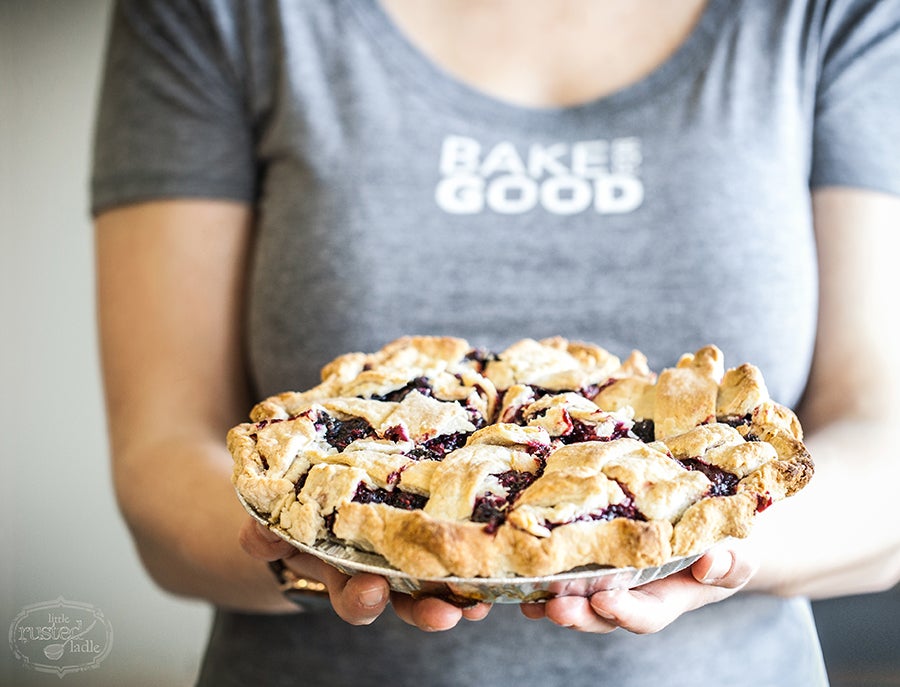 "It will be your job to bake for someone in need. It may be a neighbor next door who just lost their job and is struggling to make ends meet, a co-worker with a family member who's been battling illness (…) or an elderly person without family who's become forgotten. We all know someone in need, and although they may never say anything to us, we know they're there. It's King Arthur's goal, and now our goal as well, to remember these people and let them know we care. What better way to say 'you matter' than by giving someone a loaf of fresh baked bread, or a warm pie fresh out of the oven or a simple pan of gooey brownies." – Jim Rude, Little Rusted Ladle
The tour is over, but the Bake for Good initiative is just warming up – and we need your help to make sure it keeps growing.
The gesture need not be huge for your actions to be profound: bake a batch of cookies for the volunteers at your local humane society, or for your neighbor who you don't talk to all that often. Get your friends together and serve a meal at your local homeless shelter, or bake a loaf of banana bread for the folks who pick up your recycling.
Share your Bake for Good stories with us on Instagram and Facebook using #bakeforgood, so we (and the world!) can see what you make.
Who will you bake for?
Note: The quotes in this article are pulled from two of our favorite Bake for Good posts to come out of the tour thus far. Check out the great work from Pink Patisserie and Little Rusted Ladle to see what we're so in love with – and stay tuned for more of our selections!
Jump to Comments