No-Bake Energy Bites
A quick, easy, and nourishing treat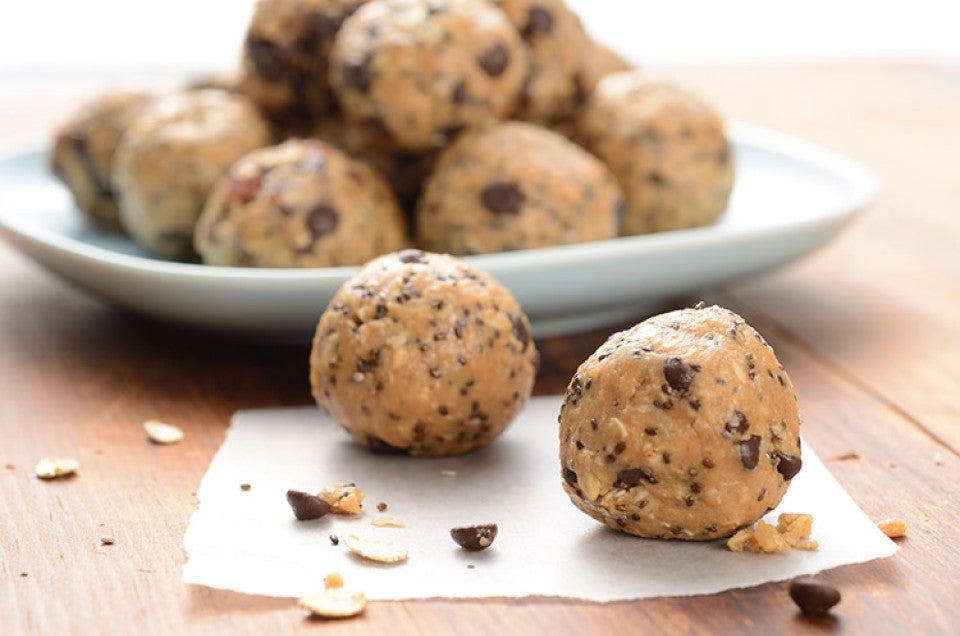 Last week, my daughter was home on vacation from culinary school. It was delightful to have her around again, with the added bonus that I didn't have to cook dinner for an entire week.
The second day she was home she headed to the grocery store with her dad and they proceeded to buy everything in sight. Luckily, Dave came to his senses and put his foot down over the $130.00 side of beef, or we'd be in big trouble with the bank. Our fridge was packed full to bursting with fresh treats.
We dined on veal Marsala, chicken in cream sauce, rice with cinnamon-spiced pecans, beef shanks braised in beer, and raspberry Bavarian. Don't judge me when I tell you I ate an entire tray of baklava; it was just a small tray...
Alas, she's gone back to class now, the fridge is nearly empty, and nary a crumb of baklava can be found. Until payday rolls around again, we're dining from the cupboards and freezer and using what we have. And I have to be honest, we've had some pretty tasty snacks along the way.
Case in point, these No Bake Energy Bites. With just a few pantry staples and some fun add-ins, you can make dozens of these round little beauties, perfect for breakfast on the go, after-school munching, and post-workout energy boosts.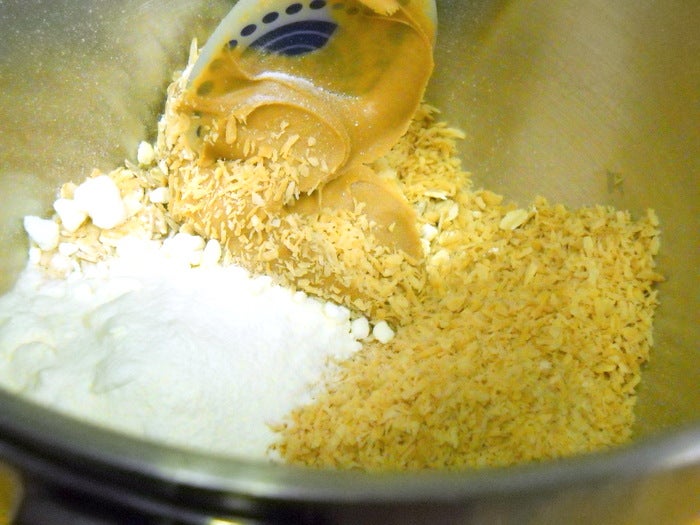 To start your mixture you'll need a nut butter for binding, honey for sweetness, rolled oats for structure, and dry milk for protein. Here are the measurements I used:
3/4 cup peanut butter
1 cup rolled oats
1/3 cup honey
1/3 cup dried whole milk
1 teaspoon vanilla
As you can see, I knew I wanted coconut in this batch so I added it early. More on this in a minute.
Blend everything together until it well combined. The mixture will be thick and sticky.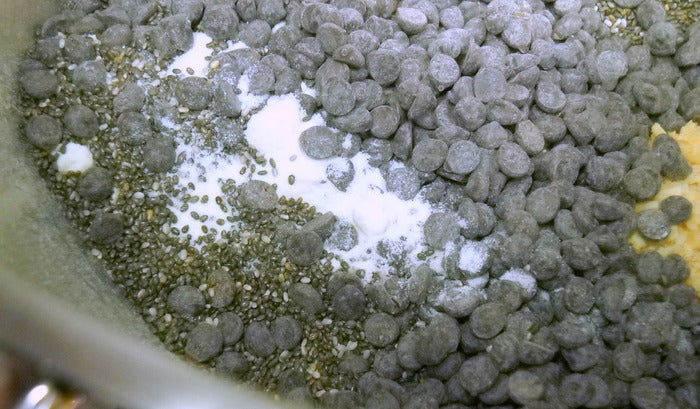 For mix-ins, you'll want to use about 2 cups total. I already stirred in 1/2 cup toasted coconut, so I still had 1 1/2 cups to add. I put in 1 cup mini chocolate chips, and 1 tablespoon chia seeds*. You can see on the left that I added 1/4 cup coconut milk powder too, a last-minute inspiration.
*Chia seeds are wonderful additions to no-bake bars and bites, but they can cause stomach issues if you eat too many at once. Stick to 1 tablespoon total for this recipe.
For add-ins, you have a plethora of choices:
unsweetened coconut, toasted or not; chopped dried fruit; nuts; seeds; wheat germ; oat bran; mini chocolate chips; Jammy Bits, or whatever floats your boat on that particular day.
I saved my last 7 tablespoons for a bit later. I happen to like our Jammy Bits but they aren't a family favorite, so I'll make some with and some without.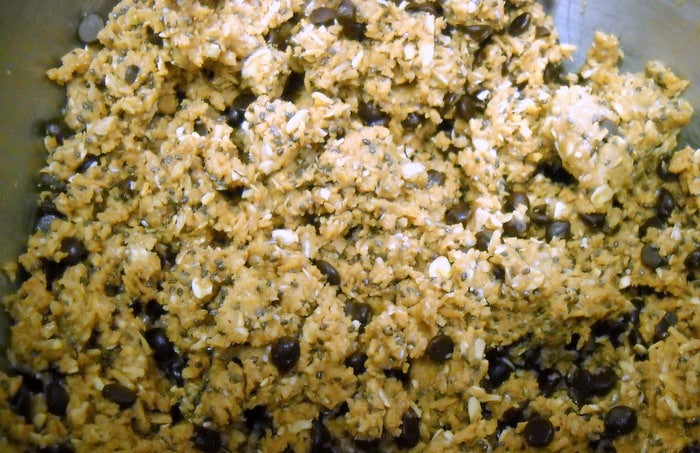 Best way to mix this all together? Your clean hands. Dig right in there and moosh and squoosh until you have a nice, moist blend.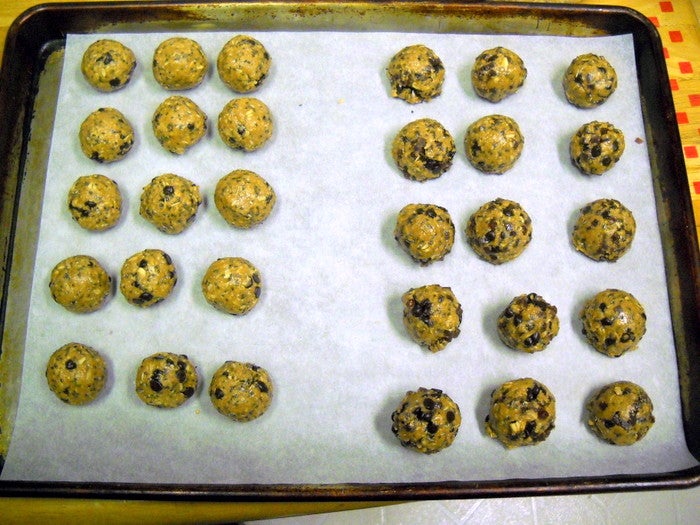 Use your hands, two spoons, or a tablespoon-sized cookie scoop to make ping-pong sized balls. You can roll them between your palms to smooth them out, or leave them rustic. No judgy pants here.
Above you see the plain bites on the left, and the Jammy Bit bites on the right.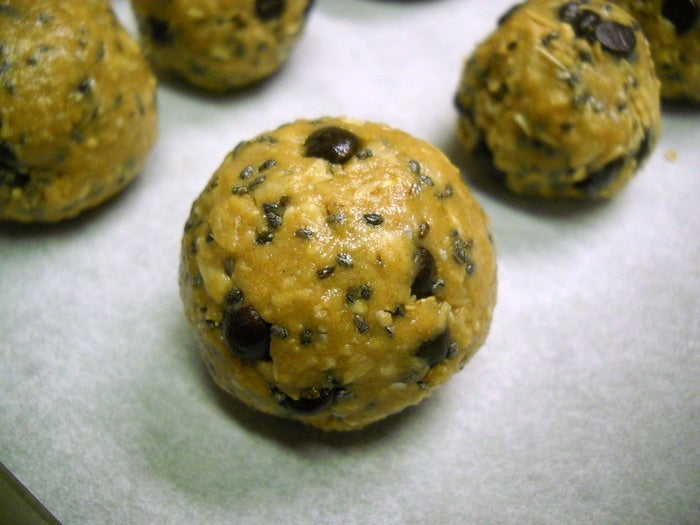 Who could resist a couple of these little lovelies for breakfast? "Hey kids, want to see Dad juggle his breakfast?"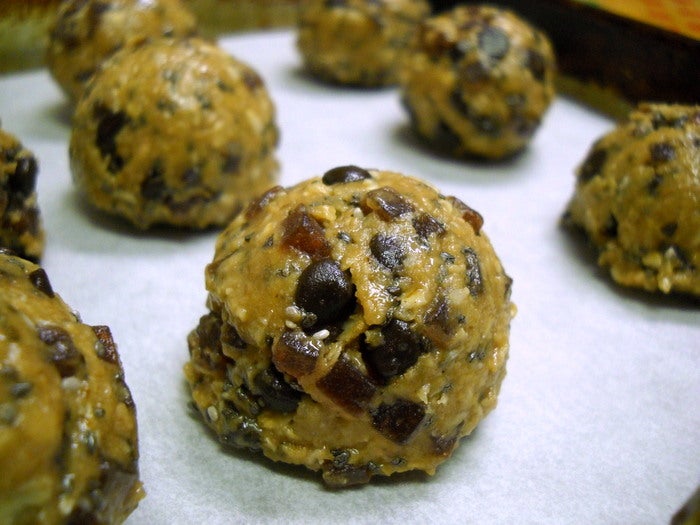 Dang it! I wish I had thought to bring a few of these to work today. Do you know how hard it is to look at these photos and not have one to nibble on?!
Oh, wait, you do. Sorry. I guess we can both be in the same boat until we get home, right?
I hope you've been having fun cooking and baking with your family, too. I'd love to hear about what you've been up to in your kitchen.
Please make, rate, and review our recipe for No-Bake Energy Bites.
Jump to Comments