Our favorite roll recipes for the holidays
Roll Call!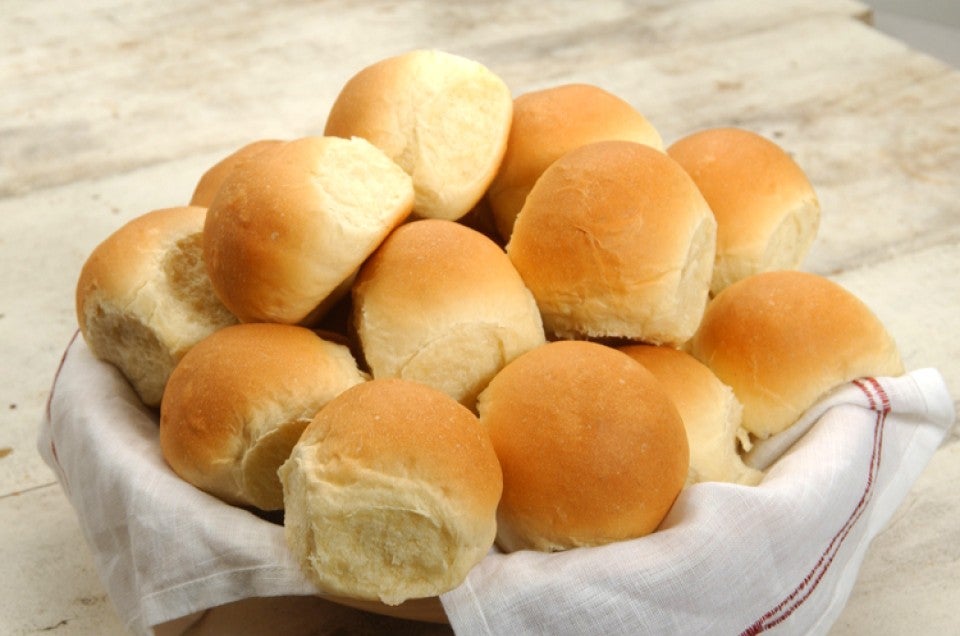 If you are anything like me, your search for last year's holiday recipes looks a bit like this...
"Now, where it that stuffing recipe from Bob?" I think I put it under S for stuffing. Or maybe B for Bob? I'll try B. Oh, look there's that recipe for banana cream pie. I haven't made that in ages. Oh, that reminds me, I need to buy chick peas. (grabs shopping list) Wait, who put red grapes on this list? We have red grapes. But we don't have wine, oh and that means we need to buy crackers and bread to make stuffing. Now, where is that stuffing recipe from Bob?"
Easily distracted? No, I'm not easily distract... hey look! Chocolate!
Every year I think about getting a blank notebook and filling it with just holiday recipes but somehow I get errr, preoccupied and never remember to do it. Luckily for you all, when I'm writing about food as part of my job, I stay on task SO much better. Hence the idea to write some blogs rounding up holiday recipes. I'm doing a few and so is PJ, so we hope you'll check here first when you are looking for old favorites and new ideas.
Today it's all about the rolls. My holiday table is not complete without a big basket of rolls, and for most folks it's the same. We'll be 7 at the table this year (trust me, for my small family, this is a much larger crowd than usual) so I'm thinking of going all out with a variety of rolls and breads.
Below you'll find our most popular and sought after recipes, with links and descriptions. If you are quick and don't get all moony and bemused, make a bookmark of the page and you'll have recipes at your virtual fingertips for good.
Let's start the roll call!
Parker, is there a Parker House in the house?

Parker House Rolls have been a favorite for generations, especially in New England. Our recipe makes some of the most buttery rolls you'll ever taste.

First up, the roll of rolls. The most popular roll recipe we have and with good reason. Golden Pull-Apart Buns are everything you could want in a dinner roll. Soft, tender, with the slightest hint of sweetness and a rich, yeasty aroma.
The recipe includes a tip on how to make them ahead of time too, which all busy bakers know can be a godsend.

Searching for a little more whole grain goodness to add to your bread basket?  Our Wheat-Oat Flax Buns fit the bill nicely. With a touch of orange juice to cut the tannin taste in the grains, the wheat, oat and flax flavors shine though.

If you are looking for a classic continental roll to add to your offerings, try our Crusty European- Style Hard Rolls. Feedback from our customers likens these rolls to those served by their Germany and Eastern European Omas and Opas for the family feasts.
Be aware that the recipe calls for an overnight starter so be sure to plan ahead when you serve these crisp, crackly delights.

A honey of a recipe, our Honey Wheat Rolls are a real KA favorite. Soft and "squishy", they are the perfect vehicle for the obligatory Thanksgiving evening turkey, stuffing, cranberry sandwich.

Proud parent of a sourdough starter? Why not brag about it with a round of these Buttery Sourdough Buns. A light crisp exterior and a soft, slightly tangy interior will keep your guests coming back for more.

Having quite the crowd in for dinner? Our Big Batch Quick Dinner Rolls (pictured in our main photo as well) makes 2 dozen rolls in about an hour. These are my family's favorites, it seems like we go through a batch every other week during holiday season. They can easily be frozen before or after baking for on-the-spot goodness.
Well, I hope this helps get your holiday baking on a roll (I know, I couldn't resist). Now, quickly go and make that bookmark before...Hey look! Kittens!
Gearing up for holiday baking? See some of our recipe collections for the season: Best Thanksgiving Recipes and Holiday Classics. 
Jump to Comments