Raise your hand – who wants to make the fastest, easiest, richest-creamiest ELEGANT chocolate dessert – ever?
OK, hands down.
As in hands down, these Quick Pots de Crème are the best darned "chocolate pudding" you've ever tasted.
Start your stopwatch – you'll discover just how quick these really are.
Place 1 cup (170g) chocolate chips, 1/8 teaspoon salt, 2 tablespoons (25g) sugar, and 1/2 teaspoon espresso powder (optional) in a blender or food processor and pulse until finely ground.
Add 1 large egg and pulse just until the mixture is smooth.
Note: If you worry about food safety issues around uncooked eggs, use a pasteurized egg.
Heat 1 cup (227g) heavy cream to just below a boil, with small bubbles forming around the edge of the saucepan (or microwave-safe bowl). Turn on the blender or processor, and slowly add the cream. Scrape down the sides of the container if necessary.
Add 1 teaspoon vanilla extract; or 2 tablespoons liqueur, if desired. Here I've opted for Kahlua. Pulse to blend.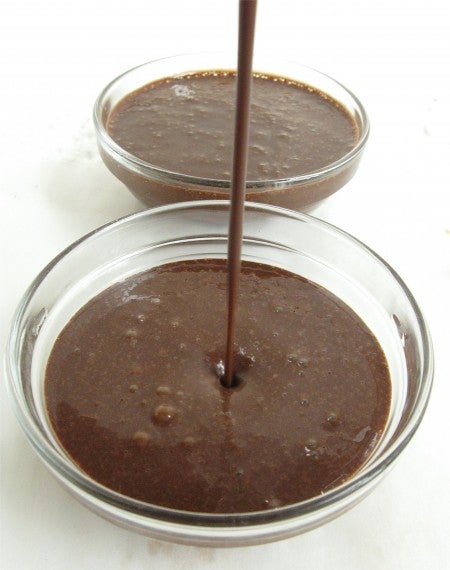 Divide among 6 individual serving cups, about 1/3 cup crème in each. Cover with plastic wrap, not touching the surface. I put the six ramekins in a 9" x 13" pan, then covered the pan with plastic wrap; consolidating them made it easier to move the crèmes around.
OK, here comes the not-so-fast part: Refrigerate until firm, at least 2 hours.
The crèmes will become quite solid; firmer than pudding, somewhere between the texture of thick Greek yogurt and cream cheese.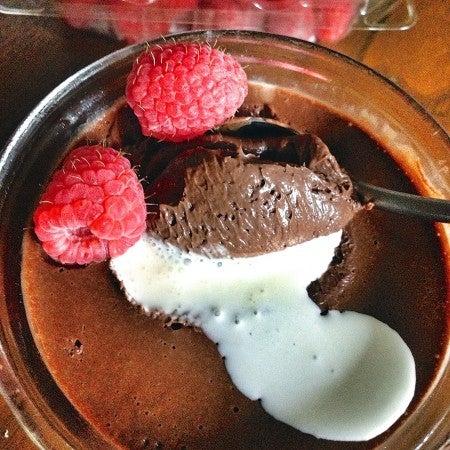 Serve with whipped cream, if desired. Or, as I've done here, with a simple splash of heavy cream, raspberries on the side.
Or simply garnish with a sprinkle of confectioners' sugar and fresh berries.
Then again, you can also turn this into instant-gratification, no-bake chocolate cream pie!
Here's how I do it: Crush 24 cream-filled chocolate sandwich cookies (about 9 1/2 ounces cookies) in your food processor. Add 4 tablespoons melted butter; pulse to blend. Press the mixture into the bottom and up the sides of a 9" pie pan. Place in the fridge to chill while you make the pots de crème, which will now become pie filling.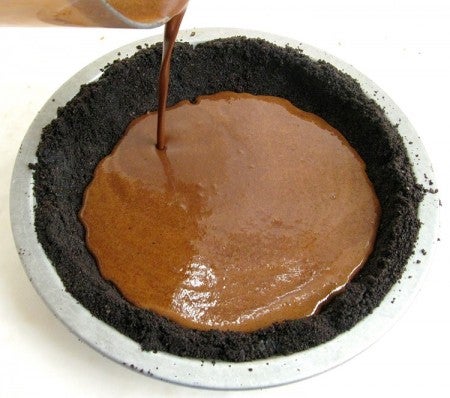 Double the pots de crème recipe, using 2 cups chips, 2 eggs, 2 cups cream, etc. Pour it into the chilled crust.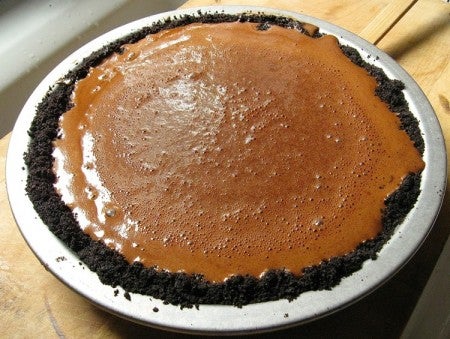 Depending on the depth of your pie pan (this pan is 1 1/2" deep), you may have extra crème left over; I had about 1/4 cup. No problem – just pour it into a little cup and stash in the fridge - baker's treat!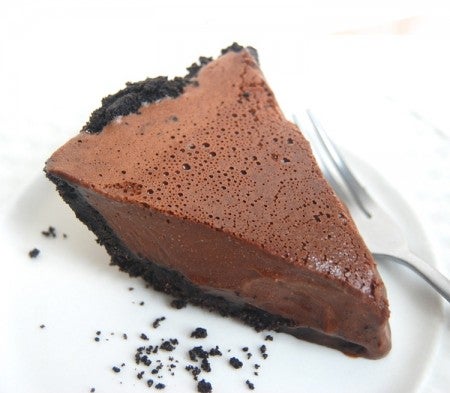 Chill the pie in the fridge until cold, then place in the freezer, covered in plastic wrap. Once frozen, it'll be quite hard; remove it from the freezer about 30 minutes before you want to slice and serve it.
So, what are you waiting for? In the time it took you to read this blog post – you could have had Quick Pots de Crème chilling for tonight's dessert!
Read, make, and review (please) our recipe for Quick Pots de Crème.
Note: Again, if you worry about raw eggs and food safety issues, use a pasteurized egg in this recipe.
Jump to Comments