What's 35 minutes worth to you these days?
For me, it's worth so many things.
It's worth 35 minutes to drive to our favorite Asian restaurant, where the food comes out hot and fresh every time. We love the staff as much as we love the dumplings.
It's worth 35 minutes on the phone with my best friend to laugh like we did in college and share those little inside jokes that no one else knows. ("Knock, knock." "Who's there?" "Calvin Cooooooolidge." Yeah, it made sense once upon a time).
Thirty-five minutes of knitting will restore my sanity; 35 minutes of classic 1980s TV will make me feel young again. Did you know I'm a sucker for all those murder mystery shows? One of these days I'll count how many times Columbo says, "Oh, just one more question" in 35 minutes.
Yes, 35 minutes in the long run is not too high a price to pay for the really good things in life.
Take baking and cooking, too. Thirty-five minutes for brownies and cakes goes by like nothing flat, unless you're really, really hungry. In 35 minutes you can roast up a pork tenderloin, make speedy applesauce to serve with it, and make the best homemade noodles you've ever had.
So, pop in an episode of Murder, She Wrote and join me in making Homemade Egg Noodles. We'll have them on the table and ready to go before Jessica pulls the old "You lost a button" trick and captures Bert Convey red-handed – or my name isn't Amos Tupper.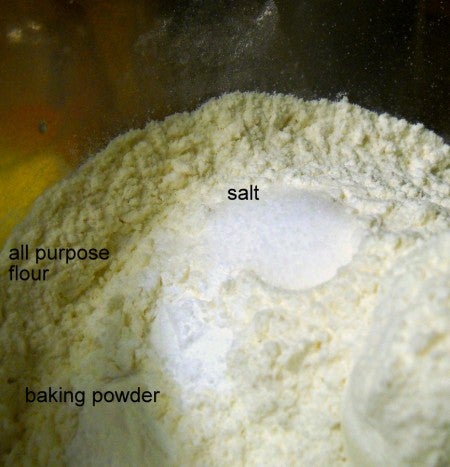 Great homemade egg noodles can be made with just five ingredients. I bet you have them all right now!
Put the following in the bowl of your food processor:
2 cups (241g) King Arthur Unbleached All-Purpose Flour
1 teaspoon salt
1 teaspoon baking powder
So, why put baking powder in noodles, anyway? Egg noodles tend to be a little lighter in texture than regular pasta, and it's baking powder that gives them that boost.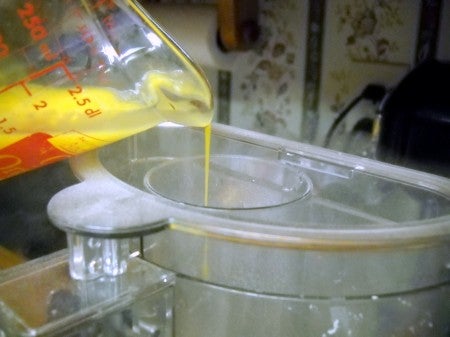 While the machine is running, slowly add 2 large well-beaten eggs.*
*Yep, I tried Egg Beaters, and they work just fine.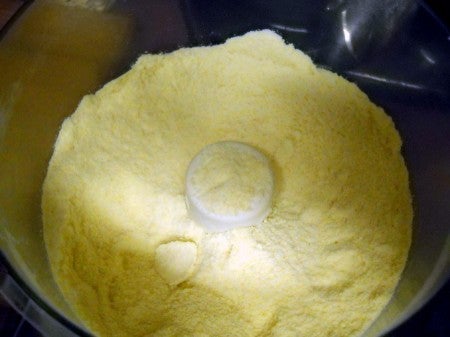 The result will look very similar to fine cornmeal; but if you pinch a bit in your hand, it'll hold its shape. You can see the quarter-sized piece in the front that I pressed together.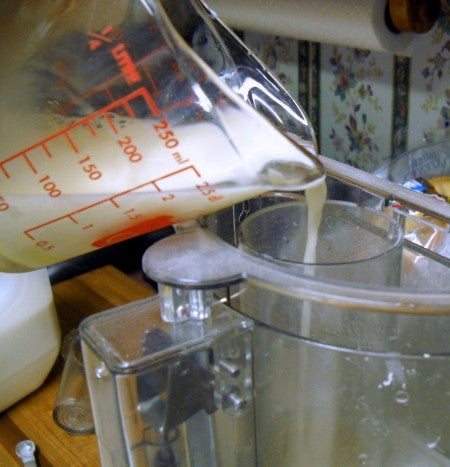 Turn the machine on and slowly pour in 1/2 cup (113g) milk. The dough will come together quickly now, so be ready. Depending on the flour, the weather, etc. you may not need all the milk, so pour it in slowly and only add it all if the dough seems dry.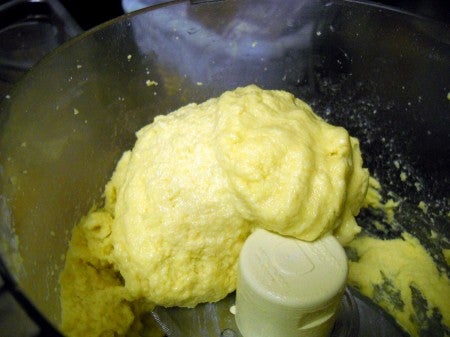 Stop the machine and check the consistency of the dough. Just from looking, I can tell I added a bit too much milk. Pasta dough should be smoother and firmer than what you see here.
Conversely, if you open the processor up and see several balls of dough that are separate, dry, or crumbly looking, you know the dough is too dry.
Adjust with flour or milk as needed. In my case, I added two more tablespoons of flour.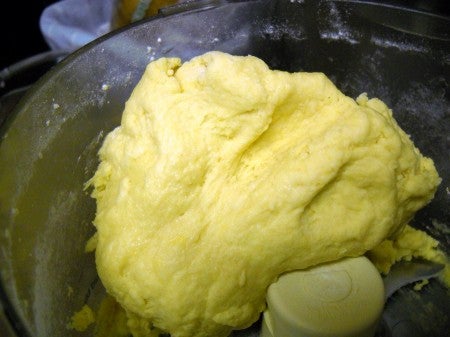 Ah, that's what we're looking for. Firm, slightly dense, but not dry.
If you don't have a food processor, you can make the dough in your stand mixer, or even using your bread machine's dough cycle.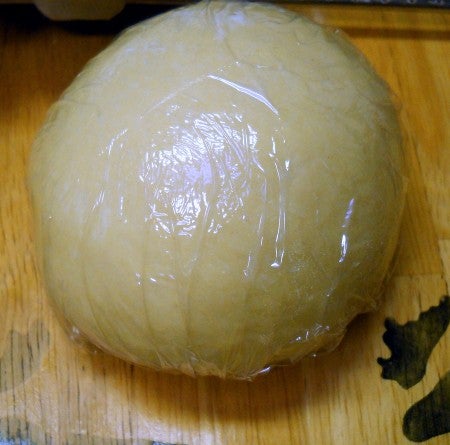 Wrap the dough well and let it rest at room temperature for 30 to 60 minutes. You can also make the dough early in the day or even the night before and keep it well wrapped in the fridge.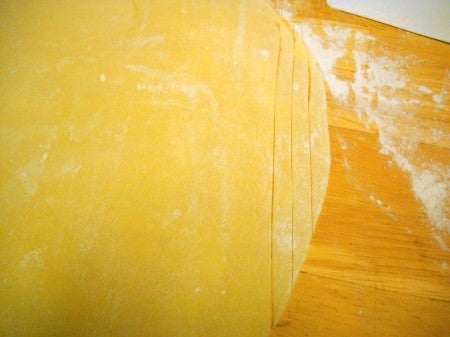 Roll the dough out about 1/16" thick, or thin enough that you could see your hand through it. Use a sharp knife or pizza cutter to cut 1/2" wide strips, then cut those into 2" long strips.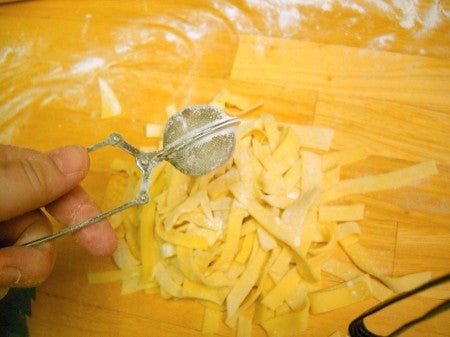 Toss the strips with a little extra flour to keep them from sticking. Isn't this a handy way to use your extra tea strainer?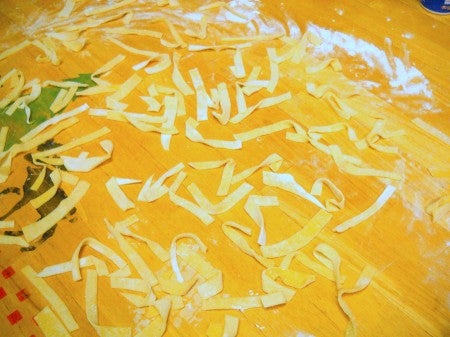 If you want to freeze the noodles for later use, spread them out and let them dry for a few hours. I pointed a fan at mine, and they were thoroughly dry in about 2 1/2 hours on a humid day. Into a zip-top bag and into the freezer for about a month – if they last that long!
If you're cooking right away, let the noodles dry while you bring a pot of water to a rolling boil. You can also cook the noodles right in your chicken soup, stew, etc.
Add the noodles and stir well. They'll float to the top fairly quickly, and be fully done in about 3 minutes. Keep in mind that fresh pasta waits for no one, so have everything ready to serve before dropping the noodles in the water.
Taste a noodle or two for doneness. When they're just right, drain them well and toss with a little butter. Serve hot with your favorite entrée and veggies, and enjoy 35 priceless minutes of conversation and laughs with your family over dinner.
Oh, and don't forget to turn off the TV; Kojak and McMillan will be there when you get back.
We'd love to know what you're serving your noodles with. Comment below and share your great dinner ideas!
Please make, rate, and review our recipe for Homemade Egg Noodles.
Here's an amazing chicken soup in which to use your noodles. They cook faster, so add them in step 4, not step 2.
Jump to Comments