It's a given: every year you end up planting WAY more zucchini plants than you should.
They look so tiny, there at the farm stand. Those brave little shoots in their 4" pots, reaching for the sun – who'd ever think they'd turn on you with a vengeance, once they're in the ground?
But turn they do – from tiny tendrils to brazen behemoths, blundering around and across your garden and leaving their enormous green fruit everywhere.
But hold on – even if your zucchini have gotten away from you, there are certain recipes where it really doesn't matter. Big, dry, seedy... no problem.
Frittata is one of those recipes.
Frittata, a blend of sautéed vegetables, eggs, and cheese, will remind you of quiche – but without the crust.
Now, a classic French chef would blanch (more than his or her green beans) at a "quiche" that didn't involve heavy cream and farm-fresh eggs. But I often make frittata with – gulp! – egg substitute. You know, that yellow stuff in the carton you find in the dairy case, right above the "real" eggs.
Hey, Egg Beaters are cholesterol-free, low-fat, and they taste good – at least when combined with other, more interesting ingredients. When my calorie-counting, cholesterol-watching husband wants something filling and "eggy," something beyond a plain poached or hard-boiled egg, I make him a pan of frittata.
At just 100 calories a serving, it's a sensible way to add protein and vitamins to his diet, AND use up some of that out-of-control zucchini.
Besides, it reminds him of his mother's zucchini, which was nothing more than chopped zucchini simmered/sautéed with beaten eggs, salt, and Italian seasoning. 
Trying to decide in advance what to do with those 2-pound zukes you'll no doubt find hiding? Make Zucchini Frittata.
Let's start by grating 2 pounds of zucchini and or yellow summer squash. Two pounds is about 3 medium (8" to 10") squash and yields about 6 cups (726 to 900g). Don't spend too much time trying to figure out an exact amount here; it's really not critical if you wind up with a bit more or a bit less.
I like to grate my squash in the food processor using the grating disk.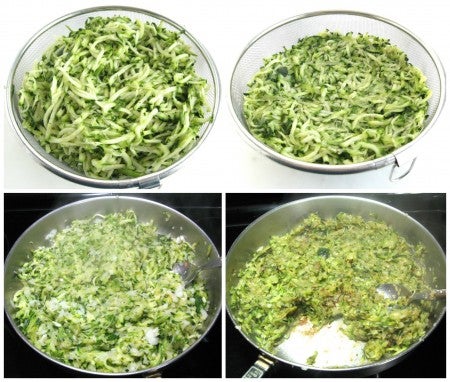 Stir 1/2 teaspoon salt into the grated squash. Place the squash in a colander, weigh it down, and let it drain for an hour or so.
Combine the drained squash with 1 large sweet onion, which you've peeled and cut into small dice.
Heat 2 tablespoons olive oil in a large skillet, and sauté the squash/onions until they're soft, about 20 minutes. The vegetables will greatly diminish in volume. Season to taste with additional salt, if desired, and pepper.
Preheat the oven to 400°F.
In a large bowl, beat together the following:
1 1/2 cups (150g) freshly grated Parmesan cheese
8 large eggs OR one 15-ounce carton egg substitute
2 tablespoons (14g) King Arthur Unbleached All-Purpose Flour
Add the cooked vegetables, drained of any liquid if necessary. Stir to combine.
Drizzle 1 tablespoon olive oil into a 9" or 10" cast iron skillet (or other burner-to-oven pan), and heat the skillet on the stovetop until the oil is very hot.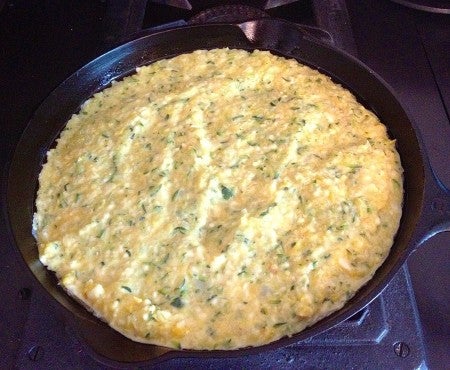 Spread the vegetable mixture evenly in the pan.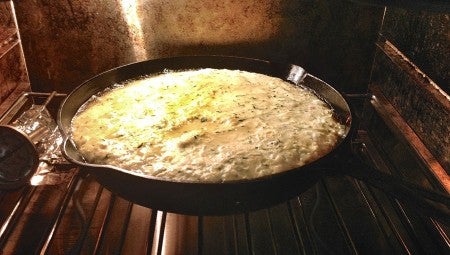 Bake the frittata for about 20 to 25 minutes.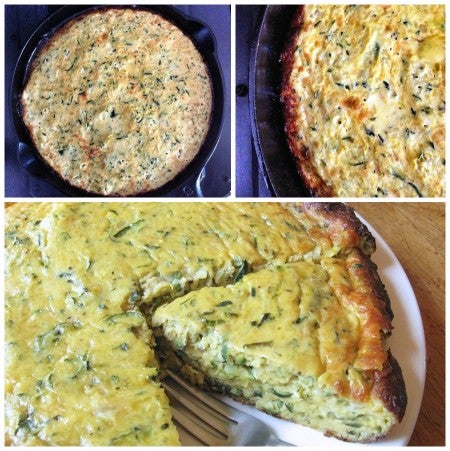 When it's done, it'll be a light golden brown on top, with darker edges.
Loosen the edges of the frittata from the pan. Wait about 10 minutes, until it loses its oven-hot fragility; then transfer it (in one piece, if possible) from pan to serving plate. If you leave the frittata in the pan, you run the risk of it sticking.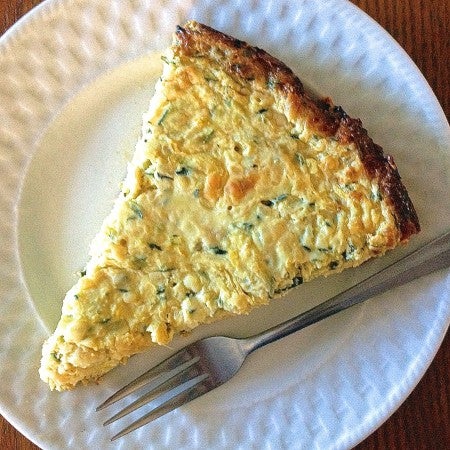 Serve the frittata hot, in wedges. Store any leftovers in the fridge.
Now admittedly, this recipe won't take care of your entire zucchini harvest; but isn't that what friends (and neighbors, and the mailman, and the guys at the gas station) are for?
Please read, bake, and review our recipe for Zucchini Frittata.
I'm sure you still have zucchini to spare; here are some more good recipes –
The Shipyard Galley's Zucchini Muffins; Double Chocolate Zucchini Bread; Baked Zucchini Sticks with Sweet Onion Dip; Chocolate Zucchini Cake; 100% Whole Wheat Zucchini Chocolate Chip Bread; Zucchini-Cheese Pancakes.
Jump to Comments