Peachberry Buckle
Just peachy... and berry good!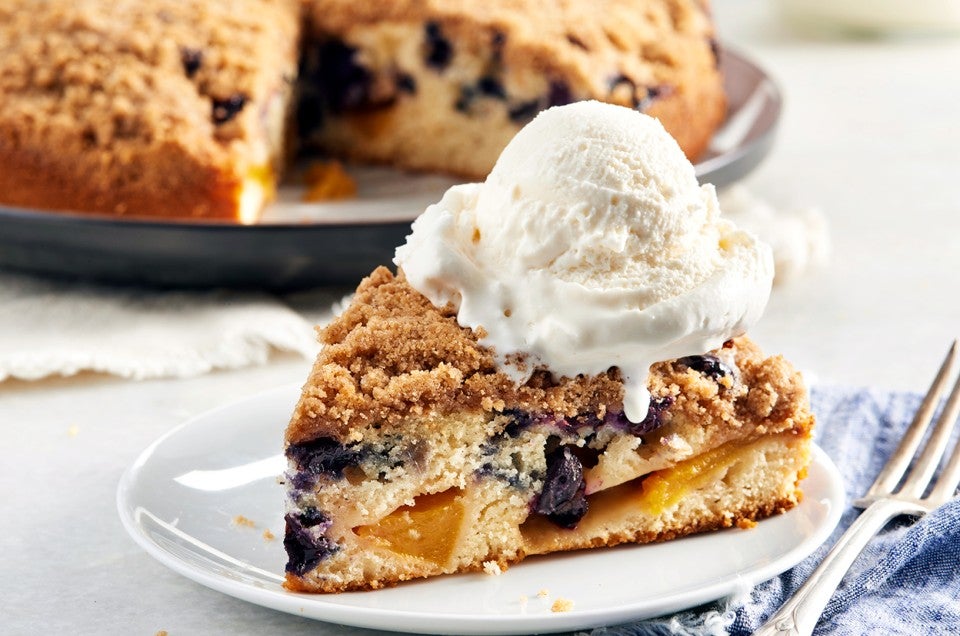 Grunt. Slump. Buckle.
What do these three words have in common? Choose from the following:
A) They're words from a third-grade spelling test
B) ee cummings would have liked using them
C) Phonics teachers find them useful auditory illustrations of the "uh" sound
D) They're a wonderful way to use summer berries
E) All of the above!
You guessed it – E is the answer. Grunt, slump, and buckle, while they might in fact sound like a Dickensian law firm, are all classic New England summer fruit desserts.
I probably never would have known that had I not spent 10 years working side by side with Brinna Sands, my long-time mentor and friend here at King Arthur Flour. Brinna, a scholar of baking traditions from all over the world – and especially New England – is the author of our King Arthur Flour 200th Anniversary Cookbook. And she has this to say about grunts and slumps:
"These are desserts whose name alone will bring a smile to the face of anyone familiar with traditional New England desserts – and a quizzical look from those unfamiliar with them. To understand the provenance of the terms grunt and slump, you need to picture how they're put together and cooked.
"To make slump or grunt – the two terms are interchangeable – take a quart of berries or diced fruit, stir in some sugar and water, and put the mixture in an iron spider (a cast iron skillet) or casserole dish that can sit on a burner. Then top the berries with spoonfuls of biscuit dough and let the mixture cook very slowly.
"As the concoction begins to heat, bubbles slowly work their way up from the bottom of the pot to break through the biscuit dough topping. The wet snufflings you hear bear some resemblance to an animal's grunt. Once served, the dessert slumps on the plate in a sweet, juicy, hot-biscuit heap. (Really, this is much more appetizing than it sounds.)"
Indeed.
And buckle?
It's a fresh fruit coffeecake, pure and simple. The following version features one of our favorite fruit combinations, blueberries and peaches; if you prefer nectarines and strawberries, blackberries and raspberries, or just plain apples – whatever your fruit desire – go for it.
Let's start with one of my favorite fruits, peaches.
The season for good, ripe, fresh peaches is very short; so I resort to frozen peaches for much of my year-round baking.
It's best to thaw frozen fruit before use, as otherwise it'll make whatever you're baking watery. Here I've thawed peach slices in the microwave; but feel free to thaw however you like.
This recipe calls for 1 cup sliced peaches, which translates to about 13 ounces frozen peach slices; they shed a lot of liquid as they thaw.
Preheat the oven to 350°F. Lightly grease a 9" round cake pan.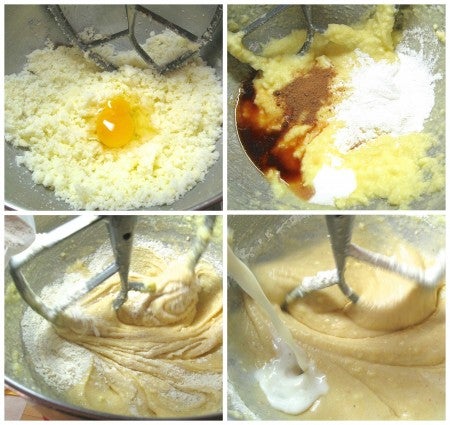 Beat together the following:
4 tablespoons (57g) butter, at room temperature
3/4 cup (149g) sugar
Beat in 1 large egg, then the following:
1 teaspoon vanilla extract
1 1/2 teaspoons baking powder
1/2 teaspoon salt
1/4 teaspoon ground nutmeg
Add 2 cups (241g) King Arthur Unbleached All-Purpose Flour in three additions, stirring it in alternately with 1/2 cup (113g) milk, beginning and ending with the flour.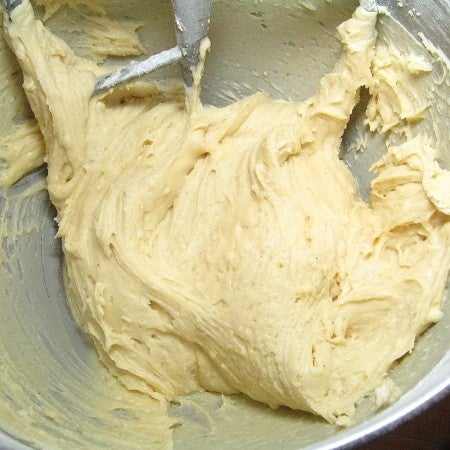 The batter will be quite thick.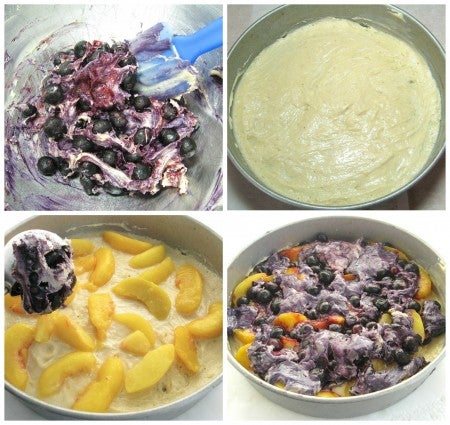 Divide the batter in half. 
Mix 1 cup (142g to 170g) berries into half the batter; spread the other half in the prepared pan.
Layer 1 cup (213g) sliced peaches (peeled or not, your choice) atop the batter in the pan. Dollop the blueberry batter on top; a tablespoon cookie scoop works well here.
The stickiness of the batter makes this a somewhat messy process. Don't aim for perfection; the batter doesn't have to cover all of the peaches, it'll spread as it bakes.
Next, the topping.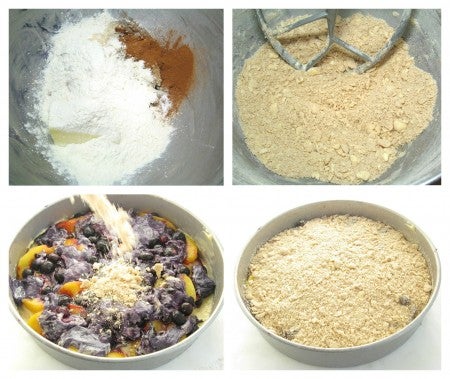 Mix the following until crumbly:
4 tablespoons (57g) butter, cold
1/4 cup (53g) brown sugar, packed
1/2 cup (57g) King Arthur Unbleached All-Purpose Flour
1 teaspoon ground cinnamon
1/2 teaspoon almond extract
pinch of salt
Don't over-mix, or you'll get a smooth paste, rather than crumbs.
Sprinkle the topping over the batter in the pan.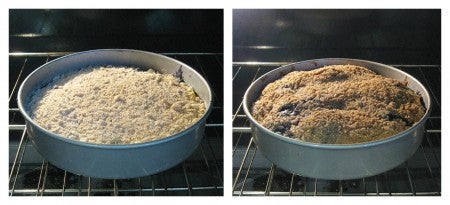 Bake the buckle for 50 minutes to 1 hour, or until it's a deep golden brown and a cake tester or toothpick inserted into the center comes out clean.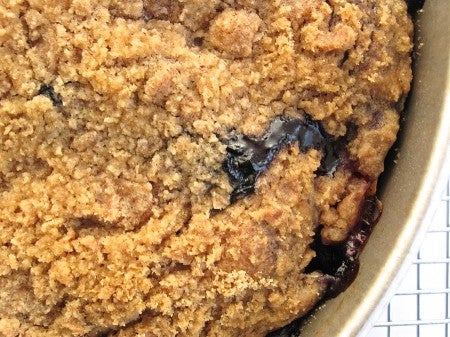 You may notice juice bubbling up around the sides of the pan – this is a good thing!
Remove the buckle from the oven, and cool it on a rack. Serve warm, or at room temperature.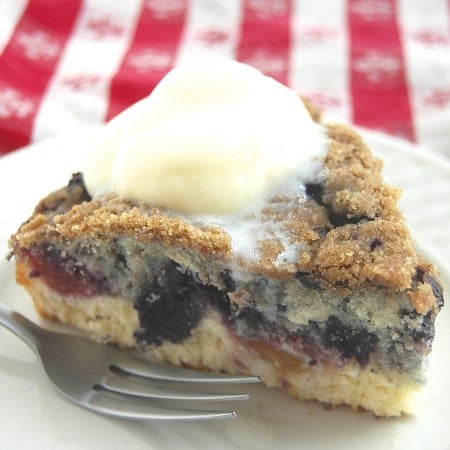 If you're serving the buckle for dessert rather than breakfast, ice cream is a welcome addition. If the cake isn't warm-from-the-oven and you want your à la mode melty, heat a slice BRIEFLY in the microwave – like, 10 seconds or so.
Please read, bake, and review our recipe for Peachberry Buckle.
Jump to Comments