Banana Fudge Cookies
Or, how I got my marriage proposal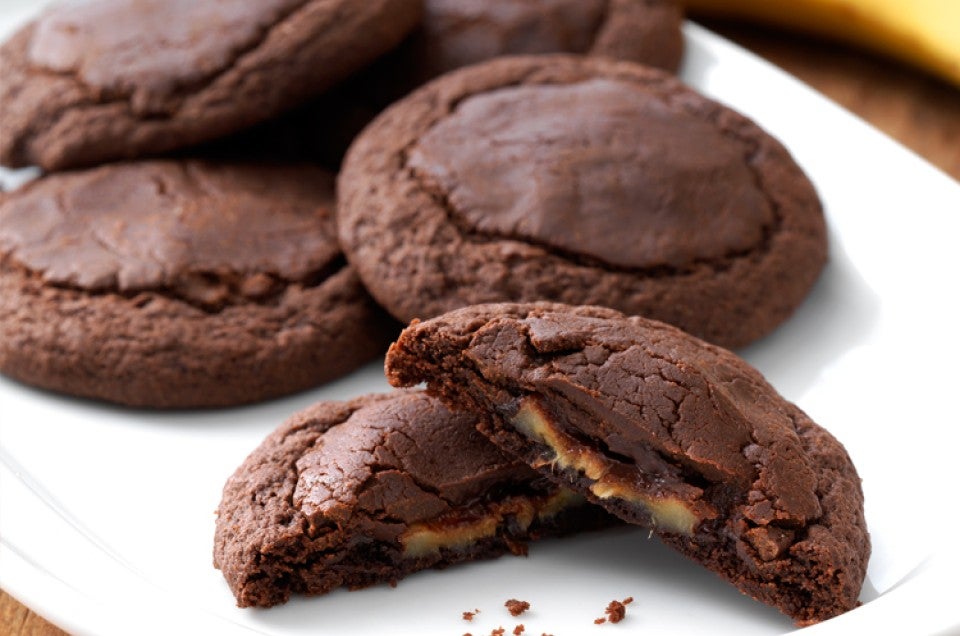 As many of you know, when you taste test samples here at the King Arthur test kitchen, you're required to "Bite and Write." Sure, everyone loves to bite into cakes, cookies, and ice cream. When the email pops up saying "warm brownies in the kitchen" our hallway can resemble that stampede scene from Jurassic Park.
Every once in awhile we have to send out a reminder with such wording as, "I know someone has been biting, but no one is writing. My test cookies are half gone, and I only have one comment!" Most of the time, though, the comments are great and very helpful.
If your comment jar is full of yabuts, you know you still have a little work to do on the recipe.
What's a yabut?  It's when you ask a question and get "Yeah, but..." for an answer.
"Son, did you wreck the car?" "Yeah, but... there was this cat in the road."
"Child of mine, did you shave the dog?" "Yeah, but... he looked hot."
In the recipe world, if you get comments such as "I liked the flavor, yeah, but... it was dry," it's time to keep working on the recipe. Every now and then, though, the planets and stars align just right and there isn't a yabut in sight. In fact, every now and then, you get a comment for the ages. One that sticks out and stays with you forever.
Wanna see one?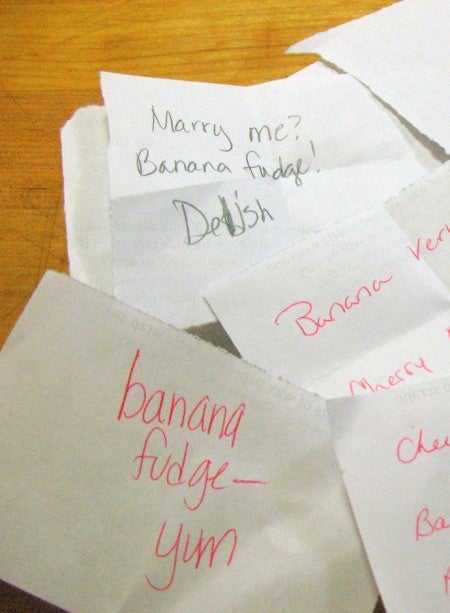 There tucked in the jar with the other positive comments was a genuine winner. Yep, I'd been proposed to.
OK, before you start breaking out the champagne and throwing rice, you have to know I've been happily married for 21 years. So has the proposal writer. Not to each other, we both love our husbands to death, but this was our Web guru Tracy's way of telling me that she loved the recipe and loved me for making it. You can't ask for much more than that, now can you?
I keep the paper taped to my computer monitor. I use it as a reminder to strive for excellence in my work and as a reminder that baking brings joy.
Let's bring some joy to your table. Let's make Banana Fudge Cookies.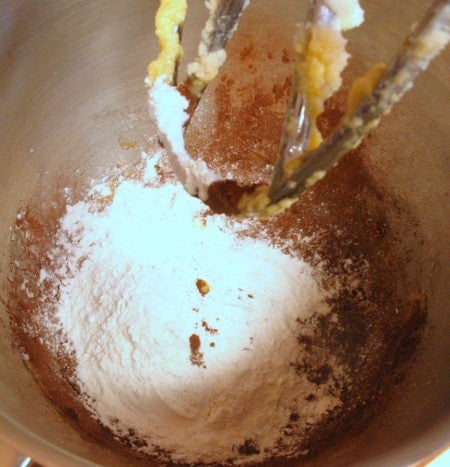 In the bowl of your mixer place:
8 tablespoons (113g) butter, softened
1 cup (198g) sugar
Beat the butter and sugar for two minutes, to fluff and combine. Beat in 1 large room-temperature egg, and 1 teaspoon vanilla until you have a smooth mixture.
Add:
1/4 teaspoon baking soda
1/4 teaspoon salt
1/4 teaspoon baking powder
1/2 cup (43g) King Arthur All-Purpose Baking Cocoa
1 3/4 cups (213g) King Arthur Unbleached All-Purpose Flour
Normally I'd mix the dry ingredients in a small bowl first, to combine them well and remove any lumps, but I'm guessing this batch was made prior to morning coffee.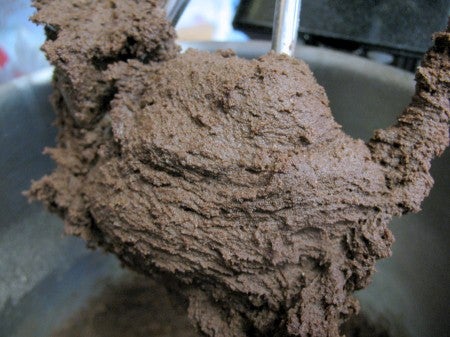 Beat the dry and wet ingredients together until you have a fairly stiff but not dry dough.
Preheat the oven to 350°F and line two baking sheets with parchment paper. Scoop out walnut-sized balls of dough and shape them into rounds with the palms of your hands. A tablespoon cookie scoop makes this job a breeze.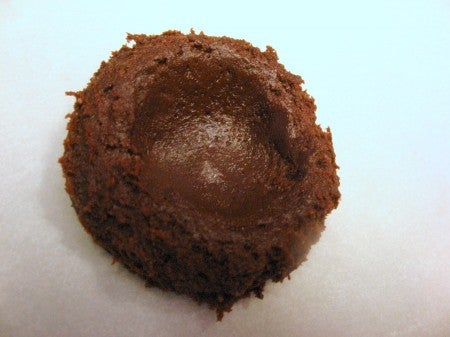 Place each ball of dough on the parchment paper with about 2" in between. With your thumb, make a depression in the center, like a bird's nest. Repeat with each ball of dough.
Set the sheets aside while you make the fudge topping.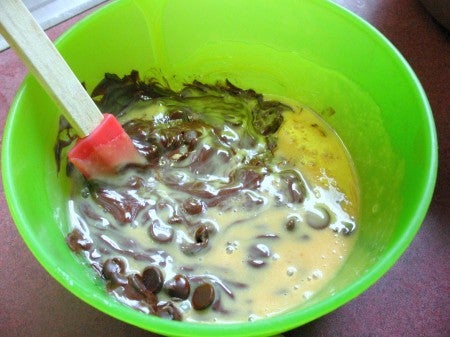 In a microwave-safe bowl, combine 1 cup (170g) chocolate chips and 1/4 cup (78g) sweetened condensed milk.
Heat the chocolate chips and condensed milk for 40 to 60 seconds. Stir until smooth. Avoid over-heating or the topping will dry out.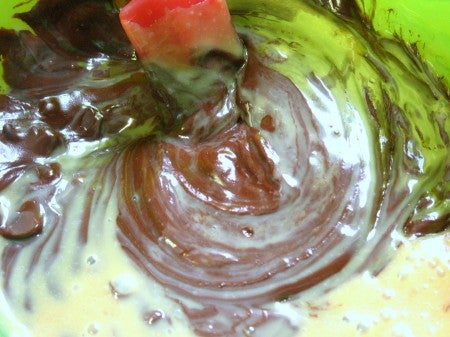 A beautiful chocolate swirled galaxy.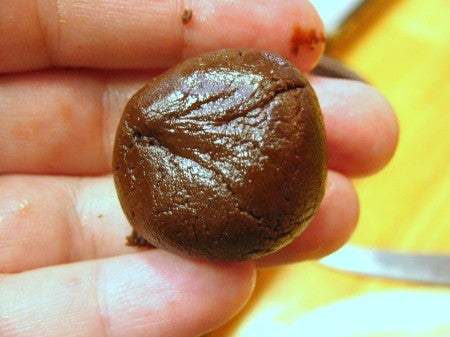 Scoop out some of the fudge topping, about 2 teaspoons' worth. Roll into a ball, then flatten between your palms. This is the fudge "cap" that will cover your cookies.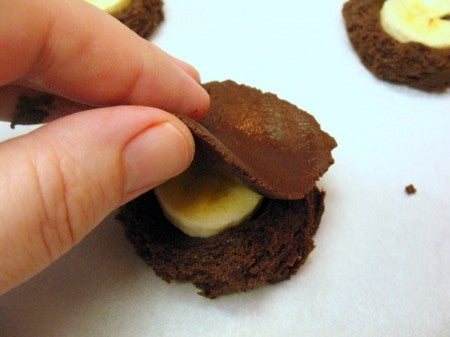 Into the center of each "nest" place a 1/4" slice of fresh peeled banana.* Top with a fudge cap.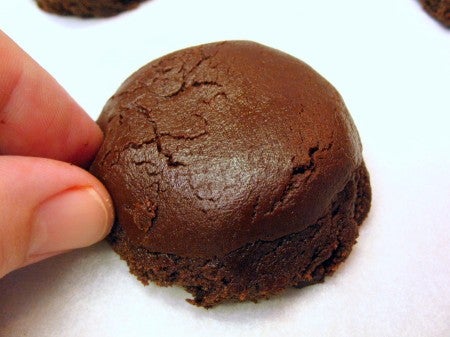 Press and mold into place. Don't worry about the small cracks, those are normal. If the fudge topping won't roll smoothly or has large cracks, add a touch more condensed milk.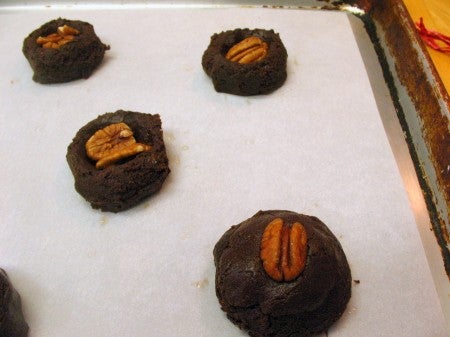 Not really into banana? Try pecans, walnuts, cashews, or cherries. Anything you'd pair with chocolate would go well with these cookies. These cookies have pecans inside and out.
Bake the fudge-topped cookies for 10 to 12 minutes. The centers will sink in a bit, creating a little ring of fudge.  I love nibbling off the extra cookie edge before diving into a big center bite.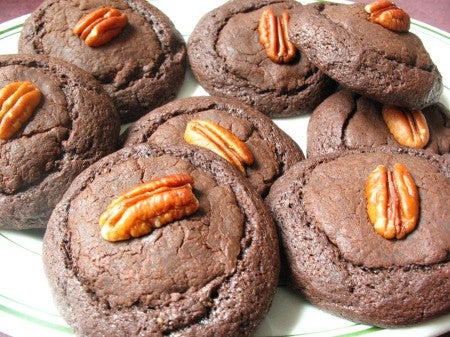 Do you take this cookie to be your lawfully-wedded cookie? To have and to hold from this day forward? Well, maybe for just a few minutes, while you pour a big glass of cold milk!
Please bake, rate, and review our recipe for Banana Fudge Cookies.
Share your favorite proposal/engagement/wedding stories in the comments below. After all, 'tis wedding season! 
Jump to Comments