No-knead bread is all the rage – but saying it's all the rage "lately" is somewhat of an overstatement.
Contrary to what many of us might think, no-knead bread wasn't invented by Mark Bittman, Jim Lahey, and the New York Times back in 2006.
Absolutely, it was popularized by that landmark Times recipe. And no knead gained a ton of fans thanks to the Jeff Hertzberg and Zoë François "Five Minutes a Day" books.
But "invented"? You have to go back a lot farther than 2006 to find the first mention of no-knead.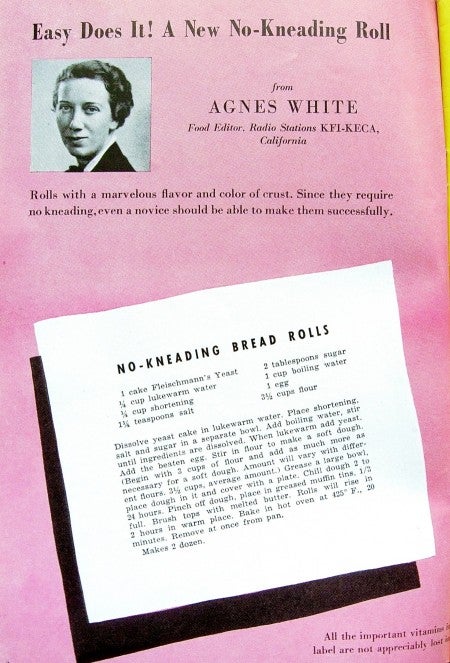 Check out this Fleischmann's Yeast pamphlet from 1942, for instance. Here's Agnes, offering a new no-knead roll recipe.
And, while no knead isn't spelled out, it's implicit in a whole array of decades-old batter breads: Beer Bread, English Muffin Toasting Bread, the inestimable cottage cheese/dill bread... These are all breads whose soft "dough" requires only stirring or beating, not kneading.
As it turns out, even the French are into no-knead bread – and have been for many years.
Baguettes de tradition start with a high-hydration (read: very soft) "dough" that's basically sloshed around by hand until it becomes cohesive, then folded and turned with a bowl scraper three times over the course of an hour. After a 2-hour rest, the dough is shaped into baguettes, proofed, and baked.
The result?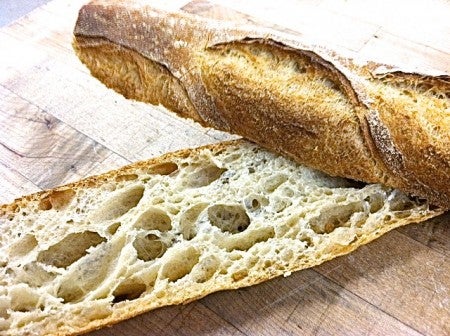 Crusty baguettes with incredibly open texture.
Our King Arthur Bakery makes about 300 baguettes a day; and 10% of them are made using the tradition method.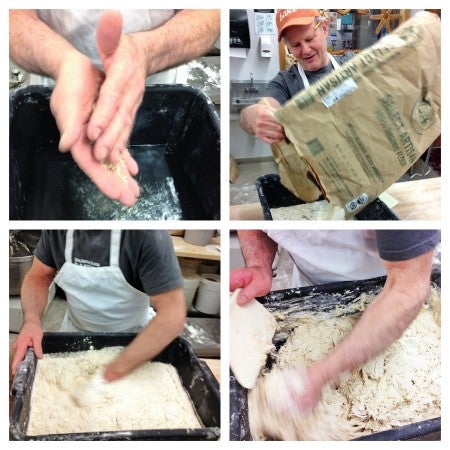 Here's head baker Jeffrey Hamelman following the simple process. First, he crumbles fresh yeast into water. Next, he adds the flour: the bakery version of our King Arthur Unbleached All-Purpose Flour, perfect for baguettes. After stirring to combine the flour/water, Jeff mixes the very rough, very wet dough with a bowl scraper.
Using that same bowl scraper, Jeff works the dough three more times over the course of the next hour, 30 seconds each time. After that, the dough is divided and shaped into 30 baguettes; proofed for 2 hours; then baked into King Arthur's own version of baguettes de tradition.
As I watched Jeff, I had a brainstorm: sub rolls! I've been wanting to come up with a sub roll recipe for some time, and this looked like an easy, interesting place to start.
What's a "sub roll," you say? Replace "sub" (short for submarine) with any of the following: grinder, hoagie, hero, Italian, po' boy. In other words, a long, thin roll perfect for stuffing with all manner of tasty fillings.
So, why not just use a baguette?
Because to me, the perfect stuffed sandwich roll is a tiny bit softer. I like a roll that's ultra-chewy, but one whose crust doesn't shatter into a zillion crumbs at the first bite. I also like my sandwich rolls a bit flatter than the perfectly cylindrical baguette.
So I took our Bakery's baguettes de tradition recipe, and tweaked it just a bit. I added olive oil and dry milk for a softer crumb; and subbed instant yeast for fresh, simply for convenience's sake.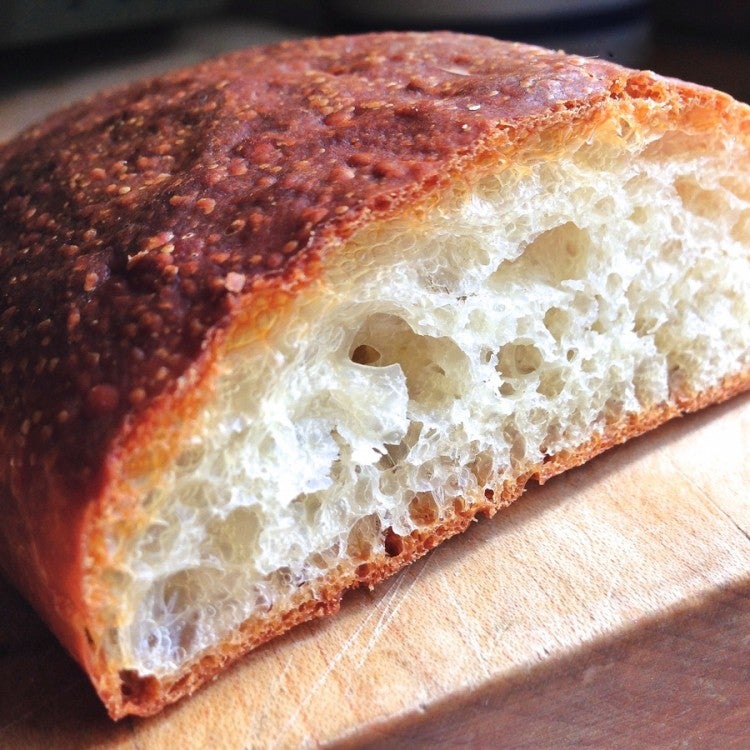 The result? Just what I had in mind: a dark golden brown, chewy roll, whose open (read: hole-y) texture is perfect for collecting the rivulets of vinaigrette and bits of chopped tomato, onion, and pepper I consider a key part of any Italian cold cut sub.
Ready to try a new type of no-knead bread? Looking for a good sandwich roll? Let's do it.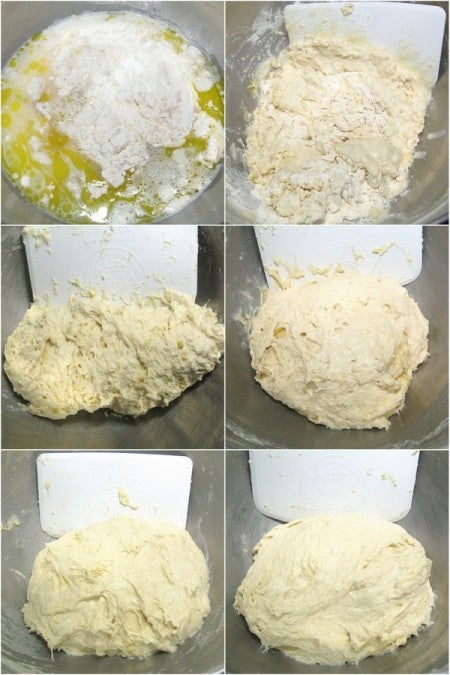 Mix the following ingredients together in a bowl large enough that flour doesn't spill  over the sides, and large enough for the dough to rise once it's mixed.
4 cups (17 ounces) King Arthur Unbleached All-Purpose Flour
2 teaspoons salt
1 teaspoon instant yeast
3 tablespoons Baker's Special Dry Milk or nonfat dry milk powder
1 1/2 cups cool water
1/4 cup olive oil
Once everything is roughly combined (some floury patches will still be evident), take a dough scraper (first choice) or spatula and lift/fold the dough over on itself for 30 strokes. Let the dough rest for 20 minutes.
Give the dough 30 more strokes. Cover it, and let it rest for 20 minutes again.
Repeat the process one more time. By the end of this 20-minute rest, you will have stirred the dough three separate times over the course of an hour.
Now, give it 30 more strokes; see how it's smoothed out (photo, bottom right), compared to when you first started?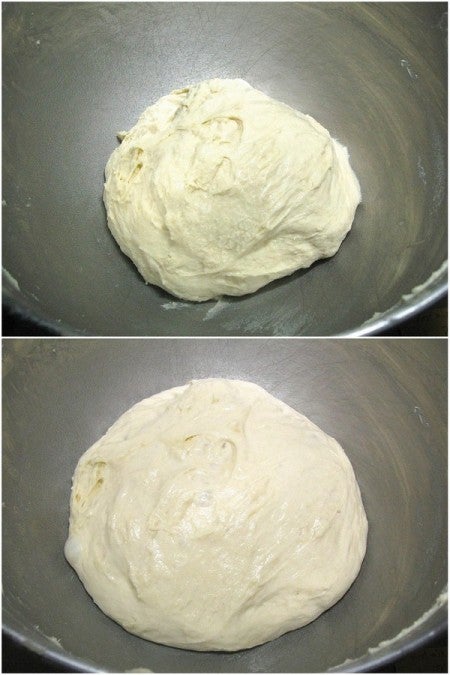 Cover the bowl, and let the dough rise for 2 hours in a fairly warm spot; 75°F to 80°F is perfect. If you don't have anywhere that warm, don't stress; just set the bowl somewhere away from cold drafts.
After 2 hours, the dough will have risen, though not wildly. It'll still be shiny, sticky and slack; but you should be able to work with it, so long as you grease or wet your hands.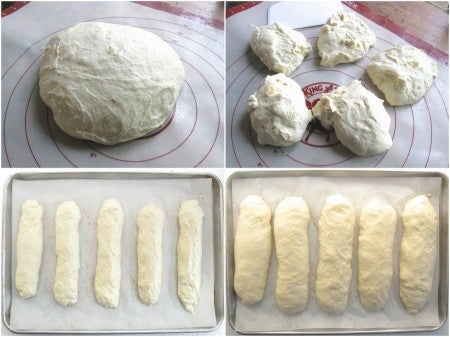 Transfer the dough to a greased or floured work surface. Divide it into 5 pieces; each will be about 176g, or 6 1/4 ounces.
Gently push, prod, and pull each piece of dough into a log about 7" to 8" long. Keep your hands wet or oiled to facilitate this process. This isn't a typically springy, elastic dough you can easily shape; as noted, it's more a matter of push/pulling it into shape.
Transfer the logs to a lightly greased or, preferably, parchment-lined pan, spacing them across the length of the pan. A half-sheet pan is the perfect size.
Cover the pan with a large plastic cover, or drape the loaves with heavily greased plastic wrap or parchment. Let them rise until they're noticeably puffy, 2 to 3 hours or so.
Towards the end of the rising time, preheat the oven to 475°F.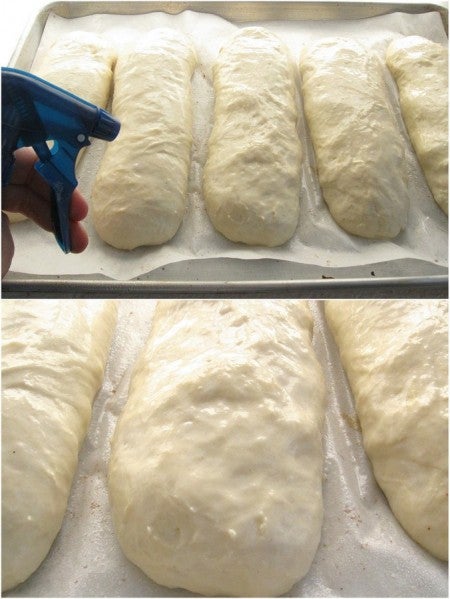 Uncover the rolls, and spritz them heavily with warm water.
Do they need to be slashed?
Well, I tried slashing, and it really isn't necessary. Left unslashed, these rolls don't split their sides like baguettes might.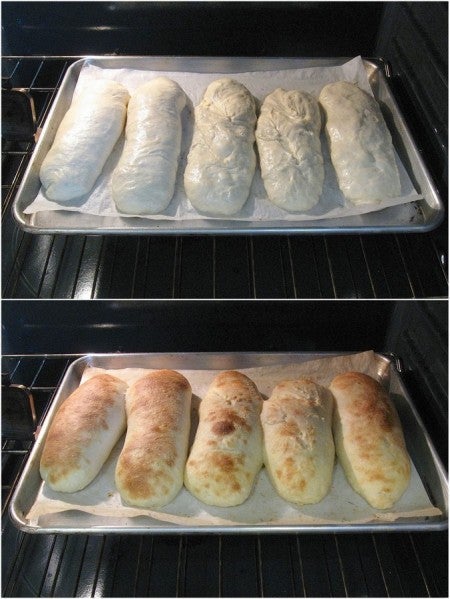 Bake the rolls for 18 to 20 minutes, until they're a dark golden brown. The rolls pictured above aren't fully done...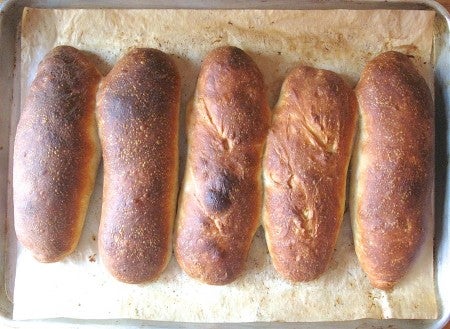 ...but these are.
Remove the rolls from the oven, and transfer them to a rack to cool.
See those two misshapen rolls in the middle? Those are the ones I slashed. Don't go there.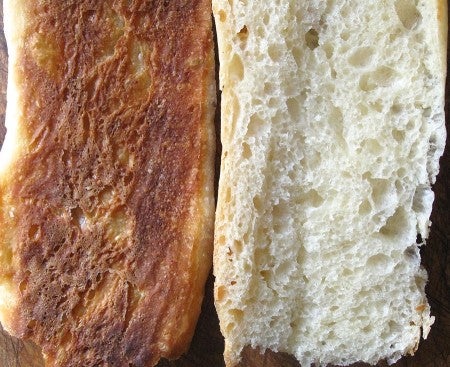 While not evidencing the "holey-ness" of a well-made baguette, there are plenty of cracks and crevices to trap and hold your sandwich's condiments.
And just as important, the roll itself is chewy, not soft; so it won't disintegrate into mush under your delicious onslaught of cold cuts and juicy vegetables – or even better, meatballs and sauce!
Read, bake, and review (please) our recipe for No-Knead Chewy Sandwich Rolls.
Want to try making a classic crusty baguette using this no-knead baguettes de tradition method? Omit this recipe's olive oil and dry milk; and increase the water to 1 2/3 cups.
Jump to Comments