Someone posted this joke the other day. "Why is everyone so tired on April 1?"  "Because they just finished a 31-day March!"
Of course I giggled; it's a cute joke, after all. Then my brain had to kick in and think. Wow, it really has been a long march to spring this year. How about you?
I know many of our baking friends suffered epic storms, power outages, wind, water, and sky raining down havoc. Here in New England the month of February only had 3 days of full sun. The rest were partially cloudy or overcast. That can really dull your senses and stifle your mind. Not in a good "Stifle, Edith!" way, but the "I don't really feel like moving from this couch" way.
So, how are we to make this bad feeling better? Let's go BAD in a big way.
Bad movie night? I'm in! Bad singing in the car? Crank up the tunes!
My call to you? Fill up the comments section with your best BAD jokes. Bad= clean, silly, eye-rolling, groaningly bad jokes. That's right. Before you get to read the rest of the blog, I really want you to pop down and type up a great bad joke to share with the rest of us. Then come right back and get your reward. A step-by-step recipe  for a delightfully fragrant and ambrosial Easter bread, heady with mood-lifting citrus scents.
Ready? GO!
Okay, on you go to your prize!
This lovely bread does require an overnight starter. Grab your mixer  bowl and toss in:
1 cup (120g) King Arthur Unbleached All-Purpose Flour
1/2 cup (113g) cool water
1/8 teaspoon instant yeast
Cover lightly and leave out on the counter overnight.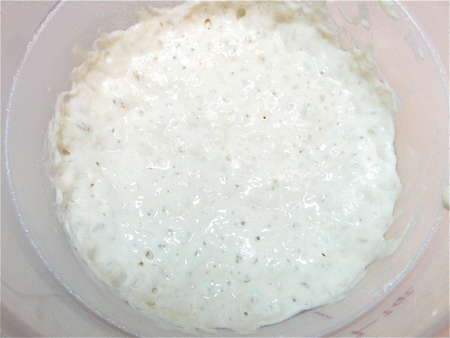 The next morning your starter will look bubbly and active, like a pancake just before flipping.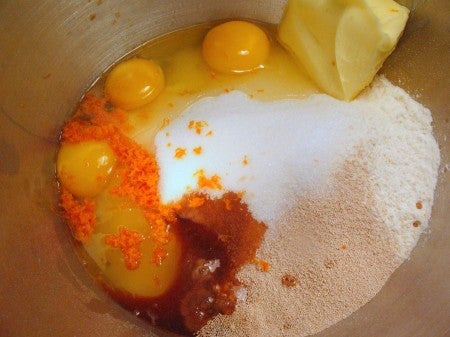 To the starter add:
2 1/4 cups (269g) King Arthur Unbleached All-Purpose Flour
1 1/4 teaspoons salt
2 teaspoons SAF Gold instant yeast, for best rise; or regular instant yeast
1/3 cup (67g) granulated sugar
4 tablespoons (57g) unsalted butter, at room temperature
2 large eggs
1 large egg yolk
1/4 teaspoon Fiori di Sicilia or 2 teaspoons vanilla extract + 1/4 teaspoon orange oil
1/4 teaspoon ground anise seed, optional
grated peel of 1 large orange
One thing (among many) that I truly love about our unbleached flour is that it has such good, fresh flavor. There's no chemical taste to interfere with the other fragrant and delicious flavors you add to your recipes.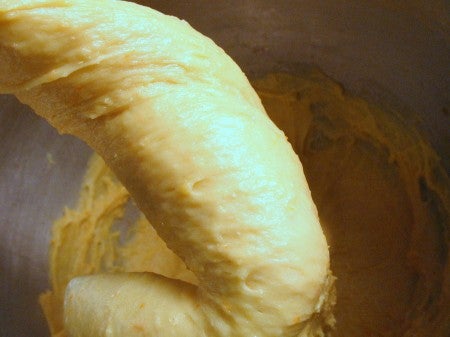 Mix and knead, using a mixer or bread machine, until the dough is elastic and satiny. We don't recommend preparing this dough by hand, as it's quite sticky and challenging to bring together.
See the little pieces of peel in the dough? Close your eyes and inhale and I bet you'll be able to smell them, too.
Cover the bowl and let the dough rise for 1 to 2 hours. Sweet and rich breads definitely take longer to rise, so patience is needed in planning.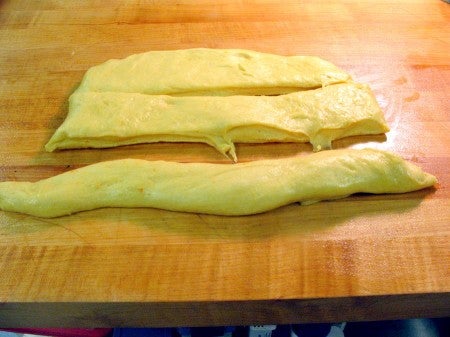 Divide the dough into three equal-sized portions and shape each piece into an 18"-long rope.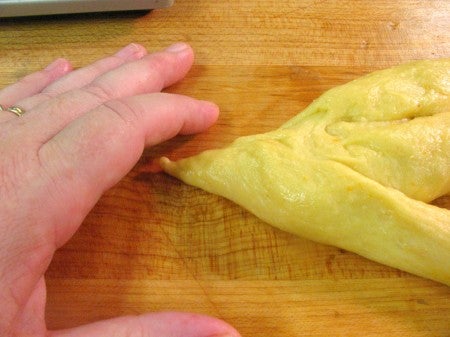 Pinch the ends together, squeeze to a point, and tuck that point under the braid.
Confession time. Somehow I lost track of my braiding pictures for this bread. Luckily PJ had done a 3-stranded braid in a blog before, so with her permission I've used her photos instead. Thanks lady, you're a lifesaver!
[Ed. note: "Computers are our friend." Sorry your photos were techno-ditched... PJ]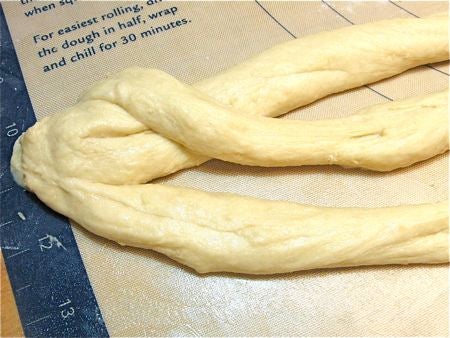 To form the braid, bring one of the outer ropes over the center rope.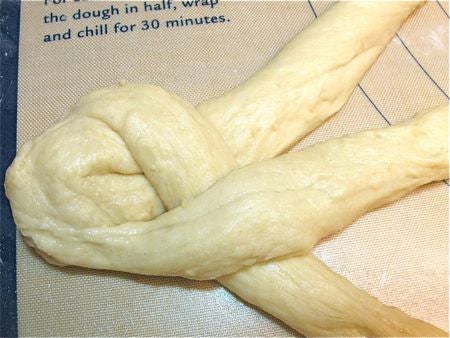 Bring the opposite outer rope over the "new" inner rope (which used to be the outer rope). Get it?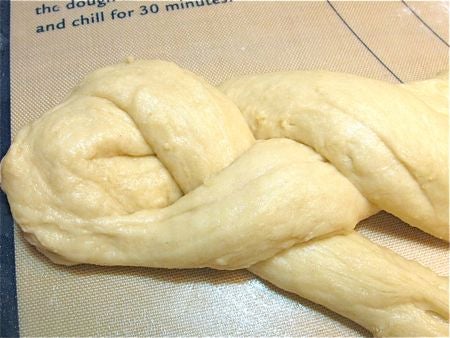 Repeat, switching from side to side and always bringing an outside rope over the center rope. If you've ever braided hair, or rope or wire, it's the same motions.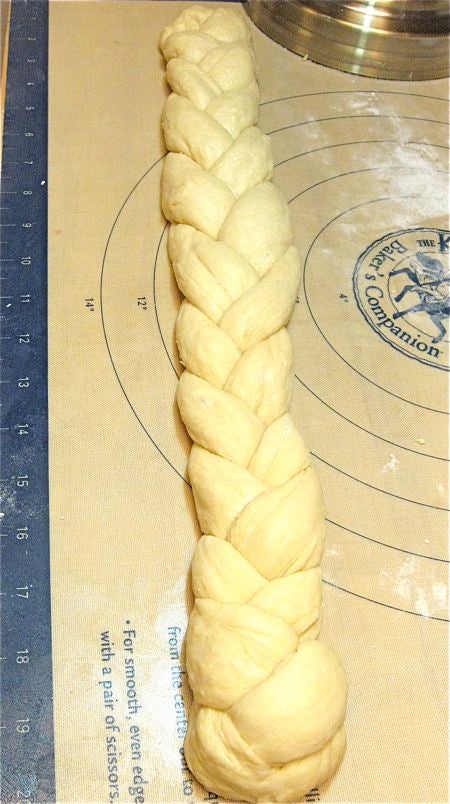 You'll end up with a very long, slim braid.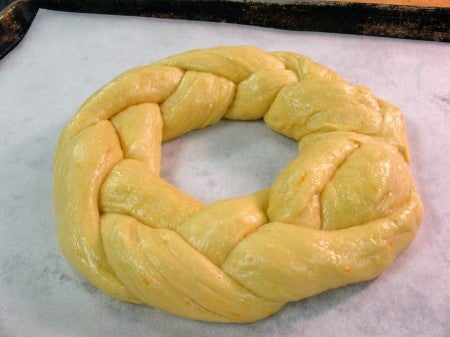 Curve the straight braid to a ring and pinch the ends to seal.
Cover the wreath and allow it to rise until puffy, about 1 to 2 hours (again, SAF Gold will work faster).
Towards the end of the rising time, preheat the oven to 375°F.
Bake the wreath for 15 minutes, then reduce the oven heat to 350°F and bake for an additional 20 minutes, tenting it for the final 10 minutes of baking. The finished loaf will be golden brown, and an instant-read thermometer inserted into the center will register at least 190°F.
Remove the wreath from the oven, and transfer it to a rack to cool.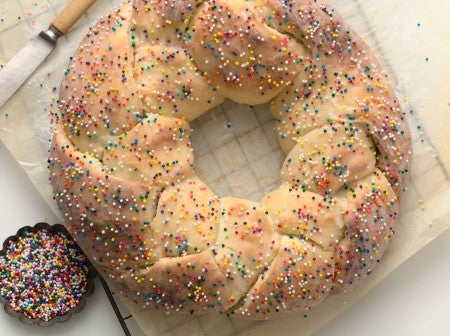 When the braid is cool or just barely warm, make the glaze and/or decorate the bread.
Stir together 1 cup of confectioners' sugar and 2 tablespoons milk or orange juice. Add more liquid 1/4 teaspoon at a time, until the glaze is thin and pourable.
Drizzle the glaze onto the cooled braid, then decorate with sprinkles, if desired. Little colored nonpareils make for a very festive look and might remind you of Italian struffoli, that honey-sweet confection that also appears at Eastertime.
Here's to spring colors, warm breezes and, as always, happy baking!
Please bake, rate, and review our recipe for Easter Bread Wreath.
Jump to Comments