Vanilla Rice Pudding
The best there's ever bean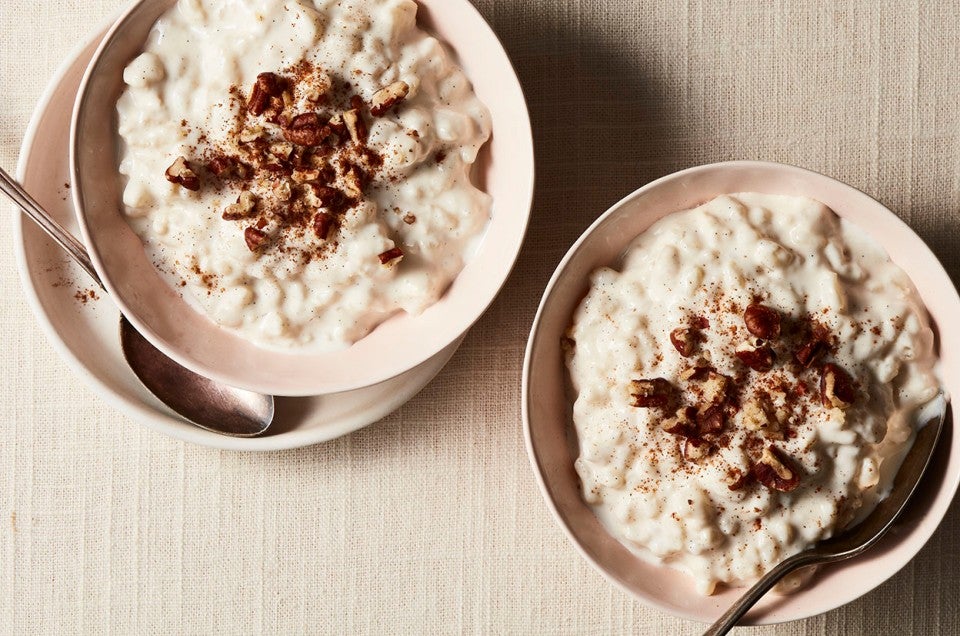 A few years ago, I wrote a blog about bread pudding and how until I had my first bowlful, I wanted nothing to do with it. For a long time, I felt the same way about rice pudding, Rice to me belonged in stir-fry, not in dessert. And then a wacky twist of fate brought my new love and I together.
This past spring I ended up having a surprise surgery that left it very difficult for me to swallow solid foods for awhile. While recuperating on the couch, I delved heavily into the world of soft, squishy foods provided by friends and family. My favorite way to start the day became chocolate pudding and mashed potatoes became a luncheon mainstay.
At one point for variety we bought some tapioca pudding, and that proved to be quite delish. But I still had never had rice pudding. Something in the back of my mind always prevented me from picking up a container, or breaking out the saucepan.
Fast forward to a few months ago when Baking Sheet editor Susan Reid and I were chatting in the test kitchen. She was extolling the virtues of a good dish of warm rice pudding for curing the blues. I confessed to never having tried it, and vowed to give it a go. Ah Fate, you finally played a card on my side of the table. Simply put, rice pudding is da bomb.
I tried out a few different versions, and while all were quite yummy, I really like the plain vanilla versions best. I also like cooking the rice right in the cream/milk instead of using pre-cooked rice.
The thing that I think really makes this particular rice pudding recipe special is the vanilla itself. Our King Arthur Flour exclusive blend has a truly perfect combination of Madagascar and Tahitian vanillas. Pure, rich, and intensely vanilla, it is the only one I use now both at home and in the test kitchen.
Join me, and we'll make this outstanding Vanilla Rice Pudding.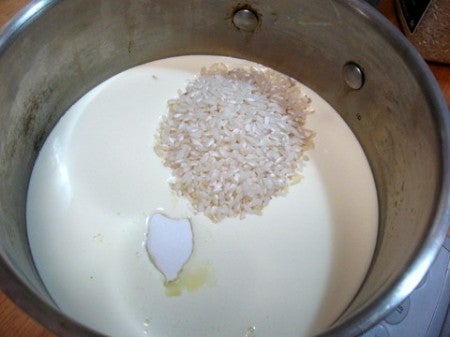 Place the milk, 3/4 cup cream, sugar, rice, and King Arthur Pure Vanilla Extract in a medium-sized saucepan over medium heat.
Yes, the rice is raw at this point. This particular rice pudding is cooked more like a risotto; the rice absorbing the cream and sugar during the cooking process.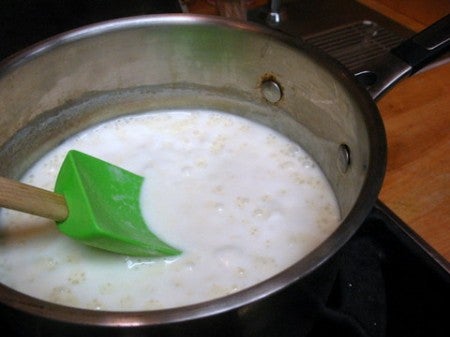 Continue to cook over medium heat as the mixture simmers and bubbles gently. No boiling! This would cause the cream to curdle.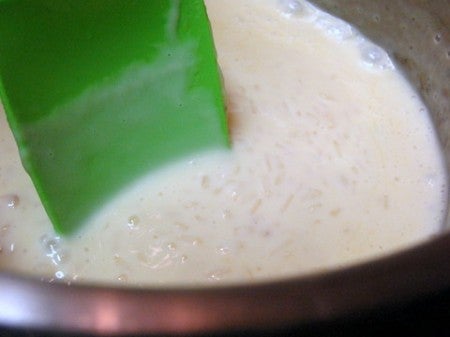 The rice will start to absorb the liquid. It will grow and become more transparent, while the liquid will begin to thicken from the rice starch.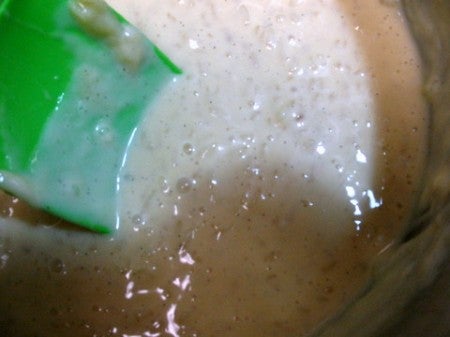 Bubble, bubble, bubble, stir, stir, stir. Around the 30 minute mark, you'll want to begin tasting the rice to see if it is done yet. You want a firm grain, not soggy and mushy, but also no crunch.
When the rice seems nearly done, add the remaining 1/4 cup of cream and the Vanilla Bean Paste. Adding more vanilla late in the cooking time will keep it from cooking out too much, giving you the best vanilla flavor, plus the flecks of actual vanilla bean.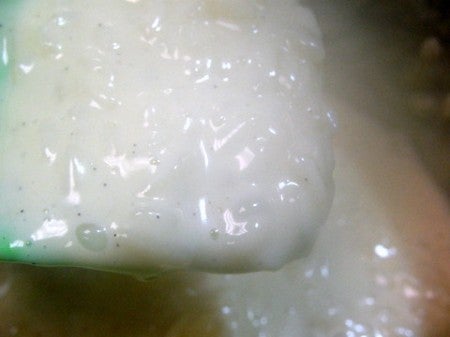 There! Lovely transparent grains of rice and a creamy sauce of vanilla. Right now, I can't think of anything more soothing and lovely, except maybe a beautiful mermaid stroking your hair as she sings you off to sleep.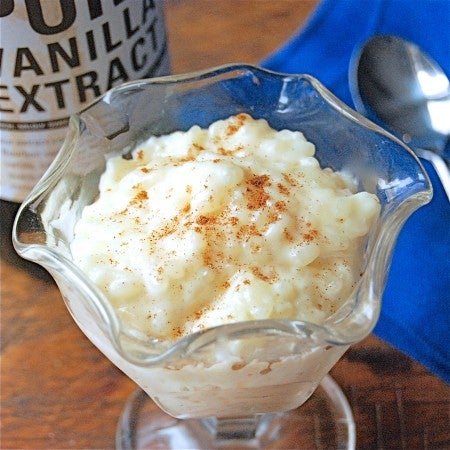 The pudding can be served warm or cold. I like to have a little dish while it is still warm, and then chill the rest to enjoy like ice cream. I can't begin to tell you how fragrant this little dish of pudding is. The vanilla is at once magical and familiar, enticing and comforting. I think I'll grab my spoon and dig right in to the best of both worlds.
Please make, rate and review our recipe for Vanilla Rice Pudding
Treat yourself to a bottle of amazing vanilla.
Jump to Comments