Fruited Sourdough Sandwich Bread
Soft, sweet, and sour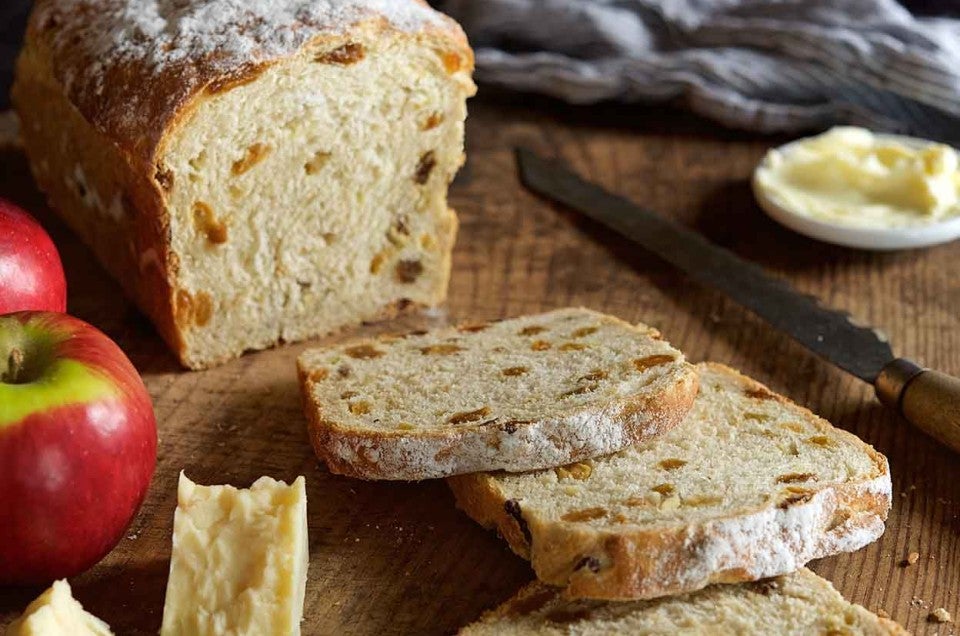 When you think sourdough, you probably think:
A) San Francisco;
B) Crusty bread;
C) A lot of of work to make.
None of which paint an accurate picture of the sourdough bread pictured above. Which is:
A) A Vermont native;
B) Soft inside, with a chewy crust;
C) Potentially ready to enjoy in under 4 hours.
Have I piqued your interest?
Hope so. Because this bread makes the BEST toast, the BEST sandwiches and, if you're a fan of the sweet/salty flavor combo, the ABSOLUTE BEST grilled cheese ever.
And yes, it can be made, start to finish, in under 4 hours. So long as you have your starter ready to go...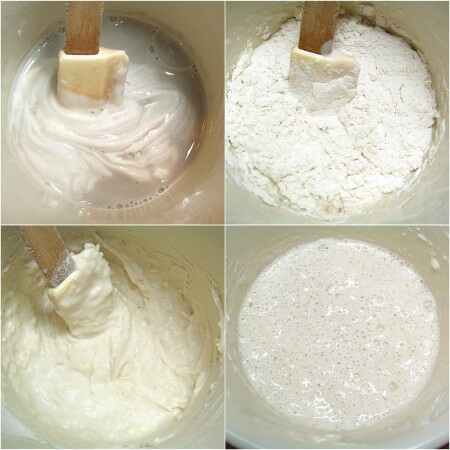 When making yeast bread with sourdough starter, I like to feed it first; it helps the bread rise.
Wait a minute – don't you always have to feed your starter before using it?
Nope. If you're using it in waffles, or chocolate cake, or popovers, or pretty much anything beyond yeast bread, sourdough starter can easily be used without offering it a meal first.
Which makes the non-yeast recipes listed above ideal for what, class?
That's right – using up the "discard" sourdough you'd ordinarily throw away when you DO feed your starter prior to making yeast bread.
But, since we ARE making bread here, best to feed your starter first. If you have your own method, go for it. If not, here's how I do it:
Pull your sourdough starter out of the refrigerator. Stir in any clear, amber, or dark-colored liquid that's collected on top. If the liquid is pinkish, discard all of the starter and begin again; pink signifies harmful bacteria.
Discard all but 4 ounces (a generous half cup) of the starter. Stir in 1/2 cup (4 ounces) lukewarm water, and 1 cup (4 1/4 ounces) King Arthur Unbleached All-Purpose Flour.
Cover and let rest at warm room temperature until the starter is bubbly and looks active, which will probably take 8 to 12 hours or so.
Bringing your starter up to snuff may take more than one feeding, if it's been neglected. Questions? See our complete guide to sourdough maintenance.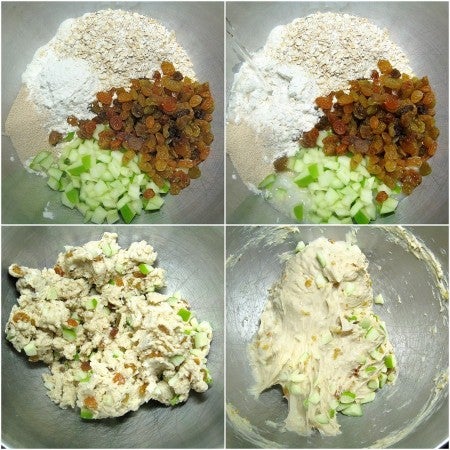 Combine 2/3 cup (about 160g) fed starter with the following:
2/3 to 3/4 cup (152g) lukewarm water*
1 tablespoon (14g) olive oil or vegetable oil
1 teaspoon to 4 tablespoons (14g) sugar, to taste
1 1/4 teaspoons salt
2 1/4 cups (269g) King Arthur Unbleached All-Purpose Flour
1/4 cup (43g) potato flour or 1/2 cup (43g) dried potato flakes
1/3 cup (30g) rolled oats, old-fashioned or quick-cooking
2 teaspoons instant yeast
1 cup (113g) chopped Granny Smith apple (about 1 small apple), peeled or not
1 cup (149g) raisins, golden or dark
*In summer, or during hot/humid weather, reduce the water by 1 tablespoon.
Mix and knead to form a smooth yet sticky dough. This will take about 7 minutes at medium speed in your stand mixer. If you're kneading by hand, it'll take about 10 minutes, and you'll want to keep your hands well greased.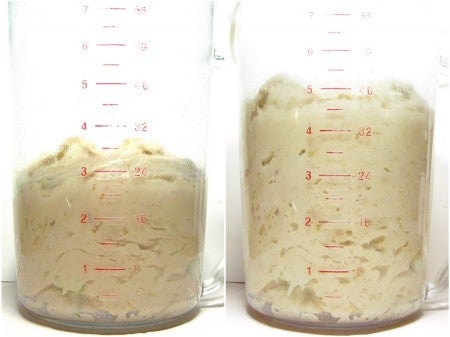 Place the dough in a lightly greased bowl (or 8-cup measure, as I've done here).
Cover it, and allow it to rise for about 90 minutes. The dough will become puffy, though it probably won't double in bulk.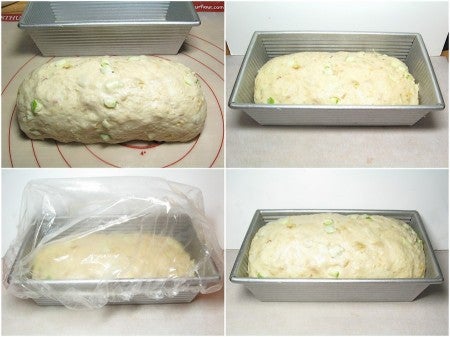 Lightly grease an 8 1/2" x 4 1/2" loaf pan.
Gently deflate the risen dough, and shape it into a log. Place it in the pan, and cover it lightly.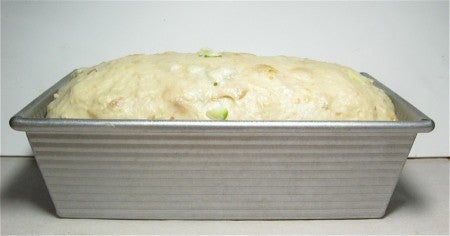 Let the dough rise until it crests about 1" over the rim of the pan, 60 to 90 minutes.
Towards the end of the rising time, preheat the oven to 350°F.
Bake the bread for 40 to 45 minutes, tenting it with foil after 15 to 20 minutes; it will continue to brown slowly.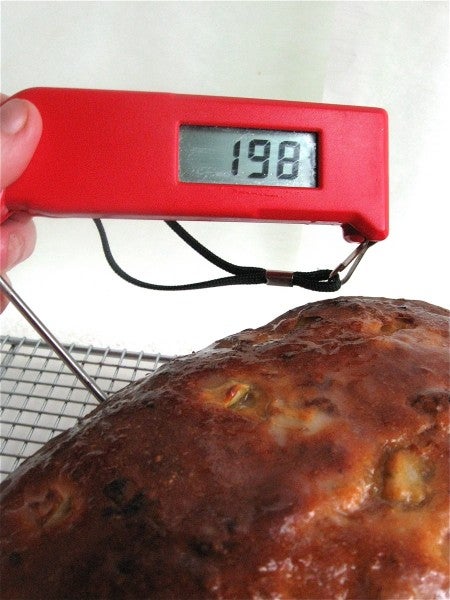 When it's done, the bread will be golden brown, and will register 190°F on an instant-read thermometer inserted into the center.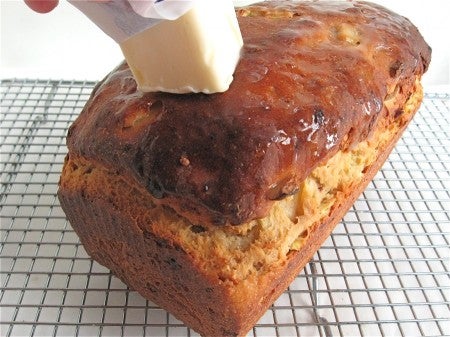 Remove the bread from the oven, and after a couple of minutes turn it out of the pan. Run a stick of butter over the top, if desired; this will yield a soft crust and, of course, wonderful, buttery flavor.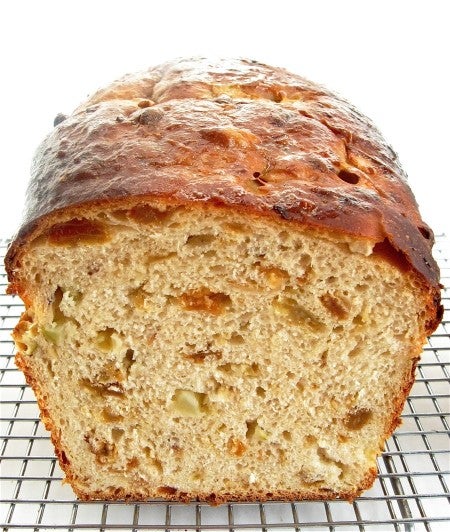 Let the bread cool completely before slicing.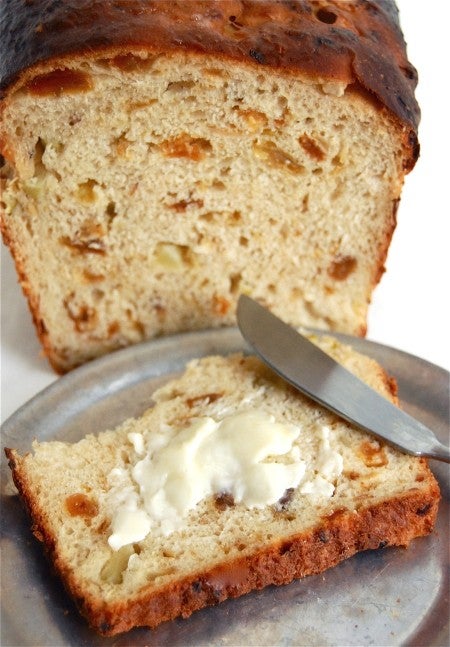 And buttering. And enjoying.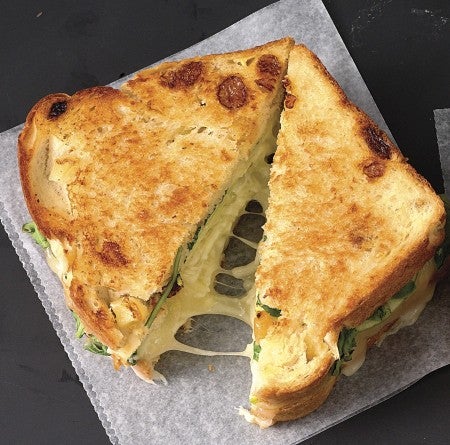 Or grilling, to make Grilled Cheese with Apple and Arugula.
Whoa... trust me – this is one REALLY good sandwich!
Read, bake, and review (please) our recipe for Fruited Sourdough Sandwich Bread.
Jump to Comments