Living here in New England practically my entire life, I'm very familiar with doughnuts.
VERY familiar.
After all, New England is home to Dunkin' Donuts, "the world's leading baked goods and coffee chain," according to its Web site.
A running joke around these parts, when giving directions to anywhere, is to simply say, "Go past four Dunkin' Donuts and turn right."
Still, though to outsiders New England may look like a huddled smudge stuck up in the right-hand corner of any U.S. map, each of its states has its own distinct doughnut tradition. And I've enjoyed them all –
Connecticut: Big, moist, homemade cinnamon doughnuts, stacked vertically on a wooden rod, the highlight of our town's annual September Grange fair.
Massachusetts: Powdered-sugar Hostess Donettes, nestled a slightly sticky six to a plastic sleeve. They tided me over many a late afternoon between the end of high school track practice and dinner – an agonizing 45 minutes spent bouncing home over pot-holed roads in the back of a school bus.
Rhode Island: Bess Eaton! This late, lamented chain's coconut crunch doughnut was the ultimate "the mess is worth it" dining experience – right up there with lobster.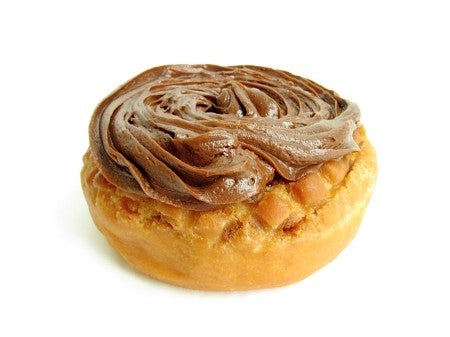 Maine: The Camden Home Bakery's Persian Bun, a deep-fried cinnamon roll topped with – well, see for yourself. One of these days, I'm going to clone this sucker.
New Hampshire: Muriel's, in Lebanon. Muriel herself stands behind a fryer, poking at doughnuts with a wooden dowel, then spearing one, asking if you want plain sugar or cinnamon sugar, and shaking it in a bag for you. A hot Muriel's cinnamon doughnut with a cup of coffee? Life is good.
Vermont: Let's just say I've spent many happy hours frying doughnuts in the King Arthur test kitchen, looking to re-create the doughnut experiences outlined above.
Still, in all my years of doughnut appreciation, I'd never eaten a homemade churro.
Until now.
Churros, mildly crunchy, tender sticks of fried dough, are a typical breakfast treat in many Hispanic countries. I'd seen packaged churros in stores; and even been tempted by the leaden-looking wands in the local club store's snack bar. But they just never had that fresh-fried allure, the come-hither look that spawns a reckless attitude in its willing victim.
But I was always interested. Are they a cake doughnut, a yeast doughnut... what?
As it turns out, churros are neither cake nor yeast doughnut, but something all their own: pâte à choux (cream puff) batter, piped into hot fat, deep-fried until crisp, and shaken with cinnamon-sugar.
Shaped in a ring, this type of doughnut is similar to a French cruller; in fact, Dunkin' Donuts carries them. But the proportion of crisp outside to soft inside leans heavily towards crust in a churro, making it the perfect vehicle for coffee, or hot chocolate – which is what churros are served alongside in their native Spain.
If you're not afraid of deep-frying – and in this case, "deep" is only about 5/8" of oil – give these tasty Churros a try.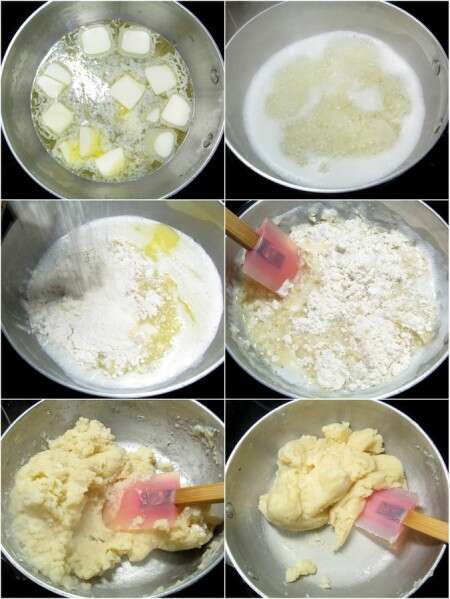 Combine the following in a saucepan set over medium heat:
1 cup (227g) cool water
8 tablespoons (113g) unsalted butter
3/4 teaspoon salt
Heat until the butter has melted, and bring to a rolling boil.
Remove the pan from the heat, and add 1 1/4 cups (149g) King Arthur Unbleached All-Purpose Flour all at once, stirring vigorously.
Return the pan to the burner and cook over medium heat, stirring all the while, until the mixture smooths out and follows the spoon around the pan; this should take less than a minute.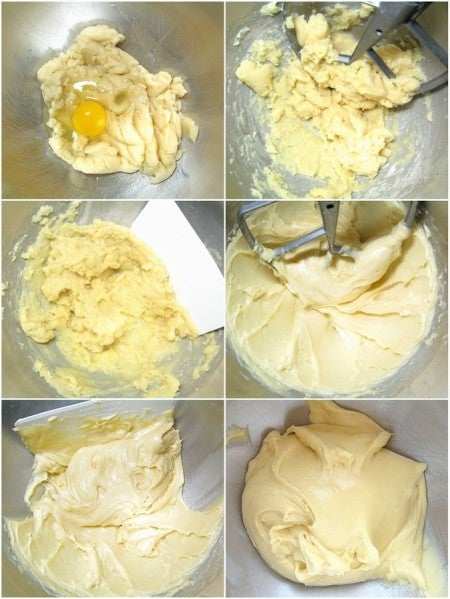 Remove the pan from the heat, and let the mixture cool for 5 to 10 minutes. It'll still feel hot, but you should be able to hold a finger in it for a few seconds. If you have an instant-read thermometer, the temperature should be below 125°F.
Transfer the mixture to a mixer, and beat in 1/2 teaspoon cinnamon, if desired; this will enhance the churros' flavor.
Beat in 4 large eggs one at a time, scraping the bowl as needed.
The mixture will look curdled at first, but when you add the last egg it should become smooth. Beat for at least 2 minutes after adding the last egg. See how silky it gets?
Next, you have a choice of piping the batter into hot oil immediately, which will yield curved or S-shape churros; or piping it onto a piece of parchment and freezing for 30 minutes, which will make straight, stick-like churros.
To pipe immediately: Pour 3 cups vegetable oil (peanut oil preferred) into a 10" electric frying pan or heavy skillet set over a burner; the oil should be about 5/8" deep. If you use a smaller or larger pan, add oil to a depth of between 1/2" and 3/4".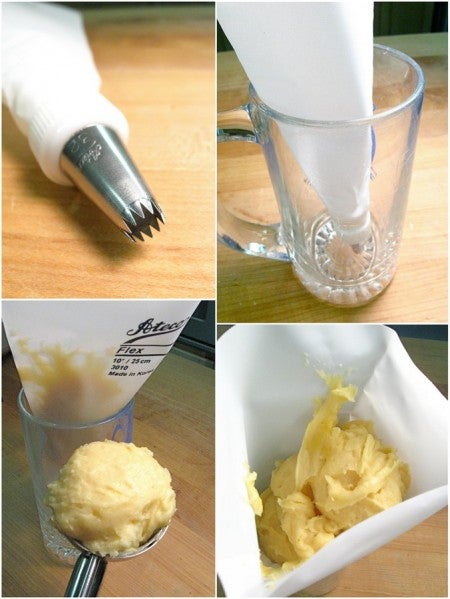 While you're heating the oil to 375°F, spoon the batter into a pastry bag fitted with a star tip; a muffin scoop is a handy tool here.
The star tip will give your churros their signature grooved surface. A 1/4" star is typically included in a basic pastry set; this will yield churros about 3/4" in diameter. If you're looking for fatter, 1" churros, use a wider star tip.
Can you make these without a pastry bag?
Difficult. Try putting the sticky batter into a plastic bag, and snipping off the corner. You won't get the vertical grooves a star tip would yield; and the plastic bag will be hard to handle, but it's possible to do — barely. (I know, I tried it!)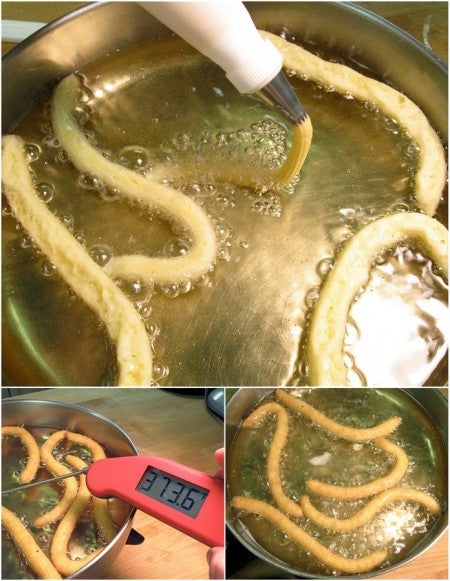 Pipe a line of batter about 6" long into the hot oil. It's virtually impossible to pipe a straight line; you'll see. Pipe 5 or so churros at a time into the oil. Don't crowd them, as they'll lower the temperature of the oil too much; you want it to stay right up there around 375°F.
Fry the churros for about 2 minutes on each side, until they're a light golden brown, and are cooked all the way through. Drain on a paper towel-lined baking sheet.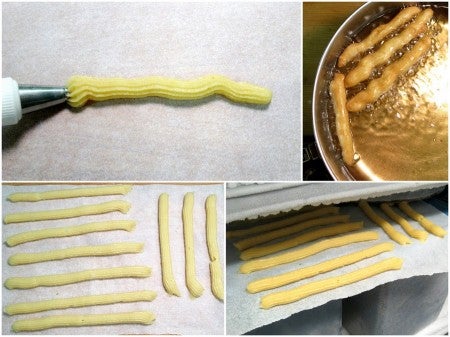 For straight (well, straighter!) churros, it helps to freeze them before frying.
Pipe the batter in 6" straight lines onto a piece of parchment. Place the parchment on a pan, and put the pan in the freezer. Freeze churros for 20 to 30 minutes, until they're stiff enough that you can pick them up off the parchment.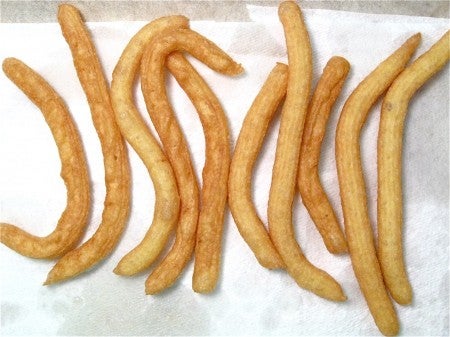 Fry frozen churros as directed above, about 2 1/2 minutes per side.
Drain and cool on paper towels.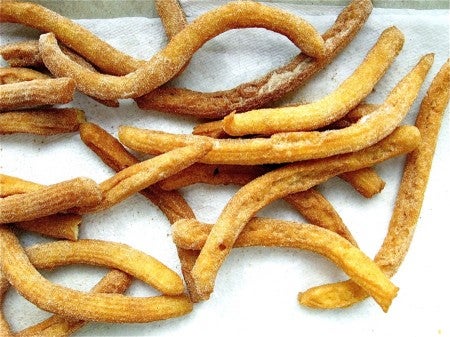 Sprinkle churros heavily with cinnamon-sugar (you'll need about 3 tablespoons total), stirring gently to coat.
Or spoon cinnamon-sugar into a plastic or paper bag large enough to hold churros without crowding, and gently shake, about 5 or 6 at a time, to coat with the sugar.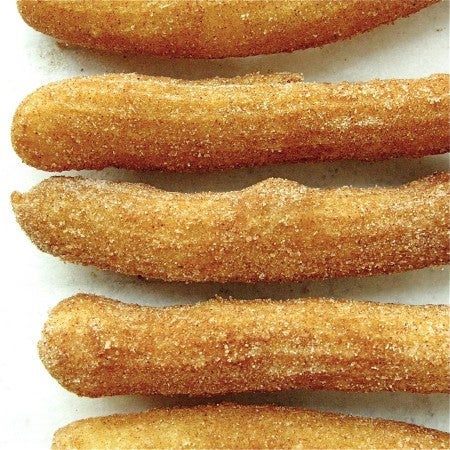 See the grooves? They really look like churros!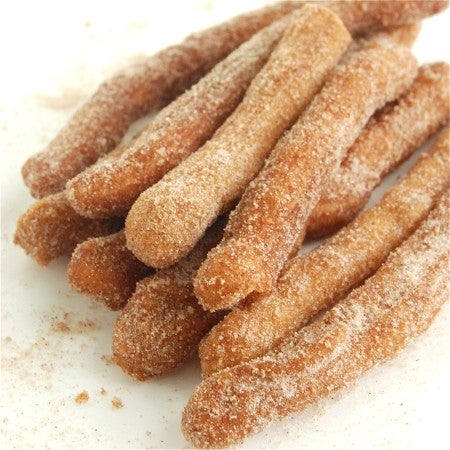 Serve immediately.
Or cool to room temperature, and store airtight for several days. Reheat in a 350°F oven for about 10 minutes before serving.
Questions, anyone? Yes, you in the front row there –
"Can you make these with whole wheat flour?"
Uhhhh... no. We don't advise it; best to get your daily fiber elsewhere.
Anyone else?
"Can you freeze these?"
Sure. Freeze the batter as directed above; when churros are solid and have lost their stickiness, wrap them gently in plastic, and freeze for several weeks.
Cooked, cooled churros can be wrapped airtight and frozen for up to about a month. Thaw, uncovered, at room temperature; then reheat for about 10 minutes in a 350°F oven.
Read, make, and review (please) our recipe for Churros.
Jump to Comments