Caramel Stuffed Snickerdoodles
Taking your favorites one step further.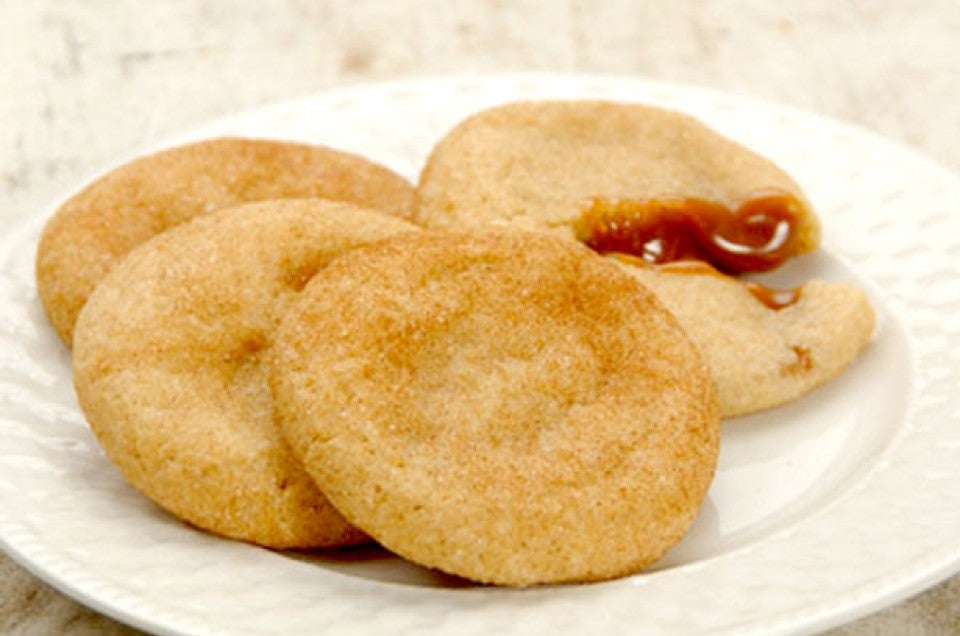 In the past, if I were to choose to make a batch of cookies, any flavor I wanted, I must confess Snickerdoodles would not have been at the top of the list. I mean, they're fine, OK, pretty good.
And then PJ created her Superdoodles. I started to love Snickerdoodles more and more. But could I make them into a cookie I craved?
Enter: caramel. 
Now, what shall we do with it today?
If you regularly check the blogosphere, you'll see that stuffing things inside of cookies has been a big trend over the last year or so. Cookies stuffed with cookies, cake stuffed with colored cake, cake stuffed with pie.
Yes, cake stuffed with pie. I didn't really think we needed to go that far out, so decided on a simple stuffed cookie.
The chocolate/caramel/sea salt combo is popular and honestly quite delicious, but it has also been done nearly to death lately. I pondered caramel-stuffed Vanilla Dreams, but the glory of a Vanilla Dream cookie is in the crunch, and I thought caramel would detract from that.
It wasn't until my daughter Shannon whipped up a batch of Snickerdoodles at home that the true calling for my caramel block was realized. I unashamedly stole the rest of the cookie dough and whipped up the first batch. The dough was a little too soft to create the perfect stuffed cookie but we were on our way.
I switched recipes to our Snickerdoodle recipe online and the cookies came out just right. Tender, chewy, fragrant on the outside with sweet, buttery caramel on the inside.
Ladies and gentlemen, we have lift-off.
Let's make a batch of Caramel-Stuffed Snickerdoodles*.
*The link will take you to the regular Snickerdoodle recipe, or you can use your own favorite recipe for the base.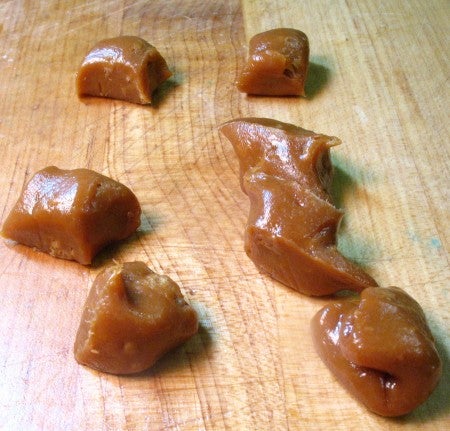 Using kitchen scissors or a bench knife, cut small pieces of caramel about as big as a malted milk ball. The ball should be smaller than a standard square caramel, but not by much. Roll the caramels between your palms to round them up a bit. You don't want stray edges poking out the sides of your cookie.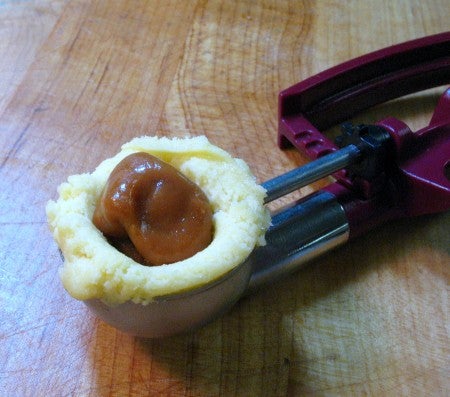 Scoop up about 2 tablespoons of your favorite Snickerdoodle dough. A tablespoon cookie scoop works beautifully for this. Make a little hollow with your thumb and press in one caramel ball.
I like a softer cookie, so I made our Snickerdoodle recipe using vegetable shortening. Using butter will yield a crisper cookie, and using a combination will land you somewhere in between.
I also found that having a firmer dough made for a better stuffed cookie. If your favorite recipe yields softer dough, try adding just 1/4 cup extra flour to give it a touch more structure.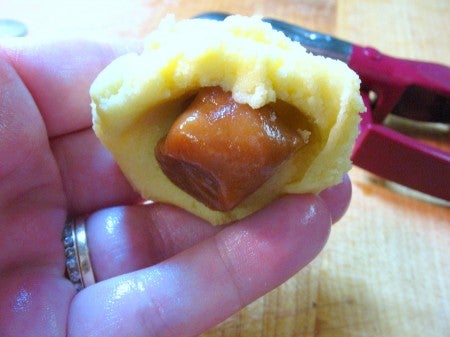 Pop the dough out of the scoop and feel the bottom to ensure the caramel ball isn't coming out the other side.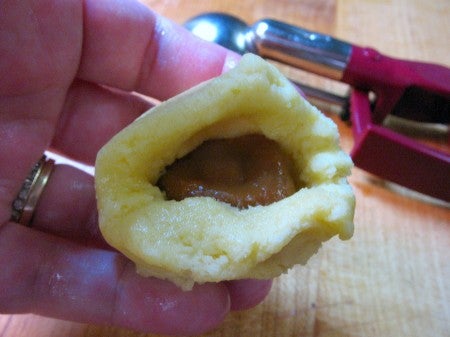 Use your fingers to gently enclose the ball completely in dough. Roll the dough ball between your palms to smooth it out and to help center the caramel. Repeat with all the dough and caramel, placing the balls on parchment until they're all rolled.
If it's really warm in the kitchen, put the dough balls in the fridge, to keep them from getting too greasy.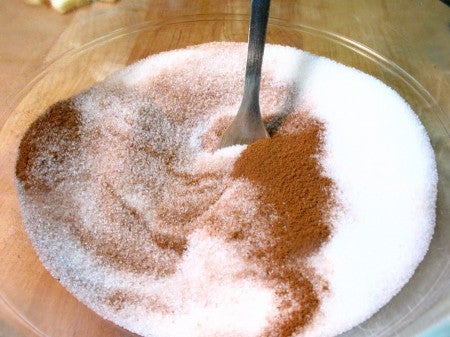 Prepare the cinnamon-sugar topping. Whisk together 1 cup sugar and 1 teaspoon cinnamon. Taste a little on your fingertip and adjust the cinnamon to your liking. If you're a sweet/salty person, a pinch of fine sea salt could be added to the mix.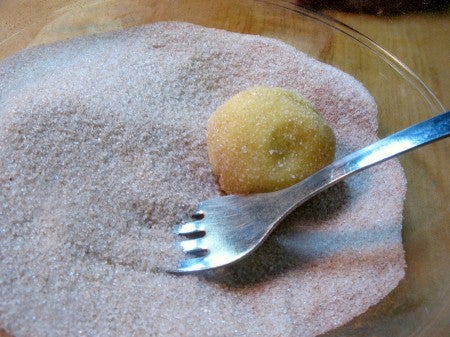 Drop each ball into the cinnamon-sugar and toss until well coated. If you really like the coating best, you can toss each dough ball twice.
Place the balls 2" apart on a parchment-lined baking sheet and bake at 350°F for about 10 minutes for soft cookies, 12 minutes if you like crisper cookies.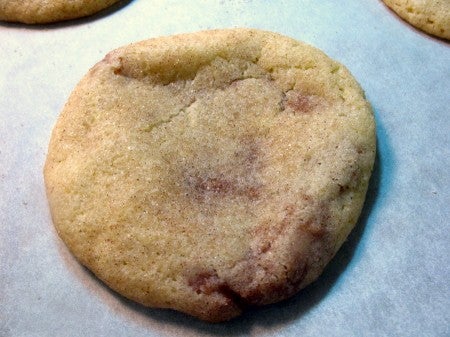 As the cookies bake and the caramel melts, the centers will sink down some. There are also bound to be some breakthroughs and caramel-lava flows. This is where the parchment proves invaluable. If you get caramel on the paper, just peel it up. I won't tell if you nibble it up.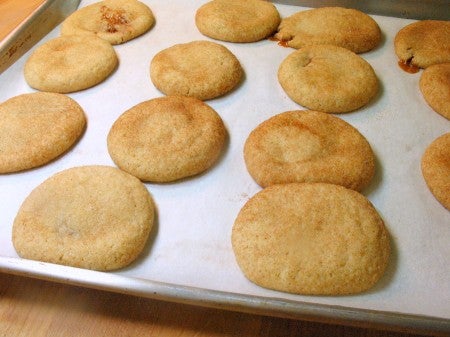 Ohhhh, ahhhh, soft cookies with melty caramel goodness inside.
Now, here's the trick. The caramel stays melted when the cookies are hot, but absorbs into the cookie more as it cools. It's a fine line to walk.
Here's what I found worked well. Let the cookies cool on the sheet for 4 to 5 minutes. Break one open and check out the caramel. If it's still rocket hot, give them 2 minutes more to cool, then dive in with a big glass of milk.
As the cookie cools you get melted pockets of caramel still, but also chewy patches of cookie-caramel blended together. I even tried one of these cookies partially frozen after baking, and it was a candy-filled cookie delight. Not sticky enough to pull fillings, but toothy enough to make one cookie last and last.
However you decide to eat them – warm, semi-frozen or somewhere in between – the caramel stuffing inside these cookies really takes the cinnamon-sugar goodness of a Snickerdoodle over the top, from familiar favorite to fantastic folly.
Just a reminder, there's no printable version of this technique. Use your favorite recipe or give our Snickerdoodle recipe a try!
Jump to Comments