Buttermilk Granola Muffins
Crunchy granola, meet your tender muffin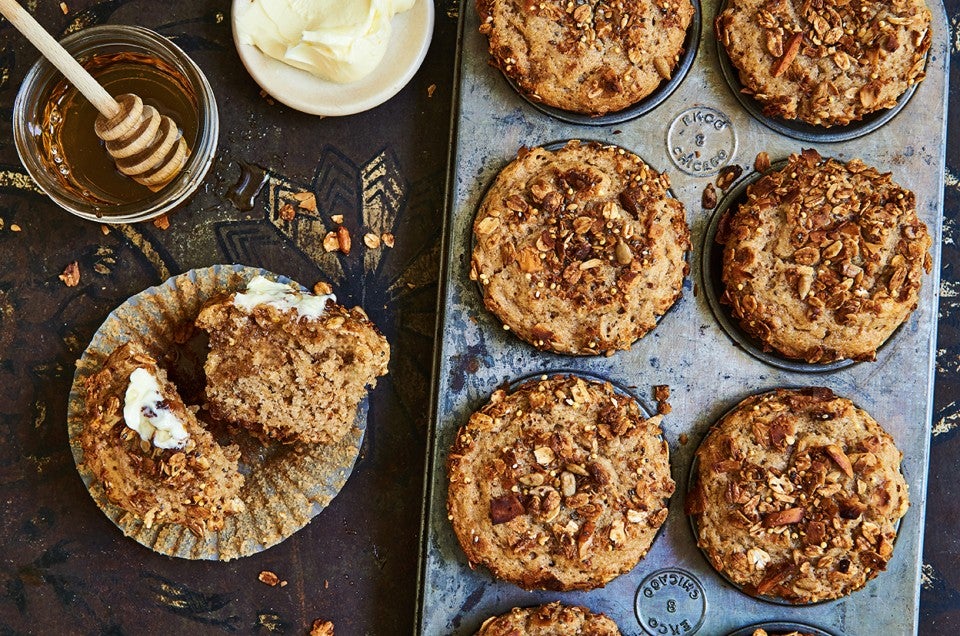 So many recipes... so little time!
There's a running list I keep called "recipes I'd like to develop someday."
A baking bucket list, as it were.
SOMEDAY... I'm going to figure out how to make s'more cupcakes. And triple chocolate scones. And 100% whole grain baguettes.
Now, tell me, doesn't cheeseburger pizza sound good? How about iced carrot cake cookies? Or a giant soft pretzel, perfect for a crowd-sized sandwich?
Well, today is the day I'm actually making progress on this list. Because Granola Muffins were on it for the longest time, before becoming reality.
Crunchy granola. A moist, substantial whole wheat muffin.
Whole grains, meet whole grains.
As it turns out, the granola adds a certain pleasant chewiness to the muffins' texture, and crunch to their tops. Plus lots of toasty/nutty flavor.
Looking for a quick and easy high-fiber breakfast treat?
Voilà!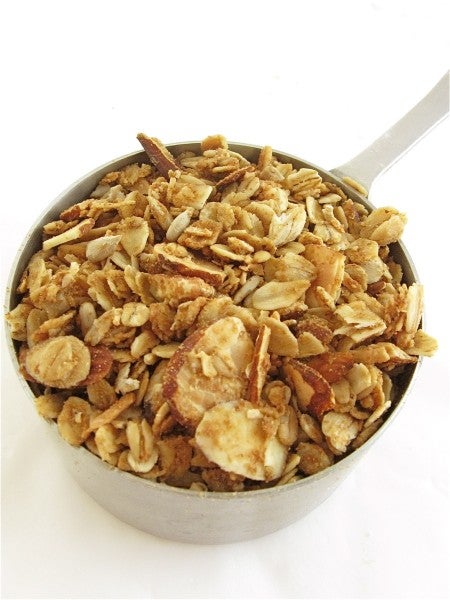 No brag, just fact: our recipe for Crunchy Granola makes the best granola I've ever eaten. And it's perfect for these muffins.
Preheat the oven to 400°F.
Place the following in a mixing bowl:
2 cups (8 ounces) King Arthur White Whole Wheat Flour or Premium Whole Wheat Flour
1 cup brown sugar
3/4 teaspoon salt
1 teaspoon baking powder
1/2 teaspoon baking soda
3/4 teaspoon ground cinnamon, optional
1 cup prepared granola
Whisk everything together thoroughly.
In a separate bowl, whisk together 1 teaspoon vanilla, 1/3 cup vegetable oil, and 1 1/2 cups buttermilk (or 1 1/4 cups liquid whey – the liquid drained from plain yogurt when you make thick, Greek-style yogurt).
Note: Want to make these muffins vegan? Substitute 1 1/4 cups orange juice, vegetable juice, cranberry juice, or the juice of your choice for the buttermilk or whey.
Pour the liquid ingredients into the dry ingredients, stirring just to combine.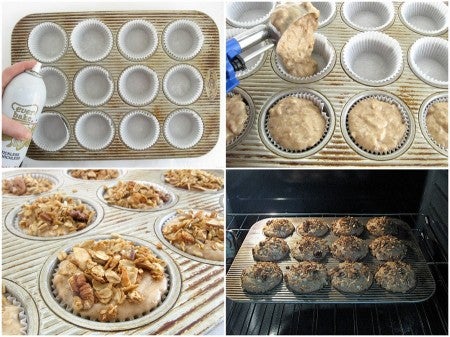 Lightly grease the cups of a standard muffin pan; or line with paper baking cups, and grease the paper cups.
Spoon the batter into the prepared muffin cups, filling them nearly full. A slightly heaped muffin scoop of batter is the right amount.
Sprinkle the tops of the muffins with additional granola, if desired.
Bake the muffins for 16 to 18 minutes; they'll dome nicely.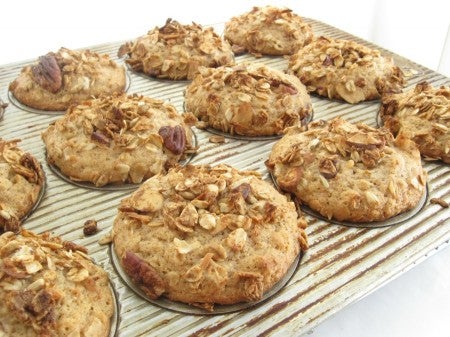 Remove them from the oven.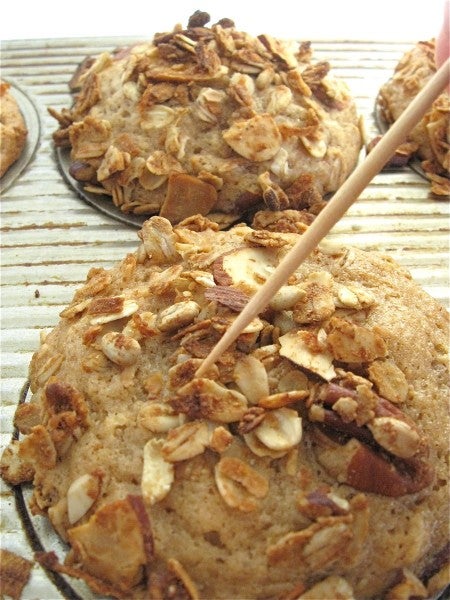 Test one of the center muffins by inserting a toothpick into the middle - it should come out clean.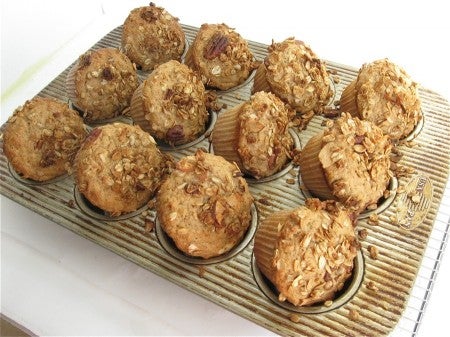 If the muffins are too hot for you to handle, use a table knife or chopstick to tilt them in their cups; this will prevent their bottoms from steaming and becoming soggy.
Once the muffins are cool enough to pick up, transfer them to a rack.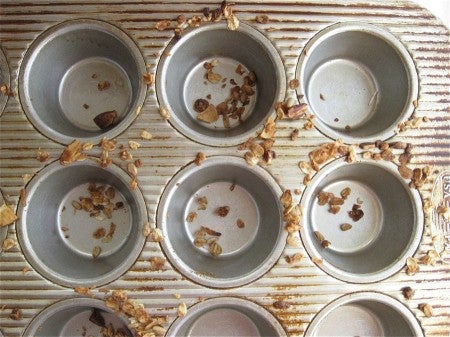 Save and enjoy any granola left behind - it'll be nice and crisp/crunchy.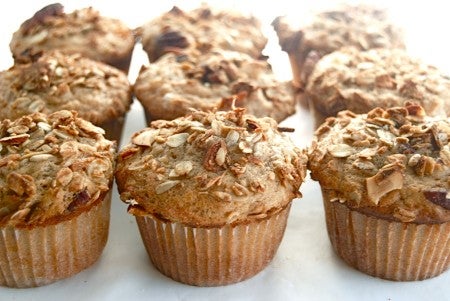 Serve muffins warm, or at room temperature. Store leftovers loosely wrapped at room temperature.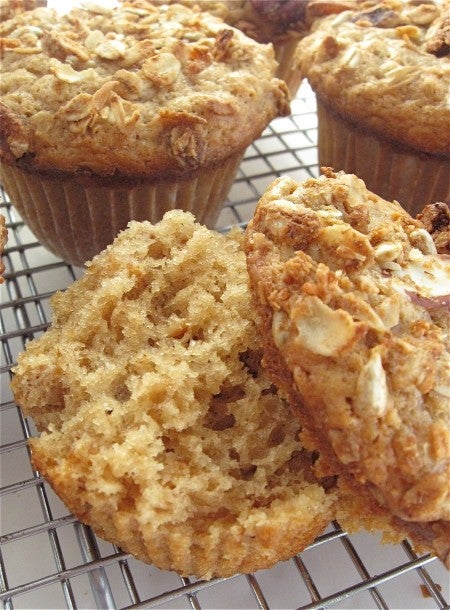 Did I mention these are 100% whole grain? Now THAT'S a tasty way to enjoy fiber!
Read, bake, and review (please) our recipe for Buttermilk Granola Muffins.
Jump to Comments