Cheese bread.
Just hearing those two words together – "cheese," and "bread" – makes your mouth start to water, doesn't it?
Who doesn't savor cheese? Who doesn't love bread?
Who among us didn't grow up enjoying multiple incarnations of each of these Comfort Food All-Stars?
Think mac 'n' cheese. Peanut butter sandwiches. Cinnamon toast. Cheese and crackers.
And, of course, that magical place where the two join hands and sing in perfect harmony: the grilled cheese sandwich.
Cheese bread – bread with the cheese baked right into it – evinces thoughts of melting pockets of cheddar or mozzarella, tantalizingly oozing with each new cut of knife into loaf.
But some cheese breads – like this Crescia al Formaggio, a.k.a. Italian Easter Cheese Bread – are more European, if you will.
We Americans can be prone to excess with our favorite foods. Imagine a 5-scoop banana split: rivers of hot fudge, generous dollops of strawberry and pineapple sauce, dripping marshmallow, neon-red cherry on top.
Now imagine not at Dairy Queen, but in... Paris.
I don't think so.
Thus this particular cheese bread might not be exactly what you're used to.
It's packed with Parmesan, true; but it's there for flavor, not its ooze quotient.
And, rather than being moist and soft, the bread is dry; almost austere. Which makes it the perfect vehicle for toast: drizzled with olive oil, spread with sweet cream butter... or topped with fig and walnut spread, for a truly adult treat.
Are you ready to bake cheese bread, Continental-style?
This Crescia is a great place to start.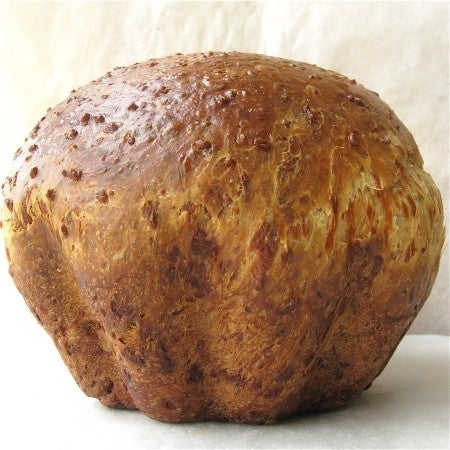 The classic Italian Crescia is baked in a pandoro (star) pan; a brioche pan is a good stand-in.
However, since I know most of you don't have either of those pans, I'll make one version in a brioche pan (above), and the other in a regular American loaf pan.
Place the following in a bowl; a stand mixer is very helpful here, since you're going to beat the dough for 10 minutes.
2 1/2 cups (298g) King Arthur Unbleached All-Purpose Flour
1 1/4 teaspoons instant yeast
3 large eggs, at room temperature
1 large egg yolk, white reserved
1/4 cup (57g) water, lukewarm
4 tablespoons (57g) butter, softened
1 teaspoon salt
1 teaspoon ground pepper (black if you don't mind the specks, white if you do)
Beat on medium speed for 10 minutes, until the dough becomes shiny and satiny. It'll be very sticky; stop the mixer to scrape the sides and bottom of the bowl a couple of times during the mixing process.
Add 1 1/4 cups (170g) freshly grated Parmesan, Romano, or Asiago cheese, or a combination. Beat until well combined.
Scrape the dough into a lightly greased bowl, cover the bowl, and set it aside to rest/rise for 1 hour; it won't do much, as you can see from the bottom two pictures in the grid above.
Gently deflate the dough, turn it over, return it to the bowl, and allow it to rest/rise for an additional hour; again, it may not seem to rise much — again, that's OK.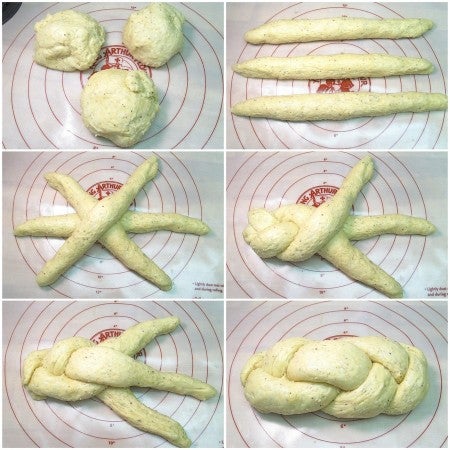 Divide the dough into three pieces; roll each piece into a 12" log, and braid the logs.
I'm doing a "center first" braid here; it helps prevent your braid from looking like a slithering snake, or from being fat at one end, skinny at the other.
So, start in the center, and braid out to one end. Flip the entire loaf over, so the top is now the bottom, and the bottom the top; and braid out to the other end.
I have to say I didn't do THAT great a job, but I do like this method; it usually creates a nicely shaped braid.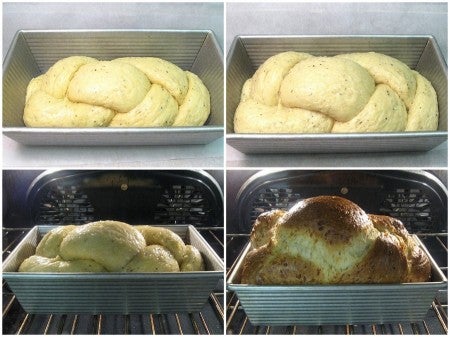 Nestle the braid into a lightly greased 9" x 5" loaf pan.
Cover the loaf lightly, and allow it to rise for 2 hours (or longer, depending on the warmth of your kitchen); the dough should have become noticeably puffy, though it won't have doubled in size.
While the loaf is rising, put your oven rack in a lower position, just below the middle, and preheat the oven to 425°F.
Whisk the reserved egg white with 2 teaspoons cold water, and brush the top of the loaf.
Place the bread in the oven and bake it for 15 minutes.
Reduce the oven temperature to 350°F, tent the bread lightly with aluminum foil, and bake for an additional 30 minutes, until it's a deep, golden brown and an instant-read thermometer inserted into the center registers 190°F.
Remove the bread from the oven, and let it cool in the pan for 5 minutes. Use a knife to loosen the edges, if necessary, and turn the loaf out onto a rack to cool completely before slicing.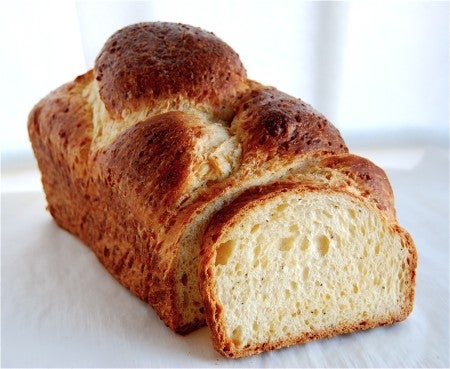 Really – you'll be happier if you let the loaf cool completely before slicing.
Store airtight, at room temperature, for several days. Freeze, tightly wrapped, for longer storage.
Now, how about a traditional round loaf?
Form the dough into a ball, and place it in a greased pandoro (star) or panettone pan; a large souffle dish; or another round, deep pan. The pan should be about 6" to 7" wide, and 3" to 4" deep.
Let rise and bake as directed, increasing the final 30 minutes to 35 minutes.
Pretty, eh?
Slice, toast, and enjoy!
I find the American-style loaf handier; its slices fit nicely in a typical toaster.
However, there's something to be said for tradition; and a toaster oven can easily handle the larger brioche-style slices of a classic loaf.
Read, bake, and review (please) our recipe for Italian Easter Cheese Bread.
Jump to Comments