Easter is coming, the geese are getting fat...
So starts my mom's variation on an old Christmas song, one she sang to us each spring, when Easter was indeed coming.
In centuries gone by, the geese may indeed have been getting fat. But for those fasting for Lent, waistlines were going in the opposite direction.
For Catholics, Lent is a time of self-denial; 40 days of "give it up" – and I don't mean applause.
For kids, it was often candy. For adults, cigarettes or liquor. Or maybe swearing. Heck, any semi-vice would do. The point was sacrifice and suffering.
As Easter approached, signaling the end of Lent, you could practically feel your mouth begin to water. Snickers! Milk Duds! Jujubes! (Why did we even like Jujubes, anyway?) Until at last, Easter Sunday arrived, with a basketful of chocolate bunnies and sugar eggs and Peeps.
And maybe a Milky Way bar tucked under the more traditional treats.
I'm sure Christians living before the time of Mars Bars enjoyed the same anticipatory excitement around Easter, and the end of Lent.
Traditionally, what was given up were the "richer" parts of your diet: butter, candied fruit, eggs, sugar. And rather than break the fast with candy, it was often a special main dish or bread that said, "OK, time's up – let's celebrate!"
For Italians, celebration means Easter Pie, packed with meat and cheese and eggs.
And for Polish families?
This rich bread, laced with rum syrup and drizzled with icing, comes from the Polish word for grandmother. The loaf is baked in a Bundt pan so that, when it's served, it looks like a grandmother's wide, fluted skirt.
Babka is served on Easter Day, as the coda to a large and festive meal based on smoked and roasted meats, egg dishes of all kinds, and white borscht, made with sour cream, horseradish, kielbasa and hard-boiled eggs.
This particular babka recipe was inspired by one in our 1990 200th Anniversary Cookbook, which includes a wealth of recipes and information from cultures around the world.
You'll notice that, despite being made with yeast, it's an easy batter bread; "no-knead" isn't as new a concept as you might think!
Place the following in a mixing bowl:
1/2 cup (113g) lukewarm milk
3 large eggs, at room temperature
heaping 1/2 teaspoon salt
1/4 cup (50g) granulated sugar
4 tablespoons (57g) butter, softened
2 cups (241g) King Arthur Unbleached All-Purpose Flour
2 teaspoons instant yeast, SAF Gold preferred
Beat at medium speed until cohesive. Increase your mixer's speed to high, and beat for 2 minutes. The dough will be very soft; more thick batter than dough.
Add 1/4 cup (43g) currants or raisins (golden raisins preferred); and 1/4 cup (43g) mixed candied fruit or peel, or mixed chopped dried fruit. Beat gently just to combine.
Cover the bowl, and let the dough/thick batter rest/rise for 60 minutes; it won't appear to do too much, as you can see in the pictures above.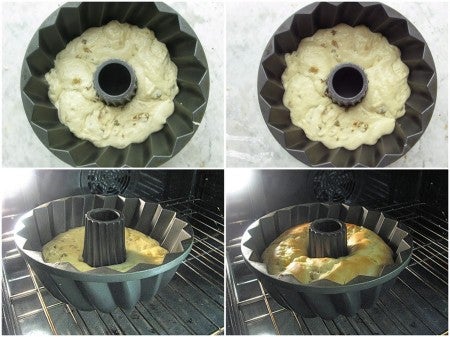 Scoop the batter into a greased 9- or 10-cup Bundt pan. Don't have a Bundt pan? Spoon the dough into an 8 1/2" x 4 1/2" loaf pan, instead.
Cover the pan, and let the dough rest/rise for 30 minutes, while you preheat your oven to 350°F. Again, very little (if any) discernible rise; still, the yeast is working, even if you can't see the result.
Bake the babka for 35 to 40 minutes, until an instant-read thermometer inserted into the center of the loaf reads at least 190°F.
While the babka is baking, prepare rum syrup.
Place the following in a small saucepan:
1/2 cup (99g) granulated sugar
1/4 cup (57g) water
1 to 2 tablespoons (14g to 28g) rum
Substitute apple juice for the water and rum, if you like.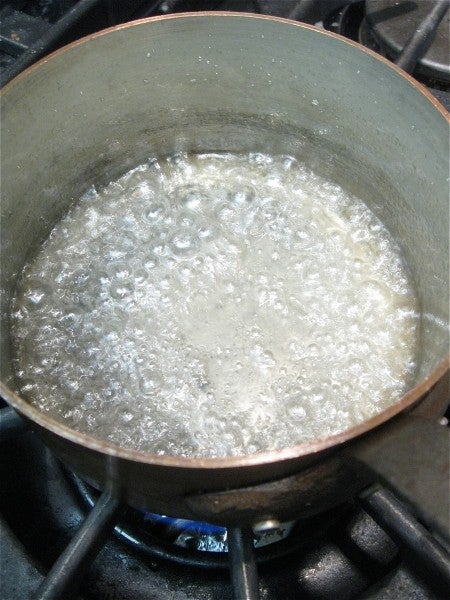 Set the saucepan over medium heat. Bring the mixture to a boil, and boil, swirling the liquid in the pan, until the sugar dissolves. Remove from the heat.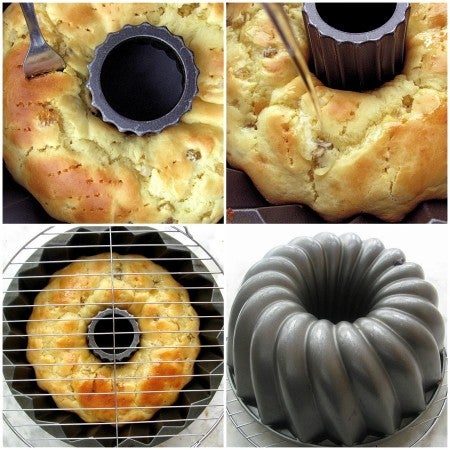 When the babka is fully baked, remove it from the oven. Poke it all over gently with a toothpick or fork, and slowly pour the syrup over the babka's surface.
When the syrup is fully absorbed (about 20 minutes or so), carefully loosen the babka's edges, and turn it out of the pan onto a rack.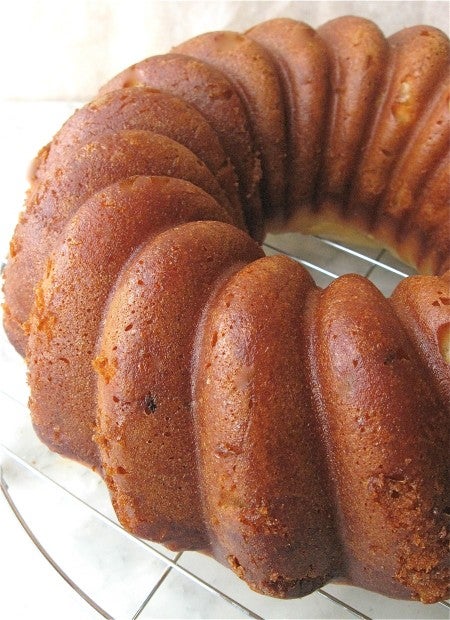 It may stick a bit in places; but don't worry, once you slice it no one will notice.
If you like, gild the lily (and hide any rough spots, if they bother you), with icing. Mix together 1 cup confectioners' sugar, a pinch of salt, and 2 tablespoons milk; or a combination of milk and rum or apple juice. Drizzle over the completely cool babka.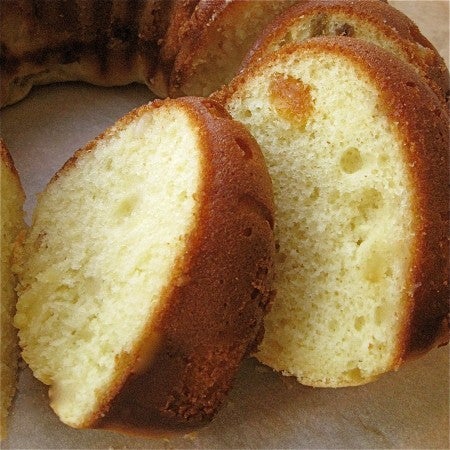 Slice and serve – as part of your Easter "break fast," or any time you're looking for a sweet, tender, cake-like yeast bread.
Read, bake, and review (please) our recipe for Polish Babka.
Jump to Comments