Banana Cupcakes with Peanut Butter Frosting: comfort cakes
A classic childhood cake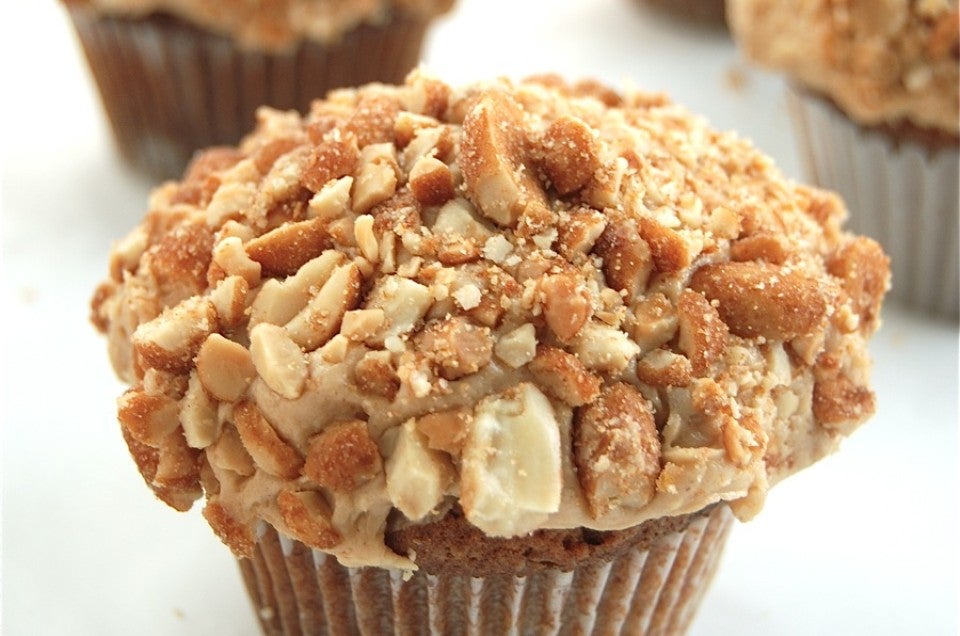 Banana cupcakes with peanut butter frosting and honey-roasted peanut topping.
Raise your hand if this sounds good.
*raises her hand*
I've been a fan of the banana/PB combo since time immemorial – or 1959, anyway.
Growing up, I enjoyed chunks of banana spread with peanut butter. Or, more formally, Pepperidge Farm bread spread with peanut butter, topped with sliced bananas, drizzled with honey, and made into a sandwich.
The PB & J's the other girls pulled out of their Sleeping Beauty lunchboxes didn't hold a candle to my PB & B, which was big, and messy, and oh-so-delicious.
Now I'm a responsible grownup. In fact, I'm more than grown up – I'm on the far edge of middle age, about to drop off into... well, you know.
That age when you get tons of ads in the mailbox for assisted living communities and Medicare Part D plans, and AARP still hasn't given up on  you – even though you've been saying no to their regular solicitations for the past 5 years.
So I've put away childish things - like PB & B sandwiches.
For breakfast, I measure out 1 tablespoon of all-natural peanut butter and smear it carefully to the edge of half a 100% whole wheat English muffin. I lunch on Lean Cuisine – or Healthy Choice for a change of pace.
"Big and messy" is much more likely to refer to my dog after a romp in the cranberry bogs than to anything that goes into my mouth.
Still, there are times when I just HAVE to relive that childhood PB & B experience – though in a more refined, adult manner. *harrumphs*
Which is where the idea for Banana Cupcakes with Peanut Butter Frosting came in.
Cupcakes are all the rage now. Depending on your chosen flavor combo, they can be sophisticated (green tea mochi), or fun (s'more).
Even better, you can make a batch of cupcakes, bring 'em to work, and enjoy JUST ONE - alongside that Lean Cuisine lunch.
Are  you ready to relive your PB & B era, in cupcake form? Get out your Jif and ripe bananas, and let's get started.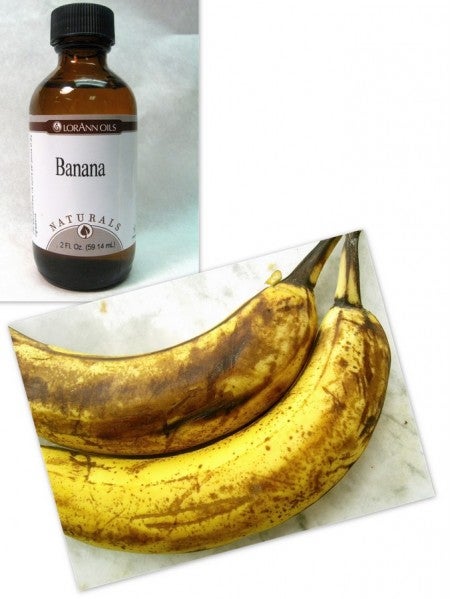 First, a word about baking with bananas. The riper the fruit, the stronger the flavor.
Preheat the oven to 350°F. Lightly grease a standard muffin pan or cupcake pan; or line with papers, and grease the papers.
Beat 8 tablespoons (113g) softened butter and 1 1/4 cups (248g) granulated sugar until well combined.
Add 2 large eggs, and beat thoroughly. The mixture may look a bit lumpy; that's OK.
Add 2 medium or 3 small very ripe bananas (about 280g peeled); 1/4 cup (85g) honey, and 1/4 cup (57g) yogurt or buttermilk, beating until well combined.
Again, the mixture may look lumpy or curdled; that's OK.
Add the following:
1 teaspoon vanilla extract 
1 teaspoon baking powder
1/2 teaspoon baking soda
3/4 teaspoon salt
1 teaspoon ground cinnamon
1/8 to 1/4 teaspoon ground nutmeg, optional
2 1/3 cups (276g) King Arthur Unbleached All-Purpose Flour
2 tablespoons (14g) Cake Enhancer, optional, for moist texture
Beat until thoroughly combined.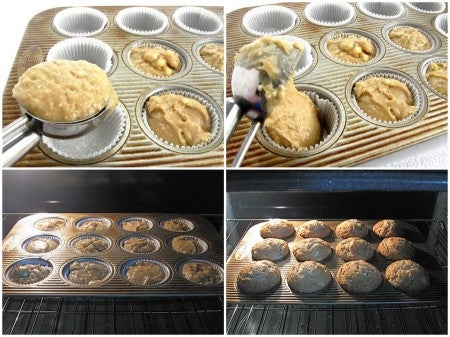 Scoop the batter into the prepared pan, filling the wells almost full; a muffin scoop works well here.
Bake the cupcakes for 24 to 27 minutes. Remove them from the oven.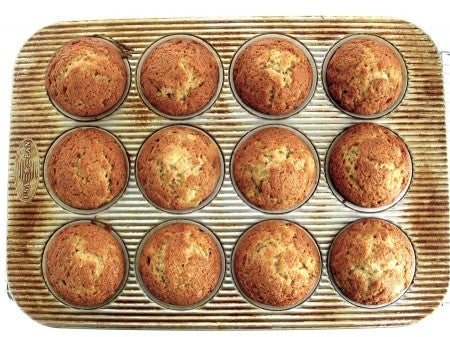 They should be nicely domed, and a light golden brown.
A cake tester or toothpick inserted into the center of one will come out clean, or with a few moist crumbs clinging to it.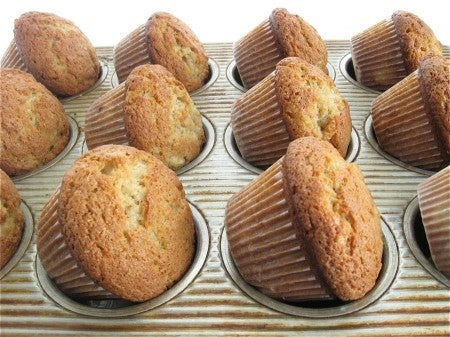 Tilt the cupcakes in the pan, so their bottoms don't steam. As soon as you're able to handle them, transfer them to a rack to cool completely before frosting.
Next: a simple frosting.
Beat together the following:
2 cups (227g) confectioners' sugar
3/4 cup (198g) peanut butter, creamy or chunky
1 teaspoon vanilla extract
1/8 teaspoon salt, optional, to taste
1/3 to 1/2 cup (76g to 113g) milk or half-and-half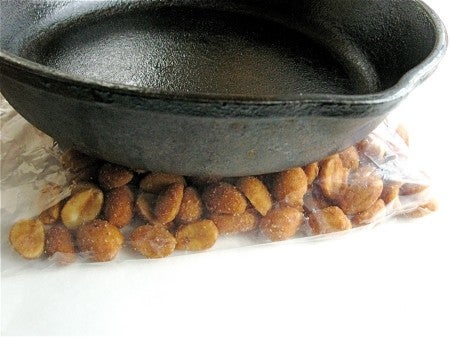 Crush 1 1/3 cups (170g) peanuts. I chose honey-roasted nuts here, but feel free to use the nuts of your choice. An easy way to crush nuts is to put them in a sturdy plastic zip-top bag, leaving the top open about 1" for air to escape. Whack gently with a heavy object; a cast iron frying pan is the perfect tool for the job.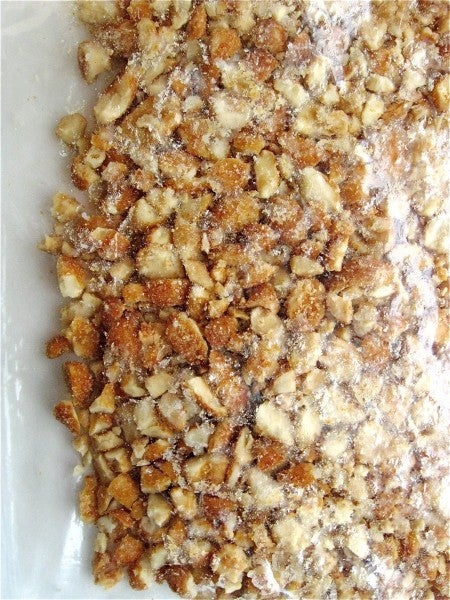 Don't worry about the crushed nuts being all the same size; they won't be. Variety is the spice of life.
Put the crushed nuts in a bowl.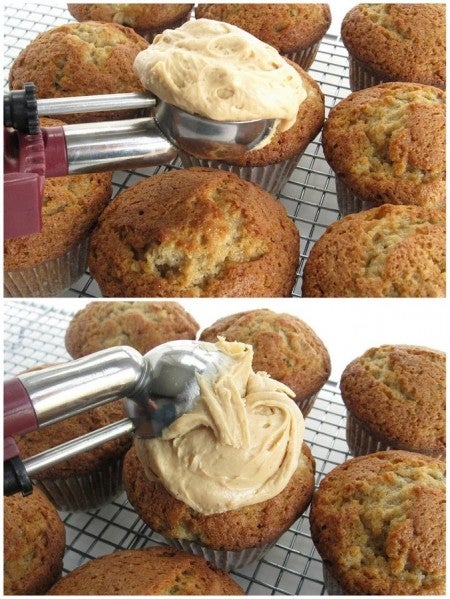 Frost the cupcakes, using about 42g (1 1/2 ounces) frosting for each.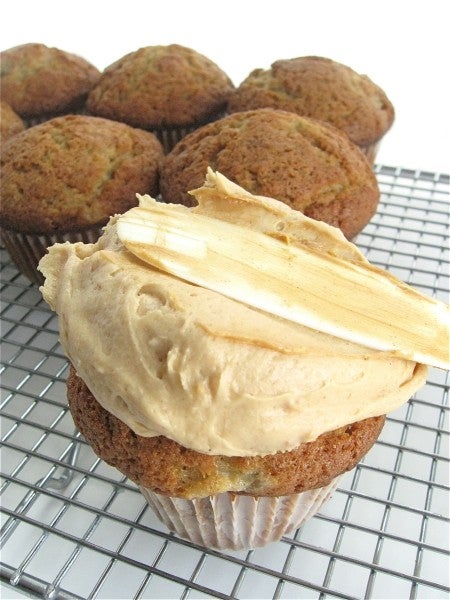 Spread all the way to the edges of the cupcake.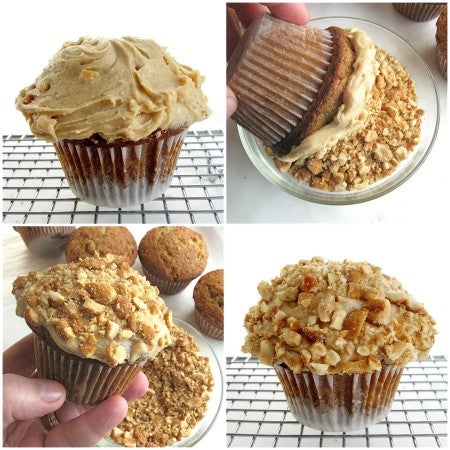 As you frost each cake, dip it into the crushed peanuts, turning it to cover the frosting completely.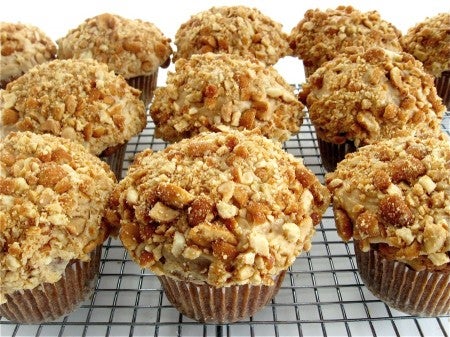 Place the cupcakes on a rack to set briefly.
Cover and store airtight until you're ready to serve the cakes. They'll stay fresh for a day or two; longer, if you've used Cake Enhancer.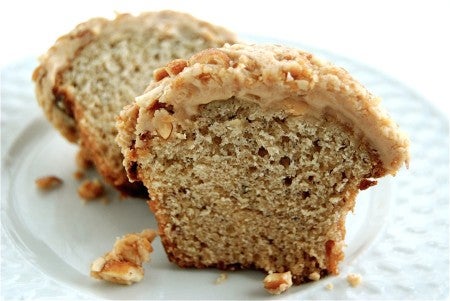 Enjoy!
Please read, bake, and review our recipe for Banana Cupcakes with Peanut Butter Frosting. Happy baking!
Jump to Comments