Blueberry Scones
American makeover for a European classic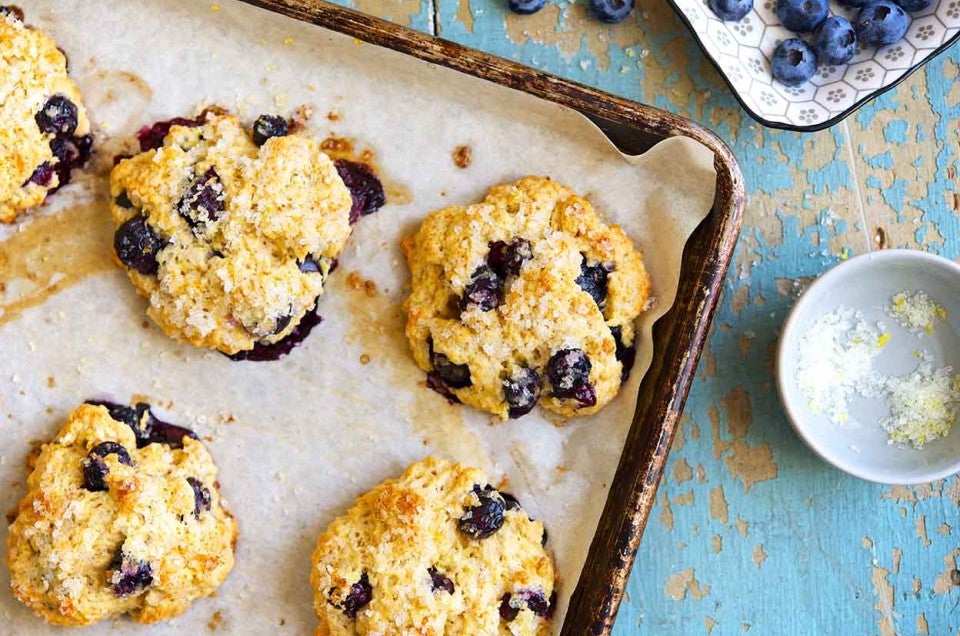 Have you ever made scones?
If so, you realize an American-style scone is simply a gussied-up biscuit.
More sugar. More fat. And certainly more add-ins – like dried cherries, and chocolate chips, and pecans...
More is just enough. It's the American way!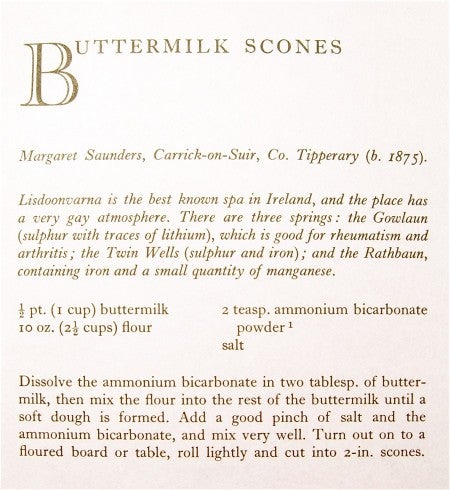 Traditional scones (like this recipe from Theodora Fitzgibbon's 1968 classic, A Taste of Ireland), can be plain as plain can be.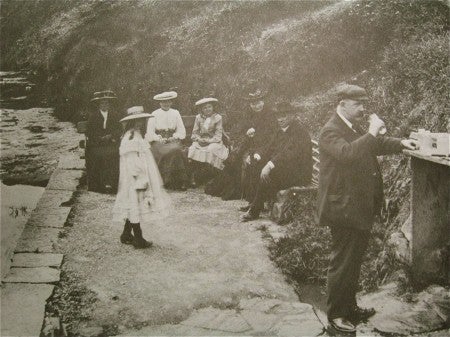 And lest you're wondering about the non sequitur recipe headnotes, they're referring to the accompanying picture – apparently a dandy at the spa enjoying his scone.
Still, American and British scones have a few things in common.
First, they're tender/crumbly. Think ultra-chewy bagel; now take a 180° turn, and you have the scone's classic texture.
Second, they're easy to make. Mix. Drop. Bake.
Third, they're a civilized and elegant accompaniment to tea.
And fourth, they're a wonderful vehicle for all kinds of add-ons (if you're a Brit), or add-ins (if you're a Yank).
The Londoner may serve hot scones with a bowl of clotted cream and some homemade lemon curd on the side.
The American? Into the dough go white chocolate chips and dried cherries, macadamia nuts and pineapple chunks, fresh raspberries and almonds and chocolate chunks and...
Double-Decker Filled Scones, anyone?
The following scone recipe isn't particularly over-the-top – at least for Americans.
Sugar for sweetness, eggs for richness, almond and lemon for flavor – plus blueberries for interest – are the only real aberrations from a true British scone.
Change is good, right?
As the French would say, vive la difference!
Preheat the oven to 375°F. Lightly grease a baking sheet, or line it with parchment.
Whisk together the following:
*Substitute 1 cup King Arthur White Whole Wheat Flour for 1 cup of the all-purpose flour, if desired.
Add 6 tablespoons (85g) cold butter and work it into the dry ingredients until the mixture is unevenly crumbly; use your fingers, a pastry blender, or an electric mixer.
Stir in 1 cup (about 5 ounces or 142g, about half a pint) of fresh blueberries.
Stir together the following:
Add to the dry ingredients and stir very gently, just until combined. The dough is more moist than traditional scone dough; it should be soft and scoopable, like cookie dough.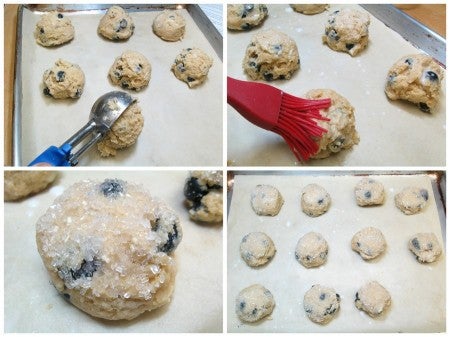 Use a muffin scoop or 1/4-cup measure to scoop the dough onto the prepared sheet in scant 1/4-cupfuls, leaving about 2" between each.
Brush each ball of dough with a bit of milk or cream, and sprinkle with coarse white sparkling sugar, if desired. The sugar adds really delightful crunch and a nicely sweet finish.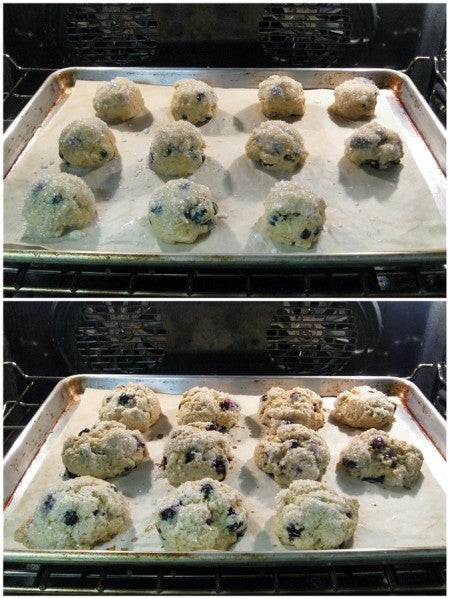 Bake the scones for 20 to 24 minutes, or until lightly browned and a cake tester inserted into a scone comes out dry.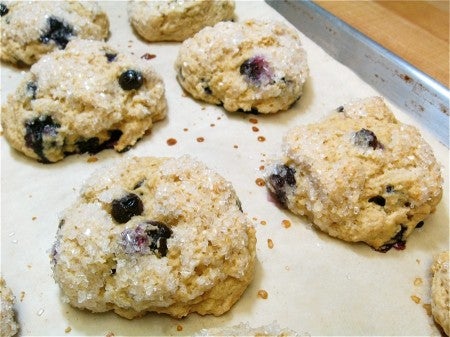 Remove from the oven, and serve warm.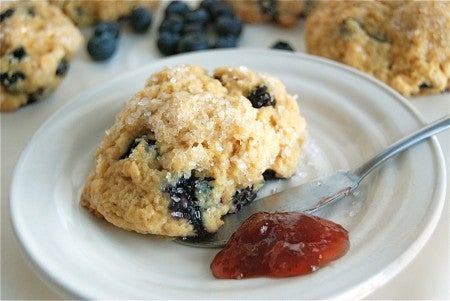 A dollop of jam is never amiss.
Want to make these scones in your scone pan? Simply pat the dough into the greased wells of the pan, and bake as directed.
Store any leftover scones airtight at room temperature for several days; freeze for longer storage.
To reheat, wrap loosely in aluminum foil, and bake in a preheated 350°F oven for about 8 to 10 minutes.
Read, bake, and review (please) our recipe for Blueberry Scones.
Jump to Comments