When you really think about it, milk chocolate was probably the first exposure most of us had to chocolate as children.
Not sure? Consider the candies and treats you would have eaten as a kid...
Hershey bars, M&M's, Easter bunnies, Hanukkah gelt, Kit Kat, Snickers bars – these are all based on milk chocolate. It wasn't until the last decades that these classic treats started branching out to the dark side, but for the most part milk chocolate has all but dropped off the face of the chocolate planet. And that, my friends, is a cryin' shame.
Milk chocolate is the ultimate in comfort chocolate. It's the footie pajamas, the fuzzy blankie. It's a hug from Mom and a cuddle with Grammy. Dark chocolate can shake up and wake up your taste buds, but milk chocolate can soothe the soul like nothing else.
Baking Sheet editor and cake maven Susan Reid and I developed this recipe originally as milk chocolate cupcakes about 2 years ago. It never quite made it into the blog rotation, but it sat on my desk the whole time on a sheet of paper scribbled with notes. Milk chocolate is nothing if not patient, waiting its turn for stardom. Now the timing is just right for sharing this satisfying and gratifying cake with the world.
The cake features milk chocolate in the cake itself, and a sinfully rich milk chocolate ganache filling and icing. My whimsical side added a center layer of marshmallow to remind me of candy bar and s'more goodness, but you can definitely tailor that layer to your tastes. Dried whole milk lends more creamy flavor to the cake, and our new King Arthur All-Purpose Cocoa brings the chocolate to the party.
Speaking of milk chocolate, how much will you need? Hmmmm...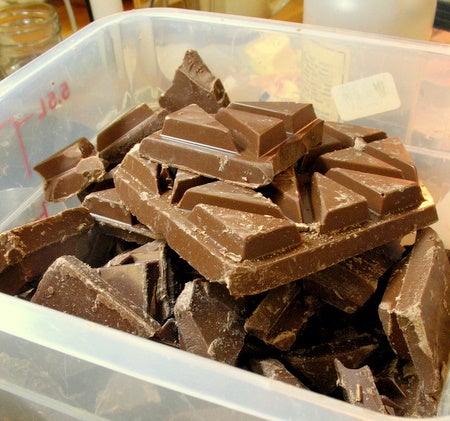 In the test kitchen pantry, everything is just a little bigger than a regular home pantry. At home, I keep about 2 pounds of milk chocolate on hand. In the test kitchen pantry, it's closer to 12 pounds. As the kids say OM, NOM, NOM. (For those of you without teenagers, it roughly translates munch, munch, munch.) You won't need 12 pounds, but you'll need about a pound and a half of top quality milk chocolate. Sorry, leave the milk chocolate chips on the shelf for this one, and treat yourself to some really good bar chocolate.
Grab a piece of chocolate to nibble on, and let's make Milk Chocolate Layer Cake. Up first, the ganache.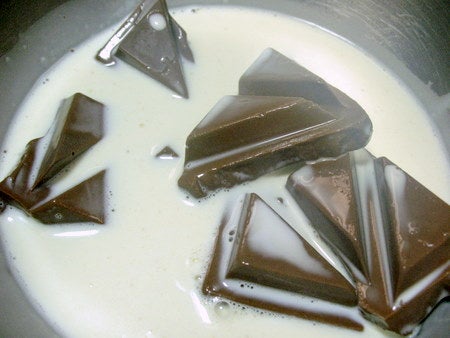 Place 12 ounces (340g) of milk chocolate in a medium-sized heatproof bowl. Heat 1 cup (227g) heavy cream to just boiling, and pour over the chocolate.
To help with the melting, it's best to chop the chocolate, something I apparently forgot this time around. Do as I say, not as I did here. Too busy nomming, I guess.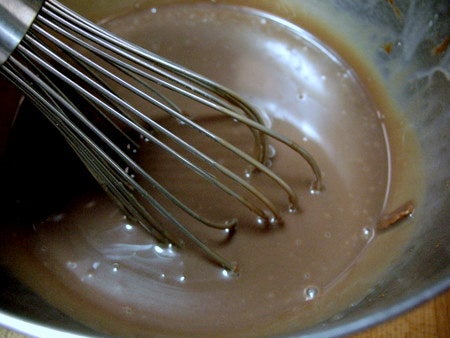 Slowly whisk the mixture together until it's smooth and lump-free. You now have milk chocolate ganache, the makings of fine truffles and fantastic frosting. Place the ganache in the fridge to chill while you make the cake.
Begin by preheating the oven to 350°F.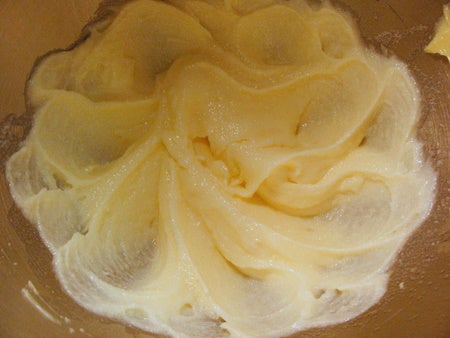 In the bowl of your mixer, place:
1/4 cup (50g) vegetable oil
4 tablespoons (57g) butter, softened
3/4 cup (149g) sugar
2 large eggs, room temperature
Beat on medium speed for 2 minutes. Stop the mixer and scrape down the bowl.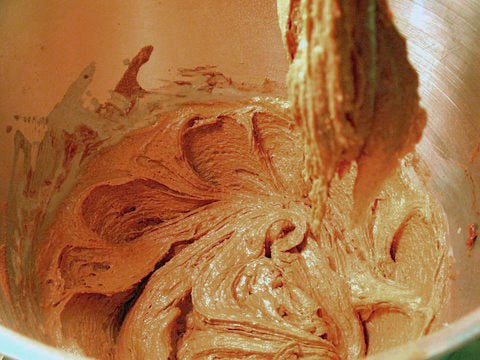 Add:
6 ounces (170g) milk chocolate, chopped (about 1 cup) and melted
1/4 teaspoon salt
2 1/2 cups (305g) King Arthur Unbleached Cake Flour Blend
2 tablespoons Cake Enhancer (optional, but very helpful in this cake)
1 1/4 teaspoons baking soda
1 teaspoon vanilla
1/4 cup (21g) dried whole milk*
1/4 cup (21g) King Arthur All-Purpose Cocoa*
1/2 cup (113g) buttermilk, room temperature
Beat on medium speed for 1 minute. Stop and scrape down the bowl again. Add an additional 1/2 cup (113g) buttermilk and blend for 30 seconds.
*You can replace the dried whole milk and cocoa powder with 1/2 cup milk chocolate flavor instant hot chocolate mix.
Pour the batter into pans that have been spritzed with cooking spray, or greased and floured. This recipe will make two 8" or 9" rounds, or 24 cupcakes. I prefer the 8" rounds for layer cakes; you end up with a nice, tall tower of cake.
To bake, use these time guidelines: For 8" rounds, 18 to 24 minutes. For 9" rounds, 20 to 28 minutes. For cupcakes, 15 to 18 minutes. The cake is done when a cake tester inserted into the center comes out clean, or with just a few moist crumbs.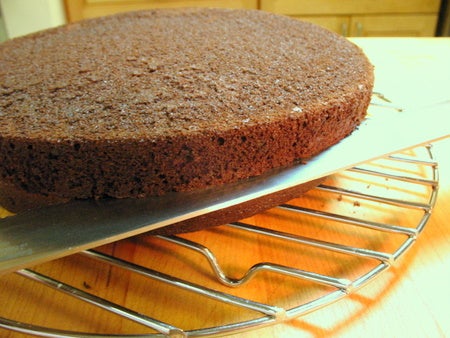 Cool the cakes in the pan for 10 minutes, then turn out onto a rack to cool completely.
To layer the cakes, use a long, sharp, serrated knife to divide each round in half.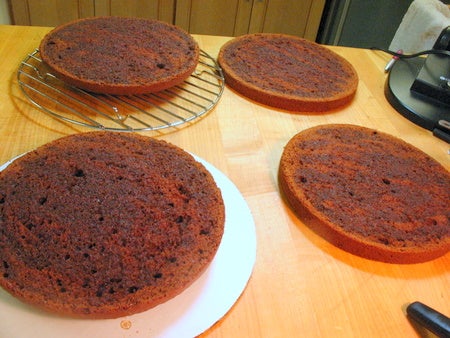 Adding simple syrup to cake layers is the professional baker's key to moist cakes. It's an optional step for home bakers, but one that can really make a big difference in the outcome of your cake. You can purchase lovely flavored syrups, or you can make your own by bringing 1 cup water and 1 cup sugar to a boil. Boil for 1 minute, then cool completely before using.
Simple syrup will keep for weeks in a jar in your fridge, so make a big batch at once. To use, just brush a couple of tablespoons on each cake layer, and let it soak in for about 5 minutes.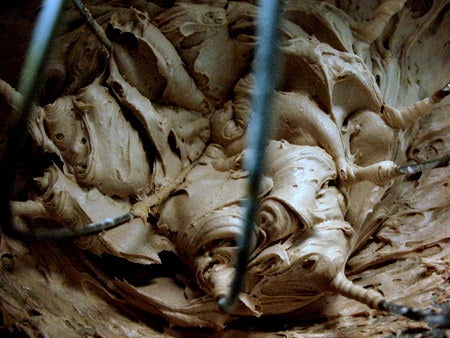 While the cakes are soaking, prepare the ganache. Your chilled ganache should be the consistency of chocolate pudding by this time. Scrape it into your mixer bowl and beat with the whisk attachment until it becomes light, fluffy, and smooth.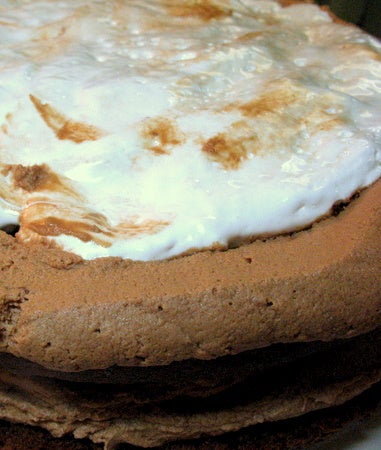 To assemble the cake, place one cake layer on the serving plate, then frost with a 1/2" layer of ganache and top with a second layer of cake.
I thought a surprise filling would be fun for this cake, so I made a ring of icing around the edge of the second cake layer, then filled the center with Marshmallow Fluff. You could use all ganache if you wish, though.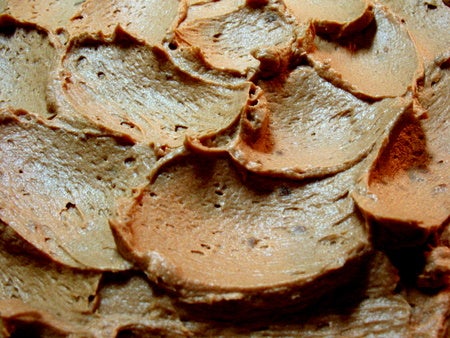 Top the Fluff with a third layer of cake, then more ganache and the final layer of cake. Finish icing the cake as usual with the remaining ganache. To make the decorative waves in the icing, use the back of a very round spoon. I used a measuring spoon with a deep round bowl, and made little swishes through the soft icing, overlapping them like feathers.
The cake will cut a little easier if you chill it for about an hour. You can, of course, chill it longer; but the ganache tastes best at room temperature, when it's soft and creamy.
As the cake sits, the Fluff will start to drift and ooze out, creating enticing waves down the side of the cake.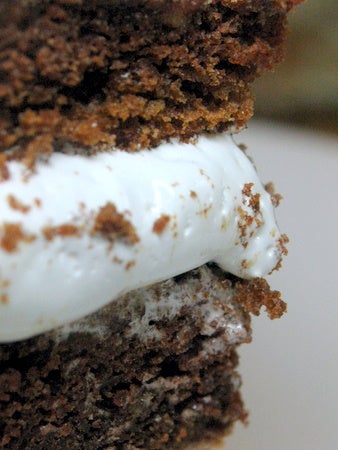 Seriously enticing waves. Don't you just want to put a finger through the computer screen and catch that cascade of sweet goodness? Better yet, put your whole hand through and take the piece of cake. Grab a fork and glide though the ganache, scooping up cake and Fluff, too. You'll travel back to your youth, your first love of chocolate, my forever love: milk chocolate.
Love M&M's? Can't get enough Valomilks? Tell us about your favorite milk chocolate cake, candy, bar, or treat.
Please bake, rate, and review our recipe for Milk Chocolate Layer Cake.
Check out other cakes: Our Favorite Fudge Birthday Cake; Tender White Cake; Coconut Marble Cake.
Jump to Comments