Grissini: thin, crunchy Italian breadsticks
Breadsticks for grownups
Snap, crackle, pop! Captain Crunch. Extra crispy Kentucky fried chicken... Seems like food companies are always playing on our addiction to snap-crackle-pop-crunch-crisp in our foods. Think potato chips. Crackers. Oreos. And the whole range of "munchies" (popcorn, pretzels, granola bars, peanuts) that've become a serious part of our on-the-go culinary culture. When it comes to most of us, any time is crunch time.
Sure, there are advocates of smooth as well. Who doesn't love a silky crème brulée? Or the sinuous curve of thick hot fudge oozing over a scoop of vanilla ice cream? Creamy mashed potatoes, anyone? Still, there's something about the sound a potato chip makes when you bite into it that gets your munchie mojo flowing… bet you can't eat just one!
But back to talking about crisp: you look up crisp in the dictionary, you're going to see a picture of these light-as-air breadsticks. Perfectly straight, perfectly smooth, they're the Wonder Bread of breadsticks. Still, there are those of us who loved them… till we learned to make our own.
Grissini, breadsticks native to Turin in the foothills of the Italian Alps, are similar to that long-loved supermarket version—but with a literal twist. Grissini dough is often twisted as it's shaped, and sprinkled with seeds for color and flavor. They're a more flavorful, more interesting breadstick; a breadstick for grownup tastes, especially if you add assertive seeds like anise or fennel. And, they're surprisingly easy to make.
Never mind rolling out log after log of dough; honestly, I'm too lazy for that. Instead, I shape the dough into a rectangle, sprinkle with seeds, cut it in strips, and give each strip a twist before laying it on the baking sheet. A short rise, a short bake, and there you have it: crunchy, crackly, snapping-crisp Thin 'n' Crunchy Italian Breadsticks, a.k.a. grissini. Here's how: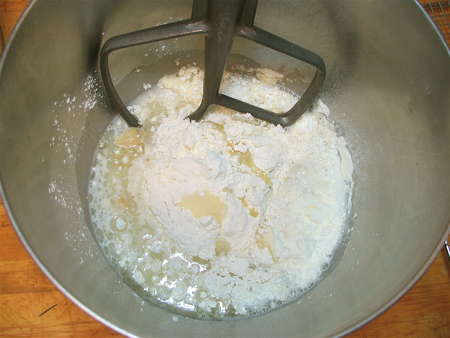 Put the following ingredients in a mixing bowl:
2 teaspoons instant yeast
2 teaspoons sugar
1 1/4 teaspoons (8g) salt
1 tablespoon Pizza Dough Flavor (optional,  but tasty)
1 tablespoon King Arthur Easy-Roll Dough Improver OR Baker's Special Dry Milk OR nonfat dry milk
3 cups (396g) King Arthur Italian-Style Flour*
3/4 cup (170g) lukewarm water
2 tablespoons (25g) olive oil
*Substitute King Arthur White Whole Wheat Flour for half of the Italian flour, if desired. Or substitute King Arthur Unbleached All-Purpose Flour for the Italian-Style Flour. For either substitution, add 2 to 3 tablespoons additional water.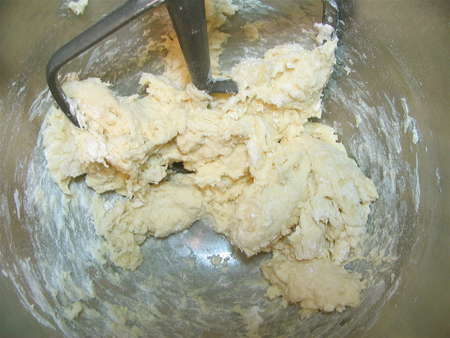 Mix the dough...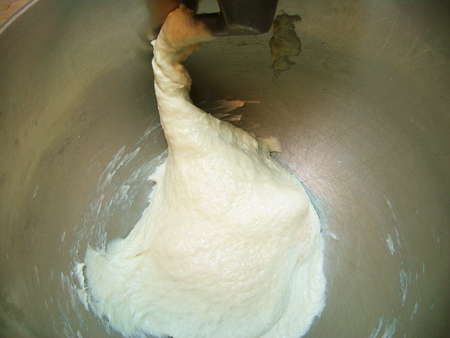 Then knead till it's smooth. As you can see, it'll be quite sticky.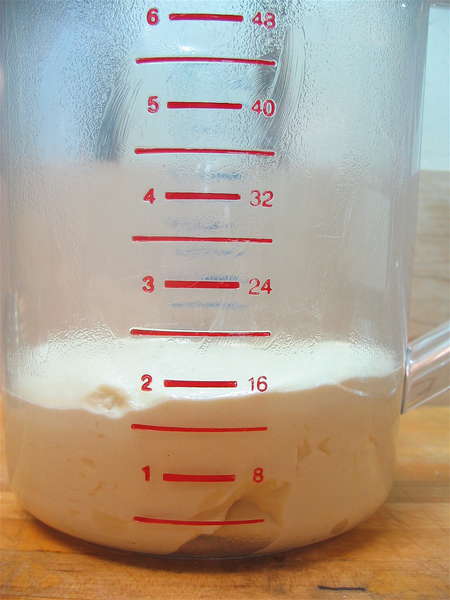 Put the dough in a lightly greased bowl or measuring cup. If you use a measuring cup, you can easily determine how much the dough has risen.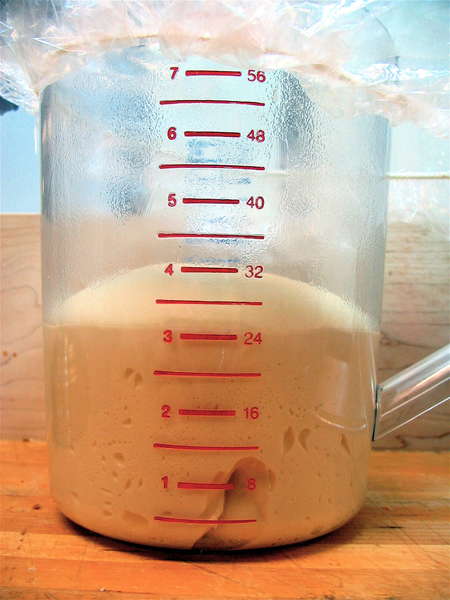 See? The dough's just about doubled in size.
You can also make this dough in a bread machine set on the dough cycle, if that's your preference.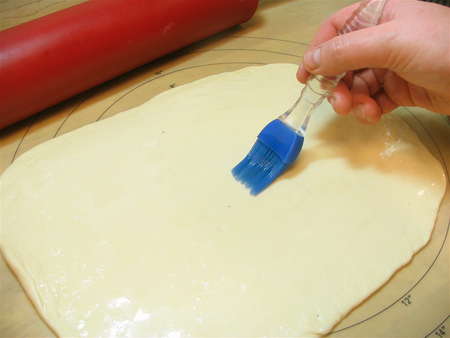 Lightly grease a work surface (I'm using a silicone rolling mat here). Divide the dough in half.
Working with one half at a time, pat/roll the dough into a 9" x 13" rectangle. Brush it with egg white beaten with cold water; this'll make the seeds stick.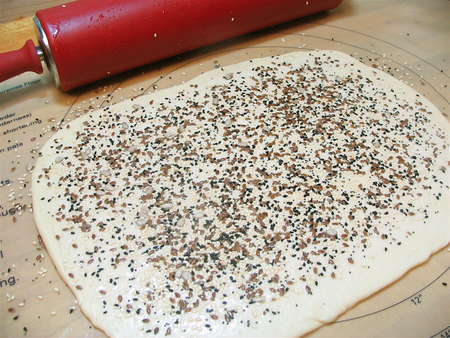 Sprinkle the dough with seeds, as many or few as you like. If you don't like seeds, leave 'em off. I happen to like seeds – particularly our Artisan Bread Topping, a crunchy, tasty blend of flax, toasted sesame, black caraway, midget sunflower, poppy, and anise seeds.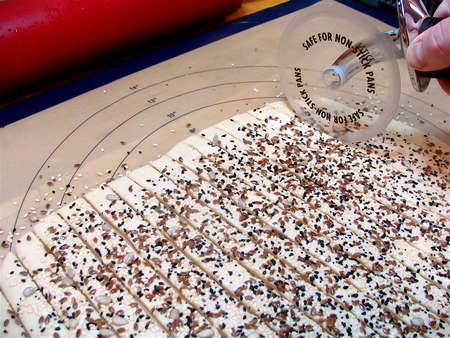 I'm using a pizza wheel to cut 3/8"-wide crosswise strips. Notice the acrylic blade on the pizza wheel; it's safe for non-stick surfaces. At last, a pizza wheel that's sharp enough to cut, but not sharp enough to harm your pan (or you!) Those metal pizza wheels always made me nervous, with their exposed blade. This one, you can run back and forth across the palm of your hand with impunity – yet it cuts pizza and dough just fine.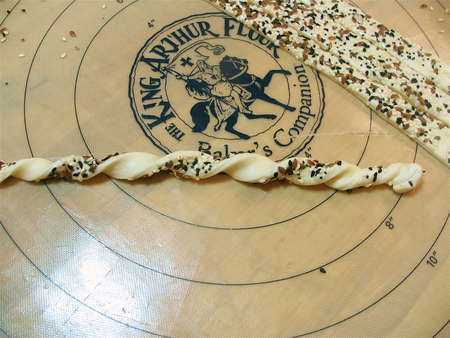 Once you've cut a strip, grab it, and twist, as though you were wringing a washcloth. Repeat with all the dough strips...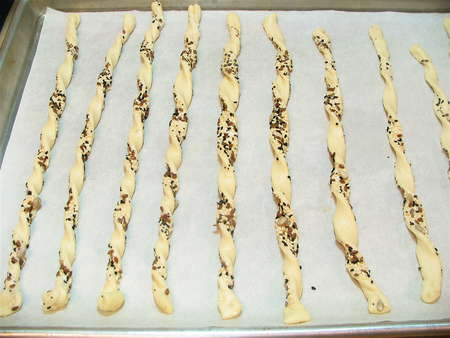 ...and space them on a parchment-lined or lightly greased baking sheet. Cover with lightly greased plastic wrap, and let them rise for 30 to 60 minutes...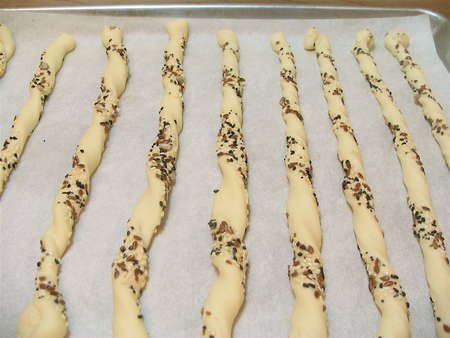 ...until they're nice and puffy. Bake the breadsticks in a 425°F oven for 12 to 14 minutes.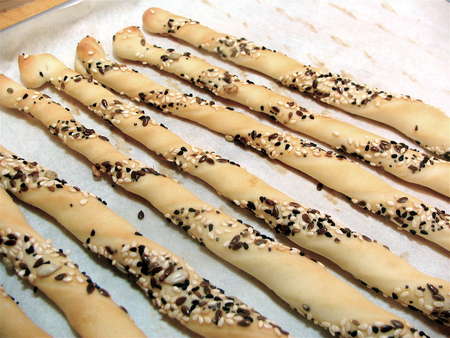 Voilà! Grissini.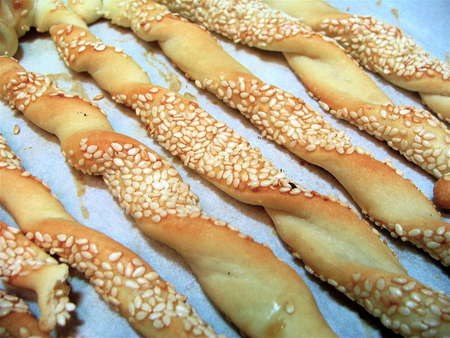 Look at these pretty sesame ones; nice, huh?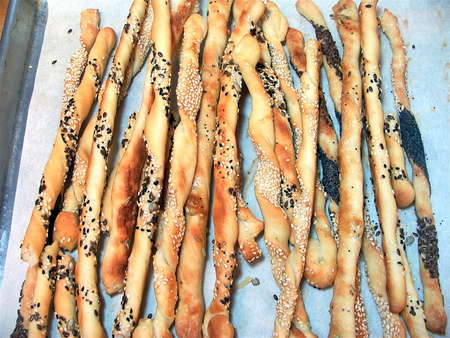 And here's a whole bunch of 'em, with different assortments of seeds. I like to serve these with drinks before dinner. Add some olive oil for dipping, if you like.
Read, bake, and review (please) our recipe for Thin 'n' Crunchy Italian Breadsticks.
Jump to Comments