Mini Gingerbread Whoopie Pies
A bitty bite o'spice
Tonight is my late night. No, not a late night of Letterman, or a late night baking pies for Thanksgiving tomorrow, but a late night here on the Baker's Hotline. Once a week we all take turns closing down the hotline, answering questions after the kiddies have gone to bed, and the sourdough starter is at rest.
So, what is it like here after most of the company has left for the day?
Well, around 7 p.m., it starts to get a little more quiet in the building. The warehouse is still packing boxes, and the grain room is still up and making mixes, but most of the folks in the nearby offices have headed out. Except maybe for Jim over on the Web team. Jim is a night owl and we've accidentally turned the lights out on him more than once as he sat in his office deep in code. Sorry, man.
On the phones, our East Coast customers are finishing up the last of their calls, getting rolls and pies put together for tomorrow's feast. On the West Coast, things are just starting to pick up as customers return home from work and scurry to finish the last minute details so that they can rest easy tonight.
"Can I put this in the fridge?" "Will this work with buttermilk?" "How do you roast a turkey?" (Sorry gang, that one is for the Butterball team over at 1-800-butterball). It's a real delight being part of someone's holiday plans, helping them through the little panics and pains of getting together a major meal.
We try, of course, to answer every baking question that we can. But we also try to pass along the advice of "it's just one meal," and that the time spent with family and friends is the most important part of the day.
My mother, ever the witty one, would tell any hostess who invited us for dinner "I don't care if you serve cornflakes, as long as I don't have to cook and we can sit and talk."  I think it's a little harder than that when baking is near and dear to your heart, and we bakers show people we love them by hand-making something special for them. We shouldn't forget to stop and smell the vanilla, though, and relish the little things.
I think I'll start with relishing one of these Mini Gingerbread Whoopie Pies as I answer a few more emails, and complete a few more chats. Maybe I'll see if Jim is around, and he can have one, too.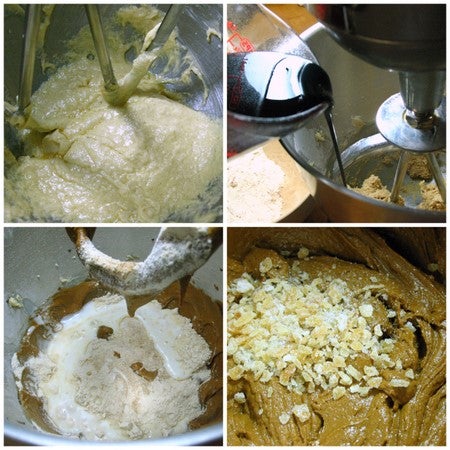 The batter comes together just like a cake or cupcake batter. First you cream the butter and sugar, then add the egg. Add half of the flour/spice mixture, then pour in the molasses. Add the remaining dry ingredients and the buttermilk. At the end, stir in the mini diced ginger bits by hand. Check the recipe here for details.
A great deal of the flavor in this recipe comes from the molasses and the ginger bits. If you like a dark, slightly bitter ginger taste, go with a dark molasses. If you prefer a lighter flavor, go with a mild molasses. The mini diced ginger gives that added extra "punch" of flavor. If you don't have crystallized ginger, a few grates of fresh ginger root can really make the difference between "pretty good" and "pretty please, may I have another?"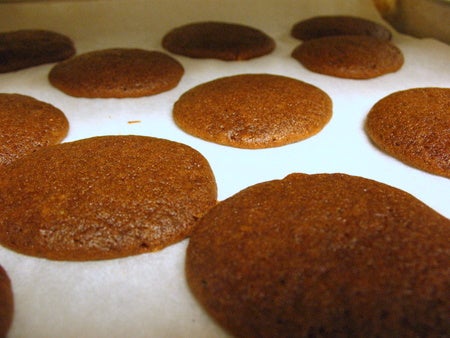 Scoop the batter out onto parchment-lined baking sheets and bake at 375°F for about 10 to 12 minutes, or until cakes are puffed and set. Our teaspoon scoop does this job in a jiffy.
You'll notice that this pan of whoopies isn't very puffy. In a room full of ovens, it pays to make sure you're using the one set at 375°F, not the one set at 350°F. You just don't get that poofy, puffy texture when the oven is too cool.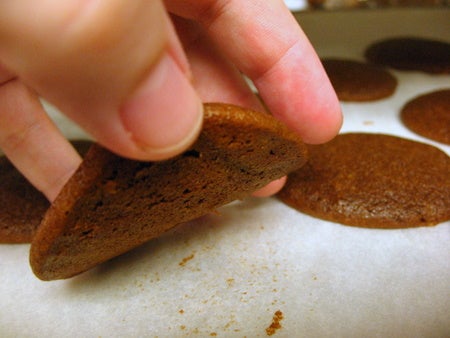 Let the whoopies cool on the baking sheet for about 10 minutes, or until they lift off easily.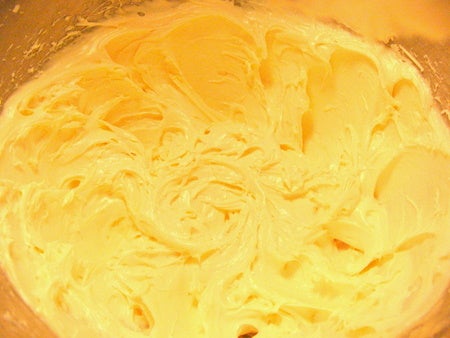 While the whoopies are cooling, whip together the cream cheese filling:
1 teaspoon Instant ClearJel
2 cups (227g) confectioners' sugar
6 ounces (170g) cream cheese, at room temperature
5 tablespoons (71g) butter, at room temperature, at least 65°F
1 1/4 teaspoons vanilla extract
Be sure to mix the Instant ClearJel with the sugar before adding the cream cheese or the butter. ClearJel will clump when it touches liquid if not well dispersed in the sugar first.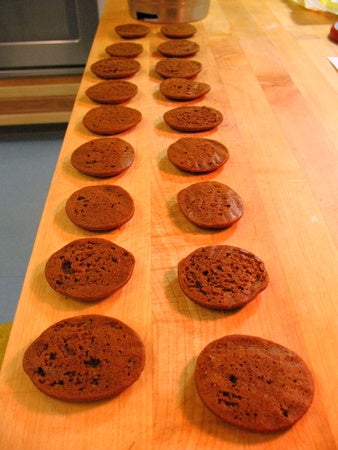 Line 'em up! Filling whoopies goes oh-so-quickly when you line up similar sizes and shapes side by side.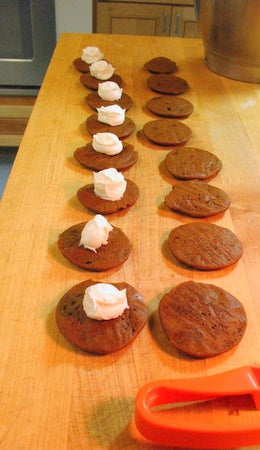 A quick scoop of filling for half of the little soldiers...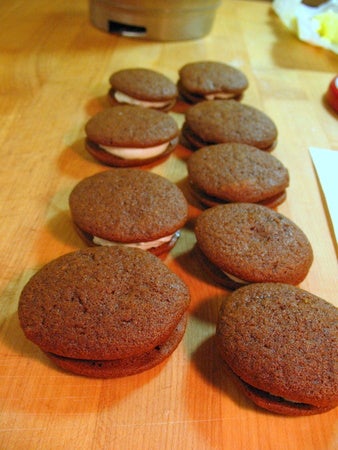 And then on with their hats. Even with my less-than-perfectly-poofy cakes, these whoopies are row after row of spicy, gingery goodness.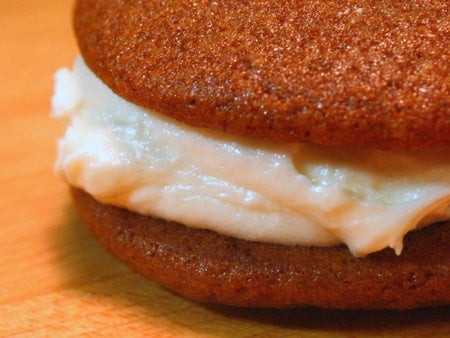 Say hello to my spicy little friend. And then say howdy to his little friend, and then all the other little friends on the tray.
It's time to shut off the phones here, and save our emails for Friday morning. Remember as you finish up your stuffing, and put the finishing touches on the pumpkin pies, we are thankful that we can be a part of your baking life. And don't forget to enjoy the little things this holiday season.
Please bake, rate, and review our recipe for Mini Gingerbread Whoopie Pies with Cream Cheese Filling.
Shop for: Instant ClearJel, mini diced ginger.
Jump to Comments