Don't you want to just pick up your fork and stab the computer screen right about now?
This apple upside-down cake, with its drizzle – no, make that a flood – of apple-flavored caramel, oozing over the top and dripping down the sides, is probably the most over-the-top apple dessert I've ever eaten.
Never mind probably; it IS the most ridiculously delicious apple anything I've ever had.
Trust me, it was SO tough when Sue and Andrea, my fellow test kitchen bakers, were testing this recipe. And testing, and testing, and testing...
Sue: "What do you think, is the caramel too thin?"
Me: "It's perfect."
Sue: "Well, I think it could be a LITTLE bit thicker..."
So she'd make it again.
Sue: "What do you think? Cake moist enough? Too moist?"
Me: "It's unbelievable. Don't change a thing."
Sue: "I think it could be just a TOUCH firmer..."
On and on it went. I swear, she and Andrea baked the cake like 8 times. And they were right; each time it was just a little bit better.
Then came time for catalogue photography. And this cake was one of the feature photos, which meant it had to LOOK perfect.
Cake after cake came out of the pan imperfect; two slices of apple stuck, or they'd shifted slightly out of alignment during baking, or the caramel didn't ooze just right.
Poor us, here at King Arthur; we had to eat ALL those "failures."
I finally had to physically avoid the employee kitchen, where the sampling goes on. I couldn't resist taking a bite any time one of these rich cakes appeared. And they appeared several times a day.
Talk about wreaking havoc with the diet... But every slice was well worth it.
And hey, that's why we have Weight Watchers meetings right here on site. Along with Pilates and yoga and 10-minute "power exercise" sessions.
So we can do our duty, no matter how tough: bake, sample, bake, sample, bake, sample, all day long...
It's a tough job (NOT), and we're happy to do it!
Bake this cake, and see if you agree it's just ridiculously over the top. Warning: it's very moist, quite dense, and just at the edge (but not QUITE there) of being too sweet. If you're a fan of light/fluffy, understated cakes, walk away from this Apple Upside-Down Cake.
Preheat the oven to 350°F. Lightly grease a 9" round cake pan at least 2" deep.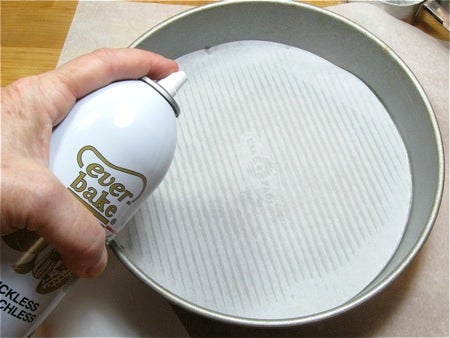 Line the bottom with parchment, and grease the parchment.
Now, select 2 medium-sized apples. I'm using Granny Smiths, because when I was baking this cake for photos the fresh seasonal apples weren't in yet. Any firm baking apple (not McIntosh or Cortland) should be fine.
Slice the top, including the stem, off one of the apples and set it aside before peeling and slicing the rest of the apples into 1/4" thick wedges.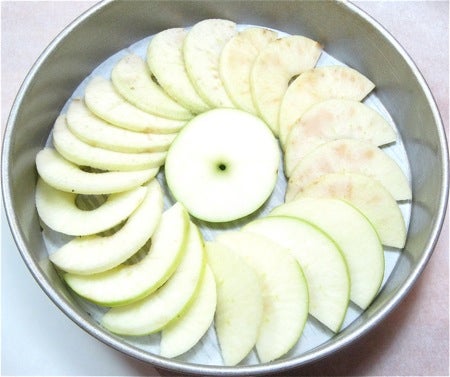 Place the apple top, stem side down, in the middle of the pan, and overlap the rest of the apple wedges in a ring around it.
Next, the syrup. The apples may brown a bit as you make the syrup, but no worries; they'll be a deep mahogany brown once they're baked, anyway.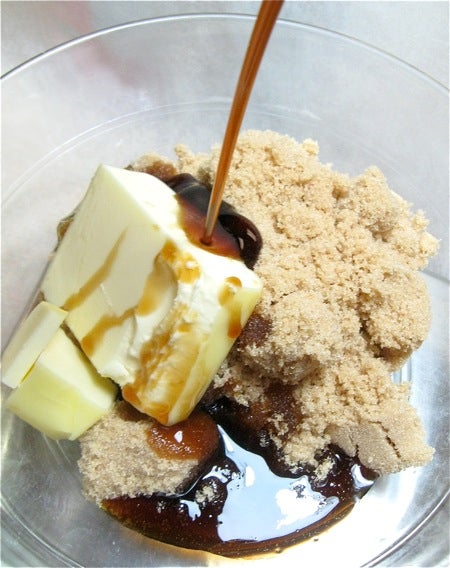 Combine the following in a saucepan or microwave-safe bowl:

4 tablespoons (57g) butter, cold
3/4 cup (159g) light brown sugar, packed
2 tablespoons (39g) boiled cider or thawed apple juice concentrate
1/4 teaspoon cinnamon
1/2 cup (156g) light corn syrup
Can you skip the corn syrup? No, but you can substitute maple syrup, if you like the maple-apple flavor combo. You could also try Lyle's Golden Syrup; agave syrup (though it's sweeter than I like); or honey, though honey tends to burn easily.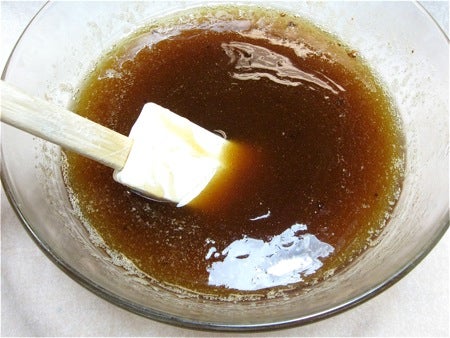 Heat over low heat (or in the microwave), stirring until the sugar is dissolved.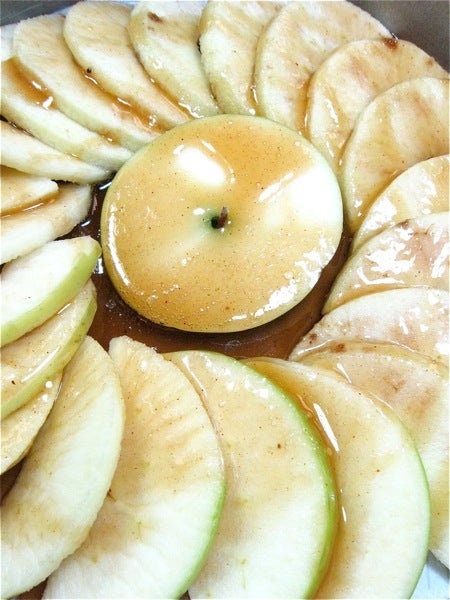 Pour 1/2 cup of the syrup mixture over the apples in the pan, and set the rest aside.
Gee, looks like I missed peeling part of one of the apples... D'oh! Whatever.
Next step: the cake.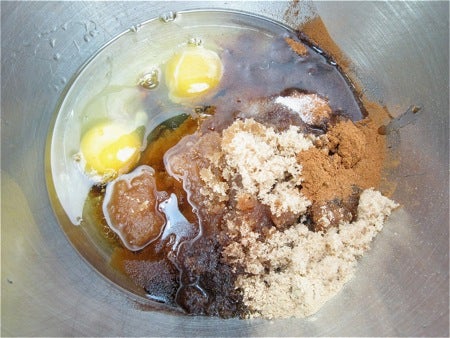 Place the following in a mixing bowl:
3/4 cup (149g) vegetable oil
1 cup (213g) brown sugar, packed
2 tablespoons (39g) boiled cider or thawed apple juice concentrate
2 large eggs, at room temperature
1 1/2 teaspoons cinnamon
1/4 teaspoon ginger
1/8 teaspoon cloves
1/2 teaspoon salt
Beat until smooth.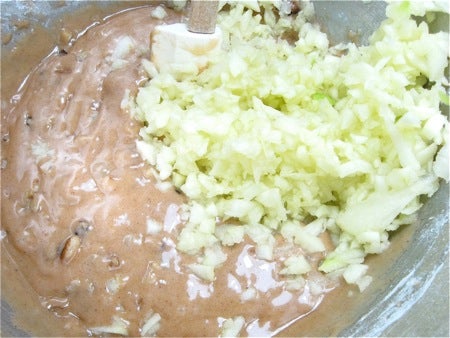 Add the following:
1 teaspoon baking soda
1 1/2 cups (177g) King Arthur Unbleached All-Purpose Flour
1 large (170g) apple, peeled and finely chopped
3/4 cup (85g) chopped pecans or walnuts, optional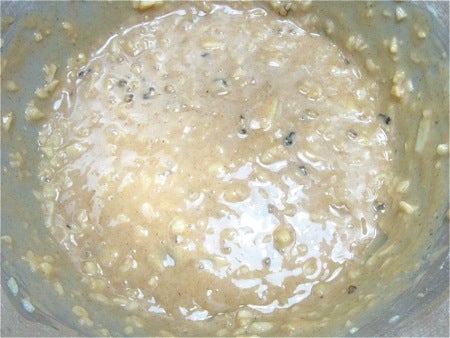 Stir until well combined.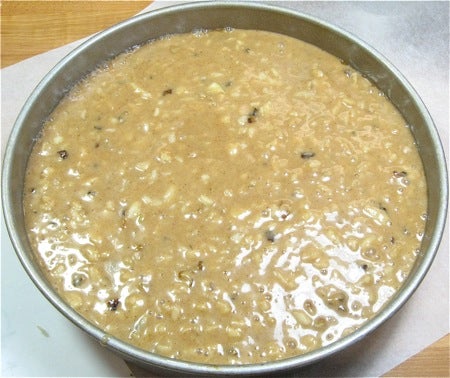 Pour the batter atop the apples in the pan. Place the pan onto a baking sheet, for easiest handling.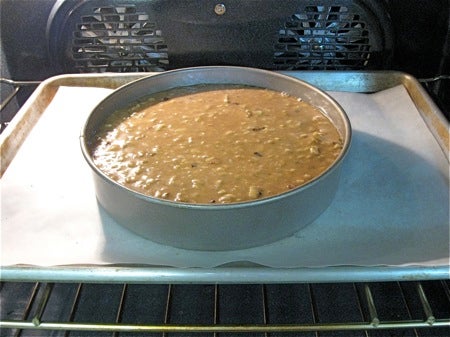 Bake the cake for 50 to 55 minutes.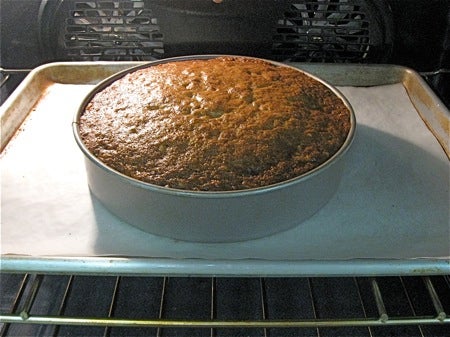 It'll rise to the rim of the pan. This is why you need a pan that's at least 2" deep. Don't just eyeball it – get our your ruler and measure. If it's pretty close but not quite 2", you may have some spillover; that's why we love parchment – easy cleanup!
When the cake's done, it'll be golden brown, and a toothpick inserted near the center should come out clean, or with just a few moist crumbs clinging to it.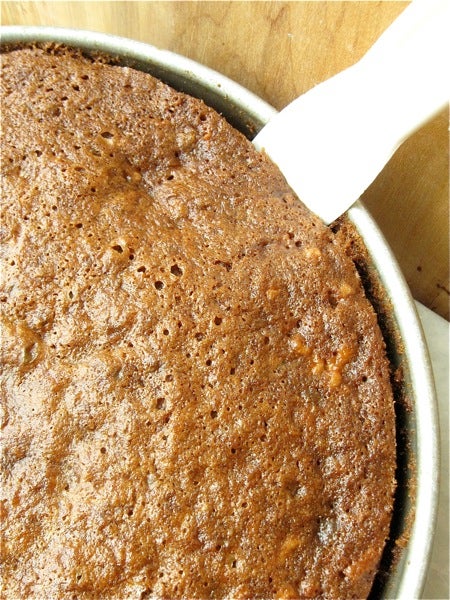 Remove the cake from the oven, and run a thin spatula around the edge to loosen.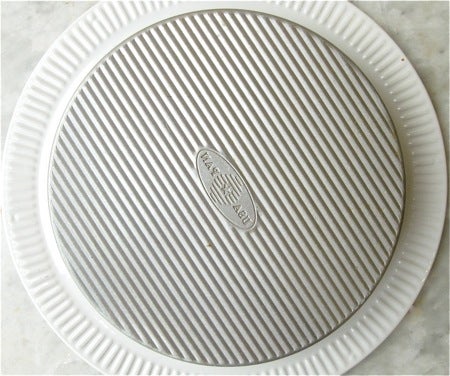 Let the cake cool in the pan for 5 minutes, then turn it out onto a serving plate, bottom side up.
Lift off the pan.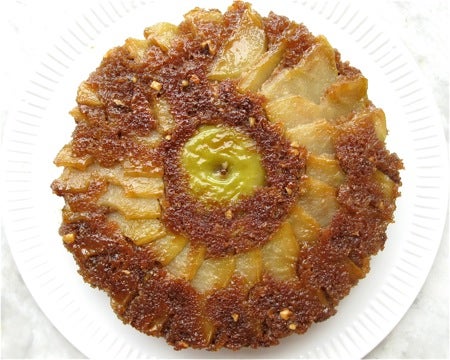 Ta-da! Scrape out any sauce that remains in the pan, and spread it over the cake.
Guess I should have greased the sides of the pan more; a bit of the cake's sidewalls got left in the pan. But never fear, that caramel-apple syrup you made awhile ago is about to cover any imperfections.
Reheat the syrup, if necessary to make it pourable. If butter starts to separate as you reheat, add water by the teaspoonful and stir until the butter rejoins the rest of the sauce.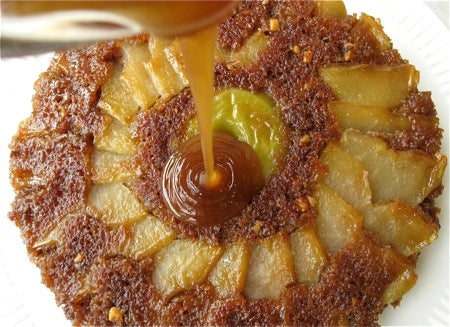 Pour the sauce over the cake.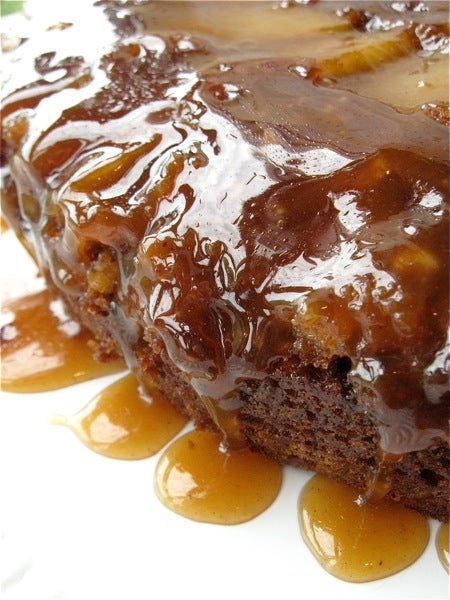 It'll dribble and ooze over the sides; if it doesn't, give it some encouragement with a spatula.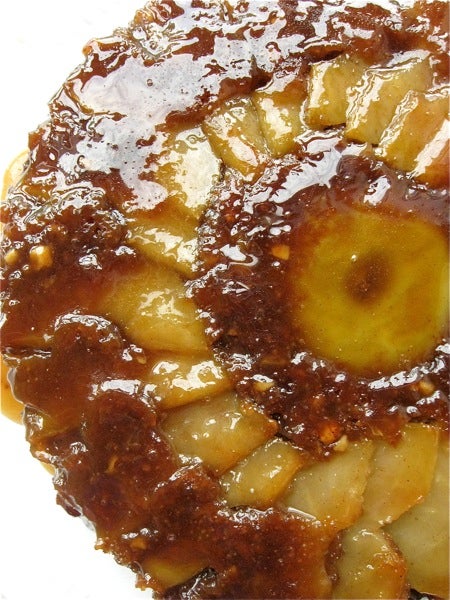 Well, mine's not as pretty as the one they photographed for the catalogue, but then, I only made it one time. Good enough for me!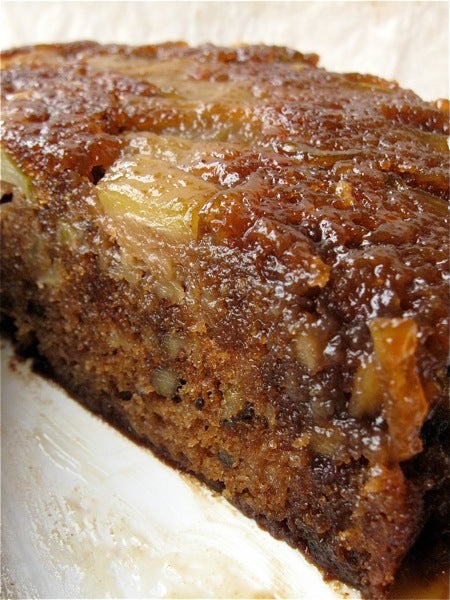 Slice and serve warm, or at room temperature. Plain, unsweetened whipped cream (or VERY lightly sweetened, and enhanced with vanilla) is always welcome.
Did I mention this cake is dense and moist?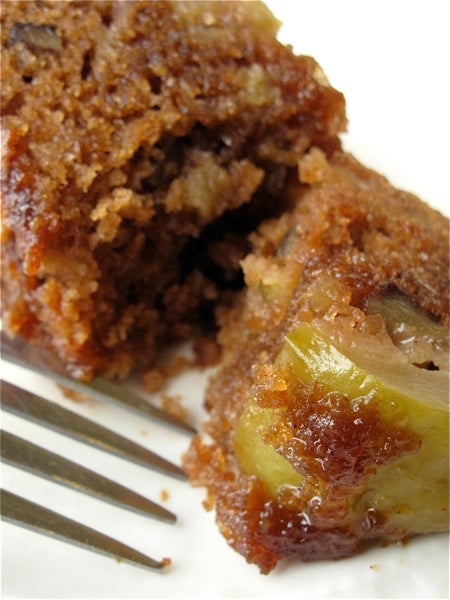 The tartness of the apples offsets the caramel beautifully. Dig in!
Read, bake, and review (please) our recipe for Apple Upside-Down Cake.
Enjoy a dozen more of our very best apple recipes.
Jump to Comments