Fall into flavor
Velvet pound cake in our new pan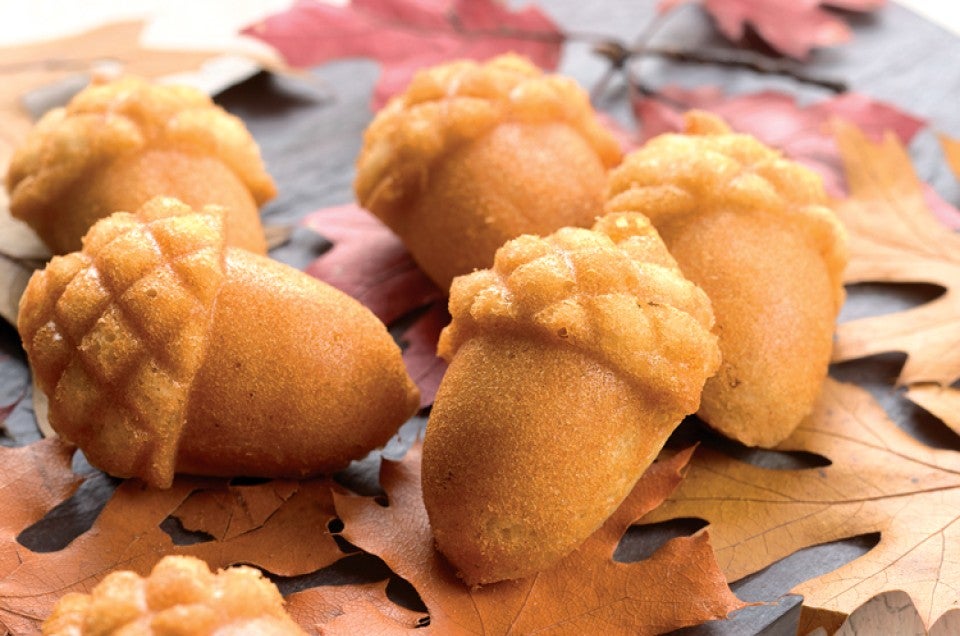 Feeling a little squirrelly now that summer is over? Looking to stash away some great baking ideas for the fall holidays? Feel like tossing acorns at me to get me to stop already with the squirrel analogy?
Fire away friends, as long as you are using this sweet new Acorn pan to make your ammo.
With the holiday season on its way, it's nice to have something that brings a little pizazz to the table, elevating our everyday recipes into something special. This easy to use Acorn pan takes your muffins and cake mixes and recipes to the next level.
First of all, who doesn't love tiny bite-sized treats? Next, the delicate detailed design will have everyone ooohing and aaaahing over breakfast and your amazing baking skills, and who doesn't love THAT?
There is nothing complicated about using this pan, and we've made muffins from scratch and from a mix in the pan. For the first photo, we used our Vermont Maple muffin mix and it was a big hit.
For a change, I decided to make our Velvet Pound Cake recipe in the pan. I knew that the outer crust of the cake turned a deep rich brown during baking and the inside stayed light and creamy. It reminded me so much of a real acorn I just had to give it a try. Let's see how it went: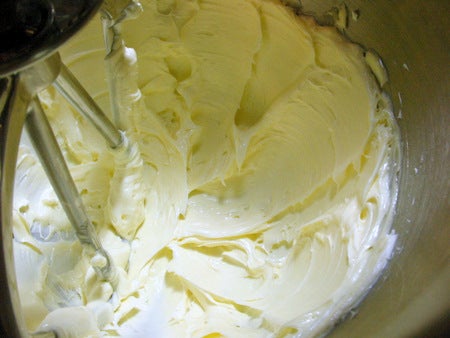 Preheat the oven to 350°F.
In the bowl of your stand mixer combine:
14 tablespoons (1 3/4 sticks) unsalted butter
3-ounce package cream cheese, at room temperature
Beat until smooth and creamy. If you don't get all the lumps out of the cream cheese now, they won't beat out later, so be diligent about scraping down the bowl during this first step.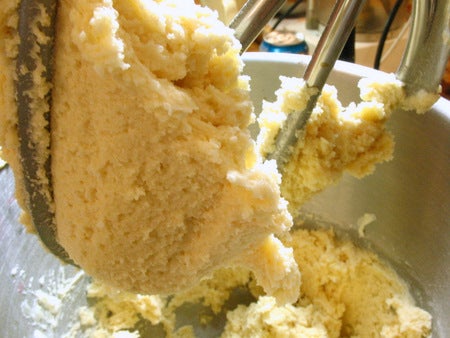 Add:
3/4 teaspoon salt
1 1/2 cups sugar
1 3/4 cups King Arthur Unbleached All-Purpose Flour
1 teaspoon baking powder
The mix will be quite thick at this point. No worries, that's normal.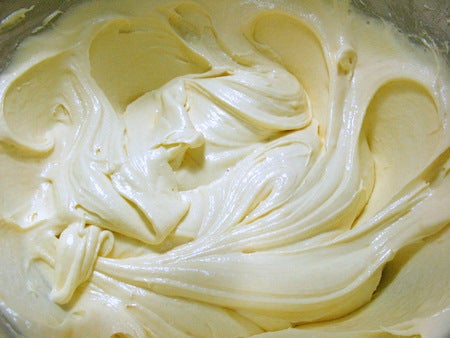 Using  medium speed,  mix in:
2 teaspoons vanilla extract
1/4 teaspoon almond extract (or any extract you choose. Vanilla Butternut would be nice in this shape, don't you think?)
5 eggs, one at a time, beating well after each egg is added
At this point the batter will be quite light and fluffy.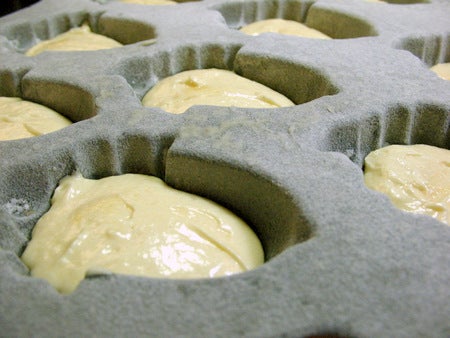 Now, look closely and discover the key to this pan. After a couple of shall we say "unsightly" (read ugly) batches of acorns, Susan Reid, Frank and I put our heads together and brainstormed how to get the perfect finish on these little gems.
The key is a combination of cooking spray and flour. The cooking spray coats all the nooks and crannies and the flour adds a thin layer of non-stick protection that results in a smooth as silk finish on the outside of your baked goods.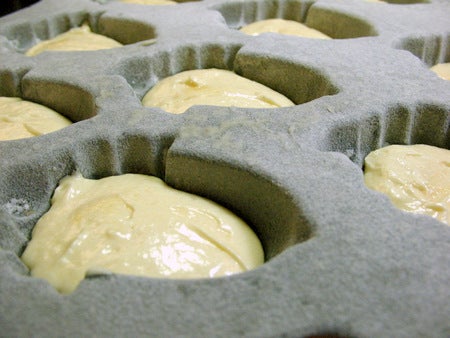 Yes, I know its the same picture again. Here's the second key to getting lovely acorns. Once you have spritzed the pan with cooking spray and dusted it with flour, fill the wells just half full with cake batter.
In this case, less is definitely more. Filling the wells too full will result in acorns that puff and flow over the sides of the well. Surprisingly, just 2 to 3 teaspoons of batter is plenty. Our teaspoon scoop proved to be just the right size and made scooping a breeze.
The number of acorns you get will depend on the recipe you use. I ended up with about 36 separate acorns from the pound cake recipe.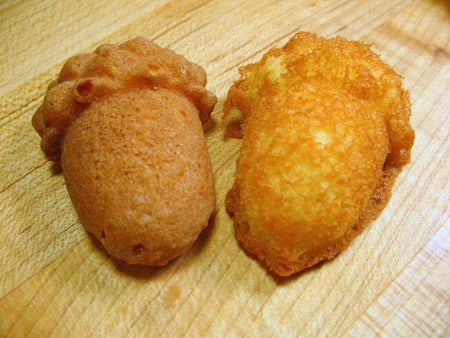 The acorn on the left was baked in the sprayed, floured pan while the acorn on the right was baked in a pan with just cooking spray. You can see there is quite a bit of difference in the look, though the flavor is the same on both. Remember, we eat with our eyes first!
Bake the acorns for 8 to 10 minutes or until golden brown and a toothpick inserted into the center of one of the nuts comes out clean.
Cool in the pan for about 2 minutes, then turn out onto a wire rack to cool completely.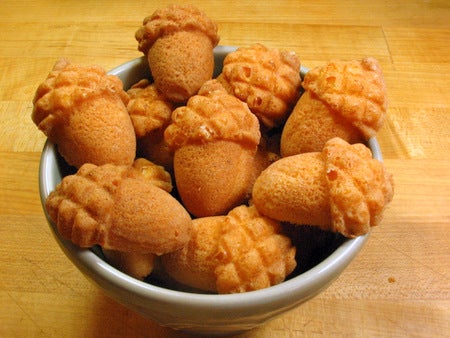 You can serve your acorns singly, or you can sandwich them together with icing or melted chocolate to make little  3-D acorn sandwiches.  Piled high in an earthenware bowl, these nutty little treats were irresistible to our tasters and the bowl was empty in just  minutes.
I wonder how many were hidden away in desk drawers and secreted under napkins for a late afternoon snack? Where is your favorite place to hide away a treat for later?  Don't tell anyone, but I like to hide mine behind the calculator. Shhhh!
Please bake, rate and review our recipe for Velvet Pound Cake.
Already own the acorn pan? We'd love to hear your review.
Jump to Comments