It looks like the King may be on his feet for the duration of the expansion.
As many of you may have noticed, the old entryway to the Baker's Store – which contained King Arthur's throne, as well as the wooden head of his horse – is gone.
When the expansion started in June, the old entryway was ripped down and boarded up, and horse head and throne were taken away.
An inquiry to the company's previous long-time owner, Frank Sands, on the history of the two pieces revealed a few fun facts about them, including where they came from and how they've helped to represent the King Arthur Flour brand through the years.
Llamrei, King Arthur's faithful steed, was carved and built in Canajoharie, New York in 1928 by a company that made merry-go-round figures. Atop him sat a wooden carved figure of King Arthur holding a flag. This fanciful carving was mounted on a truck that also contained an automatic calliope that played music.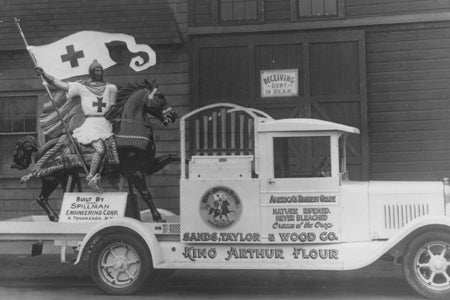 Walter Sands, the former company president, used to drive the truck around New York City with the music playing as a way to gain attention for America's finest grade flour and the company that produced it.
Soon after the stock market crash in 1929, the truck returned to King Arthur Flour's original home in Boston, Massachusetts where is continued its musical tour until the 1950s.
When the company moved to Cambridge, Massachusetts, Walter Sands decided they would erect the horse and knight on the top of the new building. The carving was unbolted from the truck, but as it was being moved to the building it fell and broke into many pieces. Only the horse's head and a part of its body were salvageable.
Walter Sands gave the head to his daughter, Sylvia Paxton, who kept it in her house until the Baker's Store was built in Norwich, Vermont in 2004, whereupon she gave it back to the company as the only remainder of that part of King Arthur's history.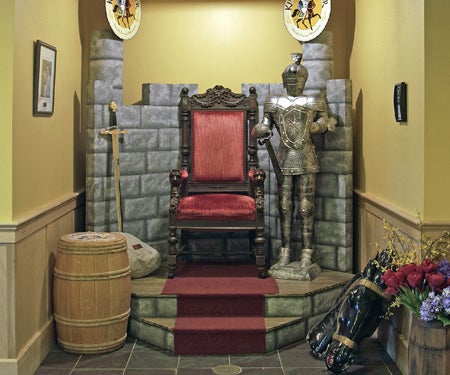 King Arthur's throne was built around the same time as The Baker's Store and was placed in the entryway with Llamrei's wooden head as an exhibit. They are accompanied by a suit of armor, which was created for a 200th anniversary celebration King Arthur had in 1990. They have been a memorable part of everyone's visit to the store, and a great photo opportunity for our many fans, both young and old.
There have been many questions daily from concerned patrons as to the throne's whereabouts. I am happy to say that both objects are being stored safely in an office in our warehouse down the road.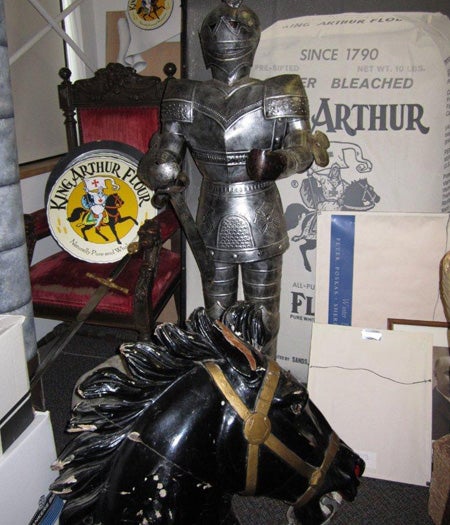 When construction is finished in 2012 and the improved Baker's Store, Bakery, and Baking Education Center are complete, Llamrei and the throne will have an even grander place to call home.
Jump to Comments