Are you ready for some fun buns?
Cinnamon buns usually bring a smile to your face, but these bring a great big grin – maybe a little lopsided, but a smile as wide and high as a country mile.
While we were working on our recipe for Caramel-Nut Cinnamon Buns, we enjoyed the challenge of making buns that rose up out of the pan in tall spiraled peaks like the White Mountains – but dripping with decadent caramel instead of snow and footsore hikers.
Frank, our pastry chef extraordinaire, regaled us with stories of making buns like this with leftover dough scraps for his staff at the San Francisco Ritz, as he simultaneously created pan after pan of tall, twisted, tantalizing buns for us.
So what's the secret to the spiral? It's all about breaking the rules.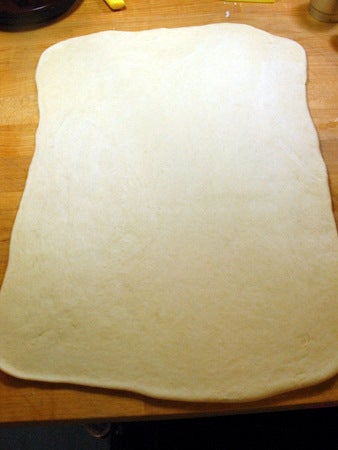 Roll your favorite cinnamon bun dough into a 14" x 16" rectangle. Place the rectangle so that the short sides are at the top and bottom as you face the dough.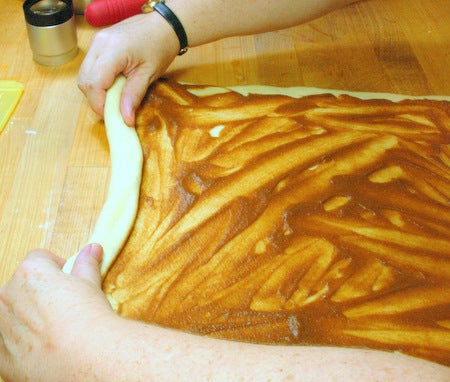 Spread the dough with 1/2 cup (76g) Baker's Cinnamon Filling that's been mixed with 1/4 cup (57g) water. You can make the filling thicker or thinner depending on your preference. There should be enough filling to coat the entire surface of the dough in a thin, even layer.
Don't have Baker's Cinnamon Filling? (Bummer, man, it's REALLY good!) Check out the Baker's Tips in this recipe for an easy substitution.
To begin rolling, fold the top inch of the dough over the filling towards yourself.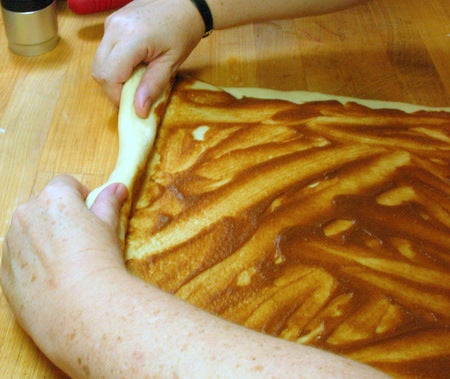 The key to getting a spire on your cinnamon buns is to gently pull and stretch the dough away from yourself, then roll towards yourself. Stretch, roll, stretch, roll.
This, of course, is exactly the OPPOSITE of what we teach new bakers about making cinnamon buns. Usually you don't want to get pointy top buns, so we discourage stretch-rolling. But once in awhile, all rules are meant to be broken; and curly topped buns are the happy result.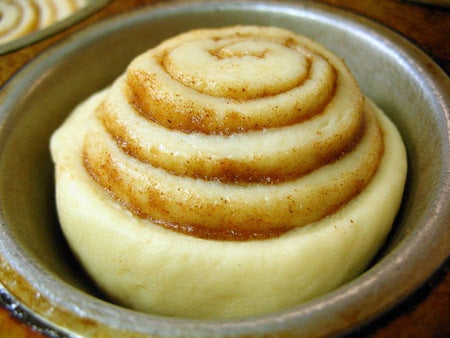 Cut the buns into 1" slices using a very sharp serrated knife, or even a twist of dental floss. As you place the buns in greased muffin tins, give them a gentle push up from the bottom to begin the spire.
Don't push too much, as too big a spire will result in a Tower of Pisa scenario once the buns are baked.
Let the buns rise in the pan for about 20 to 25 minutes or until full and puffed.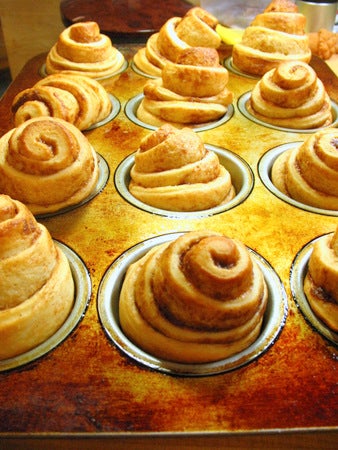 Bake the buns at 350°F for about 20 to 25 minutes, or until they're golden brown with an internal temperature of 190°F.
As you can see, you'll get a variety of spiral shapes depending on how tightly you rolled, how much the bun was pushed up, etc.
Check out the snoozer towards the top left. Poor thing just couldn't keep his head up any longer.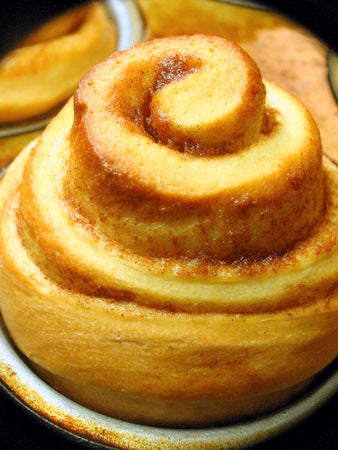 Just like a perfect soft serve ice cream cone. I can't wait to bite off the top!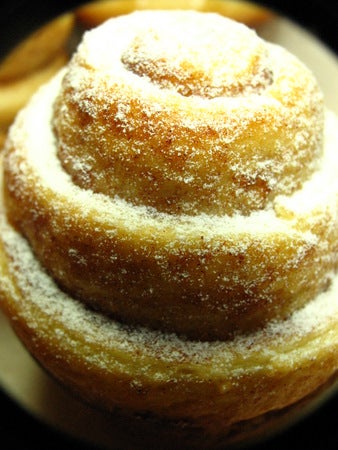 First, a drift of Snow White Non-Melting Sugar.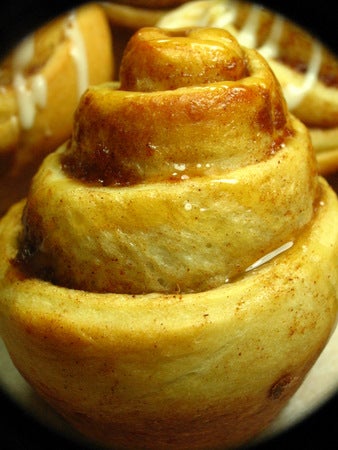 Caramel drizzle, anyone?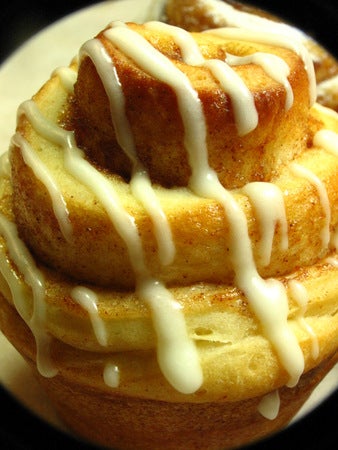 Ah, the classic vanilla glaze.  To make the nice even stripes,  put the glaze in a zip-top bag and snip off the corner, making your own easy piping bag. Zigzag over the top of the buns, squeezing out icing as you go.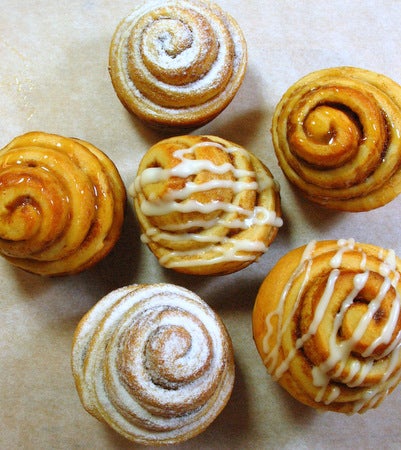 How about a bird's eye view? It's like flying over Bakery-land, with Cinnamon Bun mountains and Caramel Bun volcanoes.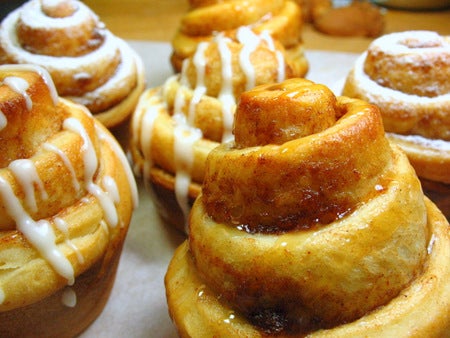 There you have it. A simple secret to making buns that rival any purple mountains' majesty, and leave you licking your fingers as you glide down every sumptuous slope.
Please bake, rate, and review our recipes for Cinnamon Buns and Caramel-Nut Cinnamon Buns.
Jump to Comments