Who doesn't love to eat with their fingers?
Smoky, spicy samosas fit the finger-friendly bill to a T.
From its earliest appearance in Middle Eastern and Central Asian cuisines centuries ago, the samosa (just one of its various names) has spread throughout the world. This stuffed pocket's typical butter and flour pastry lends itself to endless filling possibilities. Our version here is filled with a mixture of onion, curry, potatoes, and peas, wrapped in a flaky pastry crust that can be made in less than 5 minutes.
These can also be made in big batches ahead of time and frozen unbaked for weeks.
Can you say after-school snack? Pre-practice pick-me-up? Midnight munchie? Any time of day or night these folded pastries are going to satisfy.
Here's how we start our Samosas: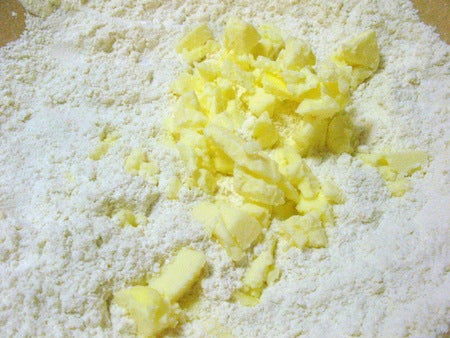 To make Quick Flaky Pastry:
Blend together  2 1/2 cups (298g) King Arthur Unbleached All Purpose Flour with 1/2 teaspoon salt.  Work in 8 tablespoons (113g) cold butter with a pastry cutter or your fingertips until the whole mixture looks like rough granola.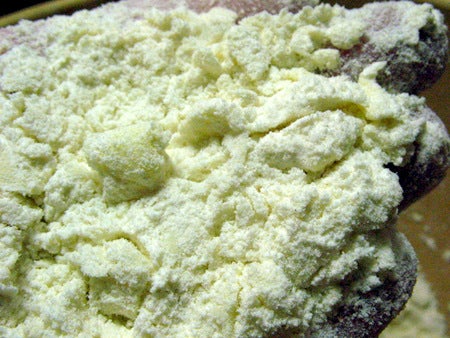 Take another 8 tablespoons (113g) butter and work it into the mixture, leaving butter pieces about the size of raisins, or dried cranberries.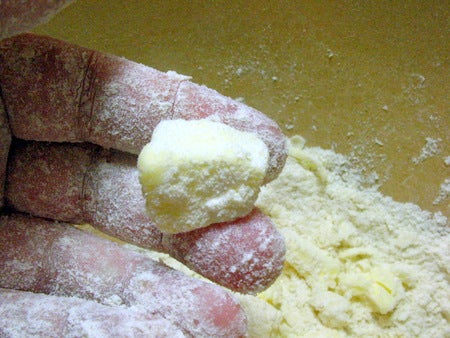 To make really flaky pastry, take some of those leftover large pieces and squish them between your fingers.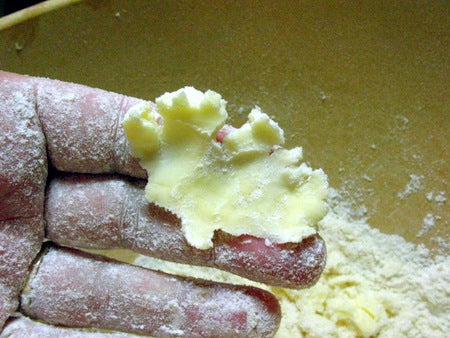 Like this. These leaves of butter will become coated in flour in the dough. As the butter melts and steams away, the coating of flour becomes hollow, making your pastry dough flaky.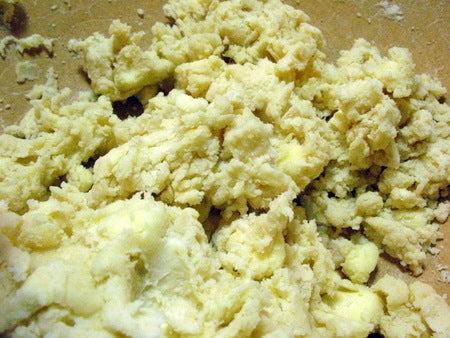 Slowly drizzle in ice water and mix the dough with your fingertips until it begins to hold together.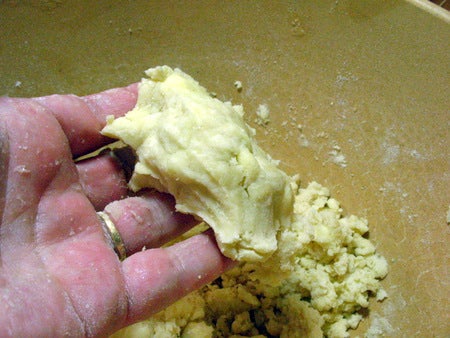 Pick up a clump and give it a squeeze with your hand.
If it holds together nicely, it's ready. If it breaks into clumps add a bit more water. If it sticks all over your fingers it's too wet, and you'll need to add a touch more flour.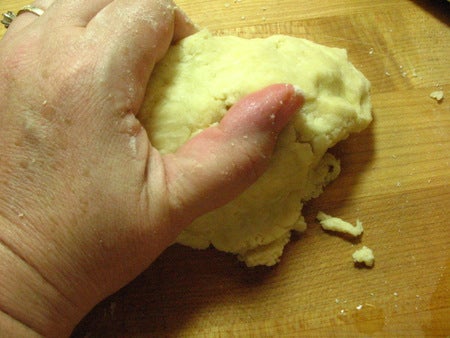 Gently give the dough ball a few kneads until it comes together. Press it out into a disc about 1/2" thick, wrap in plastic wrap, and chill in the fridge for about 30 minutes. Overnight is fine as well.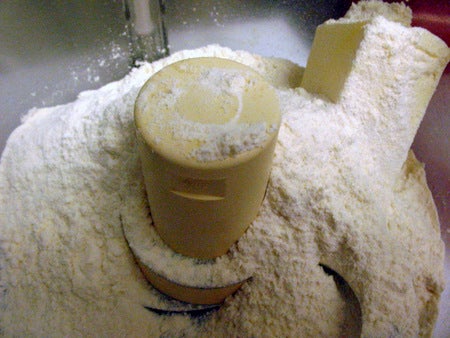 The dough can also be made in a food processor in the blink of an eye. Add the flour and salt and pulse about 10 times. Add the first half of the butter and pulse until you get to the granola stage.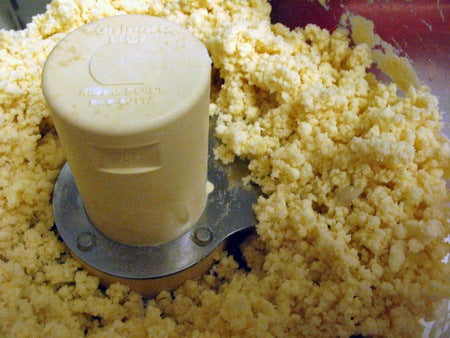 Add the rest of the butter, pulse again, then the ice water. When the dough looks a bit like dry cottage cheese, give it the squeeze test.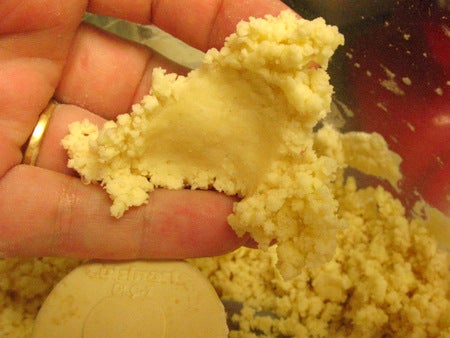 Perfecto! Wrap it up and into the chiller.
If you're baking today, preheat the oven now to 400°F.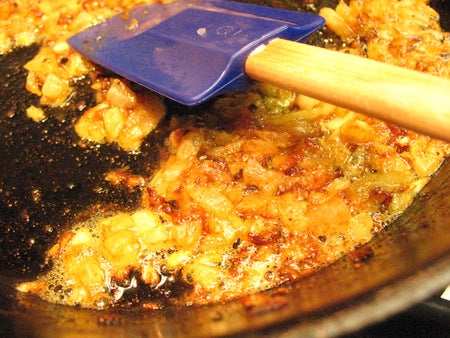 While the dough is chilling you can make the curried potato and pea filling.
Melt 2 tablespoons (28g) butter in a medium-sized sauté pan. Add 1 cup (142g) diced onions and 2 cloves minced garlic, cooking for 2 to 3 minutes until the onions turn translucent. Take care not to burn the garlic. Add 1/4 to 1/2 teaspoon cumin (to taste), and 1 teaspoon curry powder. Cook for 1 more minute.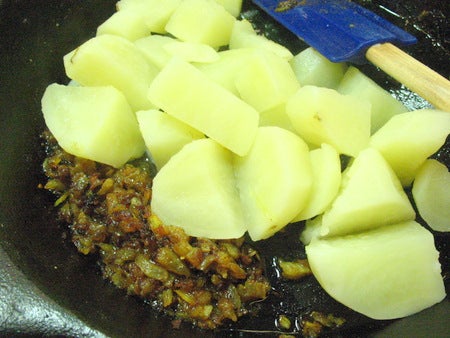 Add 2 cups (454g) cooked, drained, chopped potatoes.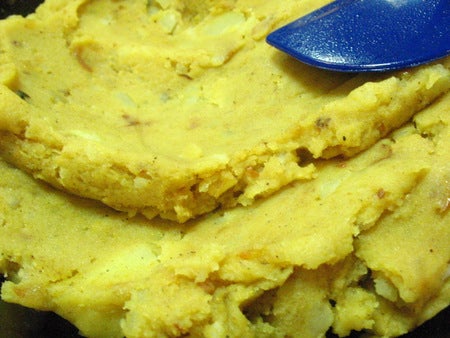 Blend and mash the potatoes together with the onions and spices. I like my filling a bit on the smooth side, but you can leave chunks of potato depending on what you prefer.
What a great golden hue this filling has – and such an enticing aroma!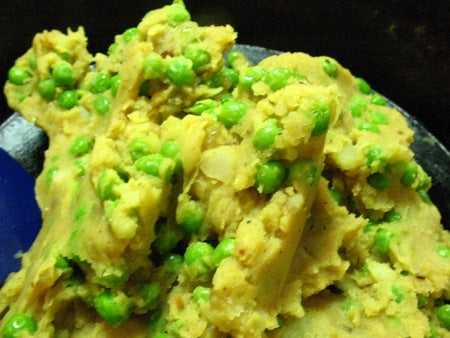 Blend in 1 cup (71g) thawed frozen peas, taking care not to mash them too much. They'll provide a nice pop when you bite into the samosas. Taste and adjust the seasoning with salt and pepper, and some hot sauce if you like. Sriracha hot sauce is wonderful, and is becoming a worldwide favorite. It's the one with the green rooster on the bottle.
Now you're ready to roll!
Roll the chilled dough on a well-floured surface to about 1/8" thick. You can vary the size of the cutter depending on how large you want your samosas to be. For a nice two-bite appetizer, I used a 2 3/4" round cutter.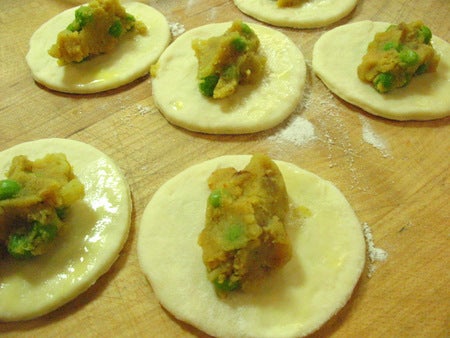 Cut your rounds, brush one half with egg wash if desired (it makes the samosas easier to seal), and fill each with about 2 tablespoons filling.
You can make egg wash from 1 egg beaten with a tablespoon of water and a pinch of salt, or you can use liquid eggs from a carton, a favorite of our own Susan Reid.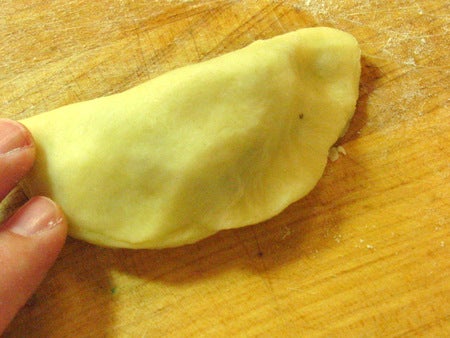 Fold over the dough and pinch the samosa closed with your fingers. For added insurance you can use the tines of a fork to seal the edges as well. Again, brush with egg wash, if desired; it'll give the samosas a shiny/golden crust.
FREEZING: At this point, you can freeze the filled samosas before baking. Just put the whole tray in the freezer until they are solid, then store in a labeled zip lock bag for 4 to 6 weeks.  To bake, place the frozen pastries on a baking sheet and pop them into a pre-heated oven. Add a few minutes to the baking time.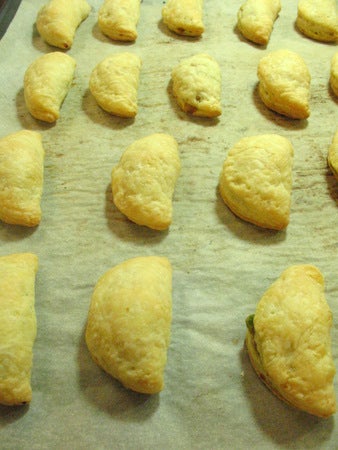 Bake the samosas on parchment-lined baking sheets for about 20 minutes, or until light golden brown. You can also fry the samosas in hot oil as you would fry a turnover, but I prefer baking. Lower fat is a bonus in my book.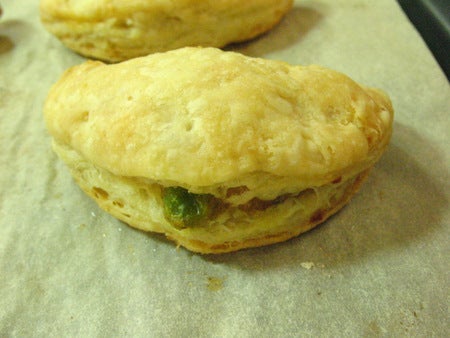 Hot, crisp and flaky!
I couldn't resist this particular samosa with the one pea peaking out like a pearl.
These bite-sized beauties definitely qualify as treasure to me. Serve them as appetizers on the deck with ice cold beer, or make them a bit larger and serve with a cool rice salad for a weekend meal. Then kick back and enjoy the warm burn of curry-cumin as you hold onto a puffy piece of perfection.
Please bake, rate, and review our recipe for Samosas with Quick Flaky Pastry.
Jump to Comments