Crunchy Crackers
Good as store-bought... maybe even better!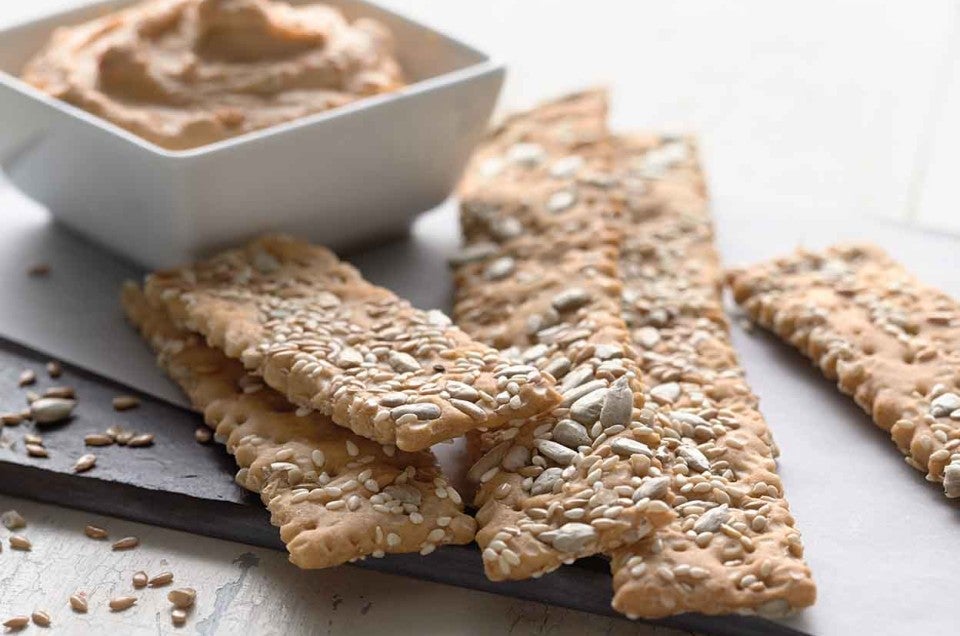 Watch out, Dr. Kracker – the King Arthur test bakers are on your trail.
You know about Dr. Kracker crackers, right? They're these tasty ULTRA-crunchy crackers, full of seeds and fiber and whole grains. They come in a bunch of sizes, shapes, and flavors, with a few common attributes – they're different, and delicious...
...and higher-priced than your usual box of Ritz.
Which means, to any baker worth his or her salt, that Dr. Kracker crackers are ripe for a homemade clone.
Sue Gray, a long-time fellow baker here at King Arthur, feels the same way I do about Dr. Kracker crackers: love 'em, but can't afford 'em on a regular basis. So last year, Sue and her colleague Andrea decided to make a Dr. Kracker clone.
They worked on the cracker itself: too thick, too thin, and too hard eventually became just right. And the toppings: sunflower, flax, and sesame were the perfect combo.
Except that I went ahead and tried my own version, using our artisan bread topping: flax, toasted sesame, black caraway, midget sunflower, poppy, and anise seeds. Plus golden flax seeds, just because I like their look and taste.
And, after customers commenting on the recipe decried the crackers' "cardboardy" taste, I added sea salt to the topping.
As my MIL is wont to say, "NOW you're cooking with gas!"
In other words, you're on the right path. And, if you know and love Dr. Kracker crackers, and compare our Crunchy Crackers with Dr. Kracker's, I think you'll agree –
Dr. Kracker, we're on your trail!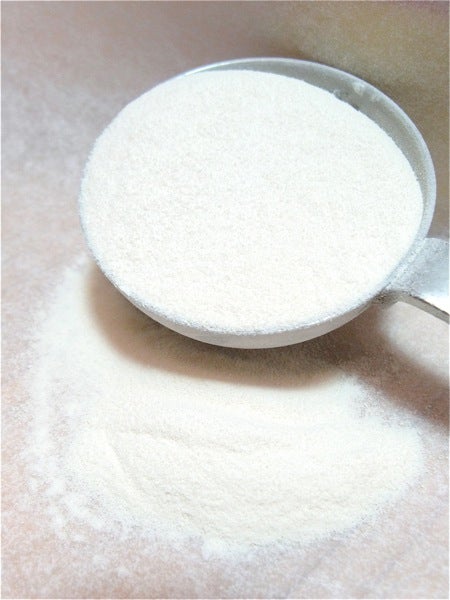 Dr. Kracker crackers are (barely) sweetened with organic barley malt syrup. Our recipe uses non-diastatic malt powder, a sweet derivative of roasted barley. It's easy to use and, being non-liquid, doesn't affect the crackers' texture.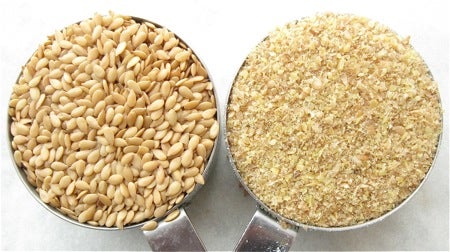 And here are two more of our favorite ingredients: golden flax seed on the left, and milled golden flax on the right.
At last! Let's go crackers.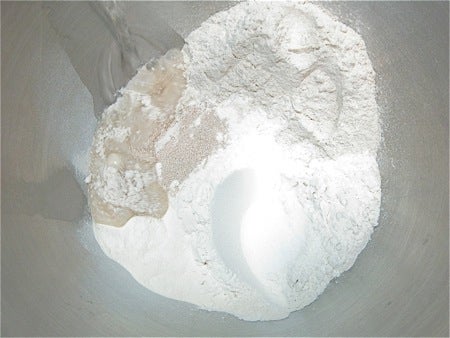 Place the following in a mixing bowl:
7/8 to 1 cup (198g to 227g) lukewarm water
1 1/2 cups (170g) King Arthur White Whole Wheat Flour
1 cup (120g) King Arthur Unbleached All-Purpose Flour
2 tablespoons non-diastatic malt powder or granulated sugar
1 teaspoon instant yeast
1 teaspoon salt
*Start with the lesser amount in summer, or when it's hot/humid; the greater amount in winter, or in a cold/dry environment.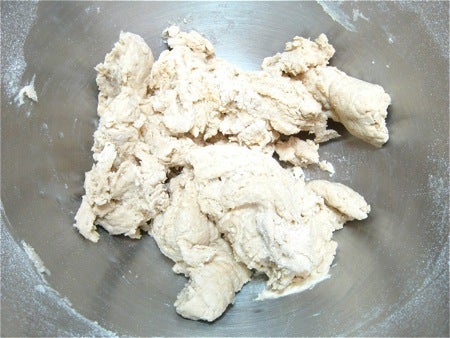 Use the flat beater to mix everything together...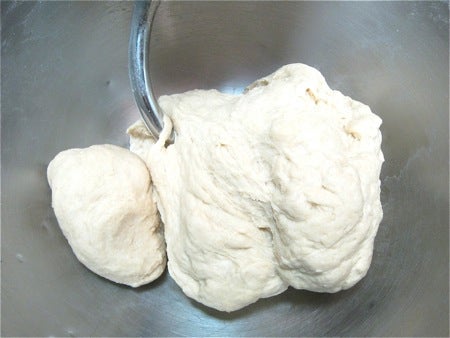 Then switch to the dough hook, and knead until fairly smooth and quite stiff.
See how the dough above formed separate pieces? That means it's a bit too stiff. I kneaded in another tablespoon of water.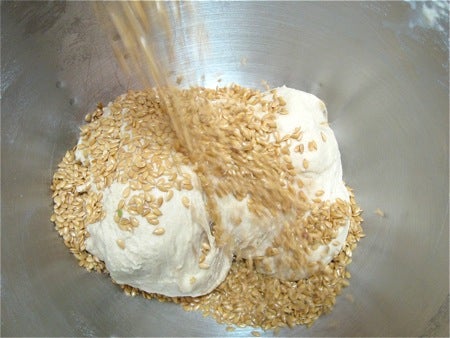 Next, add the following:
2 tablespoons (14g) milled or whole flax seeds
2 tablespoons (14g) sesame seeds or whole flax seeds
I used 4 tablespoons flax seeds; but feel free to use whatever combo of sesame and flax you like.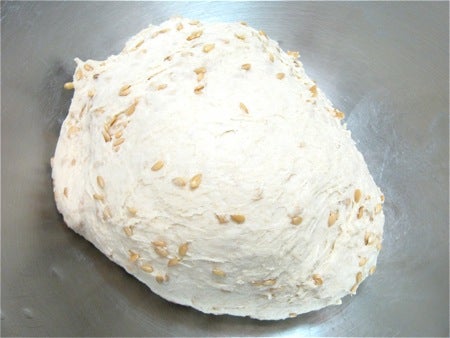 Knead in the seeds and/or meal.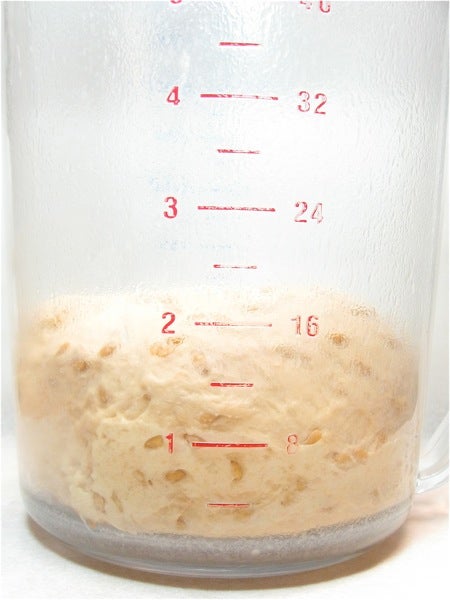 Put the dough in a lightly greased bowl, or an 8-cup measure, as I'm doing here.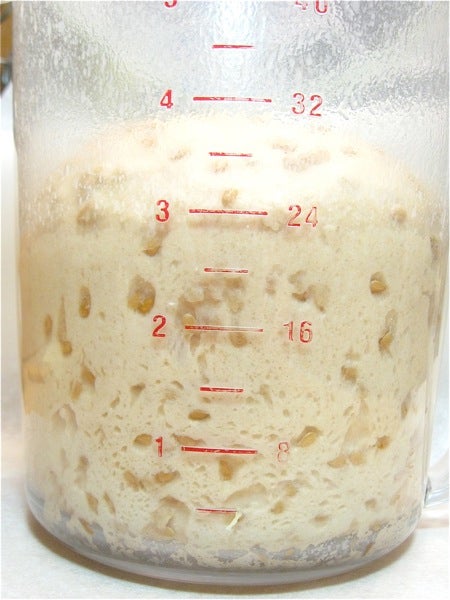 Cover the container, and let the dough rise for 60 to 90 minutes, until it's expanded a bit.
Divide the dough in half.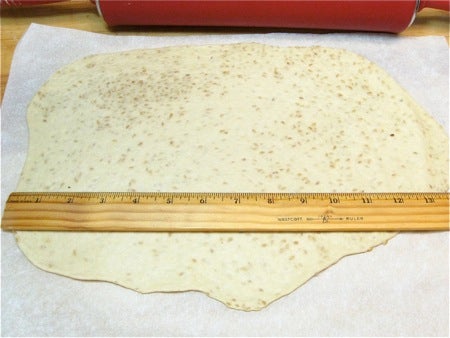 Working with one piece at a time, roll the dough into a rectangle approximately 14" x 9", a generous 1/8" thick.
This is best done on parchment paper; you'll see why in a minute.
As you roll, the dough will probably fight back; give it a 10-minute rest, then come back and roll some more. It may need two rest periods to allow you to roll it thin enough.
Now for the topping. Combine the following:
1/2 cup (71g) sunflower seeds, midget preferred*
1/4 cup (28g) sesame seeds*
1/4 cup (28g) whole flax seeds,* golden preferred
*Substitute 3/4 cup artisan bread topping + 1/4 cup whole flax seeds for the sunflower, sesame, and flax seeds, if desired; that's what I did.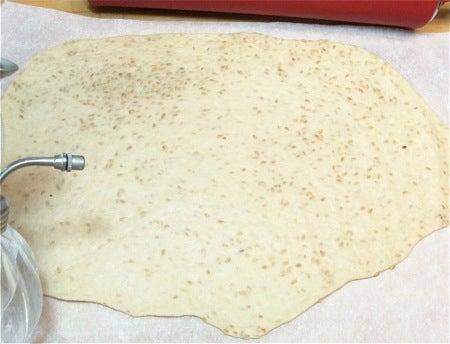 Spritz the dough with water.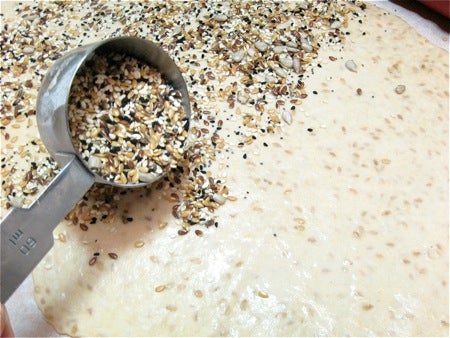 Sprinkle with 1/4 cup of the topping seeds.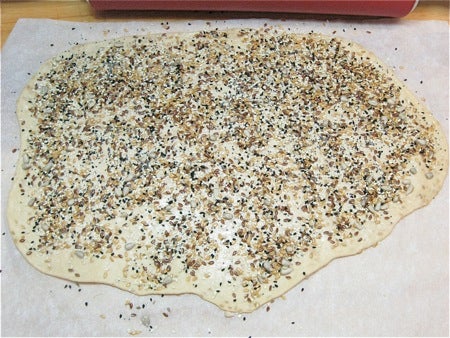 Cover the dough completely.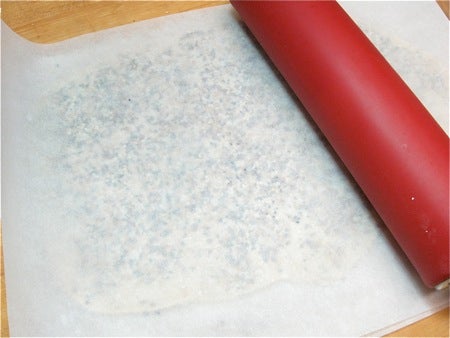 Lay a piece of parchment on top, and press the seeds in with a rolling pin.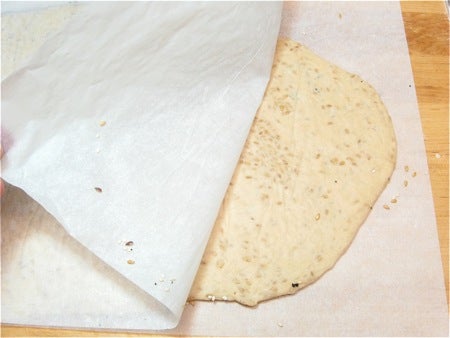 Turn the dough over, peel off the parchment...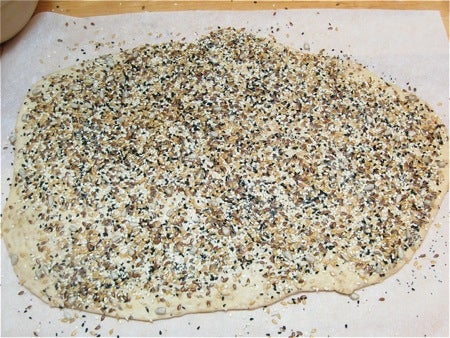 ...and repeat the process with another 1/4 cup of the topping seeds.
The dough is now covered with seeds on both sides. And with all the rolling, it'll probably have stretched to about 15" x 10"; though if not, don't worry about it.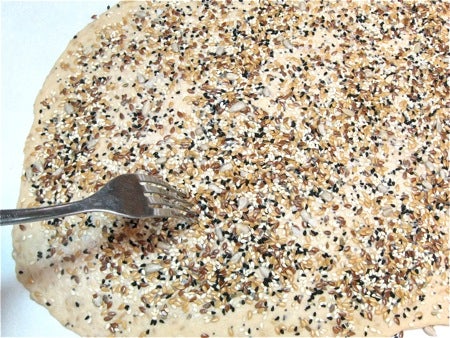 Prick the dough all over with a fork, to prevent the crackers from puffing up in the oven.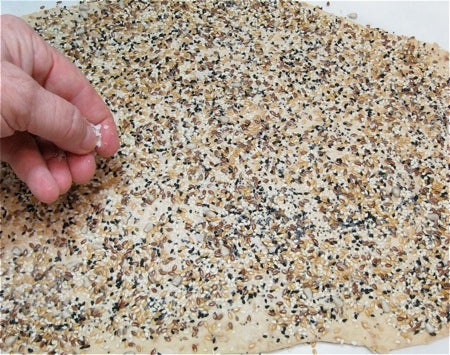 Sprinkle with some sea salt or flavored salt, if desired. Crush the sea salt between your fingers or grind it in a salt mill if it's very coarse.
Cut the dough into rectangles, whatever size you like. Pick up the parchment, and lay it on a baking sheet.
Note: If you don't have parchment, do your rolling on a rolling mat or on a very lightly floured or lightly greased work surface; and transfer the seeded, uncut crackers to a lightly greased baking sheet. Cut right on the sheet.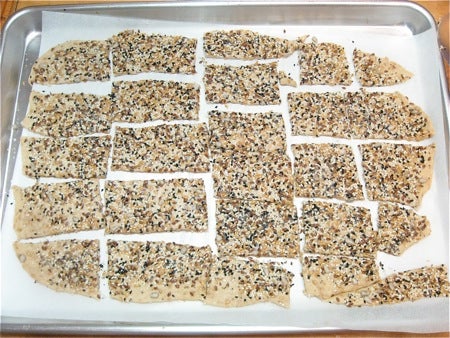 Pull the crackers apart just a bit; you don't need to separate them completely.
Repeat the whole process with the remaining piece of dough.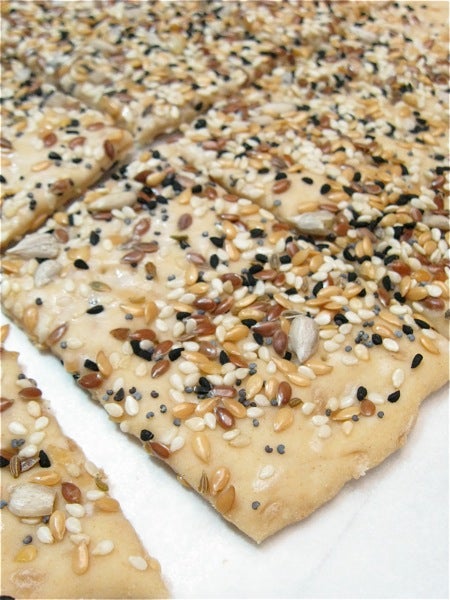 Cover the crackers with lightly greased plastic wrap, and let them rise for 30 to 45 minutes, while you preheat your oven to 350°F; they'll get just a bit puffy.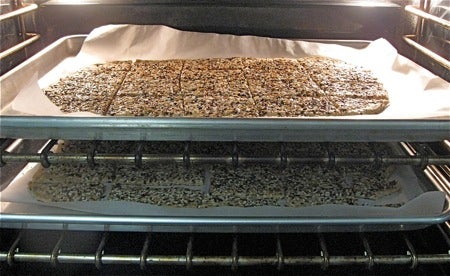 Bake for 20 minutes, until the crackers are a medium brown.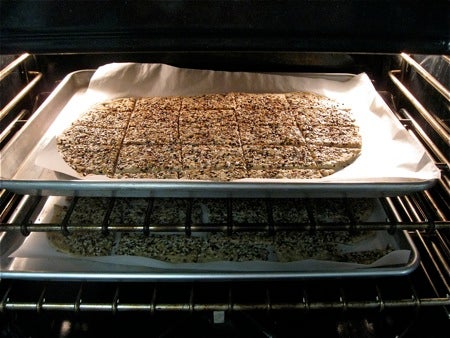 You don't want them to be very brown at all. Turn off the heat, wait 15 minutes, then open the oven door a couple of inches and let the crackers cool completely in the turned-off oven, checking occasionally to make sure they're not getting too brown.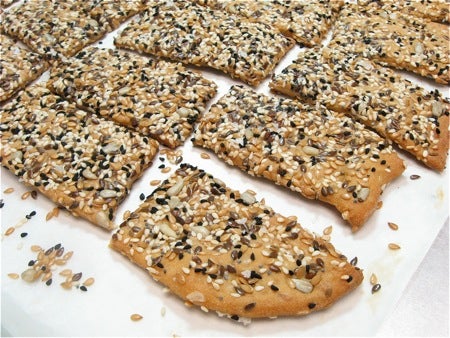 I think these are just right: rich, mahogany brown without any burned edges.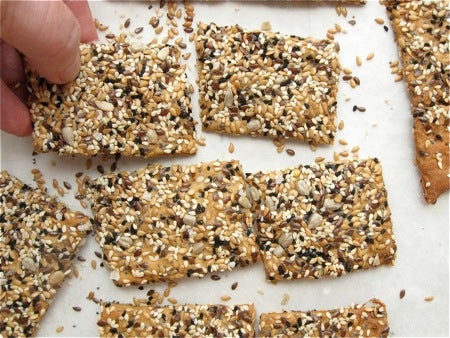 When they're completely cool, break the crackers apart, if necessary.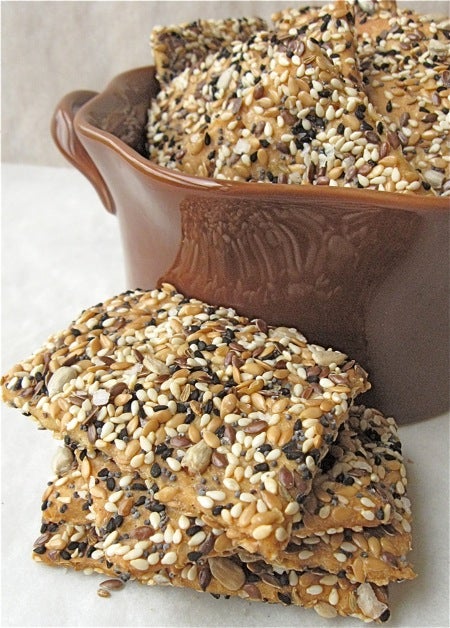 Serve in all their plain-but-beautiful glory; or with cheese, or spreads, or dips; and accompanied by much positive feedback from the Dr. Kracker fans among your family and friends.
Store airtight (of course). They'll keep well for weeks when stored properly.
Read, bake, and review (please) our recipe for Crunchy Crackers.
Jump to Comments