Brioche French Toast
"Lost" bread at its best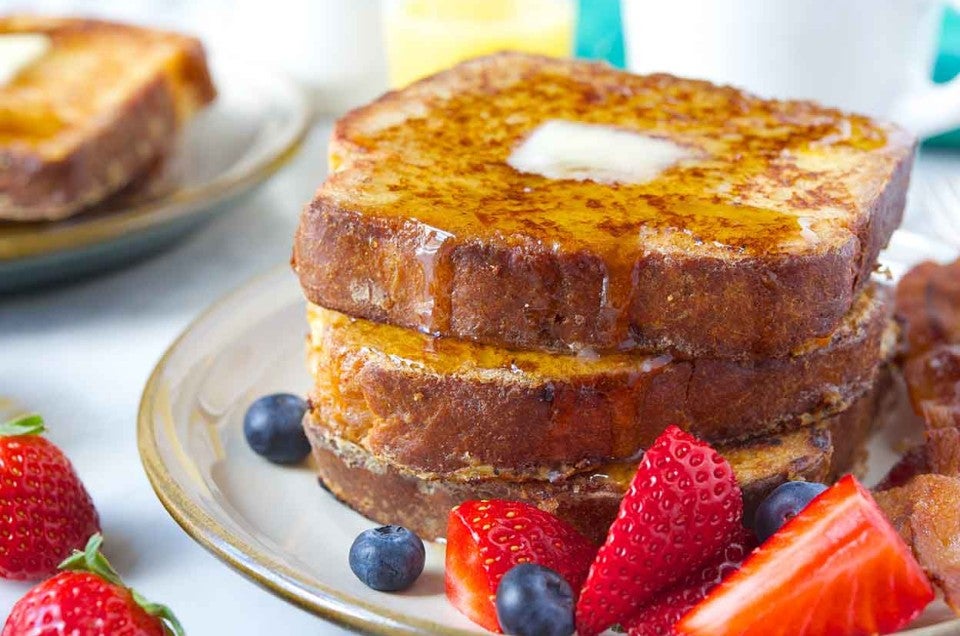 "Vive le pain perdu!"
That's the headline on the email that delivered this blog to your inbox.
That is, if you get our emails; and if you don't, what are you waiting for? Online-only specials, links to the latest recipes and blogs... c'mon, sign up!
But back to that pain perdu.
The Web team was reviewing upcoming emails recently, and got to this one, with its "pain perdu" head.
Teammate 1: "Pain perdu? Chickens in pain? What's that all about?"
Me: "No, nothing to do with Frank Perdue; and not THAT kind of pain. Pain as in French pain, as in bread. Pain perdu. 'Lost bread,' you know, French toast."
Teammate #2: "Is anyone going to get that? Kind of obscure, isn't it?"
French... obscure? Well, perhaps not that many kids routinely take French in high school anymore. Maybe the droning repetitions of "je suis, tu es, vous êtes" have gone the way of typewriters and home ec.
But most people who've spent any time reading cookbooks have come across French – baguette springs immediately to mind. Croissant. Chocolate éclairs. Foie gras.
Apple pie à la mode.
See? You can speak French. Foodie French, anyway.
Which means that pain perdu won't conjure up uncomfortable chickens, but rather a luscious, egg-and-cream soaked square of bread, crisp on the outside, creamy and soft within, gilded with a bit of butter and maple syrup...
French toast. Pain perdu.
Enough ado. Mon dieu! Let's make it. We'll start with the brioche.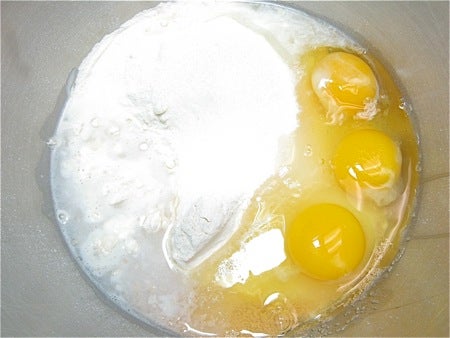 Place the following in a mixing bowl:
2 3/4 cups (326g) King Arthur Unbleached All-Purpose Flour
1/4 cup (28g) Baker's Special Dry Milk or nonfat dry milk
3 tablespoons (35g) sugar
1 1/4 teaspoons (8g) salt
1 tablespoon instant yeast
3 large eggs, cold from the refrigerator
1/4 cup (57g) lukewarm water
Isn't brioche just full of butter? Where's the butter?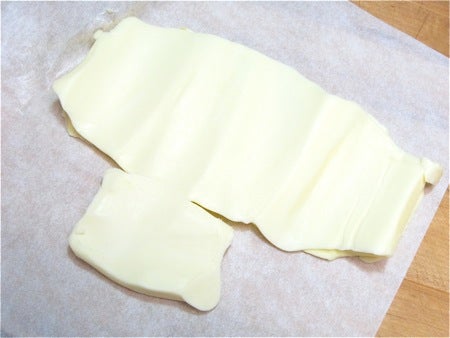 Right here. Cold butter, pounded flat with a rolling pin.
The pros in our bakery make brioche with "pounded butter," so I thought I'd try it.
They mix all the ingredients EXCEPT the butter; then add it, bit by bit, to the already developed dough. They say it makes higher-rising brioche, with better texture.
Well, I tried it that way, side by side with the standard method, which simply adds the butter right along with everything else.
Result? It was a big pain trying to add that cold butter to an already developed dough; and when both loaves were baked, I couldn't see any difference.
I'm sure it works well for our King Arthur Flour Bakery bakers, with their major-league Hobart mixers; but it just didn't translate well to me and my little Viking.
So - add 10 tablespoons (142g) of cold butter to the ingredients in the bowl.
Why not use warm butter? Isn't it easier to mix in?
I've tried that, too. To me, it makes a greasier dough. Cold butter seems to be absorbed more readily.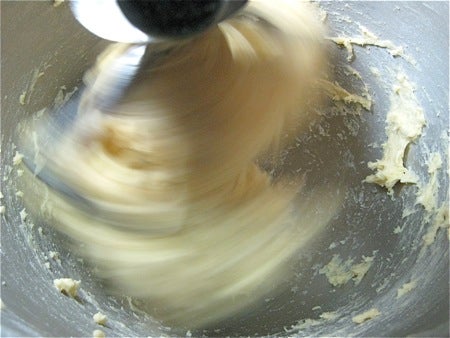 Using the flat beater, mix for 5 minutes at medium-high speed, then scrape the bowl. Mix for another 5 minutes until the dough starts to come away from the sides of the bowl – scrape the bowl again.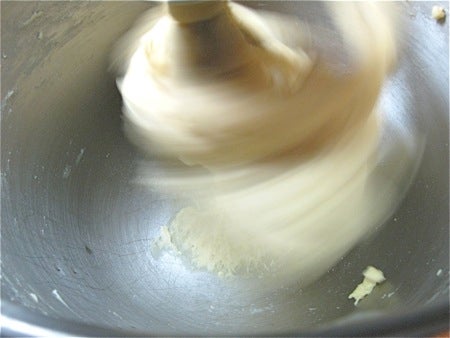 Switch to the dough hook, and knead for another 5 minutes, until the dough really starts to come together nicely.
It'll look wet and greasy at first, but as you continue to knead, "greasy" should become glossy.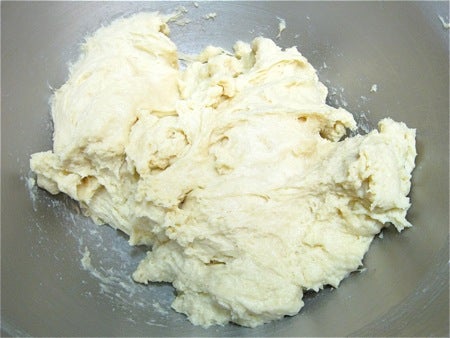 The finished dough is still very loose, but it's cohesive; and when you pick it up to transfer it to its rising container, it shouldn't be ridiculously gloppy/sticky.
I like to track how well my brioche is rising, so I put it in an 8-cup measure.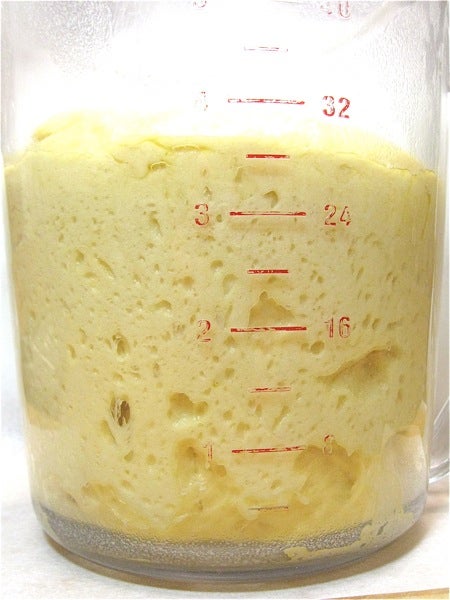 Cover the container, and let the dough rise for 1 hour. It'll puff up a little, though not much.
Refrigerate the dough for several hours, or overnight. This will slow the fermentation and chill the butter, making the dough easier to shape.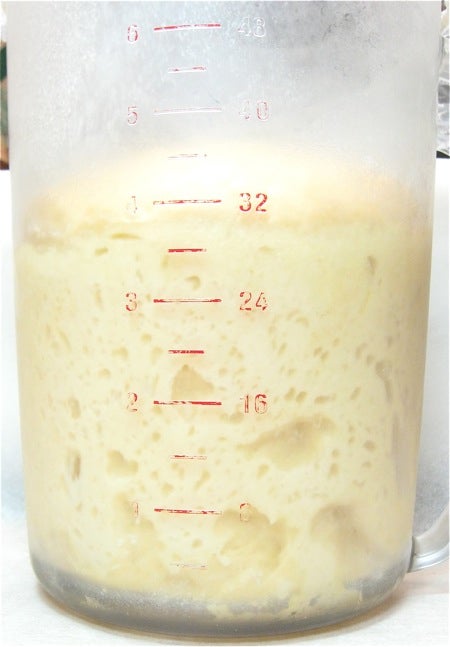 I let this dough chill overnight. As you can see, it continued to rise a bit, even in the fridge. This long, slow rise helps develop flavor.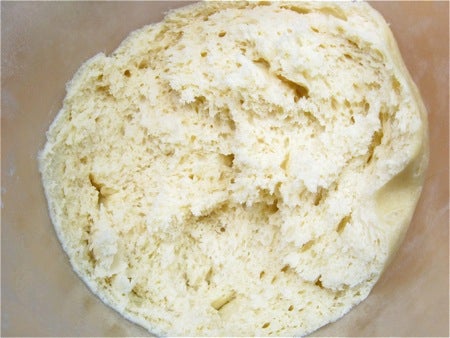 And the yeast is working, too. Cold brioche dough feels like cold clay - it's not elastic at all. But I pulled off just the top of the risen dough, and look at all the air bubbles inside.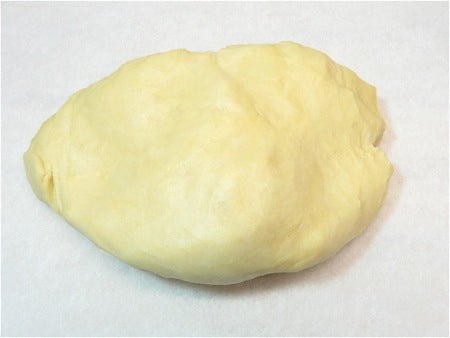 Knead the dough a few times, to gently deflate it and smooth it out. Shape it into a 9" log.
Next: choose your pan. I'm using a small (9" x 4") covered pain de mie pan, because I'm going to use this loaf for French toast, and the pain de mie pan makes a fine-grained loaf that yields beautifully square slices.
If you don't have a small pain de mie pan, use a 9" x 5" loaf pan.
Or divide the dough in half, and make two short braids to put in a couple of 8 1/2" x 4 1/2" loaf pans. For complete instructions, check out our Brioche recipe.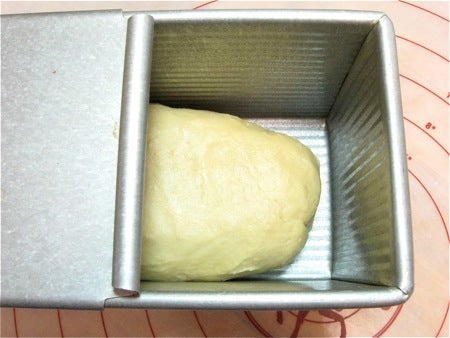 Place the log in the lightly greased pain de mie pan. Pull the cover closed, and let the dough rise for up to 5 hours or so; remember, it's cold and needs to first warm to room temperature, then rise.
This egg- and butter-rich dough won't be a high-riser. But let it get to within 1 3/4" to 1 1/2" of the rim of the pan.
Towards the end of the rising time, preheat the oven to 350°F.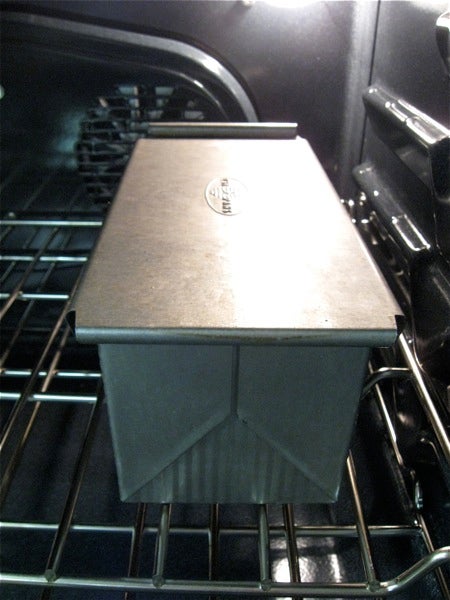 Bake the bread with the lid on for 45 minutes.
Remove the pan from the oven, remove the lid, and test the bread; it should be golden brown, and an instant-read thermometer inserted into the center should read 205°F to 210°F. If the loaf isn't done, put the lid back on, and return it to the oven for several minutes to finish baking.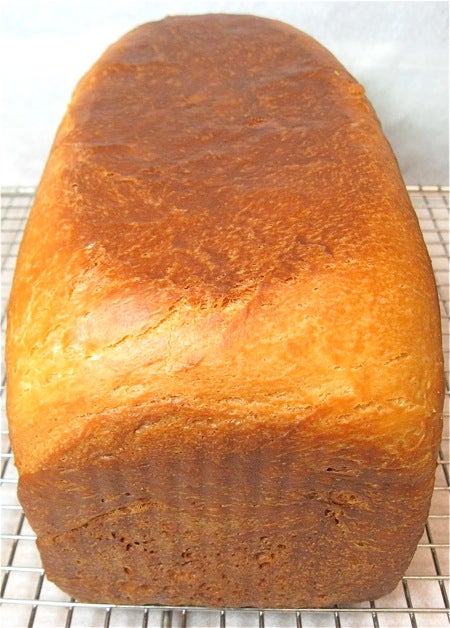 Turn the bread out of the pan onto a rack to cool.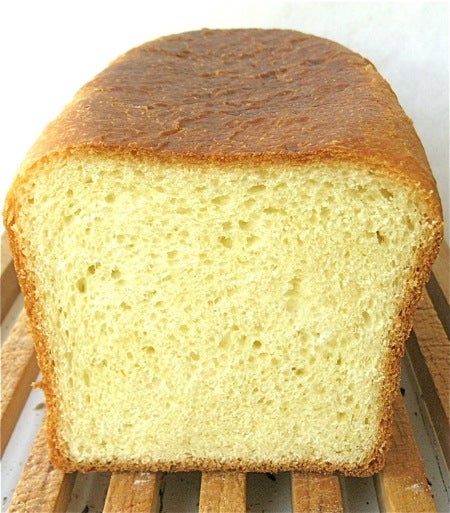 It's tempting, but let it cool completely before slicing. You'll find the interior is a really pretty golden yellow.
French toast is best made with bread that's a bit stale, so wait until the loaf is a couple of days old. Or cut 3/4" to 1" slices, and let them sit on the counter, uncovered, for several hours.
At last! Pain perdu.
Susan Reid, editor of our Baking Sheet print newsletter, came up with a method for making sure the cinnamon and nutmeg in the batter for French toast don't clump together, as they're wont to do. Try this –
Whisk together the following in a measuring cup or small bowl:
4 teaspoons granulated sugar
1/2 teaspoon ground cinnamon
1/8 teaspoon ground nutmeg
4 teaspoons King Arthur Unbleached All-Purpose Flour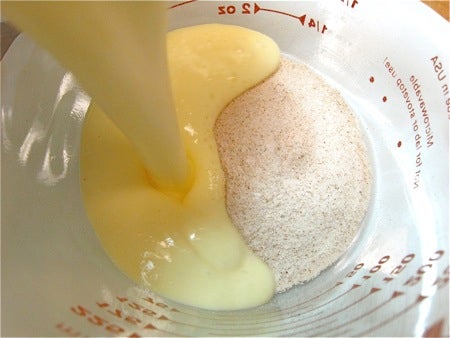 In a separate bowl, whisk together 2 large eggs, 1/2 (113g) cup cream or milk, and 1 teaspoon vanilla extract. Add the mixture to the dry ingredients.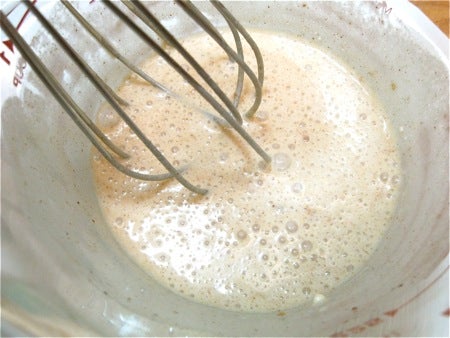 Whisk to combine.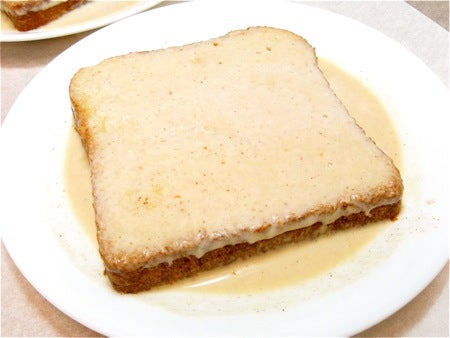 If you haven't already, cut six 3/4" to 1" thick slices of brioche.
I think the easiest way to coat them in their batter is individually, on saucers. Soak the bread for about a minute or so on each side.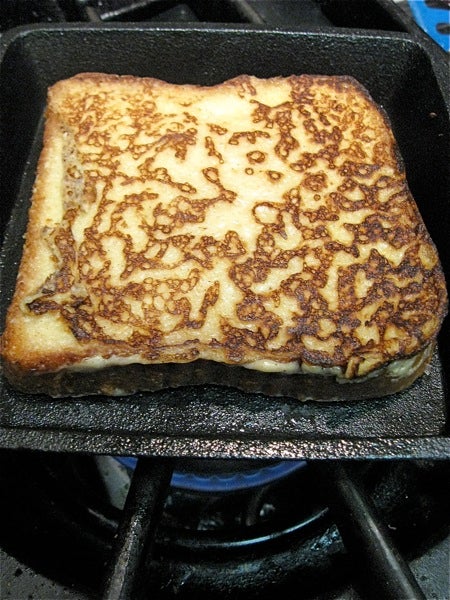 Preheat a griddle, a skillet or, as I'm doing above, a single-serve skillet. Cook the French toast for 2 to 3 minutes on the first side, or until it's golden brown; adjust the heat so it's not cooking too slowly or too quickly.
Turn the toast over, and cook the second side until golden brown, about 2 minutes.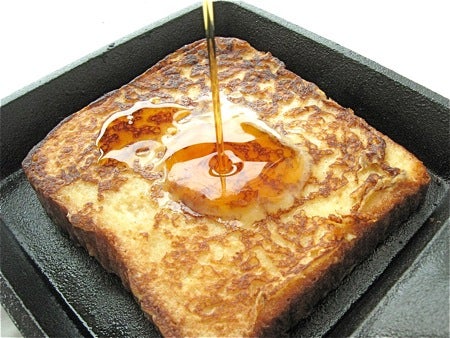 Spread hot slices with butter, and drizzle with maple syrup.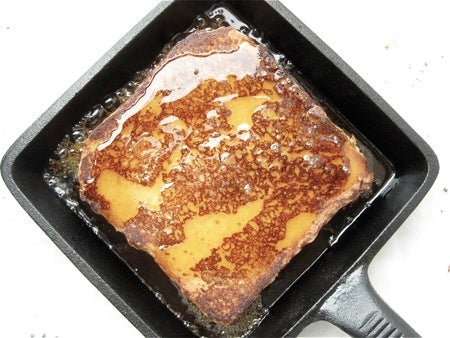 If you're baking in an individual skillet, the syrup/butter will sizzle dramatically... and smell delicious!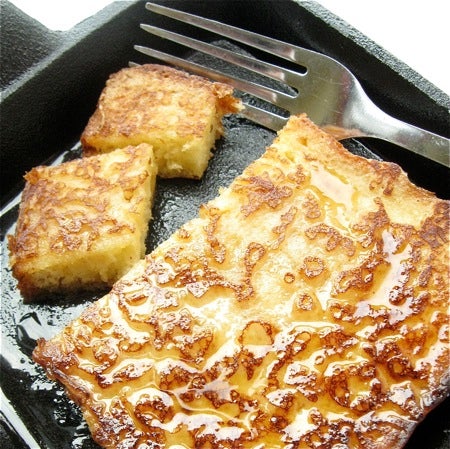 Serve right from the skillet.
Now obviously, this single-skillet thing works well for 1 or 2 people.
But if you're serving a crowd, cook French toast the normal way - in a frying pan, or on a griddle. Transfer to plates to serve.
I think you'll find that brioche makes "le pain perdu très savoureux!"
Read, make, and review (please) our recipe for Brioche French Toast.
Jump to Comments